There's a new business downtown where you can have a drink, buy a bottle to take home, or even have it delivered to you.
Dogwood Hops & Crops on Liberty Street is co-owned by childhood friends Adam Andrews and Austin Ridge along with Joey Hurdle, a friend from Raleigh. "Our slogan is 'We're a bottle store with benefits,'" Ridge says.
The two sides of the business reflect the dual passions of its owners. On the larger side is a bar and package store, Dogwood Hops & Crops. Ridge is a beer lover, and the plan is to have 12 rotating taps at the bar. For retail sale, there will be more than 300 beer (hops) options and 50-plus wine (crops) choices. Beer selections will be a mix of local breweries and Old World favorites. The wine menu is still being developed.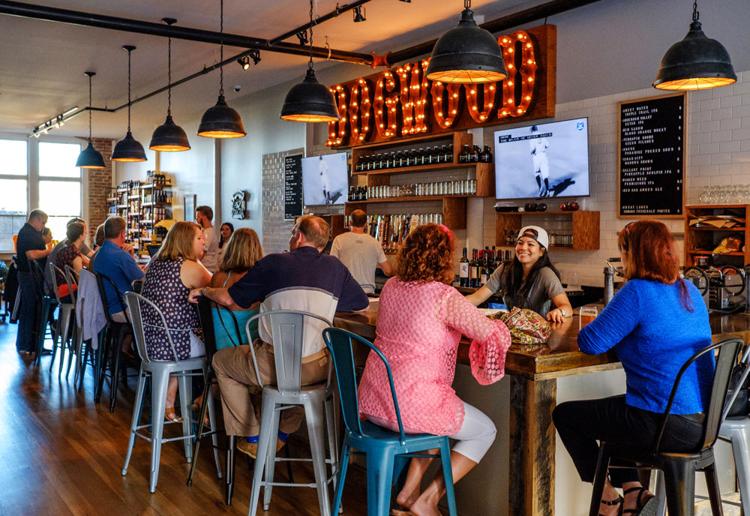 Next door is the Trophy Room, a bourbon and whiskey bar. That's Andrews' libation of choice. The businesses were once separate storefronts, but Dogwood and the Trophy Room are now seamlessly connected to allow folks to mingle from one to the other. And though the offerings are different, the goal is the same—to provide a place where people can get together, enjoy a drink and some good conversation.
"We don't want to have a place where people are lining up to do shots and it gets louder and louder as the evening goes on," says Ridge. "We wanted a relaxed place you could bring a date."
It all began as a joke. After a night of bar-hopping, Ridge and Andrews started talking about how they'd pay big bucks to someone if they'd deliver them more drinks. Over time, though, they realized that the joke pointed to a hole in the market that they could fill.
"We started looking around and thinking 'Why isn't anybody doing this?'" Andrews says. "The idea just got bigger and bigger."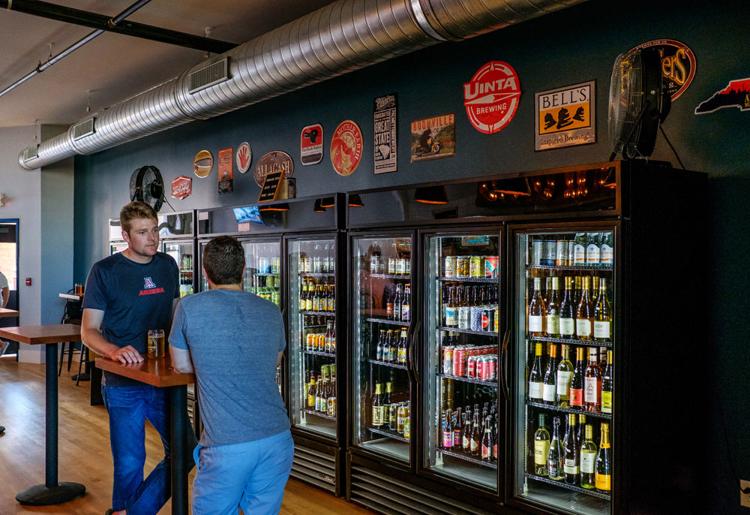 Delivery service will be available from 4 to 10 p.m. Monday through Thursday and 4 p.m. to midnight Friday and Saturday. Customers will use an app for orders, similar to ordering a pizza. The options won't be as big as the Dogwood store, because it has to be limited to what they can keep in stock year-round. There will be a $15 minimum order plus a $5 delivery fee. Andrews says they're planning to deliver within a 10-mile radius of the bar, including neighborhoods such as Ardmore and Buena Vista.
'Starting to take off'
Andrews and Ridge grew up a few houses down from each other in Rural Hall and have remained close ever since. Ridge works in his family's screen-printing business while Andrews is a co-owner and chef at Jeffrey Adams and a chef at The Filling Station. They chose the Liberty Street location because of the recent growth in the area, with businesses such as Reboot Arcade and Crafted.
"[The street] is no longer up-and-coming," says Ridge. "It's here now and is starting to take off."
As for the design, the guys say they wanted a look that reflected the area's tobacco manufacturing heritage. Both sides have 27-foot bars and original hardwoods, but the look and feel is vastly different. In the bottle shop, the bar is polished cement, creating more of an industrial vibe. In the bourbon bar, the look is more upscale, with dim lighting and walnut liquor cabinets.
The tables and bar are made from flue-cured tobacco leaves in resin, creating a soft amber glow.
There's also outdoor seating available. The front window panes have been replaced by garage doors that can be opened to let the outside in. There will be televisions at the beer and wine shop, and there's a small space for live music. The idea is to book acoustic acts that don't drown out the conversation.
At the liquor bar, there will be no TV or live music. "It will be more of a speakeasy feel," Andrews says, focusing on a more intimate approach.
Local liquor offerings will also be available in the Trophy Room, taking advantage of the growth in distilleries in the state, which have blossomed from just a handful a few years ago to more than 30 now. Guests can buy a drink or a whole bottle of bourbon. The bar will store any whole bottles in individual locked cabinets, and members will access them with their own keys. Cocktails, beer, and wine will also be sold at the bar.
When you add up all the moving parts—the bottle shop, the delivery service, the local bourbon—the operation feels like something that's long overdue downtown.
"This is the first time owning a bar for either of us, so it's definitely a scary leap," Andrews says. "But the timing just feels right, and the need is there."