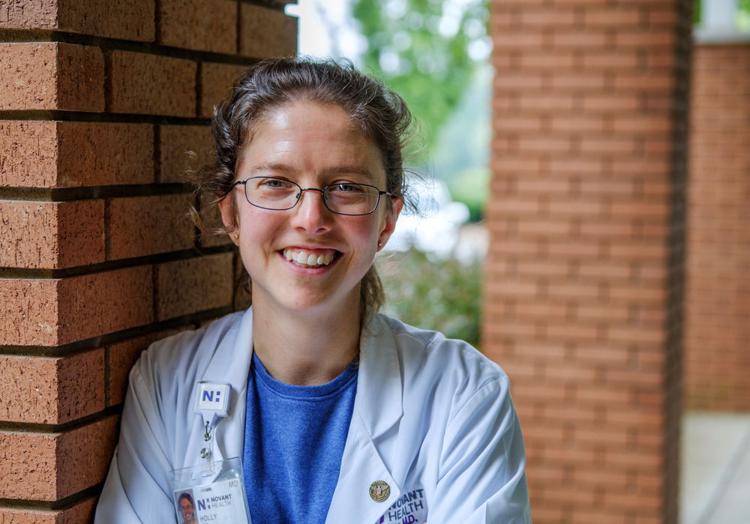 When Dr. Holly Ivey was in medical school at the University of Tennessee, one of her professors urged students not to wait until they were older to donate time or money to causes they cared about. He warned them that later on it would be hard to let go of the things they were spending their time and money on.
Ivey took his words to heart. While she was still a resident at the Wake Forest School of Medicine, she began volunteering at the Community Care Center (CCC), a volunteer-based clinic on New Walkertown Road. Six years later, she volunteers four to five hours a week at the clinic while also maintaining a full-time practice at Forsyth Internal Medicine. Her service earned her a Governor's Award in April.
Established in 2000 by a group of retired physicians, the CCC provides free healthcare to uninsured people in Forsyth, Stokes, and Davie counties. About 300 people volunteer at the center each year—including more than 100 physicians—and they handle about 16,000 patient visits annually.
Ivey, whose father was a surgeon, went into medicine because she wanted to help people. Her volunteer work allows her to concentrate on the part of medicine she likes best—dealing with patients—and avoid what she most dislikes, which is filling out insurance and billing paperwork.
A number of her patients suffer such chronic conditions as diabetes, hypertension, depression, and anxiety. They know that Ivey will be there on Thursday afternoons, so many of them come during that time so they can have a continuing relationship with a doctor. "I would like them to say I listen to them, I was honest with them, and I tried to help them," she says of her patients.
When asked about the best part of her job, she'll say,
"Seeing someone get better."
Ivey is a gentle, quiet presence whose dedication to her patients is more likely to shine through in what she does than in what she says. Her parents didn't choose her festive name because they loved Christmas. They named her in honor of musician Buddy Holly, she says.
Karen Willard works at the clinic and says that Ivey's commitment to her job is apparent to her patients.
"She loves it here, and I think the patients know that," Willard says. "You can tell when someone wants to do what they're doing."