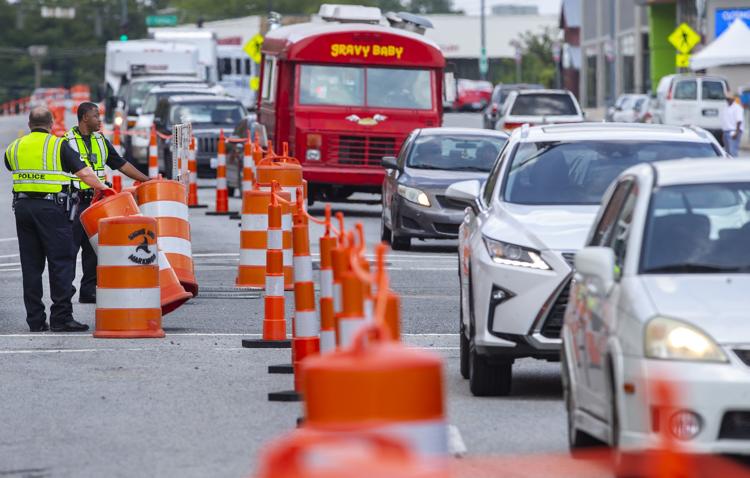 GREENSBORO — Roads in downtown Greensboro will start closing Tuesday, Sept. 3, to begin preparation for the 2019 N.C. Folk Festival, the Greensboro Police Department announced.
Road closures begin at 10 a.m. Tuesday. All roads are expected to be reopened by 6 a.m. Sept. 11, according to the announcement.
Large crowds are expected, and motorists should be cautious and patient, police said. An officer's hand and arm signals take precedence over existing traffic control devices, police said.
The following roads will be closed:
Sept. 3–10:
Lindsay Street between Church and Summit
Elm Street between Smith Street and Lindsay Street
Sept. 4–11:
Commerce Place between Bellemeade Street and Friendly Avenue
Sternberger Place between Commerce Place and Greene Street
Davie Street between Friendly Avenue and Market Street
Sept. 5–9:
Bellemeade Street between Eugene Street and Greene Street
Eastbound Lindsay Street between Elm Street and Davie Street
Sept. 6–9:
Westbound Lindsay Street between Elm Street and Davie Street
Davie Street between Lindsay Street and Washington Street
Elm Street between Smith Street and Friendly Avenue
Abe Brenner Place between Davie Street and Greene Street
East Friendly Avenue between Elm Street and Church Street
Market Street between Greene Street and Church Street
Sternberger Place between Commerce Place and Eugene Street
Commerce Place between Strenberger Place and Friendly Avenue