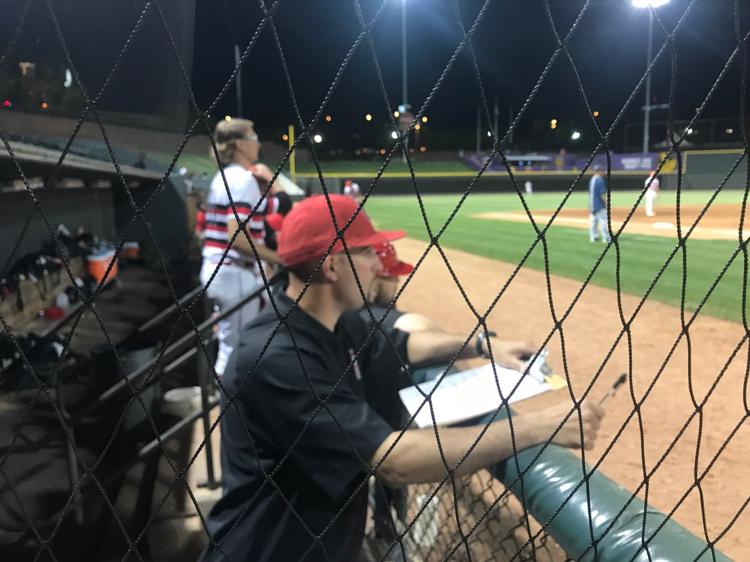 There's no crying in baseball.
That famous line uttered by Tom Hanks in the movie "A League of Their Own" wasn't in play Tuesday night as Winston-Salem State's baseball team played its final home game of the season. There were plenty of tears as the nine-year run of the WSSU baseball program was celebrated, but it wasn't very joyous.
The 9-2 loss against Catawba wasn't only the final home game of the season, it was the final time the program will play in Winston-Salem. The school announced last month the program will be disbanded when the season ends. The decision was made in part to save money but also to help fulfill gender equity requirements.
Coach Kevin Ritsche, who built the program from scratch, saw a steady stream of former players come down to the dugout between innings at BB&T Ballpark to offer encouragement and to say thanks. It's no surprise one of the last guys off the field was Ritsche, who for nine seasons built the Rams into one of the most successful HBCU programs in the country.
Ritsche, who also teaches at WSSU, said all the right things after the game. But he grew emotional when asked about the significance of coaching the many players who helped the program accumulate more than 300 wins and win six CIAA titles.
"Putting all this into perspective with this season and the entire nine years is kind of tough," said Ritsche, who has a record of 311-168 record. "We've been really successful and have won 30 games or more, but obviously this season is different because it's ending."
The Rams have seven games remaining this season and are 28-15. They are a long shot to make the regional playoffs, and while most of the team has come to grips with the end of an era, that doesn't mean it's been easy.
"It sucks what they did to us," said junior Cole Parks, who is hitting .322 this season with a team-high six home runs and 33 RBIs.
Even with the end approaching, Parks said the team has stayed together even though most of the players don't know where they will end up next season.
The five seniors, who were honored before the game on Tuesday night, received a proper sendoff with a nice ceremony. There were also about 10 former players from past seasons who were recognized before the game.
"Now we are just playing for each other and we have nothing to lose," Parks said. "Maybe if we win out the rest of the season with seven games to go we can get to the regional, but it would take a miracle."
Centerfielder E.P. Reese, who has been leading the team in hitting most of the season with a .392 average, transferred to WSSU before this season and like a lot of the players is searching for another school.
"We just have to move on and be optimistic about all of our futures," Reese said. "Life throws you curve balls every now and then so we'll be fine but that doesn't mean it's easy on us."
Reese, a former star at North Davidson, signed to play at N.C. State, transferred to Liberty and eventually found his niche at WSSU. This season, he has four home runs, 27 RBIs and 22 stolen bases.
"It's pretty tough what we are going through," Reese said. "It's like you are promised something then it's snatched away from you so it's tough. We have to band together as a family and are united as one."
Tyler Hickernell was among the 20 or so former players who came to pay their respects to Ritsche as well as assistant coaches Rob Woodall, Enad Haddad and Tyler Rost.
"It's kind of frustrating to see how the program started and where it went and to see what's happened to it now is tough," Hickernell said. "They had so much success and it's sad, especially for the guys that are here now and for those guys who were coming.
"It's just a bad situation for everybody."
Now that Hickernell, who works as a mortage loan officer, has been out of school for a while he appreciates what the baseball program did for him.
"It gave me a chance to play pretty close to my hometown and for my family and friends to see me play on the weekends," Hickernell said. "And I was in a unique situation because I was already married and in college but it was a perfect situation for me and I loved every bit of it."
Another former player showing their appreciation for Ritsche and the WSSU program was Randy Norris. The outfielder from High Point was drafted last year in the 19th round by the San Francisco Giants. He went on Twitter to lend his support for Ritsche.
"A huge part of the reason I'm where I'm today," Norris said on Twitter about the WSSU program. "Gave me a chance, gave me support, gave me a super hard working mentality and put me in this seat. Much love and respect goes out to you (Ritsche). Where would I be without Rams baseball? Not in a Giants uniform."
George Knox, the interim athletics director, made the announcement last month about disbanding the program. One reason for closing down the baseball program $350,000 cost to field a program each season.
Chancellor Elwood Robinson was not at the final home game Tuesday and hasn't been made available to comment since the announcement was made.
Ritsche has gone through several stages of emotions as he's tried to keep the program above water this season. He says he'll likely continue to teach next year at WSSU in the exercise science department but didn't rule out coaching college baseball elsewhere.
For now, he's trying to use his contacts for the 28 players who don't have a place to play next season.
"This team is special because it's the last one and this was our last chance to play at home," Ritsche said as he fought back tears. "To see all the guys who played here before come back tonight is great to see. I hope these guys enjoyed their experience playing for me and some only played a year or two at the most but I know I enjoyed it."
The Rams play four games this weekend with Claflin, then play in a season-ending tournament starting May 2 at Big League Camp in Marion.
As the Rams shook hands with the Catawba players Tuesday, there were a few extra embraces along the way. The Catawba players knew what was happening because the good-size crowd at the game gave the Rams a standing ovation as they walked off the home field for the final time.
"We had a great turnout and it felt good to go out on this note with a good crowd and support from the community," Ritsche said. "We would have liked to have won, but it's more about the entire nine years. It was a good run."