The announcement of Kelly Curl's hiring as general manager of the Carolina Thunderbirds didn't surprise many who have watched the franchise closely over the last three seasons.
Curl, a Greensboro native, is a "hockey guy" and proud of it.
"It's really kind of surreal what's happened over the last 3½ years," said Curl, 33, who had been a backup goalie, assistant coach and radio analyst during the last three seasons.
The three owners of the Thunderbirds – Barry Soskin, Cary Ross and Rich Chaikin – picked Curl among four finalists. They believed Curl's passion for hockey, eye for the business aspect and knowledge of the Federal Prospects Hockey League made him a perfect fit.
Soskin, the majority owner, said: "Kelly stood out because he was thinking along the same lines I was…. And I think he fit the bill the best."
Curl, who started playing hockey when he was about 4 years old, was heavily involved in junior hockey leagues in the Greensboro area for years. After two years of high school at Eastern Guilford, he transferred to The Hill School in Pottstown, Pa., in large part to play hockey.
He played hockey at Division III Lebanon Valley (Pa.) College before settling into a job in the family business in Greensboro. But he also stayed close to the game.
Curl was minding his own business in the summer of 2017 as Wake Forest's club hockey team co-coach when the Thunderbirds asked him to help at training camp. Former general manager Scott Brand, now the general manager of the Columbus River Dragons in Georgia, needed Curl to give them six goalies during camp.
"So it's kind of a funny story because then after training camp was over and they made the cuts or whatever, Andre (Niec, the Thunderbirds coach) said he would see me at practice on Monday," Curl said. "I was like, wait, what?"
Curl said he hadn't skated in about six years when the Thunderbirds called him to help during camp. He skated once or twice before hitting the ice with his equipment that had just arrived before camp started.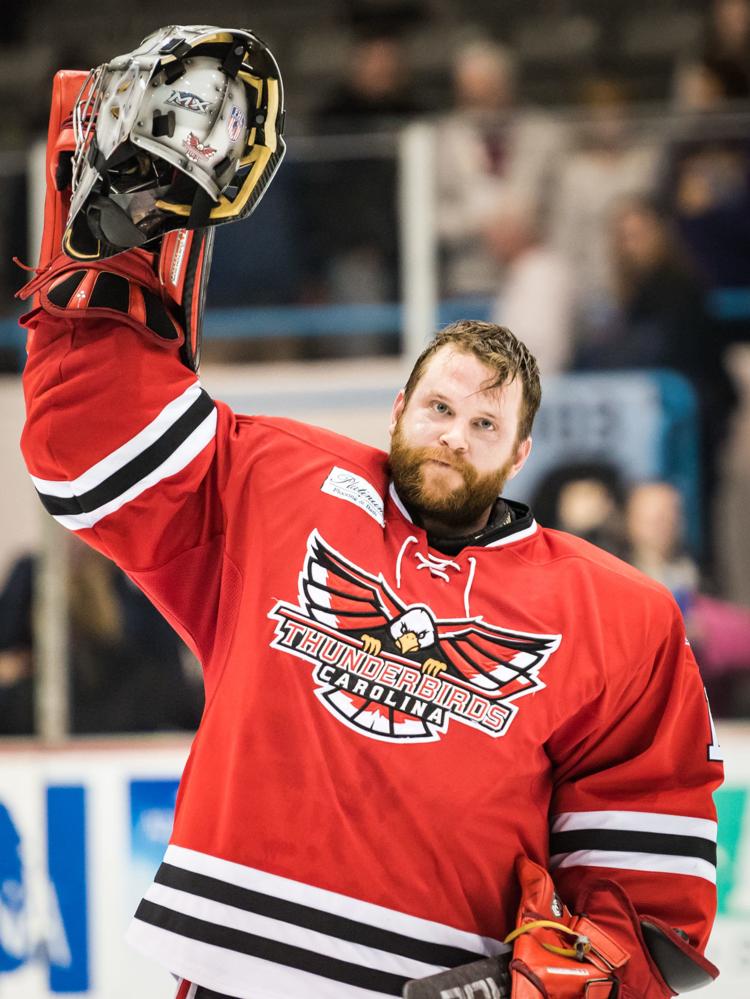 "Here I am like 29 years old and I'm on the ice again for the first time in six years, so it kind of happened so fast," Curl said about how he made the Thunderbirds even though he thought he was just helping them out for a little while.
He ended up playing a lot that first season for the Thunderbirds in 2017-18, but then his role was reduced over the next two seasons. He was also helping with his family's business as a project manager for Curl Enterprises, a construction company, while continuing to play goalie off and on for the Thunderbirds for the last two seasons.
He was part of the 2018-19 league championship team, and since the COVID-19 pandemic caused a shutdown of the most recent season, the Thunderbirds are still the league champions. He wound up playing in about 20 games last season (including the final game of the season). When he wasn't in uniform, he was either with Niec on the bench as an assistant coach or in the radio booth lending his hockey knowledge to Drew Blevins, who calls the games on WTOB, the team's flagship radio station.
As for Curl playing again, he didn't rule it out, but it would have to be in an extreme emergency situation.
"My pads are still sitting here, but I put my (goalie) helmets up pretty high here in my office so I won't be able to reach them," Curl joked.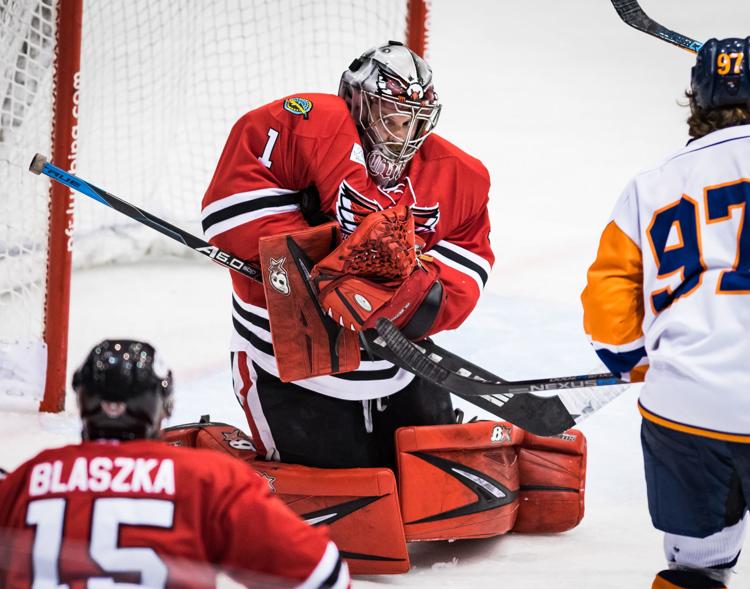 One of Curl's priorities is re-signing Niec, who has traveled back to the Czeck Republic with his fiance, Karolina Huvarova, for the summer. Niec has indicated he would like to come back but is not under contract yet with the Thunderbirds.
The Thunderbirds have already signed returning players Jan Salak, Petr Panacek and Jay Kenney. Over their first three seasons in the league, the team is 106-36 with just 12 losses in the last two seasons.
"We are big proponents of Andre and what he's done here so we'd love to have him back again," Curl said. "He's done great work for three years."
Niec's 147 wins tie him with former coach Phil Esposito for most wins in league history.
Curl said a lot of this summer would be about planning for hockey and the pandemic that will likely linger into the fall and winter.
The Winston-Salem Fairgrounds Annex seats around 3,000, and the Thunderbirds averaged about 2,800 last season.
The pandemic, however, could prompt changes in how fans watch hockey games next season. More planning and different measures will be needed to keep fans safe, Curl said.
"We actually have to continue to get dates set and figure out how our season will go," Curl said. "It's going to be different because we don't know what we can do in the fall with the pandemic and what will be allowed.
"It's very important for us to stay structured this summer and be ready for anything."
Curl, working in the sport he loves, is well aware of what fans wants in terms of entertainment.
"I'm excited for what's ahead," Curl said. ""For me, right now we have to think about the present. We have to think about how we handle the food for concessions, to how we handle the locker rooms to how we have to think about the safety of the fans. So we have to start getting those plans in place.
"We will try and utilize our space as much as we can so everybody can be safe."