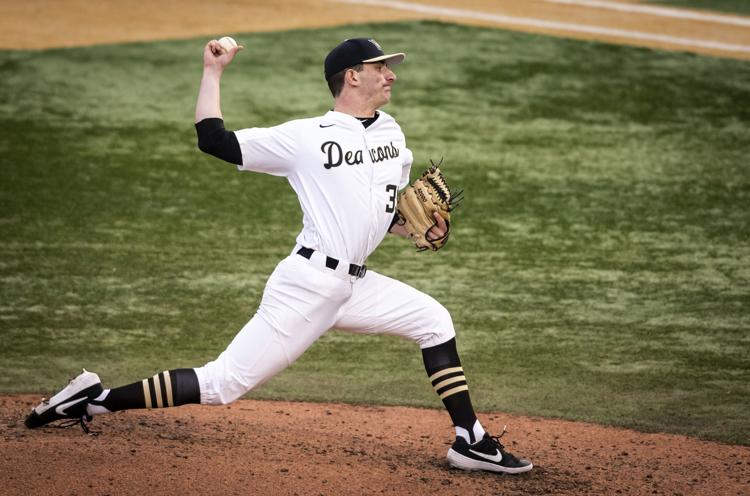 It only takes one look at the team pitching statistics for the ACC to understand the season for Wake Forest's baseball team. Here's a look at how the Deacons finished in six statistical categories for pitching:
• Walks surrendered: Second-worst.
• Home runs allowed: Second-worst.
• Batting average against: Worst.
"You know, at the end of the day it boils down to our pitching wasn't good enough, and the statistics bear it out," Coach Tom Walter said Wednesday morning. "To have a good season, you have to … statistically have the metrics. We got it done offensively, obviously. Had some guys that had great individual years on the offensive side of the ball.
"And we had a couple of guys who had good years on the mound, certainly (relievers William) Fleming and (Antonio) Menendez are the two guys who I think throughout the year had a good year, but the rest of our pitching staff was just very inconsistent."
The Deacons' season was effectively ended by last week's 6-5 loss to N.C. State in their second game of pool play at the ACC Tournament. It was a game that had followed script, to that point, for Wake Forest's maligned pitching staff — until a leadoff triple fell because of poor defensive positioning and the game-tying and game-winning runs scored on an infield single that saw a freshman infielder double-clutch before throwing to first base.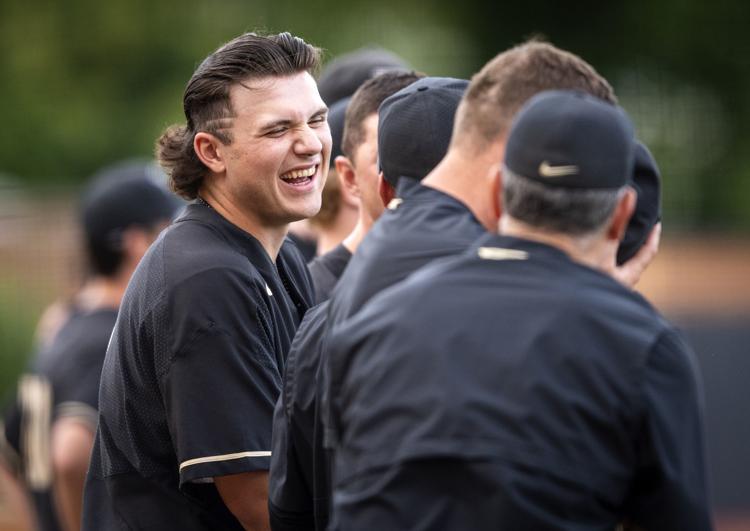 That loss basically vaulted the Deacons into the off-season, in which thoughts of next season's lineup center around ACC player of the year Bobby Seymour (ACC-leading .377 batting average and an astounding 92 RBIs this season). He's sure to be complemented in the lineup by Shane Muntz (batted .313 with 14 homers and a team-best .674 slugging percentage), Michael Ludowig (batted .300) and Brendan Tinsman (10 homers and 41 RBIs as a freshman catcher).
But it's too early to think about that aspect of the 2020 team, for Walter.
"Obviously we're excited about next year, but this one hurts. I haven't recovered yet from that Thursday game," Walter said. "I wrestled with leaving (reliever Tyler) Witt in for the ninth, and really the decision boiled down to one thing and one thing only: (Leadoff batter) Will Wilson was hitting .480 against left-handed (pitchers). And I said to myself, 'The only chance N.C. State has is if they get the leadoff hitter on. The only chance they have.'"
That turned out to be the only chance the Wolfpack needed, and in turn, was the Deacons' undoing.
Wake Forest's pitching struggles started, in essence, in November with the departure of pitching coach Matt Hobbs to Arkansas — which, by the way, is the No. 5 overall seed for the NCAA Tournament. John Hendricks was hired in mid-December to replace Hobbs.
That essentially gave Hendricks one month before the season opener to learn his staff's strengths and weaknesses and take hold of the Deacons' pitchers when players returned to campus for the spring semester in January.
"I think part of what happened was the timing of when John got the job," Walter said. "He … didn't know our pitchers, was trying to get up and running with what we were doing in the (pitching) lab in addition to coaching in college baseball for the first time in 10 years, coaching college baseball at this level for the first time, in addition to getting to learn his pitching staff and getting to know his pitching staff, getting thrown into the recruiting game.
"All that stuff, for the timing of when he got the job, was a lot. He just didn't have time to make changes. Not that he or Matt Hobbs is better or worse than the other, they're just different.
"They're different guys and they have different styles, so that was an adjustment for our pitchers, and it was an adjustment for our pitching staff as a whole."
Wake Forest likely will lose junior right-handed pitchers Colin Peluse and Morgan McSweeney to the MLB Draft, which starts Monday and ends Wednesday. Another player expected to be selected is junior infielder Patrick Frick. Walter doesn't expect any of them back for next season, but added that there's a fickle nature to the draft and nothing is certain.
The intriguing name to watch for in the draft is outfielder Chris Lanzilli, who is a draft-eligible sophomore. Lanzilli hit .347 with a team-best 16 homers and 67 RBIs, but Walter said he thinks Lanzilli will return.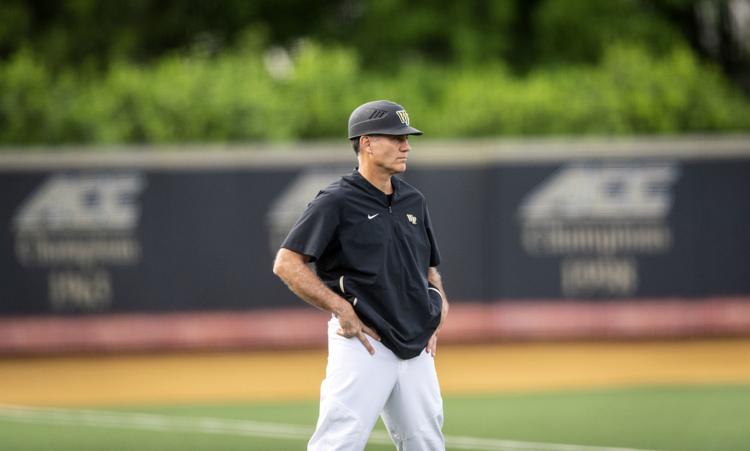 Last week's loss to the Wolfpack dropped Wake Forest to 31-26 and, combined with last year's 25-32 campaign, makes the Deacons a combined 56-58 in the two seasons since reaching the super regional round of the 2017 NCAA Tournament.
A season that started with comparisons to the 2017 team ended without an NCAA Tournament berth — a tough pill that's still in the process of being digested.
"We've gotta get better on the mound. I don't know how many times in the last six, seven years, we've been good enough offensively to go to Omaha and this year was not an exception, we were good enough to go to Omaha," Walter said. "And even defensively — we weren't a great defensive team, but we were solid. It's just — it comes back to the mound.
"It's just a disappointing year, all in all."