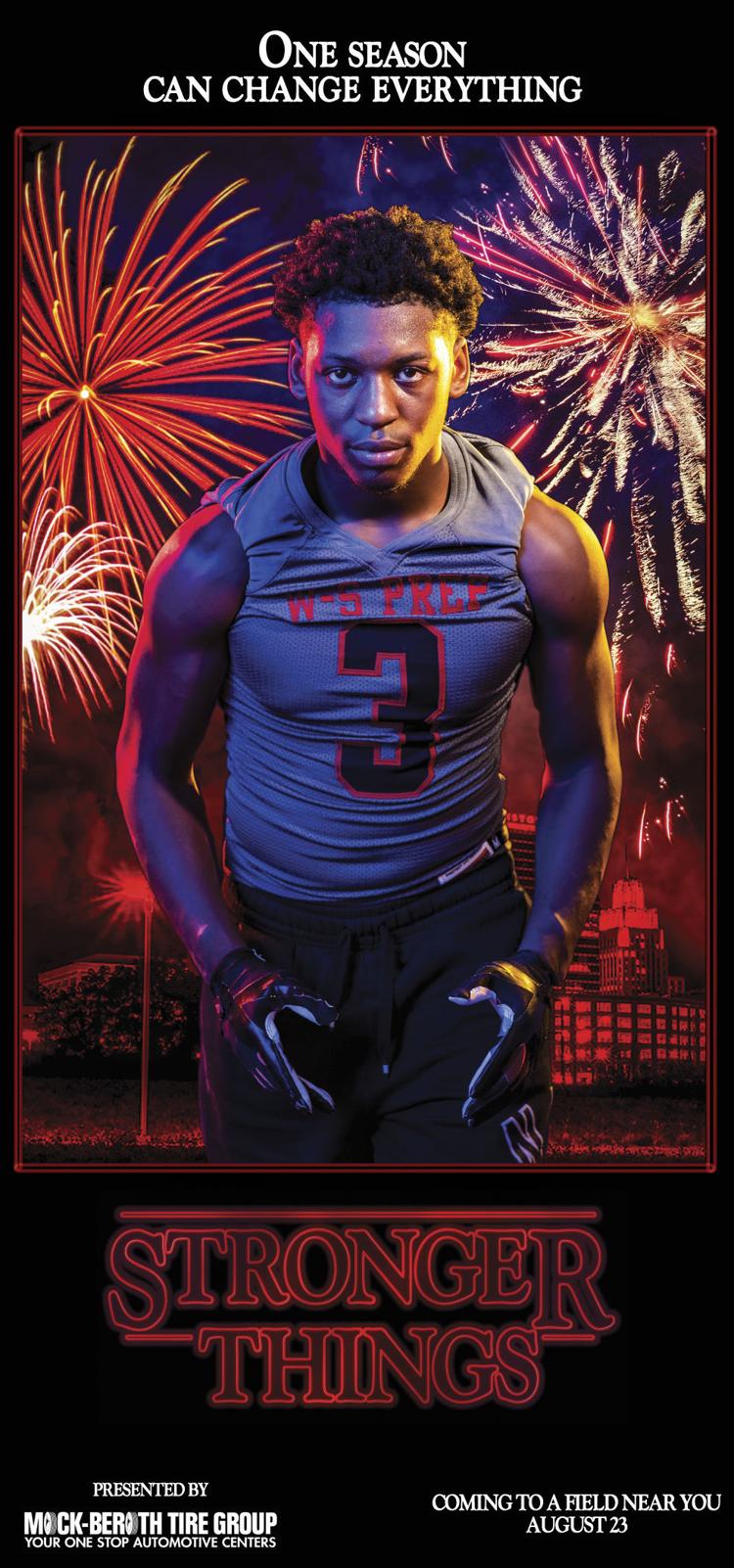 In a little more than a decade, Winston-Salem Prep has forged a legacy as a "basketball school."
And Zaire Patterson had the look of a player who could help the Phoenix boys basketball team continue to build upon that identity when he enrolled in the school in 2017 as an incoming freshman. Towering at more than 6 feet tall, it only made sense for him to join the basketball team. After all, he's played the sport for roughly five years — including two with Team Winston, a local AAU program in the Piedmont Triad. 
Patterson was on Winston-Salem Prep's basketball team as it worked to winning the 2018 NCHSAA Class 1-A state championship — its fifth state title since 2008. He even saw action on the court during the Phoenix's 70-46 victory against Pamlico County at N.C. State, recording a minute of playing time and pulling down a rebound.
He was a small cog in the basketball machine at Winston-Salem Prep. But Patterson soon became a cornerstone for the Phoenix's relatively new football program. 
It began toward the tail end of his freshman year. Patterson took a P.E. class taught by DeRon Middleton, whose first season as the head coach of the football team was in fall of 2017.
Patterson joked with Middleton during class that he previously played in a youth football league — all of a year with the Pfafftown Packers in the eighth grade.
The spring semester eventually rolled around when he stopped Middleton in the hallway on his way to lunch.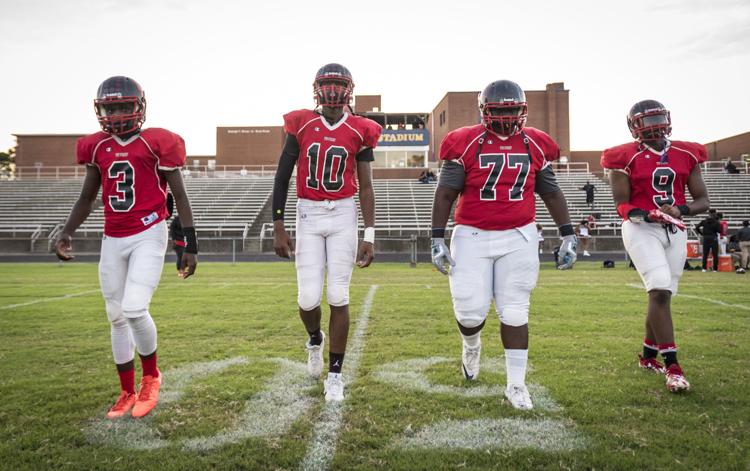 Patterson was interested, and ready to give football a try. 
"He said 'Coach, I'm serious about playing,'" said Middleton, now approaching his third season with the Phoenix. "I said, 'If you're serious, I'll be in the weight room after school.' 
"He's been in there every day since — he doesn't miss a day, he doesn't miss a practice, he doesn't miss workouts. If you wanted to model a kid after a player, he's the one." 
Workouts and practices soon transitioned into a fruitful sophomore season in 2018-19 at defensive end. Now as a standout in football, Patterson blew up in no time at all. By January 2019, the now 6-foot-6, 225-pound rising junior had received scholarship offers from more than 10 Division I programs — the bulk of which came from the ACC. 
Given that Patterson was a relative novice with he put on the cardinal, black and white uniform of the Phoenix, the amount of attention he was receiving was surprising.
"I think my career is going very well, getting all the offers in one year," Patterson said. "I didn't expect to blow up like that."
Nevertheless, he became the face of a varsity program that began in 2014.
That sophomore season alone, Patterson logged 65 tackles — 17 of them being sacks. He also had two fumble recoveries, three blocked field goals and two blocked punts as the Phoenix finished the season at 4-7.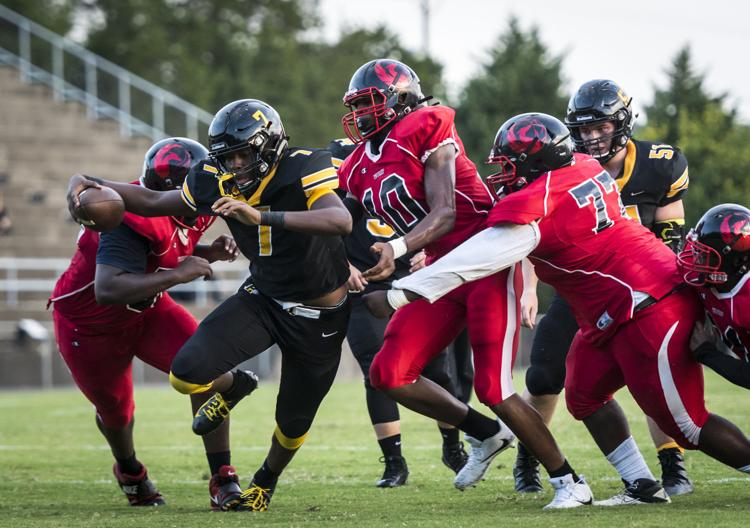 Patterson started catching the eye of college programs even in the preseason that year. 
Winston-Salem Prep was one of eight teams showcased at the Mount Tabor Jamboree on Aug. 10, 2018. The Phoenix faced both Atkins and Carver that evening at the high school. 
Patterson took the field and, within minutes, was a known figure — and not just for his stature. 
"At the jamboree, we played two different teams. Within the first three plays, he had a sack, a sack for a loss and a tackle for a loss," Middleton said. "And in the  very next series, he had two batted passes and a tackle for a loss."
Following the jamboree, Middleton, who said he records every practice and game, uploaded Patterson's film on Aug. 11 to Hudl — a website teams from a gamut of sports utilize to post highlight tapes.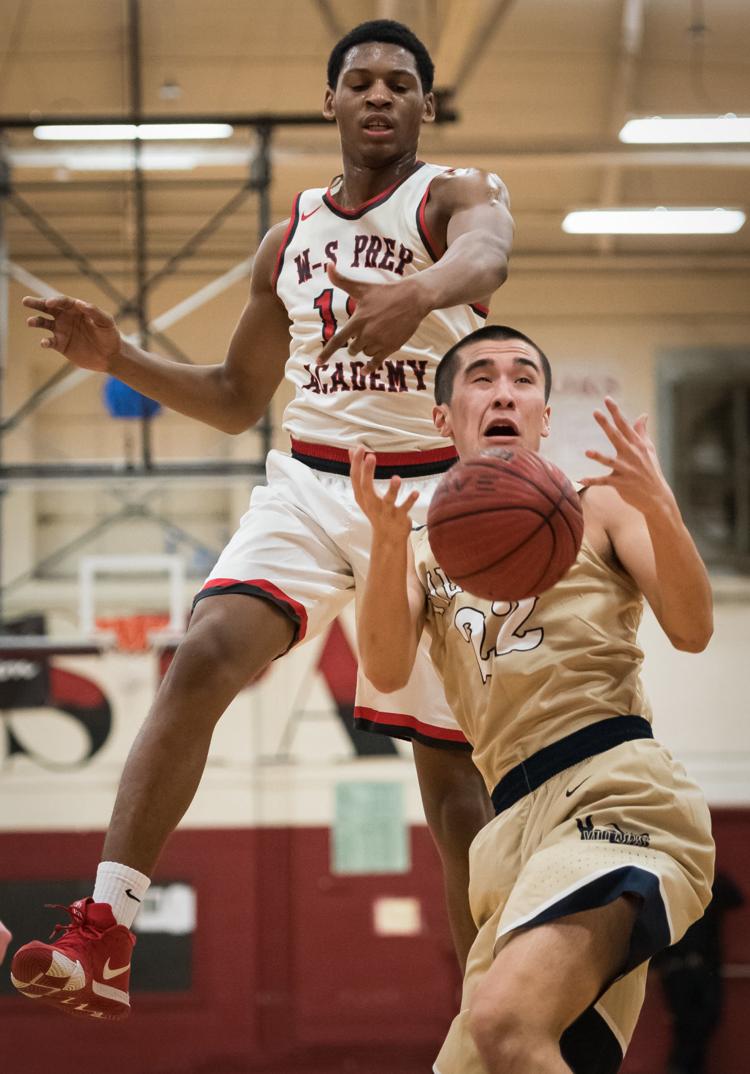 It didn't take much time at all for Patterson to gain the interest of the North Carolina Tar Heels. 
"I mean, as soon as I put it up there, Chapel Hill called and said, 'Coach, I hear you've got a kid.' And I thought they were talking about my really fast running back," Middleton said, alluding to Tresean Stewart who was a sophomore, at the time. "They said, 'No, Zaire Patterson.' And I said, 'But he ain't played none, you know what I mean?' 
"'They was like, 'Well, can you give us a call again tonight around 8 o'clock?' And they offered him. After that, I'm sitting at my desk every day — Wake (Forest), Kentucky, Clemson, Alabama, Syracuse."
North Carolina was the first on the list of 11 programs to extend a scholarship offer to Patterson, now rated a 4-star prospect by 247Sports and ranked No. 10 in the nation among weak-side defensive ends in the class of 2021.
After the Tar Heels, East Carolina followed in September. Virginia and South Carolina extended in November and December. That was before Patterson announced seven more via Twitter in January 2019 — Duke, Massachusetts, N.C. State, Syracuse, Wake Forest, Virginia Tech and Florida. 
According to Patterson, he also has received interest from Wisconsin, Clemson, Kentucky and Louisiana State. Where he'll land is a question that likely will be answered in a few months. 
"It'll most likely be late in my junior season of football," Patterson said.
And there's plenty still in store for his career at Winston-Salem Prep. According to Middleton, Patterson will play a majority of his snaps at defensive end. He'll be plugged in at linebacker as well. Middleton said colleges have inquired about Patterson possibly playing that position.
The commotion surrounding Patterson's first season of football was been met with open arms by Middleton.
"It's just changed the dynamic of our school, you know, because we have a lot of college coaches coming up here for football which is amazing," Middleton said. "And then we have other kids wanting to play with Zaire, being around Zaire and just go through the process with him. 
"I have a lot of kids playing that just want to be a part of the team — a part of the program. It's helping the school out, it's helping the football program out, it's helping out everybody. I mean, Zaire has just helped add to what we was already building."  
Coaching a magnetic figure like Patterson isn't new to Middleton.
While working with DeAngelo Bell at Parkland from 2009 to 2013, he coached Doug Middleton, a defensive back who went on to play at Appalachian State and the New York Jets beginning in 2016. J.T. Surratt, a former defensive tackle for the South Carolina Gamecocks, also played for Parkland while DeRon Middleton coached there.
That list also included Chris Hairston — the Mustangs' standout running back had a career at East Carolina from 2011 to 2015. 
When Middleton coached defensive backs at North Forsyth from 2013 to 2017, he worked with Derrek Williams, who appeared in 23 games for the N.C. A&T Aggies as they won consecutive MEAC championships in 2017 and 2018.
Middleton said Patterson has characteristics similar to his former players. The "want to be great" is one of them. 
Ironically, playing organized football just wasn't something Patterson saw himself doing before he got to Winston-Salem Prep.
"It was something I'd always done, like, at home with friends," Patterson said. "I never thought I'd play in high school, though." 
And now it appears he'll be playing for a few more years beyond that.