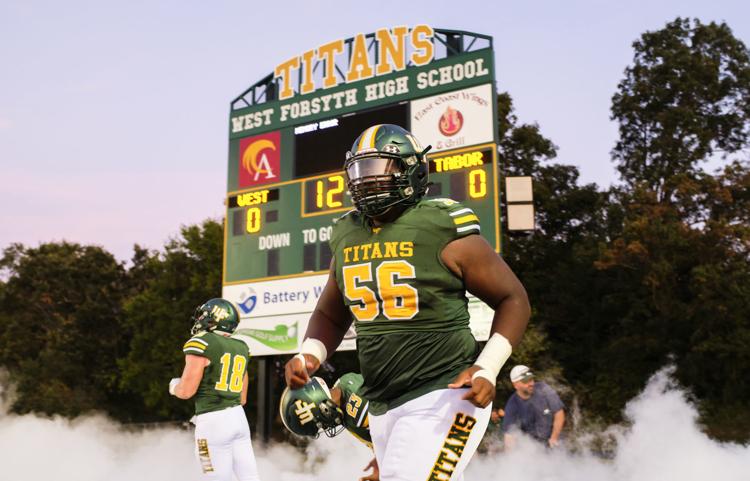 Jared Wilson has been playing football less than three years. And in that short span, he's attracted attention from plenty of college programs.
Wilson, a junior offensive lineman at West Forsyth, announced his verbal commitment to Georgia on Thursday morning in a post from his Twitter account. Rated a 3-star prospect by 247Sports, he received nine Division I scholarship offers from programs in the SEC, ACC, Conference USA and MAC. 
"First I would like to thank God for letting me receive the blessings that I have, next I would like to thank my mother and family, they are the reason I work so hard and I thank them for supporting me through this process, I would like to thank my coaches, teammates and trainers for developing me to the player I have become," the Twitter post read. 
According to Wilson, he made decision to commit to Georgia roughly a week ago. He kept it a secret before surprising his mother on Thursday — her birthday — with his choice. Wilson said Coach Adrian Snow of West Forsyth was aware of the decision, though. 
"It feels great, and I never thought I'd be in the position," said Wilson, who plans to early enroll in January 2021. "It feels surreal." 
Wilson played the 2017 season on the Titans' JV team before moving up to the varsity team in 2018 as a sophomore. He ended that season with 40 knockdown blocks as the Titans finished 8-4.
As a sophomore, he received those nine scholarship offers in the span of a month. Syracuse was the first to extend an offer on May 20. 
Following the initial offer from the Orange, Wilson racked up offers from Duke, Akron, Charlotte, Georgia, South Carolina, North Carolina, N.C. State and Clemson. He said the offer from the Bulldogs came after a personal workout with Sam Pittman, the team's associate head coach who leads the offensive line, on June 11. 
Allie started doing her homework on each program. 
"She said whatever choice I wanted to make, she supported me. But she really, really, really wanted me to go to Georgia," Wilson said. "She took so much time out of her day just to look up the schools, the education. I already knew about the football stuff. 
"So she went on her way, and looked at the education — all about off the field. That's what really pressed her to try and make me go to Georgia."  
Wilson began to mull a verbal commitment while on a visit to Athens, Ga. He attended the Bulldogs' 23-17 win over Notre Dame on Sept. 21. A hope of one day appearing in the NFL played a part as well. 
In the past six years, Pittman has coached eight offensive linemen that went on to become NFL Draft selections. Two players were first-round picks, including former North Carolina guard Jonathan Cooper, who was selected seventh overall by the Arizona Cardinals in 2013. 
But a pro career isn't guaranteed — and Wilson is well aware of that. He said the Bulldogs set up an ideal opportunity for life after college football. 
"What really stood out was the business aspect of it, the educational aspect of it," said Wilson, who looks to major in communications. "I know they've got a great football team. But, outside of that, that's what really mattered. They said when I go there, I'll get fitted for a (suit) and they'll take me out to all the businesses and really market myself.
"That's what really stood out from all the other schools. ... To network and get yourself out there to all the businesses, just in case football goes left and the NFL isn't where I end up. I'll have a backup plan."  
And Wilson's junior season is going well, so far. He's surpassed his mark of knockdown blocks set last year. Wilson has 61, going into Friday's winner-take-all game for the Central Piedmont 4-A championship. West Forsyth (9-1, 3-1) faces Glenn (7-3, 3-1) in Kernersville. 
Wilson is part of a line that has helped the Titans' offense outscore opponents 418-142 this season. That includes Grant Copeland, a senior center who was selected in September for the Shrine Bowl of the Carolinas, along with Isaiah Brooks, Carter Marzano and Owen Brown. 
"I think my junior year is going great, on and off the field. Education — my grades are fantastic, right now. And, on the field, I think I'm doing pretty good," Wilson said. "My team is doing really well ... we're battling for the CPC championship against Glenn. 
"It's going really well."