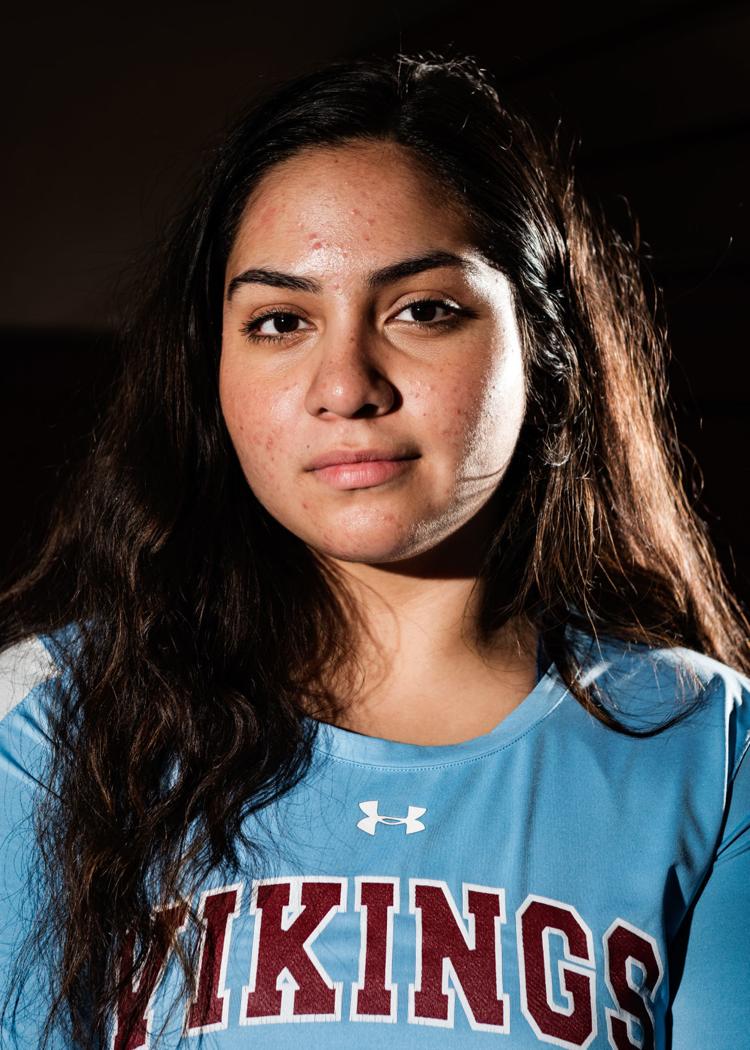 Determination is a word best used to describe Joy Lara. From walking on burning coals to graduating a year early, the perseverance she has as a senior on the North Forsyth volleyball team is amazing.
Lara has used her life experiences in the two years she's played for the Vikings.
"Whenever I go on the court, I have the mindset that anything is possible," she said. "I can get a good hit, a good pass or a good set. Instead of I messed up, I am believing in what I can do right."
Lara didn't play her freshman year, but that's a decision she doesn't regret.
"I feel like I could have done it, but I'm glad I had the time to rest and focus on school," she said. "I just had time to live and be a kid."
Lara had played some volleyball at the YMCA before joining the team for the Vikings.
"School volleyball is more of a team," she said. "Y volleyball is just where you come together ever so often to play on a court.
"In school volleyball you come together to work together."
Her strong desire to be independent led to the decision last year to graduate early.
"I want to take a year off and do an internship and be independent," Lara said. "I don't like to depend on others. It's OK to lean on others. That's something my mom has definitely stressed to me. I didn't have to worry about requirements to graduate early.
"I worked on weekends to pay for my car and insurance. Monday through Friday was jammed with school and volleyball. I was more passionate about my car and volleyball than school. With work, it was difficult to find a balance between school and volleyball."
Developing a plan was a key to achieving her goals, on and off the volleyball court.
"Not having a plan is tough," she said. "I have a plan and with me I think I can achieve it. You have to overcome frustrations and keep going."
Even with a plan, Lara said failure happens.
"In life you're going to fail," she said. "There's nothing wrong with that. You allow yourself to fail and make mistakes. That allows you to grow even more every time you come back."
Lara said attending a Tony Robbins seminar was a life-changing experience. Robbins is a well-known personal-development coach who conducts events around the world.
"I actually walked on hot coals," she said. "My first time of walking through the fire lane there were people at the very beginning to help keep you excited about the emotions you're feeling of what you're about to go through. Then a person came and stepped in front of me saying, 'Yes, yes, yes.'
"It's amazing that you can control your mind to walk on fire with no burns, no scars. Your feet are just fine. I walked four feet on burning coals. There were people waiting at the other with a hose spraying your feet."
Lara successfully completed the walk twice, a practice that helps to open her mind to new extremes.
"It helps me realize I can set my own limits," she said. "When I first thought about it, I was not serious. Then I went to the event and witnessed the whole thing.
"It's gonna give me more chances, more opportunities. Now I have the ability to change my mind state to do it without someone being there."
She will attend another event this month in Miami as a part of the seminar's Fire Team.
"I will be doing the Fire Team," Lara said. "We are putting down sod, coals and feeding the fire that everybody walks on."
That experience translated onto the volleyball court for Lara.
"She was a team leader and captain," Coach Kamika Mack of the Vikings said. "She would always pick people up.
"She was the person to pick you up on the court especially when the coach had just told you what you were doing wrong. She is one of those people who helped pick me up when I was down."
Her drive to succeed was special, according to Mack.
"She came on the court very inexperienced and not knowing much about volleyball," Mack said. "She did some work with a club to get better on her own. She learned the game mentally and physically and took time outside North Forsyth volleyball to get better.
"She's a great kid, almost like a mama of the team. She has that initiative that's going to make her so successful in the future. She takes all honors courses and realized what she needed to graduate early."
Mack said Lara has some qualities she wished she had had at her age.
"She is able to articulate herself," she said. "She has some things I wish I had when I was her age."
Although the Vikings didn't win very often, Lara was proud of the way the team came together.
"We came a long way even though we didn't win games," she said. "We went through a lot of changes, too much drama, too much ego.
"We had a come-to-Jesus meeting. We talked about it and grew up. I'm grateful we were able to do that. I saw how much change it gave us."