The Journal is shining the spotlight on high school senior athletes whose seasons were cut short because of the COVID-19 outbreak.
Ben Armentrout helped lead the Atkins boys to the NCHSAA Class 1-A/2-A indoor track and field championship in February — the Camels' first title since the school was revived in 2005. Armentrout, who will join the track and field and cross country team at Duke, won the 3,200-meter run at JDL Fast Track that day.
He looked to finish his career with a strong outdoor season performance. However, the coronavirus nixed a chance of claiming another title in the 3,200 meters — Armentrout's first outdoor championship occurring as a sophomore in 2018.
Armentrout shared his thoughts in a Zoom conference. Here are the highlights:
Q: What are you missing most about school and track and field?
Answer: When we were first were on break, seniors were still having online learning. I don't mind going to school — I mean, I like to learn. I get frustrated to sit in class, and not learn. … And, when we first got back, it was a period of review, so we weren't learning much. But it's frustrating to not have social interaction that school provides. And especially at like track practices and at clubs to not have that companionship with people that you're working with. I mean, I really miss having the whole track team there at one time goofing around on the track, leading practice, seeing everyone putting it in.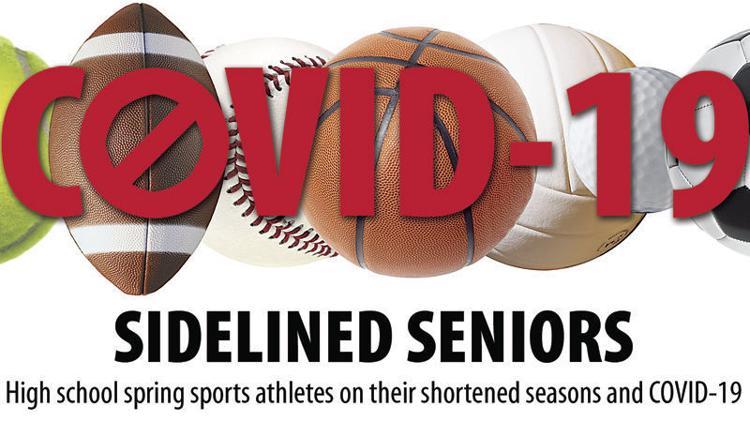 Q: How are you keeping busy and remaining fit?
Answer: I have been doing a lot of random stuff. The fixation, for me, was (disc golf). … I did it on a run one day — I just did four miles straight. I'd run up the hill, throw it down and see how good I could get, pick it up and run back. The last five days I've been doing a step challenge with my family and my cousins. I think I've logged 45,000 steps a couple days ago.
Q: If you could have one thing back that COVID-19 has taken from you, what would it be?
Answer: Not speaking personally, of course, but all the lives that have been lost. It's just a terrible tragedy. … For myself, we were planning a trip to California to race this big meet called Arcadia — like, the best 3,200-meter race in the country. And I was really looking forward to that for the opportunity to get a really fast time, and, unfortunately due to travel restrictions, that meet got canceled.
Q: What were a few of your goals throughout senior year, and were those altered?
Answer: Track is a sport where you feed off a lot of the competition. So time trials, it's hard to match the same level of performance that you would in a race — both because of the mentality and the dynamics of a race, where you'll have pacers. So I had hoped to break nine (minutes) out in Arcadia. It's beautiful weather, but I won't have the opportunity to that that. I hoped to get another state title in the 3,200-meter and win it again with the team and try to win the 4 x 800-meter (relay). But it doesn't look like the state meet's going to happen.
Q: What's been your source of motivation during the COVID-19 outbreak?
Answer: Well now one of my biggest rivals (Jason Thomson of North Lincoln) committed to UNC a while back. So, now that I'm a Duke man, I've got to get ready to battle him next cross season if it happens, hopefully. For me, the expectation hasn't changed. Any school, you run six days a week and you get like 50 miles a week. I, thankfully, because of the sport I'm in, I still have the opportunity to do all those things. I've just got to do them alone sometimes.
Q: Who's the person you couldn't get through this without?
Answer: Surely, my parents (Betsy and Brant). I've thrust myself into a lot of expectations doing track, cross country, all the clubs I do, band, and it's put a lot of stress on me. They've been instrumental in supporting me and helping me manage my time and responsibilities. You know, my dad's my coach. So they've really, aside from before the high school years of my life when they raised me to be a fine young man I would hope, they've been really supportive of me these last four years.
Q: What have you seen, heard or done during this difficult time that's made you smile?
Answer: I've gotten out to walk around my neighborhood a little more. And it's been nice seeing families get to be together more, playing out in the yard with the little kids. I saw a little kid just learning how to bike this morning. It just kind of made me smile. It's nice to have this time with family, of course, the situation that it's put us in is not great. But to kind of live a simpler life has been nice.