The 2018 season was rough — one that was riddled with injuries and tough losses. But it was something Nate Hampton needed to go through. 
Hampton, who was a sophomore during the 2018 season, was named the starting quarterback for Davie County's varsity football team before the beginning of last season. The move came with just a year of experience behind the JV offensive line. 
And it didn't end pretty. That also goes for, really, any player wearing the War Eagles' uniform. Davie County finished 2018 at 3-9 overall, which was the team's worst record since 1991.
If that wasn't enough, Hampton was battered throughout the season. He sustained three injuries and ultimately missed as many games, as he led a varsity team for the first time. 
A wrist injury he sustained in a 21-14 win over North Davidson in the War Eagles' home opener was just the start. Then came a concussion against Reynolds and a broken right hand during the second quarter of a loss against West Forsyth on Oct. 25.
Hampton still finished the season passing for 1,570 yards and seven touchdowns while throwing eight interceptions. Despite all of it, he made the most of what might've been a nightmare. 
"It was something I needed," Hampton said. "I just needed to go through that, like not having a successful season. And, you know, being the quarterback you take a lot of that blame. I guess I had a lot of experience last year, so really it helps you build some tougher skin.
"I mean, it just makes it a lot easier going forward. It builds you as a person." 
It molded Hampton, now a junior, into a better quarterback for the 2019 season. The 17-year-old has guided Davie County to a 3-0 record and is on track to surpass his stats from last year as well. Hampton has 854 passing yards with eight touchdowns and two interceptions so far.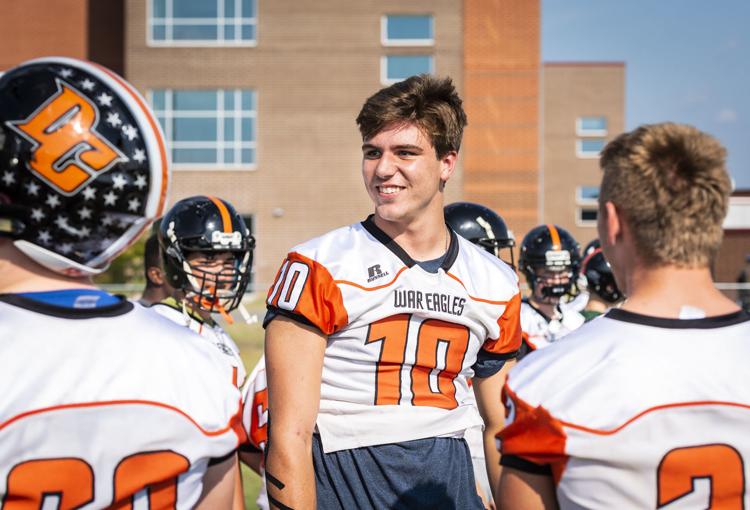 Coach Tim Devericks of Davie County thought there were instances where Hampton became comfortable in the role last season, but it paled in comparison to what he's seen this year from his quarterback. 
"There were moments where he was actually grasping what he was doing," Devericks said. "But it was just so choppy it wouldn't have led me to believe he'd come out the way he's come out this year." 
According to Hampton, who is rated as a 3-star prospect by 247Sports, he didn't take much time off after the end of his sophomore season.
He trained with Danny O'Brien — the former East Forsyth standout now entering his fifth season in the Canadian Football League — from January until June. Hampton said the 2016 Grey Cup champion's DOB Elite 7-on-7 camp in May helped as well. 
Learning from a veteran pro, and with as much face time as he received, was crucial for his growth. 
"I get to see him a lot. But I think the biggest thing I've learned from him is he taught me a lot of new pass routes and just going through progressions," said Hampton, who has scholarship offers from West Virginia and Florida Atlantic. "Just being able to get through reads — I think that was something I did kind of struggle with last year, and it's something I've been able to do this year."
Whenever O'Brien wasn't in town, Hampton trained in Charlotte with a branch of QB Country operated by Anthony Boone, who played at Duke from 2011 to 2014. Hampton also worked out with Georgia-based Quincy Avery Quarterback Academy when the program swung through the Queen City.
Over the summer, Hampton studied film from last season. And Devericks has noticed the progress. 
"It's really exciting," Devericks said. "(But) not unexpected due to the hard work I know he's put into the offseason, studying and working on his throwing mechanics."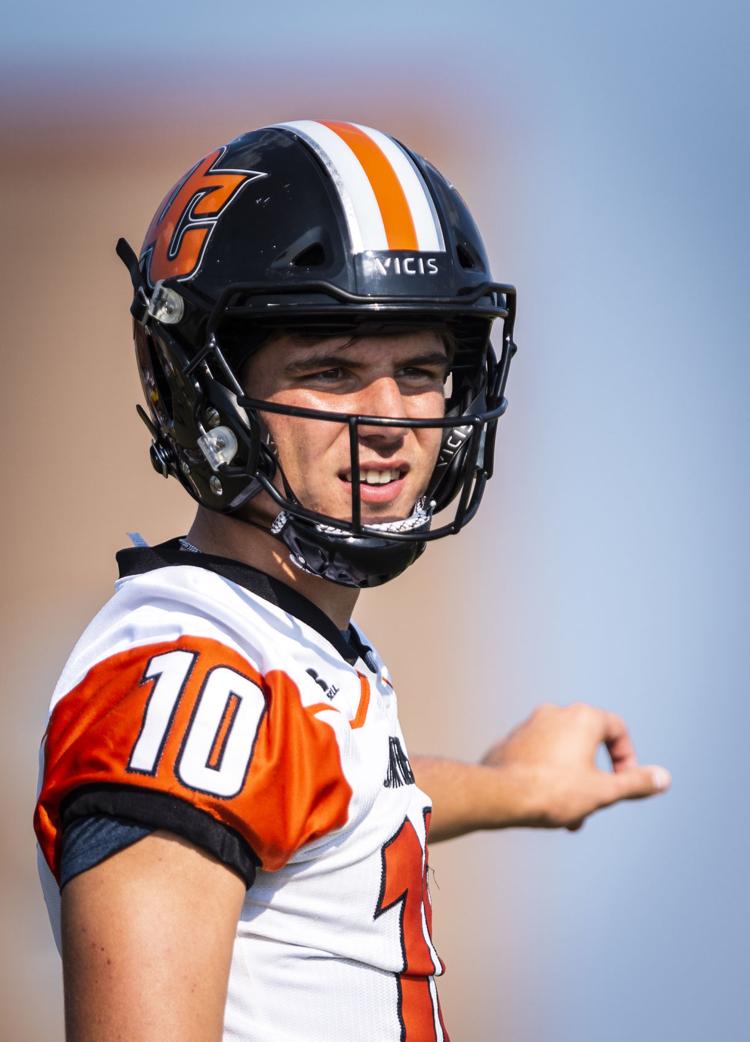 According to Hampton, he received interest from South Carolina based on film from his season on the JV team. He said Wake Forest also took notice.
Social media played a part in Hampton's recruitment, leading to his first Division I offer in May from the Mountaineers. He messaged Sean Reagan, the quarterbacks coach at West Virginia, via Twitter on January 30 with a link to his highlight tape.
Vic Koenning, the former North Carolina Tar Heels defensive coordinator who now holds the same position at West Virginia, stopped by Davie County a few days later. Roughly a month later, Hampton visited West Virginia. Later on, Reagan traveled to Mocksville to watch Hampton throw.
Hampton received a scholarship offer from Florida Atlantic in June after attending a camp in Georgia. 
In the end, that nerve-wracking sophomore season helped Hampton develop into the quarterback he is now. Sure there were bruising losses, but memorable times as well. 
He had an opportunity to play alongside his older brother, Peyton, a linebacker who signed with Army and is now a freshman at West Point. That in itself — along with the smack talk at practices — helped him, too.
"Whenever he was playing linebacker and I was playing quarterback, he would talk the defensive side of the ball and I would talk the offensive," Hampton said. "He was always there helping me. 
"... But seeing him and going against him every day in practice, that was really fun — just talking trash to when we got home. I loved every bit of that."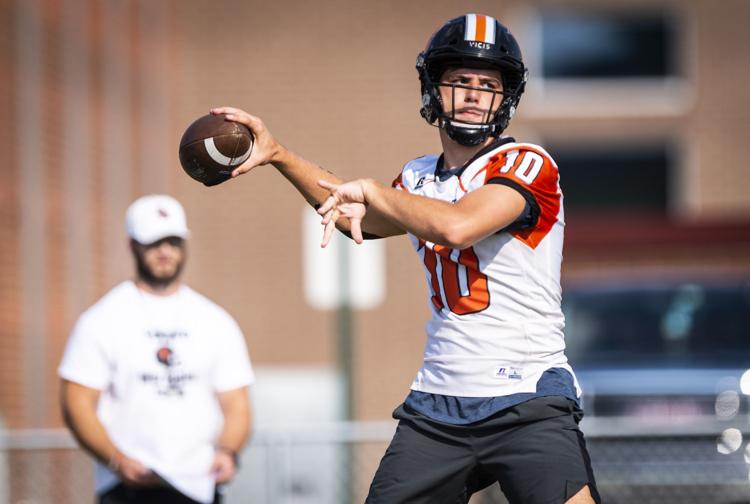 Hampton has seen the fruits of his hard work. But he has plenty of games left to make a mark on his junior season with Central Piedmont 4-A play beginning Oct. 10 against Reynolds.
"I think that's where, just playing against a lot of the guys I know, that's going to be the biggest competition," Hampton said. "I'm just looking forward to playing against some of my boys.
"Hopefully, (we'll) win those games, and keeping moving forward as a team and continue to win."