Jaden Lindsay yearned for the experience of being a sought-after college football recruit.
Lindsay, now a standout offensive tackle at East Forsyth, remembers a visit to cousin Chrishon Springs, then an Eagles linebacker who graduated in 2016 and would play at Fayetteville State.
"He had stacks and stacks of college letters. … I was like, 'Dang. All these colleges want you?' Lindsay recalled. "And he was a humble guy. He was like, 'I guess so.' And I was like, 'I'm going to be like you one day.'"
Lindsay, a contributor to two straight state titles with East Forsyth, eventually got that chance.
The 6-foot-3 and 290-pound rising senior announced this morning via posts on Twitter and Instagram that he would attend Appalachian State. Lindsay, rated a three-star prospect by 247Sports, racked up 10 Division I scholarship offers. The Mountaineers, led by Coach Shawn Clark, extended an offer Jan. 22 to the two-year starter.
Lindsay wants to win championships at App State, and the Mountaineers have claimed at least a share of the past four Sun Belt titles.
App State was one of the top choices he announced May 4, along with Coastal Carolina, Tennessee, East Carolina and Virginia Tech. A few days later, Lindsay hopped on a video conference call that included Nic Cardwell, the program's offensive line coach.
And in came Baer Hunter, the Mountaineers' 6-foot-2 rising senior right guard and a West Forsyth grad who left a lasting impression.
"It was something that a coach has never done for me," Lindsay said. "They left us — Coach Cardwell left us. I talked to him about the football, the atmosphere. It was just good to talk to a player and hear it from a player's perspective and that was nice to see, you know?"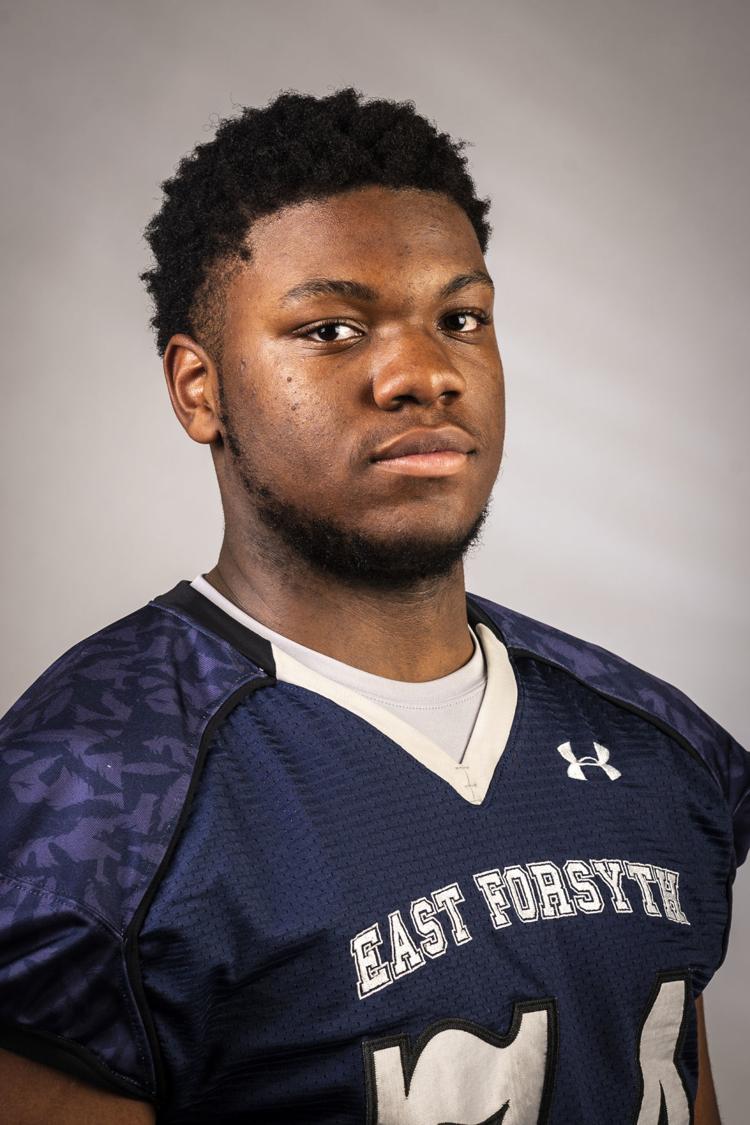 Lindsay helped the Eagles' 2019 offense generate more than 4,000 yards with a bevy of running backs. Ahmani Marshall, who signed with Wake Forest, and senior Robbin Smith, who racked up a team-leading 1,270 yards and 11 touchdowns, ran behind Lindsay and his line mates.
Fifteen Eagles suffered injuries during the season, and Lindsay sprained an ankle and hurt his knee during a second-round playoff win over Davie County. He played through the discomfort, even during the state championship game win over Raleigh Cardinal Gibbons in Chapel Hill.
"On film, during plays you could see me limping on and off the field," said Lindsay, who earned Associated Press all-state. "And colleges loved that I had heart to play when I was hurt — and I played good when I was hurt."
East Forsyth coach Todd Willert said in December that the Journal All-Northwest pick averaged five or six pancake blocks per game and was the highest-graded lineman at 91%.  Lindsay was the only returnee to the offensive line in 2019 after the Eagles lost 27 seniors from the previous season.
Lindsay made his varsity debut as a sophomore after the season began. His first appearance on the line came during a 52-21 win over Reynolds on Nov. 2, then he started in the 2018 playoffs and helped block for quarterback Ty Lyles on the way to a Class 4-A title that was the program's first since 1992.
Then came an offer from Alabama A&M in late April 2018. In May, Liberty and Old Dominion followed. For Lindsay, who first garnered a taste for recruitment through the lens of Springs, it was just the start of his chance to play in college.
"I always dreamed of it, but it took me by surprise," Lindsay said. "For me to come in and get my first offer my sophomore year, it was like a dream come true, you know?"