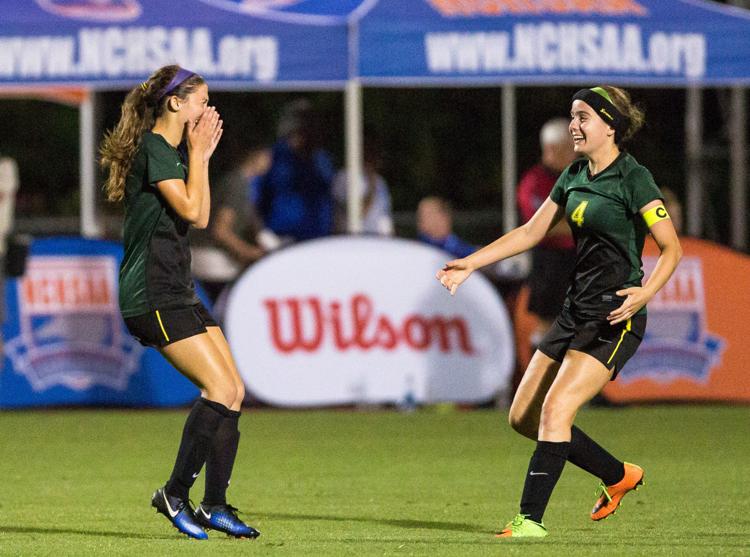 Riley Terry's hands were connected, holding them just over her mouth. A look of shock forming.
She remembers it vividly.
It's been two years and a few months since the moment Terry now likens to a scene out of a movie. She was just a sophomore — the second season of her four-year varsity career on the West Forsyth girls soccer team — when the center back became the reason the Titans won the first NCHSAA Class 4-A title in school history.
Her shining moment came in the 98th minute of the double-overtime championship at Dail Soccer Field on the N.C. State campus. Terry took a free kick from 35 yards out that sailed into the center of the net. Her goal — just one of three in her career — gave West Forsyth a 4-3 win over Raleigh Cardinal Gibbons that night in May 2017.
After the kick, Terry turned to Delaney Cowart, one of the team's three senior captains at the time, and was stunned.
"I could just see and hear the crowd cheer and everything," recalled Terry, who graduated in June. "It was just incredible."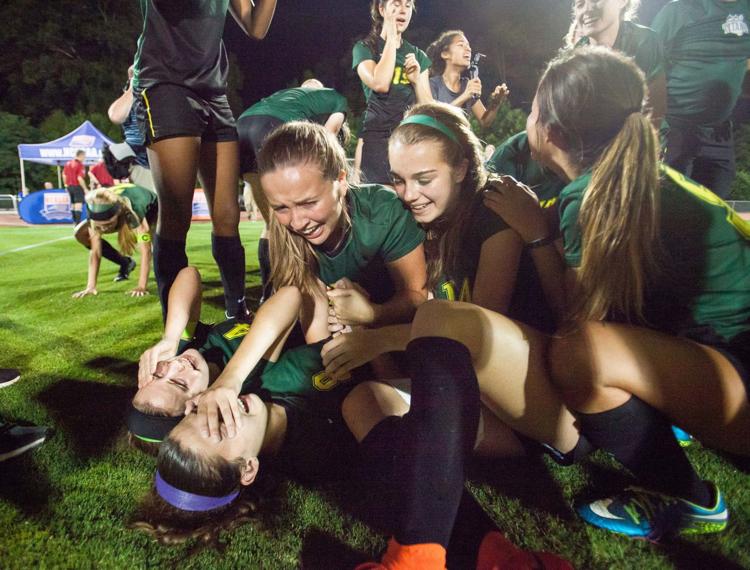 It's just one story she can pick out of her lengthy highlight reel that began in 2016 under Coach Scott Bilton. After all, Terry played an integral role in helping West Forsyth to appearances in the Class 4-A state semifinals in three of her four seasons on the team.
And plenty of awards came along the way. She was the MVP of the championship game, capping off her sophomore season. Being named an all-conference player in the Central Piedmont 4-A were a yearly occurrence, and she was the conference's defensive player of the year in 2017 and 2019.
That career will come to an end Tuesday for Terry, who signed with Western Carolina in November. That night, she takes the field in a high school jersey for the last time as one of three area players selected to play in the N.C. Coaches Association's East-West All-Star game held at MacPherson Stadium in Browns Summit. Terry will play alongside Riley Dorman, her teammate at West Forsyth and who she points to as her best friend, and Laura Milligan of Mount Tabor.
Looking back, those years with the Titans were described by Terry as "a dream." The soccer field has been her safe haven, likely even therapeutic, since she began playing the sport competitively at age 8.
"It's taught me a lot about myself because I had a lot of family issues going on," Terry said. "I just enjoyed coming to practice every day, and it made me take my mind off of things at home.
"It was a time where I got to not worry about school, not worry about family issues, and I just got to be myself around people I've grown up with."
Home life for Terry hasn't been ideal. Her father, Matt, has struggled with alcohol addiction for roughly 10 years. Soccer has been her avenue to cope with the turmoil — a few hours to focus on nothing but what's happening on the field.
Terry said her mother, Katie, and Matt have been separated for about a year and a half. Matt currently lives in Fayetteville, Ark.
Katie said Bilton wasn't fully aware of the circumstances during her daughter's freshman year, since she was new to the team. Around the end of her sophomore season, that changed.
"He knew bits and pieces," Katie said. "Her dad moved away to Memphis for a job, and so (Bilton) knew he wasn't around a lot ... I always try to keep him in the loop and not let her know that he knew.
"It was just so he could keep an eye on her and, anything I needed to know about, he would tell me. He was really good to her."
Terry got another reminder of her father's absence May 2 — the Titans' senior night against Glenn. Matt wasn't at the game to watch a 9-0 victory for West Forsyth as the end to Terry's final season drew closer. Katie said it made for an upsetting, tear-filled night.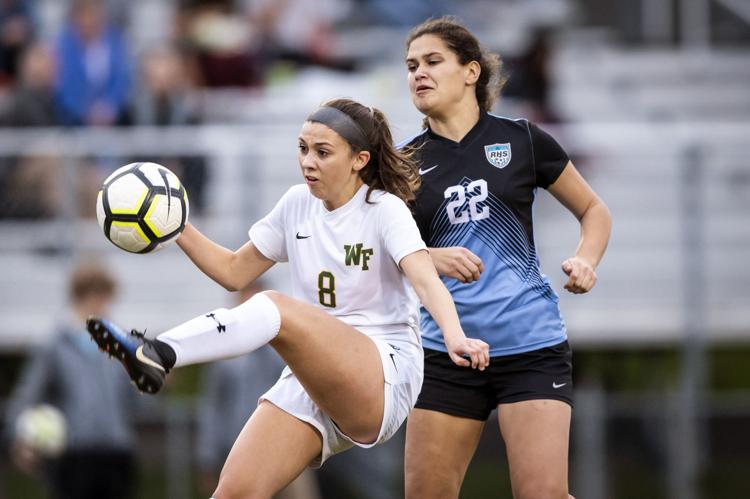 Later in May, just before the start of the postseason, Terry gave a senior speech to the team, which is a yearly occurrence for outgoing players. It left the room of players and coaches in tears.
"I shed a few tears, myself," Terry said with a laugh. "But I said, 'I don't want you all to feel bad for me. I want you to feel happy for me because this has made me grow as a person. It's made me grow as a soccer player. It's made me more motivated to eventually be better for my kids.'
"I also look up to my mom a lot, too, because she's had to be an only parent for us for the past year and a half."
But Matt wants to be present. He said he's been sober for 120 days. Matt plans to return to North Carolina; although, he said there isn't a timetable for that to happen.
"As soon as I'm better," he said. "I just want to make sure everything is good on my end, as far as staying with my sobriety and find a good job there where I'm not going to fall back in that. The family's been hurt. Obviously, she's a very strong, brave girl that's had to put up with a lot over the years.
"I just want to make sure I'm in the best place I can be for my family."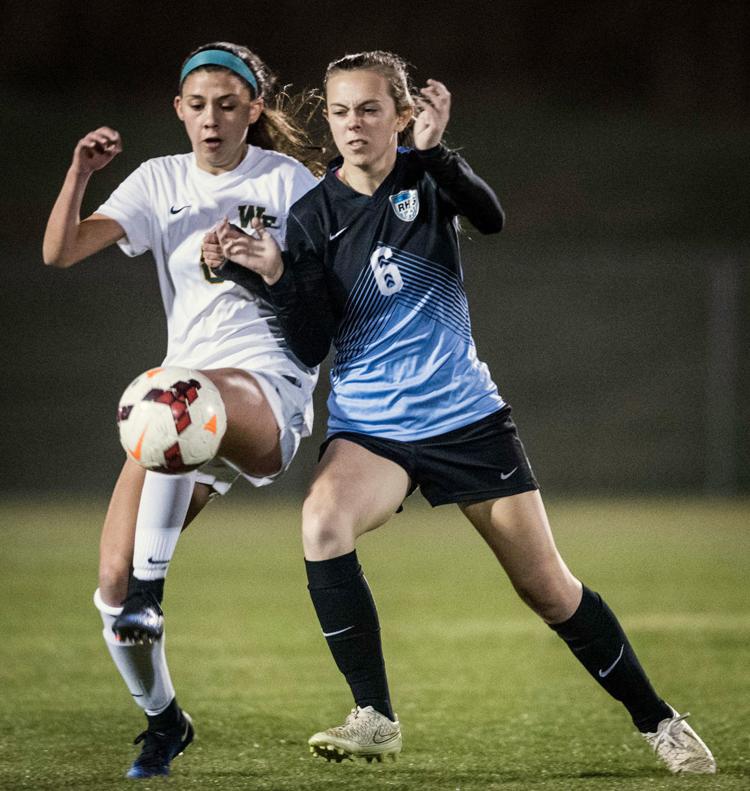 And Terry's speech touching on her father being away from the family – the struggle and all – came at the start of another long postseason stretch for the Titans.
Once again, West Forsyth, which was the No. 1 seed in the West, advanced to the state semifinals. The Titans, however, lost 2-1 to Southern Pines Pinecrest on May 21, ending the team's season at 23-1.
Advancing to the state semifinals was an improvement upon the 2018 season that began with a desire to repeat as state champions. That season, the Titans failed to advance past the third round of the state playoffs — the earliest their season has ended in the past four seasons.
West Forsyth was without Terry through much of the 2018 season. In October 2017, she was playing in a club soccer game with the N.C. Fusion at Bryan Park. A kick to her right leg left her with a torn meniscus.
Terry played with the injury for another month. The injury was originally misdiagnosed as a sprain. She was told on Feb. 14, 2018, it was a meniscus tear, and surgery came two days later. Terry was back in a West Forsyth jersey about a month and a half later.
According to Bilton, Terry's knee injury was one of five major injuries that plagued the Titans that season, which ended at 17-4. Four other players sustained ACL injuries — including Justiss Hunter, a sophomore at the time, who filled in at center back in the first game of the season on Feb. 28.
"We were very creative last year, at times, until Terry came back," Bilton said. "We were still very good and, if we would've been healthy, that probably would've been the most talented team we had."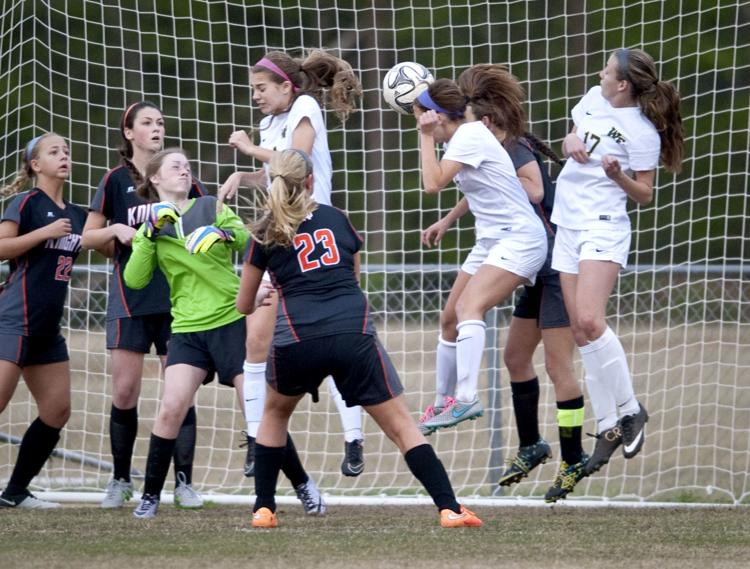 Now, Western Carolina — the Division I program that extended her an offer a day after that game-winning goal that gave the Titans a title — is calling Terry. A Tuesday night in Browns Summit will mark the end of one chapter in her soccer career and the start of another.
"It just means a lot to me to be with girls who are just as competitive as me, and who have worked so hard over the last four years to earn that spot — to earn this right to be here," Terry said. "And I get to play with my best friends. I know Coach Bilton is so proud of me, and I wouldn't want to be anywhere else in July."