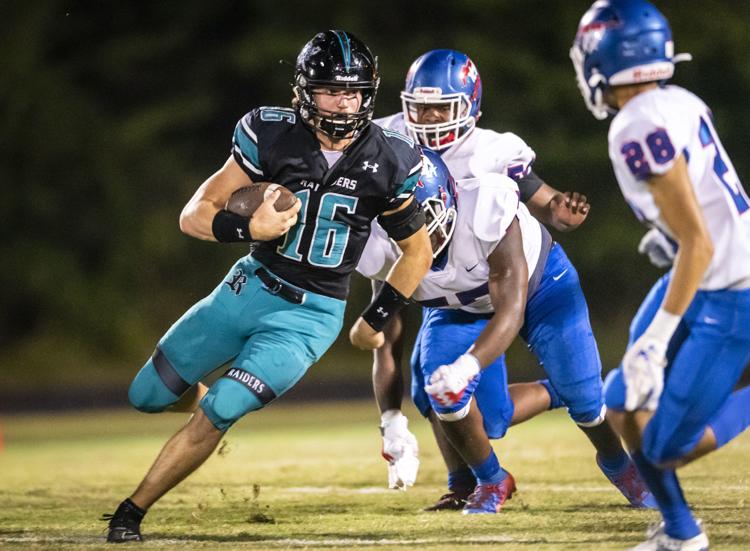 It's the eighth week of the high school football season, and conference play kicks off for the remainder of teams across the area in the NCHSAA Class 4-A, 3-A and 1-A.
Winston-Salem Prep is off to its best start in program history, Parkland is about to head into conference play coming off consecutive losses, conference play begins in the Central Piedmont 4-A and there is a battle of unbeaten teams in the Central Carolina 2-A.
Here are five games to watch Friday in the Piedmont Triad:
Winston-Salem Prep (5-1) at South Stokes (4-2)
The Phoenix has already tied the mark for most wins since the program began five years ago.
The Phoenix will travel to Walnut Cove to kick off Northwest 1-A play against South Stokes. The Sauras, under first-year coach David Diamont, are entering conference play with their losses coming against Walkertown and Elkin.
Timothy Davis, the Phoenix's sophomore quarterback, has 1,355 passing yards and 19 touchdowns as the team has won five straight games. Running back Tresean Stewart has 759 rushing yards and nine touchdowns in that span as well — seven of them coming Sept. 13 in a 54-40 win against East Wilkes.
South Stokes quarterback Logan Nelson, a senior, has 793 passing yards and nine touchdowns through six games. Wide receiver Landon Parsons, a senior, has racked up 183 yards receiving and two touchdowns, while rushing for another 287 yards and scoring five rushing touchdowns.
Southwest Guilford (4-2) at Parkland (4-2)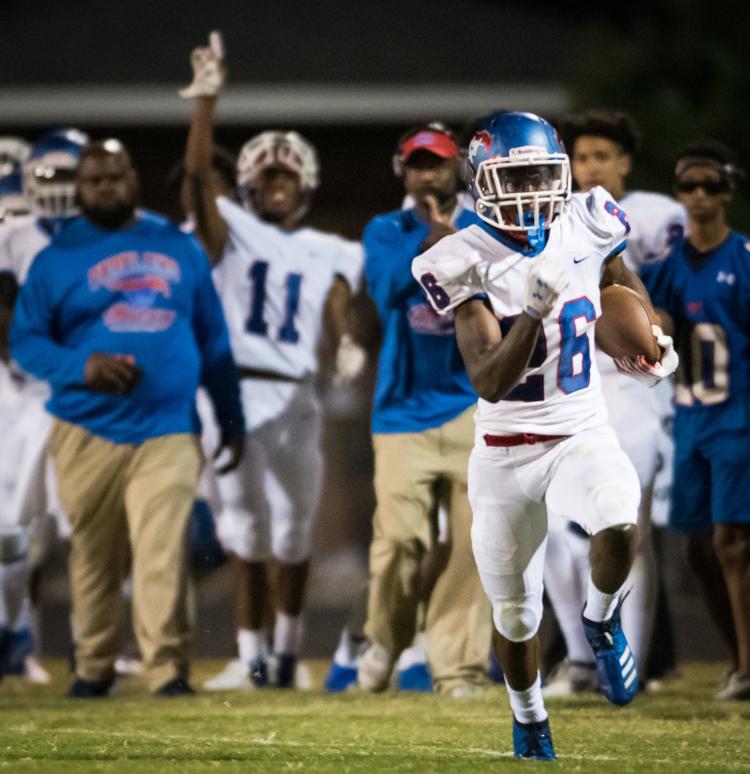 Parkland opens conference play in the Piedmont Triad 3-A at Deaton-Thompson Stadium. The Mustangs take on Southwest Guilford led by Chuck Doak, who was named the head coach in December.
The Mustangs last played Sept. 27 in Pfafftown against Reagan — a 28-6 loss against the Raiders. It was Parkland's second straight loss following the previous week's loss against East Forsyth. Against the Raiders, JaQuan Kelly scored the Mustangs' only touchdown on a 4-yard carry with 6:29 left in the third quarter.
Southwest Guilford scored 21 points in the second quarter of a 35-14 win Oct. 4 against High Point Andrews. Quarterback Jaden Rogers passed for 240 yards and a touchdown and was intercepted once.
Glenn (4-2) at Reagan (6-0)
Glenn has won three straight games coming into its road game against undefeated Reagan.
In those wins, the Bobcats have outscored opponents 94-6 — the lone six points coming Oct. 4 in a win against Ragsdale. Glenn scored a combined four touchdowns from juniors Aronson Cook and Monterious Godfrey along with Will Craig-Blakely, a senior. In the 26-6 win, the three players combined for 114 yards on the ground.
Reagan has seen plenty of success on offense this season. D.J. Moyer, a senior rated as a 3-star prospect by 247Sports, is the Raiders' rushing leader with 556 yards and seven touchdowns. Quarterback Gabriel Hollingsworth, a Columbia commit, has passed for 868 yards and 14 touchdowns along with four interceptions. He also has scored six rushing touchdowns and racked up 470 rushing yards.
The Raiders are averaging more than 42 points per game this season.
Reynolds (3-3) at Davie County (3-3)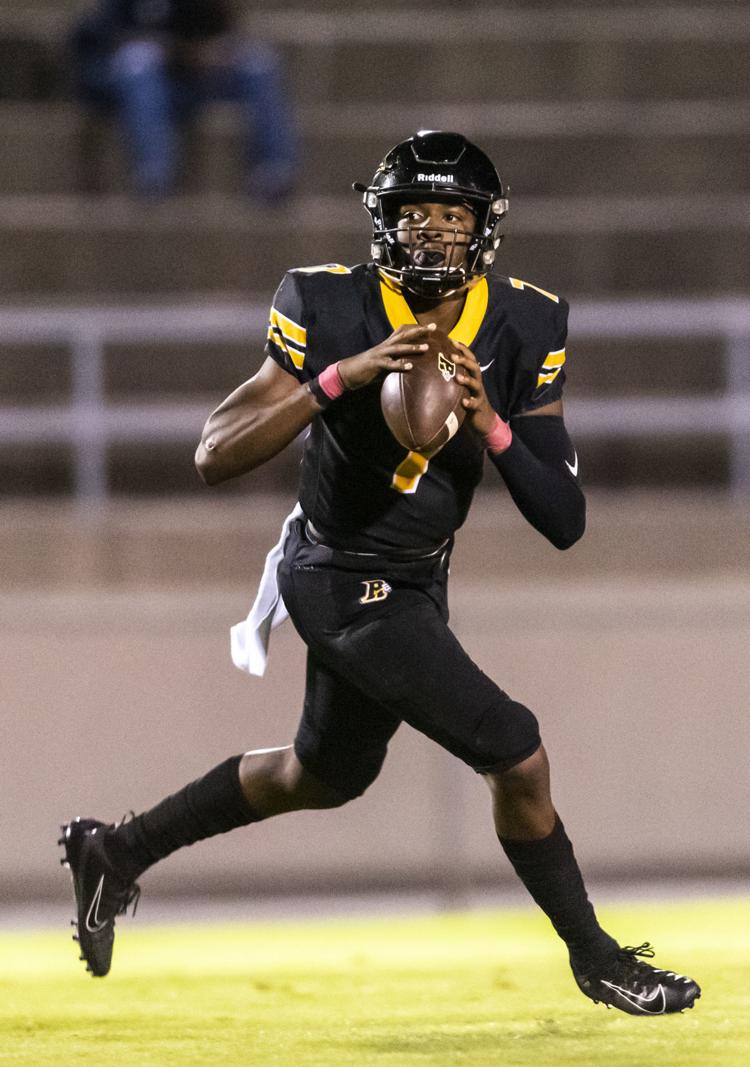 Reynolds has won two straight games ahead of its conference opener against Davie County in Mocksville.
The Demons slipped past winless High Point Central 26-21 last week; junior quarterback Caden Davis threw three touchdown passes and finished the game with 218 yards.
It was Davis' second straight game passing for more than 200 yards; the first came in a 29-6 win over North Forsyth. Davis had 233 passing yards against the Vikings and connected with Antonio Yates, a junior, for two touchdowns.
Davie County has lost three straight games, the most recent coming in a 43-40 loss Oct. 4 to Kannapolis Brown at War Eagle Stadium. Quarterback Nate Hampton, rated a 3-star prospect by 247Sports, passed for 388 yards and four touchdowns with an interception against the Wonders.
According to MaxPreps, Hampton, a junior, is ranked ninth among passing leaders across all classifications in North Carolina with 1,584 passing yards in six games this season.
Salisbury (6-0, 4-0) at Oak Grove (6-0, 4-0)
Salisbury travels to Midway to take on Oak Grove.
The Grizzlies have already topped their record from last year — the inaugural varsity season for Oak Grove football following the school's opening in August 2017. The team, which finished 5-6 last season, earned its sixth straight win in a 50-6 rout of South Davidson on Oct. 4.
Aiden Shewcow, a junior running back with a scholarship offer from Charlotte, rushed for 233 yards and four touchdowns in that game.
Salisbury defeated Central Davidson on Oct. 4 — the Spartans' first conference loss of the season. Mike McLean, the Hornets' junior running back, ran for a 37-yard touchdown with just over 1:30 remaining in the 10-0 win.