SportsXtra: This week's featured high school athletes, December 27
Focus on: Stephen Minor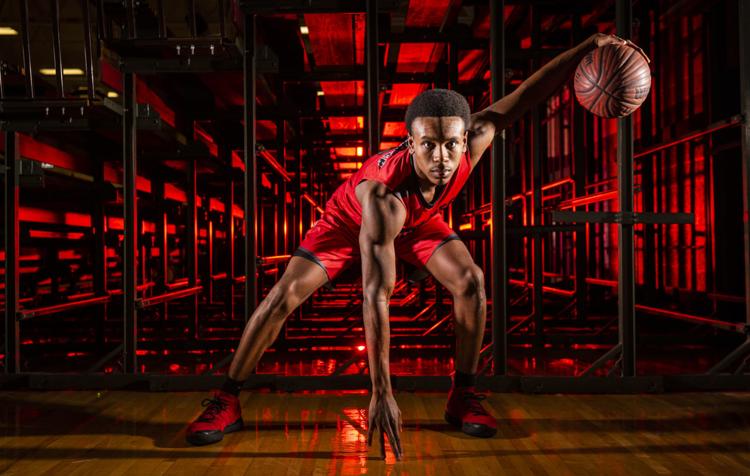 You probably won't notice Stephen Minor quietly slipping away from Winston-Salem Prep's pregame warmup. The Phoenix senior never fails to visit the end of the court where he'll kneel for a moment of prayer before every game.
It's not something he does for attention. It's how he was raised by his parents, Donna and Robert Minor. "Before every game I'll go to the corner and pray," he said. "I don't do it for attention. I do it to help calm me down.
"My parents have done a good job of raising me. My dad says to never forget God and give Him praise. I have definitely seen Him make ways when I didn't think it was possible.
"I've seen how the devil tries to shame me. I don't do things to try to fit in. It's another opportunity to play with my team in front of people and see what God has done for me and my family."
Minor said he often shares his faith with teammates and Coach Andre Gould. "At times me and Coach Gould will talk about it," he said. "It's another day, another opportunity to share with my teammates. Those people around me will see it was not me, it was definitely God."
Minor, who played his first two years at Atkins before transferring to Prep, will be a key to the Phoenix team's success this year.
"I don't really feel any pressure," he said. "We have some good shooters on our team. I trust them and don't want to be the only one taking shots. They work hard too. I'm just as happy when they're making shots."
Adjusting to Gould's system was a big change from Atkins. "It was definitely a big adjustment because I didn't know it," he said.
"I like the system. Coach is really big on acting a certain way. He has standards we must meet."
Gould's coaching style includes more than the X's and O's. "He also teaches us life lessons," Minor said. "He has tough standards. He's tough on us. He teaches us to be respectable."
Minor's love for basketball began when he was a younger. "I remember sitting on the couch watching the NBA with my dad," he recalled. "My whole family played, my dad, my uncles. It's in our bloodline."
As the team's point guard and ace three-point shooter, Minor is Gould's 'coach on the court.' "I try to set everything up," he said. "I try to get the ball to the right person at the right time. I like to see my teammates succeed.
"I'm the coach on the court. I'll call the offenses and defenses. Coach Gould will tell me what play to run but if I see something different, I'll change it."
Watching his three-pointers fall is satisfying. "It's a great feeling but I know I have to get back on defense," Minor said. "If they're falling, I don't change anything."
He'll depend on his teammates when his shots aren't falling. "I know it's not my night, so I just find my teammates," Minor said. "I'm not gonna force it. I just let the game come to me."
Missing shots he normally makes, making a turnover or reacting to a call by a referee are the things that frustrate him the most. "It's all part of the game," Minor said. "If I freak out my teammates will. I'll walk to the other end of the court and take a deep breath. I'll talk to myself and try to reel myself back in and calm down.
"You control what you can and pray. That's what the coaches tell us."
The look on Minor's face before and during a game can be deceiving. "Before the game I have a really serious, mean look on my face," he said, laughing. "But I'm really a super, super goofy person, especially when I get home with my family or with friends. I like dancing."
He's very selective in choosing his circle of friends. "I'm not a partier," Minor said. "I hate that environment. I like that I have a select group of friends.
"I like to be different. I'm not like most people. That's what makes me, me. My dad talks about that a lot. I was born to stand out. I watch the way I dress, talk, my hair, especially my hair. I have a neat Afro."
He's not particularly fond of standing out at the free throw line in two games this season against the same opponent. "I air balled a free throw," Minor said. "I short armed it. I did it again the next time we played them. My teammates still talk about it. They were talking about it the other day. I said, 'we're not gonna talk about it. That's in the past.'"
Focus on: Scarlett Clevenger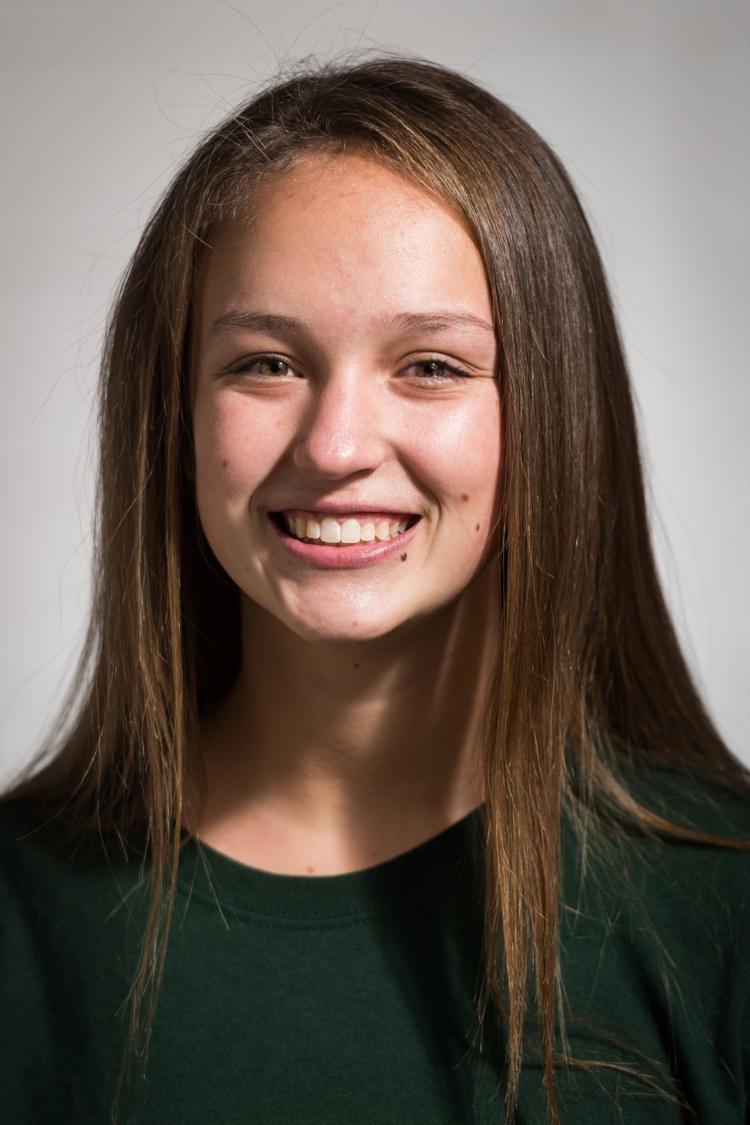 Scarlett Clevenger took her first swimming lesson when she was 3, started swimming competitively at 5, and now 17, she has swum at the club level for 10 of the 12 years in between.
She took almost two years off in middle school because of back problems, and as a senior at West Forsyth, she finds herself taking off several months for an entirely different reason: she wanted to concentrate on high school swimming for her senior year.
"At the end of my junior year, I had a mental sit down with myself, to be realistic with myself about swimming," she said, "I wasn't going to be happy swimming in college in Kentucky, where I wanted to go. I knew I wanted to study nursing, and as far as not swimming anymore, that was easy. I knew I was doing what was best for me in terms of my career. So I decided to take the high-school season off from my club team and concentrate on high school swimming for a few months."
The Titans' coach, Sandy Thomerson, was Clevenger's first coach at the club level for the WSY TYDE swim team. She was certainly thrilled to have a veteran, club-level swimmer showing up at practice every day.
"She told me she wanted to practice with the team every day and be a bigger part of it," Thomerson said.
Clevenger swam for TYDE through the sixth grade and into the seventh grade before back problems caused, she said, by malfunctioning growth plates. She took off the rest of that year and her entire eighth-grade year. She returned to club swimming as a ninth-grader with a smaller club based in Winston-Salem, Infinity.
"The program was smaller, and with me starting all over, it was a good change," she said. "The past year or so, I haven't been able to swim more than an hour-and-a-half every day — I just can't do all the yardage I used to."
Once a pure distance swimmer, Clevenger is swimming more middle-distance events. Thomerson is relying on her in the 200-yard freestyle and 100-yard backstroke, events in which she qualified for the Class 4-A regional meet last year.
Pretty good for a kid who couldn't stand swimming when she started.
"I had tried cheerleading and gymnastics and dancing, and my mom was like, 'Let's try swimming.' I hated it at the first practice; I begged her to let me quit. But I got through the first week, and when I won my first blue ribbon in a 25-yard butterfly, I loved it."
Focus on: Rennie Parker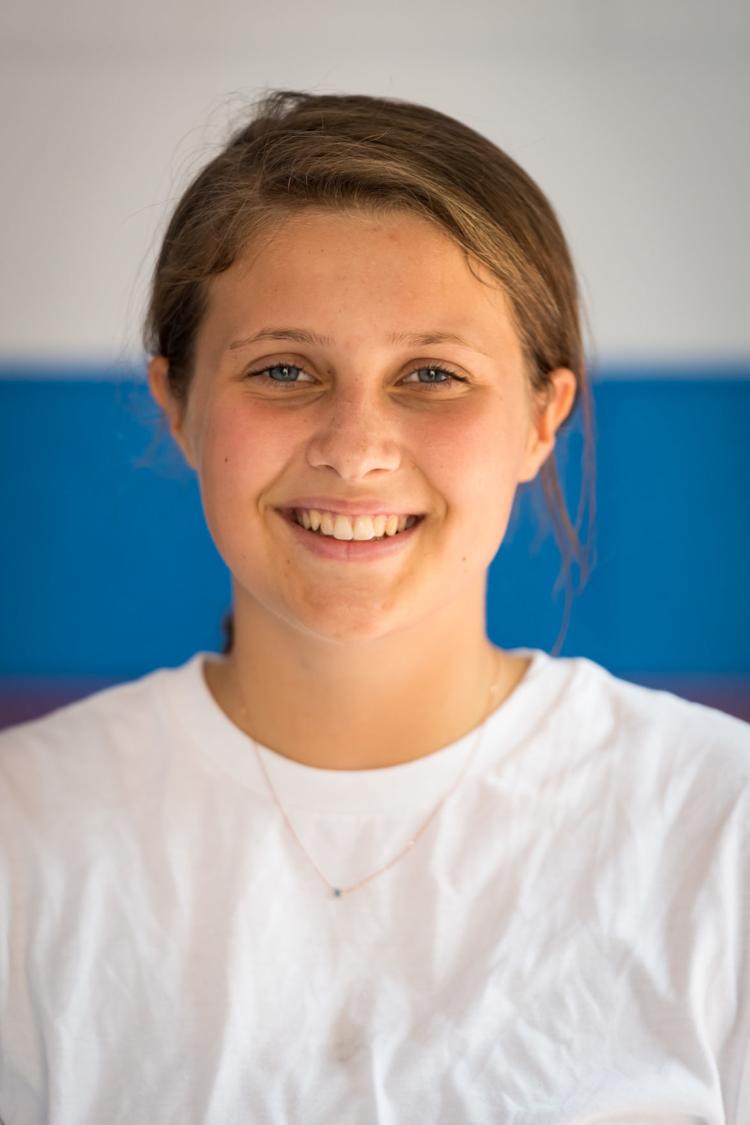 Rennie Parker had a big adjustment to make at Salem Academy this year. Her basketball coach, Jason Kremidas, started to split her time on the court between her natural position, shooting guard, and point guard, knowing that the Sabers' point guard is a senior and Parker will have to handle those duties next season.
Of course, that was nothing like the adjustment she made 18 months ago. A 15-year-old sophomore, Parker made the 360-mile drive from her home in the village of Hatteras on North Carolina's Outer Banks to enroll as a boarding student at Salem.
"It was a big culture shock," Parker admitted. "It's so unusual to be able to drive 15 minutes to a Wal-Mart, and the geography is so different. People go hiking here all the time."
At home in Hatteras, with a high spot on the island being the top of a sand dune, it's 45 minutes to the nearest chain grocery store, and after a hurricane flooded the family home several years ago, they lived with a grandparent for six months.
Why the move?
"A girl from home, Libby Tawes, she went to school here," Parker said. "I found out about and decided I had to check it out."
Parker, who plays the violin, loves to read and works in a seafood restaurant in Hatteras during the summer, started playing basketball as a young girl in a recreation league, coached by her father.
"I was pulled into it, but I ended up really liking it," she said. "I like that it's very physical, aggressive, intense. I play volleyball, and it's a polar opposite to basketball."
Kremidas said he won't have any problem putting Parker at point guard on a full-time basis next season.
"She's comfortable playing on or off the ball, either initiating the offense or being the first or second pass," Kremidas said.
Parker, 5-foot-6, hasn't had trouble with the transition back and forth between the guard positions.
"They're so intertwined," she said, "because the wing (guard) can take the ball up, too. I really like the transition to point guard — a lot more than I thought I would."
Three questions for Parker
Q: Where would you go on your dream vacation?
Answer: East Africa
Q: Who's the athlete you admire the most?
Answer: Serena Williams
Q: What's on your bucket list?
Answer: Visit Antarctica
Focus on: Natalie Axtell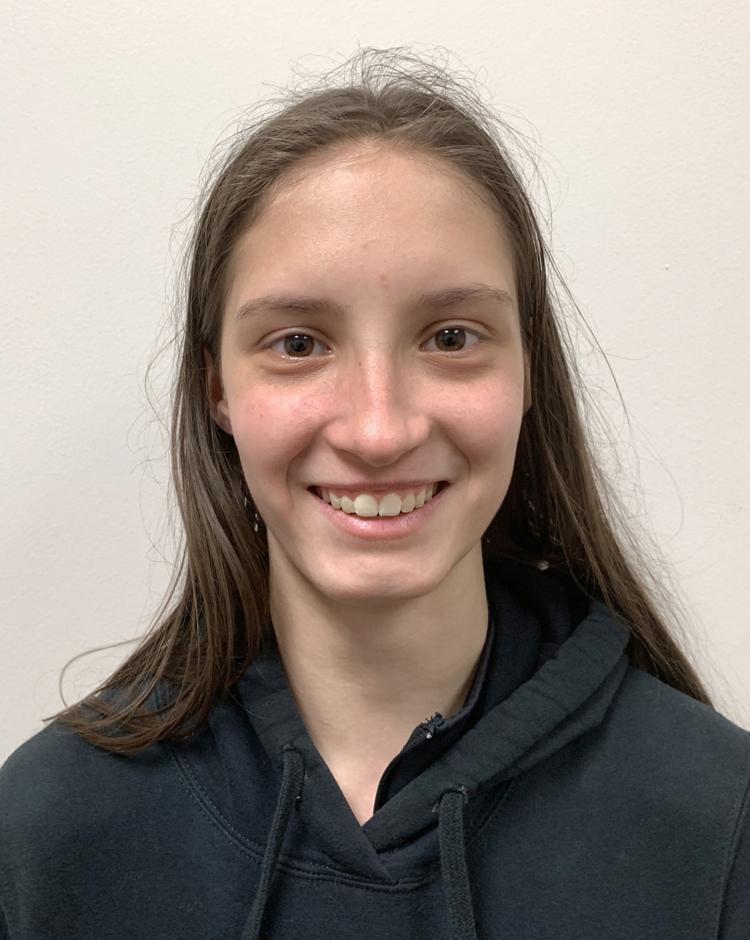 Doing it the easy way didn't work out for East Forsyth's Natalie Axtell, so the Eagles sophomore was forced to have a more serious surgery during the fall. "I had two surgeries," she said. "I had a heart cath. I thought it would be the easy way, but it didn't work out, so I had open heart surgery."
She was determined that wouldn't stop her from playing basketball. "I was going to be the one who said let me get out of this bed," Axtell said. "It was tough for school. I couldn't carry more than three pounds. I had to use the elevator at school."
The toughest part was watching her teammates practice. "They were already practicing, and I had to sit there and watch," she said. "That was tough."
Axtell has played basketball since the third grade. A concussion in the sixth grade didn't stop her, and she said heart surgery certainly wouldn't end her career. "I was going to play basketball again," she said. "You've got to have heart. You've got to have the will to be a good basketball player."
She began her high school career last year at Glenn. Axtell said the culture of the program wasn't a good fit, so she decided to transfer to East Forsyth. "I feel like the coaches at East understand you," she said. "They always say you're not a position player, you're a basketball player.
"To me it feels like we're older with more mature attitudes."
Axtell still says she's surprised to be on a varsity team as a sophomore. "Basketball has always been fun, but I never thought I would go this far," she confessed. "In the fifth grade I started working more.
"I was seeing myself in the newspaper and it felt good. My mom (Sherri) was happy I found something that makes me happy. "
You can find her arriving early on school days to get in more practice, working out at home or participating on the AAU Winston-Salem Stealers team on weekends.
"My mom will drop me off at East at 7.a.m.," Axtell said. "I have a basketball at home, but sometimes I don't shoot. I just practice dribbling with a tennis ball. I usually have AAU on weekends."
She believes the Eagles can have an exceptional year. "I believe we can win a lot of games," said Axtell. "I really think we can make states. We just have to have the heart and passion to do it."
Focus on: Ella Smith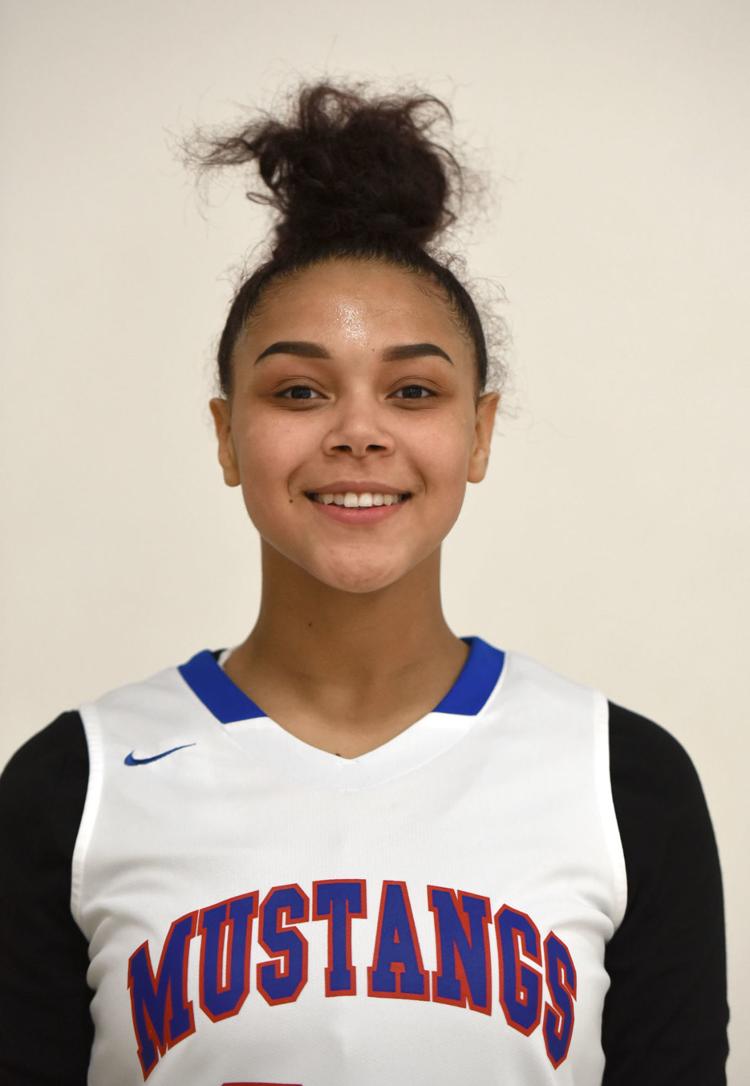 Ella Smith has the tools to become a formidable inside presence on the girls basketball team at Parkland. The 6-foot sophomore has developed a nice shooting touch from mid-range, and she's proving herself as a fierce rebounder and menacing shot-blocker.
"With Ella, it's all a matter of putting everything together and executing," Coach Ken Leak said. "She's just beginning to realize her potential. The light bulb is starting to come on and I'm very excited about all the possibilities."
Having one of his former players serve as Smith's mentor is one of the reasons for Leak's optimism. Tia Clement, a Parkland assistant coach, played at Mount Tabor when Leak was an assistant with the Spartans. Clement, who played at N.C. Central, was an all-conference performer in high school.
"Tia does a lot of one-on-one with Ella," said Leak. "That's a big help because Tia's game is so similar to Ella's."
Smith thoroughly enjoys getting analysis and feedback from Clement.
"I love being around her and the whole team does as well," said Smith. "She stays on me about maintaining focus and going hard in the paint."
Before the holiday break, Smith averaged 6.1 points and 10.1 rebounds per game. On two occasions during the first three weeks of the season, she posted double figures in points and rebounds.
After playing her freshman year at Reynolds, Smith transferred to Parkland. It's a move that she has no regrets about.
"I've never been part of a team like the team we have at Parkland," she said. "It really is like a family and I'm very happy to be a part of it."
Earlier this season, the Mustangs made history when they won the Champion bracket of the Mary Garber Holiday Tip-Off Classic. It was their first Garber title in school history. Now that the season is well underway, Smith is looking to do her part to help Parkland (6-3) secure its first winning season since 2008-2009.
"Every player on our team has her own unique skill that can help us win games," Smith said. "So, these next two or three years should be a lot of fun for all of us."
Three questions for Smith
Q: Who's your favorite historical figure?
Answer: Martin Luther King Jr.
Q: What is your hobby?
Answer: Rapping (hip-hop and alternative)
Q: If you could live anywhere in the world, where would it be?
Answer: China
Focus on: Alonso Rodriguez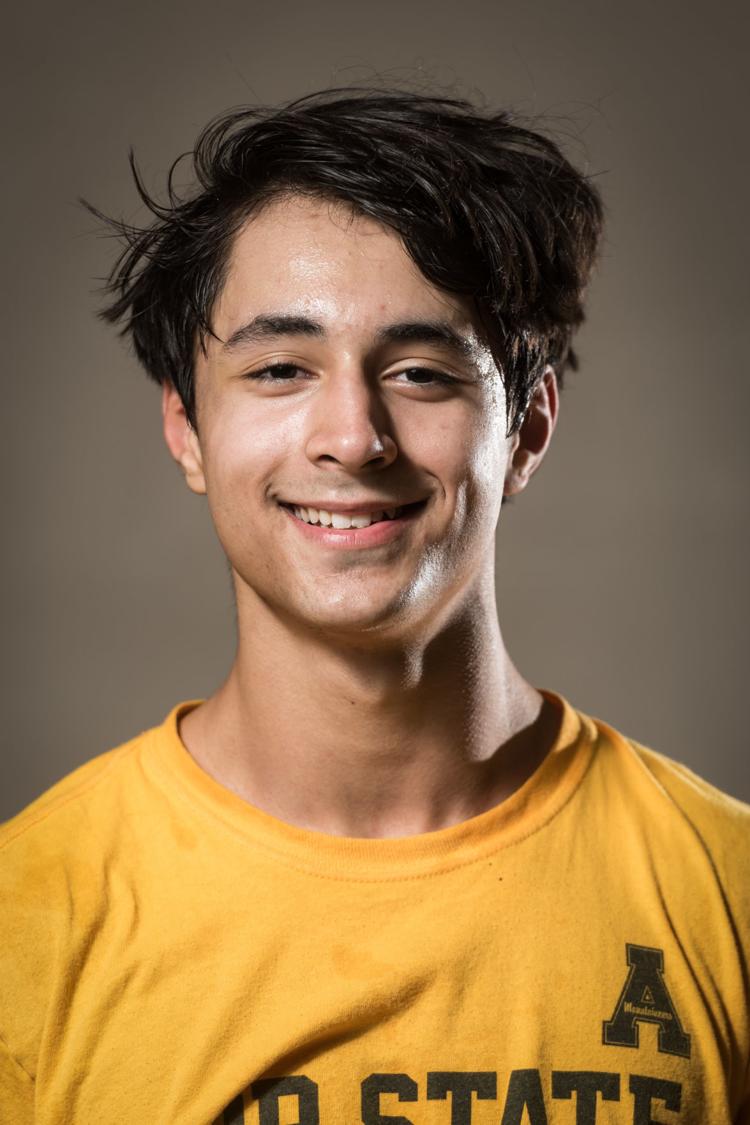 This marks the first full season of wrestling for Alonso Rodriguez and he's causing quite a stir.
The Reagan sophomore (17-5 as of Dec. 20) is more than holding his own in the 145-pound weight class. That's noteworthy when you consider what transpired last year.
As a freshman, he started late because of a broken nose he suffered before tryouts were held. As a result, he missed most of last season, but he did return in time to wrestle for the final month of competition.
Based what Rodriguez has accomplished so far, it's clear that the wrestling camp he attended at Appalachian State last summer was pivotal. "By going to the camp, my technique and conditioning improved," he said. "But I also learned a lot of new moves that have really helped."
Although Rodriguez didn't get that much mat time as a freshman, he did get a taste of what post-season competition is like. Rodriguez didn't make it out of the regional, but the experience he gained should serve him well for this year.
"At last year's regionals, it didn't take long for me to see how limited I was," he said. "I needed more tools to compete at that level. That's why attending summer camp was so important for me."
Coach Dwight Shelton of Reagan is pleased with the progress that Rodriguez has made. Even so, he realizes that to achieve the No. 1 goal — qualifying for the Class 4-A state championships — Rodriguez will have to keep working diligently to make it happen.
"By the end of the (regular) season, I believe he can be a state qualifier," he said. "As long as keeps working the way he has, I'm confident that he will get there."
Rodriguez got interested in wrestling because of his fascination with boxing legend Muhammad Ali.
"I've seen all of Ali's fights (on video)," he said. "What attracted me to wrestling is that it's really a test of who you are. It's a sport that tells you a lot about how you react to adversity."
Three questions for Rodriguez
Q: What career would you like to pursue?
Answer: Architect
Q: Who's had the most influence in your life?
Answer: Johnny Rodriguez (father)
Q: Where would you go on your dream vacation?
Answer: Italy
Focus on: Que'Sean Brown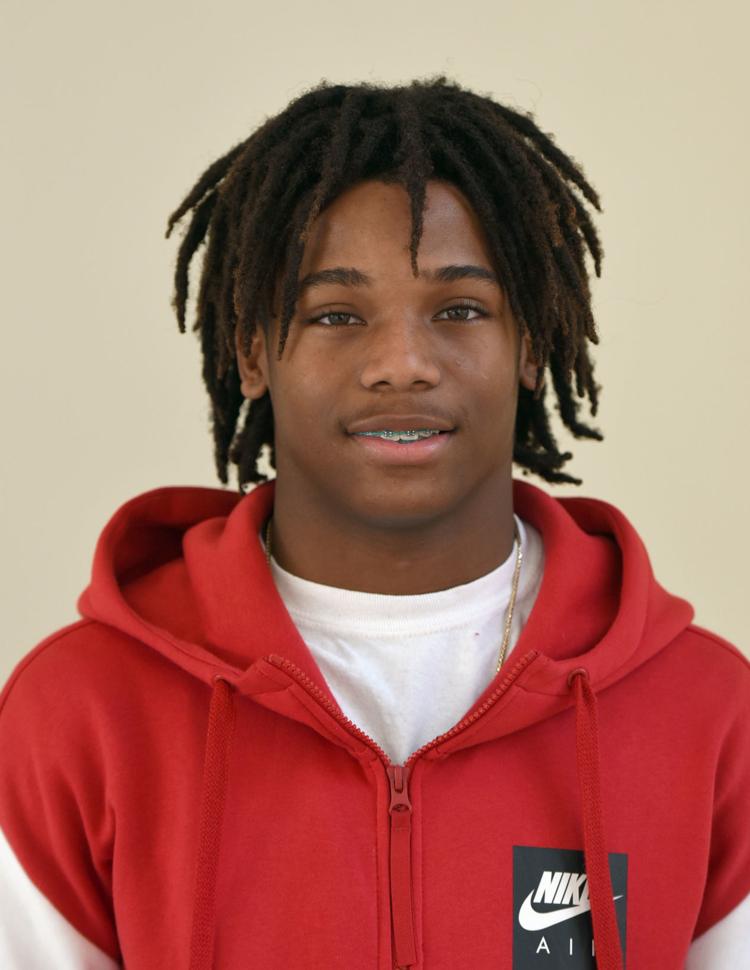 Walkertown freshman Que'Sean Brown had a monster season as the Wolfpack's top running back. Now it appears that he's on target to duplicate that same success as a track sprinter.
During the fall, Brown took over as Walkertown's big-play threat coming out of the backfield. He led the team with 823 rushing yards and 7 touchdowns.
It didn't take long for Brown to establish himself the leader in the sprints. He's also proven to be a nice addition to the 4x200 relay, which placed fourth at last year's Class 2-A state indoor championships.
In the 55-meter dash, Brown opened the season with a fourth-place finish in his first high school indoor meet (6.77 seconds). Two weeks later, he clocked a personal best of 6.73 seconds in the 55 for a fifth-place finish in a field that was loaded with upperclassmen.
"The better the competition, the better I perform," Brown said. "In the first meet I ran in a slower heat. In the second meet, I was put in the same heat with the fastest runners and my time dropped.
"The 55 is my favorite indoor race because I have a fast take-off. So, whoever gets out the fastest has the best chance to win."
Coach Marcus Sutton understands that Brown is starting from ground zero when it comes to mastering technique and block starts. In Sutton's mind, the best is yet to come for his young sprinter.
"Que'Sean is a raw talent who doesn't realize his full potential," Sutton said. "Even now, people are already talking about him. So now, the expectation is for him to show what he's capable of.
"Hopefully, everything will come together by the time we get to the (Western Piedmont 2-A) conference meet. Over the next three years, he'll be something to deal with."
Given Brown's early success in football and track, there's a chance that overconfidence could hamper his growth.
"That won't be a problem. It's not about me being the fastest guy," said Brown, who also runs the 300-meter dash. "It's about me doing all I can individually to help my team compete at the highest level."
Three questions for Brown
Q: Who are the best teachers you've had?
Answer: Ms. Autry (sixth grade, East Forsyth Middle) and Ms. Riley (seventh grade, Flat Rock Middle)
Q: What three pro athletes would you invite to dinner?
Answer: Odell Beckham Jr., Tyreek Hill, Tarik Cohen
Q: What's your favorite TV show?
Answer: "All American"
Focus on: Jeremiah Scales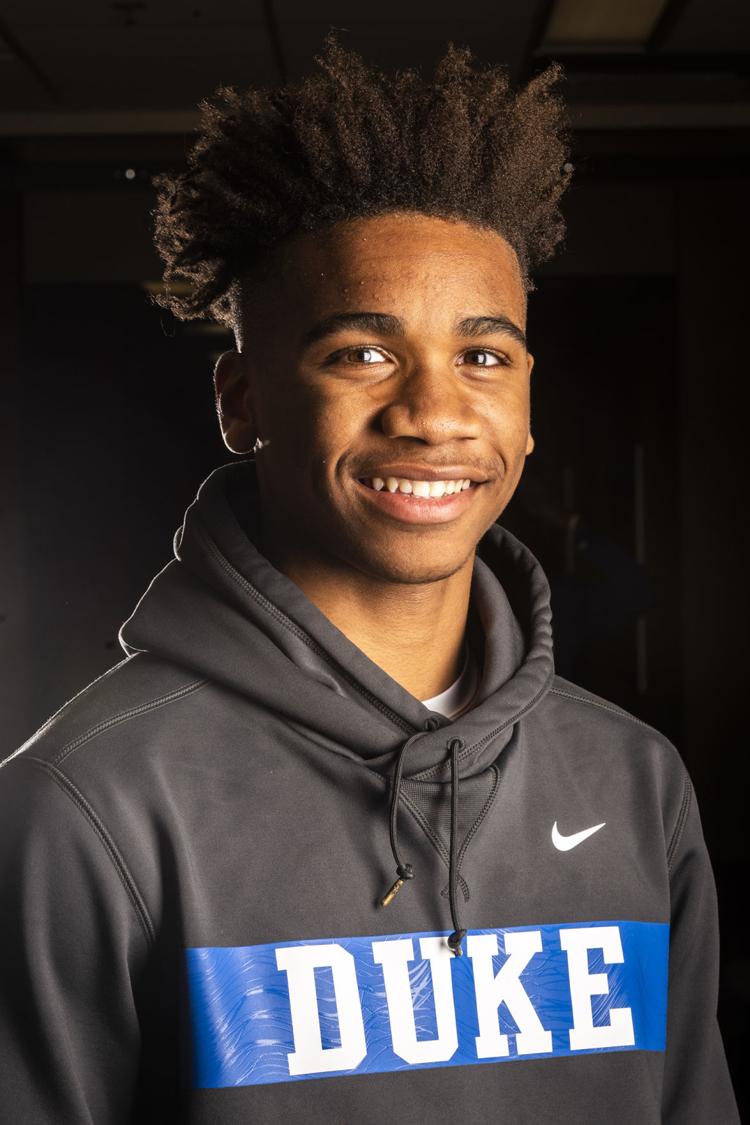 Glenn figures to emerge as a viable contender in Central Piedmont 4-A Conference basketball this season. Jeremiah Scales is one the major reasons why.
Although the Bobcats are top-heavy with underclassmen — the team has just three seniors — the roster has enough talent on board to make its presence felt. Scales, a 6-foot-3 sophomore shooting guard, has the tools to prove himself as one the area's elite two-way performers.
Here's an excerpt from a scouting report on Scales that was posted recently on the phenomhoopreport.com website.
"He's a long, athletic guard prospect with great ball skills, scoring prowess and two-way leadership attributes. This entire team (Glenn) defends and rebounds, but Scales is clearly among their best. He's a smart player with the ability to penetrate and finish with either hand or set up his teammates."
Coach Johnathan Gainey of Glenn has no doubts that Scales will take his game to the next level once his high school career is over. He describes Scales as a "gym rat" who is always working to raise his level of play.
"For starters, Jeremiah is very coachable," Gainey said. "Aside from that, he's always looking to make the right play. The one area we're working on now is his aggressiveness. In practices, his competitive nature is starting to take over and that's good to see."
Scales, an 83 % free-throw shooter, embraces his role as a defensive stopper. It's always his desire to match-up one-on-one against the opposing team's best player.
"I'm confident in my ability play lock down defense," Scales said. "Whoever the other team's best player is, that's the guy I want to guard. Offensively, I'm more of a slasher who attacks the rim. But I'm also able to see the floor and get my teammates involved."
Entering the Frank Spencer Holiday Classic, which started on Thursday, the Bobcats were hovering around the .500 mark in their first 10 games. In looking over the season's opening weeks, Scales believes that Glenn showed signs of better things to come in an 82-64 win over Trinity Wheatmore two weeks ago.
The Bobcats led by 12 points at the half and to withstand a couple of Wheatmore's fourth-quarter surges to maintain control. Over the final seven minutes of the game, Glenn put together a 20-9 run to win handily. Scales finished with 20 points, 7 rebounds, 3 assists and 2 steals.
"That was a game where we really came together as a team," said Scales, who has a 3.9 GPA. "If we can continue to play that way, it's going to take us a long way."
Focus on: Sindy Santana-Lucas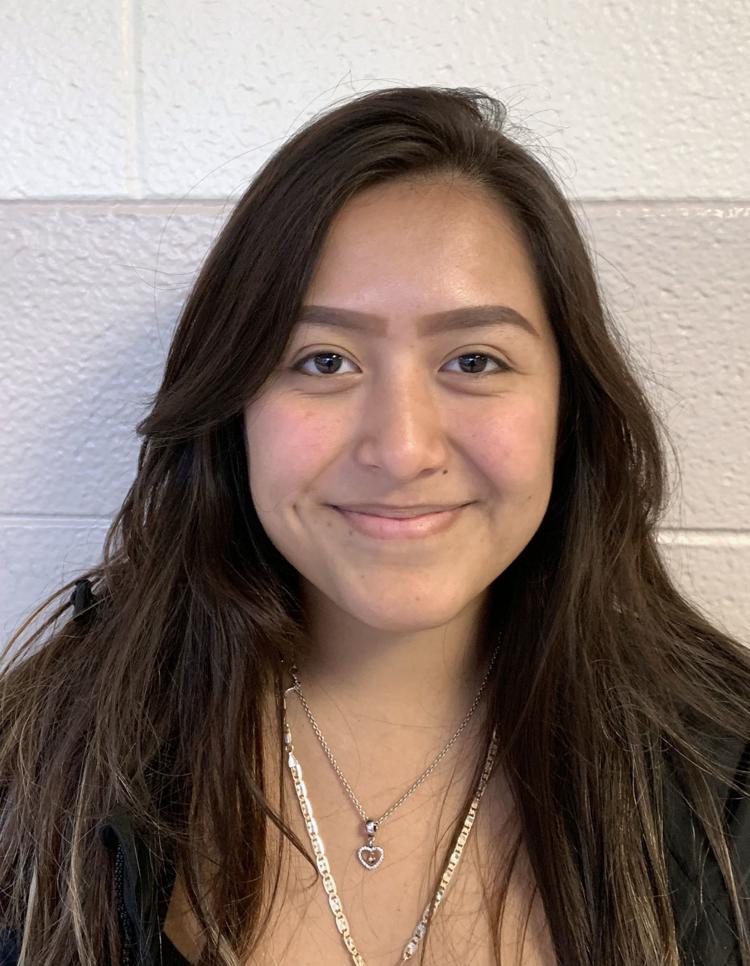 Sindy Santana-Lucas has wanted to play sports since middle school, however a lack of insurance prevented it. "My life has been complicated and it's been hard to play," the North Forsyth senior said. "My mom (Yanet) was afraid I would get hurt, and we couldn't afford to pay for it."
Santana-Lucas said she had wanted to play soccer, but swimming ended up being her sport.
Her dream came to fruition this year thanks to a job. "I basically paid for everything, my physical, school insurance and equipment for swimming," she proudly said. "I mostly liked swimming in general."
She had no competitive experience before joining the Vikings team. She quickly learned that Coach Robert Jaffe's practices were tough. "Jaffe pushed me to the limits," Santana-Lucas said. "I had to force myself to do things right. I had to pay attention more.
The main thing was to push myself to the limits and not get stressed out. I decided not to whine if Jaffe gives us 200s (distances). I just stay focused. I just do it and get it over with."
Her progress was quick in all but one area. "By the second week I started to breathe right," Santana-Lucas said. "By the first meet I started doing flip turns and back strokes."
Entry dives off the blocks proved difficult. "Diving into the water without belly-flopping was terrifying," Santana-Lucas said. "I had a fear of going into the water wrong. I did it wrong once and it was terrifying. I was afraid to do it again."
She decided to enter from the pool deck at the first meet but hasn't given up on the block entries. "I pushed myself that it's not that hard," Santana-Lucas said. "If I can do it once, I can do it again."
Mastering flip turns proved to be much easier. "I could already do it, but I wasn't an expert at it," she said. "I still need a little more practice on them."
Santana-Lucas almost didn't swim in her first meet. "I started getting really bad cramps," she recalled. "I was going to tell Jaffe I couldn't do it, but I was taught to never give up."
She swam the 50 and 100 freestyle. "I was proud of myself because I thought I would be the last one," Santana-Lucas said. "I thought I would get a cramp in the middle of swimming and start drowning.
"I thought everybody would go past me and everyone would be standing around a long time waiting for me to finish. It was not like that."
Focus on: Aldo Noyola-Rico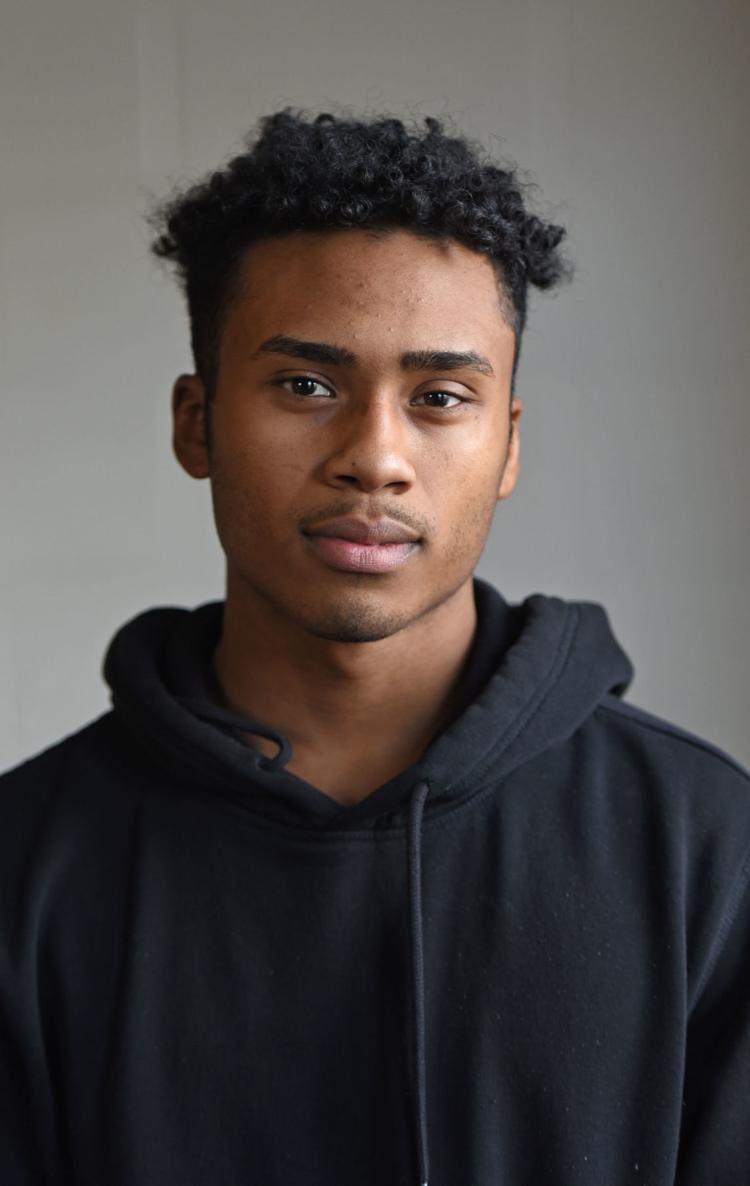 Aldo Noyola-Rico credits Billy Martin, the Reynolds basketball coach with getting him interested in wrestling. "He was my weightlifting coach and told me I should try it out," the Demons senior said. "So, I tried it and I liked it."
Noyola-Rico, who wrestles in the 120-pound weight class, said wrestling makes him feel much bigger. "I'm a small guy, so when I do go out there it makes me feel big," he said. "It makes me feel superior."
He admitted that joining the wrestling team was a big change in lifestyle. "It helps you build character," Noyola-Rico said. "I had never really been committed to anything too much. Once I started wrestling, I enjoyed it and couldn't stop it."
There are two things he dislikes. "I don't like running sprints," he said, laughing. "I don't like having to wake up early around 6 a.m. to go to tournaments on weekends."
While he isn't fond of sprints, Noyola-Rico said it's necessary to stay in top condition.
"We run a lot of sprints in practice," he said. "Actually, practices are pretty hard. We'll also do drills, conditioning, go live, and then do more conditioning."
Noyola-Rico has been on the team for three years. He started at 120 his freshman year and dropped to the 113 last season. Moving back to 120 this year was exciting.
"Coach (David House) wanted me to wrestle at 113 my junior year," Noyola-Rico said. "It was tough because I didn't want to cut weight."
He still made it the NCHSAA 4-A State Championship. "I lost my first match, won my second and lost the third," Noyola-Rico said. ""I liked the vibe, but there was a lot of pressure. A lot of people were watching."
Wrestling in the state meet provided an unexpected incentive for Noyola-Rico. "At that point I wanted to show people I didn't get there by luck," he said. "I had to show them I got there because I worked for it."
He said failing to work hard shows up at meets. "There's no one to blame in wrestling if you go out there and get beat in front of everyone," Noyola-Rico said. "It shows you haven't been working hard in practice.
"You have to work harder in practice and go back out there and show people that you've improved."
Noyola-Rico said the sacrifices a wrestler must make during the holidays is tough. "That's when you eat the most," he said, laughing loudly. "I have to restrain myself. I have to sit there and watch everybody else eat."
Focus on: Kenneth McDonald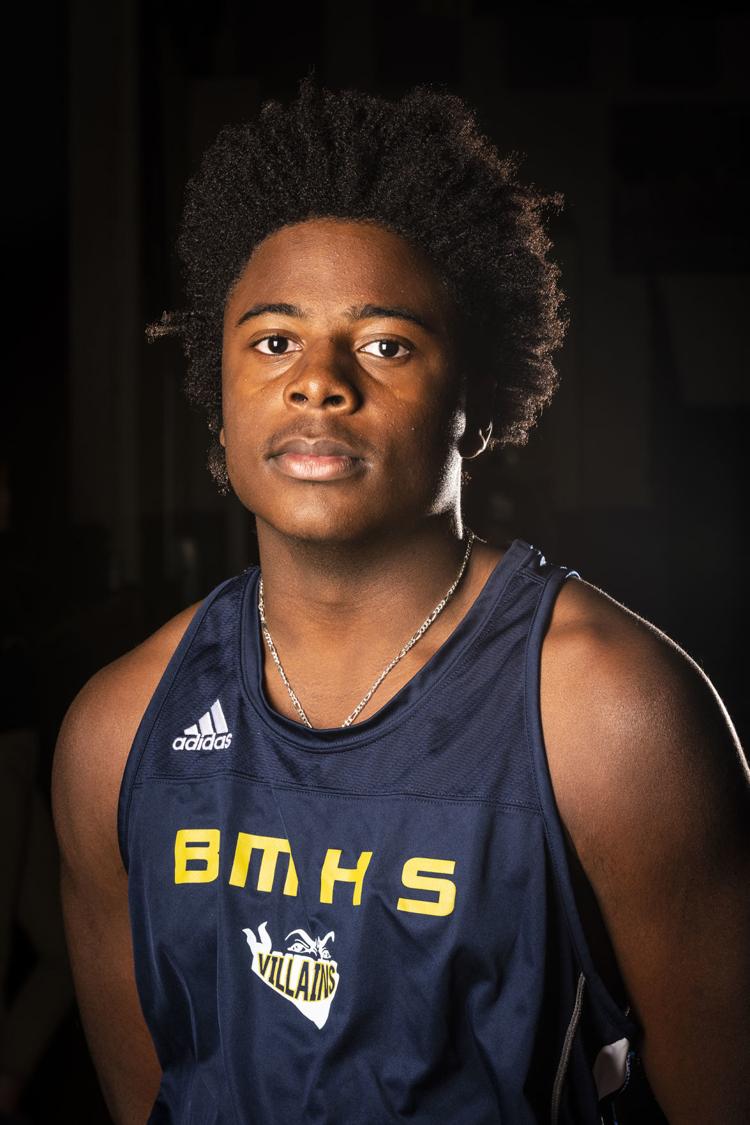 Being a self-described "military brat", Kenneth McDonald would certainly recognize a direct order when he heard one.
That's how McDonald, a senior at Bishop McGuinness, found his way to the shot put — first on the track team last spring and currently for the indoor team.
"One of the track coaches saw me last year and just looked at me and said, 'you are going to throw the shot put for the track team'", McDonald recalled. "So, I just looked at him and said 'sure, I guess so.' I was pretty terrible at it the first few times I did it. But the repetition and getting stronger in the weight room was a huge help as we got through the season."
McDonald laughed as he disclosed the length of his first throw at his first practice — "I was lucky it went over 10 feet. It was so bad."
He hung with it, however, and started practicing the motion in front of a mirror. At his first official meet, his first throw was measured at 22 feet. By the end of the spring season, he had topped 31 feet.
And already this season, he has recorded a distance of 38 feet.
McDonald is also running the 55 and the 300, which he said is making his training "interesting."
"Oh, that's a little different," he said. "I think I like the 300 better because it's not an all-out sprint. I'm also planning on running the 200 in the spring for outdoor and this gives me good training for endurance and speed."
McDonald made a quick adjustment as a football player in the fall in his first season playing the sport. He was a linebacker and ended up leading the team in tackles (79).
McDonald has lived in six states in addition to North Carolina — Tennessee, Illinois, California, Florida, Mississippi, and Hawaii, where his father was stationed at Hickam Air Force Base, near Pearl Harbor on Oahu.
He is interested in going to college to study medicine or engineering and mentioned N.C. State and East Carolina as possibilities.
Three questions for McDonald
Q: Where would you go on your dream vacation?
Answer: Italy or France
Q: What's the best book you've read?
Answer: "1984" by George Orwell
Q: What three people, living or dead, would you invite to dinner?
Answer: Jesus, Barack Obama, Dr. Martin Luther King, Jr.
Focus on: Hadiyah Williams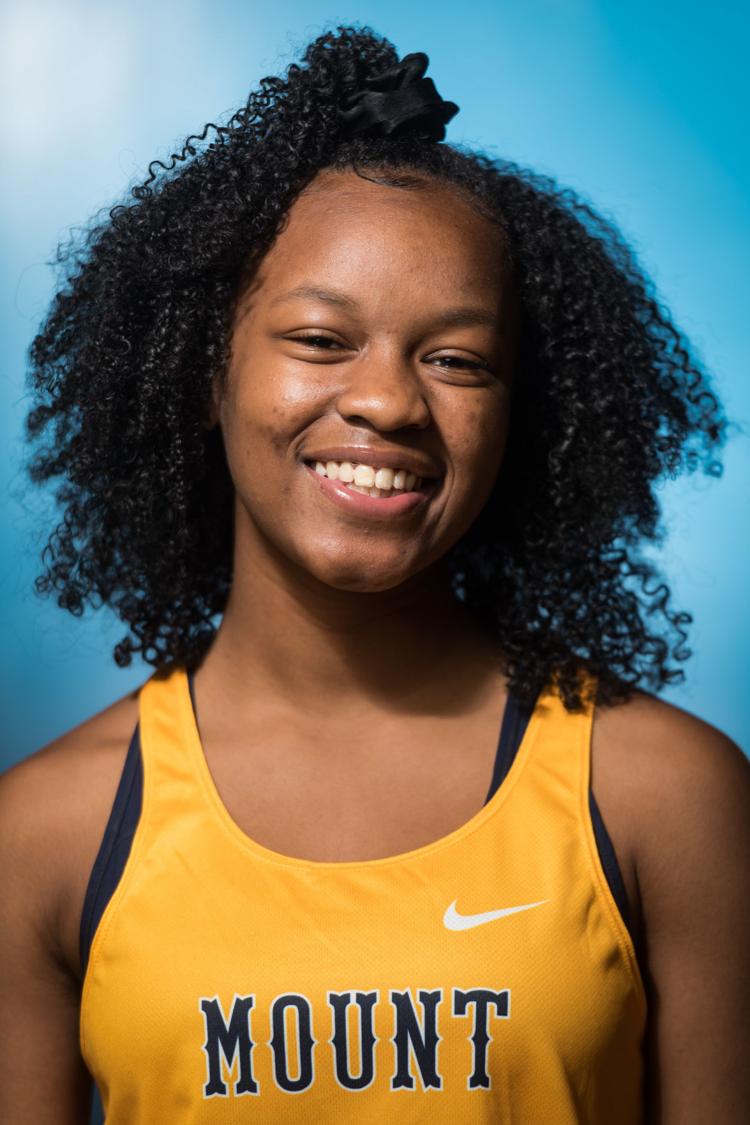 The indoor track and field team at Mount Tabor was the perfect avenue for Hadiyah Williams to start running again.
Williams, a junior, hadn't run for several years during middle school but was eager to get back to the sport once she arrived on campus as a freshman.
Williams joined a running club in elementary school, "Girls on the Run" and would train for 5Ks, running in several of those events around town.
After transferring to a different elementary school after third grade, she decided not to continue her running pursuits in favor of just playing sports with her friends.
"When I got to middle school, we didn't have any sports teams, either," Williams said. "My activities were limited to what I did in P.E. class or playing around with some of my friends. I knew that when I got to high school, I was going to start running again."
Williams learned that there was an indoor track team and she was eager to give it a shot.
"I started off running the 55, then they moved me to the 300 and towards the end of the season, I started running the 500," Williams said. "I also got to join the 4x200 relay team. I enjoyed indoor season so much I was ready to run outdoor once the season started."
Williams was asked to run the 200,400 and the 4x200 and 4x400 relay teams.
"I really, really like the 200," she said. "It's still probably my favorite event. That and the 4x200 relay. When I first started with the 400, I really, really hated it. Like, I would cross my fingers when they were calling us out for events, hoping they wouldn't call my name. I've gotten used to it now and can prepare myself mentally a lot better for it."
Williams laughs off her early memories of the 400 now and uses them as a springboard to achieve new goals for the race.
"I want to get under 1 minute," said Williams, whose fastest time in the race is 1 minute, 3 seconds.
As a freshman, she was on the Spartans' 4x400 relay team that finished fifth at the NCHSAA 3-A outdoor state championships.
In her favorite event, the 200, Williams wants to bring her time down to the 27-second mark or under.
"I'm getting closer," said Williams, who is also participates in chorus, dance and is on the prom committee. "My fastest is 27.54 now. I love that race because it is so quick, and you don't have a lot of space for errors."
Focus on: Blake Collins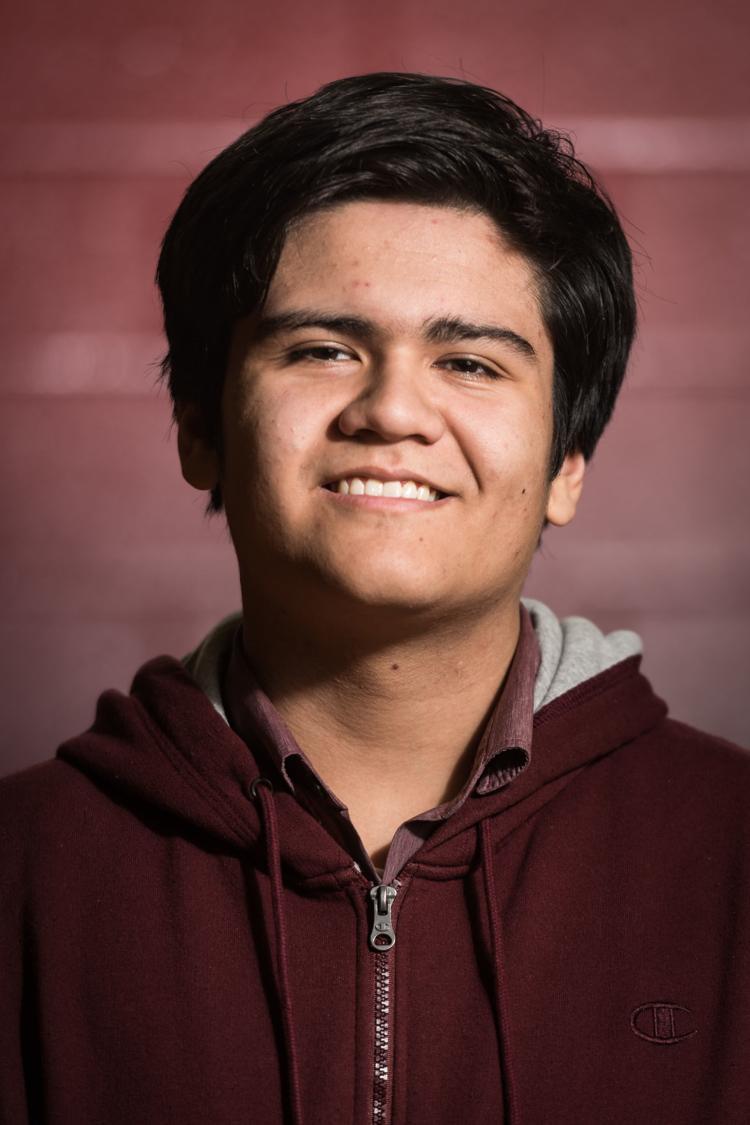 Blake Collins almost waited too late to the join the Atkins swim team. Collins, a senior for the Camels, had thought about it since his freshman year. "Every year I would think 'I've got to join the swim team,'" he said. "Then somebody would tell me the season just ended. I'm sure glad I did this year."
Collins has been swimming "all my life." He recalled summer visits to New Jersey when he was a child. "I was chunked into the deep end of the pool by my grandfather," he said, laughing. "That's where I learned how to swim.
"I thought it was fun at the time as long as I held my breath to make it to the wall. I don't think I focused on not making it at the time."
Swimming for Atkins wasn't his first taste of competitive swimming. "I swam for TYDE in middle school," Collins said. "We stopped having a membership at the Y because my father wanted a break from it. We just didn't go back."
It didn't take long for Collins' competitive form to return. "It took a couple of weeks to return to my form from being out of competitive swimming for three to four years," he said. "I like being in the water. It's really calming."
Collins has an advantage over his teammates. "I work as a lifeguard at the pool (Winston Lake YMCA) where we practice," he said. "Lifeguarding makes me want to get into the water more. I will swim laps before I guard."
Collins said he likes swimming in the ocean on visits to the beach but prefers being in a pool. "The currents can be a lot rougher," he said. "I prefer lap swimming in a pool because of the consistency of it."
He's swimming mostly freestyle events for the Camels. "I swim the 50 free and on the 200 free relay," said Collins. "It's my favorite but I'm starting to enjoy the breast more. The butterfly is my second favorite."
Collins said the butterfly requires significant endurance. "You have to get into the rhythm of it," he said. "You've got to make sure you have the stamina so you don't collapse."
He said waking up early for the 7 a.m. practices isn't difficult. "It's a great way to wake up," he said. "You're not trying to wake up during first period at school. It makes the day go by faster."
He still regrets not swimming his first three years in high school. "I just like the action of swimming," said Collins. "It's not hard for me to get into the team spirit."
CAREGIVER - referred from family to family for excellent service. Experienced with hospice patients. 336-416-8015
Caregivers, Very Caring. Available Day or Night 7 days a Week. Housekeeping, Run Errands, Dr Appts, Grocery Shopping, and Cooking Meals. Call 336-648-0270
Nominate your favorite businesses for a chance to win a $100 gift card!
This month we're giving you the chance to win a VISA GIFT CARD to go towards your next backyard cook-out! Enter today to win $$$ to either update your grill or for your grilling grocery bill.