SportsXtra: This weeks featured athletes: March 13, 2020
Focus on: Porsche Jones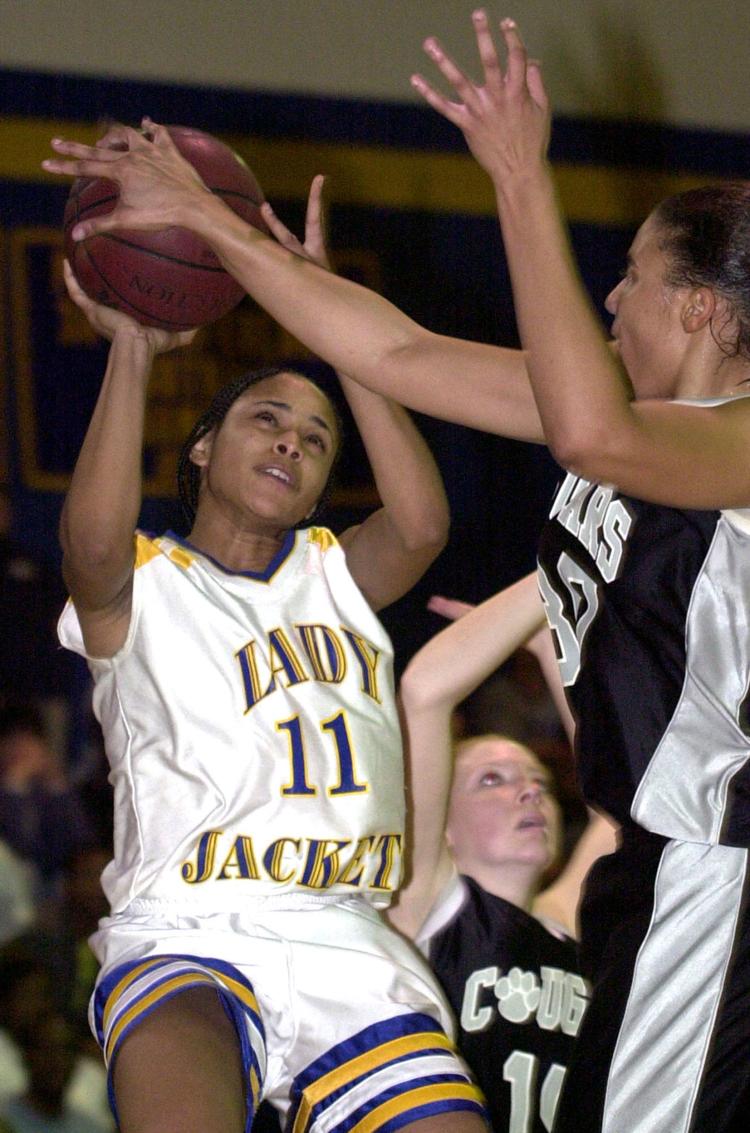 Much like she was in her playing days, Porsche Jones is always on the move.
No, she's not zipping past any defenders on a basketball court anymore, as she was during her playing days at Carver and Wake Forest but holding down a full-time job and a couple of side projects keep her constantly on her toes.
Jones works full time for Novant in Community Engagement. Every weekend from October through June, she organizes local grassroots basketball tournaments through BOND Events, and in the last three years, has even taken on a role with JMAC Hauling, an area trucking company.
She also started Team B.O.N.D. (Building on New Development) fresh out of college, guiding and coaching a team of girls for several years in AAU basketball, all of whom went on to earn college scholarships
As much of an impact as she had on the basketball court, it is her impact off it that may be even more impressive.
She won two state titles at Carver, was inducted into the Winston-Salem/Forsyth County Sports Hall of Fame in 2008, was in the inaugural Hall of Fame class at Carver in 2019, has her retired jersey displayed prominently the school gymnasium, and was recently recognized as one of the Triad's "40 under 40 Most Influential African Americans."
Jones, now 35, considers all her success a blessing.
"It's all really humbling," Jones said. "All this for the girl who grew up in Northwood Estates off Carver School Road in East Winston. All this for the girl who was 5-2 and 120 pounds and was fortunate enough to get a scholarship to play college basketball at Wake Forest. It's been such a blessing."
Her path to basketball stardom was molded by several influences—Louis Lowery at Carl Russell Recreation Center, Gerald Carter and Alfred Poe, her coaches at Carver, Charlene Curtis, who recruited her to Wake Forest, and Natasha Adair, an assistant coach during her final two years with the Deacons.
Off the court, it was the influence of her grandmother, Dr. Manderline Scales an esteemed high school educator and Vice Chancellor at Winston-Salem State, and her grandfather, Robert Scales, who gave her the foundation for success.
"My grandmother exposed me to so many different positive service groups and really showed me what I needed to be doing," Jones said. "I watched her doing all these things and I have taken on that same kind of spirit. She taught me to make sure I'm treating people right, make sure I'm being as loving as I can, and to be impactful so I can leave some kind of legacy. I am so thankful and grateful that they instilled that 'old soul' mentality in me. They exposed me to excellence and emphasized the importance of education. I wouldn't trade it for the world. My story could have ended up a lot different. God placed me in this position for a reason."
Basketball has been the avenue to which Jones credits her drive for success.
"Basketball set the foundation for me to understand how to work hard, how to compete, and have a high level of responsibility," Jones said. "It completely changed my life. I played for a lot of great coaches that held me accountable and had a lot of great teammates that taught me necessary life skills."
Jones said that growing up in a neighborhood of mostly boys also taught her how to be competitive. It also taught how to shoot a basketball and how to escape some tricky athletic situations.
"I guess that's how I got to be so fast because all I did was play against the boys," Jones said. "My neighbor's basketball goal didn't have a backboard, so that's how I learned to shoot. And back then, we would be outside until the streetlights came on playing 'throw up tackle' (football), '21' and 'roller bat.'
Her introduction to organized basketball came a little later.
"I played in my first organized league when I was 8 at 14th Street Recreation Center and at Carl Russel, Jones said. "My freshman year at Carver, we won one game. My sophomore year, we were playing for a state championship."
Injuries consumed much of her college career—a blown out knee led to a redshirt freshman season and a torn Achilles cut short her junior year.
"Every year was a different obstacle," said Jones, graduated in 2006 with a degree in Communications and still managed to score 531 career points, dish out 229 assists and have 121 steals. She still holds the Wake Forest record for steals in a single game (10) against Savannah State.
Jones was also the head coach at Carver during the 2009-10 season, when the Yellowjackets finished 22-5 and won a conference championship. She was also an assistant for a couple of seasons at Winston-Salem Prep before turning her attention to Novant and her grassroots basketball organization, which currently has four boys teams.
"In the most cliché way possible, I'm just trying to find some balance," Jones said. "I think I've got it down on how to work hard. I'm proud of the work we are doing at Novant with our communities and figuring out a better way for them to access healthcare. I'm hoping to lead that drive and change some things. But what I'm most proud of is that I'm the daughter of Cheryl Jones and the granddaughter of Dr. Manderline Scales. I got the best of both worlds."
Focus on: C.J. Beatty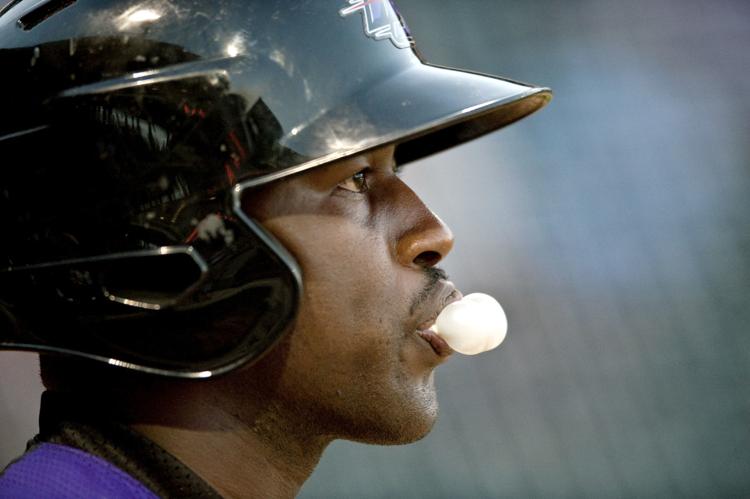 Running to first base after hitting a baseball doesn't seem like a big deal. But to a Tee-ball Little Leaguer it can be a major accomplishment. C.J. Beatty, a former standout at Glenn, may not have realized it at the time, but it was perhaps the beginning of his road to professional baseball.
Baseball wasn't necessarily his preferred sport. "I played baseball, basketball and soccer," Beatty recalled. "I really wanted to play football, but my mom was so fearful of me getting broken up in football she said no."
As the saying goes, 'Mom knows best.' Beatty stuck with baseball. "I still to this day think I'm the best Tee-ball player on Earth because I knew how to run the right way," he said, laughing. "I was always told, 'Hey this guy is pretty good.' I still hold the record of 17 home runs in the South Little League."
The compliments didn't sink in until he was 12 years old.
"I really began to see the magnitude of what I could do," Beatty said. "I started to drink the Kool-Aid. I can go pro."
Beatty played shortstop in his early Little League career. "I didn't start playing outfield until I was 13 years old," he said. "I was the shortstop. I loved it. You got a lot of attention. You were always involved in every play."
It took some time before he settled in to patrol the outfield. "It grew on me," Beatty said. "I loved throwing people out. It was a lot of responsibility."
He studied the play of Ken Griffey, Jr., a 10-time Golden Glove winner who played most of his career for the Seattle Mariners and Cincinnati Reds.
"He became my idol," said Beatty, "getting all those Golden Gloves."
Beatty transferred to Glenn High School during his junior year in 2004. His senior year would the last year legendary Coach Dale Ijames would coach the Bobcats.
"I call him one of my founding fathers of baseball," Beatty said.
"He continued to push me beyond my limitations. I played for the (Kernersville) Bulldogs (a wood bat summer league team.) I wore that jersey proudly."
Deciding where he would play his collegiate career was a daunting task. "I had over 65 offers," Beatty reminisced. "At first UVA (Virginia) was very heavy on me, but I decided on in-state for travel purposes.
"I always went to church every Sunday. We would have these big Sunday dinners with my family."
After ruling out N.C. State and Elon, Beatty chose N.C. A&T. "N.C. A&T offered me a full scholarship," Beatty said. "They said they were going to build the team around me."
Beatty spent three years on the Aggies' diamond, and then came the moment of a lifetime. "I took a contract with the Cardinals," he said. "Having that goal when I was 12 years old and then hearing my name called at a draft party at my aunt's house was surreal. Everything was in slow motion."
Beatty played for the Johnson City Cardinals, Quad Cities River Bandits and Palm Beach Cardinals. After his contract was up, he played independent ball. And then came the call.
"The Chicago White Sox called me out of free agency and put a cherry on the top when they said I would be playing in Winston-Salem, my hometown," he said.
"Playing at BB&T Field was incredible. It's one of the top minor-league parks in the country. The atmosphere is great, and the downtown scenery beyond centerfield is beautiful."
After his playing days concluded, Beatty became a pro scout and gives motivational speeches. "I'm not affiliated with any team," he said. "I try to speak two or three times each month. A lot of the things I tell them stems from the failures in my own career."
Focus on: Hector Perales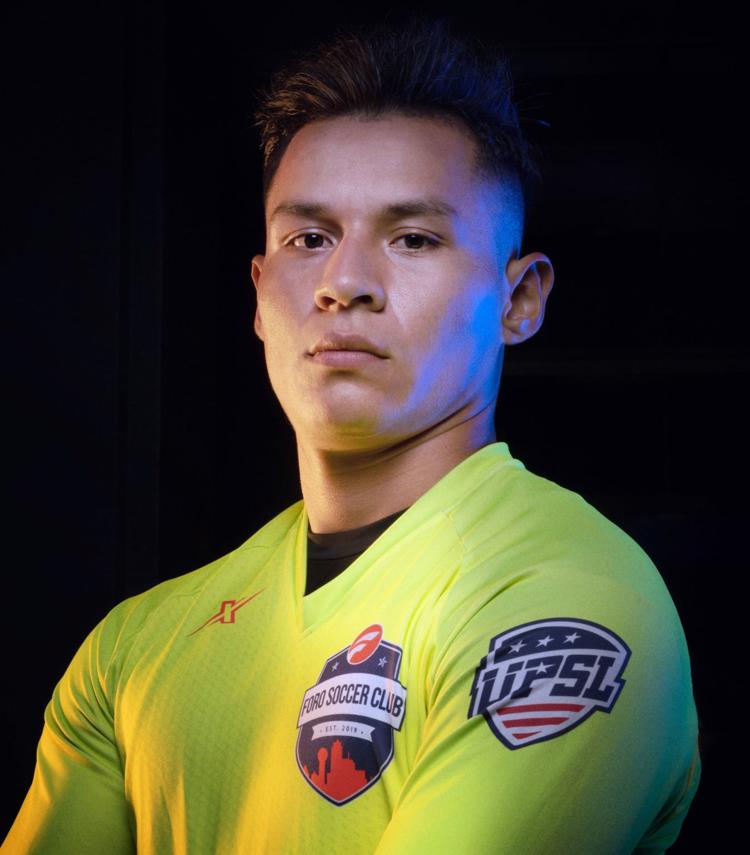 Hector Perales proudly recalls his three years on the North Forsyth soccer team. "We were the first team to take North Forsyth past the second round in the playoffs," said Perales, a 2011 graduate of North. "We beat Northern Guilford, the No. 2 team in the state, in the second round. They were undefeated."
The Vikings, who narrowly missed being co-conference champions during Perales senior year, would lose to Cardinal Gibbons in the third round. "We lost to Southwestern Randolph in the last game of the regular season," Perales recalled. "If we win that game, we would have been conference champions."
One of biggest obstacles Perales faced was racial comments. "Opponents would say things about our skin color," he said. "We had to remain calm."
Perales had a brilliant career as the Vikings goalkeeper his junior and senior years. "My jayvee year was the first year I played at North," he said. "I played forward and did pretty well. I liked playing striker because I liked making goals.
"I started practicing at goalie and (Coach John) Timmins moved me to varsity."
Perales passion for soccer has led him to play for several teams since graduating from North. "I played in the Adult Soccer Association," he said.
"I played for the Carolina Railhawks and the Silverbacks. I played for the Winston-Salem Youth Under-23 and then moved to (Washington) D.C. to play with Federal City. They were affiliated with the D.C. United Under-23 team."
His career continued with a return to North Carolina where he played for the Gate City Football Club in Greensboro and then moved to Raleigh to play for Del Sol.
Perales jumped at the opportunity this year to play for a new club, Foro Soccer Club, in Ft. Worth, Texas, which is sanctioned by the United Premier Soccer League.
"We won our conference championship in the Northeast Division, which had over 100 teams," he said. "We made it to the national semifinals."
Leaving Winston-Salem and putting down roots in a new city for an extended period was difficult. "I did get homesick," he said. "When I was in D.C. I was only five hours from home. Now it's almost a whole day apart.
"I knew this was what I wanted to do for a living. You have to learn to build thick skin."
Perales also has two cousins, Erick Cortez Martinez and Nano Martinez, who have enjoyed outstanding careers at North. "Erick will graduate from Randolph College this spring. He wants to come down to Texas and play. Nano really put in a lot of work to get back to where he needed to be this year. My brother is also an assistant coach at North."
Perales credits Timmins with having a major influence in his career. "He was vey passionate about the game," he said. "He was also a very good life coach and a very good friend.
"He instilled in us the technical aspects of the game. He was always willing to go that extra mile, even outside the pitch. He would take us to get physicals and pay for them. He would pay for food out of his own pocket.
He was definitely a father figure for our team. He taught us discipline, respect and how to compete without losing our sense of being a human being."
He hopes his love for the game inspires others. "Follow your dreams," he said. "A lot of people pave the path for you. I want to inspire others. That's the biggest reward."
Focus on: Chandler Wagner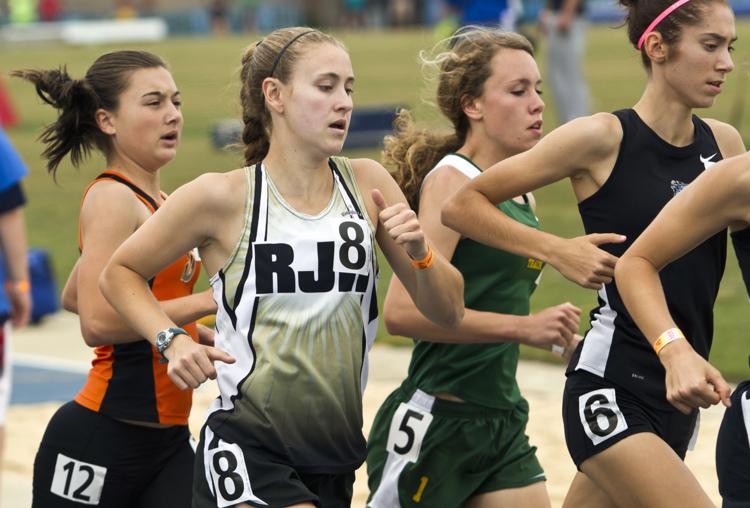 Sports have played a constant role in the life of Chandler Wagner.
Wagner, who was Chandler Borton in her playing days at Reynolds, earned 16 varsity letters and the nickname "Babe"— as in Babe Didrikson Zaharias, the multi-sport standout who won two Olympics gold medals and 10 LPGA major championships — from Brad Fisher, Reynolds' athletics director, before she graduated in 2013.
Wagner accrued her letters in cross country, field hockey, indoor and outdoor track, and lacrosse, competing in two sports at the same time during several seasons.
"Going into high school, outside of field hockey, I didn't know what I wanted to do," Wagner said. "I chose track mostly based on the practice time and knowing it was making me better at all my other sports. I was trying to figure out what I was good at and what I enjoyed the most."
Wagner even considered swimming until she realized when practices were held.
"Early-morning swim practice to me was a hurdle to my participation," Borton said with a laugh. "Looking back on that, it's funny, because in college, we always ran in the morning. Even now, I am definitely a morning runner. As a teenager, that just wasn't very appealing to me."
She went to Wake Forest initially to play field hockey before she had a change of heart and decided she wanted to be a distance runner instead.
"I had really started to fall in love with distance running, and when I got to Wake Forest I was on a bit of a quest to find my place in the world," Wagner said. "I had a locker in the field hockey locker room. I had a jersey and a spot on the team. But I loved running so much that I thought I could have a bigger impact and more success with that. And I was so lucky that the field hockey coach, Jen Averill, was supportive in my decision to pursue running. I knew it was the right choice for me at the time."
Wagner said she dove into cross country as a freshman before getting injured.
"Unfortunately for me, that became a common theme throughout my career," she said. "I was able to run in one ACC cross country championship and one NCAA Regional meet, but most of my career involved running in a series of smaller meets."
While at Wake Forest, Wagner said her perspective about sports began to change. She got involved with Athletes in Action, an organization that provides ministry on college campuses.
"My college experience was different because I didn't have the same level of success that I did while I was at Reynolds," Wagner said. "Through Athletes in Action, I had several great mentors who pointed out some things to me and made me realize the importance I had been placing on accomplishments and praise and self-worth through my achievements. I realized that what I thought was important left me in a vulnerable place where injury or poor performance could crumple up the scaffolding of upon which you've built your entire athletic world."
Wagner said her perspective has changed drastically over the years.
"Athletes in Action helped me build a different foundation," she said. "I was able to see sports as a way to worship God, express gratitude and thanksgiving. I realized that you could compete out of a place of freedom rather than pressure or fear and there was more to life than athletic success. There was victory beyond competition, there was worth and value to be found beyond success. Sports became more of an avenue to provide worship, and that was so gratifying."
Wagner, who graduated from Wake Forest in May 2016, was married in December 2016 to her husband, Alex. They moved to Asheville in 2018, where she is currently the Athletic Coordinator and Assistant Field Hockey Coach at Carolina Day School.
Focus on: Pat Murphy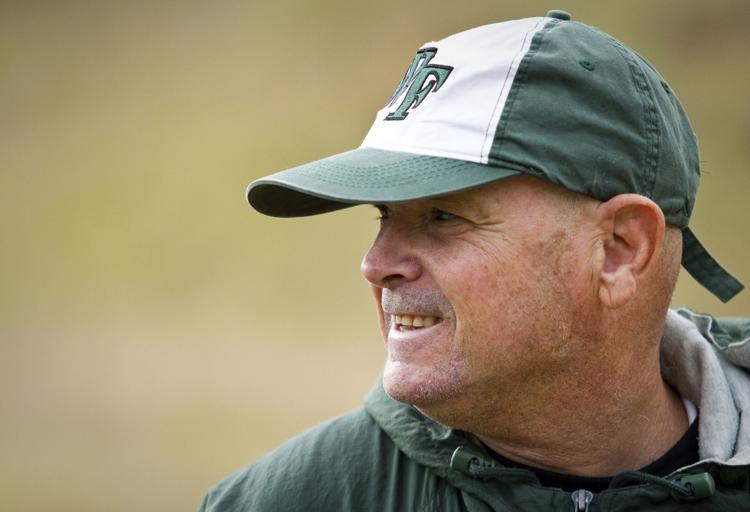 Lots of people were introduced to Pat Murphy on Dec. 20, 2017, when he appeared on ESPN, standing beside K.J. Henry, a West Forsyth defensive end who was among the most-heralded high-school football players in North Carolina that year and who was ready to reveal his college choice.
Henry was holding a microphone; he turned to Murphy and asked, "You want to tell 'em where we're going?" and then whispered in Murphy's ear. With a huge smile, Murphy loudly proclaimed, "Clemson University," Henry pulled off a hoodie, revealing an orange shirt, pulled out a Clemson visor and put it on, then put an orange Clemson cap on Murphy's head, to wild cheering — most of it for Henry, but plenty for Murphy.
Yes, the world got to meet Murphy that day. Everybody at West Forsyth already knows him. To two decades of athletes and coaches, he has been "Murph" or "Coach Murph" — an unofficial coach in several sports and the Titans' unofficial goodwill ambassador of athletics, their No. 1 fan for 26 years. Attend a football game, and he'll be on the sidelines, a basketball game and he'll be in the stands, or a baseball game, he'll be in the dugout.
His devotion to West Forsyth athletics is legendary, from the time that he took a ride with Dave McConnell, a former football assistant for the Titans who brought Murphy, his neighbor, to the Clemmons school.
"When we moved in, I was heading out to play softball, and Murph was in his front yard," McConnell said. "I just stopped, to introduce myself, and he said, 'I like softball.' I asked, 'You want to go to the game with me?' and he got his dad and asked him. Before the game was over, he was coaching third base. It was a church league, and before long, they were letting him lead off every game.
"He started going with me to Reynolds, then I spent a year at Mount Tabor, and he went with me, and when I came back to West, he came with me, and he's been here ever since. I think Kevin McIntosh and Jon McIntosh (baseball coaches) would take him to (American) Legion games, and then Jim Coghill (the Titans' longtime trainer) would take him to basketball games and take him home. Now, he's a full-time, year-round coach. He'll call me every day to tell me who they're playing whether they won or lost."
Murphy, who was born with a mental disability, is now 60. He's recently grown a full beard, he said, because another of West Forsyth's baseball coaches grew one. If you doubt that he's a coach, he's listed in the Titans' football program as a member of the coaching staff. Or look on a metal sign that adorns one of the buildings in the Titans' baseball facility. The sign lists the names of the players on West's 2014 Class 4-A state championship, plus six coaches. The last name on the list is "Pat Murphy."
"I can't remember him not being here," said Shannon Casey, an assistant athletics director at West. "He's the sunshine that comes every day, rain or shine."
Adrian Snow, the Titans' football coach, wouldn't trade Murphy for any other assistant coach.
"He is so faithful; it doesn't matter whether you win or lose, he's gonna show up at 2 o'clock every day with a smile on his face," Snow said. "If we were all like that, the world would be a better place. Our kids are so blessed; they get to hang out with Murph."
Murphy admits that his favorite memories in two-and-a-half decades at West Forsyth have been "football, and winning baseball, getting that state championship ring," he said, holding up his hand to show off the jewelry. His favorite West Forsyth athlete is Henry, and nowadays, his second-favorite football team is Clemson. The screen-saver photo on his flip phone is of Dabo Swinney, the Tigers' head coach.
"Adrian and I are going to see them play this year," he said.
Stories about Murphy's hijinks at West Forsyth are legendary.
T.R. Richards, a former West Forsyth athletics director, said he had a checklist of people he had to contact when a game, any game, had been postponed or cancelled due to weather. "You had the officials, security, gatekeepers — you make sure you call them all — and Pat was on the list," he said. "He hated to have a game postponed. He'd say, 'You can't cancel the game,' I'd say, 'But we've had six inches of rain.' And when Pat got upset about something like that, he'd fire us. 'T.R., you're fired.' So we would tell all the new coaches, you're not a real Titan until Pat fires you."
Richards and McConnell said that Murphy has an astounding memory. Anyone he's ever met, he remembers their name, and wherever he travels to a road game with the Titans, he remembers how to get there — even if he doesn't know the names of the highways.
Michael Murray, a neighbor of Murphy's who is the Titans' junior varsity baseball coach, said he has received plenty of Coach Murph's phone calls, and plenty of voicemails — he assumed because Murphy was helping the JV baseball team.
Wrong.
"I found out he was sending them to all the coaches, and we started comparing notes," Murray said. "Some of the messages he left were about athletics, but sometimes, he'd say something like, 'Remember to put your trash out today, Coach.' I got the coaches to send me some of them, and now, in between innings or during a visit to the pitcher's mound, we play one of them — 'Messages from Murph.'"
Henry said that letting Murphy announce his college decision was just perfect. Henry said the idea was Snow's.
"I thought it was a great idea," Henry said. "I didn't think twice about it, because he made such a difference in my life. He made me smile every day, especially during football. It was the least I could do.
"There's only one Murph."
Focus on: Kevin Pearman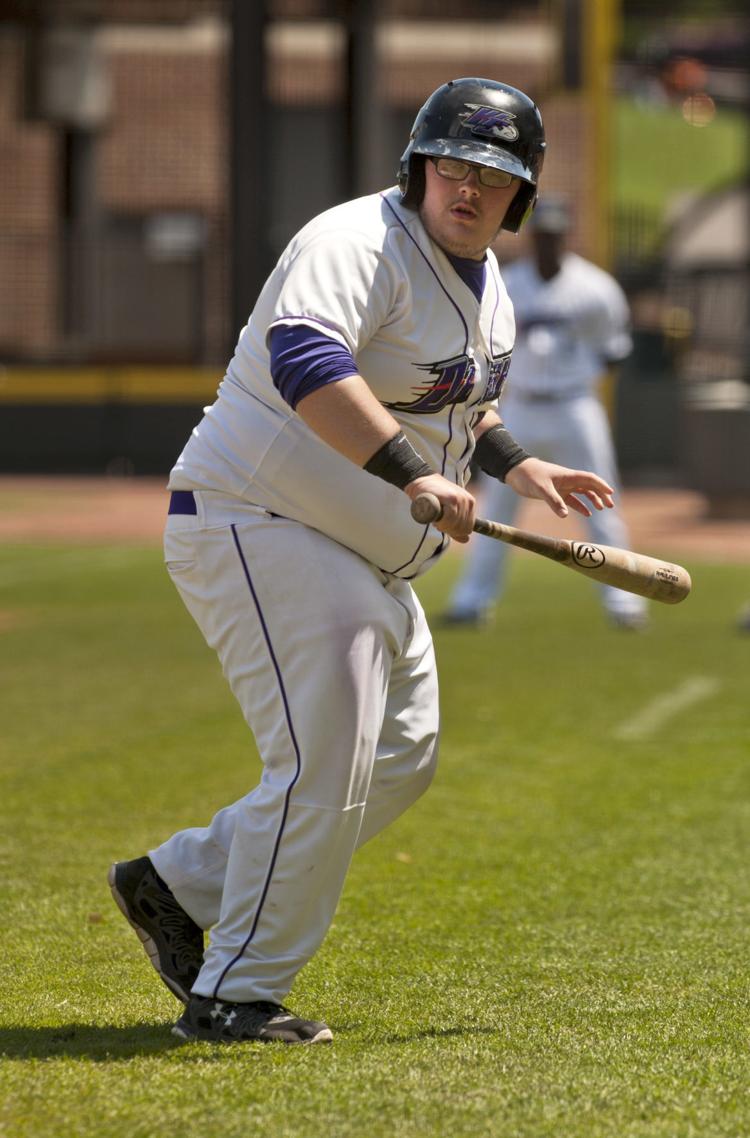 Kevin Pearman first appeared on the radar at East Forsyth during the Eagles' first home football game of the 2010 season.
He walked into the Eagles' press box, sampled some of the press box food, and climbed up the ladder to the roof, where members of the coaching staff were standing, communicating with coaches on the sidelines. Then, at halftime, he appeared in the Eagles' locker room.
Allen Plaster, then a football assistant and now the Eagles' athletics director, noticed him both places. He figured he was a guest of Todd Willert, the head football coach — until the end of halftime.
"I had told the coaches to warn me if they had anybody coming into the lockers at halftime, so if I was fired up, I could control myself," Willert said. "I saw him, and when we left the locker room, I held the coaches back and said, 'Remember the rule; let me know if you have any visitors.' And everybody said, 'We thought he was with you.'"
After the game, nobody could figure out who Pearman was, not Willert, Plaster, Mike Muse, the former basketball and softball coach who was in the press box, not even Patricia Gainey, the principal.
"She asked, 'Who is that kid up there?' and we had no idea," Plaster said. "She said, 'We need to figure out who he is on Monday.' And we put our heads together and found out who he was."
Willert put it simply, "The legend was born."
Now, Pearman, who has a high-functioning form of autism known as Asperger's syndrome, is synonymous with East Forsyth athletics and service. A 2014 East graduate, Pearman agreed to help manage the football team when Willert finally tracked him down. He managed football, basketball and baseball, helped with softball, shot video for more than one sport — everything there was to be done.
"He's one of those guys who, whatever any coach needed, he was always there," Muse said. "Do laundry, set out uniforms, video the game, clean up after the game. You can go anywhere around East Forsyth athletics and say, 'Big Kevin' and everybody knows who he is. He is the most loyal, most energetic ever, a special kid. He makes you a better person and coach. He makes the players better people."
Pearman started working as a batboy for the Winston-Salem Dash minor-league baseball team right before he graduated from East and spent two years in that position. He wound up helping with the umpires' room, then became manager for the visitors', then the home team's clubhouse.
He has worked for the Great Falls Voyagers, a rookie-league farm team for the Chicago White Sox, has been clubhouse manager for the Class A Carolina Mudcats for part of a season, and he's spent the last four years helping as a clubhouse manager for the White Sox during spring training. He's in Glendale, Ariz., through April 8, when the Cactus League finishes up. He'll head home to serve as manager of the home clubhouse for the High Point Rockers, an independent minor-league franchise for whom he worked in 2019 as manager of the visitor's clubhouse.
"I will be glad to get home," he said. "The past few years, I've enjoyed traveling a lot, but it will be awesome to get home and work for a hometown team — well, they're 25 miles from Kernersville.
"I never thought anything like this would happen. I never saw myself working in baseball, in sports, but here I am doing it.
"I think toward the end of my senior year, when I started as bat boy for the Dash, I thought about it. I offered to help with the clubhouse at night, and I realized I could do it for a living. My mentor was Matt Flynt, the visiting clubhouse manager for the Dash. He took me under his wing and showed me how to do everything."
One thing Pearman learned long before he met Flynt was how to belong.
"He has met more people, important people, because he acts like he belongs," Willert said. "He went with us to Duke (for the 4-A state championship football game) and he walked right down and introduced himself to Coach (David) Cutcliffe. Charles Wiles, an N.C. State assistant, was in the office recruiting one day, and Kevin walked in, wearing a Duke shirt, and Coach Wiles said, 'You can't be in here wearing that,' so Kevin took off that Duke shirt, sat down next to Coach Wiles and put his arm around him, like he'd known him his whole life.
"Every time I see Coach Wiles, he asks, 'Is Kevin around?'
"We have a wall, and everybody who has played in the Shrine Bowl or East-West all-star game has their picture up there. Kevin was a manager at the Shrine Bowl one year, so his picture is up there.
"... He is a special person, probably one of the best human beings I've met in my life. It was a blessing for him to be at East Forsyth."
Focus on: Julius Reese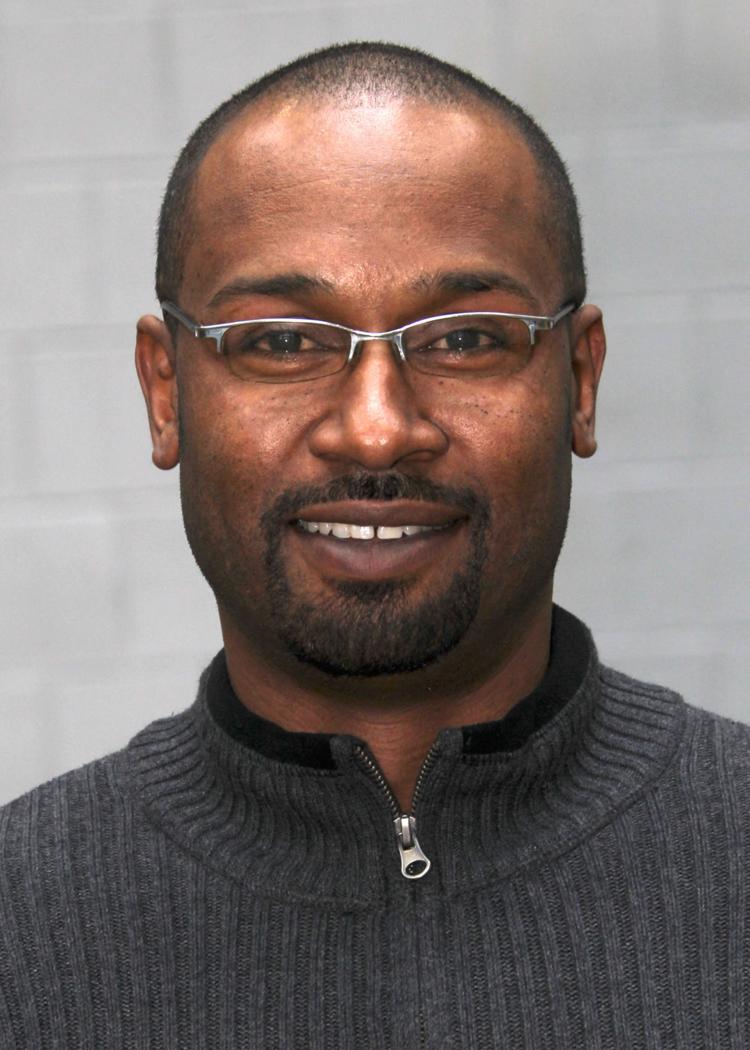 A summertime foot race in upstate New York put Julius Reese on the path to stardom.
Reese, a rising sophomore at Mount Tabor at the time, made his mark when he won the 400-meter dash at the 1987 AAU National Track and Field Championships in the 15-16 age group. But that was only the beginning.
"After that race, I was approached by some coaches at Syracuse University," Reese recalled. "All they wanted to know was if I could catch a football. When I told them that I played wide receiver, that's when everything started. I was recruited by 110 Division I schools."
By the time Reese graduated in 1989, he was All-State in football and track. Additionally, he was one of seven wide receivers named to the Parade All-America team, which represents the crème de la crème of high school football.
Nicknamed "Juice" because of his speed, Reese, 6-foot, 3, 185 pounds, averaged 18 yards per catch in high school. He finished his career with 114 receptions for 2,052 yards and 21 touchdowns.
After graduation, Reese opted to stay close to home for college. He signed with North Carolina and earned a spot in the starting lineup, which in those days, was rare for a player entering college right out of high school.
"Those were some exciting times," said Reese, who played in the Canadian Football League with the Saskatchewan Roughriders, and later on in the Arena Football League. "I went from playing in front of 300 to 400 people in high school to 70,000 screaming fans at Carolina.
"There were grown men in the huddle with me, so I had to grow up quick my first year. Coach (Mack) Brown and his staff did a great job with us. They got on us at the right times. But they also nurtured us when we really needed it."
These days, Reese has found his calling as the golf pro at Winston Lake Golf Course. Considering his background, the golf course represents a drastic change of venue from the sports environments he was accustomed to operating in.
So, how was he able to make a successful transition?
"I got started when I was in Canada," said Reese, who still holds the Mount Tabor and city-county record in the 400-meter dash (47.88 seconds) that he set nearly 33 years ago. "It didn't take long for me to discover that the game of golf is a different animal from other sports.
"If you plan on doing well, you have to constantly work at it. And over the years, that's exactly what I've done.
"As a golf pro, I enjoy talking to people and providing good customer service. But it also helps to be a good golfer, too."
Reese's athletic exploits have not been forgotten about. The fact that he's been voted into three Hall of Fames serves as a resounding acknowledgement of his achievements. He is enshrined at Mount Tabor, the Winston-Salem Sportsmen's Club and Winston-Salem State (as an assistant football coach).
"I sincerely appreciate the recognition," he said. "It's a very humbling experience. The night I was inducted at Mount Tabor was very special because my son was there to see it happen.
"At the time, Julius Jr. was around 3 or 4 years old. So, he probably had no idea why daddy was on stage talking to the people in the audience."
Reese's playing days ended in the mid-90s when he was cut by the Carolina Panthers, which at the time was a new NFL expansion franchise. Even so, he wasn't done with sports.
From the late-1990s through the early-2000s, Reese coached the wide receivers at Winston-Salem State. After leaving the college coaching ranks, he's worked as an assistant at several high schools, including Atkins (football), Mount Tabor (football and track), Carver (girls basketball) and most recently Glenn (volunteer football assistant), where his son, Julius Jr., plays basketball and baseball.
"It's my way of giving back," Reese said. "I enjoy the mentorship part of it and being the one who players can look up to and get guidance. Coaching is my outlet and it is time consuming, but I love it."
Focus on: Rachel Lowe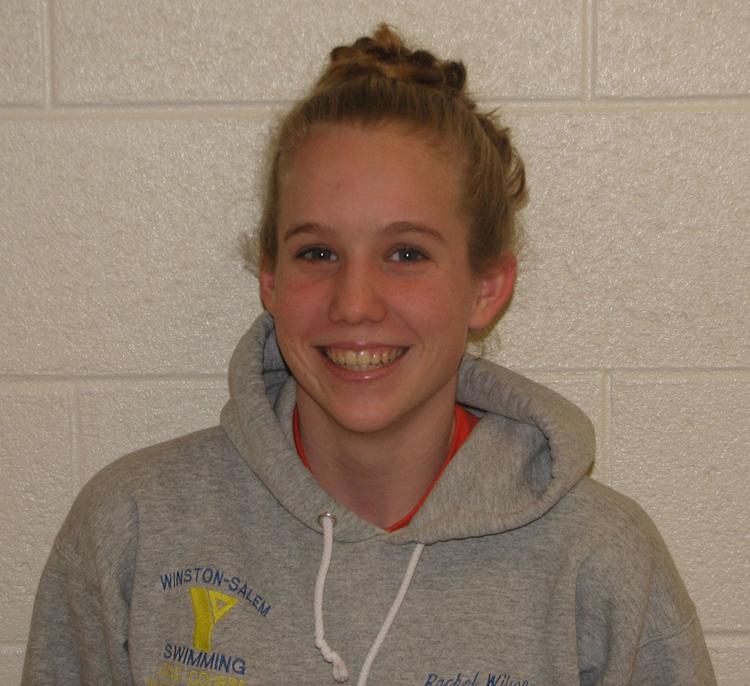 It was more than a decade ago when Rachel Lowe cemented a legacy that no athlete at Reagan may ever equal.
Back then, Rachel Lowe was Rachel Wilson, the cornerstone figure in Reagan's emergence as a swimming powerhouse. During her era (2005-2009), Reagan started a win streak of conference titles that's still going. Here's a career snapshot:
Six-time state champion (five individual and one relay--200-yard freestyle (2007, 2008, 2009), 500 freestyle (2009), 100 backstroke (2008), 200 freestyle relay);
The first all-state athlete in school history;
Inducted into Reagan's Sports Hall of Fame (inaugural class of 2015);
NCHSAA Class 3-A Swimmer of the Year (2007);
Two-time Piedmont Triad 3-A Conference Swimmer of the Year (2007 and 2009);
Signed with UNC Wilmington, voted team Rookie of the Year (2010); served as team captain (2012-2013).
Lowe was a freshman when the school opened its doors in 2005. Expectations were low, and for the most part, wins were hard to come by.
"The older I get, the more I appreciate what I was able to accomplish," said Lowe, who graduated from UNC Wilmington with a degree in marine biology. "We had some outstanding athletes. I just happened to be at Reagan at the right time."
Today, Lowe is married to college sweetheart Nicholas, who swam at UNC Wilmington and UNC. The couple lives in Huntersville and has two sons, Benson, who is 3, and Miller, who is 1.
"My life as a stay-at-home mom is wild, challenging and rewarding," she said. "There's never a dull moment. Early-morning swimming prepared me well for motherhood. Every day is a different challenge, but time flies."
Ryan Michel, the longtime swim coach at Reagan, has fond memories of the early years. Lowe's performances, he explained, set a standard of excellence that continues to inspire and motivate every swimmer that participates in the program.
"Rachel is the one swimmer who put us on the map," Michel said. "All the school records she owned have been broken. Even so, she's still Reagan's most decorated swimmer.
"She's been a big part of all the success we've had. Aside from being fast and talented, Rachel worked hard and stayed humble."
The one memorable moment that's firmly planted in Lowe's mind is the year she won her first state championship. As a sophomore, she was jittery in the minutes leading up to the finals of the 200 freestyle.
"All I could think about was how excited I was to finally win something for Coach Michel and the school," she said. "Before the race, it had been talked up that I should win. That's why I was so nervous."
Lowe's decision to swim for her high school as well as her club (Winston-Salem YMCA), proved to be beneficial for the long run.
"Reagan practices were so much fun," she said. "And there's always been a strong team atmosphere. Coach Michel makes everybody feel included and I've always liked that.
"I still swim a lot. Four days a week, I get up at 5 in the morning and swim for about an hour. About once a year, I'll sign up to swim in a Masters (age-group) meet. It's because of Coach Michel that the love of swimming is still in me."
Over the years, Lowe has made it a point of emphasis to stay in touch with her high school coach. They communicate by phone or text message near the end of pre-season when Michel makes his final cuts for the varsity team.
"Coach is one of the best ever, and I'm glad that he's still doing what he does," she said. "Making decisions about varsity cuts is stressful because he doesn't want to hurt anyone's feelings. I always enjoy finding out how the season is going and what strategies he comes up with for the conference meet."
We've counted the votes and the 2019 winners of Reader's Choice are inside!