SportsXtra: This week's featured high school athletes, September 27, 2019
A Gallant Spartan: Senior at Mount Tabor has flourished despite travails after transferring from Walkertown following his freshman year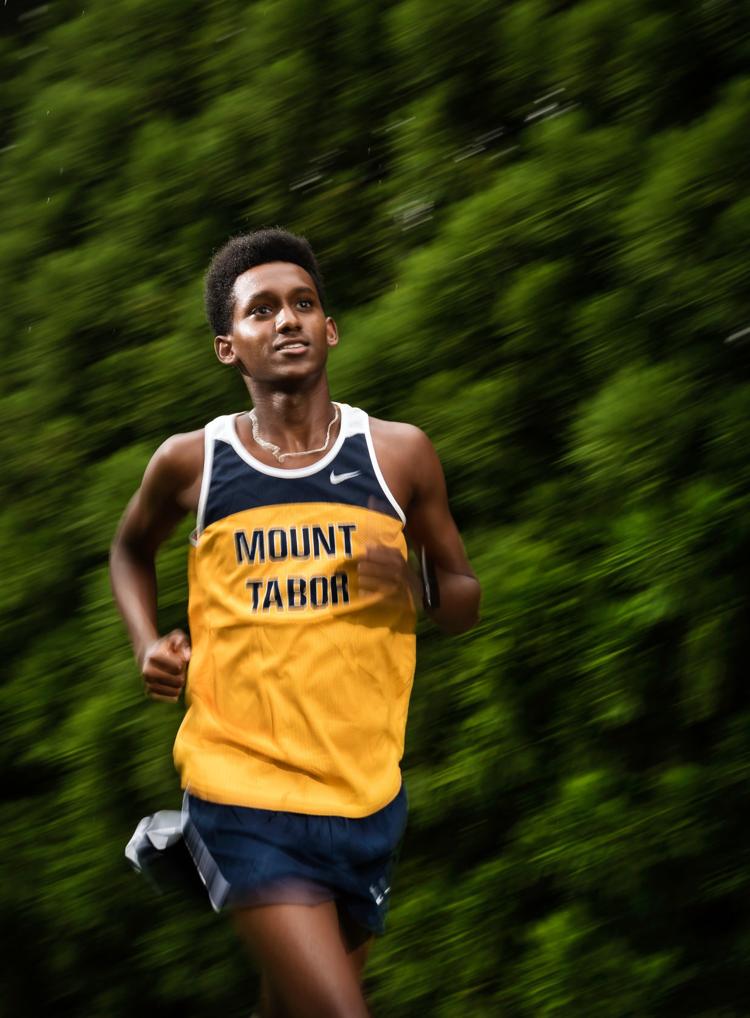 Mount Tabor — Jacob Gallant, a senior at Mount Tabor, has been training to handle perseverance since he began his love affair with distance running when he was in the fifth grade.
The obstacles — both physical and mental — to overcome in order to become successful are numerous.
For cross-country runners, that begins with various stages of training in order to prepare themselves to compete in the 5K (3.1 miles) events.
The courses aren't always flat. The ground isn't always smooth. Some competitors' elbows are sharper than the others, and the conditions aren't always 70 degrees and sunny. And sometimes, things are very much out of your control.
Gallant learned that the hard way.
Yet, running still ignited something in him that didn't exist before he started.
"Once I started, it felt like I belonged," Gallant said. "It always felt like something I wanted to do. It's a test of your body, mind, and soul. It's the purest form of competition against yourself. You are putting that on the line every time you go out there. It brings out my competitive nature and draws me in."
Gallant had a strong start to his high school running career as a freshman at Walkertown. He finished third in the NCHSAA Midwest 1-A regional and 22nd in the NCHSAA Class 1-A state championship.
Despite his success, Gallant decided to transfer to Mount Tabor for his sophomore year
"I wasn't sure about leaving my friends because up until that point Walkertown was always my home," Gallant said. "My mom did some homework and we went to a couple of open houses and thought Mount Tabor would be a good place for me both academically and athletically."
Until it wasn't.
Gallant's transfer didn't become official until his sophomore year had already started. He attended classes at Walkertown the first week of school until he was enrolled at Mount Tabor on Monday of the second week, meaning he was ineligible to participate in sports.
"It was very frustrating because we had been on top of the transfer situation and thought we did everything right," Gallant said. "I didn't even do any training with the team at Walkertown once practice started in August because I wanted to be eligible to run at Mount Tabor."
Gallant sat on the sideline as the Spartans fielded one of the best teams in school history, one that went on the win the 2017 NCHSAA 3-A state cross-country championship behind the likes of Cameron Ponder, Michael Moerk and Charles Pace.
"I think it took him a few months to get over the shock when he was ruled ineligible," Coach Patrick Cromwell of Mount Tabor said. "I think that's one of the hardest things I've ever seen an athlete go through. But once he grasped everything, he took the year to get better and learn our system. On his own time, he would go and chase Cam (Ponder) and Michael (Moerk) on training runs and learn from them. I think that was a huge piece of his journey."
Once cross-country practice started in August of last year, Gallant showed up with a Mount Tabor jersey on.
"It felt amazing," Gallant said. "All that I went through as a sophomore — it really affected me. It affected my running, my schoolwork. It required me to push through a lot of things. I learned a lot about myself. But being able to be out there again after having it taken away the year before, I felt like I had a new life. I felt like I am finally on this team now."
Gallant felt the joy of running again. He felt like the early days when he was introduced to the sport by Ryan Carter, the older brother of a neighborhood friend, Logan Carter, who both ran at Walkertown in the program's heyday and told Gallant he should start running.
He felt like he did after he ran in his first 5K in the eighth grade, when the winner of the race stopped him and told him: 'You look like you know what you are doing out there. Keep it up and you will do great.'
Those words provided Gallant the impetus to improve.
"Honestly, I can't remember the man's name who told me that, but that was my spark right there," he said. "That encouragement is what made me get really serious about running. I wish I could go back and talk to that guy now to tell him 'thank you.'"
Gallant's joyful return to running last season culminated with a third-place finish at the NCHSAA Class 3-A cross-country state championship and runner-up finishes in the 3200 at both the indoor and outdoor state track championships.
Despite a slower start to his senior season, Gallant, who is among the favorites to win the 3-A state title this year, made strides last weekend at the Adidas XC Challenge in Cary after finishing ninth in a strong field while setting a new personal record of 15 minutes, 29.8 seconds.
"This will give him some confidence as we head toward the next six, seven weeks," Cromwell said. "But I can say that he didn't leave that meet happy. I think that will serve him well."
Gallant, who will be inducted into the National Honor Society this year and does various community service projects with his church, Providence Baptist, set high expectations for himself for his senior year.
"We definitely want to go for the gold at the state meet." Gallant said. "I feel like I'm capable of winning and that's my intention. I feel like our team is capable of winning. We're a November team and you can never count us out."
—Marc Pruitt
Focus on: Leanna Bernish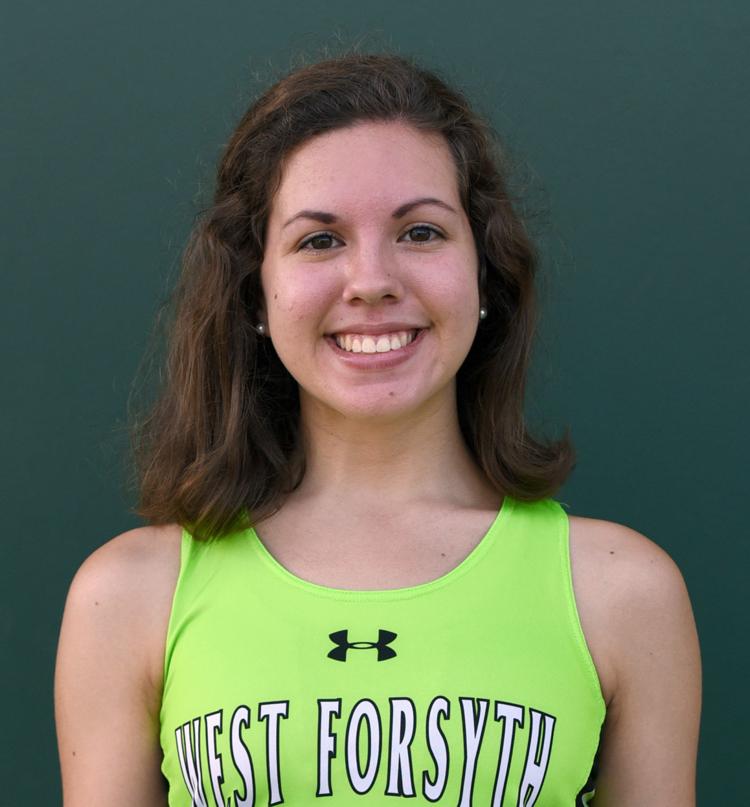 Leanna Bernish came to running because things didn't work out for her in other sports. Now, she can't imagine life without lacing up her track or cross-country shoes every day and knocking off several miles.
Bernish, a 17-year-old senior on West Forsyth's cross-country team, said, "I like having it part of my life."
Running started shortly after she didn't make the middle school volleyball team in the seventh grade. She decided that giving basketball a try probably wasn't a great idea.
"Track seemed easy, a good way to stay in shape," she said.
Quickly, she found out it wasn't easy, but there was more to it than just being in shape.
"I ran track in the seventh grade, the cross-country in the eighth grade as a way to stay in shape for track, and I just continued to run in high school," said Bernish, who is a middle-distance runner for the Titans' during indoor and outdoor track seasons. "Suddenly, I was doing all kinds of different workouts: speed, intervals, distance. And I realized that running has a healing quality. You can process your day, plus anything and everything you're going through.
"Running has always been comfortable for me. I definitely want to keep it as a part of my life in some fashion. I like dancing and yoga as well, but I love running with my dad and one of his friends. It's just fun to go out and run on a Saturday."
Although Bernish isn't among the Titans' top seven runners, she plays a huge role on the team, according to Nathan Newsome, West Forsyth's coach.
"She is a team leader for us," he said. "She has gotten more out of her talent than a lot of girls. She's a very hard worker, very team-oriented and a great example to the younger kids.
"She's kind of the glue for these girls, for the team culture. I can delegate things to her and they'll be handled."
Bernish said it in far fewer words.
"I'm kind of the mom of this team. I seem to be good at helping people with their problems. People have told me I'm a good counselor for a friend."
Bernish plans to make that a career, as a therapist to help people in need of counseling.
"I want to work in person-to-person interactions, to be able to help you work through your problems," she said.
Three questions for Bernish
Q: What athlete do you most admire?
Answer: Megan Rapinoe
Q: What is your favorite sports movie?
Answer: "Bend it like Beckham"
Q: What is your dream vacation?
Answer: Yellowstone National Park, Redwood National Park
—Dan Kibler
Focus on: Dalian Fredlaw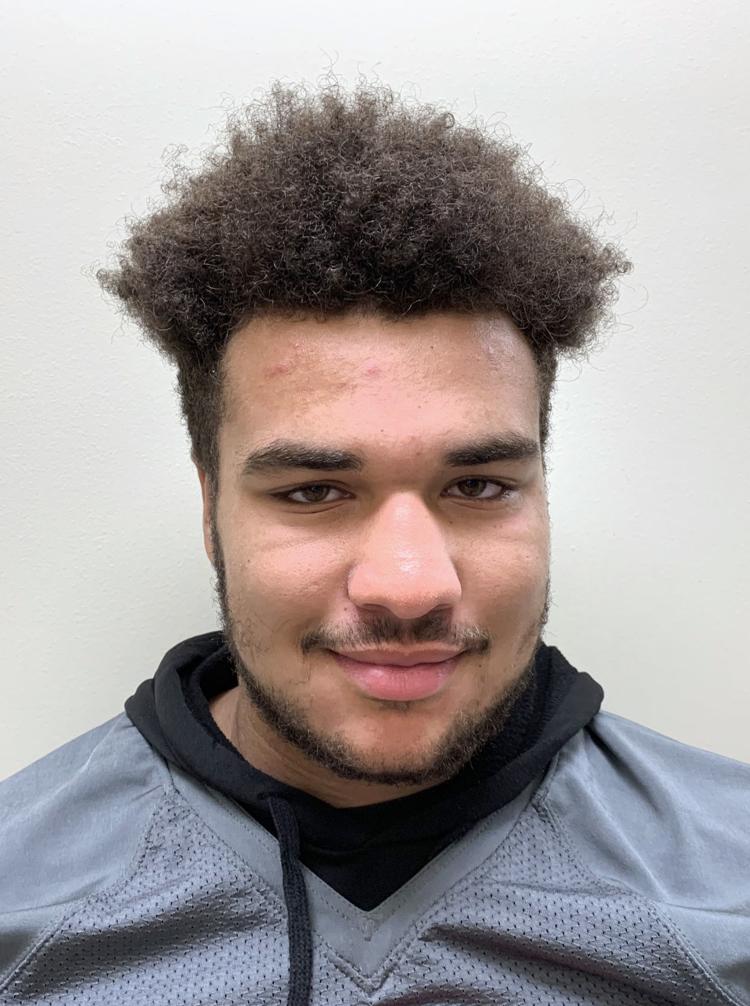 If anyone doubts that athletics can change a young person's life, look no further than Winston-Salem Prep's Dalian Fredlaw.
"I used to be bad and didn't listen in school," said Fredlaw, a junior on the football team for the Phoenix. "Then I came to Prep in the eighth grade and Coach (De'Ron Middleton) Mid started to talk to me.
"I changed. It was just being on a team and doing something. I wanted to make everybody proud. Nobody in my family has ever gone to college. I want to be the first."
The jovial Fredlaw was determined to prove his naysayers wrong.
"A lot of people didn't think I would make it this far," he said. "I've got to work. I've got to grind it on the field and definitely in the classroom. I've got to show people I want it."
The 6-foot-2, 270-pound offensive and defensive tackle is one of the reasons the Phoenix is 4-0 before Friday's game at Burlington Cummings. It's the best record at this point in the season in the young history of its football program.
His training regimen started with weightlifting in the eighth grade when he weighed a mere 189 pounds.
"I was lifting weights and eating," Fredlaw said. "If I wasn't lifting, I was conditioning. I'm not sure of the max, but I lift almost every day."
The hard work has paid dividends, and Fredlaw said he likes to show his skills.
"I like the popularity of football and how many people watch you," he said. "I don't like to get beat off the line. I've got to win all the battles."
He said it's not a concern when he faces a larger opponent.
"I don't think about it when I go up against a bigger person," Fredlaw said. "He doesn't know what I can do."
Fredlaw said he's grown accustomed to the responsibilities of the positions he plays.
"They're not really tough anymore," he said. "I really like it. You've got other people helping you with double teams."
The only break he gets during a game is when special teams are on the field.
"I never get off the field except for special teams," Fredlaw said. "It all comes down to conditioning. You've got to do it. I might be the biggest player, but I last the longest."
Fredlaw said this year's team is special.
"We have a special chemistry," he said. "When we all get on the field, we focus. Last year all the seniors were just ready to go. We're ring-chasing.
"We want to make Prep look good so people will want to come to our school."
Fredlaw said the number of players on a team can be deceiving.
"You should never underestimate small teams," he said. "You never know what they can do against you."
—Ken Winfrey
Focus on: Ava Howard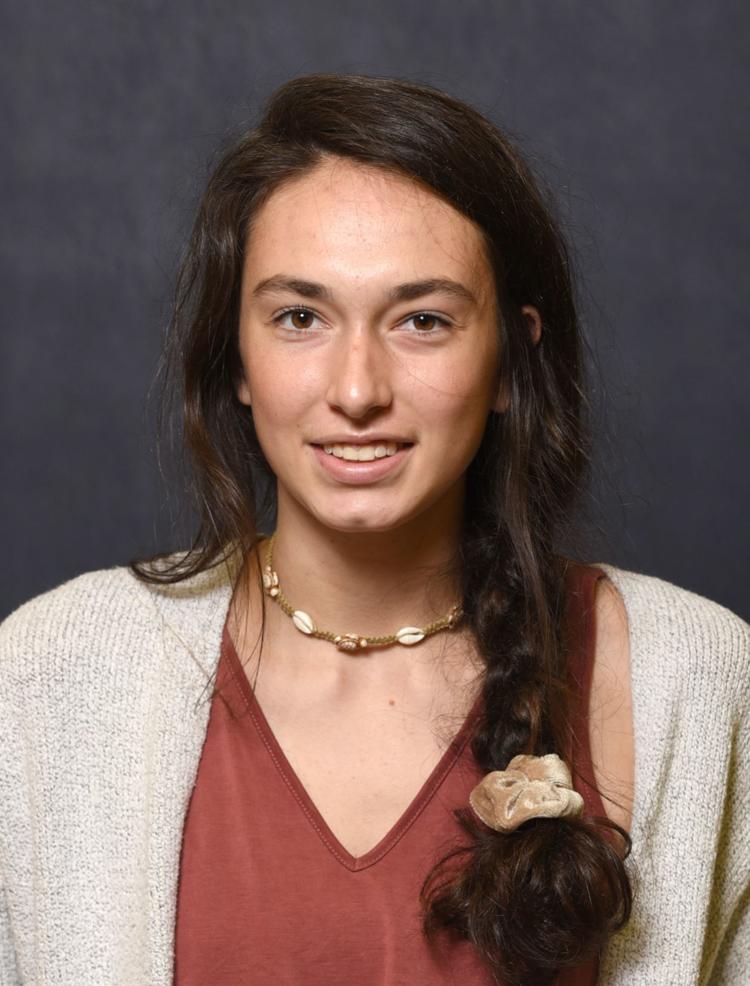 Ava Howard may be soft-spoken in a conversation, but the junior from East Forsyth can get loud on the volleyball court.
"I can get loud," she said. "I yell at them if they're not picking up the energy or are beginning to give up."
That's a part of her responsibilities as a captain."I try to pick them up if they're down and make them happy," she said. "I try to encourage them."
Howard began playing volleyball in the seventh grade at the YMCA and transitioned to the Champion Volleyball Club.
"My parents saw me playing with a volleyball and made me try out for a YMCA team," she said. "I liked it. It's a release from reality where you get to hit things."
She didn't play her freshman year at East Forsyth.
"I probably could have been a little bit better if I had started playing my freshman year," she said.
Howard, a 6-foot middle blocker for the Eagles, guards the center of the net.
"I have to block all three sides," she said. "I cover pretty much everything in the front row. It's a lot of really fast decision making so people in the back row don't have to exert themselves. Sometimes it's difficult, but I get the hang of it and try not to miss."
Howard said her biggest strength is hitting the ball, but there are some other areas that need improvement.
"I like to get a lot of kills," she said. "Setting is probably my weakest. I like to double down, and I can't really put the ball anywhere. It normally goes up when it touches my hands."
She said the libero usually replaces her when it's time to serve.
"I'm a power server but they normally take me out before I serve," Howard said. "It's a little discouraging. It's always very surprising when they let me serve."
Missed blocks can lead to frustration for her.
"Hitting into the net or shanking a ball can get me frustrated," Howard said. "I just try to play to the best of my ability. I try to get the next point and make it better than the last play I failed on."
Butterflies always appear before a big match.
"If I know we're playing a good team I try not to get nervous," Howard said. "It's always better if our team is energetic and happy. That always gets the butterflies out."
Howard said she would encourage any girl to try out for the team.
"It's hard at first, but a really fun game once you get the hang of it," she said. "Don't get down on yourself. If you mess up on a point, you can always do something better to fix that on the next point."
—Ken Winfrey
Focus on: Justin Miles
Justin Miles sees the big picture.
That's why the Parkland sprinter fully embraces cross-country as a vital component of his year-round training . He realizes that the work he puts in now, will pay off nicely in the not-too-distant future.
Miles, a junior, isn't likely to finish among the top 50 in a high school 5K race. But that's not the primary focus. It's all about building a solid conditioning base for the indoor and outdoor track seasons.
"Justin has a much different mindset about the importance of cross-country," Coach Antwan Hughes of Parkland said. "Now, he understands what he needs to do. He's learning how the foundation (strength training and distance running) that he's building, will help pave the way for what he can accomplish on the track."
Miles enjoyed a productive off-season with the Lights Out Track Club. But things didn't come to fruition as expected. About a week before the start of the Junior Olympics nationals, hamstring issues put Miles on the shelf for the summer. At that time, according to Hughes, Miles was ranked among the top eight nationally in the 100- and 200-meter dashes in the 15-16 age group.
"Cross-country is going a lot better than I thought it would," said Miles, who was runner-up in the 200 at the NCHSAA Class 3-A state outdoor championships last season as a sophomore. "Looking forward to lowering my best 5K time (27 minutes).
"I'm feeling a lot better than I did this time last year and I'm getting in shape a lot sooner. That's an advantage for me."
It's not surprising that expectations are high for Miles. His personal bests in the sprints are 10.86 seconds in the 100 and 21.64 for the 200.
"Had it not been for the hamstring, Justin had an excellent shot at going to nationals and making All-America (top six finish)," Hughes said. "This spring, we're looking for him to go 10.5 in the 100 and the low 21s in the 200."
Miles, who wants to run Division I college track, is brimming with confidence as he continues to build strength and stamina. After a month of cross-country training, he announced that he's fully recovered from the summer injury.
"Last week, I did some sprinting for the first time since being hurt," he said. "And I didn't feel anything (pain or stiffness). I feel so much better. Cross-country really helps."
Three questions for Miles
Q: Who has had the most influence in your life?
Answer: Cheryl Miles (mother)
Q: What's your choice for a college major?
Answer: Anything related to Sports Medicine
Q: What's your favorite video game?
Answer: "NBA 2K"
—Craig T. Greenlee
Focus on: Mariana Bebecerra
Mariana Bebecerra is only in her second year of running cross-country, but the junior from Atkins is pleased with her progress.
"I know I have improved a lot," she said. "I cut my best time down from 26 minutes last year to 25.32 so far this year. My goal is to improve every week."
Bebecerra credits her progress to hard work and extra practice.
"I practice harder at school," she said. "I will run on weekends at the park."
She said running provides an outlet for relieving stress and talking with friends.
"I really like the people I run with," Bebecerra said. "I really enjoy running because it gives me a place where I can de-stress and talk with my friends."
The Ivey M. Redmon Sports Complex course in Kernersville is her favorite.
"I already know it so much," she said. "There are a few hills but not that big. That's where I broke my PR (personal record) at the Friday Night Lights meet."
Bebecerra described her strategy for the 5K runs.
"I have to keep pace and try to do good on my times," she said. "You have to pace yourself, so you don't go slower or faster. It's hard but you've got to push at the end. You've got to sprint to get to that finish line. I've got to let it all out and try not to let other girls pass me at the end."
Bebecerra said seeing the finish line is a relief.
"I want to get it over with," she said. "I want to be done."
A good diet and constant hydration are necessary for a runner, according to Bebecerra.
"You've got to eat healthy," she said. "You have to drink a lot of water, especially on those days when it's hot and humid."
She said Coach Alicia Clement's practices are tough.
"Some days we go on long runs, and some days we work on sprints and strides," Bebecerra said. "Strides are when you try running but not sprinting. You have to get a good running form with your arms and not spreading your legs."
Bebecerra, who also runs distance events in indoor and outdoor track, said she looks forward to the Western Piedmont Athletic 2-A conference meet.
"There are a lot of girls there," she said. "It made me want to show off and do good.
"I get nervous because there are so many girls and not knowing how good I'm gonna do or how fast they're going to run. But I believe we're gonna do good at the conference. I hope we can get first."
—Ken Winfrey
Focus on: Blake Parker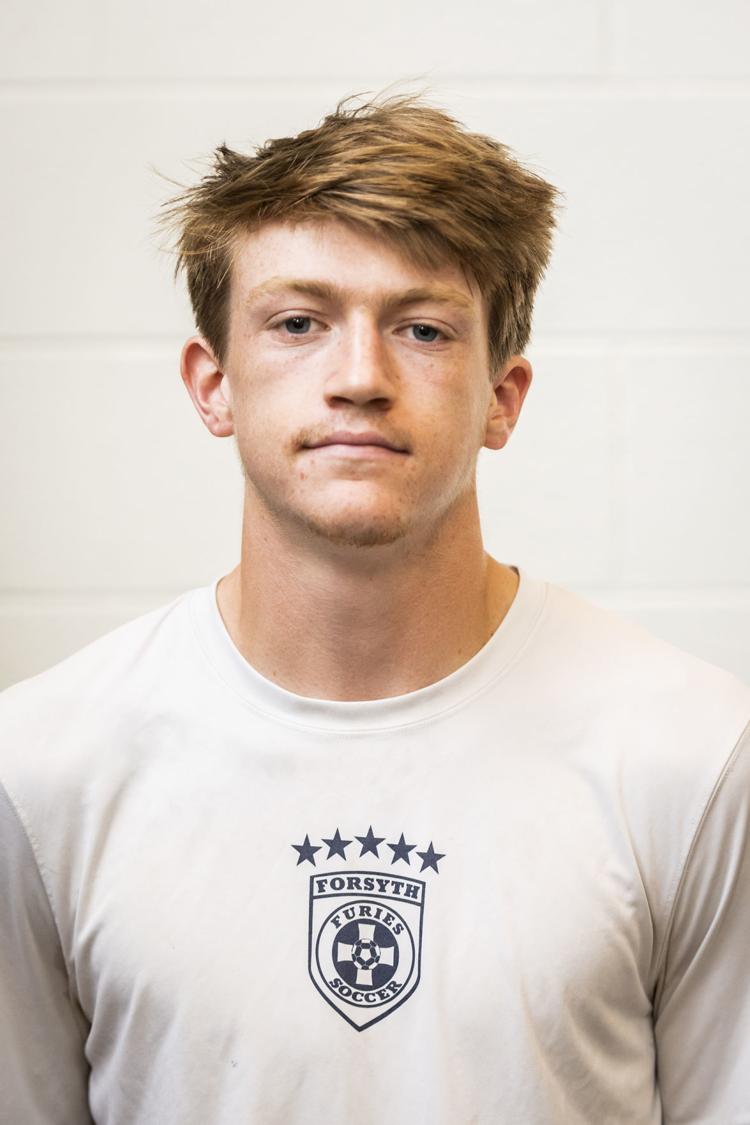 Blake Parker says he knows "every square inch" of the trainer's room at Forsyth Country Day School. A 17-year-old senior on the Furies' soccer team, he spent much of his junior season in there, and he isn't interested in making any return visits.
Parker, a team captain who starts for FCD at right wing, spent last season nursing two hip flexors and then a pulled groin muscle.
"I played through injury all year," he said. "I had one leg wrapped all the way up my thigh every day, but I played through it. I sat out as little as I could. I worked with the trainer every halftime and even during timeouts.
"It is so important to me to be healthy this year."
Parker wants to go out on a good note. "My senior year is really important to me, to be a team leader, a captain," he said.
John Stubblefield, the Furies' coach, gives Parker plenty of credit for his desire to play and the role he plays on and off the pitch.
"He is a good leader, somebody who is good to have in the lineup," Stubblefield said. "He's an extra voice behind the scenes for me. It's great to have someone in a team meeting who can say something and his teammates will all listen to him."
Parker took up soccer in the sixth grade, in part because older sister Brenley played.
"Liking soccer was a gradual thing," he said. "I considered stopping when I got to high school because I didn't think I was good enough. But we didn't have a junior varsity that year, and I realized that I'd be on varsity. I might not play, but I could get varsity coaching, and I could improve."
All of those things happened, putting Parker in the starting lineup.
Parker, a dedicated snowboarder during the winter, doesn't plan on playing soccer beyond the high school level. He wants to attend N.C. State next year to begin a career in the technical sector, because of an interest in engineering that developed at FCD.
"My sophomore year I took engineering for the first time," he said. "Mr. (Joe) Trotter, the teacher, made me fall in love with engineering. I never knew about things like AC (alternating current), didn't know all the things we do with AC.
"I love computer science, and I think all about taking stuff apart and seeing how it works, about (computer) processors, how things go together. I want to major in electrical engineering and minor in computer science."
—Dan Kibler
Focus on: Adyson LeMay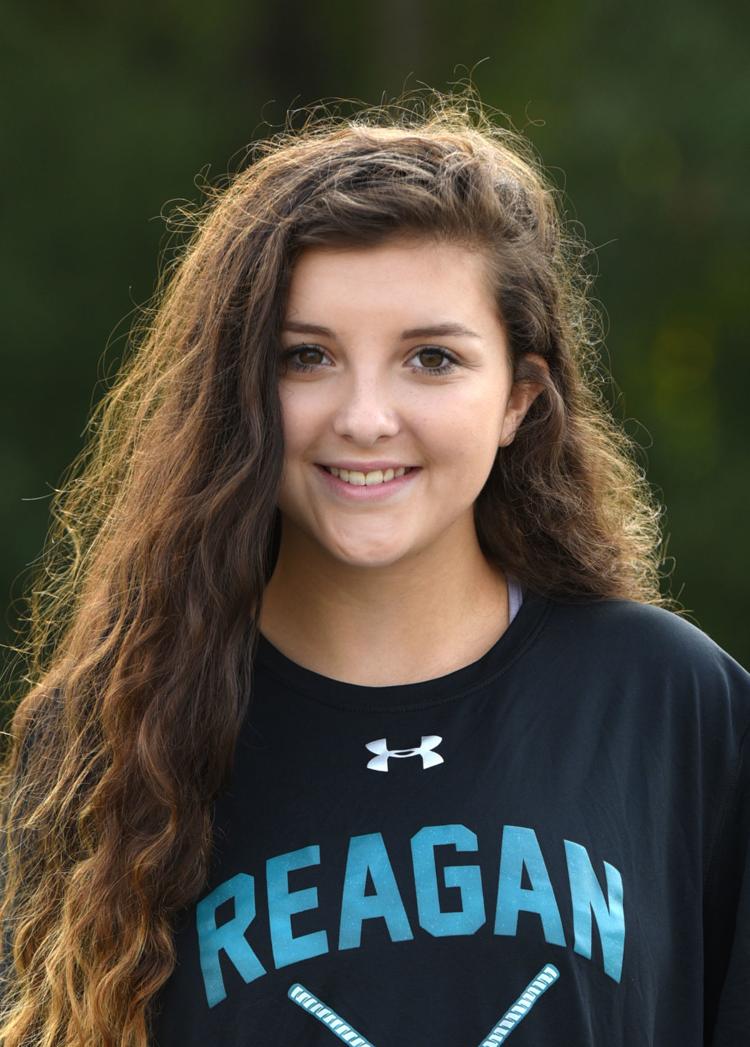 There's no question that Adyson LeMay's one shining moment as an athlete came nearly a year ago in a field hockey game for Reagan.
The Raiders won the Central Piedmont 4-A championship when LeMay scored the decisive goal on a tip-in to give the Raiders a 1-0 double-overtime victory over arch-rival Reynolds.
"We were halfway through the second overtime when coach called a timeout," said LeMay, a senior. "Before we broke from the huddle, Alison Bacon pulled me to the side and told me exactly what was going to happen. Things turned out just the way she said they would.
"I sprinted upfield and was close to the goal when I took a pass from Molly Sytz. I got enough of my stick on it to tip the ball past the goalie for the score."
When Coach Lauren Sytz of Reagan talks about LeMay, there's a definite tone of excitement in her voice. There's no denying that she's looking for more heroics from LeMay in her final season of field hockey.
"Adyson is a coach's dream," Lauren Sytz said. "Whatever you ask her to do, she will do. She's the type of athlete who's always in learning mode. And when it comes to game day, she's all about execution. I'm thankful to have her and eager to see what she does this season."
LeMay is a team captain and two-year varsity performer, who committed to play at Catawba last Sunday.
"Aside from being a positive influence, she has always been a big help to me as a coach," Lauren Sytz said. "She organizes a lot of our team activities and she took the lead in helping out with the design for our team uniforms this year. Adyson is a team-centered individual."
Lacrosse is LeMay's favorite sport, but field hockey has helped immensely in her development. Since she first took up field hockey four years ago, she is no longer saddled by nagging injuries she suffered while playing lacrosse at the youth level.
"I love field hockey, it helps keep me in shape," she said. "When I was younger, I used to get ankle and knee injuries all the time. But all that changed once I started playing field hockey as a freshman. It's made me a lot stronger, especially in the lower body. Because of that, I'm now a better athlete overall."
Three questions for LeMay
Q: What's your choice for a college major?
Answer: Nursing
Q: Who's your favorite TV character?
Answer: Kelso ("That '70s Show")
Q: What's your favorite color?
Answer: Purple
—Craig T. Greenlee
Focus on: Zion Conrad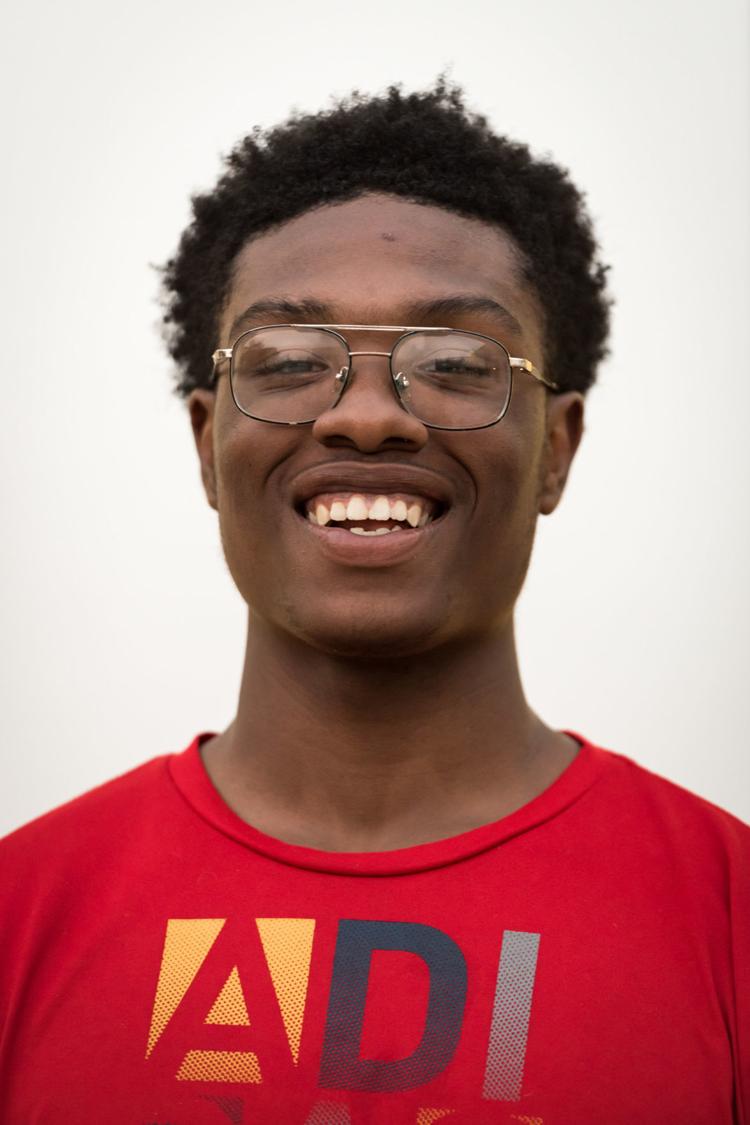 On the field, Zion Conrad is the undisputed commander-in-chief for Walkertown's football team.
The 6-foot-1, 190-pound senior starts at quarterback and middle linebacker for the Wolfpack. Position-wise, it's a bit of an odd mix, but it's working out very well.
During the opening weeks of the season, Walkertown raised a few eyebrows with a 4-0 record. During that stretch, Conrad has orchestrated the Wolfpack's Wing-T offense and has passed for five touchdowns. It's the best start Walkertown has had in four years.
"So far, we're at our best in the second half of games," said Conrad, who also plays power forward on the basketball team. "But we still need to play better in the first half. Once we start putting two halves together consistently, we'll be dominant. For that to happen, we must stay humble and keep our minds right."
Conrad, a four-year varsity player, has proven himself as a multi-dimensional type who performs well regardless of what position he's asked to play. If needed, he could more than hold his own as a wide receiver or defensive back. Conrad's versatility is undeniable.
"At first, I was going to put him at running back," said Rodney McKoy, Walkertown's first-year head coach. "But he's also our best quarterback. He fills that need and he's pretty good at it.
"On the other hand, if I was a college recruiter, I'd bring him in as a strong safety because he's very good as a defender. Zion is reliable and has an exceptional feel for the game. There's no doubt in my mind that he can make all-conference (Western Piedmont Athletic 2-A) on either side of the ball."
As a two-way player, Conrad has learned how to effectively channel his energies to produce the desired results. Defensively, it's all about hustling and being relentless. Offensively, the prime focus is executing with precision and controlled aggression.
"On defense, I keep that killer mentality to get the defense pumped up and ready to attack on every down," he said. "As quarterback, however, a different approach is needed. I'm always encouraging others. That's how I can make sure that everybody keeps their heads in the game."
Three questions for Conrad
Q: What's the best book you've read?
Answer: "The Alchemist" by Paulo Coelho
Q: What's your choice for a college major?
Answer: Biology
Q: If you could live anywhere in the world, where would it be?
Answer: The Bahamas
—Craig T. Greenlee
Focus on: Jose Ventura-Magallon
Jose Ventura-Magallon is enjoying his first season exclusively on the North Forsyth boys varsity soccer team.
The senior has played all four years for the Vikings, but he has split time between JV and varsity the past two years.
"It's cool, more intense," Ventura-Magallon said. "You have a more specific job to do."
It also requires more work.
"You have to train more, do more conditioning," he said. "It's a lot more running on varsity than JV."
The soft-spoken Ventura-Magallon has been playing soccer since he was 8 years old. He started in the Optimist League and has also played with Twin City.
"Soccer helps calm me down when I'm in a bad situation," he said. "Basically, it's like an escape."
He plays defensive midfield and center back for the Vikings.
"I have to make sure they don't get through me," he said. "I have to recover any ball that's hit to me. I make sure the team is not all over the place and is organized."
Ventura-Magallon said he was a goalkeeper when he first started playing, but it's a position he isn't interested in now.
"I played goalie when I started, and it was pretty fun back there," he said. "I wouldn't want to do it now. There's a lot of leadership when you're back there."
He scored his first North Forsyth goal last week in a double-overtime win over Forbush that required 13 penalty kicks before a winner was decided.
"It was tiring physically and mentally," he said. "I scored our sixth goal on a PK. I was legit hungry and all I was thinking about was the pizza we were going to have after the game.
"I was excited. He threw himself to the right and I shot right down the middle."
Ventura-Magallon said he would challenge anyone who believes soccer is boring.
"They haven't seen the actual beauty of soccer," he said. "Soccer is more difficult to score than football. You have two really organized teams. You just don't score as often."
He said he's excited about this season.
"I know for sure we're gonna do better than last year," Ventura-Magallon said. "We are more of a whole team. We have 12 seniors and Juan Martinez is amazing on the field and a great team leader.
"We have the potential to win the conference, but it will still be challenging."
Coach Dan Proctor of the Vikings said Ventura-Magallon is a hard worker.
"He's worked real hard for that spot on the team," he said. "He has really paid his dues. He's really smart and has great character. He has always given us key minutes."
—Ken Winfrey
Focus on: Grace Heilmann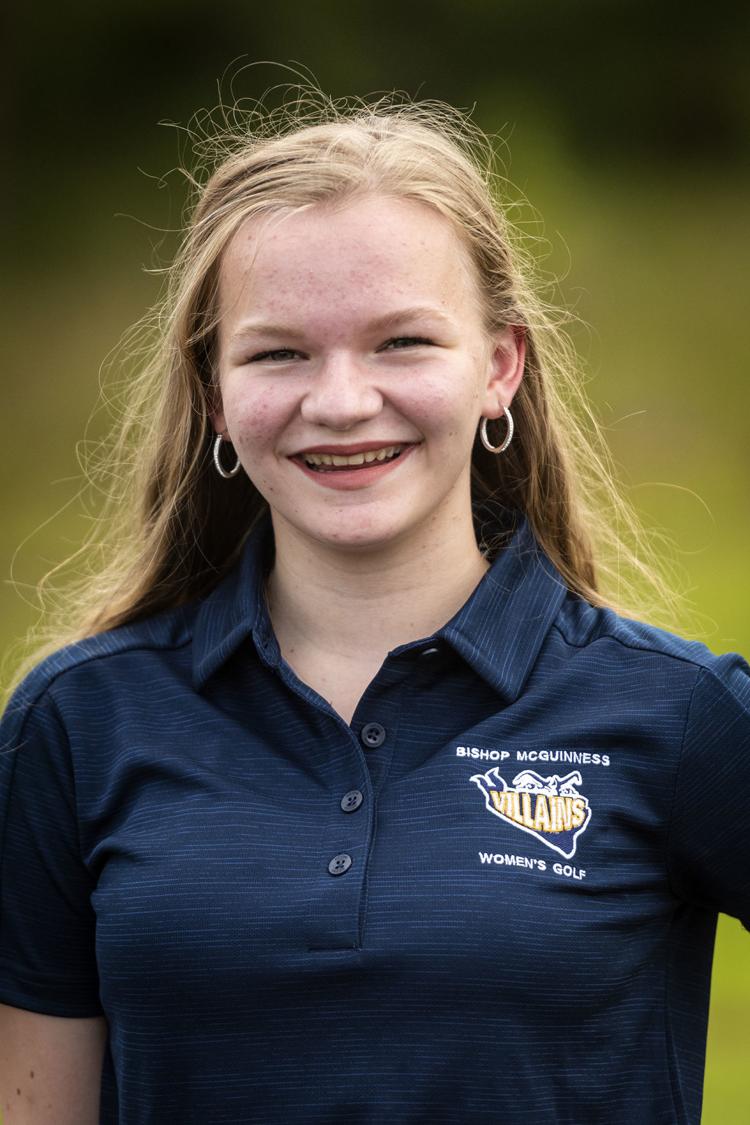 Grace Heilmann didn't play a lot of golf growing up but was instrumental in helping start the girls golf team at Bishop McGuinness this year.
Heilmann, a junior, mentioned to her guidance counselor, Julie Gehling, towards the end of last school year of her wish that McGuinness could have a girls team because she wanted to play a sport.
"I can't really do a lot of running because of injuries to my knee I've had over the years," Heilmann said. "I wanted a low-impact sport and to be a part of a team. And I like golf and have always found it interesting. My dad bought me some clubs in middle school and I would go to the range with him every now and then. I haven't played a lot, but I've been around it enough to know that I enjoy it. It's the best feeling when you hit a great shot."
Gehling mentioned Heilmann's request to Jeff Stoller, the athletics director at McGuinness, and to her husband, Jim, who agreed to coach the team.
"In late July, I got an email asking about my uniform size," Heilmann said. "That made me feel so great and really happy that I was going to get to be a part of a team and play a sport, not to mention that it's the first time we've had a girls golf team."
Including Heilmann, there are four members on the team this season. One of them, Laney Wessels, played for the boys team in the spring.
"Our first practice, we went to the driving range so our coach just could kind of watch us all and get a feel for what kind of players we are," Heilmann said. "I was a little nervous because I haven't played as much as my teammates and watching them really inspires me to one day get to the level they are on. I know I'll be OK because I've still got a lot of learning to do and I'm having a lot of fun."
Heilmann was born in Michigan and lived in Germany for several years before moving to San Diego, Charlotte, and eventually settling in the Triad.
"I hurt my knee playing dodgeball in Germany," she said. "I dislocated my kneecap when I was 9. I turned my leg the wrong way and it popped out. They put a cast on my leg and it never fully healed. I've been in and out of physical therapy since because of several stress fractures. I haven't had any issues with it from playing golf yet, though."
Heilmann is also active in theater productions at McGuinness and was on the Quiz Bowl team as a sophomore.
—Marc Pruitt
Focus on: Ellie Cameron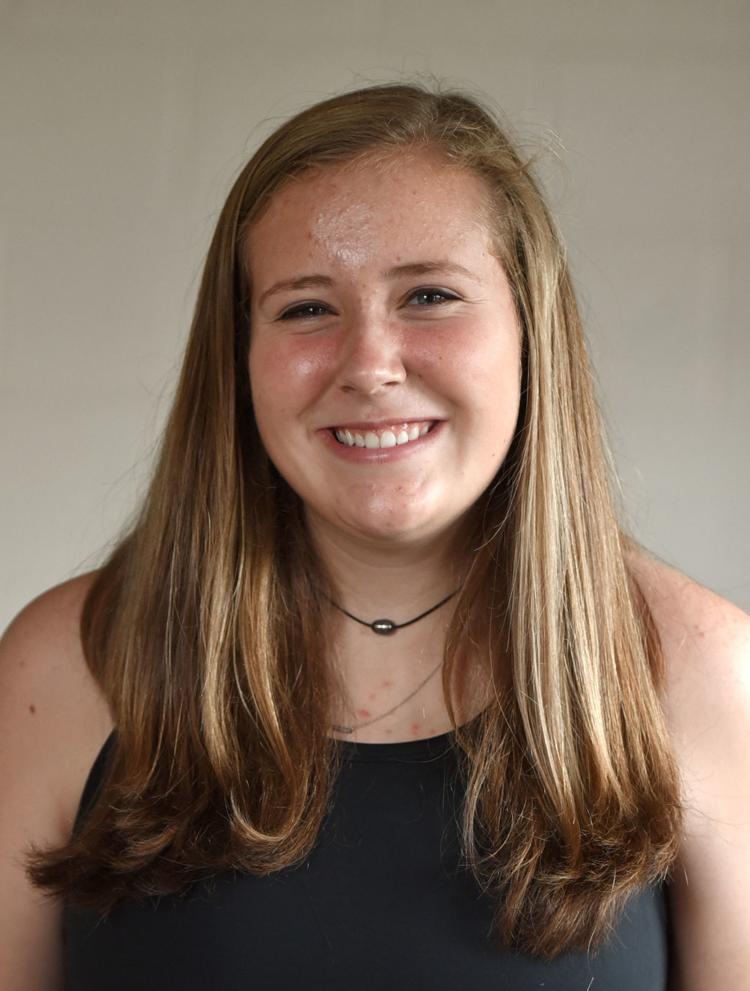 Ellie Cameron has faced some major changes after her family moved from Idaho to Winston-Salem this past summer.
The junior from Reynolds was used to playing tennis in the spring in Idaho. Girls tennis is a fall sport in North Carolina.
Cameron said the change was beneficial.
"It's really nice because I just got off the season in the spring, and I attended a summer camp at BYU," she said. "I played over the summer, so it's been nice to keep up as to where I was."
Another change was in store, too.
"Tennis in Idaho is coed," she said. "It brought a different dynamic because the strength of the boys trickled down to the girls. We played mixed doubles in Idaho."
Cameron said coed teams vs. all-girls teams have pros and cons.
"There are advantages and disadvantages. We practiced against the boys, and they wouldn't necessarily take it easy on you", she said. "There was a wider range of skills. The competition is more even here."
She said being on an all-girls team allows more bonding.
"With an all-girls team you really get close to your teammates," Cameron said. "It's more natural to be really close to them."
Weather has been another adjustment.
"It's very different here," she said. "In Idaho it was very windy and dry. It's humid and wet here. It was a big adjustment the first two weeks. The elevation level in Idaho was also 3,000 to 4,000 feet. I could feel the difference in my endurance level."
Cameron said she didn't start playing tennis seriously until her sophomore year.
"My brother played all through high school," she said. "I grew up watching him play. I decided my sophomore year that I wanted to play. I enjoy it so much. It's a great way to be active. I love the atmosphere at matches."
She ran cross-country in Idaho before deciding to focus on tennis.
"In cross-country you're smiling like you're having fun but inside you feel like you're dying the whole time," Cameron said. "I'm very glad I chose tennis. I love the team and the coach."
Playing tennis also helped Cameron with the transition to a new school.
"It wasn't too hard to adjust," she said. "The team has been really amazing and welcoming me. I had a built-in system of friends, girls I could say hi to on the first day of class."
Cameron currently plays No. 7 in singles and No. 3 in doubles. The Demons periodically have challenge matches to determine if players can move up.
"I missed the last one because I was really sick," she said. "I hope to move up in the next one."
—Ken Winfrey
Focus on: Brandon Absher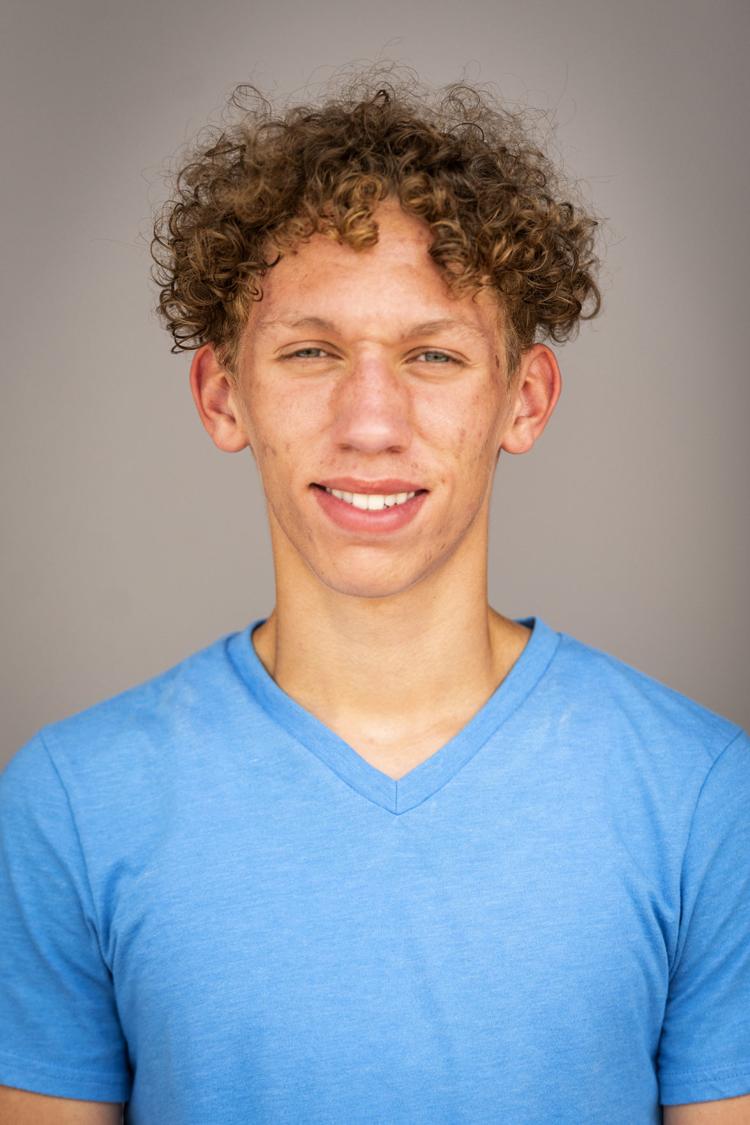 Brandon Absher recently got his first taste of competitive distance racing in Glenn's first cross-country meet of the season.
Absher, a senior, wasn't sure what to expect. But in spite of his uncertainty, he gave a good accounting for himself in the 5K race. He was the second finisher for the Bobcats with a time of 21 minutes, 56 seconds.
"Before the race, I was a little nervous," he said. "It was my first-ever high school race and I'm satisfied with the outcome. But I know I can improve. My goal is to trim another three or four minutes from what I did in that meet."
Coach Kindra Ritzie-Worthy of Glenn discovered early on in preseason workouts that Absher had the potential to make a measurable impact. What caught her eye was Absher's willingness to continuously push himself to the limit.
"Brandon is a hard worker and he's self-motivated," she said. "In practice, when I ask him to do a set of six repetitions of 1,000 meters, his times get faster with each rep. In that first race of the season, he finished strong. That impressed me."
Before his arrival at Glenn last October, Absher had never participated in high school sports. He trained with the cross-country team at his high school in Cheyenne, Wyo., but he never competed in an actual race.
Absher started his high school athletic career last spring as a midfielder on Glenn's lacrosse team. It wasn't long before lacrosse became his sport of choice. Even so, he realized quickly that he needed to develop more stamina to handle the physical demands of the position.
"I was not in great shape for lacrosse last year," said Absher, who plans to run indoor track (800- and 1,600-meter runs). "So, being a cross-country runner will give me the endurance I need so I can move around at full speed for lacrosse.
"Starting out, my plan was to use cross-country as preparation for lacrosse. But now, I'm enjoying being a runner a lot more. Since we don't have a lot of runners (nine), it gives me the opportunity to contribute to how well we perform as a team. That helps me stay motivated to keep training and keep improving."
Three question for Absher
Q: Who's had the most influence in your life?
Answer: Jordan Martin (brother)
Q: Who's your favorite historical figure?
Answer: Muhammad Ali
Q: What's your favorite food?
Answer: Scrambled eggs
—Craig T. Greenlee