SportsXtra: This week's featured high school athletes, September 6, 2019
Leading by example: Kathryn Krull's approach helping Reagan as it tries to defend NCHSAA Class 4-A girls golf title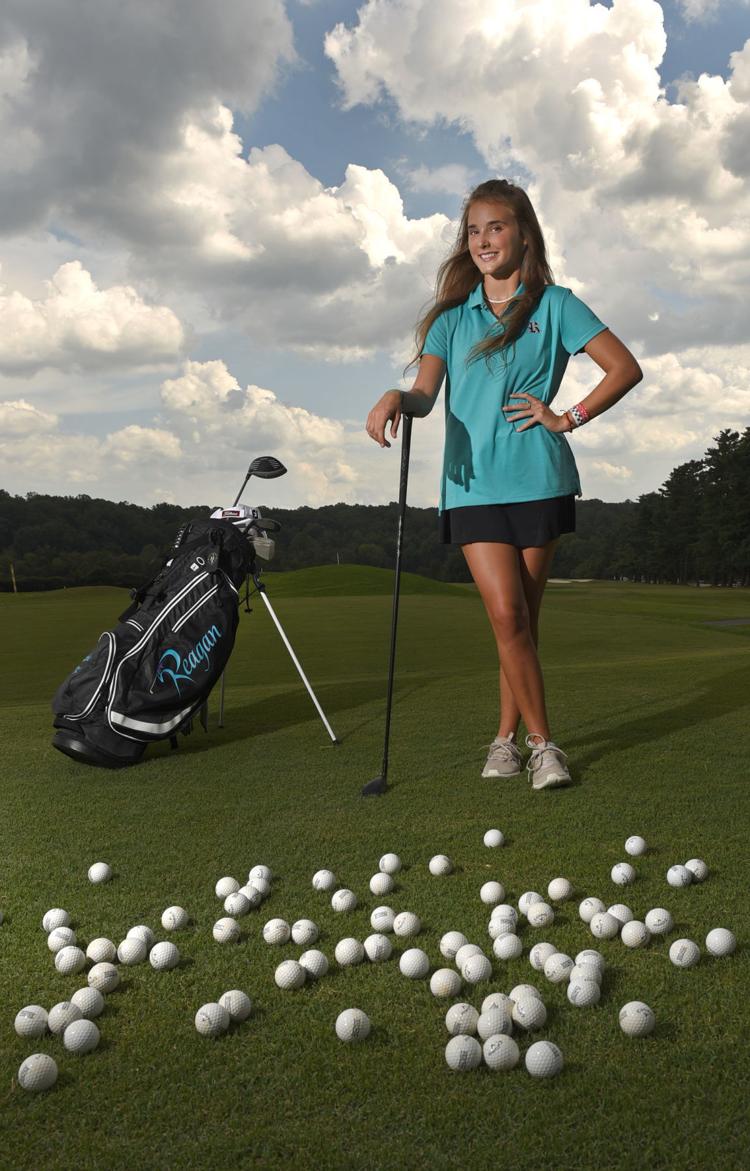 Kathryn Krull has patiently waited her turn. Now it's her time to show her mettle.
For three years, Krull methodically worked her way up the pecking order on the girls golf team at Reagan. In this, her final season, Krull has cracked the top five in the lineup and is one of the team captains.
Krull, a senior, is excited about the opportunity to help the Raiders further fortify their reputation as one of the high school golf powers in North Carolina. A year ago, Reagan won the team title at the NCHSAA Class 4-A state tournament at Pinehurst No. 3.
The past decade can be viewed as a golden era for the Reagan ladies. The Raiders were state runners-up in 2011, and before claiming last year's state crown, they posted three straight top-10 finishes at state (2015-2017). Also during that stretch, they won six NCHSAA Class 4-A regional titles and 10 straight Central Piedmont 4-A championships.
"We had great team unity last year, and that was a key part of our success," Krull said. "So, now we want to have that same kind of spirit carry over to this year. The expectation is to hold our own and win our share of matches."
Although Krull is one of the team's better performers, Coach Jay Allred of Reagan believes that her leadership skills will have even more of an impact on how the Raiders fare this season. Krull's laid back leadership style, he said, helps her teammates to maintain their focus and play well in pressure situations.
"Kathryn doesn't look at the game as if it's life and death," Allred said. "She has a care-free kind of approach that helps her stay relaxed and at the same time, it keeps everybody else loose.
"That's important in a game like golf. If players feel too much pressure, they tend to tighten up when they grip the club. When that happens, they get tense, and it keeps them from playing up to their capability."
Mary Kate Bowman Choat, an assistant coach at Reagan, frequently participates in practice rounds with the Raiders. Krull's ability to improve in all facets of the game, Choat explained, has played a major role in her steady growth. As a freshman, Krull shot in the low-60s for a nine-hole round. As a senior, she's shooting in the mid-to-high 40s.
"Kathryn has a really good short game," said Choat, who played at Appalachian State and finished as the NCHSAA Class 4-A individual state runner-up while playing for Reynolds in 2004. "She doesn't hit for distance, but she's very consistent at keeping the ball in play.
"Since her first year, she's made significant strides. But above all, she's become a great asset as a role model who has a positive influence on the team."
With this being Krull's last season, Allred is looking for her to reach a new level in her individual game. In his view, it all comes down to getting more distance on her shots.
"Once she's able to consistently add 20 yards on her drive, she'll drop her score by a few more strokes," he said. "I feel that she's capable of shooting around 41, or even the high 30s.
"What has really helped in her development is her desire to put forth the effort to get better. Kathryn typically learns something about the game every day. Plus, she's learned how to learn from her mistakes and not dwell on them."
As a leader, Krull is not a taskmaster type. Bellowing at teammates with the volume level of a bull horn is not her style. She's more like a caring mentor who constantly nurtures.
"There's always that pressure to get that lowest score in every match you play," Krull said. "Because of that, players make their share of mistakes on the course. What I concentrate on is giving words of encouragement.
"Instead of looking only at the mistakes, I place a lot of emphasis on doing what it takes to keep improving. By encouraging others, it helps them feel more comfortable, so they know that they fit in with the team. That's all a part of helping to create a close bond with every team member."
During her time at Reagan, Krull has benefitted from being around upper-echelon players. As an underclassman, she gleaned more than a few nuggets of wisdom from several veteran players, one of whom was her older sister, Sarah, who graduated last June.
Aside from Sarah, the younger Krull developed close-knit friendships with Mary Slade White and Sarah Young. Those three were part of a strong senior core on the state-title winning team from last year.
"It was very helpful for me to have those upperclassmen to lean on," Krull said. "With Mary being a captain, I learned so much about what quality leadership really looks like.
"One of my goals as a captain is to make a strong impression for our younger players on this year's team. It's going to help when their time comes to take on those leadership roles."
—Craig T. Greenlee
Focus on: Jonah Brais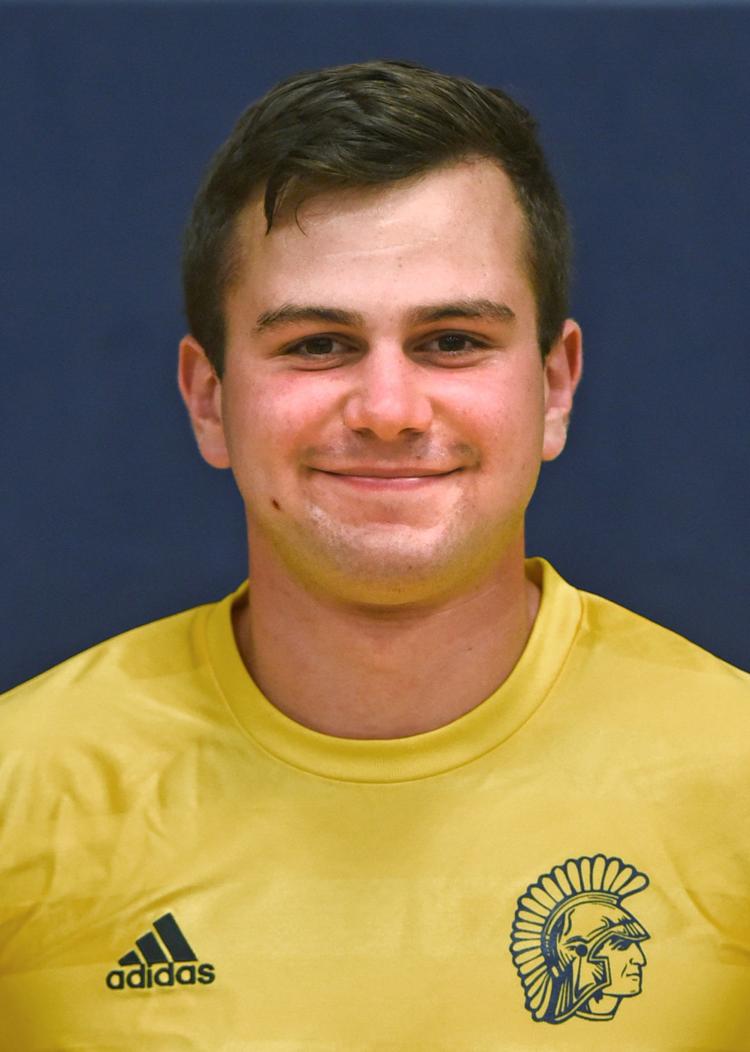 There is no other place on a soccer field that Jonah Brais feels quite as comfortable as he does when he is manning the goalie box.
Brais, a senior, is one of three goalkeepers the Spartans have utilized so far this season that have allowed just one goal through the team's first four games.
After spending his sophomore and junior seasons on the JV team, Brais is making the most of his chance to play on the varsity team this season.
"I started the second half of the first two games and had a blast," Brais said. "The three of us (Angel Maldonado, Spencer Peddycord) rotate around so that everyone is getting some experience. We've got a great group and a great team. I'm excited to see what we can do this season."
Brais discovered soccer during elementary school and gravitated naturally to being a goalie.
"I was at recess one day and we started kicking the ball around, and I learned that I liked stopping the ball more than I liked kicking it," Brais said. "That's kind of how I got interested in playing goalie. I'm a person who likes to communicate a lot, and there's no better position for me on the field. I love being able to see the whole field, and I feel like I can have more of impact on the game from back there.
"It's fun for me to help get our backs lined up if I have to charge for a ball or let them know which post to cover if I'm going out to make a save. My voice is definitely heard back there, and I love that."
Brais is ranked in the top 30 academically in the Class of 2020 and is also involved with Student Government, Crosby Scholars and Latin Club. He was inducted into the National Honor Society last year.
He is interested in computer science and engineering and is looking at attending college at UNC Charlotte, N.C. State or Campbell.
"I really like to surprise and challenge myself in life," Brais said. "I'll see where my interests take me."
Three questions for Brais
Q: Who's the best teacher you've had?
Answer: Mrs. Carol Faltynksi-Privette (math)
Q: If you could have one superpower, what would it be?
Answer: Control time
Q: What's your favorite show to binge watch?
Answer: "Modern Family"
Focus on: Anna Seach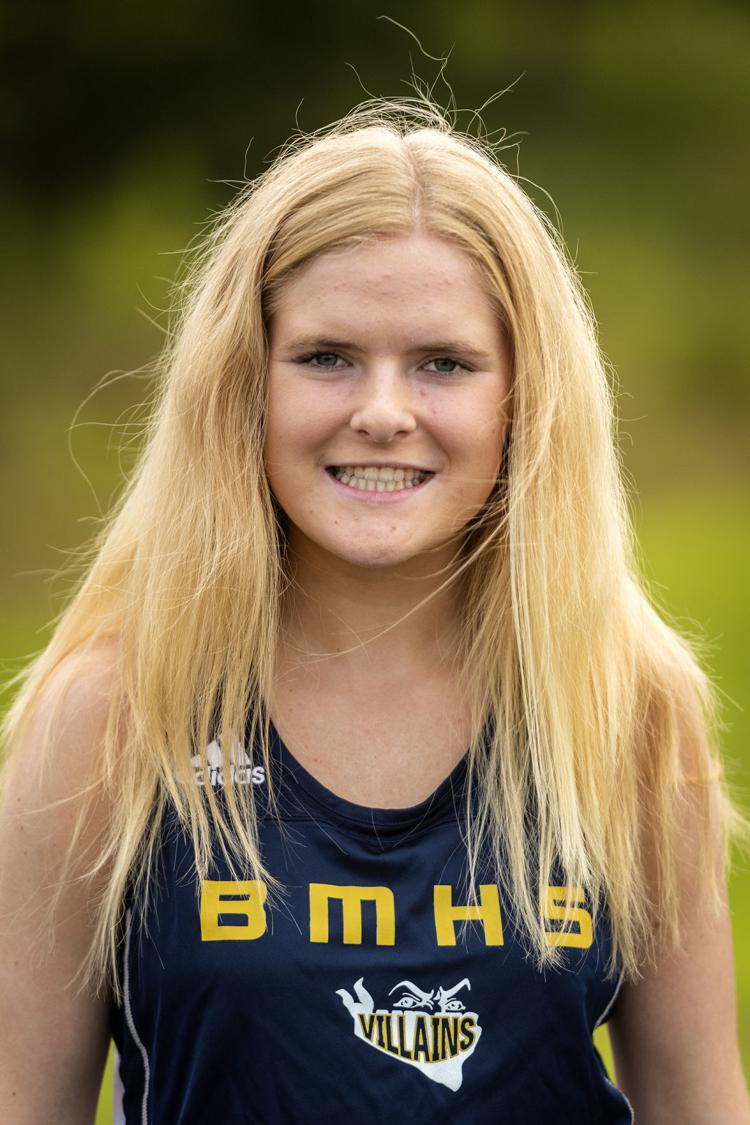 As much as Anna Seach would love to run with her cross-country teammates at Bishop McGuinness at this point of the young season, the sophomore will have to wait another month or so to do so.
That pains Seach, who has been running 5Ks since she was in kindergarten and comes from a family of runners, to no end.
Seach is still recovering from a knee injury she suffered during the Villains 12-1 against Bear Grass Charter in the second round the NCHSAA Class 1-A soccer tournament back in May.
"I was running toward the ball on the other side of the field and the goalie came out at about the same time," Seach said. "The ball had just bounced in the air and I was about to kick it, and the goalie ran right into my right leg and sent me flying. I knew immediately something was wrong."
Seach had to wait out a 3½-hour bus ride home following the game and almost two weeks before she learned the extent of her injury: three mild impaction fractures of her right knee. It brought an end to a busy freshman year for Seach, who also ran cross-country last fall and played JV basketball during the winter.
The team's trainer was at the game and kept a close eye on the knee in the days that followed the injury. Between the swelling and the bruising, she detected fluid as well, prompting Seach to visit the doctor for an MRI.
Seach didn't have to have surgery but was immobilized for six weeks before she was able to start physical therapy once a week.
"I'm still doing physical therapy and also doing some workouts with my mom, who is a personal trainer," Seach said. "I'm slowly building the strength of it back up — riding a stationary bike, doing squats, leg presses. The bone is still healing. My knee is still bruised. My doctor told me I can probably start running on a treadmill (this) week."
Seach is excited to get back to eventually working out with her teammates again. She rides an exercise bike during practice now and goes to the meets to offer her support.
"It hurts that I can't be out there to help them," said Seach, who is also part of the Special Olympics Club. "Everyone is doing so well, and I can't wait until I can get back out to help them during a race. My doctor told me it's looking pretty good I can be back out there competing in late October. I'm hoping I can be back for the conference, regional and state meets."
—Marc Pruitt
Focus on: Kaitlyn Bullard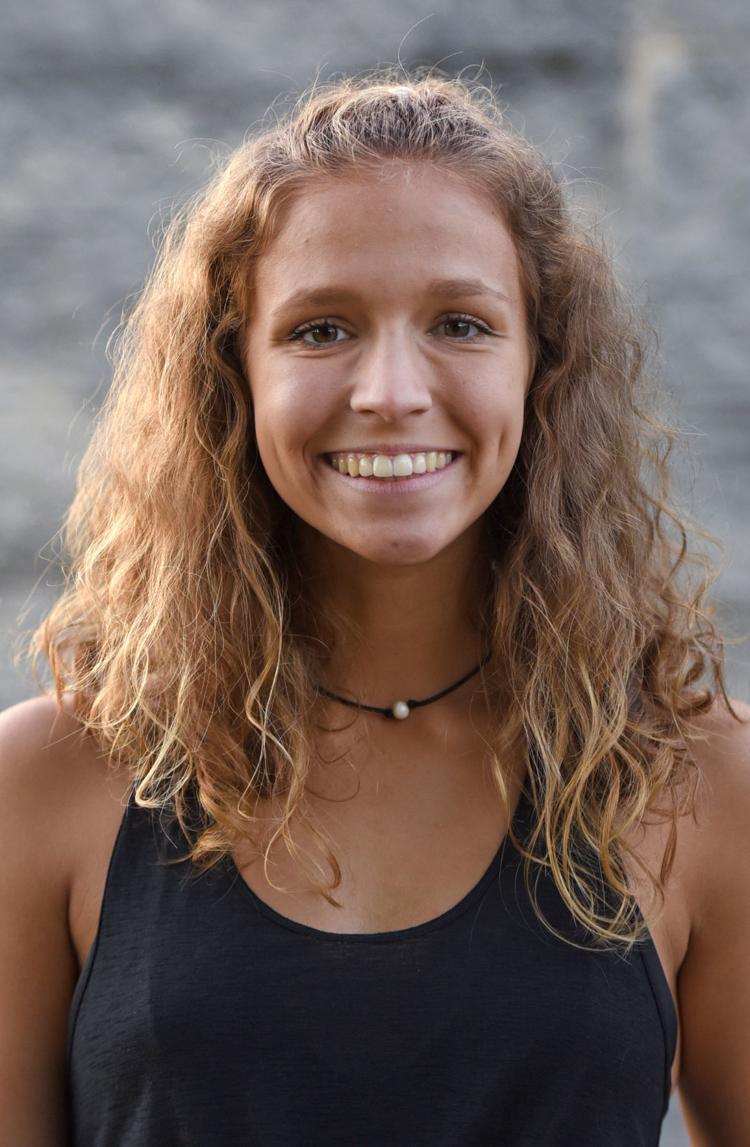 Running comes naturally for East Forsyth's Kaitlyn Bullard. She started in the seventh grade at Kernersville Middle School.
The senior for the Eagles has competed for three years on the East Forsyth cross- country team.
"I love to run," Bullard said. "It's a stress reliever. After a run I feel so good."
About the only thing she doesn't like is cramping.
"Whenever I cramp up, it's not the best feeling," Bullard said. "I think about water and stretching at the end. I also think about food."
Bullard said her running schedule varies early in the season.
"I usually either run at 8 in the morning or 5:30 to 6 at night so I don't get hit with heat restrictions," she said. "It usually cools off later at night."
She also likes to run at Salem Lake.
"I like to run at Salem Lake with the shade," Bullard said. "I run into spiders, which I am not necessarily afraid of them but it's not my favorite thing. I put bug spray on before I run and try to drink 32 ounces of water. I like chocolate milk afterwards."
Bullard was the second fastest on the Eagles team her sophomore year.
"I went from second fastest to the fastest and have maintained the fastest since then," she said. "My PR (personal record) is in the 9:45ish range for a 5K."
She has her site set on running a longer race.
"Right now I'm training for a half-marathon," Bullard said. "It's hard and you have to pace. But it's fun because you have two hours to just run and forget about everything."
Bullard runs every day except Sunday and averages 35 miles each week. She likes running at Ivey M. Redmon Sports Complex in Kernersville.
"The 5K course runs past the dog park," she said. "They will chase me around the fence. The best part is listening to something (barking) other than me breathing."
Bullard said she likes to read things in Runner's World on running motivation.
"Honestly, running is the power of you getting the time you want," she said. "After a race, I look at where I slowed down, where I should have pushed for more. "I know getting times down is a gradual thing. I know I'm not going to go down a minute overnight."
Bullard said she always has a family member encouraging her.
"My mom always provides extra motivation," she said. "She yells, 'Pass her, Kaityln.'"
—Ken Winfrey
Focus on: Davionta Moses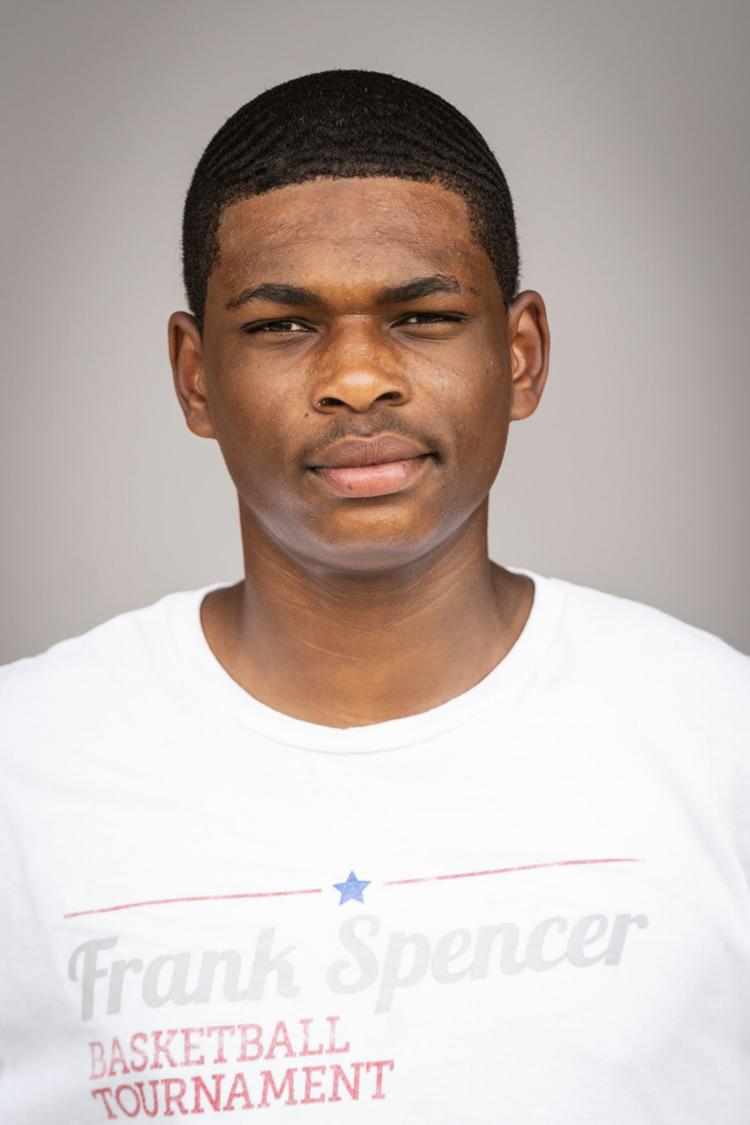 Davionta Moses has developed nicely as a 6-foot-5 basketball player over the past two seasons. Since his arrival at Glenn midway through his freshman year, however, he had toyed with the idea of playing football, but never followed through on making it happen.
All that changed last summer when he finally took the plunge and joined the Bobcats for off-season workouts. It's been a challenging transition, going from basketball to football. But so far, Moses, a post player in basketball, has shown much promise at defensive end.
In his first-ever high school football game, Moses, a 210-pound senior, made his presence felt in Glenn's 24-0 road win over Ledford in the season opener two weeks ago. He finished with three tackles and one quarterback hurry while playing over 50 percent of the defensive snaps.
Coach Antwon Stevenson of Glenn is excited about what he witnessed. In his mind, there's more to come as Moses gets further acclimated to his new sport.
"Davionta has a great upside," Stevenson said. "Not only does he have the willingness to learn, but he wants to be great."
Being an absolute football newbie, Moses understands that there's so much for him to learn. And he openly acknowledges that he'll have some growing pains along the way.
"Any sport I play, I take it seriously," Moses said. "I'm a fast learner, and I'm disciplined. My goal is to play well enough to get some college (scholarship) offers."
Stevenson has no doubts that Moses will flourish in spite of his lack of playing experience. The physical attributes (height and quickness), he explained, will help immensely.
"When I first saw Davionta on the court, I immediately noticed that he's an athletic type who has a motor and some toughness about him," Stevenson said. "With his size and mobility, he will turn some heads. Coaches have no concerns about his effort, and that's because he gives everything he has on every play.
"What he's working on now is getting a better understanding of the intensity of the game. He's progressing well with that. If Davionta shows any glimpse of potential, he will get his shot (at playing college football)."
Three questions for Moses
Q: Who's had the most influence in your life?
Answer: Roland Keels (stepfather)
Q: What's your favorite subject in school?
Answer: Math
Q: Who's your favorite musical artist?
Answer: A Boogie wit da Hoodie
—Craig T. Greenlee
Focus on: Dulce Reyes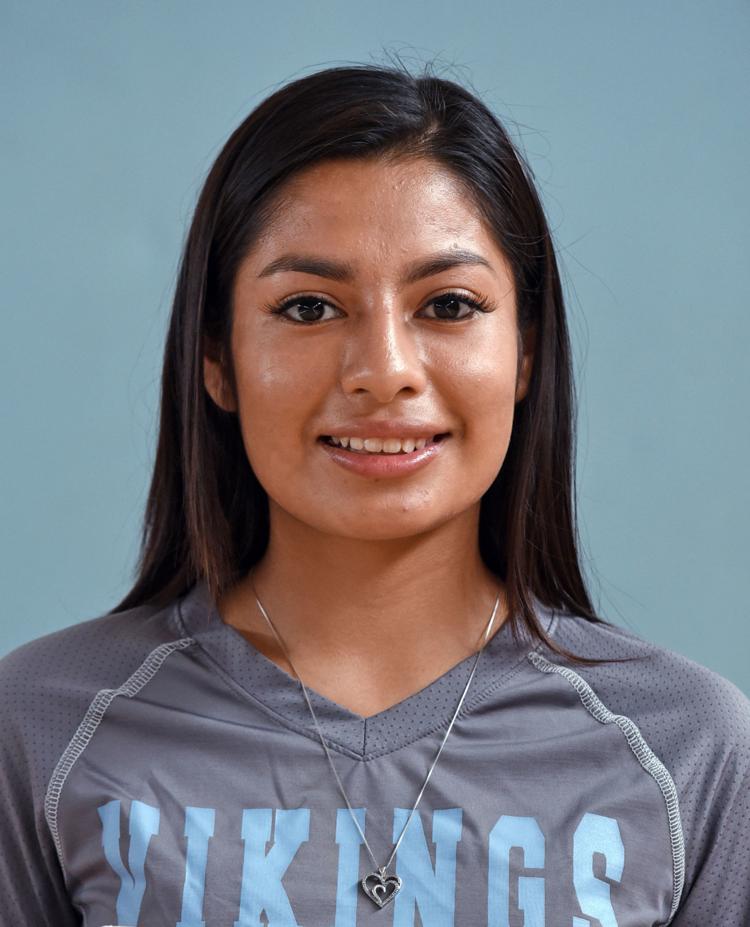 Dulce Reyes of North Forsyth had never played volleyball before she was in eighth grade at Northwest Middle School.
"Coach saw me and asked if I wanted to play," said Reyes, a junior for the Vikings. "I was nervous. I felt like I had butterflies in my stomach."
The excitement soon settled down.
"I felt like I was ready for a game," she said. "I had the adrenaline running through me."
Reyes has played all three years at North Forsyth, starting on the JV team her freshman year and playing mostly on the varsity last year.
"I still get nervous," she said. "I take a deep breath and say to myself try to give it my all like it was the last game I would ever play."
Reyes has an early morning routine on game days.
"I always tell my mom, Guadalupe, that I've got a game today, and I'm excited. I think we're going to do good," she said. "She tells me to play my hardest and give it your all."
Reyes was a defensive specialist last year but is switching to the team's libero this season.
"Passing is my biggest strength," she said. "It's also frustrating when I can't get every ball I can."
She admits her serve is not up to par.
"I need to work on my serving," Reyes said. "I did have an ace. I thought I would never get one. I was very proud of myself."
Reyes, who is 4-foot-10, said there are two positions she would like to play.
"I would like to play outside hitter or middle blocker," she said, "but I'm not tall enough."
Effort and attending every practice is the key to continued improvement, according to Reyes.
"You have to come to practice every day and work hard," she said. "You have to hustle. You have to have a positive mindset."
Reyes said she believes the Vikings are ready for a good season, especially if they can communicate more on the court.
"We have to communicate more with each other than last year," she said. "I don't like it when we don't communicate. We have to talk it out. I feel like I'm an honest person. When I don't like something I will say, 'Hey, we need to work on this.'"
Dealing with the lack of air conditioning at Cartwright Gymnasium can sometimes be uncomfortable.
"I feel like I'm cooking in a stove," Reyes said. "I say to myself I'm going to get there. Just 10 more minutes. I also have to stay hydrated."
—Ken Winfrey
Focus on: Lynn Kluttz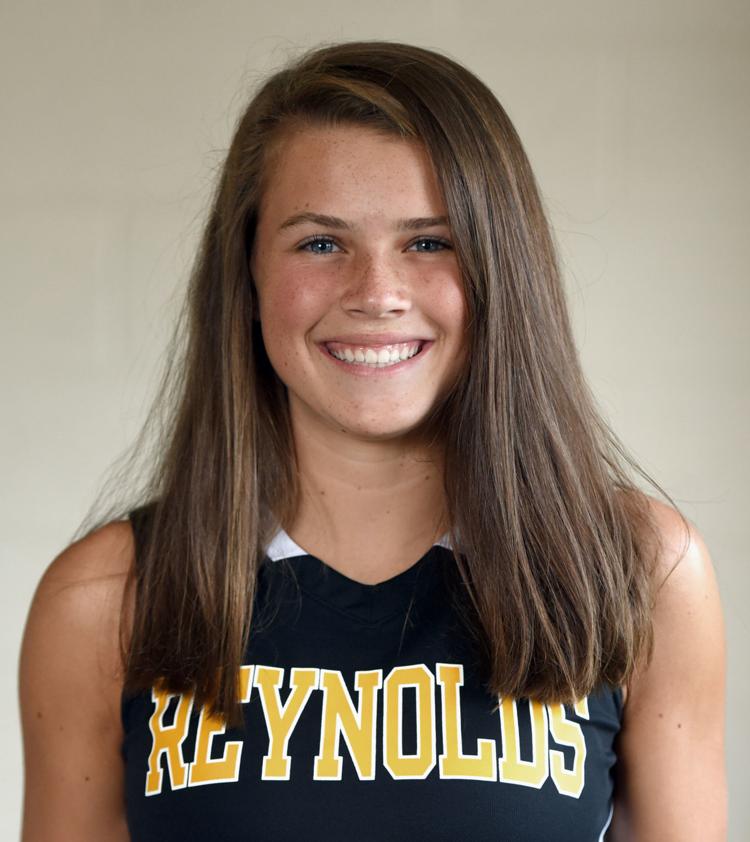 It didn't take Lynn Kluttz of Reynolds long to know she was destined to play field hockey.
"I was about four or five, and I played on the Wake Forest Weedwackers team," said the senior for the Demons. "I fell in love with it. I saw the Wake Forest (University) players down the field. I was in awe."
Kluttz is playing her third year on the varsity team for Reynolds. She said the competitiveness is enjoyable, but the team aspect is particularly important.
"You have a team to back you up," she said. "But it's not only having people who are teammates, it's also having friends. It's like building a community through common interest."
She plays forward and midfield.
"The forward has to move the ball up at all times and helps to move the ball to the goal," Kluttz said. "At midfield, your primary responsibility is to help push the ball toward the goal or help get back on defense."
Kluttz said she prefers playing midfield.
"I really enjoy crossing one sideline to the other," she said. "I like to tip the ball to the forward to take a big shot and advance the ball down field toward our goal."
Kluttz hasn't scored this year, a fact that doesn't bother her.
"I usually have more assists than goals," she said. "When I do score I get that initial rush of excitement. It's like, 'Oh, my gosh I can't believe that.' But then I think back to all my teammates who helped get that ball to me from the defensive side to the offensive side."
She's excited about three freshmen on the team.
"They are really exciting and will have a huge impact," Kluttz said. "One is our goalie. She has already improved so much."
But the bulk of the team's experience comes from the five seniors.
"We've been playing together so long," she said. "It has really impacted our team. We are not afraid to give constructive criticism, especially in tight games. It really helps to be able to communicate.
"I feel like everyone on the team is able to speak up at halftime. Even our underclassmen can tell us what they see on the field or from the sideline."
An injury during her freshman year gave Kluttz the opportunity to see the game from a different perspective.
"It was during practice and we were doing shuttles," she said. "A ball got under my feet, and I ended up breaking my ankle. It was toward the middle of the season. It was really frustrating, but it really helped me gain a new perspective of being able to see what the coaches see."
—Ken Winfrey
Focus on: Cameron Wilkerson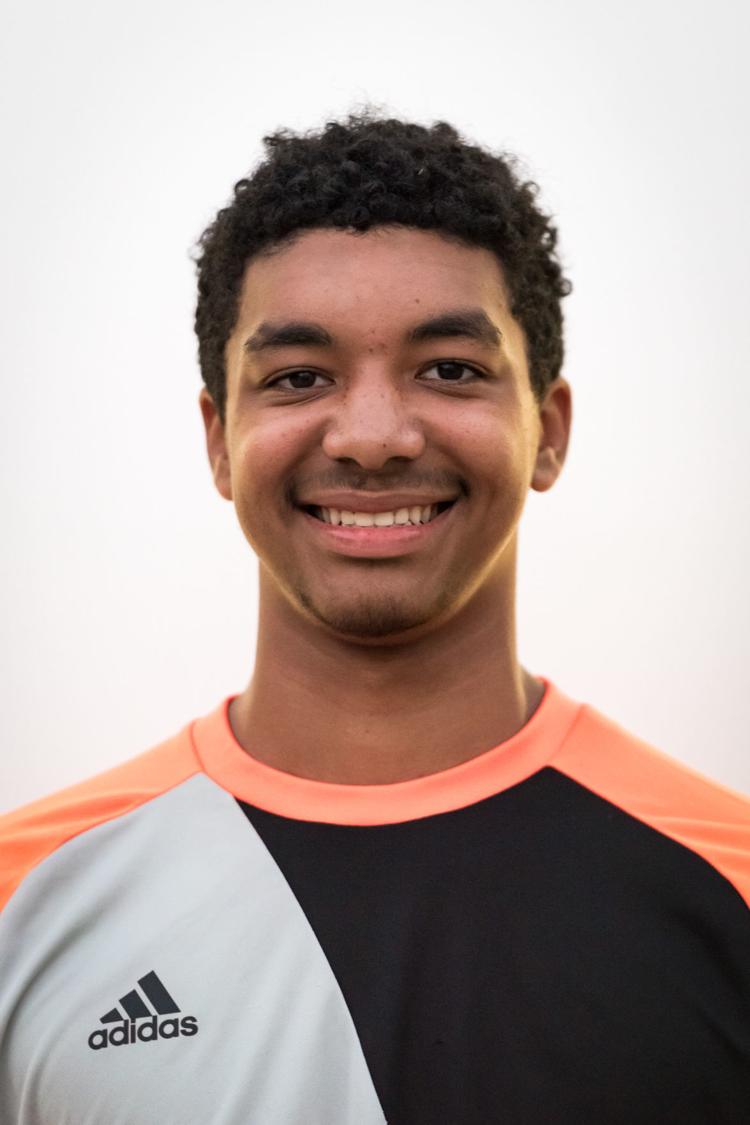 Midway through last season, Coach Sean Barnes of Walkertown realized that his boys soccer team was in dire need of a goalkeeper who could help stabilize the defense.
As things turned out, Barnes found that individual in a PE class. While watching Cameron Wilkerson toss and catch a frisbee, he noticed that Wilkerson had excellent footwork and exceptional hands.
So, he approached Wilkerson about joining the team during the season and Wilkerson accepted the invitation. Since then, Wilkerson, a senior, has more than held his own as a starter.
"Cameron has been a revelation," Barnes said. "What helps is that he learns very quickly. I have no doubts that he has a future at the next level (Division II or Division III college) if he so desires. He has that much untapped potential."
Wilkerson's transformation is an eye-opener when you consider that he was strictly a basketball player at Walkertown. For two seasons, he was a combo guard before making the decision to give soccer a try.
"I always thought that basketball was my main sport," he said. "But now I've discovered out that I'm much better at soccer. When Coach told me how badly the team needed a goalie, I felt that I could come in and help out."
In 12 soccer matches last year, he had 77 saves.
Wilkerson is no stranger to the sport. Even though he played in middle school, he opted to focus solely on basketball after entering high school.
In his first high school soccer match last season, Walkertown's defense played well in a 3-2 road loss to Forbush. Wilkerson recalls that his teammates credited his presence in the net as a pivotal factor.
"Everybody was so excited, and they thought it was a major improvement," he said. "I didn't think it was that good. But after that, we kept getting better with each game.
"I'm a lot more comfortable out there now," he said. "Whether the ball comes right at me, or high, or in the corner, I'm confident that I will come up with a stop."
Even though Wilkerson is relative newcomer, he is not bashful about being vocal with his teammates. It's a trait that Barnes said he truly appreciates.
"Cameron doesn't mind calling people out," the coach said. "Not only does he have an infectious personality, but he's become our energizer."
Three questions for Wilkerson
Q: Who's your favorite historical figure?
Answer: Albert Einstein
Q: What career would you like to pursue?
Answer: Business owner
Q: Who's your favorite musical artist?
Answer: DaBaby
—Craig T. Greenlee
Focus on: Todd Ryan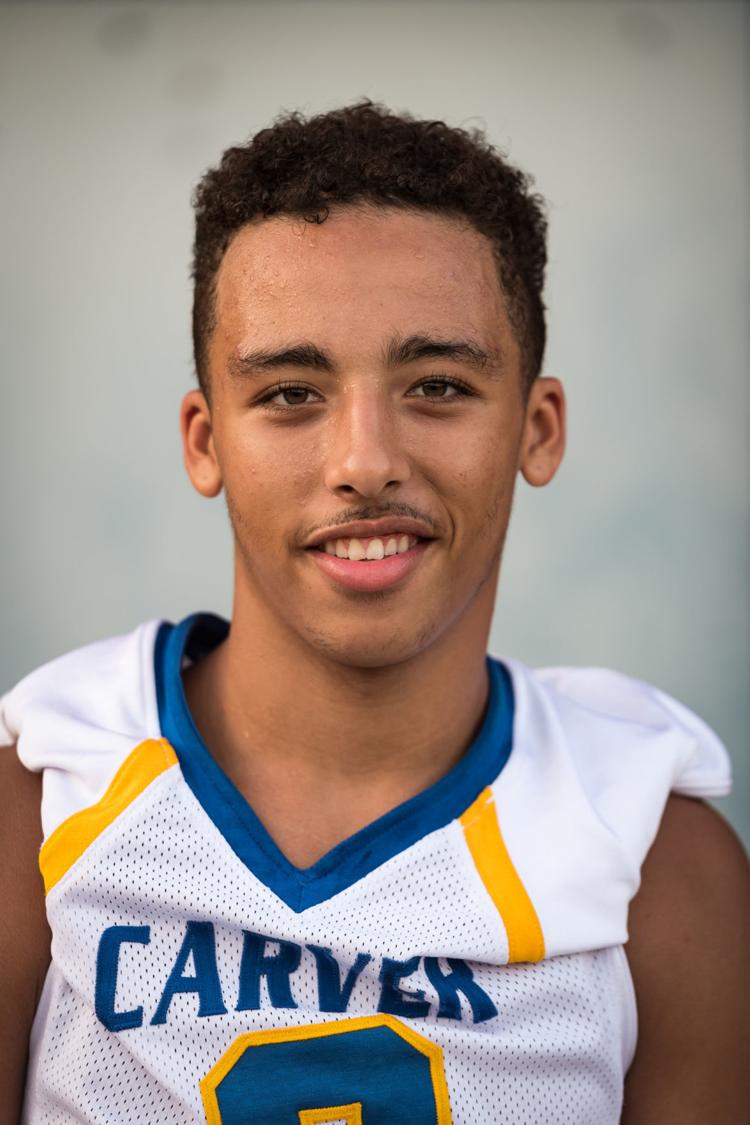 Carver's Todd Ryan professes he likes football because of its toughness.
"I've played most of my childhood," he said. "I love the sport. You've got to be physical to compete. It's challenging."
The senior for the Yellowjackets has played three years at Carver. He also runs on the indoor and outdoor track teams, which helps keep him in shape for football.
"That's what helps in conditioning for football practice," Ryan said. "The coaches are tough."
Conditioning is especially vital for a small team like Carver, where most players are on the field for offense and defense.
"We only have 20 to 25 on varsity," Ryan said. Except for the juniors and seniors, everybody plays on the junior varsity and varsity.
"I usually get one breather, but I have to keep pushing," he said. "As the wide receivers' captain, I'm always pushing the receivers and helping the big guys because they also have to play both ways."
Although Ryan said he's played most positions, his favorite is wide receiver. He scored his first touchdown in the season opener against Madison.
"It was the best feeling in the world," he said. "I can't compare anything to it. It was 40 to 50 yards.
"My teammate ran a route in front of me. I had to run behind him. I caught the ball and burned my defender. It was like I hit a second wind. I was ready to go again."
The win couldn't have come at a better time he said.
"We had been on a losing streak," Ryan said. "We were 1-11 last year. It was great to start off the season with a win."
Ryan said he sees a big difference in the attitude of this year's team.
"Last year, people were always arguing with the coaches," he said. "This year, everybody wants to cooperate. Everybody has a winning attitude."
You can find Ryan playing either free safety, strong safety or cornerback on defense.
"As the free safety, I'm always the deepest man on the field," he said. "I am the last resort. It's scary, but I know I've got to stop him from scoring. I have to take one for the team even if it means getting hurt."
He still remembers an injury he suffered against West Stokes last year.
"I hurt my knee pretty bad, but I still played," Ryan said. "I missed one game, which was more painful than the injury. I was mad at myself."
There's one bonus he enjoys this year. His brother, Deljew Harris, is also on the team.
"It's pretty cool," he said. "We are always working on football even when we get home. We're always making sure we do the right things."
—Ken Winfrey
Focus on: Makayla Edmond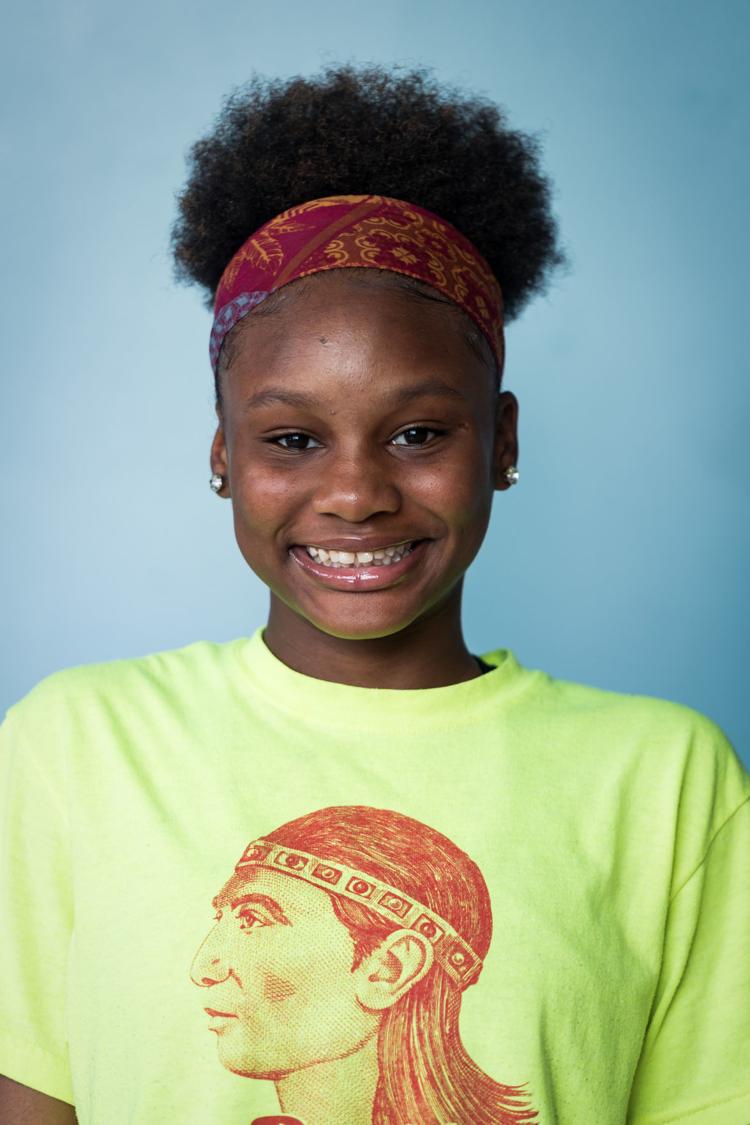 Even though Makayla Edmond of Parkland is brand new to cross-country, she is confident that distance running will help immensely in her development. In her mind, the fall season is the springboard that will set the tone for indoor and outdoor track.
A year ago, Edmond improved dramatically in her first season of high school track. Improvement, however, didn't come immediately.
It took a while for her to get readjusted to the rigors of track workouts. Edmond sat out as a freshman to concentrate on academics. By the time she attended track tryouts as a sophomore, it had been two years since she competed as a quarter-miler and shot putter in middle school.
Edmond started slowly, but eventually trimmed 10 seconds off her personal best in the 400-meter dash. This year, Coach Jarrell Elliott of Parkland expects major contributions from Edmond in the 4x400 and 4x800 relays.
"What stands out most about Makayla is her commitment to training," Elliott said. "Now she's starting to see the results of the work that she's put in. Yes, she is new, but she does listen, and she is hungry. That's why I'm looking for her to have a solid indoor season for us."
Edmond, a junior, admits that making the transition to distance running has presented its share of challenges. But she also understands that her willingness to do the work to reach new heights in her training will pay dividends in the weeks and months to come.
"The workouts are tough," she said. "But I'm managing to keep it all together. The main thing is that I'm learning how to keep pushing harder so I can continue to improve my speed, endurance and running form.
"I'm very happy about the progress I've made up to now. But I know that there's a lot of room for me to grow. I've come a long way from where I was."
Edmond has progressed nicely as a runner, but she has also taken strides in her emergence as a team leader.
"Makayla enjoys taking on that challenge of taking charge in a leadership role," Elliott said. "That's going to very helpful since we have a relatively young team this year."
Three questions for Edmond
Q: Who's had the most influence in your life?
Answer: Elizabeth Gilliam (mother), James J. Gilliam (great-grandfather)
Q: What career would you like to pursue?
Answer: Dermatologist
Q: What's your favorite TV show?
Answer: "Full House"
—Craig T. Greenlee
Focus on: Halle Kincaid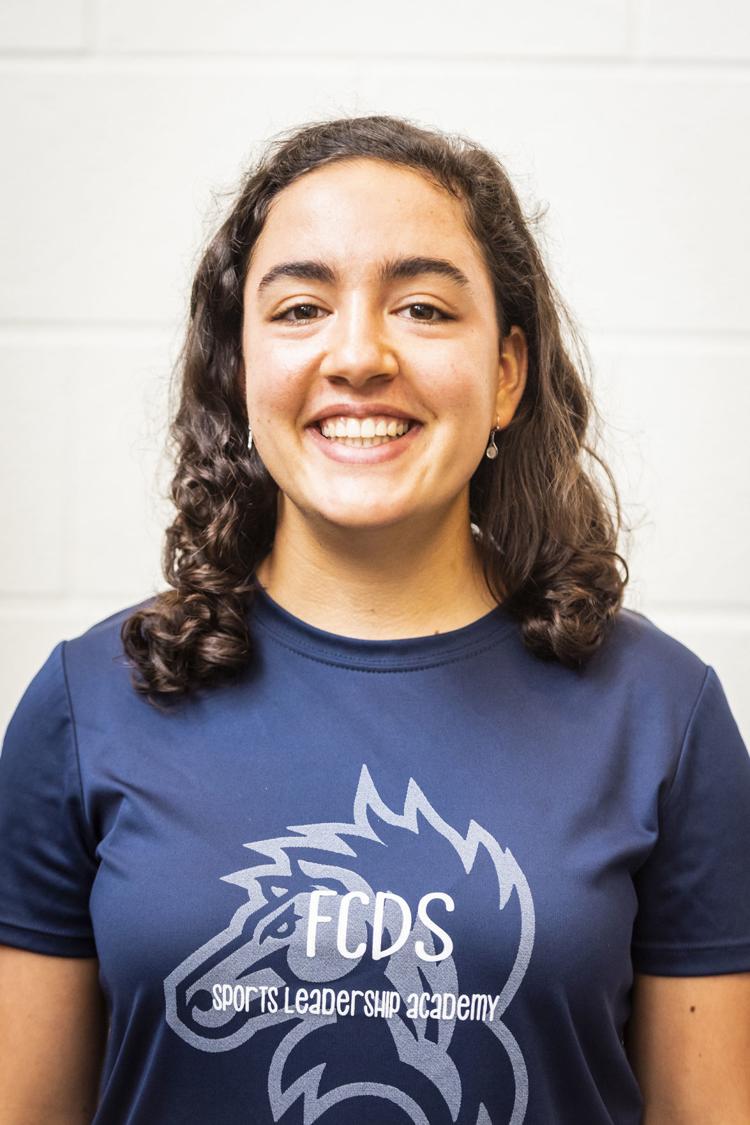 Halle Kincaid, the senior who plays No. 1 singles for Forsyth Country Day's tennis team, is really interested in eating — and not just how it relates to chewing up the opponent across the net from her.
Kincaid, 17, has been playing tennis for five years, the same length of time that she's been running a non-profit organization with her sisters, Ava and Julia, that offers tips on healthy eating for school children.
Kincaid's effort, Kid Smart Food, does programs at elementary schools across the Southeast, attempting to teach them how to make and eat healthy snacks — yogurt parfait, banana boats, popcorn bars and watermelon ice pops are ideas on the website (www.kidsmartfood.org).
"Childhood obesity affects one in three kids," Kincaid said. "My parents taught us to eat fun, healthy snacks, and we talk to elementary school kids and teach them to make healthy snacks. We want to install good eating habits in kids at a young age."
The Kincaid sisters have visited schools in seven large cities in North Carolina, South Carolina and Virginia, sometimes receiving inquiries from principals through the website, sometimes setting up contacts themselves.
"We'll go do programs when we have breaks in school, and sometimes we can leave school a little early to do a program," she said. "We did a lot of stuff over the summer."
One other thing Kincaid did over the summer was move up from No. 2 to No. 1 singles in her fourth year on the Furies' varsity.
Her coach, Harold Moore, said Kincaid has become a "go-to kid" for leadership on the team, of which she is the captain. She's taken over the No. 1 singles slot by being a very consistent player.
"Her strength is her consistency," he said. "She's developed a pretty good knack for hitting really good angles, and she's improved her ability to keep the ball in play quite a lot from last year."
Kincaid started playing tennis in the seventh grade, in part because she didn't have anything else to do after school in the fall. She played No. 1 singles on the JV as an eighth-grader. She moved up to the varsity as a freshman and improved a great deal the next summer, but an ankle injury kept her in a walking boot for a month and out of action her entire sophomore season. She returned as the No. 2 singles player as a junior and moved up to No. 1 this season.
"I don't feel that much pressure playing No. 1," she said. "I do know I draw a lot of stiff competition; they're really good, but it's exciting to be playing really good competition."
—Dan Kibler
Focus on: Chrystal Davis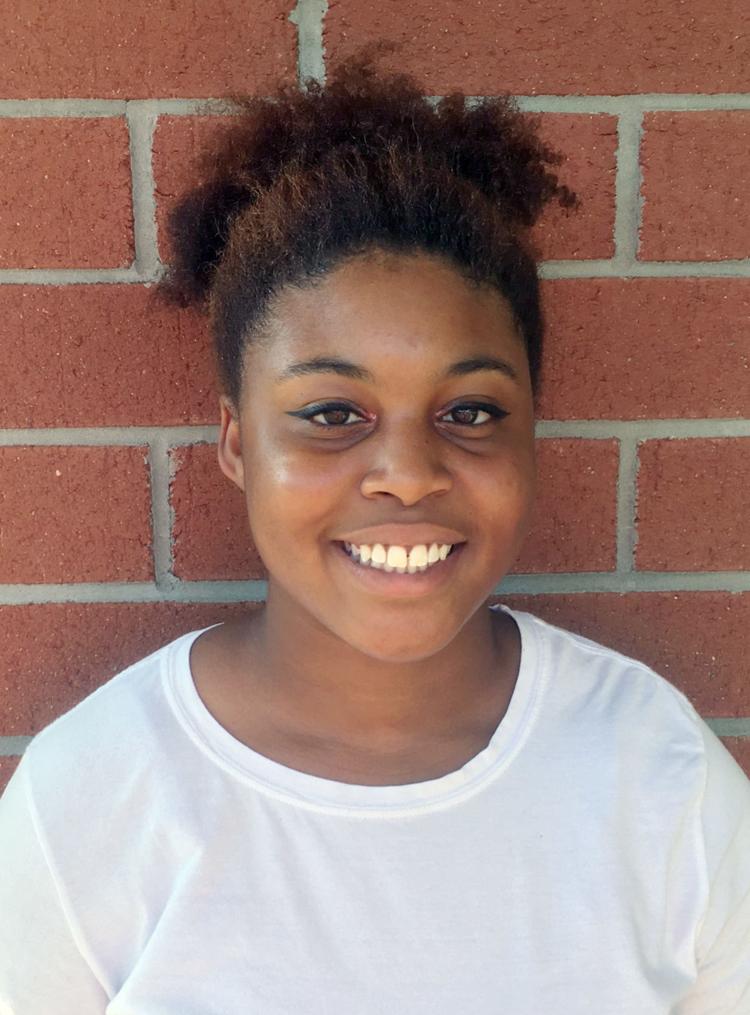 Chrystal Davis was only following her dad's orders when she joined the Atkins tennis team her freshman year.
"My dad (Christopher) told me I had to play a sport for every season," she said. "It was the first time I had ever played."
Davis, now a senior, says that first year was scary.
"It was nerve wracking," she said. "I didn't know anyone. I didn't know how to play. I was afraid Coach (Keith Mason) would think I was awful."
She was determined to persevere.
"I would hit the ball and he would say that's not how you do it," Davis said. "You have to follow through. He had to teach me how to hold the racket. It took a while to get that down."
After hitting many balls over the court and fence, Davis said she didn't get comfortable until her sophomore year.
"I wanted to see me get better," she said. "I know I'm not the best person but being the best me is important. If I don't play in college or professionally it's something I will continue to do in my free time."
Davis is proud of one thing she's learned aside from playing tennis.
"I've learned to be a leader," she said. "I don't focus the best, but I try to help Coach get us in order. I'll say, 'come on guys let's go.'
"Sometimes I'll see someone who it's not their day and say, 'You're doing great.' I'm probably the loudest player on the court."
Davis said she approaches each match one point at a time.
"Last year was my best season, but I didn't win all the time," she said. "I like to see every point as a victory.
"I try to think I'm going to win even if my opponent has beat me 20 times. I still think I'm going to win and try to take it one point at a time."
She said her strokes are a work in progress.
"My backhand is kinda working," said Davis, "but I'm much more comfortable with my forehand."
Davis said she doesn't do anything fancy when serving.
"I'm not really a power server," she explained. "I just make sure the ball gets in. That's the most important part to me."
She admits that her foot movement needs work. "Moving my feet and getting to the ball can be a problem," said Davis. "A lot of times I'm not as prepared as I could be. Sometimes I just freeze and say, 'Oh no, the ball is coming at me."
—Ken Winfrey
Focus on: Jeremy Eldredge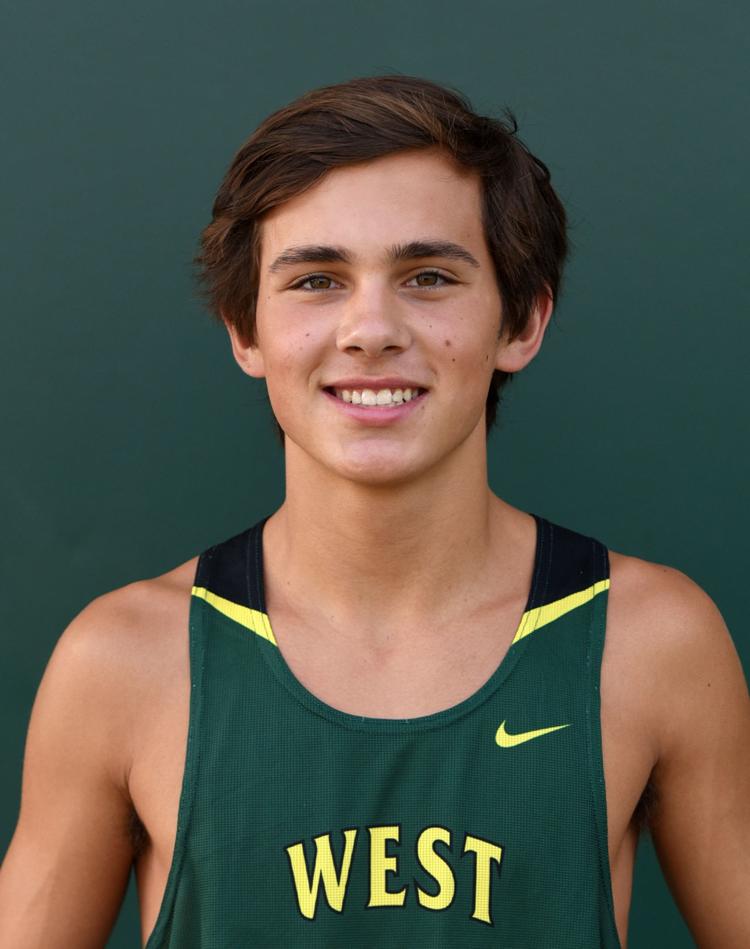 Three years ago, Jeremy Eldredge had a decision to make. Getting ready to start his freshman year at West Forsyth, Eldredge was a crackerjack swimmer and runner, but he knew there wasn't enough time in the day — around school — to do both at a high level.
Eldredge had been a competitive swimmer for eight years, first for a summer-league swim team, then for the competitive Infinity swim team. His specialties? The 200-yard individual medley and 200-yard breaststroke.
And he was two years into his track career, having taken up the sport as a seventh grader at Hanes Middle School.
"My dad had been running for a while, and the first week of school my seventh grade year, they made an announcement for cross-country practice," Eldredge said. "I figured, my dad ran, so I'll try it. I loved it right away, and I've been running ever since."
Eldredge, who is an Eagle Scout and a member of both the National Science Honor Society and National Math Honor Society, admitted that swimming was becoming a little bit of a grind and that he realized the upside of running for him was greater.
"I had been improving in both sports in the eighth grade, and I knew I had more chances to improve in running, so I quit swimming cold turkey," he said. "I still miss it, but I couldn't do both."
The decision would seem to be a good one, since Eldredge, a junior, moved up this season to the No. 1 spot for the Titans' boys cross-country team.
"Jeremy had a really good summer; he went to two cross-country camps, and he came back much more fit than when he left in the spring," said Nathan Newsome, the Titans' cross-country coach.
"He's what you hope you get: a guy coming into your program and running and getting better and better," Newsome said.
"Being our No. 1 runner will be a new role for him. He's running out front, and there will be a little more pressure," the coach said.
Eldredge, who also runs indoor and outdoor track for the Titans, had lowered his personal-best time in the 2-mile by 7 minutes since the seventh grade. His personal best in the 5K cross-country distance is 17:00.
"I think cross-country has made me better in track, and track has built up my leg speed," he said.
"My kick has never been my strength, but I worked on my leg speed my sophomore year and really improved my kick."
—Dan Kibler