SportsXtra: This week's featured high school athletes, September 13, 2019
Adjusting on the court: Roundtree has exhibited much-improved play as a senior tennis player at Winston-Salem Prep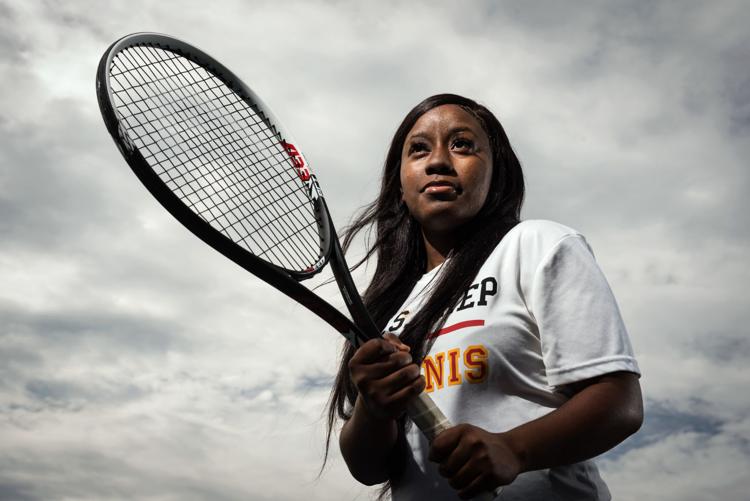 Jamia Roundtree had never played tennis before her sophomore year at Winston-Salem Prep. Three years later, the senior for the Phoenix is a leader on and off the court.
"She has improved a heck of a lot," Coach Bill Tibbs said. "She's gone from being No. 6 three years ago to No. 3 or No. 4 this year. She practices hard and takes it seriously."
One of things Roundtree sees as a positive is the team's energy. And she certainly needs a lot. She's also a varsity cheerleader.
"I like the energy on the team. It's so energetic. Everyone is into it and has a grasp for it," she said
She also enjoys the bonding with her teammates, but Tibbs' practices can sometimes be difficult.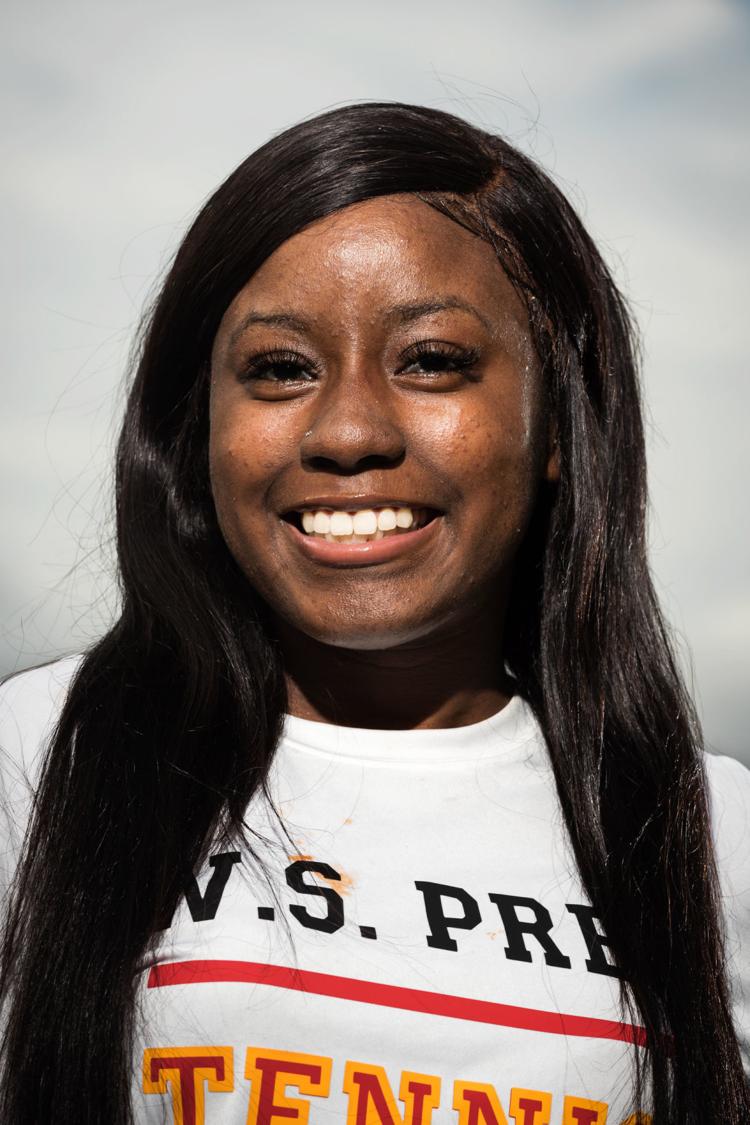 "Everyone has bonded together," Roundtree said. "I really like my team and the sport, but Coach Tibbs' practices can be tough. All that running gets me sometimes. Other than that, I really like it."
Serving was a challenge for Roundtree when she first began playing.
"It was difficult," she said. "I had to learn to position myself. I had to learn how to throw the ball up and hit it.
"I had to learn how to hit it softly or hard. It took a good month or two to get it down. Now I know how to position myself. I know how to pace myself."
Roundtree is currently playing at No. 4 in singles and doubles. She said she prefers playing singles.
"I like singles because I have both sides of the court," she said. "When you play doubles, your teammate has one side and you have the other. But doubles are easier because me and my partner switch off."
When it comes to playing, Roundtree said she relies mostly on her dominant stroke.
"I really use my forehand more," she said. "It's easier to process, and I try to push it forward.
"I use my backhand sometimes because sometimes I might be good at it. I practice both ways because I never know which way I have to go with it."
Her favorite position on the court is playing close to the net.
"I like playing toward the net when I go up against a player," Roundtree said. "I usually try to hit it back softly."
According to Roundtree, she said she's proud of the progress she continues to make.
"I'm doing pretty good," she said. "I'm better than last year. I know how to focus more, and I know more about positioning. If you don't position yourself right, you can't win the match.
"My main goal is to win more matches than last year. I also don't want to be intimidated. They will know I'm coming and I'm serious about it."
She is also working on better preparing herself mentally for matches.
"When I see they have this big, good team it definitely psyches me out," Roundtree said. "I really just have to believe so I don't get scared."
Roundtree said she also tries to avoid allowing frustration to get the best of her.
"Sometimes I do get frustrated," she said. "If I have a bad game I get frustrated, but I just have to practice more. I try to notice the technique of the person I'm playing so I can match it because other people might use it."
Cheerleading and playing tennis during the fall have made Roundtree an expert at juggling her schedule.
"I usually spend half and half practicing with each one," she said. "If we have home games, I go to cheerleading practice first and then come to tennis when it's my turn to play."
Roundtree credits cheerleading with helping her to overcome her shyness.
"It really brought me out," she said. "I used to be shy, but now I have really embraced myself. Prep is such a small school that everyone is close, but in cheerleading we're even closer."
Tibbs was quick to offer praise. "She's a joy to be around," he said. "She's quiet. She listens and does what I tell her to do. Not only is she a good athlete, but she's also an excellent student. She has a 3.4 GPA."
He's been impressed with the improvement he's seen with her volleying.
"The biggest strength in her game is volleying," Tibbs said. "Being an athlete and a cheerleader, she is really good at volleying. She's also good at returning serves.
"Her serve has improved. She has worked on it. Improving really comes with practice and repetition. If she could dedicate herself to tennis she would improve rapidly."
Roundtree's leadership skills have also impressed her coach.
"She's the kind of leader that leads by example," Tibbs said. "She's not very vocal. I like leaders like that.
"You can trust her at practice and know she's going to do what you tell her to do even if you have to leave. As a coach, I like people I can rely on. Jamia is one of the most reliable people you can have. I'm sure going to miss her when she graduates."
—Ken Winfrey
Focus on: Jacque Weber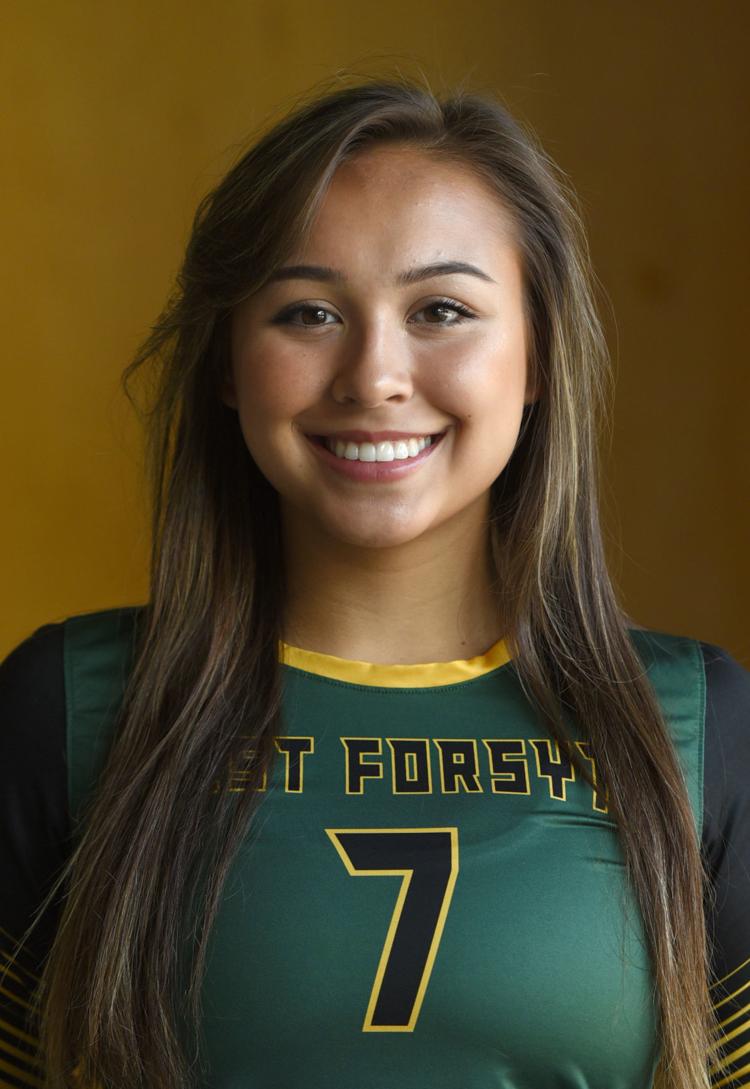 Six years ago, when Jacque Weber of West Forsyth decided to give up dancing, she had a big chunk of time on her hands.
Her mother, Sommany Weber, had an idea.
"She said I should try volleyball," Jacque Weber said. "She played volleyball in high school."
Jacque didn't take to the idea right away, admitting, "I was reluctant at first." She tried out for her middle school team as a seventh grader and didn't make the final roster. But she made the team as an eighth-grader, her mother got her involved with a local volleyball club, and the rest is history.
A 17-year-old senior, Weber is captain and the chief setter for West Forsyth's volleyball team.
She admits the sport sort of grew on her.
"I love that everybody has a job, but not everybody does the same thing," Jacque said.
Jacque has been a setter − the player who makes the last pass before teammates spike the ball over the net. Her mother told her that not everybody can be a setter, than she was a natural for the position.
Lauren Gillon, the Titans' head coach, said she's seen a great deal of improvement from Weber since last season, when she was a reserve.
"A setter runs your offense, and she is getting more and more consistent," Gillon said. "A lot of it is maturity. She's a senior; she wants to leave with a bang. In the off-season, she had to play a couple of different roles for her club team (Twin City Volleyball Academy), and all of it has helped her as a setter. She's more aware of the court, the ball, especially getting it to her teammates where they can do something with it.
"She has really grown in confidence and in her leadership abilities."
Jacque, who holds a third-degree black belt in Tae Kwon Do, said at the end of her junior year, she really started to look forward to this season. Most of the girls on the team, she said, played with her as a sophomore, when she was captain of the Titans' JV team.
"I've been excited to play with these girls; most of them were on the JV when I was captain as a sophomore, and I'm very used to playing with all the people on the court," she said.
"I played setter and right-side hitter in club volleyball last season, and it helped me become more aggressive and know what kinds of sets people can hit."
—Dan Kibler
Focus on: Raines Strader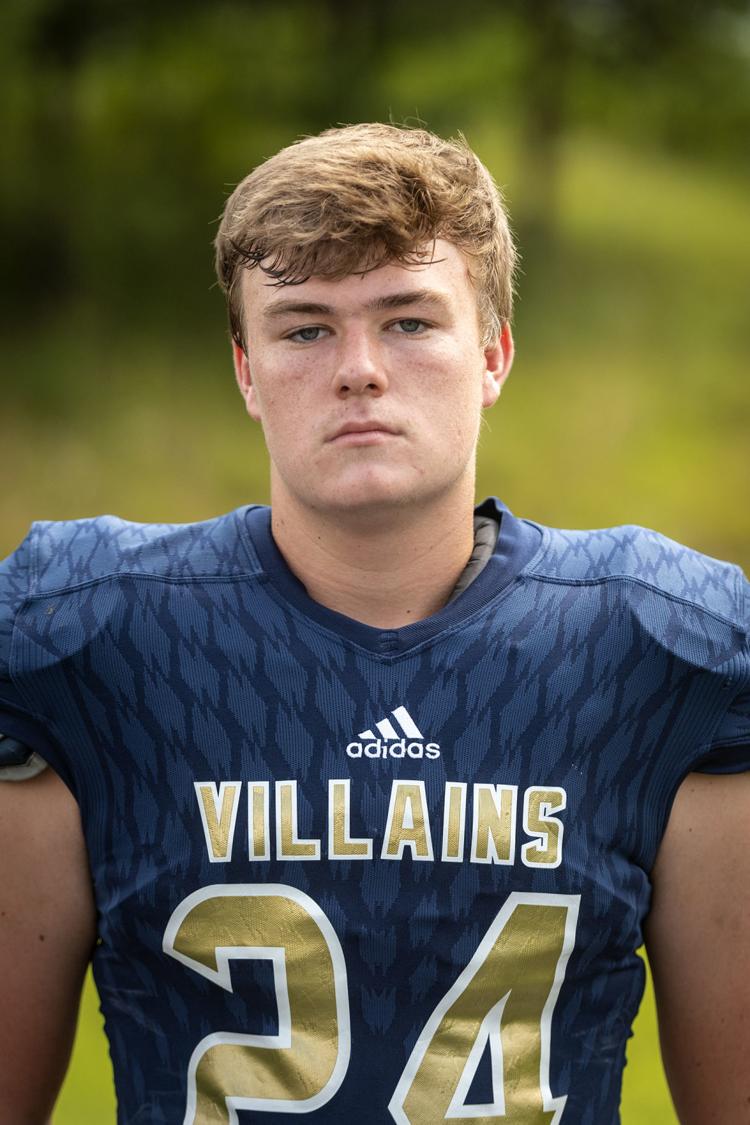 Playing football became the icebreaker for Raines Strader when he enrolled at Bishop McGuinness before the start of his junior year a season ago.
Strader, a senior linebacker and fullback for the Villains this season, said that football was the driving force for him in getting acclimated to his new school after being home-schooled for his first two years of high school.
"Playing football helped me to establish relationships with everyone at Bishop," Strader said. "There's just nothing like having that bond. And in football, it's stronger that in any other sport."
Strader played football as a freshman and sophomore for a home-school team, the Greensboro Panthers. He arrived at McGuinness and played defensive end as a junior, finishing with 34 tackles and seven sacks, two in his first game.
This season, Strader moved from defensive end to linebacker and has added the role of fullback in the McGuinness offense, which has shifted from the spread to the Wing-T with Charlie Jones back as the team's coach.
"I volunteered to play linebacker because we lost most of our defense from last year," Strader said. "The coaches needed someone to step into that role. It gives you a little different perspective on the field, and I've really enjoyed it so far."
The move has served the Villains well, also. Through the first two games, Strader was third on the team with 14 tackles.
As a fullback, Strader said that his experience playing defense has been beneficial because he can read what the other team is doing with its formations.
"You can see their tendencies and can tell which way they are going," Strader said. "It's very different for me. I have never played offense before, and so far I've enjoyed it. It doesn't take the place of playing defense, though. But I do feel like it has helped me become a better player."
Strader, who also plays lacrosse at McGuinness and operates his own landscaping business, said he is interested in attending N.C. State or Appalachian State, where he would like to major in business or psychology.
Three questions for Strader
Q: What's the best book you've read?
Answer: "The Hobbit" by J.R.R. Tolkien
Q: Who's the athlete you admire the most?
Answer: J.J. Watt
Q: What three people, living or dead, would you invite to dinner?
Answer: Russell Wilson, Dwayne "The Rock" Johnson, LeBron James
—Marc Pruitt
Focus on: Jessica Herzog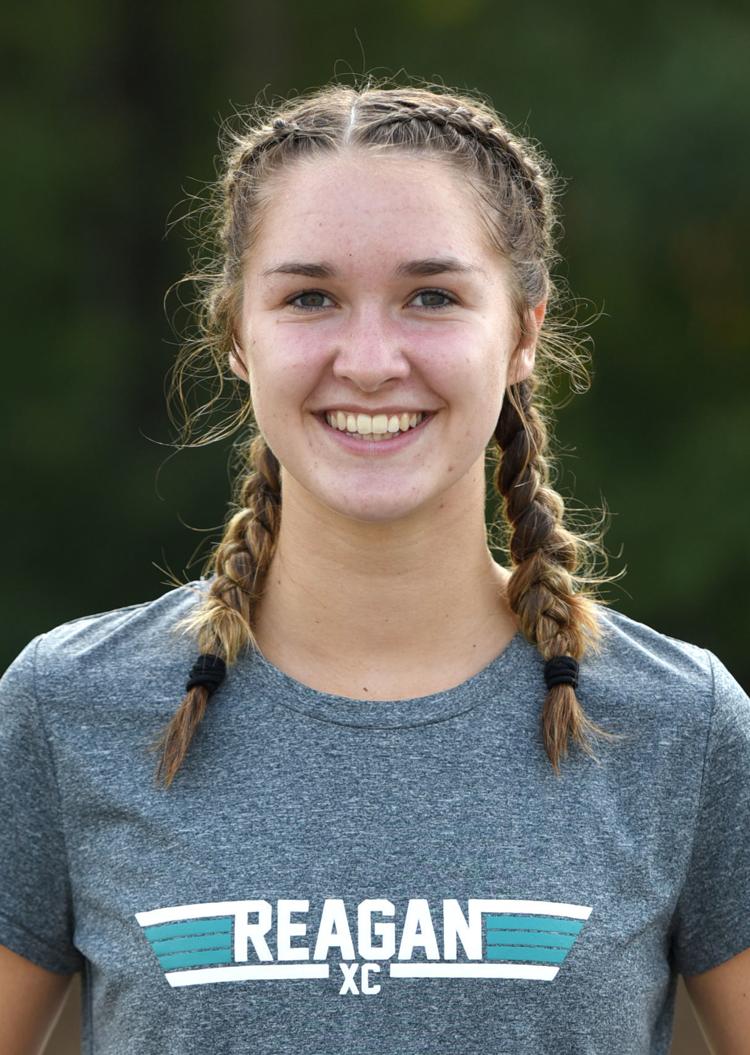 Finish on empty in every race.
That's a notion that serves as a meaningful mantra for cross-country runner Jessica Herzog of Reagan. As a freshman, she heard those words often from Coach Eric Fritz. Now that she's in her senior year, it's very much a part of her psyche.
"Coach always makes mention of that and it really stuck with me," said Herzog, a four-year varsity performer. "I take it to heart. Before the start of every race, those words are always on my mind. It helps me to be mentally stronger. I can tell the difference because I've gotten so much better at attacking the hilly parts of a course."
Herzog is coming off one of the best early-season performances of her career. She finished ninth at the Norman Trzaskoma Invitational (Forsyth County Championships) held two weeks ago. Herzog clocked 12 minutes, 59.39 seconds in the girls 2-mile race.
"Things went well that day," said Herzog, who competes in the 1,600- and 3,200-meter runs in indoor and outdoor track. "That was the best I've ever run in that meet. I put forth my best effort and improved from what I did in last year's race. That's very satisfying."
Fritz is looking for Herzog, the Raiders No. 2 runner, to have a breakout season. Herzog has attracted interest from some colleges, but she's not interested in pursuing a running career beyond high school.
"It's clear that Jessica has a lot of talent," Fritz said. "She just needs to be more confident and race more aggressively. From what I've seen, she's getting better at trusting in her training. That's why I place heavy emphasis on finishing every race on empty."
This season, Herzog, is one of only two seniors on a young and untested team. Fritz has no doubt that Herzog will make an impact with her performance and her ability to lead and inspire others.
"Aside from her consistency, Jessica has a fantastic attitude that she brings every day," Fritz said. "The other girls feed off her energy. During her time here, she's been on teams that have fared well in regional and state championships. So, she knows what it takes compete at a high level. Now, she's in a position to show our young runners what it's all about."
Three questions for Herzog
Q: What is your choice for a college major?
Answer: Food Science
Q: What are your hobbies?
Answer: Cooking and baking
Q: Who's the best teacher you've had?
Answer: Mrs. April Sapp (AP Psychology/Reagan)
—Craig T. Greenlee
Focus on: Cori Floyd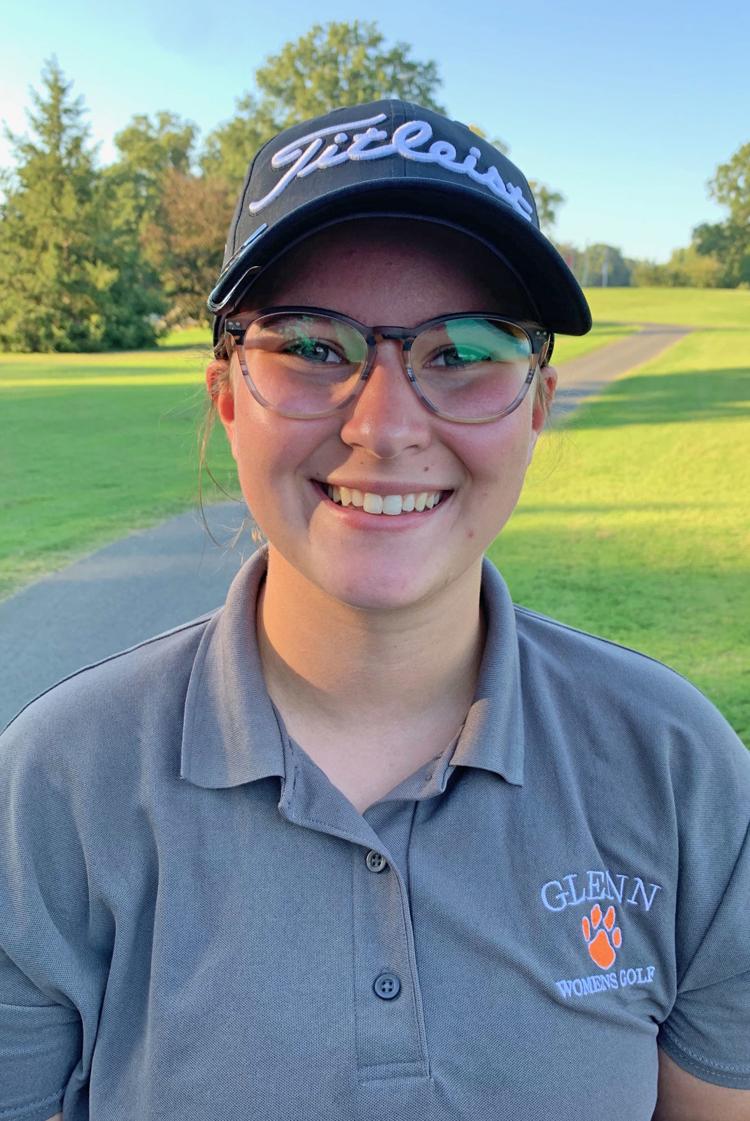 Cori Floyd was a shooting guard on the girls basketball team at Glenn for three seasons. But now, she's chosen to add golf to her resume as an athlete.
Floyd, a senior, didn't pick up the clubs until two summers ago. Almost instantly, she took a liking to the game, and even entertained the idea of playing for the school.
"I decided to try golf to see if I enjoyed it or not," Floyd said. "I had a good friend who played on the team. But I decided not to attend tryouts that year because I wasn't ready. The confidence just wasn't there."
Now, it's a different scenario.
Even though this is her first year of playing competitively, Floyd performed well enough during the preseason to serve notice that she can be a factor this fall. Coach Rick Bright of Glenn believes that Floyd has the ability to make the cut for the NCHSAA Class 4-A regional championship.
"The game is very new to Cori, but she has good swing mechanics and consistently makes solid contact with the ball," Bright said. "Fundamentally, she's solid. With her, it's really a matter of continuing to sharpen her skills through repetition. It's clear to me that she has that inner drive to keep improving beyond her current skill level."
Floyd picked up a lot of the game's nuances from watching her friend, Kaitlin Idol, play in Glenn's matches the past few years. Idol, who graduated last June, was the Bobcats top golfer and a two-time state qualifier.
"Having the opportunities to watch Kaitlin on the course was very helpful," said Floyd, who has a 4.2 weighted GPA. "I learned that it takes a lot of patience to play this game. And you've got to have the right mindset to keep playing so that your game will continue to progress."
Floyd admits being surprised by Bright's vision for her qualifying for the regional in her first and only high school golf season. Although she's pleased with her short game, she acknowledges that her long putting needs work. "If someone told me last year that I might have a shot at making regionals, I wouldn't have believed it," she said. "But it's exciting to know that my coach believes in my ability to that extent."
Three questions for Floyd
Q: What's your dream job?
Answer: Optometrist
Q: What are your hobbies?
Answer: Pottery, drawing and writing
Q: If you could live anywhere in the world, where would it be?
Answer: California
—Craig T. Greenlee
Focus on: Sarah McLamb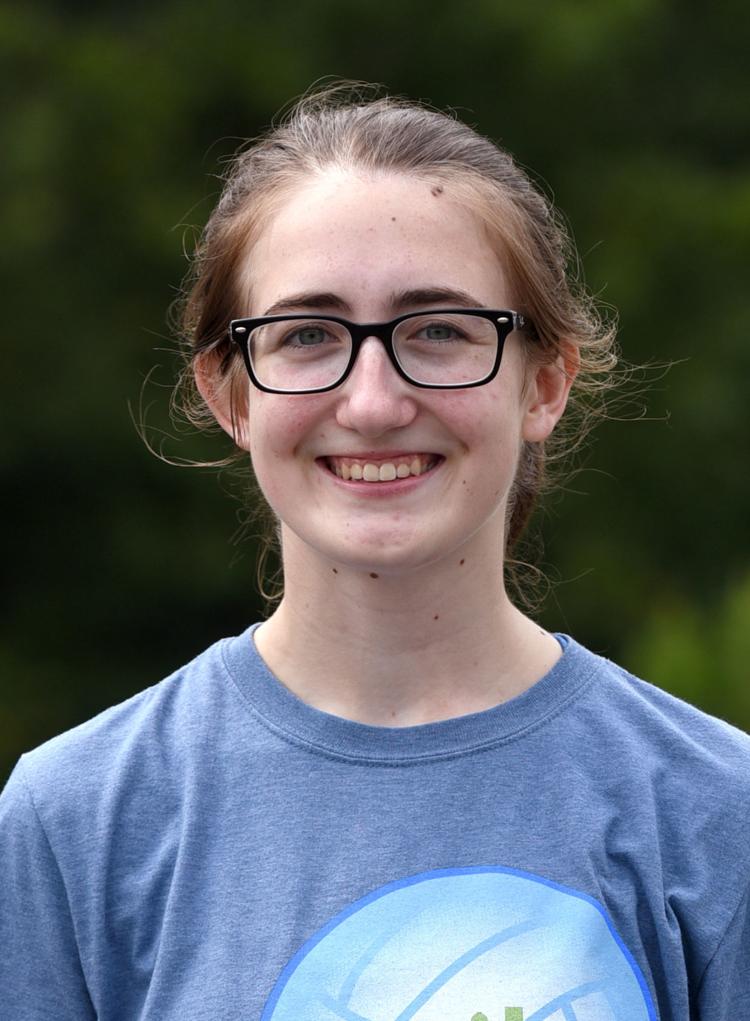 Sarah McLamb is proud of the progress the Atkins volleyball program has made in the past four years. She is one of seven seniors on this year's team that have set the standard for the program.
"We've come a long way," McLamb said. "We have seven seniors that have played all four years. It's been really nice to play with them. Our team really wants to make it to states."
McLamb participated in taekwondo for eight years before switching to volleyball. She played in a YMCA league for one year and then joined the Piedmont Volleyball Club five years ago.
McLamb has been the setter on every team on which she has played.
"I like the decision of setting the ball," she said. "There are five different parts on the court. I like to be in the middle."
She admits passing the ball is a weakness, and that's why she chose setter.
"In passing, you have to be on your toes," McLamb said. "I am not the best at passing. You have to see where the ball is going, and I'm not that fast to the ball."
McLamb takes pride in her serving.
"I have a jump serve," she said. "I try to place the ball between two people on the back row. It's pretty powerful, I guess."
She led the Camels in aces last season and finished in the top three in the conference.
"I'm just happy to get the point," McLamb said. "It's fun to see the other team mess up. When it happens, I think I did something good."
Getting nervous before a match or frustrated during a match are seldom a problem.
"I don't get nervous except only for the Pink Out match (for Breast Cancer Awareness)," McLamb said. "There are more people and a lot of enthusiasm.
"I don't get frustrated, either. When some people mess up, they get down on themselves. I brush it off and go to the next play. I'm usually a positive person. I'm always smiling and happy."
McLamb said there's one thing she would like to see changed in high school volleyball.
"If I had the power, I would change it from best out of five to best out of three," she said. "It's so exhausting to be out on the court for five sets. Once you start moving around, it gets really hot. It's almost unbearable."
Wearing an Atkins uniform for the final time this season is something McLamb is dreading.
"It's going to be so sad," she said. "It's going to be a great game, but I don't think it's sunk into my brain that I'm not going to play again."
—Ken Winfrey
Focus on: Heather Fulp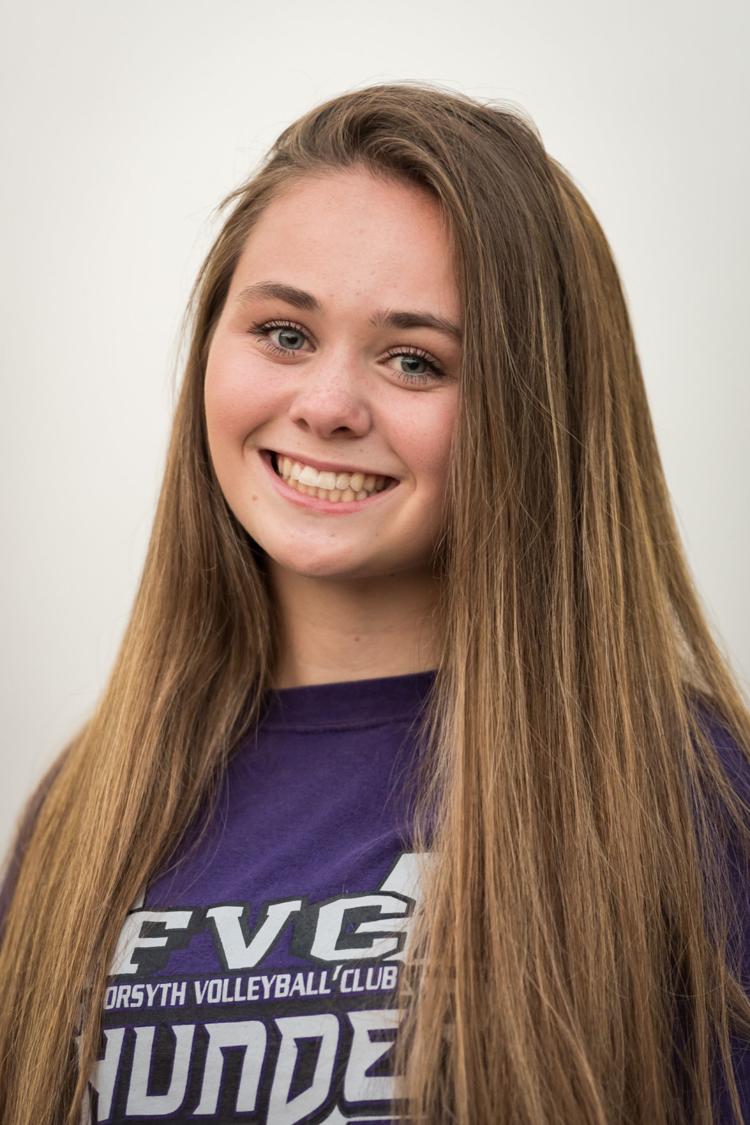 It didn't take long for Heather Fulp to realize that she was in for a major challenge as a first-year starter on Walkertown's volleyball team.
Fulp, a senior, took over as the setter for Wolfpack assists-leader Lindsey McKinney, who graduated last June.
Walkertown lost six seniors from last year's squad who either started or played significant minutes. As a result, Fulp had to go through the process of getting acclimated to a new set of teammates. That's worth noting because the Wolfpack runs a 5-1 set in which there's only one setter who's in charge of the offense.
"At first, it was hard," said Fulp, who had a team-high 39 assists through the first six matches of this season. " But now I'm in a better place. I'm a lot more comfortable with everybody and as a team, we're getting a better feel for each other and for what we're doing."
Coach Kaytee Ward of the Wolfpack has no doubts that Fulp will continue to raise of her level of play as the season progresses. With this being Fulp's last year of high school, Ward feels that Fulp will be primed to make the most of it.
"Heather is the sweetheart of this team," Ward said. "She's like a mother who's always positive, who's always talking up and encouraging people.
"Sure, she has some big shoes to fill. But she's coming along nicely as that one setter who's able to put the ball where it needs to be for our hitters. I'm looking for her to go all out this season."
Fulp understands that to help maximize her effectiveness, it's imperative that she maintain her endurance for every minute that she's on the floor. That's why she runs as often as possible. After practices and matches, she'll run five laps around the gym. When she's home on the weekends, she spends 5 to 10 minutes running on the treadmill.
"As a setter, stamina is a must," said Fulp, a four-year varsity performer. "That's because during the course of a match, you have to cover a lot of space in a hurry."
Three questions for Fulp
Q: What's your dream job?
Answer: Dermatologist or ER surgeon
Q: Who's had the most influence in your life?
Answer: Tina Fulp (mother) and Kynley Fulp (sister)
Q: If you could have one superpower what would it be?
Answer: Read people's minds
—Craig T. Greenlee
Focus on: Harrison Hickman
Reducing a personal-best time in cross-country can require drastic changes in a runner's routine. Reynolds senior Harrison Hickman, the top runner on the Demons team, decided to make those changes.
His result was amazing. Harrison reduced his time by nearly one minute since his sophomore year. His previous best was 17:31 at Fayetteville's Jungle Run. He cut that to 16:34, also at the Jungle Run.
"I upped the mileage I run each week during the summer," said Harrison, "knowing I had to step up with some notable absences (from graduated seniors)."
Another major change involved his diet, including a major sacrifice.
"I had to cut out Pop Tarts," he said, laughing. "Diet was a big thing. I especially have to watch my diet more. I am eating more vegetables. I'm staying hydrated."
Harrison started running at Wiley Middle School. This is his fourth year on the varsity for Reynolds.
"I was looking for something to do in the sixth grade and figured I would give it a try," Harrison said. "I got hooked. I like the feeling after races when you run fast. I'm a real fitness fan and the team environment is awesome."
Even with his success, Harrison said some days can be difficult.
"Some days are harder than others," he said. "Coach (David Wainwright) gives tough workouts. School can complicate things."
Sometimes even a season can be difficult. Harrison suffered from Achilles tendinitis his sophomore year which forced him to miss nearly three months of competition.
"It was a lot of rehab in the pool," he said. "I did a lot of aqua jogging. I wasn't racing again until outdoor season."
Complicating matters was a growth spurt. "I grew a lot between my sophomore and junior years," Harrison said.
Harrison, who also runs the 800, mile and two-mile events during the outdoor track season, is familiar with most of the major high school cross-country courses in North Carolina.
"Ivey Redmond (in Kernersville) is fast but obviously not that tough," he said. "The Wendy's course in Charlotte is pretty fast with a lack of hills. The main thing there is a tough pace which will bring you through. Adidas (in Raleigh) has tough competition and is a fast race."
One of Harrison's favorite shorter races is the Norman Trzaskoma meet, named after the longtime track and cross-country coach for the Demons.
Harrison hopes to score again at the NCHSAA Class 4-A later this fall. After that, he'll take a two-week break.
"I'll rest my legs for two weeks and then prepare for indoor season," he said.
—Ken Winfrey
Focus on: Alex Beddick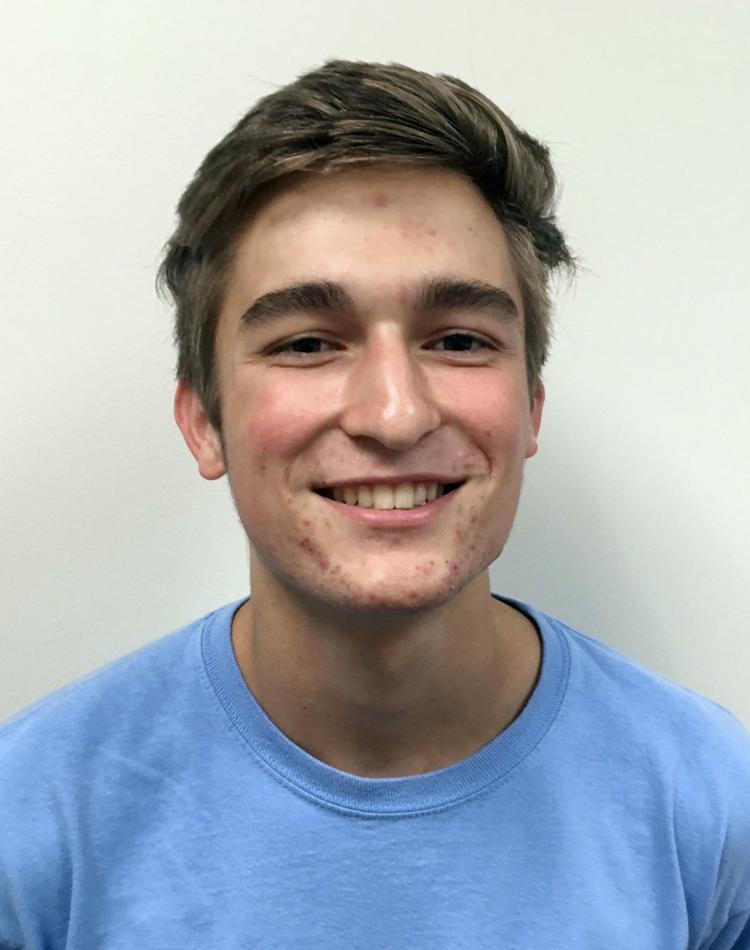 One of the biggest challenges this season for Alex Beddick and his East Forsyth boys soccer teammates has been adjusting to new Coach Nick Pizzino.
"There's a different approach toward team attitude and how he runs practices," Beddick said. "It's been a big adjustment but we're getting there."
Beddick has been playing soccer since he was 4 years old. The seniors' career has been split evenly, spending his first two years on JV before moving up to the varsity team.
"As I have gotten more comfortable with everybody I've played with, I've become a better communicator as well as technically," he said. "As a senior, I help lead the team, especially with communicating."
He plays center back.
"I am the last defender," Beddick said. "I also help organize all the other defenders and midfielders."
One position you'll never see him playing is goalkeeper.
"I would be afraid of the ball," Beddick said. "I would get shots on me all game."
He's not afraid of the work required to be a good soccer player.
"I do a lot of running outside of practice just to be in good shape to be able to get through the game," Beddick said. "It definitely makes it tough playing 80 minutes."
Beddick said one of the biggest things he's learned is to enjoy his playing time.
"I used to get nervous when I was little, but now I just stay relaxed when playing," he said. "It's pretty rare when I get nervous. I just enjoy being out there, being a part of a team and spending time with friends."
He can get frustrated when the team isn't working together. That's when his senior leadership skills come into play.
"I try to get everyone to work together, to stay relaxed so we don't get frustrated with each other," Beddick said. "It's tough when everyone's not on the same page, when everyone's not listening or working together."
His main goal this year is team-oriented.
"I just want to help the team to be the best that we can be," Beddick said. "I want us to set reasonable expectations that we can reach."
Beddick said his most memorable game at East Forsyth came last year in the Central Piedmont 4-A opener against West Forsyth.
"They were ranked a lot higher than us," he said. "We had a very low opinion of ourselves. We beat them, and it showed us we were a lot better than we thought."
The Eagles have lost in the first round of the NCHSAA Class 4-A playoffs in recent years.
"We've had a first-round exit in the last few years," Beddick said. "We want to do better this year."
—Ken Winfrey
Focus on: Ashleigh Kiger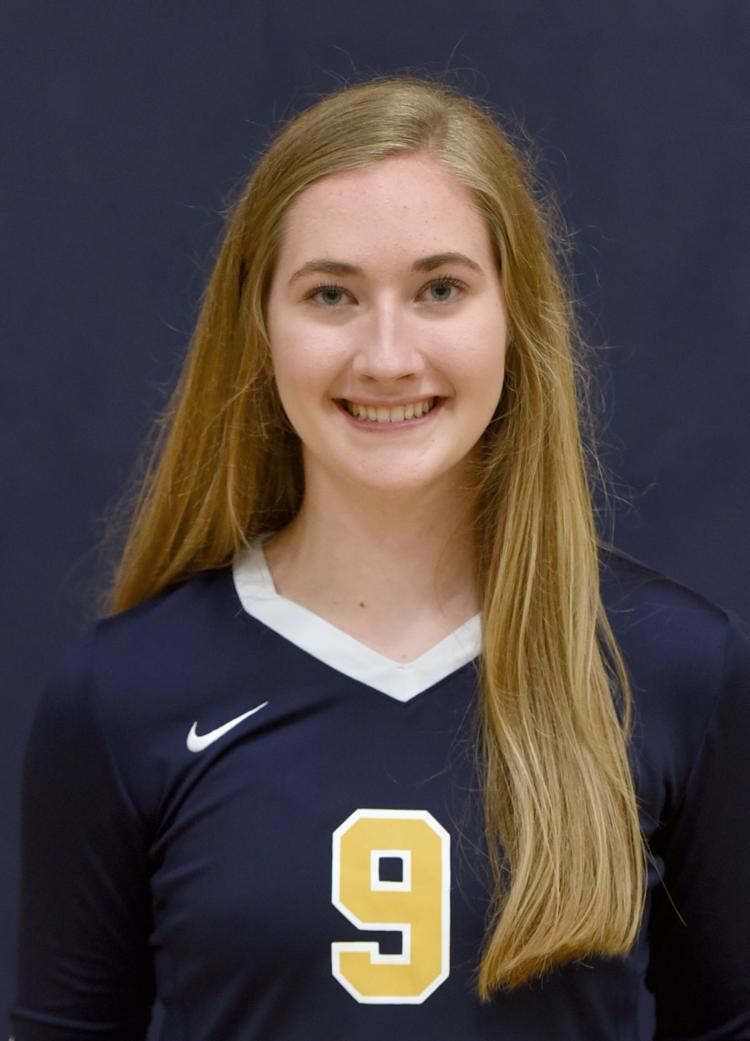 Senior Ashleigh Kiger of Mount Tabor had never touched a volleyball when her father signed her up to attend a clinic at Wake Forest University several years ago.
"I walked in their gym and I didn't know a single person," Kiger said. "I had never played. I knew their coach was going to be there and that made me even more nervous. But I think I caught on quickly and felt an almost immediate connection to the sport, more than any of the other sports I had played growing up."
Kiger, a three-year varsity starter for the Spartans as a middle hitter, has found her niche.
She played soccer and basketball and participated in gymnastics and dance in her younger years but was never quite fulfilled.
"As soon as I walked out of that clinic at Wake Forest, I knew I found something I was passionate about," Kiger said. "I knew it was something I wanted to put my energy towards. Volleyball has brought me a lot of joy since that day."
Kiger started playing club volleyball for Champion, then moved to Set Point and eventually Twin City Volleyball Academy. It was with Set Point where she met Robyn Wesselman, the Spartans' coach.
"I have gained a lot of knowledge since my sophomore year," Kiger said. "I know if I make a mistake and look at (Wesselman), I know exactly what she will tell me to do next. I have that comfort level with her."
Kiger said that the pace of the game is what sets it apart from other sports and that she enjoys the team camaraderie.
"One of my favorite things about volleyball is that after every point, we always come back together on the court," she said. "I love the team aspect of it. You are out there and can't do anything without a good pass or a good set. I jut enjoy how connected we all are."
One of Kiger's favorite memories came during her sophomore year in the Piedmont Triad 3-A tournament championship match against Southwest Guilford.
"The whole football team was there, and it got loud in the gym," Kiger said. "We ended up winning 15-13 in the fifth set. After we shook hands with Southwest, we all stormed the court and gathered around to chant and cheer 'W,' which we always do when we win. It was cool to be a part of that."
Kiger, who is also the Vice President of the Student Council, president of the French Club, editor of the school newspaper and active in STAND, wants to attend North Carolina and eventually become a pediatric dentist or pediatrician.
—Marc Pruitt
Focus on: Luke Guldberg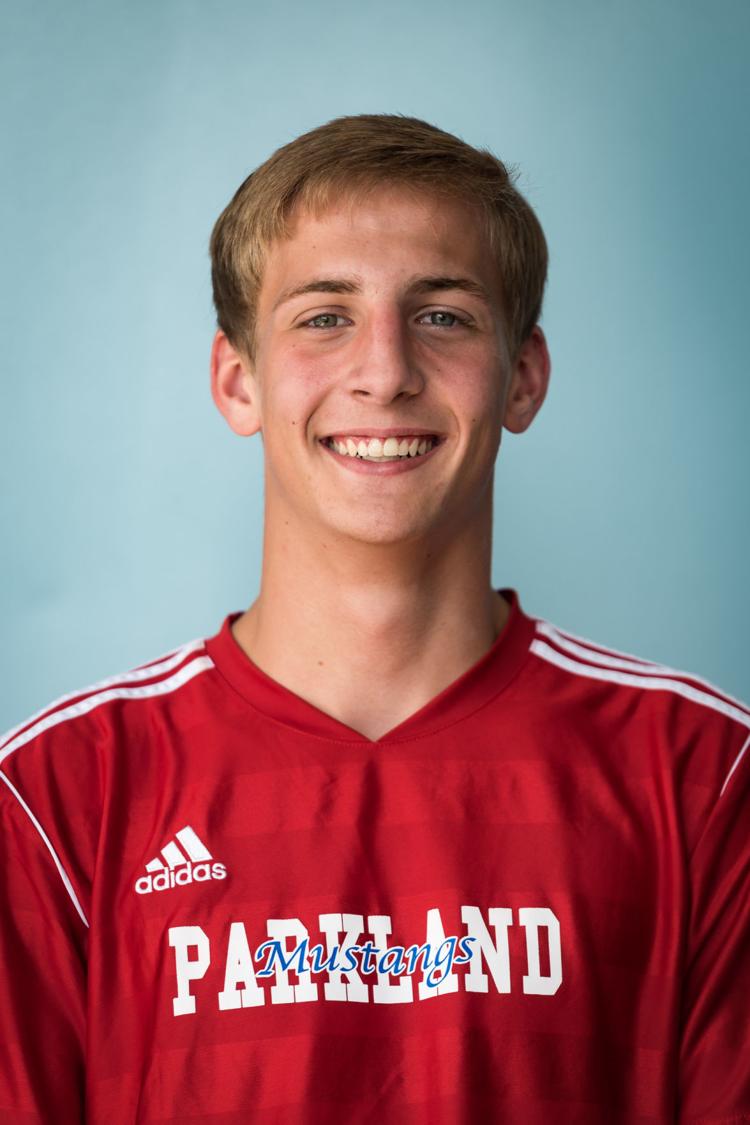 Luke Guldberg's debut as a high school soccer at Parkland player was special and memorable.
The 6-foot-4 senior came off the bench to lead the Mustangs to a 2-1 road victory over East Forsyth in the season opener three weeks ago.
Guldberg, a striker, scored on a breakaway goal to tie the game in the first half. Midway through the second half, he had an assist on a pass to Christian Little who delivered the game-winning goal.
"After the game, all of my teammates were calling me 'the man,'" Guldberg said. "But all I could think about was all the mistakes I made. That's what makes me want to keep on working so I can keep on improving."
At the start of the preseason, Parkland had plenty of roster slots to fill. The Mustangs lost 14 seniors from last year's team that advanced to the Class 3-A state playoffs and finished as runners-up in the Piedmont Triad 3-A.
It didn't take long for the varsity newcomer to emerge as a factor.
"It's a pity that Luke started so late (with competitive soccer)," Coach Noel Robinson of Parkland said. "With more time, I could have really helped in his development. What stands out most is that he's coachable and doesn't run away from challenges.
"Although this is his first year of varsity soccer, he's already proven himself to be a definite threat when he's on the field. Luke is not flashy or flamboyant. He makes the simple pass and he's a team player."
The fact that Guldberg is even playing high school soccer is surprising. Before this season, he played in an adult indoor recreational soccer league and competed as a club wrestler with K-Vegas Elite in Kernersville.
Guldberg was an accomplished wrestler in the 182-pound weight class. Two years ago, he was the N.C. Wrestling Association for Youth state champion in the Rookie Division. Last year, he won the N.C. Wrestling Association state title.
Originally, Guldberg's plan was to join Parkland's wrestling team as a junior. The plan changed after he suffered a hyperextended left arm and torn ulnar-collateral ligament two weeks before the Mustangs had tryouts. He was in a full-arm cast for six weeks and had to go through extensive physical therapy after that.
Missing so much time away from the mat caused Guldberg to stop wrestling entirely.
"My background as a successful rookie wrestler helps a ton with playing (high school) soccer," said Guldberg, who attends the Early College of Forsyth. "I gained a lot of muscle while I wrestled, and it made me mentally stronger. In the process, I developed a good work ethic."
—Craig T. Greenlee
Focus on: Mackenzie Culp
Mackenzie Culp is hardly a follower. A 17-year-old senior at Salem Academy, she's co-president of the schools' Black Student Union, is on the Fellowship Council and, underneath that tiger suit, is the school's mascot.
But one time she admits being a follower has worked out pretty good, too. In the seventh grade, attending Summit School, she was trying to figure out what sports to play to meet the school's athletic requirement.
"You had to play two sports a year," Culp said. "I was going to do volleyball, but a lot of my friends were playing field hockey, and I decided to be a follower and go for it. I usually try not to be a follower."
Six years later, Culp is still playing field hockey, manning a defensive role for the Sabres, either on the left side or in the middle of the defense.
Culp, in her third year playing at Salem Academy, loves the peculiar — to some — stick used in field hockey.
"I love being very technical with my stick and doing all the tricks you can do with it: lift the ball, sweep it, chip it," she said.
"I love to air dribble — to scoop the ball off the ground and dribble it on my stick — you can't do that in other sports.
"My coach wants me to do it in a game, but I've been a little hesitant. There are rules about how high you can carry the ball on your stick, and I think I air dribble it pretty high."
In addition to English, her native tongue, Cole speaks Spanish and is working on Portuguese — the better to listen to Brazilian Funk, one of her favorite musical styles, along with hip-hop and Latin pop.
"For a long time, I wanted to be a singer," she said. "I loved Hannah Montana when I was little, and I was in a chorus for several years, and I sang solos. I thought that would be my thing. But then, I realized I couldn't make a career out of it.
"At the same time, I was reading the Theodore Boone books (a series about a kid lawyer, written by John Grisham), and "Just Mercy" by Bryan Stevenson, and I was impressed by all the things he was able to do to affect things.
"I decided I'd like to be a lawyer, and if I was an entertainment lawyer, working with copyrights and contracts, I could put those two things together."
—Dan Kibler
Focus on: Jeremiah Howard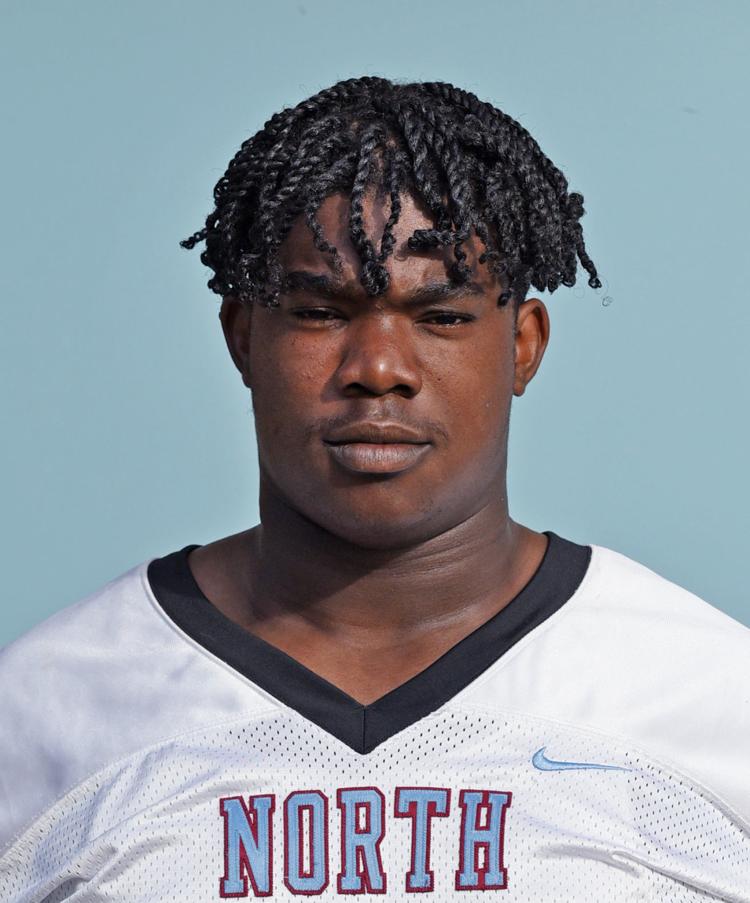 Jeremiah Howard has had a football in his hands for almost his entire life.
"When I was little I always had a football rolling around somewhere in the house before I could even walk," said the senior from North Forsyth. "Football is a fun sport. It's one of the sports where you can let your anger out, and sometimes you can let your expressions show."
Howard, like many of his teammates, plays multiple positions. He plays defensive end, offensive tackle and is the team's kicker and punter. He rarely visits the sideline for a breather.
"Sometimes I get tired quick, but I just push myself to go harder in practice," he said. "I will push myself to go game speed instead of practice speed so I'll be ready for the game.
"When we get tired, we just see as a team who wants it more. It gives me a second wind to keep pushing for my team because I don't want to let them down."
Defensive end is his favorite position.
"I like hitting people," Howard said. "It's just will and putting it all on the line for your team. You can show everybody what you've got talent-wise."
The Vikings were winless last year. Howard is hoping to change that during his final season.
"I just want the team to come together as a whole and produce on the field," he said. "We have more discipline and better conditioning this year. Those are things that will help us be a better team than last year. We'll be able to go longer without any problems."
Howard credits first-year Coach Jay Blair with the changes.
"Coach Blair gives out tough love," he said. "He always pushes you to be greater than what you think you are.
"We have the four Ds this year — discipline, desire, dedication and determination. Those are the building blocks of this program to turn it around. It's how we want people to see us on and off the field."
North Forsyth has dropped in NCHSAA classification from 3-A to 2-A this academic year. Howard is looking forward to competing in Western Piedmont Athletic 2-A.
"I think it's good," Howard said. "I think we have a chance of winning a lot of games as long as we stay focused."
Keeping all his teammates focused can sometimes be frustrating.
"I am trying to work hard but some of the others are just slacking and don't really care," Howard said. "I just stay focused and keep my mind on my job to help the team."
—Ken Winfrey