SportsXtra: This week's featured high school athletes, October 18
Bobcat on the prowl: Craig-Blakely thriving at quarterback as a senior for Glenn after transferring from Reagan after last season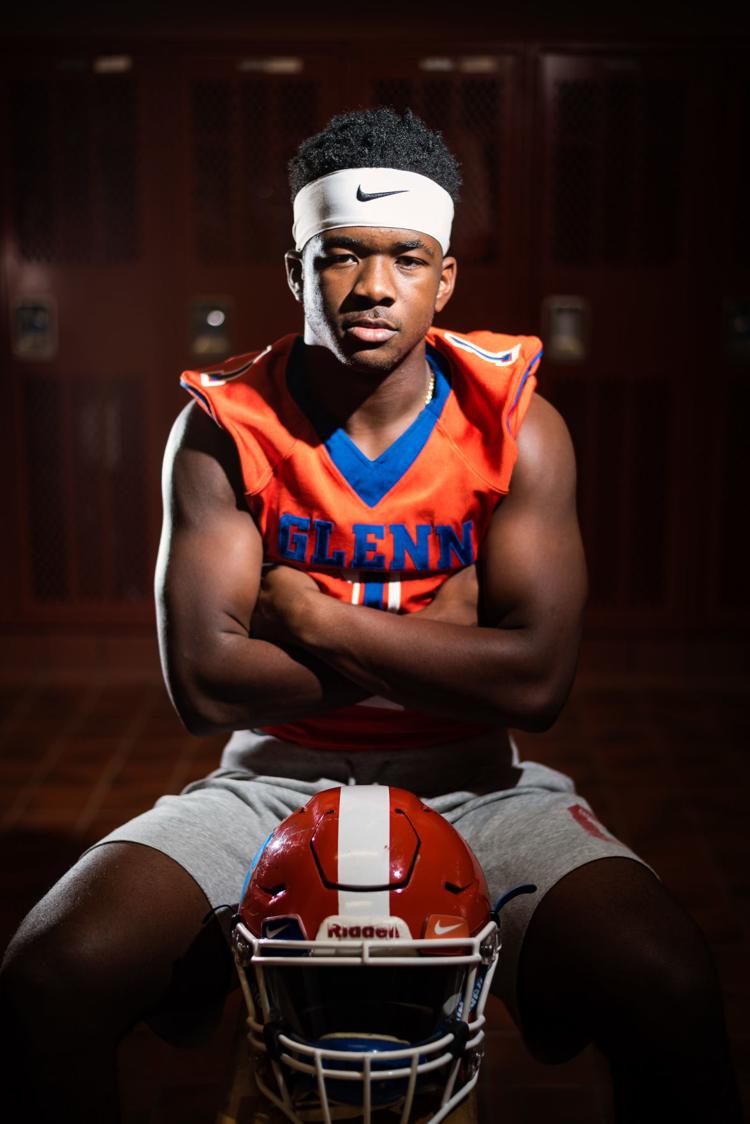 It was nearly a year ago when William Craig-Blakely stood at the crossroads of his high school football career.
As a junior, Craig-Blakely was a backup quarterback at Reagan. But with his senior year coming up, he figured he wouldn't get much playing time with Gabriel Hollingsworth returning. Hollingsworth, an all-conference-caliber quarterback, has verbally committed to play at Columbia next fall.
Given those circumstances, it wasn't surprising that Craig-Blakely, who is 5-foot-11, 185 pounds, transferred in the middle of the school year. Glenn was the logical choice because there was an opening at quarterback. Jaden Sutton, last year's starter, graduated and is now a freshman running back at Lafayette College (Pa.).
Craig-Blakely's decision was predicated on giving himself a reasonable chance to play as a senior. But that's not all. He's keenly aware that getting more playing time will give him more opportunities to attract interest from college recruiters.
"Gabe is very talented," Craig-Blakely said. "But I believe that I have too much talent to let it go to waste. Now, I get my time to shine and show college scouts what I can do. That wouldn't happen with me being a backup at Reagan."
Seven weeks into the season, it appears that the switch is working out. Craig-Blakely, who has started three games, splits time with sophomore Camden Coleman.
Craig-Blakely is eager to take over as the full-time starter. Whether that happens in the weeks to come remains to be seen. In the meantime, he has developed his own method of staying ready when he's watching the action from the sideline.
"When I'm not in the game that makes me even more motivated," he said. "I'm good at improvising. If we need a big play, I have no doubts that I can make it happen. I just want to make the plays that make a difference. By doing that, it gives coach more reasons to keep me on the field."
Coach Antwon Stevenson of Glenn is elated with the progress that Craig-Blakely has shown in getting acclimated to the Bobcats' spread offense. What Stevenson appreciates most is the dynamic that Craig-Blakely provides.
"Will is a good athlete with a strong arm," Stevenson said. "We can use him effectively in our running game, and he throws well enough to earn the respect of opposing secondaries.
"He has lived up to our expectations and made the most of his time on the field. We just need him to keep learning and keep leading. He has put his stamp on our program. Will's athletic ability alone makes him a genuine college prospect."
Craig-Blakely relied on his legs to score his first touchdown in a Glenn uniform. He scored on a quarterback keeper from 12 yards out in a 27-0 win against North Forsyth.
"We called a fake jet sweep," he said. "I kept the ball and waited for our two guards to pull. Those guys, the left tackle and wide receiver made nice blocks and left me one-on-one with the safety. I made a cut and was in the end zone."
One of the highlights from Craig-Blakely's final season was last week's road game against Reagan. Glenn saved its best for last in an 8-7 comeback win over his former team. He didn't get a lot of snaps, but he did have a few nifty fourth-down runs to give the Bobcats first downs.
"I thought about that game every day," he said. "I've got a lot of love for the players and coaches. It's always great to get a win. But it's very special to come in and win against the people you used to play with. A lot of things went against us in that game, but we kept on fighting and found a way to pull it out. We wanted it more."
Since his arrival at Glenn, Craig-Blakely has spent considerable time working on the mental aspects of playing quarterback and improving his leadership skills. As a result, he now has a better grasp of how to exploit defenses.
"I've had a lot of study sessions with a white board and videos," Craig-Blakely said. "My uncle (Ernest Blakely) would draw different sets of Xs and Os on the board, and I had to learn to recognize the defense and know the best ways to attack. We used the same approach in breaking down defenses on video.
"One of my goals is to become a better leader. Watching Gabe while I was at Reagan was really helpful with that. Gabe gets on everybody. And he does that to make sure that every player does his job."
Glenn, which improved to 5-2 overall after winning at Reagan last week in the Central Piedmont 4-A opener, has the playing style and personnel to make things interesting in the chance for the conference title.
"We have a state championship kind of defense," he said. "In the games we lost, they were on the field for too long. If we can do our part on offense, we can be successful against anybody on our schedule."
—Craig T. Greenlee
Focus on: Keenan Lowndes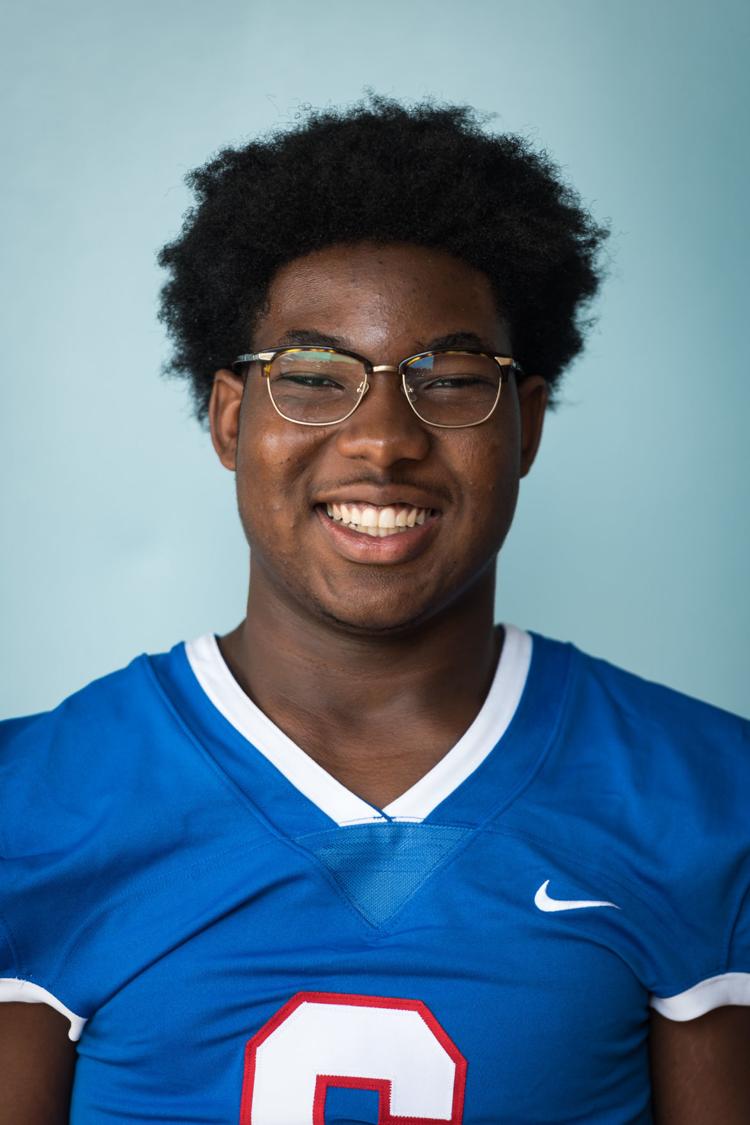 A year ago, Keenan Lowndes was a 6-foot-3 string bean on Parkland's defensive front line at 185 pounds.
Being a relative lightweight, however, did not have a negative impact on his level of play.
Since then, he's bulked up considerably and is looking more and more like a viable college prospect at defensive end or outside linebacker.
"Keenan is long, athletic, and he can run," said Laymarr Marshall, the first-year coach at Parkland. "He's excellent at rushing the passer and understands blocking schemes and how to use his leverage as a run stopper.
"There's no question that he has a shot at the next level. With his height, I'm confident that he can add more pounds and not lose any of his speed and quickness."
An off-season of eating more and working feverishly in the weight room produced the desired results for Lowndes, a two-year varsity starter. He's up to 215 pounds and feels very comfortable.
"I can tell the difference," said Lowndes, who's enrolled in the International Baccalaureate program at Parkland with a 3.68 GPA. "Now, I'm doing so much better at taking on double teams."
Lowndes had a breakout game last season in the Mustangs' convincing win (42-21) over Glenn. He contributed 10 tackles and one recovered fumble.
"That was the game where I proved what I could do," he said. "I was able to show that I deserved to be in the starting lineup. I just love getting off the ball quickly so I can get in the face of the quarterback. I'm learning to use my hands more, so I can get away from blockers a lot quicker."
Parkland (4-2 overall as of Oct. 10) has no room for error in its quest to win the Piedmont Triad 3-A conference. Lowndes acknowledges that the defense must play better than it did in back-to-back losses to East Forsyth and Reagan. The Mustangs allowed 74 points in those two games.
"We started the season strong, but I think we got ahead of ourselves," he said. "Hopefully, we'll learn from our mistakes and finish strong. In our losses, we were soft on defense. It's important that we set the tone from the start. Everybody must lock in and do their job."
Three questions for Lowndes
Q: What's your dream job?
Answer: Physical therapist
Q: Who's your favorite historical figure?
Answer: Malcolm X
Q: Who's the best teacher you've had?
Answer: Emily Casey (Math/Parkland)
—Craig T. Greenlee
Focus on: Milah Cauble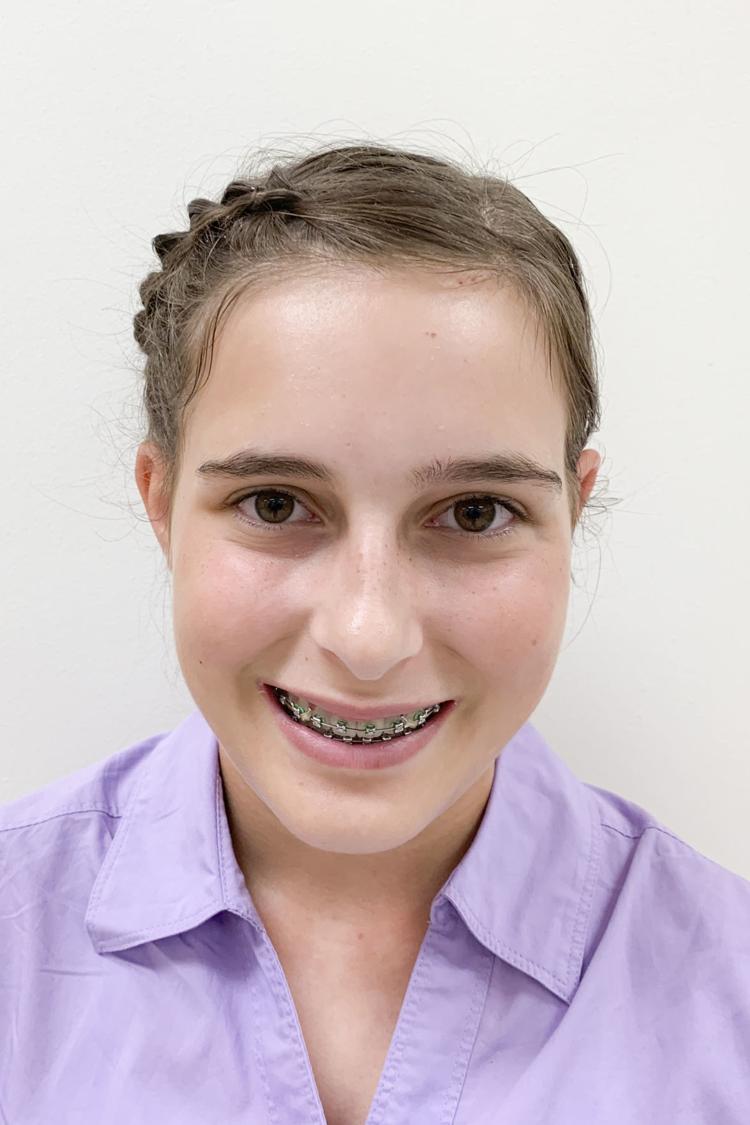 A fifth-grade physical education class at Kernersville Middle School was all it took to convince Milah Cauble that tennis would be her chosen sport.
"I played tennis in gym and really enjoyed it," said Cauble, a freshman at Atkins. "I went to some tennis clinics in Kernersville during the Fourth of July, and I became a tennis player."
Middle-school tennis doesn't begin until the seventh grade, but in the meantime Cauble played in tournaments. She played two years at Kernersville Middle before entering Atkins.
She played No. 2 in singles and doubles during the recently completed season for the Camels. She finished with a 5-5 singles record, and 3-2 in doubles.
Cauble said she had a simple goal before the season started.
"I didn't want to have a losing season," she said. "I was nervous in my first match because I completely didn't know how different it would be from middle school."
Her worry was soon dispelled after she won her first high school match at the team's season opener.
"It was a pretty good match," Cauble said. "I won it at Walkertown. I thought it would be pretty cool to win my first high school match. I was pretty proud."
Cauble said she likes the individual aspect of tennis.
"You only have to worry about what you can do," she said. "If you're down point-wise it's up to you to get it back. It's easier to talk yourself through it."
Cauble loves playing the baseline, which allows her to showcase her strength.
"I feel more comfortable playing the baseline," she said. "I can hit it harder. I feel like I have more power and control, which is a nice, good balance."
Cauble said she doesn't like to volley.
"I'm just not good with volleys," she said. "I'm good at deciding where I want it to go. I like to make them run a lot. If they're running a lot that means you're not."
The hot weather during the fall season took its toll on her.
"It was sticky and humid and exhausting," she said. "I would drink lots of water and wear lots of sunscreen because I tan easily. I had to make sure I had my visor and sunglasses."
Don't expect to see Cauble playing without her visor.
"It's my lucky visor," she said. "I've always had it. I don't like playing tennis without it."
Cauble said she'll probably play No. 1 for the Camels next year.
"I just have to keep improving before every match."
—Ken Winfrey
Focus on: Ella Orgain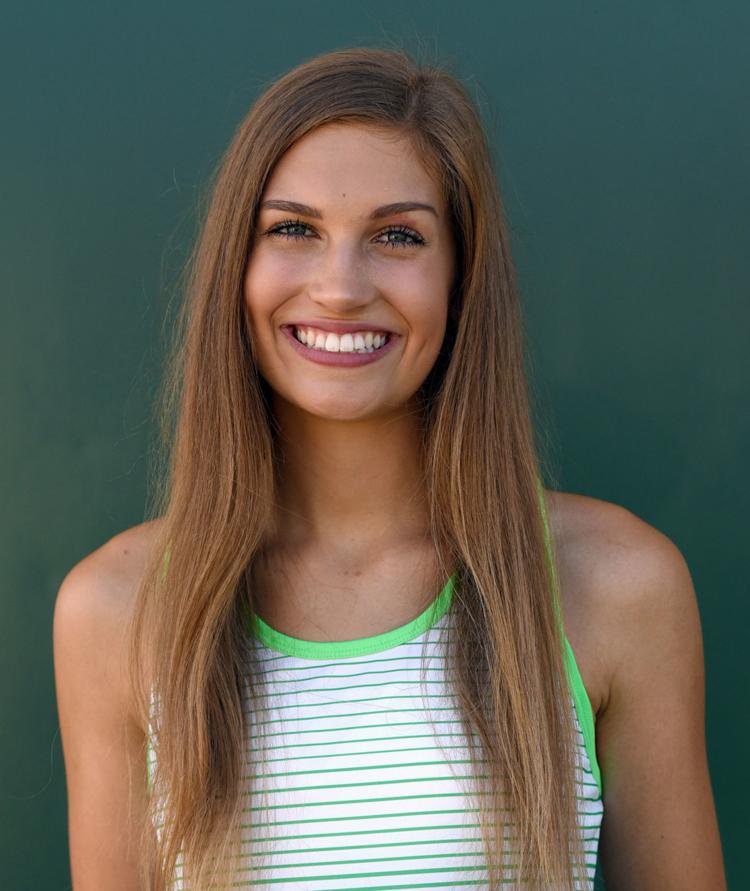 When Ella Orgain takes the court to play tennis for West Forsyth, she's thrilled to look to her right and see her doubles partner, Vivian Do.
But when she's flying an airplane, she's thrilled to look over to the seat on the right of her pilot's seat and not see anyone.
Orgain, the Titans' only tennis player who has flown solo in an airplane — a Cessna 172, this past summer in Camden, S.C. — plays No. 5 singles for West Forsyth, but she's much more comfortable playing doubles, in part, because there's more strategy, more to think about, and that's just fine with the 17-year-old senior.
"I play singles, but I like doubles more," she said. "There's extra strategy in doubles; that's why I like it. I like to solve problems. With a partner, you can play to both of your strengths."
Shana Krenz, the Titans' coach, said Orgain has "had a very good season. She only lost one time in singles during the regular season. She loves to play doubles and volley."
Orgain took up tennis the summer after the seventh grade. Her mother, Susan, had a friend who worked at the family's church, First Presbyterian, whose daughter played tennis, and she recommended the sport.
"I hadn't been in any sport, really, and my mom signed me up for lessons with Harold Moore (a teaching pro and the coach at Forsyth Country Day)," she said. "I had a knack for it, and she got me private lessons, and I started with it. It was kind of love at first sight."
If Orgain's love of tennis is on her mom, flying is on her father, Eric, who is a private pilot.
"My dad got his license when I was young," she said. "I've grown up around planes."
Orgain joined the local squadron of the Civil Air Patrol, which is headquartered at Sugar Valley Airport in Mocksville. She also attended the National Flight Academy in Camden, S.C., this past summer. It's an intensive, week-long series of in-flight and classroom instruction.
"We flew an hour in the morning with an instructor, then had three hours of ground school, then flew again in the evening," she said. "In four days, I was able to progress enough to solo.
"I want to be a pilot. I'd like to fly with somebody like FedEx first, without people at first, and then maybe fly for an airline," she said. "I'm working with instructors now to rack up more hours. I plan to get more instruction after tennis season."
—Dan Kibler
Focus on: Madison Gregory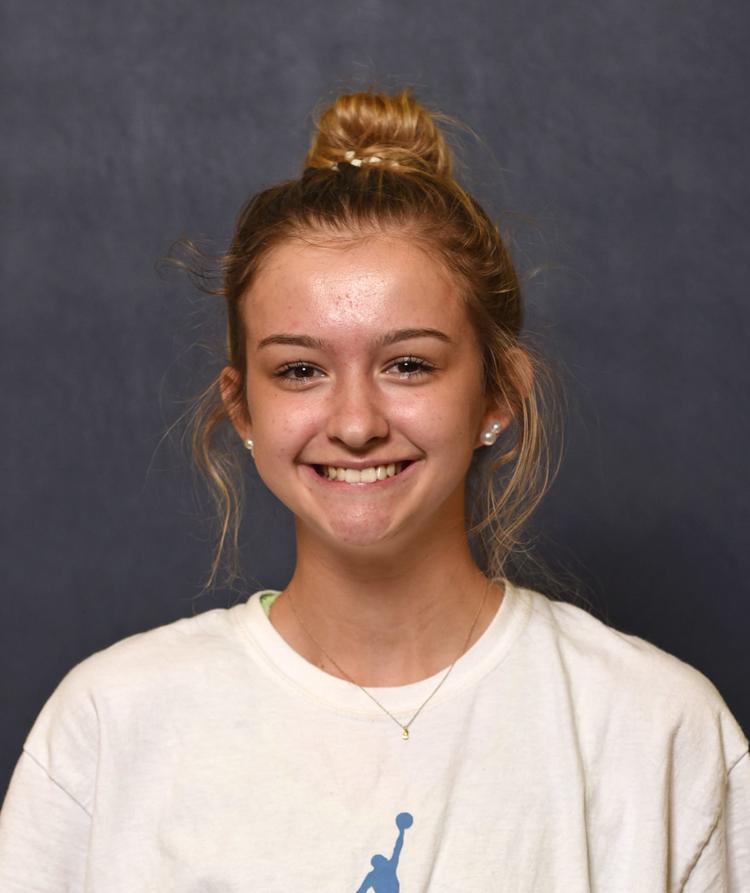 Madison Gregory said playing golf is a family tradition.
"I've always played growing up," said Gregory, a junior at East Forsyth. "I've played with my dad and my sister."
Her sister, Alexis, played at East Forsyth before graduating in 2012. She also played at Greensboro College.
Gregory said her older sibling sometimes attempts to give her advice. "She tries, but she gets a little bit frustrated," she said. "She tells me to keep my head down and to keep the ball forward. I try to listen sometimes."
East Forsyth's home course is Pine Knolls in Kernersville.
"It's like a breath of fresh air," Gregory said. "It's pretty much straight forward. There are no secrets or hitting hazards."
She described the toughest and easiest holes at Pine Knolls.
"Four is definitely the toughest hole," Gregory said. "I can't quite drive the ball over the creek and the hole sits up on a hill. It's hard to get the ball up there some days. No. 8 is the easiest. It's extremely open and a straight shot to the green."
Gregory's personal record also came at Pine Knolls."I set my PR in our first home match this year," she said. "I shot a 44. It was pretty exciting."
She said being on a golf course brings her joy. "I love the environment of being able to relax," Gregory said. "Most days I walk and take a breath."
High school golfers aren't allowed to use carts, but Gregory has found another option.
"Sadly, we cannot use carts," she said. "I have a pushcart that's kinda like a baby stroller. I've flipped it before, and things go everywhere."
Gregory said Maple Chase in Winston-Salem is the toughest course she plays.
"It is definitely the toughest," she said. "It is really hilly with a lot of trees. It's very narrow and the longest to walk."
Gregory hopes to finish the season on a high note.
"My goal this season was to start off strong and finish stronger," she said. "I'm doing pretty good. It helps a lot that most of our matches are at home near the end of the season."
She said her father, Dale, has been her primary instructor.
"He has taught me pretty much everything I know," Gregory said. "He tells me to fix this or fix that. He definitely thinks I should put in more hours than I do."
She said her dad tries to get her to use weighted clubs when practicing.
"Those are my worst enemy," Gregory said. "I feel like when I swing my whole body is going with it."
—Ken Winfrey
Focus on: Gregory Hunter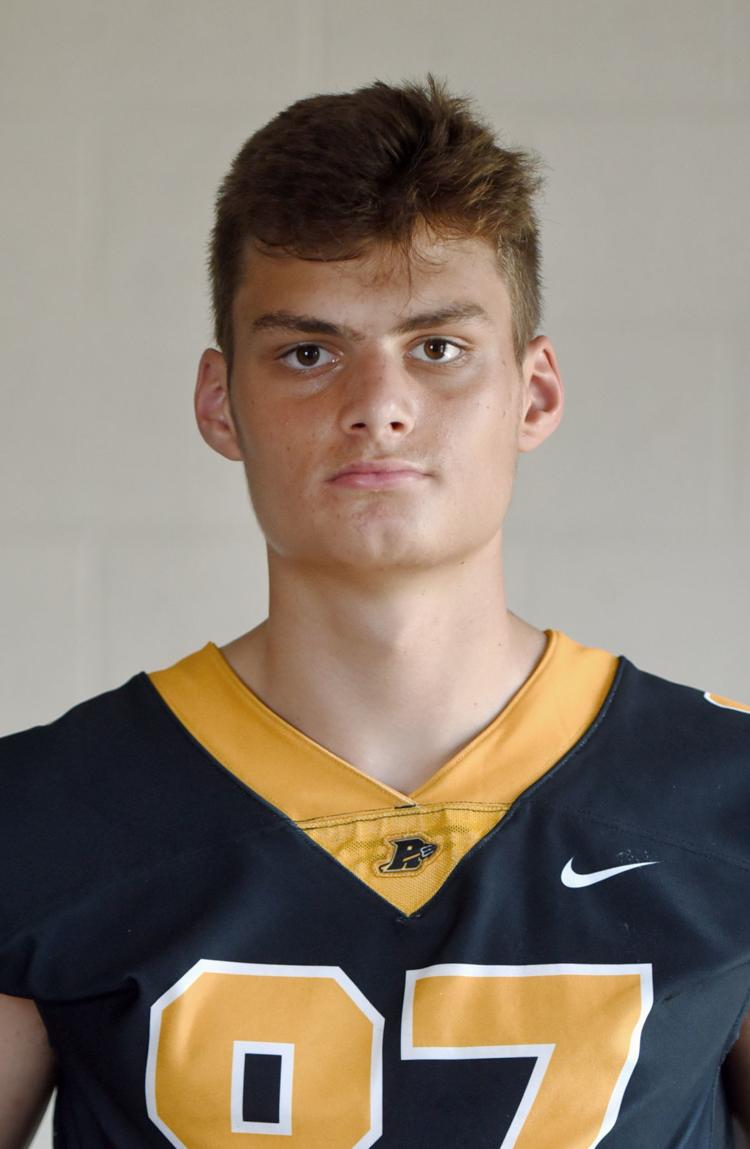 Gregory Hunter is following in his father's footsteps.
Hunter, a senior at Reynolds, knew in the sixth grade at Summit School that football would be his chosen sport. His father, Greg, Sr., was a walk-on at Wake Forest before giving up the sport because of an injury.
"I played flag football and then got into tackle," Hunter said. "I like all the work you have to put into the physicality of the season. Speed, strength and physicality are all required. I like the grind of the season."
Hunter credits his father with helping develop his football skills.
"He's really helped me get into it," he said. "He's done a lot of training with me on speed, catching the ball and tackling. He provides great encouragement. He knows the game and helps by telling me what I'm doing right."
Hunter said another thing is challenging.
"It's really neat with the mental aspect because you have to know plays and assignments," he said. "I find it to be a really appealing sport."
Hunter said a good football player must be tenacious.
"You've got a have a certain drive and motivation," he said. "You've got to be willing to take on contact. You've got to get into the fight and must be willing to get into the middle of everything on every play.
"I have a good frame for the positions I play. I try to bring 100% on every play. By the fifth play of a drive, sometimes I get a little tired. I really have to focus on that especially going into the conference."
Hunter is a receiver and plays tight end on offense and defensive end.
"I start on offense," Hunter said. "I have just two catches so far. I am not in on a lot of the packages. I'm looking for more action in the conference."
He's proven to be valuable on offense and defense.
"I'm pretty successful in my blocking and getting my assignments right," Hunter said. I've got a couple of sacks on defense. I'm pretty solid on tackles."
A recent injury set Gregory back.
"I got a mild concussion against High Point Central (Oct. 4)," he said. "I caught a pass, and as I caught it the defender's helmet hit mine."
Hunter has yet to score a touchdown this season.
"I really hope to," he said, "but most importantly I want to make the playoffs. We've made it to the first round the last two years. Hopefully we can make it even farther this year."
—Ken Winfrey
Focus on: Emily Hatcher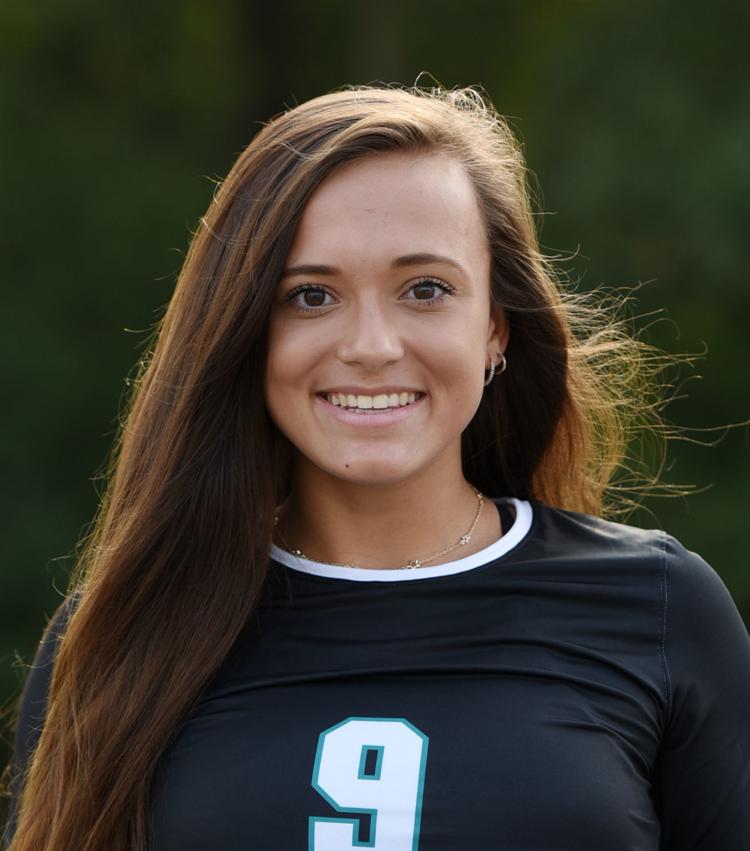 Emily Hatcher's senior season on Reagan's volleyball team ended abruptly with a horrific injury. But in spite of the heartache and disappointment, she found other ways to remain as a valued contributor.
Six games into the season, Hatcher, a right-side hitter, suffered a full tear of the anterior- cruciate ligament in her left knee and a partially-torn medial meniscus in the same knee. "It hurt for me to watch them play," she said. "I wanted to be out there so bad."
Before the injury, Hatcher ranked among the team leaders in kills. But equally important was her role as a team captain who had played well in her first season as a starter.
"Losing Emily was a big blow to our offense," Coach Doug Balser of the Raiders said. "Her attitude and effort are second to none. The way her season ended would be very devastating for other players.
"But she decided to change her role. Emily still attended practices and games, helped out with running team drills and was always encouraging others. That shows tremendous character on her part."
In Hatcher's mind, the decision to stay actively connected with the Raiders was all about commitment. As a team leader, she understands that it's important to set the right example. Hatcher had corrective surgery on Oct. 4 and is set to return this week to continue helping out with the team.
"I'm injured, but I'm still a team captain, so it's only right for me to be there to support my teammates," she said. "I have several close friends on the team, and I didn't want them to feel like they had been abandoned. My job now, is to help in any way I can. I'm like a coach, but I'm not as strict."
With the regular season winding down, Reagan was tied with East Forsyth for third place in the Central Piedmont 4-A standings (5-3 as of Oct. 13). Hatcher is confident that the Raiders can hold their own in postseason play.
"On this team, everyone is close," said Hatcher, who plays third base on Reagan's softball team. "There's no negative energy. If we can play well, play together, and keep fighting, we can go far."
Three questions for Hatcher
Q: What is your choice for a college major?
Answer: Business or education
Q: What three people would you invite to dinner?
Answer: Chris Brown, Tom Hanks and Beyonce'
Q: What's your favorite style of music?
Answer: Pop and Country & Western
—Craig T. Greenlee
Focus on: Rebecca Pollard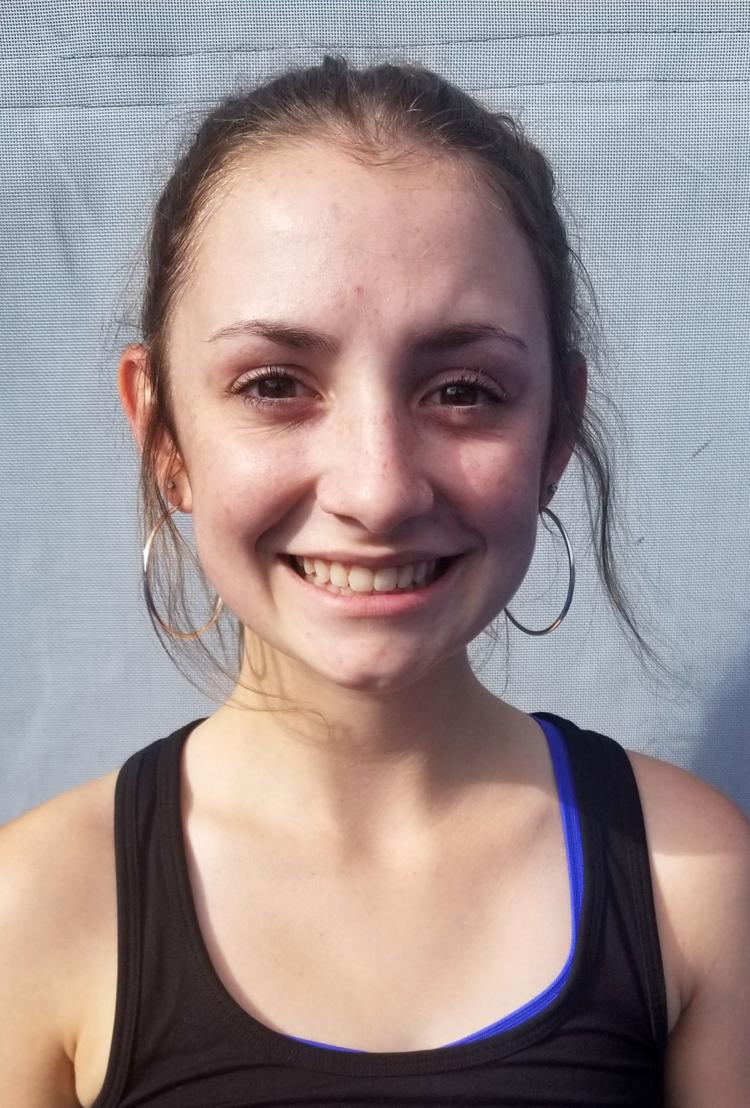 Four years on the tennis team at Mount Tabor led to a crowning moment for Rebecca Pollard last week in the Piedmont Triad 3-A tournament.
Pollard and teammate Meg Salt won the conference doubles championship in thrilling fashion with a 7-6 (8), 7-6 (3) victory against Meghan Whalen and Gretchen Cross of Southwest Guilford.
Not too shabby for a player who arrived as a freshman and was the No. 13 player on a team with 13 players.
Pollard began playing tennis in elementary school after being encouraged by her parents.
Her father, Mike, is an assistant coach at Mount Tabor and would take her to lessons at New Sherwood with Karen Duncan.
"I also had a friend who was playing, and we would go together," Pollard said. "But when my friend stopped going, I stopped going, too."
Pollard took a break from the game until her dad talked her into trying out for the team at Mount Tabor the summer before her freshman year.
"I started going out to hit with my dad again and I also went to a camp at Wake Forest that summer," Pollard said. "When I went to the first day of tryouts, I didn't really know anyone and I was a little nervous because I looked around and could tell I wasn't as good as everyone else. I questioned whether I would even make the team.
"All the older girls really made me feel welcome, though. Actually, the first day of practice we have every season is a lot of fun because it always sets the tone. And the last three years, I've gotten to meet the new players and get to know them before school even starts. That was a huge thing for me as a freshman."
Pollard has thrived at Mount Tabor since, both on and off the courts. She is the Editor-in-Chief of the yearbook, is in the Tabor Girls Council and is a Teacher Cadet.
She goes to Sherwood Forest Elementary School every "A" day to assist in the second- grade classroom of Ms. Phelps. She also goes to the Special Children's School every other Wednesday to lead a class in physical education. She was a cadet last year at Jefferson Middle School.
"I'm proud to be a part of something that represents my school like this in such a good way," said Pollard, who is interested in attending Appalachian State, UNC Wilmington and UNC Charlotte. "I want to be a teacher and am really enjoying elementary school. That's what I've got my eye on right now."
—Marc Pruitt
Focus on: Eduardo Medina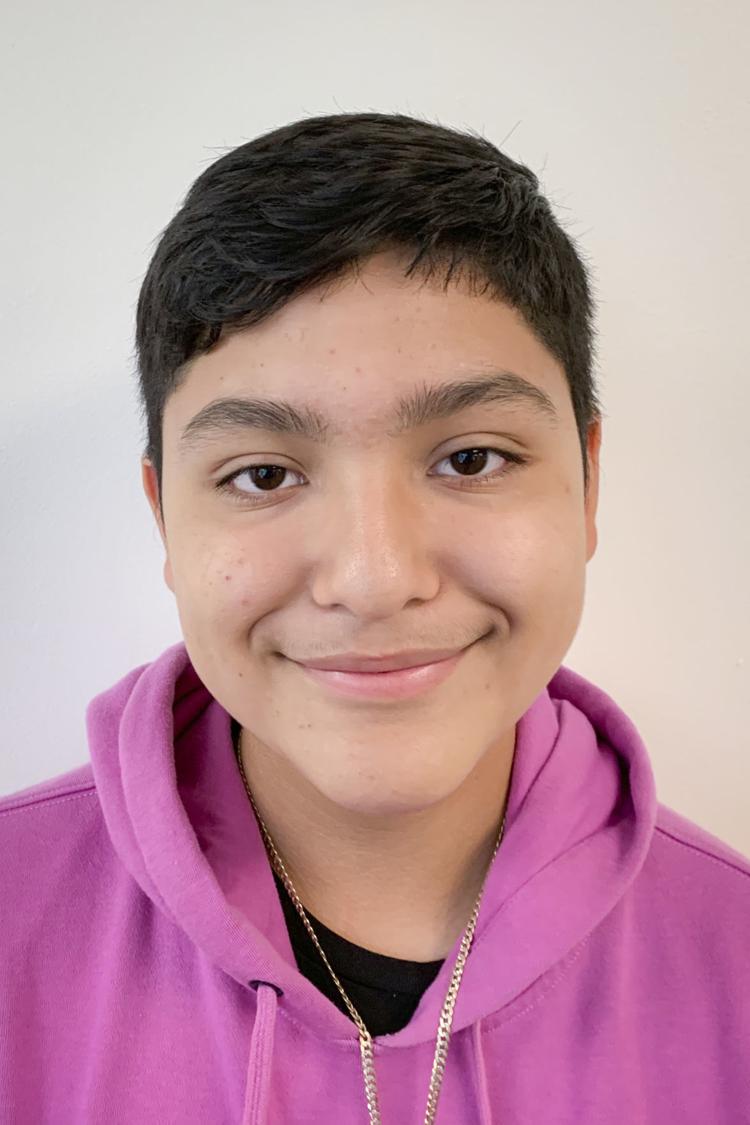 Eduardo Medina had no organized soccer experience before enrolling at Carver.
The freshman for the Yellowjackets had played only pickup matches with his family and friends. Yet, he didn't hesitate to take on the challenge of learning competitive soccer.
"I had just barely played," Medina said. "I played with friends and cousins. It looked fun, and I wanted to try something new in high school. I said why not play soccer."
The only thing that has disappointed Medina thus far is his lack of playing time.
"I like the experience of running down the field," Medina said. "It feels good. I like the coach (Jordan Lineback) and the people on the team are good people. I like everything about it."
Although his lack of playing time is understandable, it's still frustrating.
"I'm not a starter," he said. "I'm mostly on the bench. I'm just one of the bench boys basically, but I understand."
Medina has anxiety about coming into a game.
"I get nervous thinking I might mess up," Medina said. "Then I go on the field and it feels good. I go on the field and it goes away. I've just got to get used to it.
"I want to make my coach and my family proud."
Medina said he was pleasantly surprised with the atmosphere surrounding the Carver program.
"I thought it would be harder," he said. "I thought the people wouldn't be kind or the coach wouldn't be strict. I was wrong."
He said his progress has been steady since the beginning of the season, which for the Yellowjackets usually starts after the school year begins.
"I've improved a lot since the first match," he said. "I'm still not in shape, but I'm a little bit better."
Medina plays left wing and right wing.
"I have to run down to the goal if they give me the ball," he said. "I will pass to somebody or keep them from making a goal."
There is one position Medina doesn't want to play.
"I never want to be goalkeeper," he said. "Our goalkeeper has to deal with a lot. You have to learn how to get the ball. You might risk getting hit in the shoulder with a cleat."
He's tackling his two major weaknesses with lots of practice.
"Sometimes I go out to the park and run with my family to get into better shape," Medina said. "Kicking the ball right is hard. I still can't kick it right, but I have gotten better."
—Ken Winfrey
Focus on: Alan Linares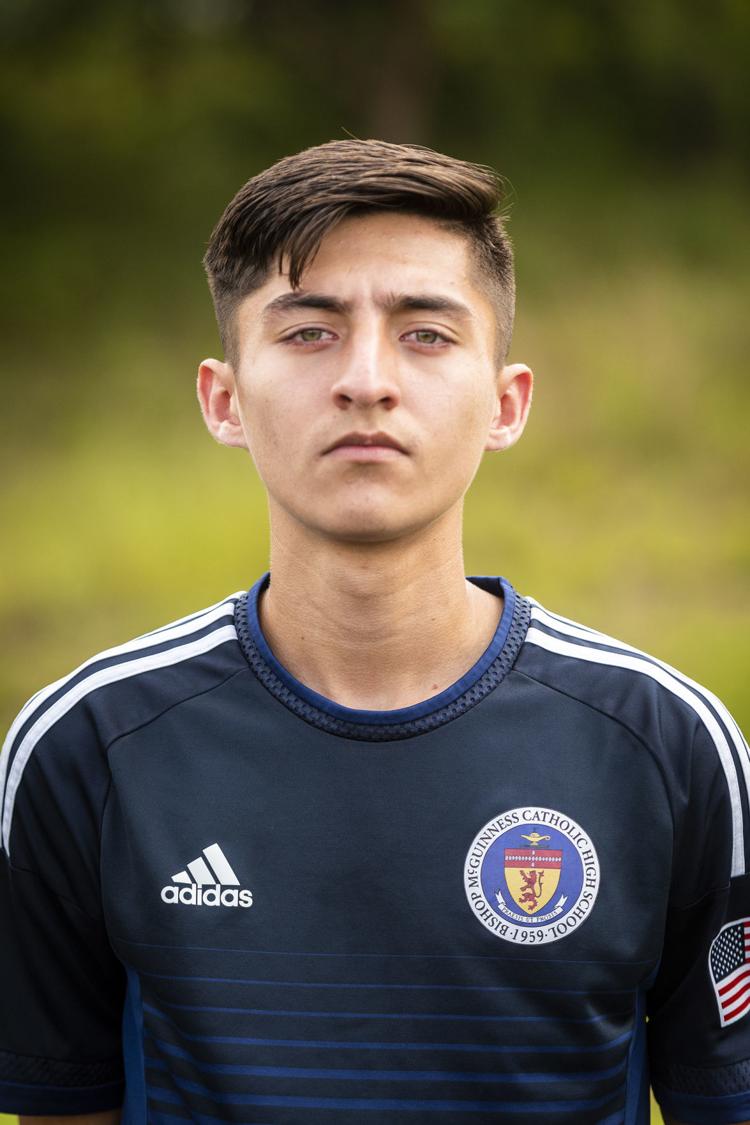 Alan Linares is adjusting to a new position and increased responsibility on the Bishop McGuinness boys soccer team this season, something the senior and four-year member of the varsity team is taking in stride.
Linares was moved to center midfield this season, a change from the left midfield position he played as a sophomore and junior after spending his freshman season as a striker.
"I knew we were going to need more help there this season because we lost a lot of seniors from last year," Linares said. "We have a young team and Coach (Neil) Hodges wanted to utilize my experience, knowing I could handle it."
Linares, whose brother Brandon graduated from McGuinness this past spring and is now playing in college at Shaw, was also bestowed the honor of being one of the team captains this season, a role he is embracing.
"I know that I need to be a leader and help the younger players on our team as much as I can," Linares said. "We have a couple of freshmen and sophomores who have never played varsity before and part of my job is to share my experiences with them. It's a great responsibility and you have to have the right mentality. When I found out I was a captain, it really boosted my confidence. I've had a lot of fun."
Linares was part of the Villains 2017 NCHSAA Class 1-A state championship against Franklin Academy, a game in which he scored a goal with about five minutes left to seal a 2-0 win.
"I'm not sure it gets much better than that, unless we can win another one," Linares said. "We got so close my freshman year (the Villains lost in the state championship game in 2016) and we knew we had a good team coming back. You still have to go out and make it happen on the field and we were lucky enough to do that. I'll never forget that day."
Linares hopes to continue his career in college and mentioned Greensboro College, Guilford and Limestone as possibilities.
"We've played a lot of bigger schools this season, a really tough schedule," Linares said. "I'd love to see us make another run at winning a state championship."
Three questions for Linares
Q: Where would you go on your dream vacation?
Answer: Puerto Rico
Q: What's your favorite TV show to binge watch?
Answer: "Money Heist" (Netflix)
Q: If you could have one superpower, what would it be?
Answer: fly
—Marc Pruitt
Focus on: Luke Elliott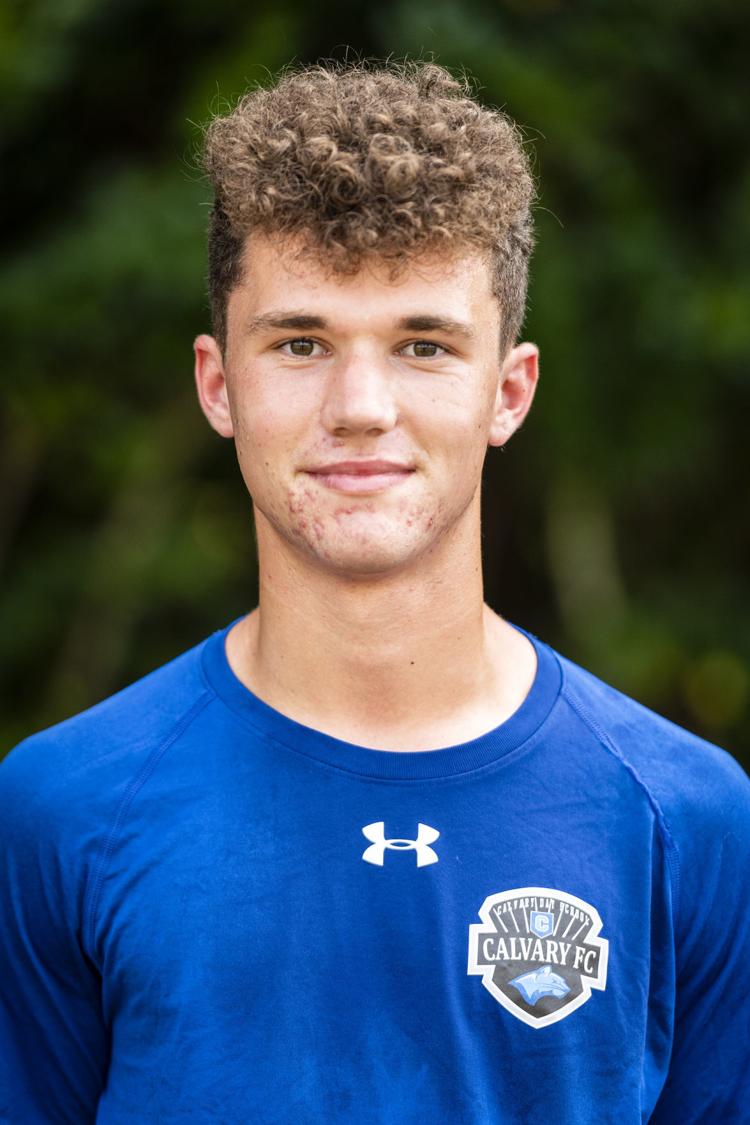 Like a quarterback or a pitcher who wants the ball in his hand all the time, Luke Elliott is the soccer version.
A 17-year-old senior, he's the center midfielder for Calvary Day School, which is unbeaten at 13-0 and has won the NCISAA's Piedmont Triad Athletic 3-A conference title.
Center midfield is a soccer team's quarterback on offense and middle linebacker on defense; he runs the show. And that's fine with Elliott and his coach, Ben Kerth.
"I like having the ball on my foot a lot," Elliott said. "I feel like I can distribute it where it needs to go. I feel like I can be a key player on the team. I want to be effective as an attacking midfielder and a defensive midfielder."
Kerth said Elliott is his "most complete player, most talented.
"Everything runs through Luke," he said. "He can make any pass. He's second on the team in assists, and he's having his best goal-scoring season."
The latter accomplishment, Elliott said, is likely the result of him taking most of the Cougars' penalty kicks this season. And that task, he said, is as much mental as physical.
"I go up thinking, 'Where am I going to put it?'" he said. "I never look at the goalie's eyes. I just think about where I'm going to put it, and I do it."
Elliott began playing soccer at age 10 for the WS Twins club. He played for the same club his entire career; now, it's NC Fusion. He might have dabbled at playing on attack for a while, but he centered at center midfield.
"I've dedicated my life to soccer, either watching or playing," he said. "It's always been soccer. I'd like to play in soccer; I'm looking at it. I can't play (Division) I, but I can play DII or DIII, but I want to go to a bigger school. It's tough to find the perfect situation.
"No one in my family really liked soccer. I fell in love with it. I played a lot of sports before, but me and soccer really clicked. I've loved it ever since I started playing."
The only activity that even remotely approaches soccer for Elliott is snowboarding. His family makes annual late-winter, early spring trips to West Virginia's Snowshoe resort, and he's been to Park City, Utah, and Whistler, British Columbia in Canada.
"I love snowboarding," he said. "We go all the time."
—Dan Kibler
Focus on: Vanessa Jones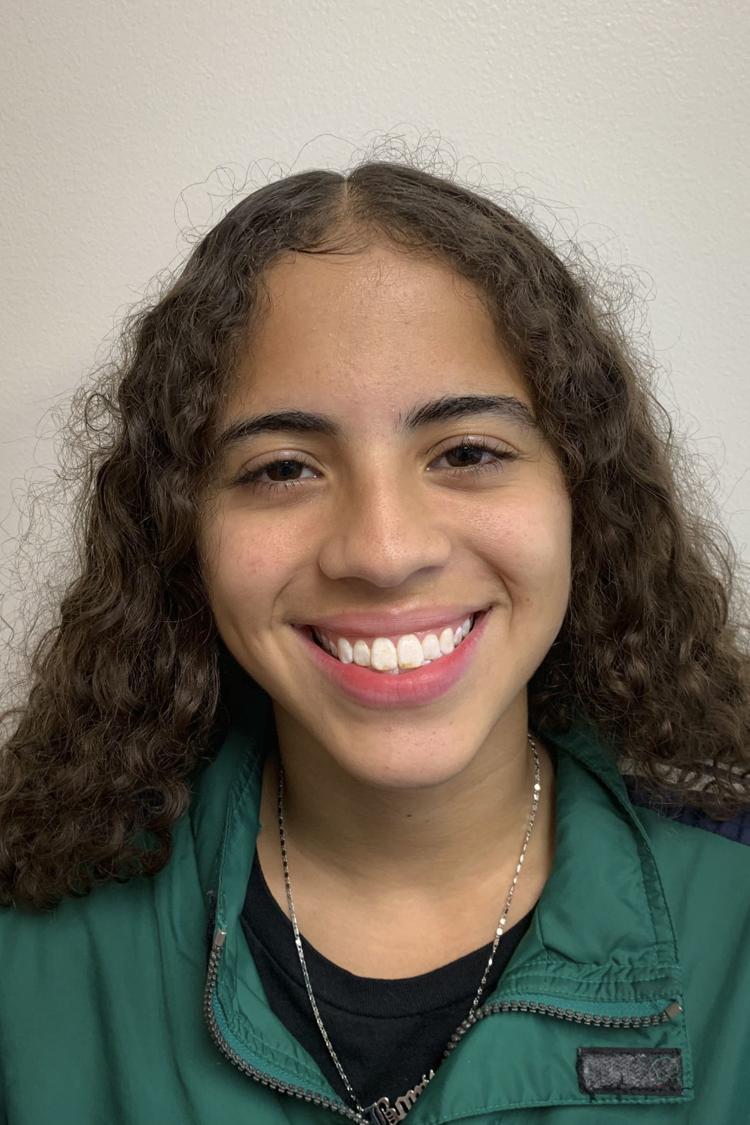 Perseverance has been the key to Vanessa Jones' running career at North Forsyth.
Jones, a senior, began running cross-country in the eighth grade at Northwest Middle School.
"My middle coach said I wanted to quit, but I started to see improvement, so I decided to stick it out," Jones said. "My junior year was a little bit tough.
"I had some bad (running) times. I'm glad I didn't quit. I would hate to say I just quit. It's been nothing but good things."
Jones has developed into one of the top runners on the small team for the Vikings.
"We only have six girls, but I like having a small team better," she said. "We can connect better and communicate better. We're all close."
One of her teammates is her younger sister, Victoria, a freshman.
"She started running in the eighth grade and quit," Vanessa said. "I'm glad she's stuck it out this year. Hopefully she'll keep running after I leave."
Jones said she offers some advice to her sister.
"I've told her even if you have a bad race don't let it beat you up," she said. "I told her you're gonna have failures before success."
She said running provides a much-needed escape from any problems she may be experiencing.
"It keeps me relaxed," Jones said. "It's a stress reliever. I get rewards."
Jones said she likes running through woods.
"Hagan-Stone Park (in Pleasant Garden) is my favorite because I'm mainly running through woods," she said. "When I get into woods I run faster and pass people."
North Forsyth also has a cross-country course, but changes had to be made this year.
"I liked it before, but we had to make changes because of the rehabilitation home," Jones said. "Now, we're just trying to get used to it."
Running three to four miles six days a week can be painful.
"I have my little nagging aches and pains," she said. "Every time I go to the trainer, she knows I want ice."
Jones is particularly proud of finishing in the top 15 at an invitational meet last year and advancing to the state championship.
"It felt good to advance to the states even though I didn't finish in the top 20," she said. "It was one of my biggest accomplishments in cross-country."
She's also looking forward to indoor and outdoor track where she competes primarily in distance events. "I run the 400 and up," Jones said. "I love to pick it up the last 200."
—Ken Winfrey
Focus on: Charleigh Fulton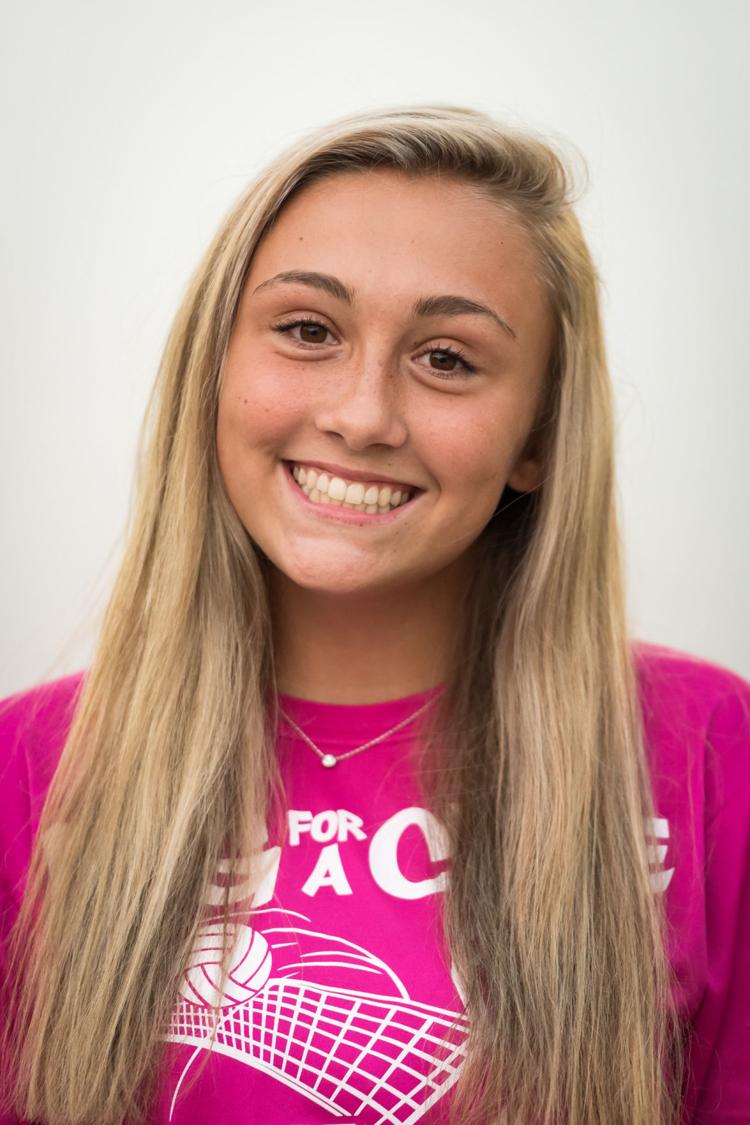 Charleigh Fulton of Walkertown had no problems assuming a leadership role in her first year of varsity volleyball.
Given her position as the Wolfpack's setter, that's not surprising. The responsibilities of a volleyball setter are the same as a football quarterback or a basketball point guard. All are the play-makers who are primary focal points.
"Charleigh has a great work ethic and she provides a high level of tenacity and grit," Coach Kaytee Ward of Walkertown said. "There's no denying that she plays with a lot of determination. During the summer workouts, she was always there to lead everybody.
"Not only does she push herself to get better as an individual, but she's always pushing her teammates to raise their level of play."
Initially, it took Fulton, a junior, a few weeks to get fully acclimated to varsity competition. In her two years on the JV, she had gotten used to playing the best two-out-of-three sets. At the varsity level, it's the best three of five.
"There are more games to play on varsity and I had to get adjusted to that," she said. "To play to the best of your ability, it's important to keep that energy level up.
"Coach tells us that the mental part of the game is more important than talent. My role is to help everyone understand that it doesn't help us when we dwell on our mistakes. We get past those mistakes by moving on to the next play."
Walkertown's season hasn't gone as well as expected. The Wolfpack (6-14 as Oct. 13) had hopes of finishing the year with a winning record. With three matches left in the regular season, that won't happen.
However, there are signs that the Wolfpack is on the right track. Fulton is hopeful that a recent loss to (Western Piedmont Athletic 2-A) rival Atkins, will set the tone for a strong finish.
The Camels won the back-and-forth battle in five sets. In that final set, the teams were tied at 12-12, but Walkertown ended up losing 15-12.
"That was the first time this season where we worked together and played with lots of energy from start to finish," Fulton said. "Hopefully, that will help us play at our highest level for the rest of this season."
Three questions for Fulton
Q: What's your choice for a college major?
Answer: Nursing
Q: What's the best book you've read?
Answer: "The Giver" by Lois Lowry
Q: Who's the best teacher you've had?
Answer: Mr. Knight (7th grade Science/Walkertown Middle School)
—Craig T. Greenlee