SportsXtra: This week's featured high school athletes, November 8
Spiking above the net: Joy Lara has maximized her experience at North Forsyth, both as a student and a volleyball player for the Vikings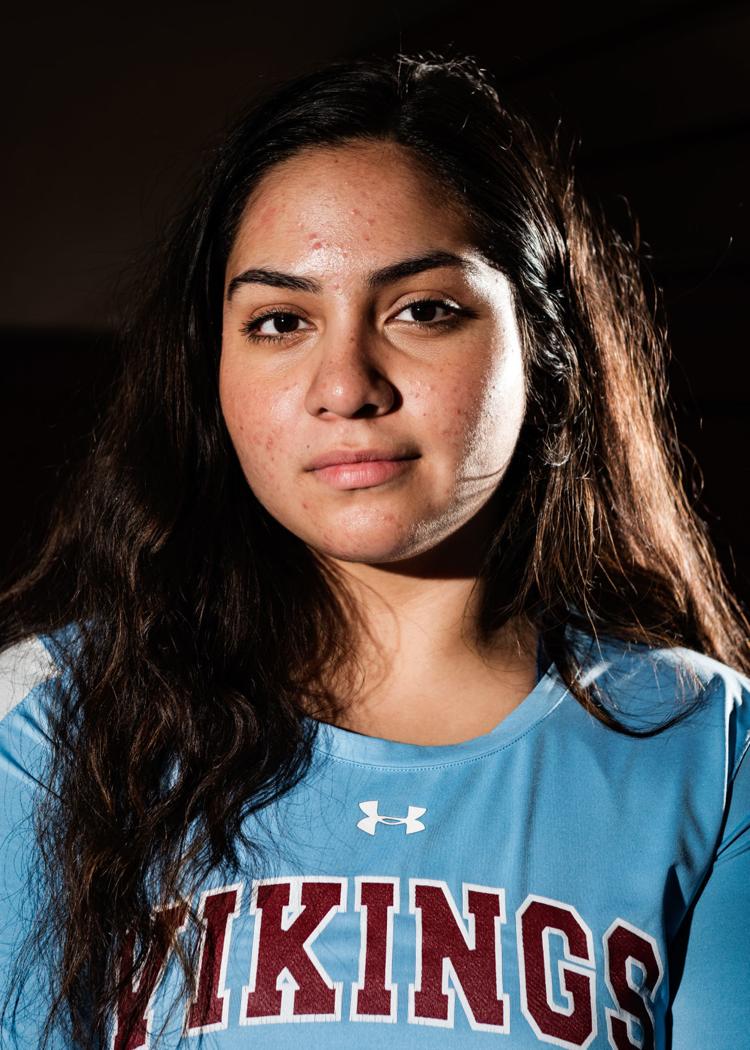 Determination is a word best used to describe Joy Lara. From walking on burning coals to graduating a year early, the perseverance she has as a senior on the North Forsyth volleyball team is amazing.
Lara has used her life experiences in the two years she's played for the Vikings.
"Whenever I go on the court, I have the mindset that anything is possible," she said. "I can get a good hit, a good pass or a good set. Instead of I messed up, I am believing in what I can do right."
Lara didn't play her freshman year, but that's a decision she doesn't regret.
"I feel like I could have done it, but I'm glad I had the time to rest and focus on school," she said. "I just had time to live and be a kid."
Lara had played some volleyball at the YMCA before joining the team for the Vikings.
"School volleyball is more of a team," she said. "Y volleyball is just where you come together ever so often to play on a court.
"In school volleyball you come together to work together."
Her strong desire to be independent led to the decision last year to graduate early.
"I want to take a year off and do an internship and be independent," Lara said. "I don't like to depend on others. It's OK to lean on others. That's something my mom has definitely stressed to me. I didn't have to worry about requirements to graduate early.
"I worked on weekends to pay for my car and insurance. Monday through Friday was jammed with school and volleyball. I was more passionate about my car and volleyball than school. With work, it was difficult to find a balance between school and volleyball."
Developing a plan was a key to achieving her goals, on and off the volleyball court.
"Not having a plan is tough," she said. "I have a plan and with me I think I can achieve it. You have to overcome frustrations and keep going."
Even with a plan, Lara said failure happens.
"In life you're going to fail," she said. "There's nothing wrong with that. You allow yourself to fail and make mistakes. That allows you to grow even more every time you come back."
Lara said attending a Tony Robbins seminar was a life-changing experience. Robbins is a well-known personal-development coach who conducts events around the world.
"I actually walked on hot coals," she said. "My first time of walking through the fire lane there were people at the very beginning to help keep you excited about the emotions you're feeling of what you're about to go through. Then a person came and stepped in front of me saying, 'Yes, yes, yes.'
"It's amazing that you can control your mind to walk on fire with no burns, no scars. Your feet are just fine. I walked four feet on burning coals. There were people waiting at the other with a hose spraying your feet."
Lara successfully completed the walk twice, a practice that helps to open her mind to new extremes.
"It helps me realize I can set my own limits," she said. "When I first thought about it, I was not serious. Then I went to the event and witnessed the whole thing.
"It's gonna give me more chances, more opportunities. Now I have the ability to change my mind state to do it without someone being there."
She will attend another event this month in Miami as a part of the seminar's Fire Team.
"I will be doing the Fire Team," Lara said. "We are putting down sod, coals and feeding the fire that everybody walks on."
That experience translated onto the volleyball court for Lara.
"She was a team leader and captain," Coach Kamika Mack of the Vikings said. "She would always pick people up.
"She was the person to pick you up on the court especially when the coach had just told you what you were doing wrong. She is one of those people who helped pick me up when I was down."
Her drive to succeed was special, according to Mack.
"She came on the court very inexperienced and not knowing much about volleyball," Mack said. "She did some work with a club to get better on her own. She learned the game mentally and physically and took time outside North Forsyth volleyball to get better.
"She's a great kid, almost like a mama of the team. She has that initiative that's going to make her so successful in the future. She takes all honors courses and realized what she needed to graduate early."
Mack said Lara has some qualities she wished she had had at her age.
"She is able to articulate herself," she said. "She has some things I wish I had when I was her age."
Although the Vikings didn't win very often, Lara was proud of the way the team came together.
"We came a long way even though we didn't win games," she said. "We went through a lot of changes, too much drama, too much ego.
"We had a come-to-Jesus meeting. We talked about it and grew up. I'm grateful we were able to do that. I saw how much change it gave us."
—Ken Winfrey
Focus on: Lily Smith
Lily Smith has been playing golf off and on for eight years, but she didn't take it seriously until this fall.
"There are a lot of gaps in between," she said. "But this year I really started to dial it up."
Smith is a freshman on the Atkins team that got a late start.
"We started a month after school started," she said. "We only have three girls. You need three to make a team."
She understands the amount of time she'll have to invest to compete at the high school level.
"A lot of the girls on the high school level are playing full time," Smith said. "That will require me to play full time instead of taking breaks."
It's a challenge Smith looks forward to accepting.
"I really enjoy the sport," she said. "I want to get better at it."
Smith has a private coach who helps her in addition to the Atkins practices.
"We practice at Winston Lake and have matches on Wednesdays," she said. "I also have a private coach in Greensboro.
"We didn't get to practice every day, which made it a little tough sometimes.The consistency is really what we lost overall. I'm putting everything together and starting to put more things into golf. I'm hoping to get in some practice on weekends."
Smith said she likes the mental challenge golf presents.
"Most people don't realize how mental golf is," she said. "I like that mental challenge. I like to process a lot of things at once. Sometimes the mental game can get to me. It's all about blocking that out and focusing on your strategy."
She said golf can also be frustrating.
"Golf is very frustrating," Smith said. "If you get one bad shot you can let it affect the rest of your game. It's the little things that can get you frustrated.
"Sometimes it's like, 'why didn't I listen to my gut feeling.' There's always a tiny voice in your head telling you what to do. I don't always do it. Sometimes I wish I did, but you just move on."
Smith said her first conference match was super stressful.
"I really wanted to do good," she said. "When I woke up that morning I already had butterflies in my tummy. My second conference match was not as bad."
She didn't qualify for the state championship this year but plans to use that as an incentive for next year.
"There is a lot of room for improvement," Smith said. "I need to play more tournaments. I can definitely see myself going to states next year."
—Ken Winfrey
Focus on: Zach Monette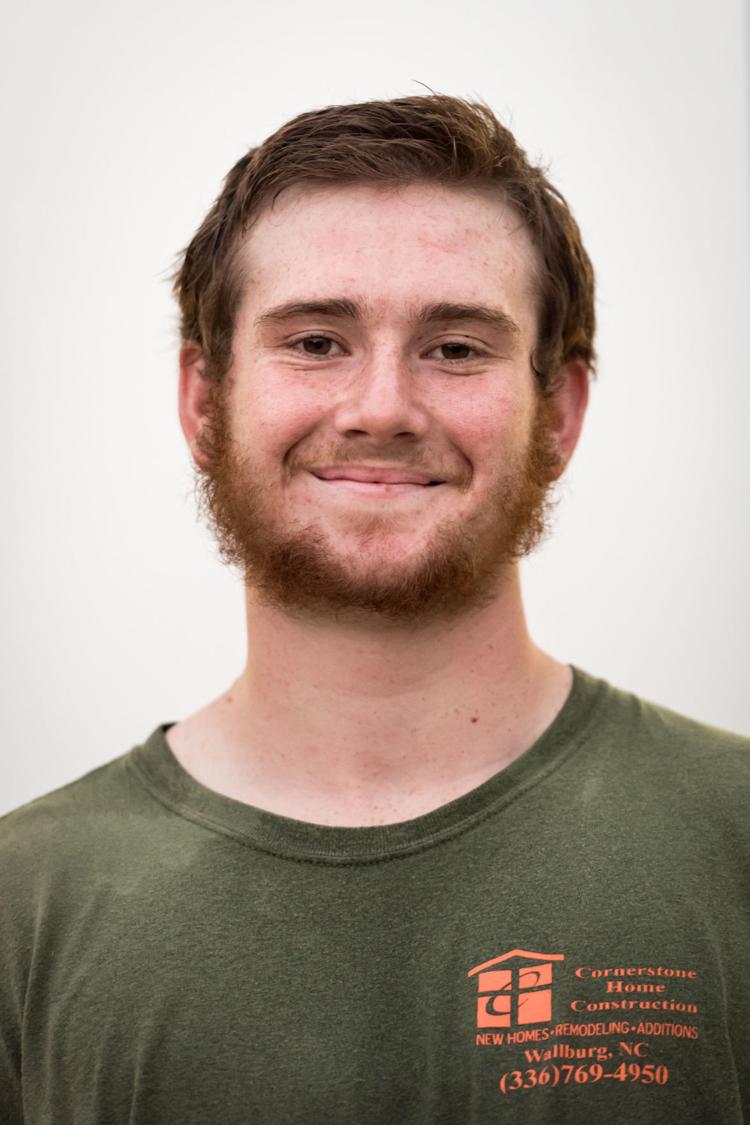 Linebacker Zach Monette of Walkertown is the centerpiece of a vastly improved defense. The Wolfpack's ability to consistently deliver defensive stops is a key reason for its resurgence.
A year ago, Walkertown was 4-7. This season, Walkertown is 7-3 overall and 3-3 in the Western Piedmont Athletic 2-A, and the Wolfpack will conclude its regular season with a game at Atkins.
Monette, a 5-foot-11, 195-pound senior, has certainly done his part. In nine games, he has five sacks and a team-high 66 tackles. He's also starts at tight end.
"Zach is instinctive, reliable, smart and durable," Coach Rodney McKoy of Walkertown said. "He is one of our best players. On the field, he's like an extension of our offensive and defensive coordinators."
Monette is part of a core group who haven't won very often over the past two years. During that stretch, the Wolfpack was 4-18. This season, it's a different outcome under McKoy, who's in his first year as head coach at Walkertown.
"Coach (McKoy) came in and changed the culture of the entire team," said Monette, an All-Western Piedmont Athletic 2-A pick as a junior. "Because of him, there is more discipline. Plus, he holds every player accountable. Those are the reasons behind the success we're having this season."
Monette was convinced that Walkertown's football fortunes would change for the better after a 14-8 win over Lexington in the season opener. It was an important victory for the team's psyche. In two previous meetings against Lexington, the Wolfpack was outscored 69-6.
"It was a like shock," Monette said, in reference to beating Lexington. "That was the start of winning for us, winning our first four games of the season."
While Monette has been rock-steady all season, he's turned in some superlative efforts along the way. Stat-wise, his best game was against South Stokes when he recorded a season-high 13 tackles.
In Monette's mind, however, the Forbush game (a 29-7 win on Oct. 18) was his best. He didn't post double-digit numbers in tackles, yet he was very satisfied.
"I had nine tackles, but I played free," he said. "Instead of reading and reacting, it was all about going hard and dictating the tempo. There was no sitting back. We set the tone early and kept it that way for the whole game."
Three questions for Monette
Q: What's the best book you've read?
Answer: The Old Man and the Sea" by Ernest Hemingway
Q: What's your hobby?
Answer: Collecting fossils (shark teeth, whale bones, dinosaur teeth)
Q: Where would you go on your dream vacation?
Answer: Alaska
—Craig T. Greenlee
Focus on: McKinley Rice
There's no doubt tennis is a family affair in McKinley Rice's family. The junior from East Forsyth plays with her dad Rick nearly every weekend until high school season starts.
Rice, who started playing in the sixth grade at Kernersville Middle School, gets her inspiration from her dad.
"My dad is really good," she said. "He played in school."
She likes the individuality tennis offers.
"I like playing singles," Rice said. "I've played basketball since elementary school, so I've always played on a team. Tennis was something new where I could play on my own."
Rice said keeping score is the only thing she dislikes about the game.
"It's annoying to keep score," she said. "I remember all the times I've messed up the score in a match and have to stop and figure it out."
Playing singles is her favorite.
"I like not being able to rely on someone else to help or keep you motivated," Rice said. "I like playing the baseline and hitting short shots. I try to put a spin on it."
Rice said she's good at moving and footwork.
"I feel like I can get to balls pretty quickly," she said. "My lob is where I get most of my footwork."
She's working on her quickness to the net.
"Coming to the net, I don't feel like I come quick enough," Rice said. "That's something I can work on."
One of the toughest shots is a high lob, according to Rice.
"It's so high you have to be in the right position to hit the ball in the right spot," she said. "I want to put a lot of power into it. It's difficult when you're in the middle of a match."
Rice said she gets frustrated when committing a mistake on an easy point.
"When I have an easy point and know I can finish the point, but I mess up," she said. "It's annoying to know that you could have had that point."
When that happens, she usually talks with her coach or doubles partner.
"Between points I'll talk to my coach and he calms me down," she said. "It's really easy to communicate with him."
Rice said a goal this season was to not give in to frustration.
"Personally, I wanted to try my best to not give up during matches even though I was frustrated," she said. "I wanted to never stop hustling because as long as I'm moving, I feel like I have a good chance of keeping up, of getting points. I think I did pretty well."
—Ken Winfrey
Focus on: Sarah Truskolaski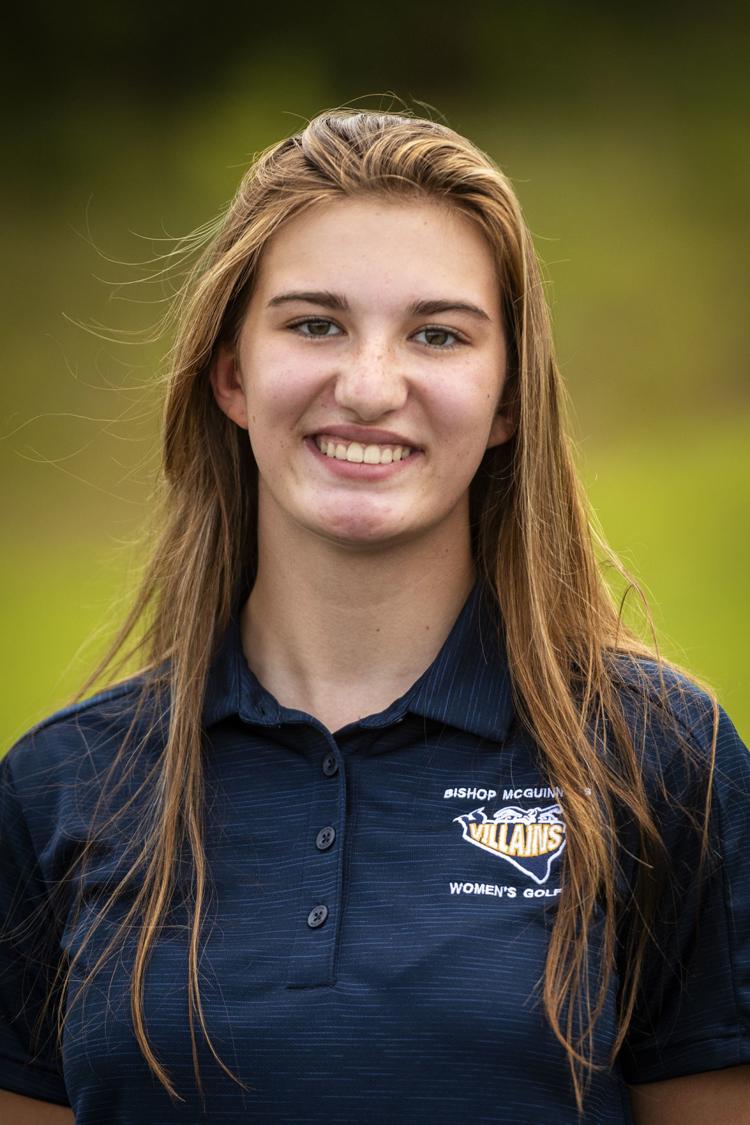 Sarah Truskolaski said she was elated when she found out there would be a girls golf team at Bishop McGuinness this season.
Truskolaski, a sophomore, played on the boys practice team in the spring but never got to play in a match.
And as fate would have it, she never got to play in a match for the girls team this past season, either.
During the second week of practice in August, and about a week before the Villains' first match of the season, Truskolaski popped a ligament out of place in her left wrist that ended up sidelining her all season.
"I have hypermobile joints and have had this happen a few times before, but never when I couldn't put the joint back in place," Truskolaski said. "I wasn't even playing golf when it happened. Just moved it the wrong way. I had to go to urgent care and that's when they saw the ligament. I've been wearing a cast on my wrist ever since."
Truskolaski said she has had issues with her wrist and ankles before.
"I sprain my ankles a lot," she said with a laugh. "I have a lot of people who are fascinated with all the issues I have with my joints."
Truskolaski has been playing golf since she was 7. Her father, Frank, enrolled her in The First Tee program when the family lived in Arkansas.
"My father told my brother and me that it would be a good learning experience and that golf was something we could do for the rest of our life," she said. "Over time, we both started to realize golf was a lot of fun. Golf was the first sport I every participated in and is the only one I do now."
Truskolaski attended most of the matches to support the team, which featured just three healthy players this season.
"They did very well and I'm really proud of them," said Truskolaski, who is also involved with Model U.N. and the National Art Honor Society. "I wish I could have been out there playing with them."
Three questions for Truskolaski
Q: What's your favorite TV show to binge watch?
Answer: "Stranger Things"
Q: Who are your dream playing partners and where would you play?
Answer: Frank Truskolaski (father), Jordan Spieth, Lynn Christopher (Aunt), Audrey Hepburn. And we would play at Pebble Beach.
Q: Do you have any rituals or superstitions when you play?
Answer: I always wear a ring of an olive branch that I got in Greece that wraps around my finger
—Marc Pruitt
Focus on: Hugh Bray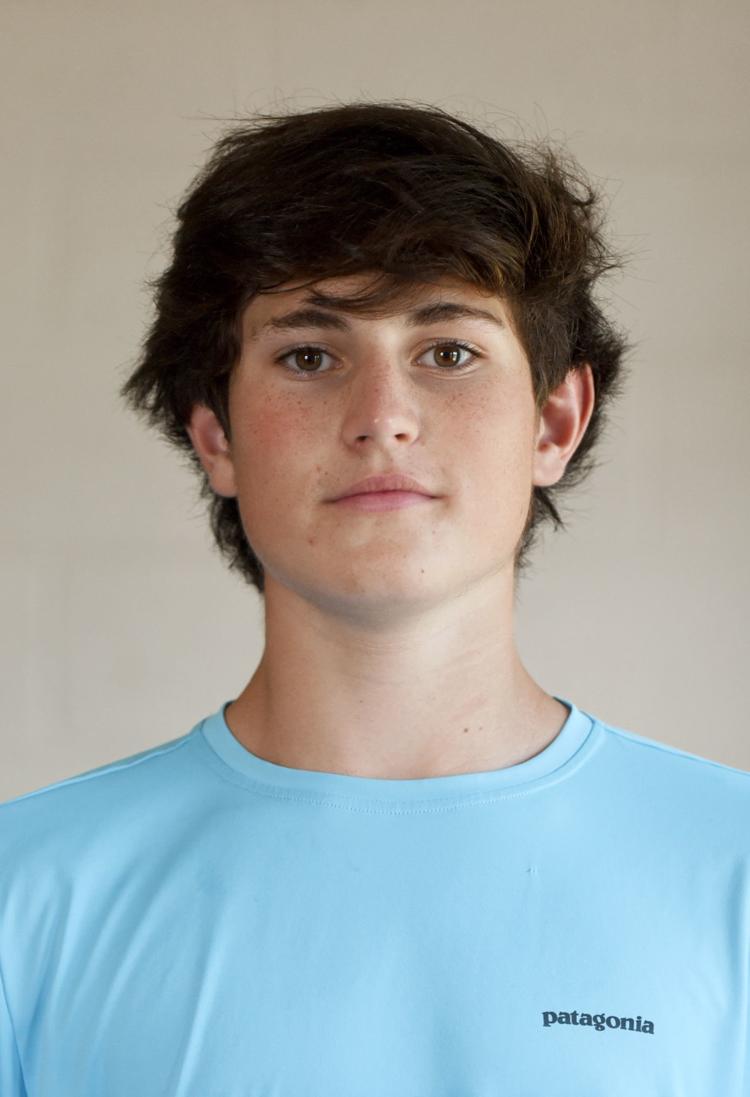 And the winner is…soccer. Hugh Bray said he played multiple sports when he was younger before selecting soccer.
"I tried every sport until I figured out which one I liked the most," said Bray, a senior at Reynolds. "I chose soccer."
It was the constant movement that attracted Bray to soccer.
"I like the constant play," he said. "The ball is always moving. It's unpredictable. There's always a deflection or ricochet. You can never be sure of what will happen next."
He also likes the team aspect soccer offers.
"It's a very team-oriented sport," said Bray. "You can pretty much beat every team if you work together."
The Demons won the Central Piedmont 4-A with a 10-0 record. Bray isn't surprised with the team's success this season.
"I had an idea that we were going to be one of the finalists of who was going to win," he said. "In the preseason it was really up in the air. I could see us doing it but not in the fashion we did. I'm proud we were 10-0."
Reynolds finished tied with West Forsyth for the 2018 conference title, something that didn't sit well with Bray.
"Last year, having to share put a stress on everyone," he said. "We did not want to share with anyone this year. We wanted it outright. We were hungry enough to get it."
Bray said this year's win at West Forsyth was significant, but East Forsyth presented the biggest challenge.
"We beat West 4-0 at West," he said. "It was fun being able to shut them up at their house. There was nothing any better than that after they talked so much in pre-match.
"Our biggest competitor was East Forsyth. They were a lot more physical than what I and the team expected. They wanted it more than a lot of other teams in the conference."
Bray doesn't mind playing against a physical team.
"I have a physical size on the field," he said. "Everyone else is smaller than me. Sometimes I get yellow cards because my hits look bigger against a smaller person."
He said Coach Tony Sabio of Reynolds likes his size.
"He understands my size," Bray said. "He uses it to our advantage."
Reynolds style of play often presents a challenge for opponents.
"Our style of play is one of the more difficult styles of play," Bray said. "We don't really like to play long balls or punts from the goalkeeper. We like to push the ball up the field."
—Ken Winfrey
Focus on: Scottie Bing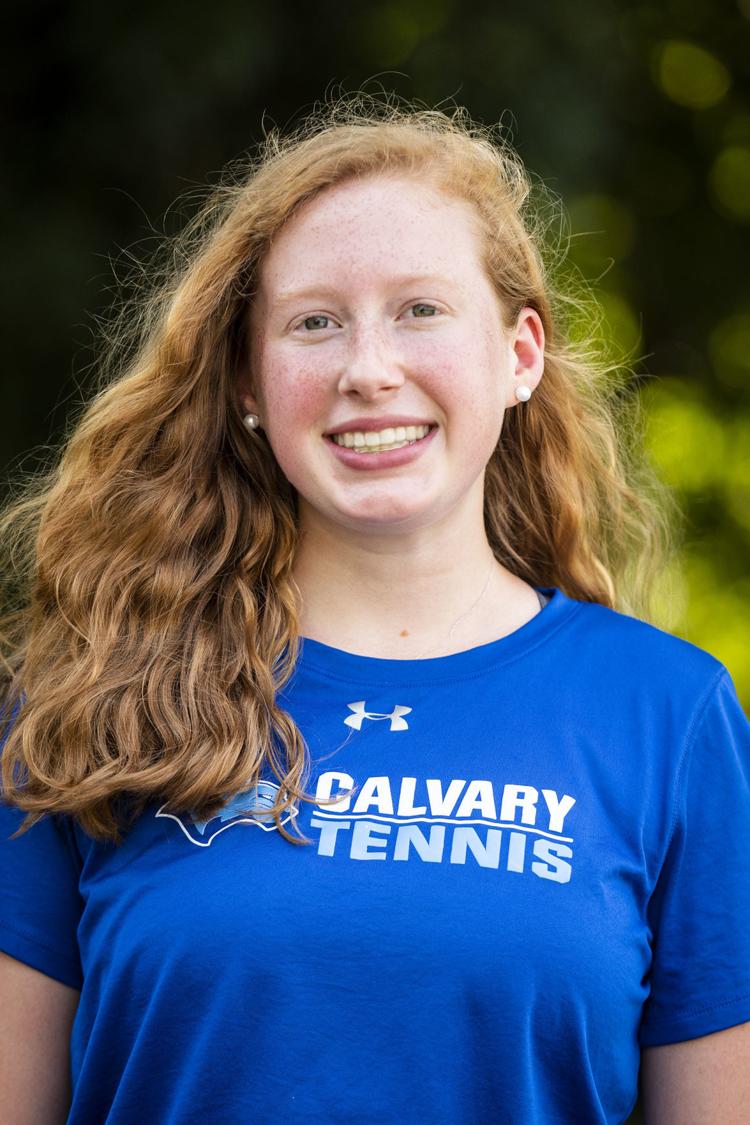 It didn't take Blaine Burton long after he took over as coach of Calvary Day School's tennis team this season to figure out how important Scottie Bing was going to be — and not just because she was his best player.
"I got here this year, and I had five returning players and six new players, and I recognized right away that I needed somebody to help me. That was Scottie," Burton said. "She's such a big part of the team; she provides leadership and inspiration and really helps with the younger kids."
Bing, a 16-year-old junior, played No. 1 singles this season and No. 1 doubles, with her younger sister, Abby. The season was hardly over before Bing was already working on her game, changing up her forehand grip after a lesson with a tennis pro and planning to play as many matches in the offseason as possible.
"I played tennis when I was younger, then I took a break in middle school, and I started again in high school," she said. "I was playing soccer, and that was in the spring, but when I started playing soccer in the fall, I decided that tennis is the sport that I was better at. I enjoyed soccer — and it was hard to give it up — but I really loved tennis.
"As I got into tennis, I got to a certain point in my game where I was enjoying it more. I had been used to soccer, a team sport, and tennis is an individual sport. It's a lot more of a mental game. The more matches you play, the more you get used to it.
"I still struggle a little bit. I need to work on playing more matches in the offseason. I want to play more matches. There's a round robin at Westwood (a local swim and tennis club) on Fridays, and I'm going to get into that so I can play more matches."
Bing played every match as a freshman and sophomore, but it wasn't until this season, when she moved into the No. 1 singles slot, that she started feeling a little uncomfortable, facing opponents' best players on a regular basis.
"At first it was a little overwhelming," she said. "I could really see what I needed to work on, but by the end of the season, I felt better about my play. I definitely feel like I have improved.
"I am better at doubles. I feel more relaxed; it's not as much of an individual thing and my sister and I play well together."
—Dan Kibler
Focus on: Denoris Wardlow
The offense typically gets most of the media attention for Parkland's football team.
Yet, it's the Mustangs defense that could make the biggest impact in their quest to advance to the NCHSAA Class 3-A state playoffs and make an extended run.
Denoris Wardlow is a key defensive piece as the starting free safety, who gets playing time at wide receiver and as a punt returner. During his career, Wardlow has proven himself as a genuine threat on both sides of the football.
"Defense is his strong suit," said first-year Coach Laymarr Marshall of Parkland. "But as we got deeper into (Piedmont Triad 3-A) conference play, we called on him to play more offense. When Denoris has the ball in his hands, he's a playmaker and that gives us an advantage."
Wardlow, a 5-foot-11, 170-pound senior, has family roots in football. His older brother, Antonio, was a defensive back at Parkland who played collegiately at Tennessee. O.C. Wardlow, his cousin, is a former star quarterback at Mount Tabor who signed with Virginia and had offers from Tennessee, North Carolina and Maryland.
The Wardlow brothers are now united at Parkland with Antonio serving as the Mustangs secondary coach. Denoris deeply appreciates having Antonio around on a daily basis.
"It's great to have Antonio as my position coach," Wardlow said. "The college techniques that he's taught me have really helped. I've gotten so much better at playing man-to-man, and I've learned a lot about how to read quarterbacks."
There's no doubt that Wardlow's football career will go beyond high school. So far, he's being recruited by N.C. Central, Catawba, Winston-Salem State, Averett and UNC Pembroke.
With the regular season winding down, Wardlow is confident that Parkland (5-3 record before last Friday's game at home against Mount Tabor) can make the cut for the postseason. For that to happen, he realizes that defense must do its part.
"This season, for some reason, we've had this habit of starting off slow," he said. "To be at our best defensively, it's important for us to play with high intensity from the very start of the game. When we play that way, we make it very tough for teams to move the ball and score points on us."
Three questions for Wardlow
Q: What's the best book you've read?
Answer: "The Scarlet Letter" by Nathaniel Hawthorne
Q: Who's had the most influence in your life?
Answer: Anthony Wardlow (father)
Q: What's your favorite food?
Answer: Crab legs
—Craig T. Greenlee
Focus on: Logan Brence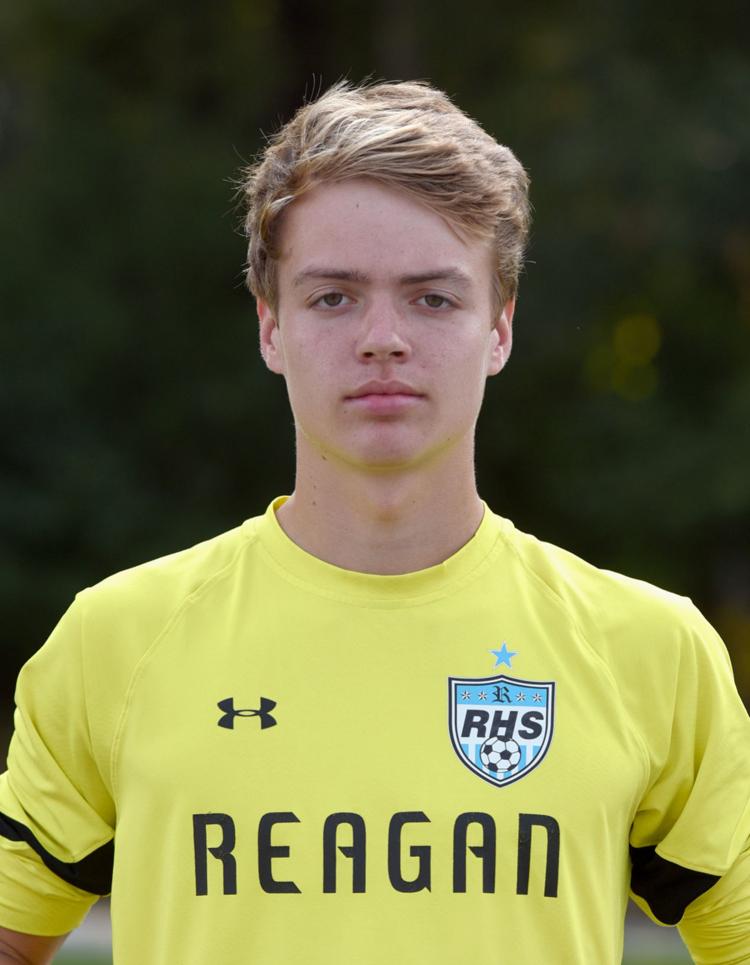 This has not been a vintage year for Reagan soccer.
Performance-wise, the Raiders (7-13-2 as of Oct. 31) played sporadically, especially when it came to stopping opponents. Yet, in spite of the team's defensive issues, goal-keeper Logan Brence proved to be a shining light in a less-than-stellar season.
"Because of Logan, we were always in the game," Coach Shane Maullin of Reagan said. "If he wasn't our goalie, there's no doubt in my mind that teams would've scored on us a lot more frequently. His presence at the net kept us respectable."
Brence, a 6-foot-3 senior and team captain, turned in superlative performances all season long. In the process, he's making a strong case to earn All-Central Piedmont 4-A Conference honors for the second year in a row.
Maullin contends that Brence has played well enough to garner more post-season accolades.
"He's outstanding at his position because of agility, reflexes and his ability to go horizontal. I believe he can make All-Region and All-State."
In 22 games this fall, Brence recorded 115 saves. His best single-game total was 13 saves in a matchup against Wesleyan Christian from High Point earlier this season.
"I really enjoy the challenge of competition," Brence said. "That's what gives me great confidence. The way I look at it, coming up with saves is all about me doing my job. It's about doing what I've got to do, to get the job done."
As skilled as Brence is, there's little or no chance that he will continue his soccer career at the next level. That decision was made two years ago when he played for Reagan in the fall and Greensboro United Soccer Club in spring.
"I'm not interested in playing college soccer," he said. "I made that decision after my sophomore year. I have other aspirations."
Brence plans to attend North Carolina or N.C. State and pursue a degree in a medically-related field of study.
Maullin remains hopeful that Brence will have a change of heart. In his mind, Brence is a prized college prospect.
"I'll keep talking to him about it," Maullin said. "I just hate for such a natural talent to go to waste. He would be a good fit in any Division I program. Even if he went as a walk-on, I believe he would make it. It would be a mistake for any Division I college to overlook him. Logan really is that good."
—Craig T. Greenlee
Focus on: Kendall Wiliams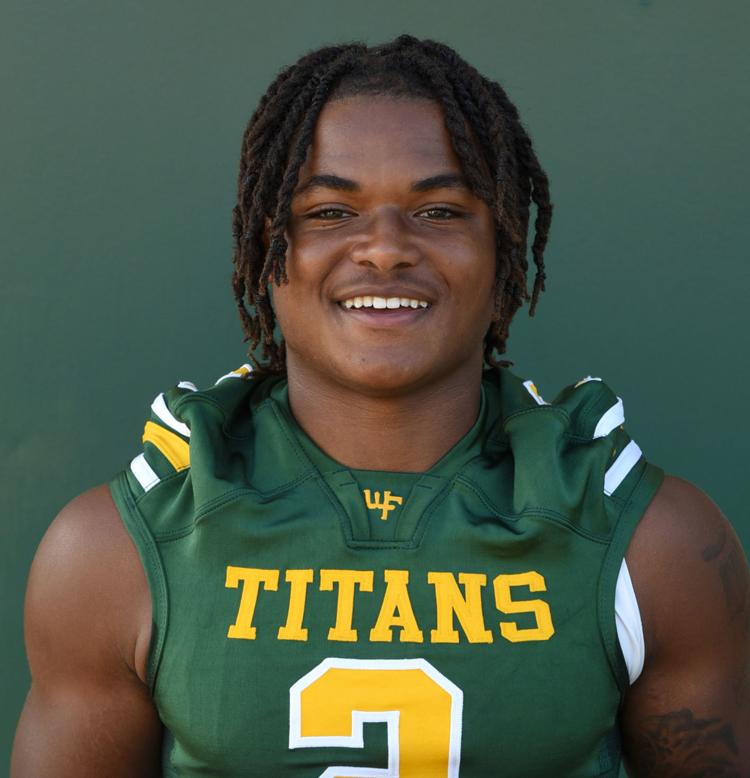 According to his coach, Kendall Williams has "stayed the course."
That might mean any number of things, but at West Forsyth, where Williams is a starting cornerback on the football team, it means that patience early in his career has been rewarded with plenty of responsibility as an 18-year-old senior on a team ranked in the top 10 in the state.
"Kendall is a great kid; he does a great job, and he's a great leader," said Adrian Snow, the Titans' coach. "He is playing extremely well right now; he's been tough. He has played corner and safety for us, and he's stayed the course. This year, he's just playing corner."
Williams played JV for the Titans as a freshman, then was mostly a varsity reserve as a sophomore. As a junior, he started eight games: six as a safety, the last two as a cornerback. Now, he helps call the defensive signals for the Titans.
"I played both safeties last year, and I was glad I was able to come and fill in," he said. "I just try to keep competing and get better every day," Williams said. "Starting some at safety last year has made it easier this year. I know the calls before they come in, and I'm ready for the play. I think that's my strong point, my football IQ. I like watching films; I want to know what the play is before it happens."
Williams began playing football almost before he was in elementary school, for the Pop Warner Tiny Greyhounds.
"I fell in love with football immediately," he said. "I loved being able to outrun everybody and score touchdowns. That was before I played defense. I always loved hitting people on the field, and I made the transition before high school. I came to high school knowing I wanted to play on defense."
Williams has sampled other sports, giving up basketball for football, in part, he said, because he was a better football player than a basketball player. He ran track for the Titans as a freshman but said he got sick and took the rest of the spring off. He plans to return to track this spring, especially if he needs to work on his speed before he plays football in college.
"I have a few schools looking; I'm just going to take it day by day. I should know something by the end of the season," he said. "But I definitely want to play in college."
—Dan Kibler
Focus on: Hannah Frazier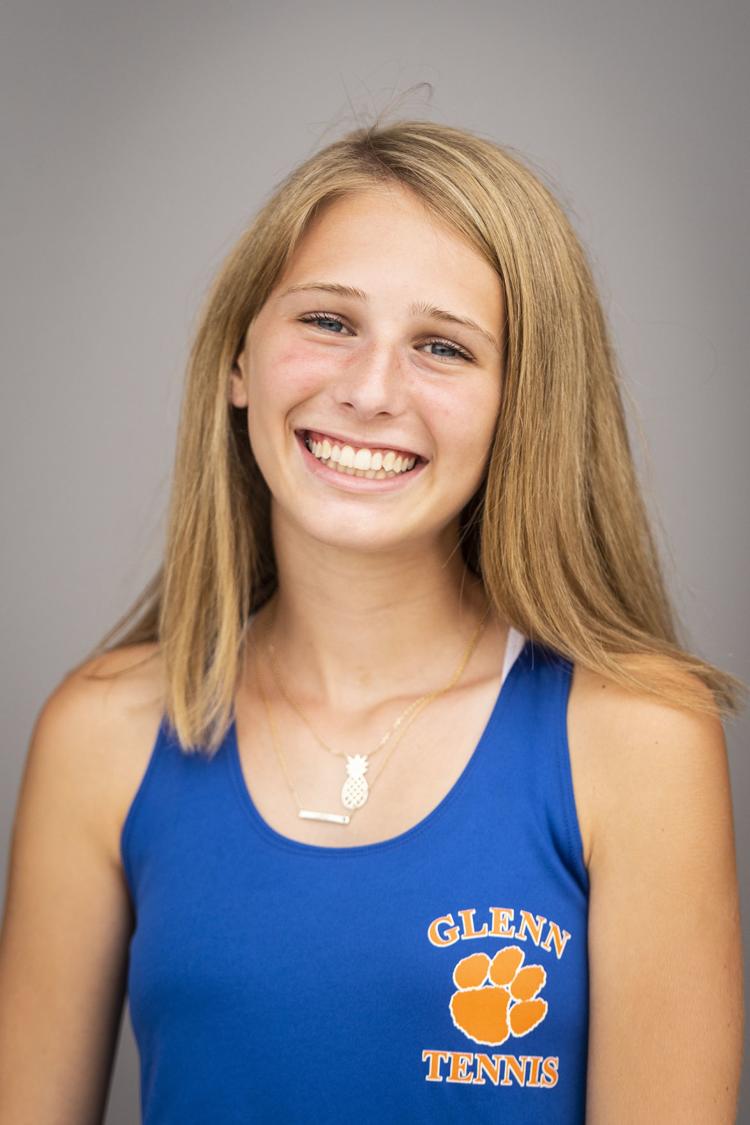 In one year, Hanna Frazier of Glenn vaulted from the bottom of the stack to the top of the totem pole on the girls tennis team.
Entering this season, Frazier, a senior, was confident that she would improve, but not to the extent that she would end up as the Bobcats No. 1 singles player. As a junior, she was No. 5.
"I was very surprised," she said. "I thought I'd be No. 2 or No. 3."
Last summer was the turning point in her development. Frazier focused on improving her footwork and backhand. The work she put in paid off nicely when she competed in challenge matches against her teammates.
Coach Kenny Smith of Glenn is elated about Frazier's progress. Smith appreciates how Frazier handled the transition to becoming Glenn's No. 1.
"When Hannah came back from the summer, it didn't take long to see that her all-around game was much improved," Smith said. "But being No. 1 wasn't expected, so I don't think she was prepared for that.
"Hannah did as well as anyone could expect. In every match, she faced highly-skilled opponents who have a lot more experience. Some people, if placed in that same situation, would give up and quit trying. Hannah never did that. She improved every time she stepped on the court."
The intense competition at No. 1 was immediately noticeable. The pace of the game is faster, and you need more agility to return shots and keep rallies going. There's also the mental aspect of the game that's equally important.
"It really helps to study your opponent's style of play," Frazier said. "It's to your advantage to understand how they like to attack.
"This year, I learned some things about myself. If I just continue to apply what I know, then I will continue to improve. As long as I don't psyche myself out and get into my own head, I'm OK. It's all a matter of going out and doing my best."
After graduation, Frazier plans to enroll in the Culinary Arts program at Forsyth Tech. Frazier has served as a caterer for graduation parties, wedding receptions, birthday parties and focus groups for local businesses.
Three questions for Frazier
Q: Who's had the most influence in your life?
Answer: James and April Frazier (parents)
Q: If you could live anywhere in the world, where would it be?
Answer: Pawleys Island (S.C.)
Q: Who's the best teacher you've had?
Answer: Ms. Hefner/Chemistry (Glenn)
—Craig T. Greenlee
Focus on: Kendall Wade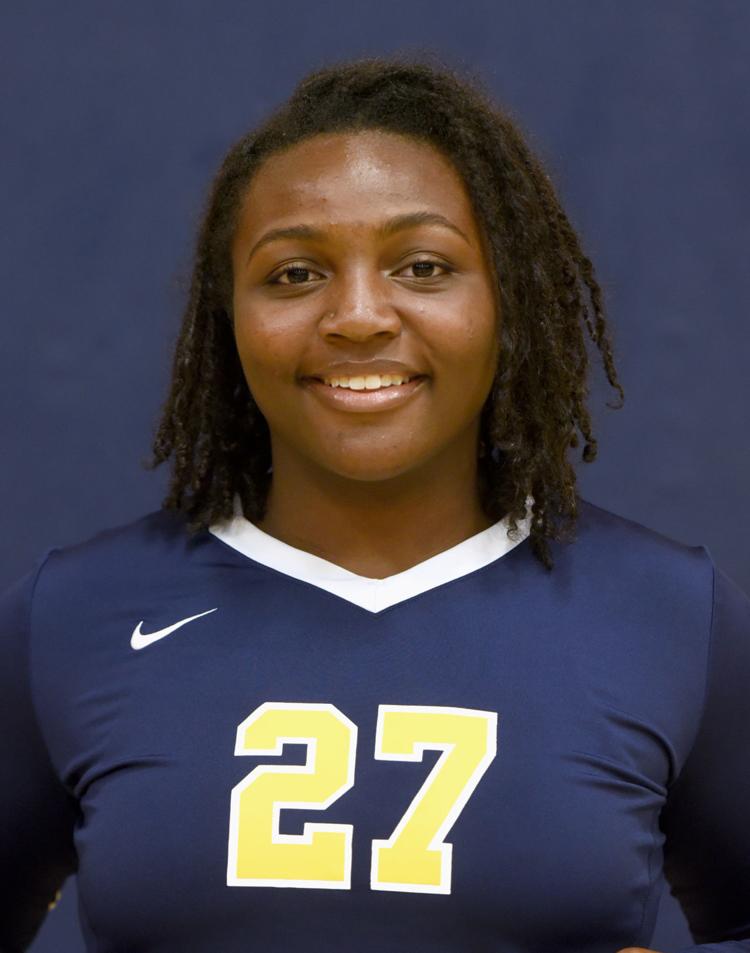 The realization that Kendall Wade's volleyball career at Mount Tabor was over hit her like a well-timed block at the net after an attempted spike.
The Spartans' season ended with a 3-2 loss against Western Guilford two weeks ago, falling short of a NCHSAA Class 3-A state tournament bid. In Wade's eyes, to make matters worse, the deciding point in the match came after her error.
"I think it hit me that this would be the last time I would get to stand in this space with these girls, doing what I love to do," said Wade, a senior middle-hitter for the Spartans. "Having all that sink in at once, I was no OK with any of it. I was heartbroken. This was a group I grew up with, worked so hard with, saw just about every Saturday morning with no makeup, or not in our best moments when you are really vulnerable, like when your knee pads smell really terrible and you may be at your worst. But you feel like you are at your best because you are around the people you love. And I was upset because I realized it was over."
Volleyball has been Wade's passion since seventh grade, when she was cut from the school team at Clemmons Middle and decided she would try out for a club team.
"Something about the game was so fulfilling to me," Wade said. "Even after I got cut, I used that to fuel me to learn more and play more. Volleyball was very exciting for me. I felt something with volleyball that I hadn't felt with gymnastics, or softball, or basketball."
Wade made Set Point Volleyball's club team in seventh grade and went on the make the team at Clemmons middle as an eighth-grader. Another season of club volleyball before her freshman year at Mount Tabor, as well as attending summer workouts with Coach Robyn Wesselman, gave Wade some confidence heading into the first day of tryouts — but not quite enough.
"I was petrified," said Wade, who played two seasons on the JV team before making varsity as a junior. "We had to do these simulated runs around the gym, and I felt sure that I was going to throw up and then pass out. Not because of what I had eaten, and not because I wasn't in shape. But because I was terrified because I wanted it so bad."
Wade has a 4.04 GPA and was inducted into the National Honor Society. She hopes to attend Appalachian State, East Carolina or UNC Greensboro to study environmental science or environmental humanities.
—Marc Pruitt
Focus on: Daja'onna Ortiz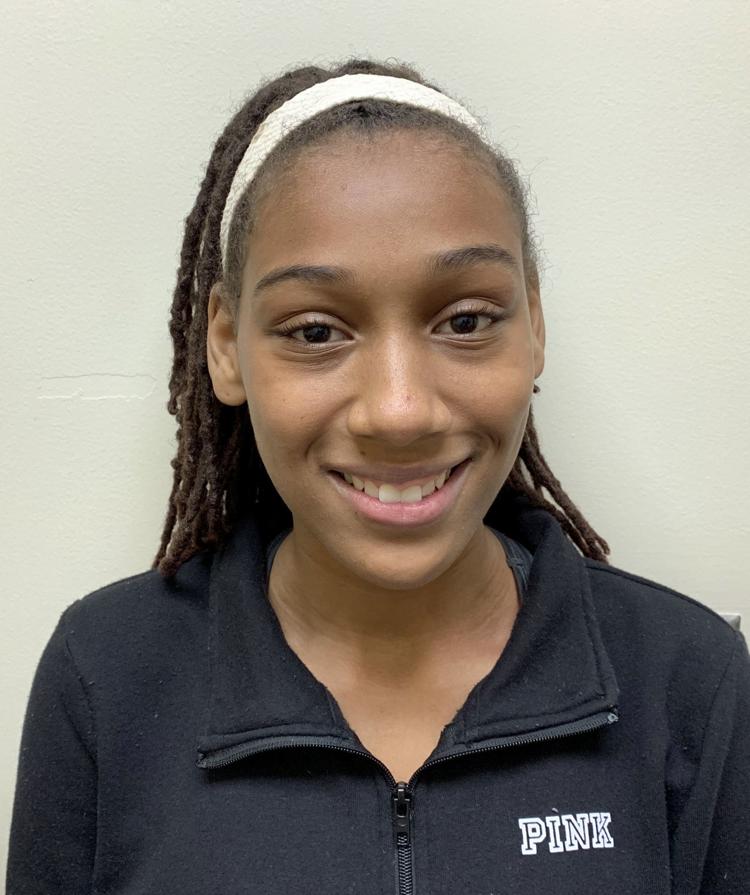 Daja'onna Ortiz found herself in a stressful situation this fall. She was the only freshman on the Winston-Salem Prep volleyball team.
"There was a lot of pressure," Ortiz said. "If you make a mistake there was pressure to it because you could feel the team's vibe like, 'Oh no, she missed it.'
"But they can usually see my face and know I'm not happy about it. We'll come together in the middle of the court, and they will pick me up instead of pulling me down. My teammates always had my back."
The family atmosphere is one thing she enjoys about volleyball, particularly since she has two sisters who also play.
"The atmosphere is like a family," Ortiz said. "Sometimes a family argues, but at the end we just come together and try to win games."
Ortiz said her first experience with volleyball came in the sixth grade when she went to school in Atlanta, Texas.
"I began in the sixth grade which actually prepared me to play in the seventh grade in Atlanta, Texas," she said. "I didn't play my eighth-grade year here at Prep because we didn't have enough players for a team."
Committing errors this season wasn't something that deterred Ortiz from her drive to improve.
"Messing up constantly was discouraging," she said. "I am using my mistakes to make myself better."
She began the season playing on the back row.
"I started out playing on the back row but as the season went on, I played all around," Ortiz said. "I did pretty good. Back row is my favorite because I'm very good at passing."
Hitting and blocking are two areas Ortiz said can use improvement. She's using one of her teammates as inspiration for blocking.
"I'm 5-3 and one of the seniors is shorter than me," she said. "She can get up there and block. If she can get up there, I can get up there. That's a lot of motivation for practice and hard work."
Ortiz said she's improved a lot since the season began.
"Coach (Brittany McLeod) tells me what I need to fix in order to be better," she said. "My sisters will tell me to straighten my feet and get under the ball.
"They fuss at me all the time. I say, 'Ok, I get it.' They keep nagging at me all the time. I just ignore it."
She said McLeod's practices can be tough.
"Sometimes they are hard," Ortiz said. "It's a lot of running and agilities. I'm exhausted."
—Ken Winfrey