SportsXtra: This week's featured high school athletes, November 29
Wolf in sheep's clothing: K.J. Greer of Walkertown may be small in stature, but he's proven to be invaluable in football and basketball
walkertown
Sweet but sour. That's the essence of K.J. Greer's last hurrah for high school football.
Here's the sweet.
As a game-breaking wide receiver at Walkertown, Greer, a senior, sealed his reputation as arguably the best at his craft in the Western Piedmont Athletic 2-A conference. Aside from being named All-Conference for the second year in a row, he was an instrumental piece in a memorable season.
In 2019, Walkertown emerged as a Cinderella story. The Wolfpack went 8-3 to post its best regular-season finish in school history. It was a far different outcome from the two previous seasons in which the program had only four wins.
Here's the sour.
Despite the dramatic turnaround, Walkertown didn't make the NCHSAA Class 2-A state playoffs. Greer learned about his team's fate in a group chat on the internet with Rodney McKoy, the Wolfpack's first-year head coach.
"I was sad, confused and shocked when I heard that we wouldn't be going. What's so difficult to understand is how Forbush got in," Greer said, referring to a conference rival.
"We had a better overall record, and we beat them (29-7) during the regular season. Our team did some great things. But this football season didn't turn out the way I expected," he said.
Over the past two seasons, Greer did not put up mind-boggling numbers. But that's because Walkertown ran the ball nearly 80% of the time. Whenever the Wolfpack threw the ball in Greer's direction, he made every opportunity count.
In 22 games, he had 32 receptions for 846 yards and 13 touchdowns. During that stretch, he averaged 26.4 yards per catch.
"I feel like I can be counted to make big plays as a receiver and kick returner," Greer said. "Plus, I've gotten a lot better at running pass routes. But there's still room for improvement when it comes to how well I sell what I'm going to do once the ball is snapped.
"My dad (Leonard Greer) says he can always tell if I'm going to get the ball by the way I come off the line of scrimmage. So, that's something that I'm always working on."
Looking back on Walkertown's season, Greer said believes that for him, the turning point came when the team met with McKoy for the first time after he was hired. The new coach made a solemn promise that he would work everyone hard to the point that some players might quit.
"Coach told us that he didn't see us winning many games," said Greer, who is also a point guard on the Wolfpack's basketball team. "That made me work harder in the weight room, in practices and games. When we started winning, everybody got more serious. As a team, we changed and became the new Walkertown."
At 5-foot-10, 164 pounds, Greer is not an imposing physical presence. When you watch him on video, he doesn't appear to have blinding speed. Yet, he's fast enough and has a knack for getting open.
"K.J. is tough, athletic and has great hands," McKoy said. "But it's his acceleration speed that makes him special. It's as good as I've ever seen. If he decides to get past a defender, he'll do it. I've never timed him in the 40-yard dash, but I'd say that he's a legitimate 4.5 (seconds)."
At this point in the year, Greer hasn't attracted overwhelming interest from college scouts. McKoy, however, doesn't see that as an issue.
"K.J. has what it takes to be a college receiver," he said. "You can get 100 offers, but you can only choose one. All he needs is for one school to give him a chance. Whoever signs him will have a diamond in the rough."
There wasn't much time for Greer to lament about being a no-show for postseason football. That's because the basketball portion of his prep athletics career tipped off Tuesday when Walkertown opened its season with a home game against Winston-Salem Christian Academy.
Last season, Greer started in the same backcourt with Jalen Cone, the heavily recruited prospect who reclassified and graduated from high school early. Cone, who won the Winston-Salem Journal's Frank Spencer Award as the top boys basketball player in Northwest North Carolina, is now playing for Virginia Tech as a freshman.
Cone was the primary scorer last season at 25.7 points per game. Now that he's gone, the Wolfpack won't have to rely on one player to shoulder the scoring load. Greer is expected to expand his role.
"K.J. gives us so much energy," said Kevin Thompson, the boys basketball coach at Walkertown. "So I try to keep him on the floor as much as I can.
"Earlier in his career, he relied solely on his speed to score. But now he understands how he can get his points. K.J. can easily average 12 points, five assists and two steals a game this season."
Greer said he looks forward to taking charge as the floor general for the new-look Wolfpack. He views himself as a ball distributor who plays intense defense.
"This season, we're going to be more balanced offensively," he said. "We're going to get more people involved, which means that everybody will get more scoring opportunities."
Focus on: Ty Lyles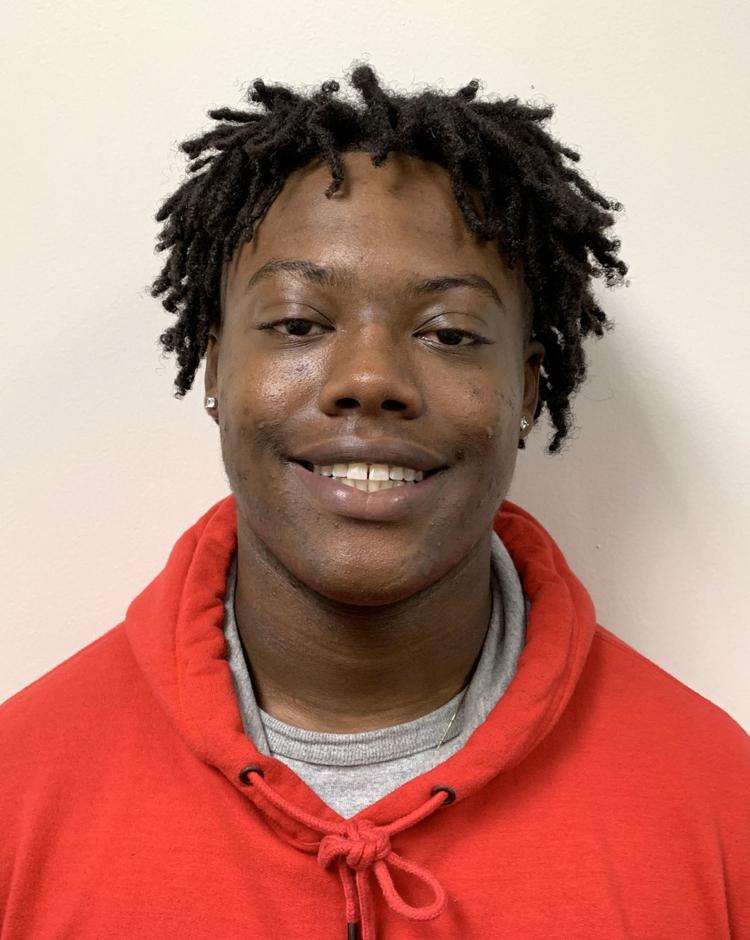 Ty Lyles is not one who dwells on past achievements, but the junior quarterback from East Forsyth fully understands that those achievements have put a target on the football team.
"I don't really look at last season," Lyles said of winning last year's NCHSAA Class 4-A state championship. "The past doesn't matter anymore. It's a new season."
Still, winning that state championship has every school circling its game with the Eagles on its schedule.
"We're definitely a target as a whole," Lyles said. "Everyone has given us their best game."
As the quarterback, Lyles is the center of attention on every offensive play.
"Quarterback is my favorite," he said. "It's just different from everybody else. I get to go way more."
He has played the position since he was 6 years old.
He said IQ is his biggest strength.
"I have to make quick decisions," Lyles said. "I have to be smart."
He said he tries not to overthink situations.
"You can't be thinking too much or have too much going through your head at one time," he said. "I'm not going to freak out. I have to be calm."
Being an outstanding quarterback requires more than physical skills, Lyles said.
"You have to watch film," he said. "You have to really pay attention to the small details.
"You have to know everything on the plays we run. You have to go to Plan B if things don't work out," he said.
"I'm always scanning the field. I'm looking for the outside linebackers because that will determine what I do.
"Coach calls the plays, but I can change depending on what the defense is doing."
His physical size is also a plus. Lyles is 6-foot-2 and weighs 215 pounds.
"I am hard to tackle," he said and can be a challenge to opposing defenses.
That makes him a dual threat to run or pass the ball.
"I would consider myself a dual threat − to run, hand off or pass the ball," Lyles said. "My favorite is passing."
Lyles said his main goal this season is to surpass the 2,600 yards of total offense he had last year.
"I definitely want to beat my numbers from last year," he said. "I think I can do it."
Lyles said he approached last year's state-championship game as if it was just another game on the schedule.
"It was just business. I didn't think about being state champions until after the game," he said.
"But then I was up all night thinking about it."
—Ken Winfrey
Focus on: Helen Watson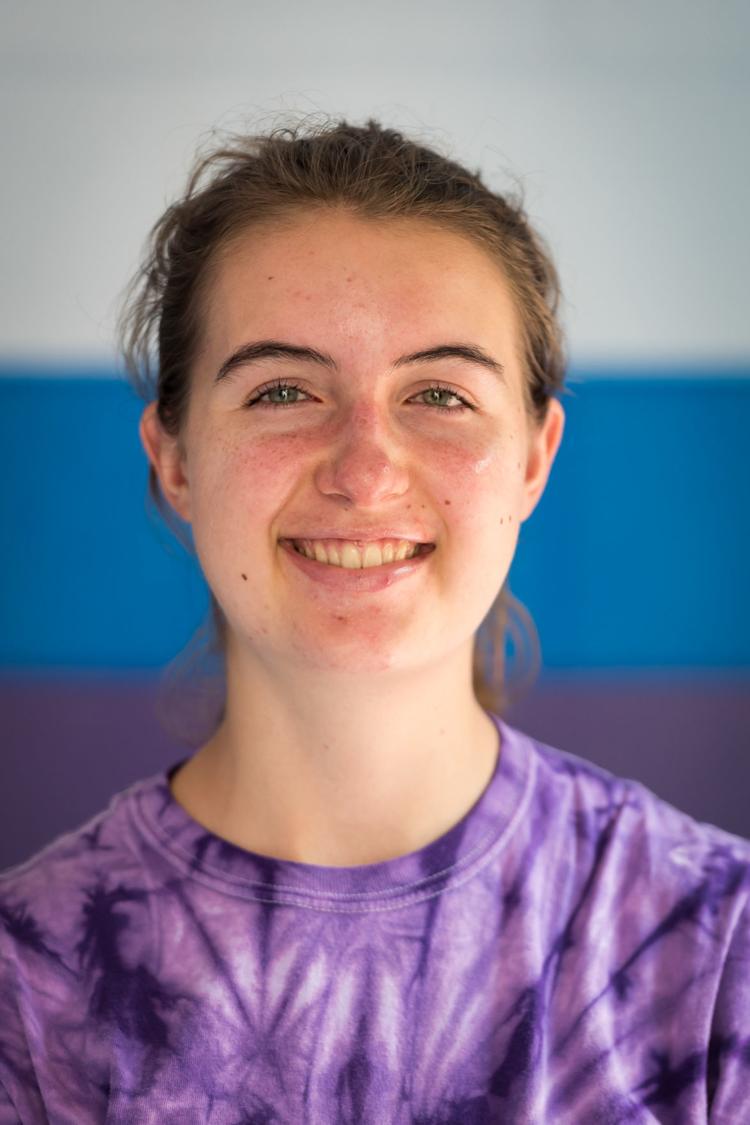 Is there a cross-country runner anywhere who showed as much improvement from the start to the finish of this past season as Helen Watson of Salem Academy?
Well, it would be tough to have the slowest qualifying time on the team in a time trial, then get turned around and not run the entire course at her first meet — and then turn in the second-fastest time on the team in the NCISAA state-championship meet.
But that's what Watson, a 16-year-old junior from High Point whose family moved to Winston-Salem this year, did in her first try at competitive running.
"I have always enjoyed running, especially with my family," she said. "My dad is a big runner; he runs a couple of miles every day. My parents tried to get me into it, and I can run around my neighborhood. We ran some (5K) road races, and I enjoyed that.
"So I started running cross-country this year. It was a little tough in the preseason because I hadn't done a lot of running this summer. It gradually got easier, and I really enjoyed getting out and having a stress reliever to end my day.
"I love running outside, but I wasn't at all familiar with the sport, running on a team. Competition was new to me, but I got used to it very quickly. My teammates helped me and gave me a lot of advice."
Next fall, Watson will be the one giving advice. At least her coach, Krissy Klos, hopes she's giving advice.
"I told her she'd better come back and be ready to lead some people," Klos said. "We had five girls on the team: three seniors, a German exchange student and Helen. So she'll be the only one back next fall, and she will have to lead."
Watson was literally led astray in the season's first meet, but the Sabers were unfamiliar with the course, which involved what she described as several loops. According to Klos, Watson ran the first loop, but when she was at the point of making the loop again, she instead hung on to a group of girls who were running toward the front of the field and followed them to the finish line.
"She is a shy, quiet person, and she gained confidence with every run," Klos said. "In practice, she realized she could keep up with the other girls. In the team time trials before the season, she had the slowest mile-run, but in the last meet, at states, we had one girl missing and Helen had our second-fastest time."
—Dan Kibler
Focus on: Aryonna Rice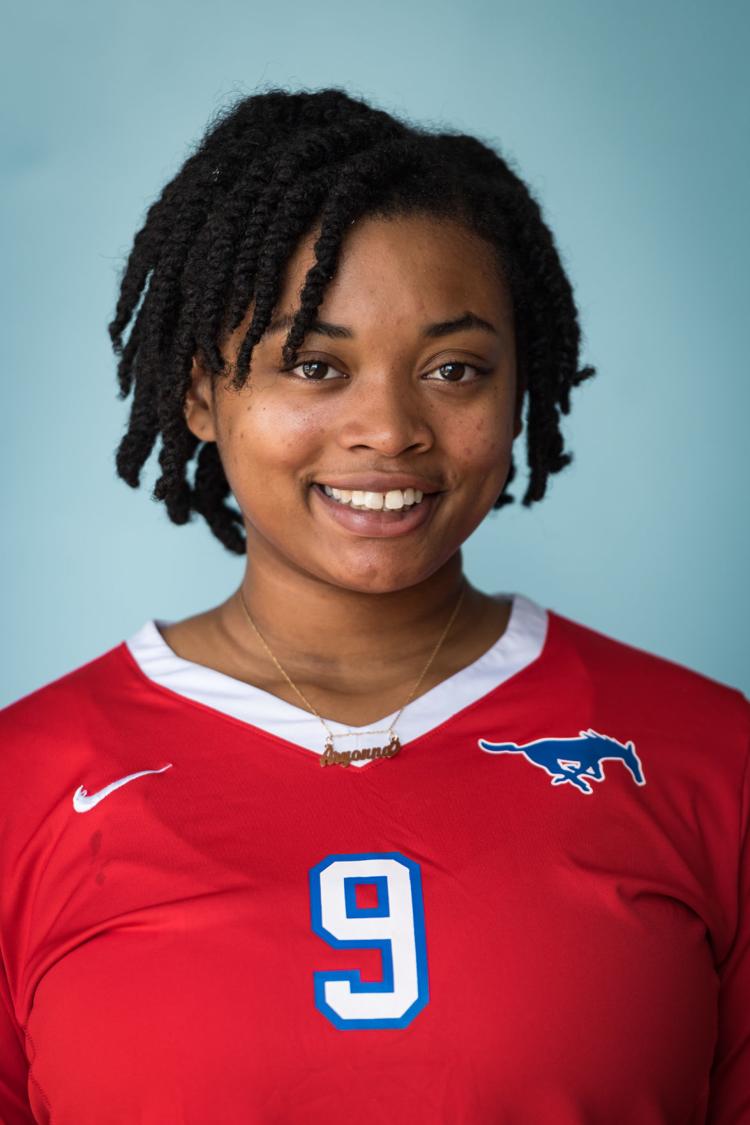 Record-wise, Parkland's volleyball team did not have a winning season. Even so, at 11-14 it was a still a momentous year.
As things turned out, it was the highest win total for the Mustangs in 12 years.
Looking back on this season, Aryonna Rice, a senior outside hitter, feels that two matches gave an indication that Parkland would fare better than it had in recent seasons. In Rice's first three years on the varsity, the Mustangs had a woeful winning percentage of .115 (8-61 record).
"I got a strong feeling that we would do a lot better this season when we won against Lexington in a home match," Rice said. "All during my time at Parkland, we had never beat them.
"Later in the year, we played Western Guilford and actually won a set. That had never happened before. Western Guilford is always one of the top teams in our conference (Piedmont Triad 3-A)."
The seeds for the Mustangs turnaround were sewn during summer workouts. Rice couldn't help but notice that a change for the better was taking place in the skill set and mental outlook of her teammates.
It didn't take long for Rice to get confirmation about Parkland significantly raising its level of play. The Mustangs raised some eyebrows when they won their first six matches of the season.
"Everything went so much better this year because of our team chemistry," said Rice, who's enrolled in Parkland's International Baccalaureate program and has a 4.54 weighted GPA. "There was so much positivity on the court. When that happens, you play better.
"That's the reason we had a lot more success. That's why my senior year playing volleyball was so enjoyable. It was truly a fun season."
That hasn't always been the case. Rice remembers how different things were in previous seasons.
"You never really knew how your teammates might react when you made a mistake," she said. "You couldn't help but wonder if everybody was going to be down on you. It was like walking on eggshells.
"This year, it wasn't like that at all. We learned how to keep encouraging one another. We learned how to play through our mistakes and keep competing."
Three questions for Rice
Q: What fields of study do you want to pursue in college?
Answer: International Business (major); Computer Science or Economics (minor)
Q: What three famous people would you invite to dinner?
Answer: Angela Davis, Huey Newton and Shirley Chisholm
Q: Who's had the most influence in your life?
Answer: Lonnie Rice and Katina Boyd (parents)
—Craig T. Greenlee
Focus on: Kennedy Hairston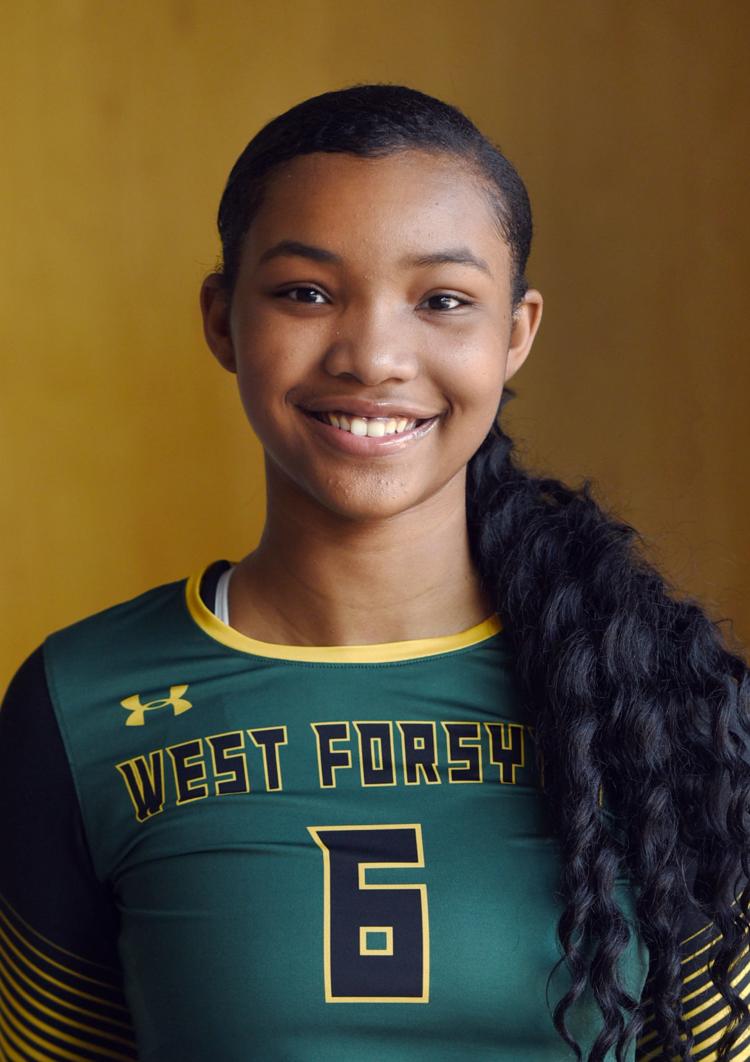 Kennedy Hairston is looking forward to getting her driver's license in January.
For most 16-year-old high-school juniors, that might be the highlight of their years, but for Hairston, maybe not so much. All she's done in 2019 is lead West Forsyth's volleyball team deep into the NCHSAA Class 4-A playoffs, during which she verbally committed to play college volleyball for Alabama-Birmingham.
A 6-foot-1 middle hitter and blocker for the Titans, Hairston went from a sophomore season when she was just trying to get on solid footing on the court to a dominating force on both offense and defense.
"Kennedy is someone who came into her own this year," said Lauren Gillon, the Titans' coach. "She has everything you want in there: speed blocking, attacking, leadership. She was the biggest part of our blocking and offense; she assumed that role.
"One of the biggest differences between her sophomore and junior years was speed. The biggest difference between junior varsity and varsity (volleyball) is the speed of the game, and last year, she was adjusting to that difference in speed."
Hairston began playing volleyball in the fifth grade at the YMCA. It was love at first sight.
"After the second practice, I said, 'Mom, I like this sport,' I was trying a lot of sports then," she said. "I knew the basics; I knew if you were tall, that was good. My mom said volleyball and basketball were two sports I needed to try because height is such an advantage.
"I like the adrenaline and the team concept in volleyball," he said. "I like team sports; I don't like individual sports. I like everybody pulling in together."
Eventually, Hairston began playing club volleyball for the Piedmont Volleyball Club. She was playing for PVC in a national AAU tournament in Florida last spring when coaches from Alabama-Birmingham noticed her.
"I didn't even know they were looking at me," she said. "I got a text as I was leaving the tournament, that they wanted to talk to me. We set up a call; the coach seemed nice, I made an official visit, and I fell in love with the school and the girls on the team."
She verbally committed to the Blazers in October, in the middle of West Forsyth's drive to a 24-5 record and the Central Piedmont 4-A championship.
"There was definitely big improvement between my sophomore and junior years," Hairston said. "We got a new setter, Brenna Weyant, and she and I clicked. She knew where I wanted the ball. And I got faster with my movements and got a better understanding of the game."
—Dan Kibler
Focus on: Caleb Markland
Offensive tackle Caleb Markland consistently delivered as one of the bright spots on Glenn's football team this season.
As the only returning starter on the offensive line for the Bobcats, the 6-foot-1, 260-pound senior sets the standard for others with his savvy and exuberance. Markland's presence is one of the reasons why the Bobcats' offense has performed above expectations.
"Caleb loves the game," Coach Antwon Stevenson of Glenn said. "He has a passion that shows, and it rubs off on his teammates. Whether it's practice or Friday nights, he puts it all on the line every time.
"His development as a player surprised me. Compared to where he was at the start of his career, he's much better than I ever thought he'd be. Caleb leads by example on and off the field. There's no denying that he has taken full advantage of his opportunities."
Entering this season, Markland knew that he would have to step up as a mentor to several newcomers on the offensive line. It was a challenge that he welcomed with open arms.
"With me being the only senior (offensive lineman), there was a lot of teaching for me to do," said Markland, a college prospect who's attracted interest from Western Carolina and Wingate. "Younger players don't have very much game experience. So, it takes them a little longer to pick up on things like technique and footwork that will help them to perform at a higher level."
Markland openly admits that the Bobcats have played with a huge chip on their shoulders this season. They were not viewed as contenders in the Central Piedmont 4-A. Markland remembers the predictions made during the preseason that it would be a dismal season for his team.
Instead, Glenn finished the regular season in a three-way tie for second with East Forsyth and Davie County. The Bobcats also played host to one game in the state playoffs.
"Yeah, we heard about how it was predicted that we would not win any conference games," he said. "We thought that was crazy, because we knew we had to do to get the job done.
"When we played West Forsyth for the conference championship, it only proved to everybody what we already knew. Our team is much better than anybody ever expected."
Three questions for Markland
Q: What career would you like to pursue?
Answer: Athletics Trainer
Q: Who's had the most influence in your life?
Answer: Chuck and Jenifer Markland (parents); Barbara Stevens (grandmother)
Q: Where would you go on your dream vacation?
Answer: Alaska
Focus on: Jared Davis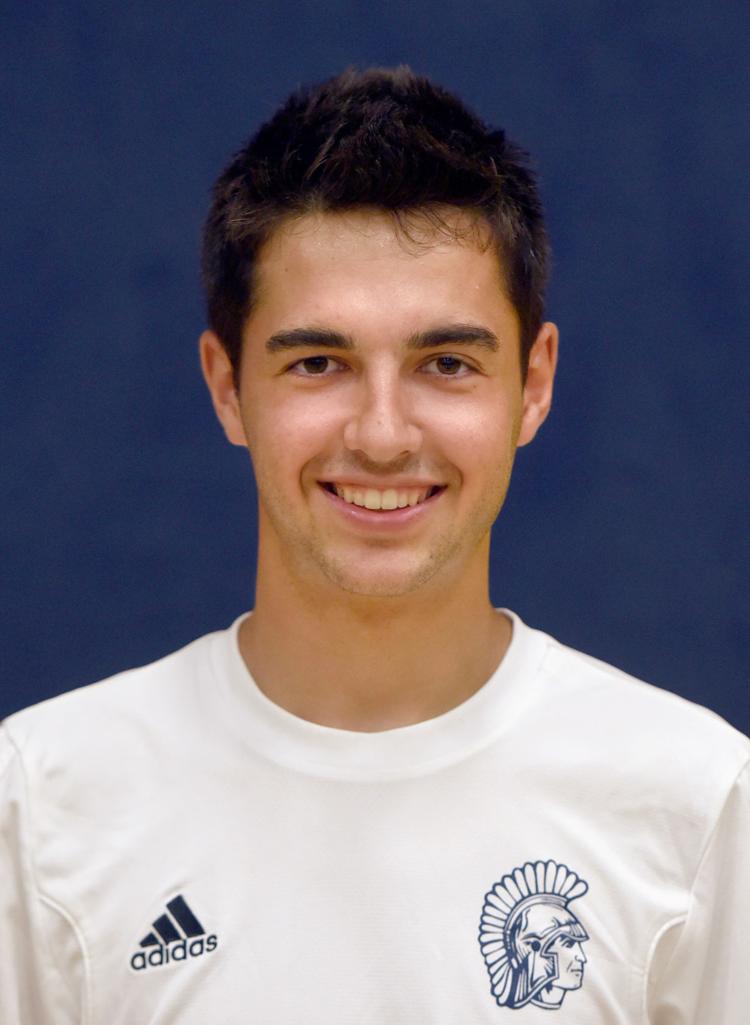 Jared Davis was a four-year starter for the Mount Tabor soccer team, a three-time all-region selection, a two-time all-state selection, and finished his career with 56 goals, 38 assists, and 95 career games played out of a possible 96.
The one he missed?
Well, it wasn't because of an injury or illness or an emergency trip out of town.
Davis did double duty for the Spartans last year on the soccer field and as a member of the drumline in the marching band.
"I was performing at halftime at one of the football games," Davis said. "Playing in the drumline was something that looked really interesting to me when I was going to the football games as a freshman and sophomore and sitting in the stands and watching what they did. I kind of thought to myself at the time, 'Well, if I wasn't playing soccer, that's what I'd like to be doing.'"
So, he did.
A few members of the band were in his band class when he was a sophomore and talked him into joining the group for his junior year.
"I was in awe of them and they taught me how to do everything," Davis said. "It was tough to juggle soccer and marching band, but it was fun. I did it for one year and that was good enough for me. I enjoyed my experience and that was good enough for me. I wanted to focus on soccer my senior year."
Davis has played soccer for 12 years and also spent four years as part of the N.C. Fusion Club team.
Because soccer has been such a constant in his life, it was a tough pill to swallow when Mount Tabor lost to Charlotte Catholic in the third round of the NCHSAA Class 3-A state tournament two weeks ago.
"I recently made the decision to not play soccer in college," said Davis, who is also in National Honor Society. "I might play club in school. As far as my overall experience, I couldn't have asked for anything more."
Three questions for Davis
Q: What's the best book you've read"
Answer: "Percy Jackson" series by Rick Riordan
Q: Who's the best teacher you've had?
Answer: Mr. Mike Kneisel (History)
Q: Who's your favorite superhero?
Answer: Spiderman
—Marc Pruitt
Focus on: Jovan Turner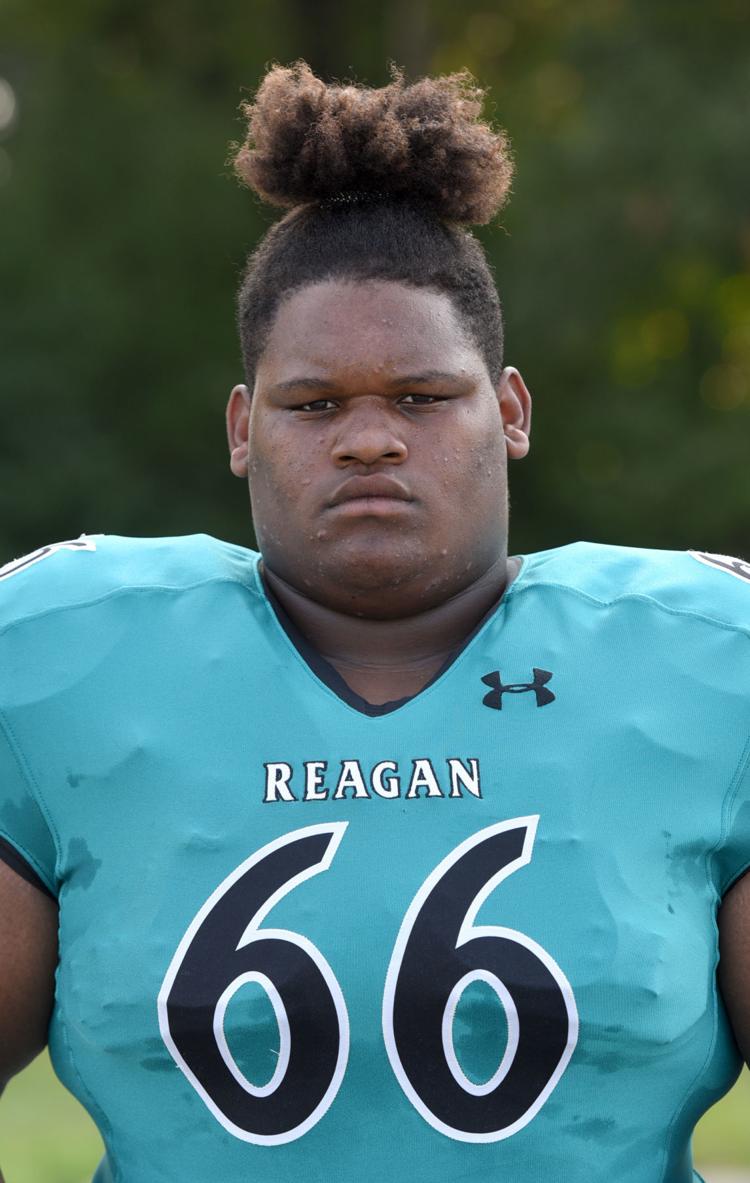 Offensive lineman Javon Turner of Reagan has had a splendid football career. A year ago, he was an All-Central Piedmont 4-A pick.
This season, he's a key reason why the Raiders averaged 35.6 points and 338.3 total yards per game.
"My time at Reagan has been amazing," Turner said. "With a lot of help from the coaches, I've done very well. It's gone much better than I ever thought it would."
As a freshman, Turner played a full JV season and then moved up to the varsity. He got his first varsity start in the regular-season finale against Reynolds. Before the game started, Luke Hall, a team captain and the Raiders best offensive lineman, gave Turner some advice that still resonates deeply in his psyche.
"I had lots of butterflies, I was so nervous," Turner said. "Luke told me to take it slow, do my job, and I would be fine, and he was right. I played well and we won the game (28-13). That was my most memorable moment in my career."
Turner, a 6-foot, 325-pound senior, has emerged as a fixture at left guard for the Raiders. His size, strength (bench presses 300 pounds) and mobility (runs the 40-yard dash in 5.2 seconds) serve him well in the trenches. Turner is considered a strong candidate to make the all-conference team for the second year in a row.
"There's no question that he's our most productive offensive lineman," Coach Josh McGee of Reagan said. "When Javon pulls, he's looking to do as much damage as possible.
"With his size, strength and athleticism, he's like a force coming at you that we've never had. But aside from him being an unbelievable athlete, people want to be around him. He has that ability to attract people because of his personality."
In Turner's mind, it takes a lot more than brute strength and ferocity to excel on the front line. Technique and footwork are essential.
"Those are the skills that I work on constantly," Turner said. "It's part of becoming a complete player at the position. There's so much more to this than cracking heads. Without good technique and footwork, you become a liability. You end up being the 12th man for the other team."
Three questions for Turner
Q: What career would you like to pursue?
Answer: Minister
Q: What are your hobbies?
Answer: Fishing and playing video games
Q: What's your favorite food?
Answer: Pasta
—Craig T. Greenlee
Focus on: Antwan Springs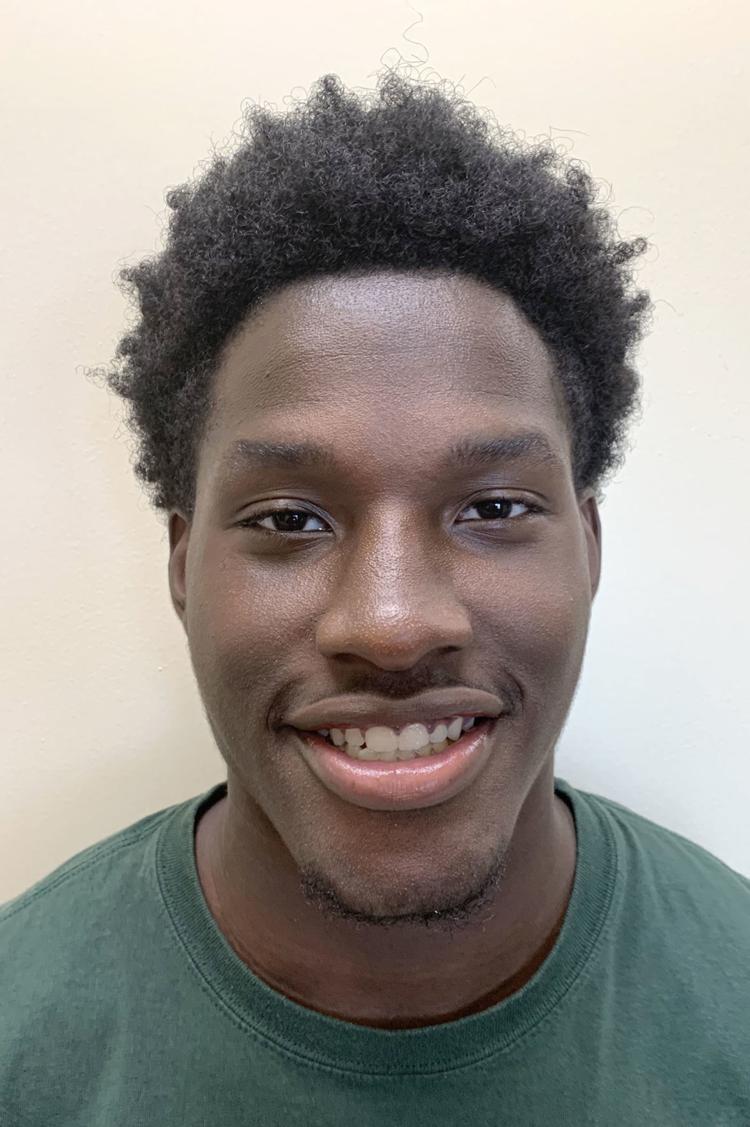 Antwan Springs was looking for a new start. He decided to transfer from North Forsyth to Winston-Salem Prep.
"I was looking for a new path, a new way to get to where I want to be," said junior for the Phoenix. "I don't like losing. At North I got so used to losing and I lost my drive."
Springs said he discussed his decision with Coach Jay Blair at North Forsyth.
"Coach Blair said I needed to be true to who I am," Springs said. "I knew what I wanted going into my 11th-grade year. I knew it was the best way for me to get scouted, to come to Prep to get exposure."
He's one of the key players that helped the Phoenix finish with their best season in school history, advancing to the second round of the NCHSAA Class 1-A state playoffs before losing 64-44 to Murphy.
It didn't take Springs long to re-energize his love for football.
"I wanted to come to Prep to get my drive back," he said. "I wanted to be on a team that depended on a group of people."
Springs settled in as a linebacker and backup running back. He made 86 tackles during the regular season to rank fifth among Class 1-A schools in North Carolina.
"I don't really play that much offense," Springs said. "I only go in when Tre'sean (Stewart) gets tired or when the offense needs help in the backfield with blocking."
Springs has scored two receiving touchdowns.
"It felt super amazing," he said. "It was mind boggling. When I scored we were down. It brought us way back up."
The touchdowns came in a loss to Bartlett-Yancey.
"Everyone put so much hard work into something it was heartbreaking to lose," Springs said. "It brought most of my teammates to tears.
"It made the whole team shift into a mindset that we don't ever want to feel like that again. It just changed the whole drive and put us into nitro."
Springs emphasized his dislike for losing.
"I have a super high drive to not lose," he said. "I have to push through any situation. We could be down 50-0 and I still play my hardest."
Springs said he gains inspiration from his cousin, Ryan Lyles.
"He had a tumor in his brain," he said. "God blessed us because it was benign. He went through college at North Carolina Central. He got into a bad accident and that's when they discovered it.
"He had the capability to adapt to things that happened to him. He has an outstanding work ethic and helped take care of me and my mom."
—Ken Winfrey
Focus on: Jordan McLean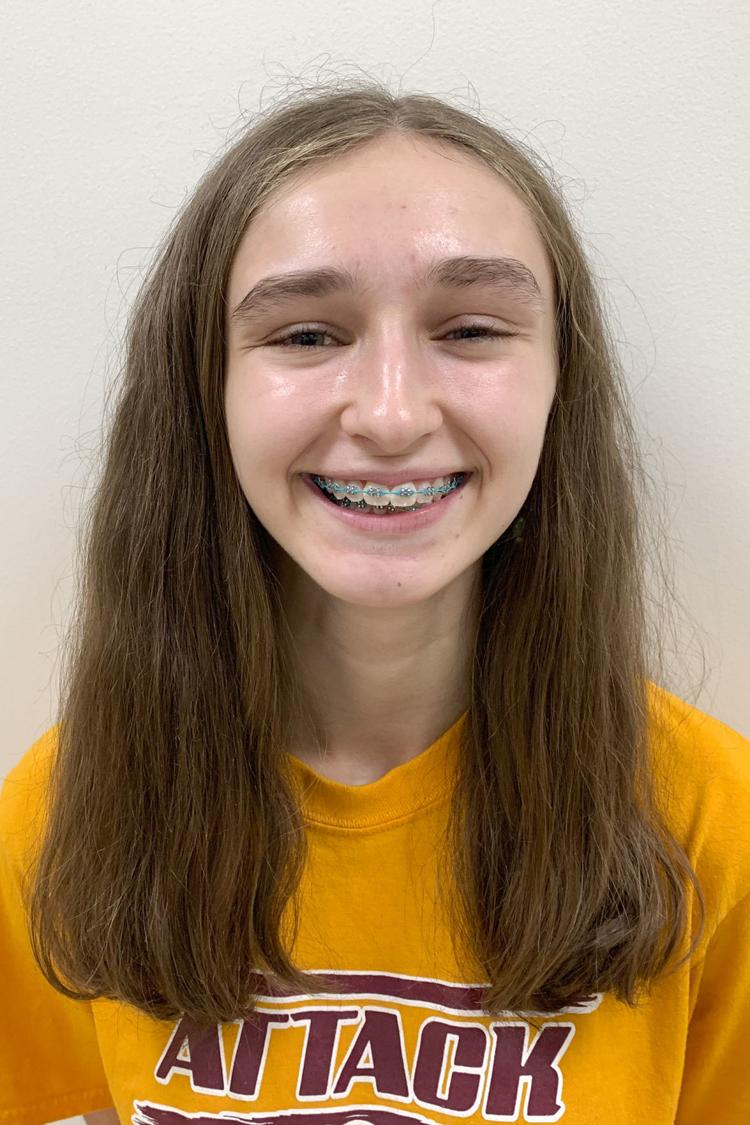 Jordan McLean is tremendously excited about the future of girls cross-country at Atkins.
"We finished tied for second at the conference meet, but they gave us third because of the tiebreaker," said McLean, a junior for the Camels. "We were bummed from that."
With only two seniors on the team, McLean said the team wasn't concerned with how it placed at the state championship.
"The whole team went to states, but we were not worrying about where we finished," she said. "We were just enjoying it and having fun.
"It was the first time ever the Atkins girls team had been there. We finished 16th out of 19 teams."
McLean said the team's goal is to continue improving.
"We just want to move up every year," she said. "We're losing our top runner, but if we all work hard, we can improve a lot. We've been wanting to win conference."
That's the goal and McLean said she believes it can be accomplished next year.
"We've got to keep that goal in mind," she said. "Some of the girls have improved a lot in three years. We can do it."
She said running in the state-championship meet for the first time was a stressful experience.
"None of the girls had ever run before," McLean said. "There were hundreds of girls there. It was nerve-wracking. I didn't get the best sleep the night before the race."
McLean said she's pleased with meeting her personal goal this season.
"I'm getting better every year so there's no need to stop running now," she said. "I had a 49-second PR of 22.19 at the conference. I ran 22.16 at states.
"I wanted to get better by over a minute (from last year) and I actually did do that. I'm fine and happy with that. Next year I want to be somewhere in the low 20s."
McLean began running in the eighth grade at Flat Rock Middle School. Her father, Scott, encouraged her to run.
"My dad ran cross-country in high school at South Stokes," she said. "He was always talking about how much he loved it. I can enjoy it with anyone. I enjoy the scenery. Sometimes if I've had a hard day and come in with a bad mood, I always leave in a good mood."
McLean said running is fun for her.
"You can make it fun even when you're doing it competitively," she said. "You get that adrenaline rush which really makes it fun to run. Sometimes it's hard and it might hurt but you know it's going to pay off."
—Ken Winfrey
Focus on: Aldo Torrez-Garcia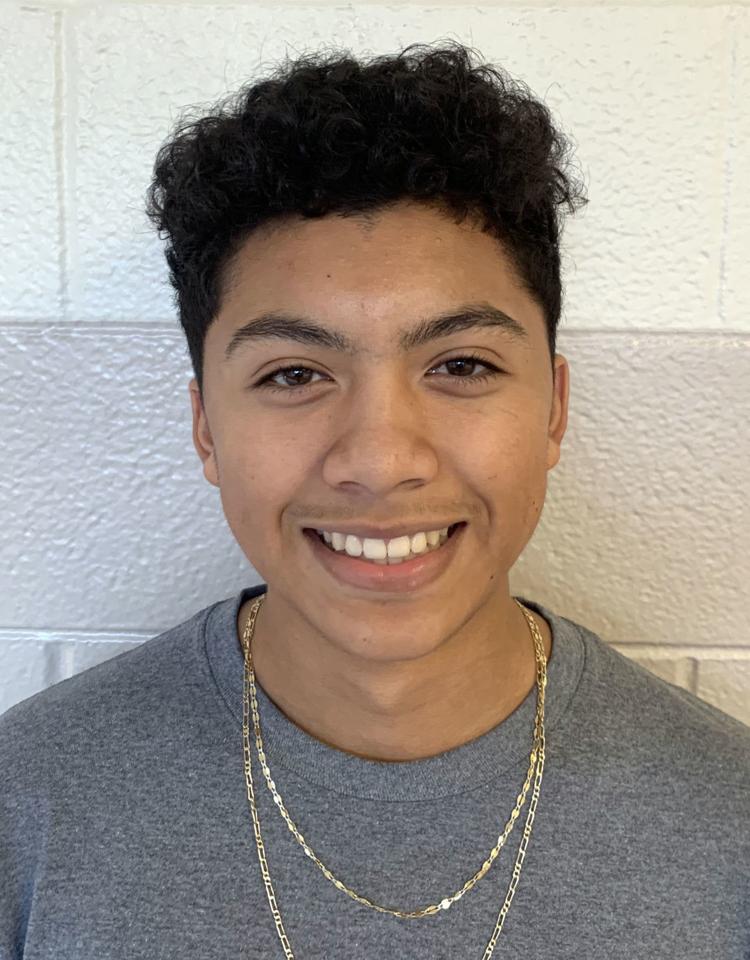 Aldo Torrez-Garcia never dreamed his only year of playing soccer at North Forsyth would result in a Western Piedmont Athletic 2-A conference championship and a trip to the third round of the NCHSAA soccer playoffs before losing to Shelby.
His teammate Axel Sandoval had encouraged the senior for the Vikings to play for four years.
"Axel had been trying to make me play since my freshman year," Torrez-Garcia said. "I decided I would play this year. I'm glad I did because it's been my best year in school."
When asked if he regretted not playing his first three years, Torrez-Garcia's answer was decisive.
"Oh yeah, for sure."
Stepping onto the field for the first time since playing for Triad Elite several years ago was nerve-wracking.
"I was nervous," Torrez-Garcia said. "I was thinking what if I don't play to the level I used to play."
It didn't take long for his soccer form to return.
"Over a period of time I felt like I was doing decent," Torrez-Garcia said. "I played most of the first game when the season started, and everything felt normal again."
Torrez-Garcia played left back for the Vikings.
"My job was to make sure no one gets past me and scores," he said. "I also help the team push up. There's a lot of running on the sidelines, especially when you lose the ball on the top. You've got to run all the way and chase the ball."
He said preseason conditioning was helpful, but long runs on the field could be tiring.
"I went to the gym and did some running outside in parks and cardio before the season," Torrez-Garcia said. "But when I had to chase the ball I could still be out of breath. It took a few minutes to get my energy back up, but I kept playing."
Two matches stand out in his mind.
"The first time we played Surry Central it went a crazy amount of rounds," Torrez-Garcia said. "It went 13 rounds in penalty kicks before we won."
The West Stokes match was played in a rainstorm.
"It had been a while since I played in the rain," Torrez-Garcia said. "It was cold, muddy and wet, but it was fun for sure."
Torrez-Garcia said North Forsyth's is successful partly because the team became a family.
"We talked with each other, joked around with each other," he said. "I liked the teamwork, the friendship. We were like a family. All of our families came to the matches. It was amazing."
—Ken Winfrey
Focus on: Edwin Meza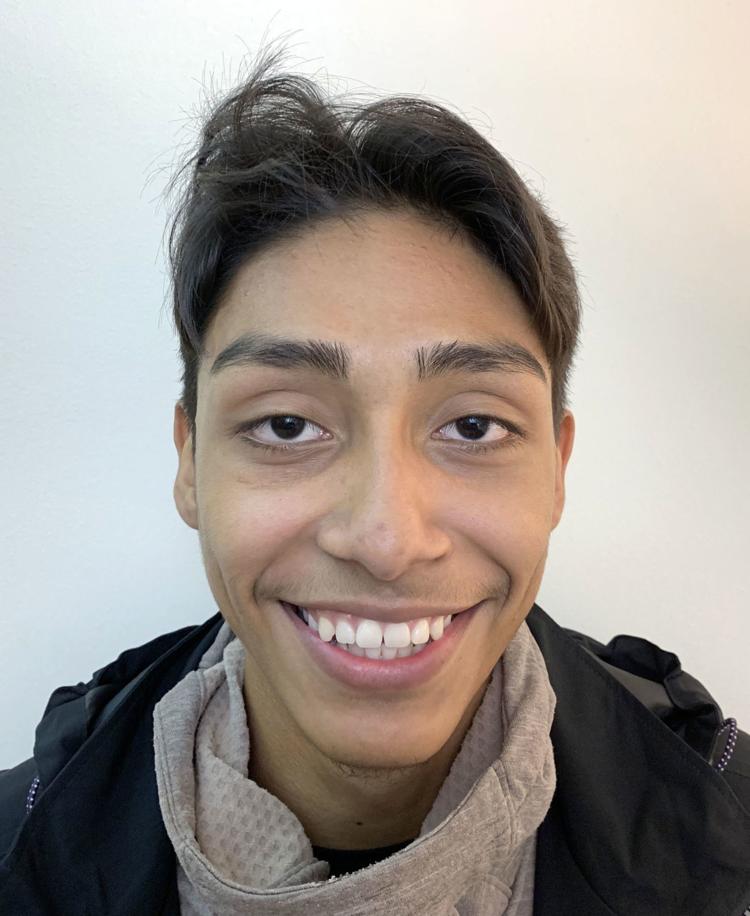 Edwin Meza's first year of playing soccer has been amazing.
His Reynolds team finished undefeated in the Central Piedmont 4-A and played for the NCHSAA Class 4-A state championship last weekend in Cary.
"It's felt amazing," said Meza, a senior for the Demons. "It's felt like I have achieved something in my life. All of the hard work and practicing really worked out."
Meza, who has played for Triad Elite for three years, said playing at Reynolds has been a different experience.
"I play with friends and we play hard," he said. "I'm just enjoying it. I like everything about it."
Meza explained his job description at center attack mid. "I play midfield," he said. "I pass and move the ball around."
He's been a key player in helping the Demons score.
"I have 17 assists and 5 goals," Meza said. "It doesn't matter if I score or get assists. It matters the most that I help my team."
Two of the Demons playoff games have been played challenging weather conditions. The game against Charlotte Providence was played in below-freezing temperatures, and the game against South Mecklenburg was played with winds gusting to 30 miles per hour and a wind chill hovering around 34 degrees.
Preparation is the key to staying warm, according to Meza. "I wear two long sleeves, two pairs of socks and a coat for warm-ups," he said. "Once we started playing, I couldn't breathe because my nose got stopped up. I just kept playing through it."
Playing on the windy Saturday presented its own challenge.
"It was difficult," Meza said. "It would affect the ball. You had to calculate the wind to where the ball moves to."
Meza said playing for Reynolds is tough, but it also presents more opportunities to display his skills.
"There is more pressure and more fans," he said. "It's harder. I was a little bit nervous when I first started, but I can show them what skills I have."
Meza described his strengths and weaknesses. "I am good at taking free kicks, corners kicks and long passing," he said. "I need to work on my short free kicks."
He said Coach Tony Sabio of Reynolds is excellent at motivating the team.
"We were behind in one game," Meza said. "We came back in the second half and scored two goals. Coach motivates us to play the right way. He made us work harder."
Meza said the fan support also motivates the Demons.
"It's good to have all of our fans at the stadium," he said. "It really feels great."
—Ken Winfrey
Focus on: Katie Dasher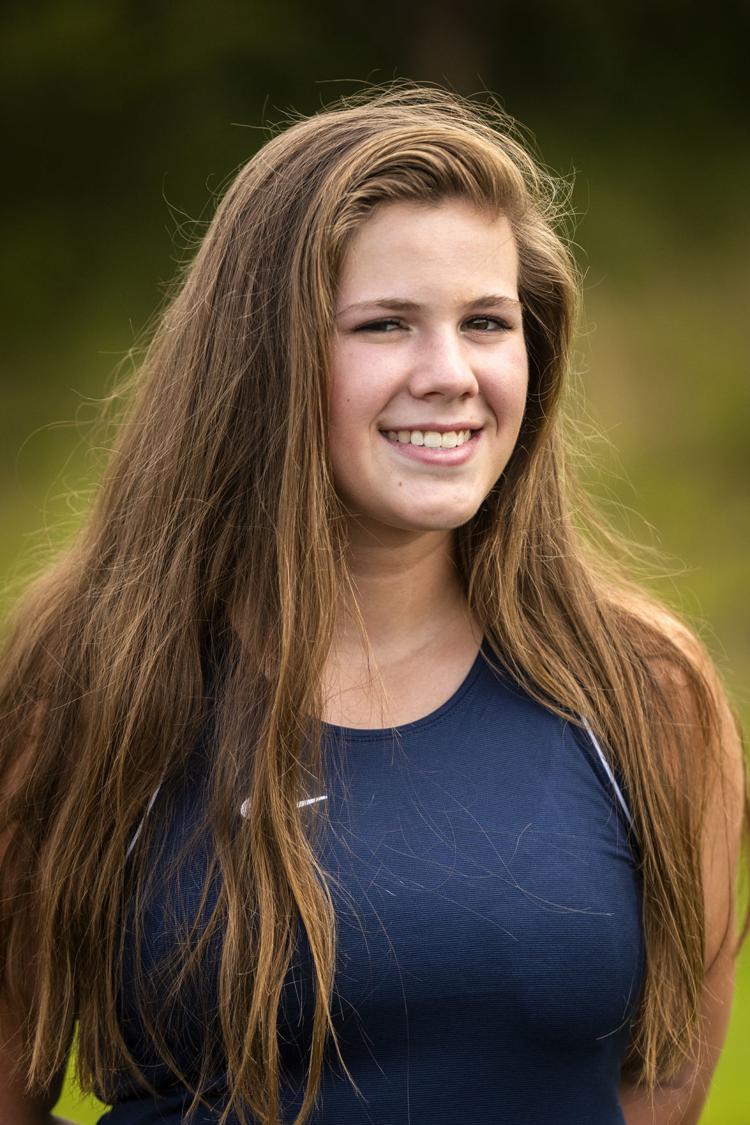 Maybe Katie Dasher surprised herself after winning the Northwest 1-A conference tennis tournament.
Dasher, seeded No. 4, said she was also slightly taken aback that her opponent in the championship match was her Bishop McGuinness teammate, Lourdes Lopez, who was seeded No. 7.
"There were a couple of girls seeded higher than me who had played No. 1 and No. 2 for their teams all year and I didn't think I would get that far," Dasher said.
Dasher, a junior, played No. 3 singles for the Villains most of the season and was 13-0 in that spot. She finished 2-0 playing at No. 2 singles and the only match she lost during the season in also helping the Villains to the team title was during a match at No. 1 singles.
Dasher went on to finish fourth in the regional tournament before losing in the first round of the NCHSAA Class 1-A state tournament to the defending state champion.
All in all, a solid season on the court.
"Getting to the state tournament was a lot of fun because I haven't experienced that before," Dasher said. "I hope I can get back there next year."
This is Dasher's second season playing tennis for McGuinness. She didn't play as a freshman because she had stopped playing the sport for a few years when tryouts rolled around.
"I had been taking a break from tennis for a few years and honestly, I just didn't think about playing in high school," she said. "My sophomore year, a bunch of my friends were playing, and they talked me into coming out. I'm glad I did. I wish I would have played as a freshman."
Dasher has recruited a lot of those same friends into playing lacrosse in the spring.
"They haven't had a team here in a few years and they are bringing it back," said Dasher, who is also involved with Student Ambassadors. "We haven't played a spring sport before and I think it will be a lot of fun."
Three questions for Dasher
Q: What's the best book you've read?
Answer: "Night" by Elie Wiesel
Q: What three people, living or dead, would you like to invite to dinner?
Answer: Serena Williams, Dr. Martin Luther King Jr., Michelle Obama
Q: Do you have any pre-match rituals or superstitions?
Answer: Always loosen my shoestrings and tighten them one by one before I tie them. And I have to wrap my left ankle.
—Marc Pruitt