SportsXtra: This week's featured high school athletes, March 20, 2020
'Special Group' gives Bobcats plenty of bite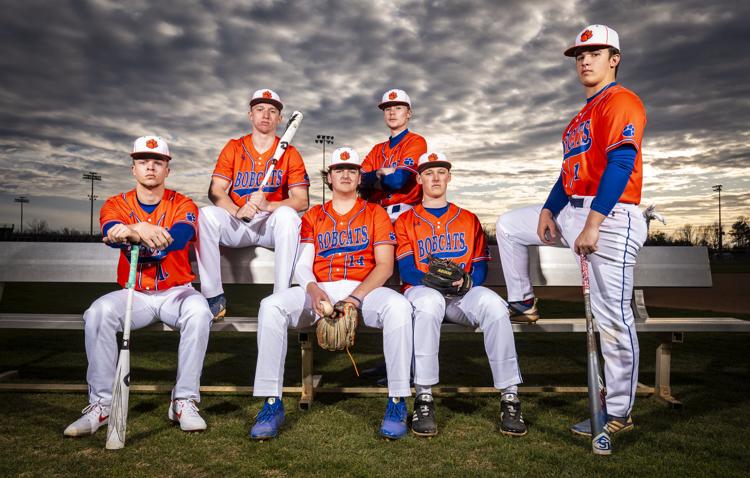 The last time Glenn's baseball team won a conference title, Barack Obama was still in his first term as president.
Fast forward nine years. The Bobcats appear to have the personnel to contend at the conference and state levels. Leading the way are six seniors who will play college baseball next year.
Still, it's up in the air whether the Bobcats will get the chance to chase titles this spring. Last week, the NCHSAA suspended all high school sports in North Carolina until at least April 6 because of the coronavirus outbreak.
"This is a special group that cares for one another. They hold each other accountable," Coach Keith Walker said. "And they do it in a way that doesn't tear the team apart. I would take these six players for four more years, hands down, no questions asked."
Here's a look at "The Senior Six."
Nolan Blake (Guilford Tech)— There's much value in Nolan Blake's versatility. He's a regular at first base, but is equally skilled at third base, on the mound, and behind the plate.
Last season, he went 4-1 as a pitcher, struck out 42 batters and posted a respectable 3.36 ERA. Blake, 6-foot 3, 225 pounds, didn't hit for average, but made it count when he connected. His nine hits resulted in 10 RBIs, which included two home runs.
"The biggest obstacle I've faced is learning how to stay out of my own head," he said. "Last year against Ragsdale, I had a bad day swinging the bat.
"But then I got the chance to pitch in relief. I channeled my frustration and threw faster than I ever had before (87 mph fast ball). By staying on top of things mentally, it led to a dramatic change in my performance ."
Eli Cardwell (Lenoir-Rhyne) — The Bobcats rock when Eli Cardwell gets on base. He's a singles/doubles hitter, who can hit with power and drive in runs (11 RBIs).
Speed is Cardwell's calling card. It's routine for him to reach base on bunt singles and steal bases (14 swipes a year ago). In centerfield, he's as good as they come at tracking down balls hit in the gaps.
Initially, Cardwell committed to Division III Nichols (Mass.) But around mid-February, he changed his mind and committed to Lenoir-Rhyne.
Cardwell has lofty aspirations. In his mind, winning a state championship is not a case of fantasizing.
"All six of us are on a mission to prove that we're one of the top teams in the state," Cardwell said. "There's no added pressure for us to win. It all comes down to our mindset and playing up to our level."
Michael Carico (Davidson) — Two-time All-Central Piedmont Conference catcher led the Bobcats in hitting (.442) and RBIs (22). A discerning eye makes him especially pesky for opposing pitchers.
Carico struck out just seven times last season. He worked opposing pitchers for a team-high 26 walks.
As a catcher, he has few peers. Runners have difficulty stealing bases consistently because of his strong and accurate throws.
Carico faced his most daunting challenge two years ago when he fractured the L5 vertebrae in his lower back during tryouts for the Team USA 16-and-under team.
After the surgery, he faced nine months of exhaustive physical therapy. It took half the season for him to fully regain his form.
"Going through that long rehab, I learned the value of patience," he explained. "I learned how to work while waiting (to recover), and to work when no one is watching. It was a very humbling experience."
Duncan Howard (Presbyterian) — Walker feels that ace pitcher Duncan Howard can be an everyday player in college. But that's probably not Howard's true calling.
Howard, a 6-foot-3 righthander, was recruited strictly as a pitcher. On the mound, he's surgical in his approach. By working both sides of plate, he keeps hitters guessing
A season ago, Howard was an all-conference pick who finished with 66 strikeouts and 24 walks. Additionally, he hit .294 and drove in 13 runs.
Howard has an uncanny ability to mask his emotions. Staying calm under pressure, he explained, is an acquired skill.
"My dad (David Howard) and my coaches always instructed me to keep my emotions inside," Howard said. "That's been ingrained in me since I started pitching at 8 years old.
"I can't afford to dwell on any mistakes I might make, so I take a deep breath and find something or someone in the stands to occupy my mind. That helps to clear my head, so I can concentrate on the task at hand."
Hayden Ridenhour (Queens) — Thanks to his relentless work ethic, Hayden Ridenhour is a college-caliber infielder. Success, however, didn't come overnight.
Initially, Ridenhour played in the outfield, so there was a transition period, which lasted a couple of years. Today, he's a savvy operator around the bag.
As a junior, he had 15 RBIs and scored 18 runs. Aside from that, he's proven himself as an accomplished pitcher (2-0 in 11 appearances with one save and a 1.64 ERA).
Ridenhour, a 5-foot-11 righthander, has an abiding appreciation for his fellow seniors.
"Not many teams have gone through the ups and downs on and off the field like we have," he explained. "When someone needs a shoulder to lean on, you can always count on the others to be there for you. Through it all, we've stuck together."
Tanner Bray (Anderson) — Equipped with quick hands and a strong arm, second-baseman Tanner Bray is a vacuum cleaner (.959 fielding percentage) on the diamond.
At the plate, he's the complete package (.351 batting average, 12 RBIs and 16 stolen bases last season). Bray believes this is the year that Glenn makes a run at a state title.
"We have every single piece it takes to win it all," he said. "There's myself and Michael. All year, we go back-and-forth as the top hitters. Nolan is our spark plug and we feed off his energy.
"Eli excels at hitting the ball to the gaps and stealing bases. Hayden is our grinder. No matter what we're facing, he keeps everybody pushing through. Duncan is even keeled all the time. And that helps the rest of us stay calm and focused."
Focus on: Austin Amos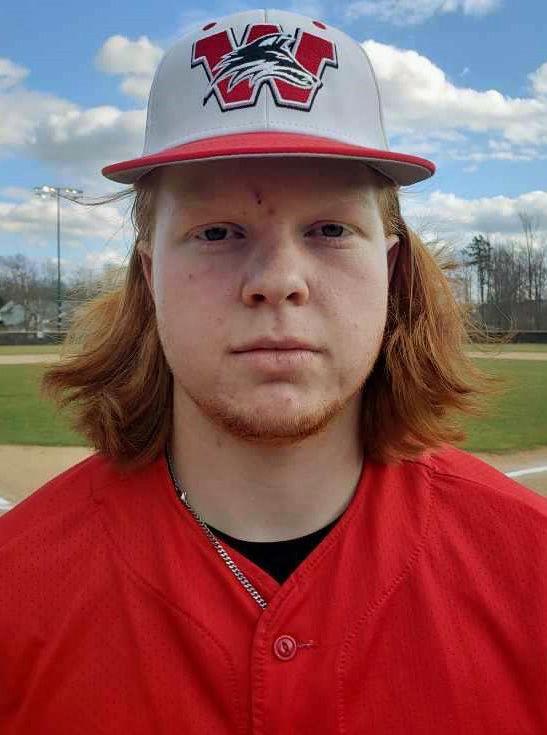 Austin Amos of Walkertown put together an all-star-caliber season in 2019. In his first full campaign of varsity baseball duty, he made the most of his opportunity.
Amos was second on the team in RBIs (23) and slugging percentage (.727); and third in hitting (.485 average) and on-base percentage (.571).
Given his production, it came as no surprise when he was named to the all-conference team in the Western Piedmont 2-A. By season's end, he ranked among the league's top five in four statistical categories and he hit .400 in conference games. Amos does his best work with runners on base.
"The main thing I concentrate on is to not let the pressure get to me," said Amos, a senior and team captain. "I take a deep breath which helps me to slow things down. That's when I'm able to fully understand what I need to do and then get it done."
Mike Lovelace, the first-year coach at Walkertown, has high expectations for Amos, a senior leftfielder. Amos hopes to continue his career at the next level. So far, he's attracted interest from Pfeiffer, Surry Central Community College and Guilford Tech.
"Austin will play a big role in our success," Lovelace said. "Not only does he have a tremendous work ethic, but he leads by example."
Even though Amos had a breakout season, he had some painful lessons to learn. The postseason was bittersweet.
Walkertown suffered a stomach-turning 10-9 loss to Madison County in the first round of the 2-A state playoffs. Entering the bottom of the sixth inning, the Wolfpack led 9-3, but gave up seven runs and lost the game.
In that game, Amos went 2-for-4 at the plate and hit his first home run in a high school game.
"When I homered, it felt like the weight of the world had come off my shoulders," he said. "It was a surreal feeling. But the way things turned out, I learned that the game isn't over until it's over. You have to play every single out."
This season has gone well for the Wolfpack (5-1) in the opening weeks. Amos, who bats third in the lineup, is confident that his team can sustain its current level of success and make an extended run in the playoffs.
"We've had complete success up to now," he said. "But all of us know that there's still a lot of work to be done.
"Putting ourselves in position to compete for a state championship is a realistic goal for this team. We've developed a strong bond among us that I believe will help us achieve what we desire."
Focus on: Reagan Wall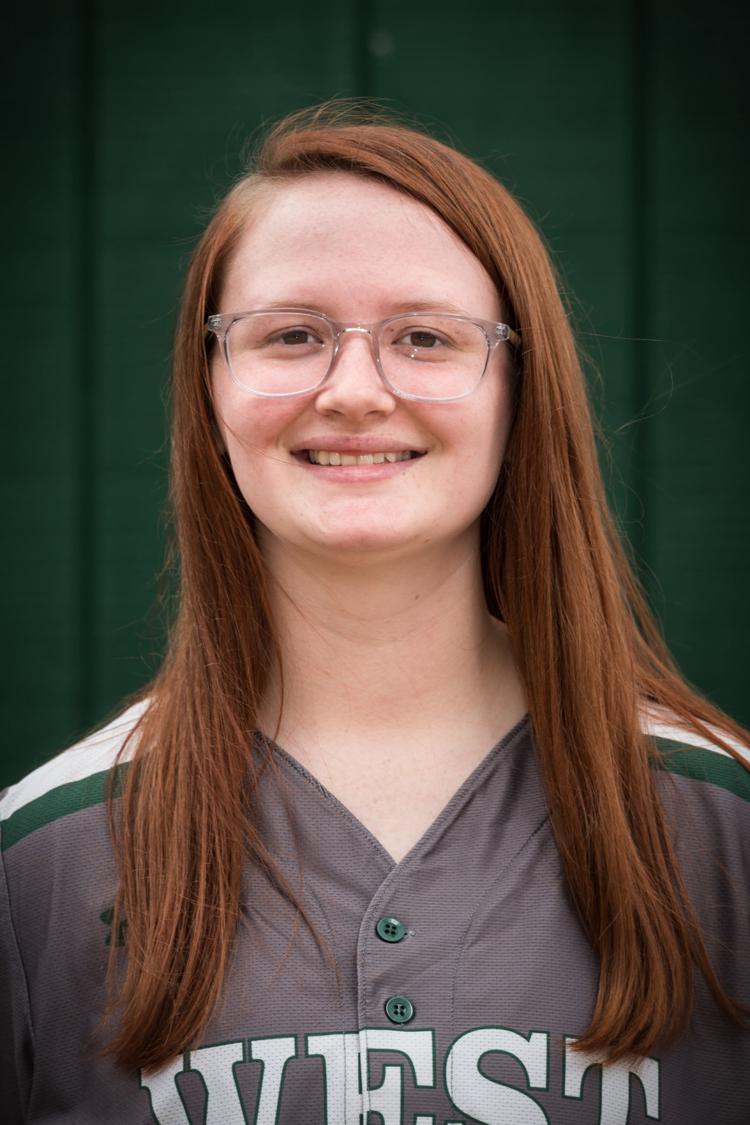 Reagan Wall wanted to be a tennis player. Her father, Brian, signed her up for softball at Southwest Forsyth Little League.
Obviously, father knows best.
Wall, an 18-year-old senior, is now a first baseman in her fourth year in West Forsyth's softball program. She played on the junior varsity team her freshman and sophomore years and joined the varsity as a junior. Kevin Baity, the Titans' coach, made her a co-captain entering her senior season — which has been interrupted by the coronavirus scare.
"I started softball when I was about nine," Wall said. "I wasn't very good at first, and it was boring. When I started to get better at it, it got fun."
Wall pitched some when she was younger but it has been a while since she has played anything other than first base.
"Reagan has such a great attitude and work ethic," Baity said. "She never complains, always smiles, and when you tell her to do something, she does it. If she makes a mistake, she makes up for it. She's happy to do anything we want. She is a very good bunter and has a good glove."
Wall said she's a good bunter because she practices it a lot. The most-important things a hitter learning to bunt should do are spend some time at it, take a proper stance, hold the bat correctly, and, perhaps most important, "make sure you're bunting a strike."
The thing Wall loves most about playing softball — her only competitive sport at West — is "the bonds I've made with my teammates," she said. "Everybody can pick each other up when they're down. And on the bus back from away games, those rides are really fun."
Wall loves to read, mostly "fiction that has a lot of action," but it's obvious that she watches a little bit of television. It was a television show that spawned the idea for a career she'd love: forensic psychology.
"They do the good stuff, profiling criminals, without getting shot at," she said. "You learn why bad people think the way they do. It's a little bit of psychology, a little bit of criminology."
Three questions for Wall
Q: Who's the athlete you admire the most?
Answer: Lauren Chamberlain
Q: Where would you go on your dream vacation?
Answer: Barbados
Q: What's your favorite sports movie?
Answer: "The Blind Side"
Focus on: Karthik Lalwani
When Karthik Lalwani moved from a school in Tacoma, Wash., to Forsyth Country Day 20 months ago, he figured that going out for a sports team — in his case, track and field — would be a great way to develop friendships at a new school.
His decision was based on experience. A 17-year-old senior at FCD, Lalwani had done the same thing two years earlier when he moved from Seattle to Tacoma for his freshman year.
"I needed a sport to help me develop relationships at my new school, and I chose track, because I thought I might be pretty decent at it," Lalwani said. "I feel like moving to Tacoma was a better opportunity in a new environment. But the South is a great deal different from the Northwest, so track was even more important here than it was in Tacoma because things were so different."
Lalwani appears to have fit right in at FCD. He admits that he has actually eaten collard greens — twice!
"Moving from (Tacoma) was a big change, but he immediately became a part of the track team and the school community," Coach Joe Scott said. "He worked hard — he does the jumps and runs some sprints — and I made him a captain. I felt like he has the ability to inspire other kids.
"He's a great student — as thoughtful and considerate as any athlete could be. You need a guy like that to lead and be a good teammate."
Lalwani qualified for the NCISAA state championships in the long jump last season. It remains his best event.
"I started with springs in the ninth grade, then started jumping in the 10th grade," he said. "I figured I was a decent jumper. I am better in the long jump; I'm going to add the triple jump this year, and I hope I can get into a relay."
Lalwani said he thinks he is ready to increase his points contribution to the Furies this year because of one thing he did last fall.
"I was so glad I did cross-country last fall," he said. "Some of the long-distance runners convinced me to do it, and I enjoyed it. I think it's gotten me in better shape."
Lalwani hopes to become a physician; his father works in radiology, but Lalwani is more interested in the brain.
"I get great fulfillment playing a significant role in other people's lives," he said. "I used to help at a senior assisted-living facility. I feel like it might be too early to decide (on a specialty), but maybe a neurologist, working with the brain. There are so many systems that are related to brain function."
Focus on: Kamdyn Burns
Kamdyn Burns credited Coach David Hamlin with convincing her to play lacrosse three years ago. "My sophomore year I heard that lacrosse was going to be a new sport at Atkins," said Burns, a senior. "Coach Ham put it in my head to play."
Hamlin's first practice was something Burns will never forget. "It was so intense," she said. "I was pretty much out of breath the whole practice. We ran hills nonstop."
Conditioning and learning stick skills along with shooting was the primary emphasis during those early days. "We started getting into stick skills," she said. "That was the first thing that was introduced.
"We started playing games and seeing how the field was set up. That was challenging."
Burns has mostly played defense in her three years on the team. "My first year on defense the ball was always on our side of the field," she said. "Now it gets kind of boring because everybody's on the opposite side of the field because we know what we're doing."
She recalled what it was like playing a new sport. "After those first couple of games I got those butterflies out," Burns said. "Then you're focused and know what you're playing for."
Burns said her love for lacrosse is unlike any sport she's ever seen. "I have never been in love with a sport as much as lacrosse," she said. "It allows you to get rid of any negative emotions you might have.
"Crossing somebody up is amazing. It's mind opening and refreshing out on the field."
Being a part of the team motivates her to continue. "The love for my teammates and the love for the sport is the reason I continue to play," she said. "My coach doesn't allow you to quit.
"Running is the toughest part," Burns continued. "You have to be really in shape. You have to play even when you don't feel like playing. You have to push through for your team."
Burns has yet to score goal. That's one of her goals this year. "My goal is stopping the other team from scoring goals, but I hope to score one this year," she said. "I will jump for joy when I do. That will be exciting."
She said lacrosse has taught her a lot about life. "It's taught me to be the best I can be," said Burns. "People depend on me. Outside the sport, in life there will be obstacles. I can't always do what I want. But I always have to stay positive and stay focused."
Focus on: Langston Peoples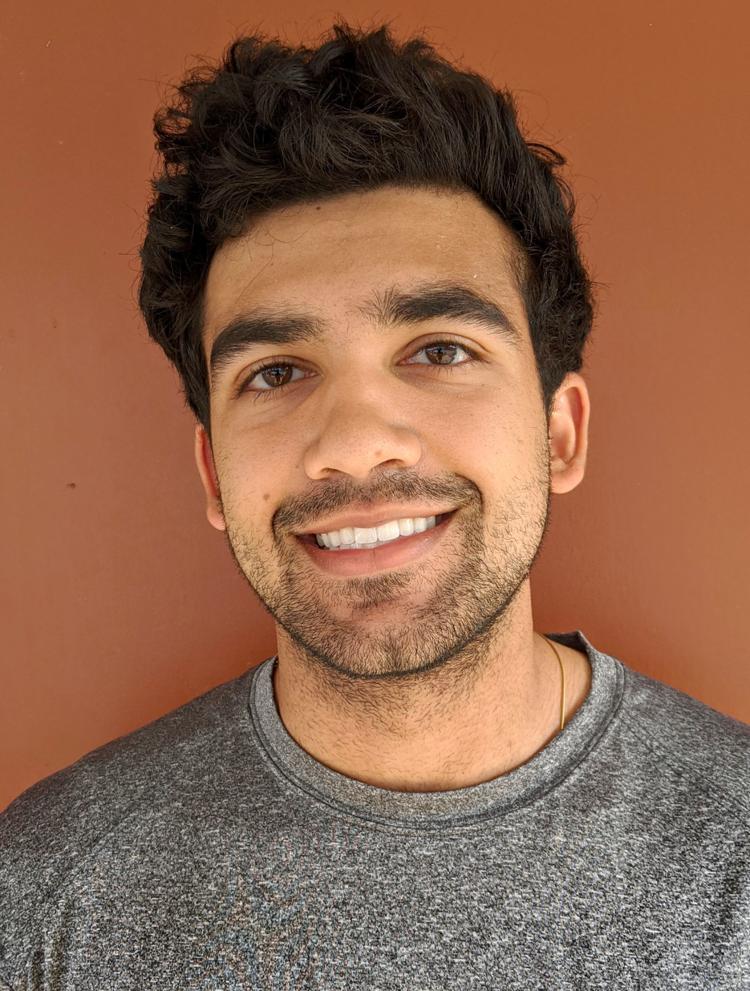 It's not a stretch to say that Langston Peoples is a luxury for the boys tennis team at Reagan.
Peoples, a junior, is arguably among the better players in the Central Piedmont 4-A Conference. At Reagan, though, he's the No. 3 singles player.
Here's why: The Raiders are deep and talented. The top six players from last year's conference championship team return and five are juniors.
Last season, Peoples went 12-2 and was undefeated in 10 conference matches. This year, he's off to a 3-1 start and had won 38 consecutive games in singles play before losing against Davie County on March 12.
"What makes him so tough is his serve and forehand," Coach Scott Larson said. "That's his bread and butter. Aside from that, he's getting better at the net."
Although Reagan posted a perfect conference record in 2019, there were times when the Raiders were pushed by the opposition. Their most challenging encounter came in an ultra-competitive face-off against conference rival Davie County.
After all the singles matches were played, the War Eagles held a 4-2 edge. The Raiders, however, bounced back to take all three of the doubles matches and they prevailed 5-4 to win the overall match. Peoples teamed up with Lucas Koivisto for an 8-4 victory in No. 2 doubles.
"That match against Davie from last year stands out the most for me," Peoples recalled. "That's because everything came down to what happened in doubles. Everybody had to clutch up and we were able to pull it out."
Peoples has no issues keeping himself motivated to play a demanding schedule, which often requires him to play two or three matches each week. The time commitment it takes for practice, matches and studying can be taxing.
"It does take a lot of energy out of you," he confessed. "But I do it because my teammates are also my friends. That makes playing the game so much fun. Plus, with tennis, you get to see how much your game improves over time."
Three questions for Peoples
Q: What's your dream job?
Answer: Radiologist
Q: What three people, living or dead, would you invite to dinner?
Answer: Barack Obama, Michael Jordan and Bill Gates
Q: If you could live anywhere in the world, where would it be?
Answer: Argentina
Focus on: Kamari Davis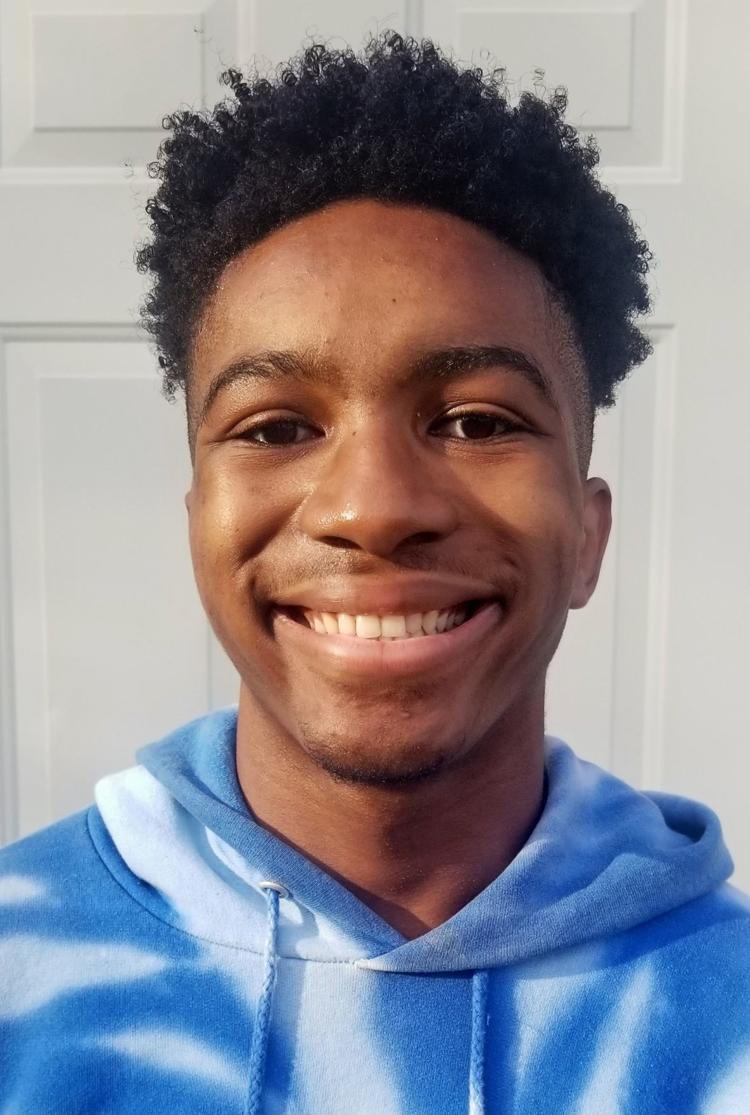 After enduring a rookie season that had its highs and lows, Kamari Davis of Parkland is looking to establish himself as a rising track talent this spring.
Davis, a freshman, competed in the 55-meter hurdles and 500-meter days during the indoor season. Outdoors, he figures to get ample opportunities to prove himself in the 300 hurdles, 4x400 and 4x800 relays.
"I was disappointed that didn't qualify for the state indoor meet," he said. "I had a lot of uneven performances during the season. But on the other hand, I did have several new PRs (personal records), so that's evidence that I'm continuing to improve."
Jarrell Elliott, a Parkland assistant coach, is optimistic about the immediate future. The outdoor season, he explained, should produce some satisfying results.
"During middle school, Kamari competed, but then he sat out for a year," Elliot said. "But now that he's in high school, he's just getting back into the swing of things. For him, the cross-country and indoor seasons served as a feeling-out process.
"The big plus for Kamari is that he doesn't mind putting in the work that it takes to excel."
Davis feels that the 400 is his best event. But he also knows that as a 300 hurdler, he'll be pushed to his limits.
"To me, there's not a big difference between the two events," he said. "The only difference is having to clear the hurdles. Other than that, it all feels the same in the last part of the race when you have to hold your form."
Davis hopes to capitalize on the lessons he learned during his first season of high school competition. His plan is to qualify in his events for the Class 3-A state championships.
"To compete at the highest level, it's important for me to stay on top of things," he said. "That means making sure that I get the job done in the classroom and on the track and at the same time, have fun doing it."
Three questions for Davis
Q: Who's had the most influence in your life?
Answer: Romonda Gaston (mother)
Q: What is your hobby?
Answer: Drawing
Q: Where would you go on your dream vacation?
Answer: Miami, Fla.
Focus on: Jack Beilman
Jack Beilman succumbed to peer pressure when he decided to forego soccer for lacrosse. "I had friends that talked me into it," said Beilman, a senior at Reynolds. "I thought it looked interesting, so I tried it and stuck with it."
He has played on the Demons' team since his freshman year. "I needed something to do in the spring," Beilman said. "I like the physicality of it and the movement. It has the plays of basketball, the running of soccer and the physicality of football and hockey."
Beilman, who played on the Demons' junior varsity team for two years, recalled his first practice. "I had no idea what was going on," he said, laughing. "I started with a short stick. When I got comfortable with that I switched to a long stick. That definitely threw everything out the window."
It didn't take long to learn the rules but feeling at ease on the field was a longer process. "I was pretty comfortable with the rules by the first game," Beilman said. "I had a good feeling for the game by my sophomore year."
His specialty is defense. "I played goalkeeper in soccer, so my reaction time is fairly high," Beilman said. "I have always played defense, so I have that defensive mindset."
Defense is not always the most exciting position on the field. "Sometimes it gets a little boring when the ball is on the other side of the field," Beilman said. "That's true in any sport.
"I try to think of what the other defender is doing and how I can replicate it. I try to see what they're doing good or bad and how I can use it."
Playing for a club helped to shorten Beilman's learning curve. "I played for the Twins club over the summer and fall," he said. "That helped with my feeling of getting comfortable. There's still plenty to learn in developing my lacrosse I.Q."
Beilman said his quickness is an asset but communicating needs improvement. "I use my speed and quickness to stay with my opponent," he said. "I'm working on my communication and awareness of things around me.
"I'm not as loud as I could be in calling what I see and being able to recognize what gaps need to be filled."
He said the Demons have a young team this year. "I'm telling them where they need to be," Beilman said. "We are working on building cohesiveness. I like the camaraderie of the team. I like working with the team and supporting the team, which is fun."
Focus on: Melanie Noyola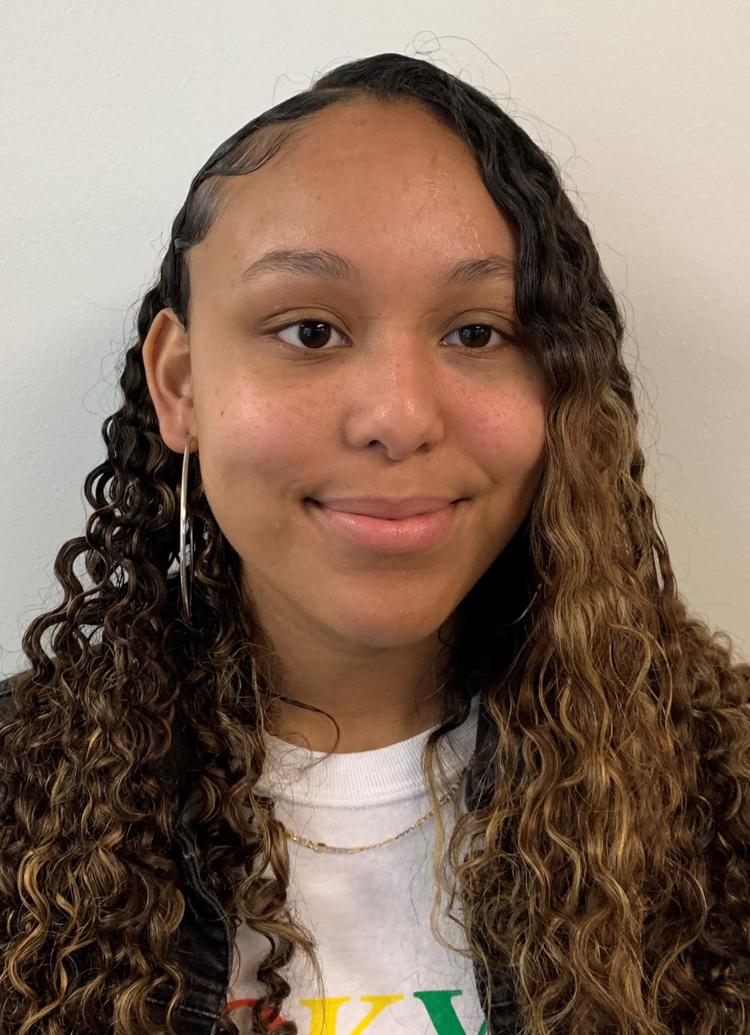 Hanging out with friends inspired Melanie Noyola to join the Carver soccer team. "I played with all of my friends," said Noyola, a senior. "It was a way for all of us to hang out together in and out of school. Playing with all of my friends is really fun."
Noyola started playing at East Forsyth Middle School. She has played at Carver since her sophomore year. "We didn't have a team my freshman year," she said. "It was disappointing."
She was a striker in middle school but moved to defender at Carver. It wasn't an easy transition. "When I first started to play, I didn't want to be here," Noyola said. "I got mad."
Settling into the position has changed her attitude. "I've improved a lot," she said. "It gives you a whole view of the field. You have to stay on your toes always.
"You turn around and a person has the ball and then you turn around again and a person is running right towards you."
Defenders seldom score and Noyola was thrilled when her first opportunity came against Walkertown her sophomore year. She scored again this season on a penalty kick against Surry Central.
"Both times there was a little bit of doubt that I couldn't do it," Noyola confessed. "When I scored, I said I really just actually did it. I got really excited and really happy.
"I was so nervous on the penalty kick I was shaking. If I don't make this these girls are going to kill me."
Playing soccer is a combination of excitement and fear according to Noyola. "Sometimes I'm so excited when the team is making a goal," she said. "Sometimes it's fear when they're (the opponent) close to the goal. It's always a mix."
Noyola said her cousins have been a big influence. "My cousins always played, and I tagged along with them," she said. "I would play with them in the park."
She began preparation for this season last October. "It was not really hard-core," she said. "I would play with the ball and run a few laps. I worked on my ball skills."
Noyola is a team captain. "I have to be able to calm the girls and get them motivated," she said. "I'm passing down my skills to them. Sometimes they don't really know how to handle it.
"When they don't listen, it gets my temper up. When I yell, they say, 'O.K., she's serious.'"
Focus on: Iyona King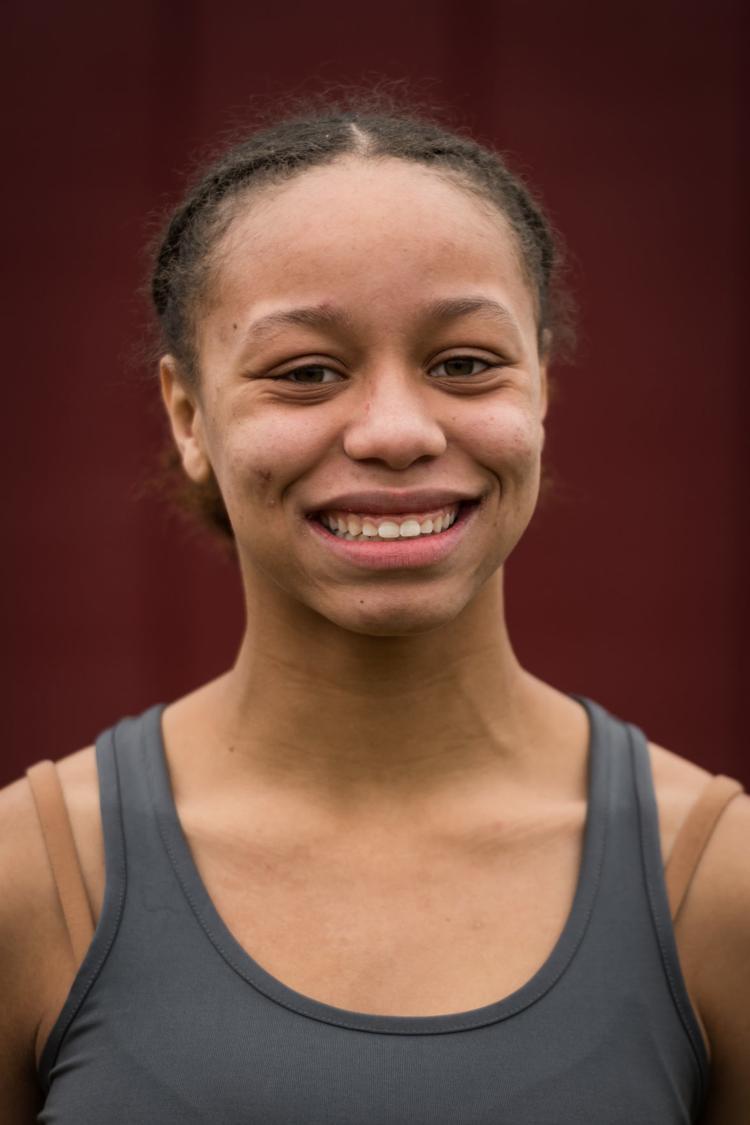 The thought of joining North Forsyth's track team last year was a scary experience for Iyona King. "I wanted to do it, but I was afraid," said King, a junior. "I had a friend who was on it and that helped a lot."
King, who suffers from asthma, thought that would hinder her ability to run. "I thought I wouldn't do good because I have asthma," she said. "I was surprised when it didn't bother me."
The difficulty of practices and meets also crossed King's mind as she was making her decision. "I thought it would be hard," she said. "I thought I would mess up."
She was wrong again. "I was trying to be as fast as most people," King recalled. "I was not at first until this year."
King just completed the indoor season where she ran the 55 and 300. It was a change from last year when she competed in the 500 and 55 hurdles. "I was new at it last year and Coach (Michael Smith) put me in it," she said. "I wanted to finish it out."
Her events in this year's outdoor season will include the 100, 100 hurdles, 400 and 4x200 relay. She may even try long jump.
"Long jump is my favorite," King said. "I'm not as tired. We didn't have that many coaches to teach us, so it took a while. I'm still learning."
King said learning to run hurdles was a year-long process last season. "It took all of last year, learning and to jump in and out over them," she explained. "I hurt my knee."
Getting her steps down was a shorter process. "It didn't take that long," King said. "That only took about two weeks."
She described the secret to be a good hurdler. "You've got to stay close and not get too high," King said. "You have to have flexible hips."
One thing that surprised her in running events was the starting blocks. "I had never seen blocks," she said. "I had to learn to set them up right."
King laughed when talking about the surprises in practice. "I didn't know about this thing called distance running," she said. "We have to run two miles at practice. It's calm because all you're doing is running."
She's set a goal of winning at least one event in a meet this spring. "I just want to get that prize," she said. "That shows that I've actually worked hard to get where I want to be."
Focus on: Kieren Smith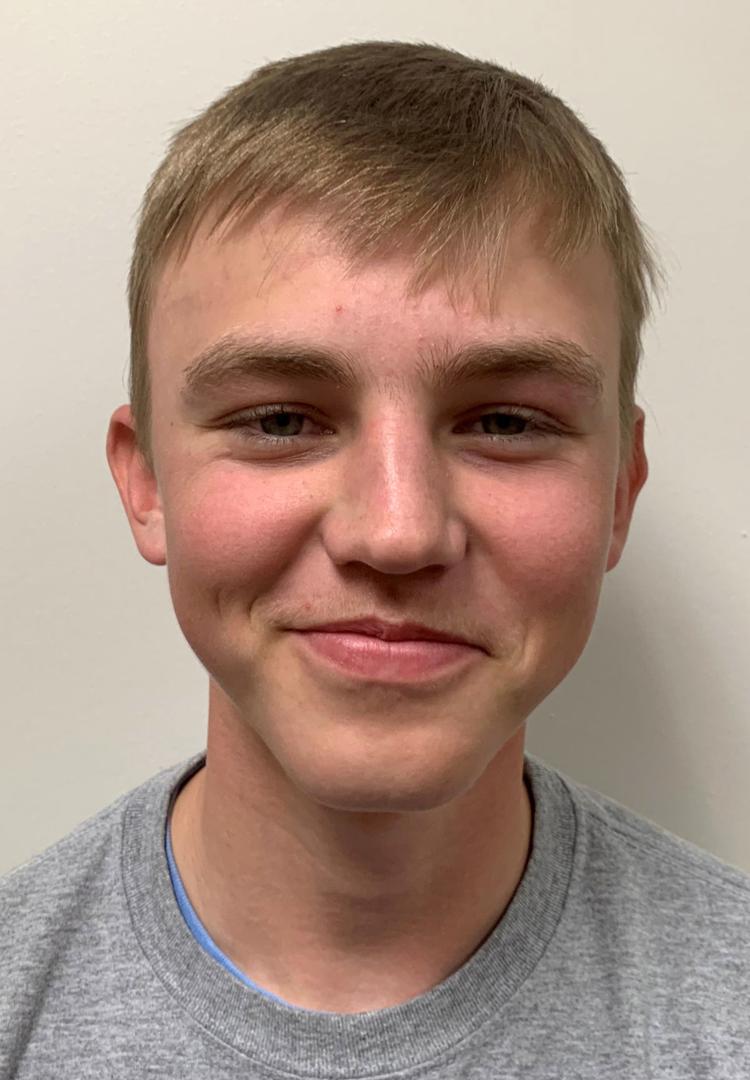 Kieren Smith doesn't hesitate to name the major thing he has learned from playing golf at East Forsyth team. "Patience," said Smith, a senior. "I used to have none. Controlling my temper overall is the biggest thing."
Containing his temper also meant never throwing a club. "I have never thrown a club," said Smith, laughing. "My dad said I can start throwing clubs when I pay for them."
Smith's decision to take golf seriously came during his freshman year. He has been the Eagles' top golfer since his sophomore year. "I used to play about three times a year with my dad," he said. "I really decided to take it seriously my freshman year."
He has a philosophical outlook on the sport. "Golf is a lot like life," Smith said. "You might have a bad shot and get a good break, or you might have a good shot and get a bad break."
Pine Knolls in Kernersville is Smith's favorite course. "It's the course I grew up on," he said. "I learned to play out there with my dad. I practice out there a couple of hours every day. It's where all of my memories have been made with my friends."
He's played most area courses, but the toughest course he has faced is Pinehurst #4. "It's a waste area," he said. "It's mostly grass and water up here. Down there, there is sand everywhere.
"I've played it twice in tournaments. Both times I didn't hit bad shots. They just weren't going where I wanted. They were the windiest, calm days I've ever seen."
Smith, who will sign to play golf at Elizabeth City State University on March 20, said experience and hard work contributed to his rise from sixth on the East team his freshman year to No. 1 the next season.
"It's the experience, hard work and execution," he explained. "But all that hard work in practice doesn't matter if you can't do it in a match."
He has private lessons to help improve his skills. "My long irons have really been a bad piece of my game right now," Smith said. "I'm practicing drill work with my swing coach, Bo Watson at Meadowlands.
"My putting has been really good lately. I practiced on it for the longest time, and it was terrible when I started."
He has improved his nine-hole score from a 46 average his freshman year to a 38 average last season. "I try not to rush everything," he said. "When you get a bad break after a good shot, you have to recover."
Focus on: Sara Pace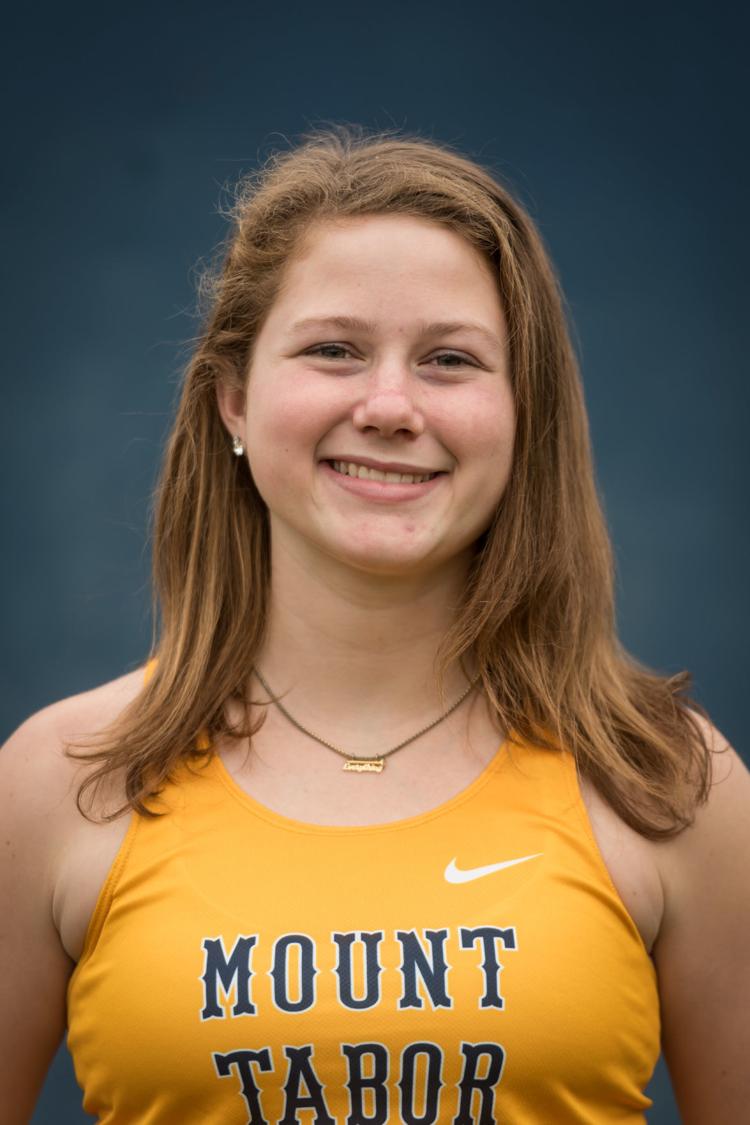 Sara Pace is pulling double duty for Mount Tabor this spring on the softball field and on the track. It's the second straight year she has accomplished this after also running cross country and indoor track.
Pace, a senior, is driven. She runs the distance events for the Spartans (4x800, 1600, and 3200) and is the pitcher for the softball team.
She is also in National Honor Society, National Math Honor Society, National English Honor Society, is president of the school's National Latin Honor Society and Latin Club and is also in Key Club and Crosby Scholars. She has been accepted to N.C. State and is awaiting word from her top two choices, Washington University in Saint Louis and Washington and Lee in Lexington, Virginia.
Having all these opportunities to excel and succeed again weren't foregone conclusions.
As a member of the cross-country team in the fall of her sophomore year, Pace was diagnosed with anorexia. She spent several months in a treatment center before getting back to Mount Tabor in early April of 2018.
"When I started running in ninth grade, it always felt like freedom to me," Pace said. "You push your body to the limits and there really isn't a feeling quite like that. There's a reason they call it a runner's high. That's what I missed the most when I was away."
Pace said that after her freshman year of running cross country, she was the alternate in meets. She wanted to be faster. She also thought that she had a chance to be the pitcher for the softball team her sophomore year.
"I worked out like crazy, for running and for softball," she said. "My brother, Charles, ran here and he was really fast. A lot of the sports I play I picked up after he did. I was never competing with him, but I wanted to catch him. And my sophomore year, I did everything right, but I didn't support myself like I needed to. I went from 120 pounds to about 85. Even when I tried to gain the weight back, I couldn't, because my body was hypermetabolic."
Pace resumed running after lengthy discussion with her parents and her therapist, who ran marathons.
"I took it really easy at first," she said. "But after that first run, we went for about 45 minutes, it felt great. I was so sore. And I was so happy my body could feel those things again. I eventually got back to where I wanted to be, but it was an interesting journey. I'm still very competitive, but I'm more aware of how my body reacts now."
Focus on: Frankie Cetrone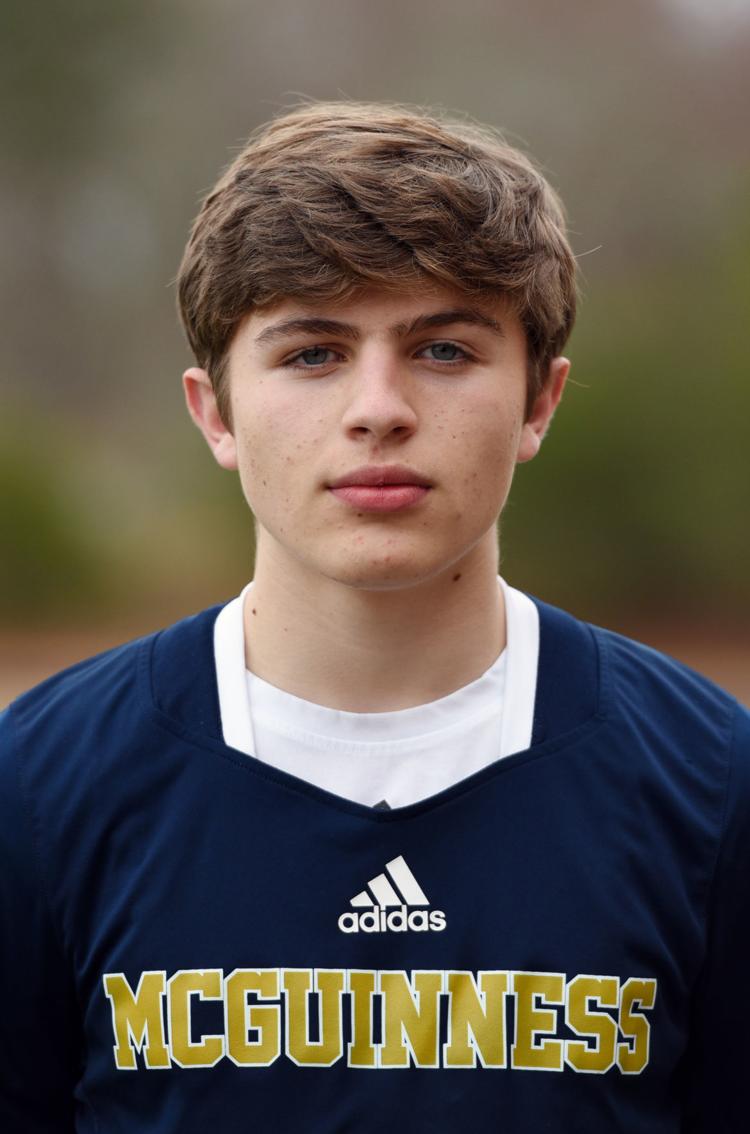 If it appears that sophomore Frankie Cetrone has a leg up on opposing defenses on a lacrosse field, it wouldn't be a far-fetched thought.
Cetrone, who plays attack for Bishop McGuinness, grew up exposed to the game from an early age.
His father, Dan, was the lacrosse coach at Greensboro College for 16 years.
"I've been playing since I was 5," Frankie Cetrone said. "With my dad being in the position he was, I've always been around the game. I'd go to practices and home games with him a lot. I remember warming up the goalie before games and helping my dad out with some other stuff. That has definitely been beneficial in my development as a player."
Lacrosse isn't the only sport that Cetrone played growing up. He was also active in soccer and basketball. He gave up soccer in middle school and stopped playing basketball this year.
"I enjoyed both of them, but to me, lacrosse feels a lot more like a family," he said. "You make so many connections through lacrosse, and you don't have to be tall like you do in basketball to find success."
Cetrone played varsity for the Villains last season as a freshman, which proved to be a little different experience than playing for his club teams.
"It took me a little while to get use to everyone's size," Cetrone said. "There were a lot of seniors on our team and on the teams we played against. It took some time to adjust to that."
This season, Cetrone said he came in feeling more prepared.
"I worked out a lot with my dad and my club coach over the summer," Cetrone said. "I've had more of a scoring role this year and we have a really balanced team. We've got a lot of good dodgers and shooters."
The Villains' season is on hiatus until at least April 6 because of the coronavirus outbreak.
"The timing wasn't great, but we hope we can continue at some point," said Cetrone, who is also involved with the Special Olympics club.
Three questions for Cetrone
Q: What's the best book you've read?
Answer: "The Energy Bus" by Jon Gordon
Q: What's your favorite sports movie?
Answer: "Miracle"
Q: Where would you go on your dream vacation?
Answer: Hawaii