SportsXtra: This week's featured high school athletes, January 17, 2020
Focus on: Ija Mumford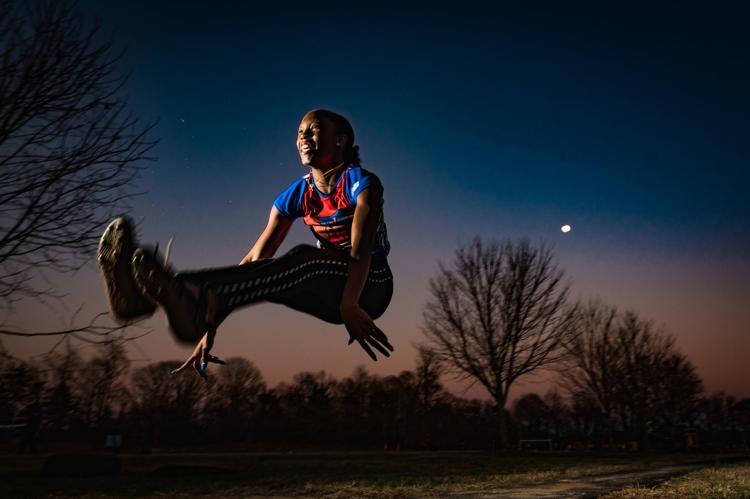 Parkland track athlete Ija Mumford was absolutely stellar as a freshman. In one year, she put together an impressive resume.
More important, Mumford's exploits speak volumes about her potential as an up-and-coming national-caliber talent. Here's a summary:
NCHSAA Class 3-A indoors: State indoor champion in the long jump; third in the triple jump; ran on the state title-winning 4x200 relay.
New Balance indoor nationals: Placed 16th in the long jump, the only freshman to place in the top 20; All-America in the 4x200 relay (third place).
NCHSAA Class 3-A outdoors: Pulled off an awesome double as champion in the long jump and triple jump; picked up two more gold medals in the 4x100 and 4x200 relay for Parkland, which also captured the girls team title.
New Balance outdoor nationals — freshman division: Champion in the long jump and triple jump; made All-America in the 4x200 relay (third place).
"Ija is a major-college prospect already," said Antwan Hughes, the head girls track coach at Parkland. "As she gets better, she's only going to create more options as to which school she chooses to attend."
As for the remainder of her still-budding high school career, it's a reasonable expectation that Mumford, now a sophomore, will be a prime factor at the state and national levels.
"When it comes to the jumps, Ija pays a lot of attention to the technical aspects," said Tarrish Alexander, who coaches the Parkland jumpers. "And she's very disciplined.
"Realistically, I see her being in that conversation as one of the elite athletes who will contend for national championships in the coming years."
Although Mumford is in her second year at Parkland, there are still questions. Because of her early success, is she prone to fall prey to complacency? Will the flaming desire to push herself to new limits be the same? How will she respond as the one opponent that every long jumper and triple jumper wants to conquer so badly in every competition?
Mumford, 15, fully recognizes that yesterday's triumphs have nothing to do with the here and now. In her mind, the main points of emphasis are mastering technique and growing as a competitor.
"I had no idea that things would play out the way they did," said Mumford, who has personal bests of 19 feet, 7 inches in the long jump and 39 feet, 3 inches in the triple jump. "But I knew what I was capable of. What really helped is that I never got caught up in thinking about whether I was good enough to beat girls who were three and four years older than me.
"But the past is the past. It's another year, another challenge. My job is to concentrate on doing what I need to do to stay on top for this season."
To help maintain her competitive edge, Mumford leans on an older sister, Ila, who graduated from Appalachian State in May 2019, after a four-year track career with the Mountaineers. Ija has broken all of her older sister's school records at Parkland in the long jump and triple jump.
Ila Mumford, who graduated from Parkland in 2015, has a unique perspective about her younger sibling. Both sisters competed in the jumps and relays.
During her time with the Mustangs, Ila was a five-time all-state performer. Additionally, she was an outdoor All-American in the long jump.
"As a youngster, I was always around Parkland's track team," Ija Mumford said. "I attended a lot of Ila's practices and our family always traveled to her meets.
"Ila inspires me. She's the one who keeps me level-headed. And she's always checking up on me. The one thing she always does is to make sure that I stay focused on the right things, such as refining my technique and being diligent in my training."
With the indoor season past its mid-point, Ija Mumford appears to be peaking at the right time for the state indoor championships next month.
In the Jan. 12 state rankings compiled by the NC Runners website, she is third for all classes in the long jump (18 feet, 1¾ inches) and eighth in the triple jump (36 feet, 5 ½ inches) for all classes. In the 3-A rankings, she is No. 1 in the long jump and second in the triple jump.
"So many things can go wrong in the jumps," Mumford said. "That's why it's important to keep a straight head. The key for me is to stay focused and be prepared to compete at all times. That's the approach I used last year, and I'll keep doing that."
Mumford's excellence in the jumps is well-documented. As a sprinter, however, she has taken even bigger strides.
Currently, her career best in the 55-meter dash is 7.24 seconds. Hughes said she is confident that she can lower her time to 7.1 and maybe go below 7 seconds by the time she graduates from high school.
"Ija is at her best when she comes out of the blocks," Hughes said. "That's the reason we put her as the lead-off leg on our 4x200 relay. With more speed, she'll be even better in the jumps.
"The faster you can run, the farther you can jump."
Focus on: Ajile Flynt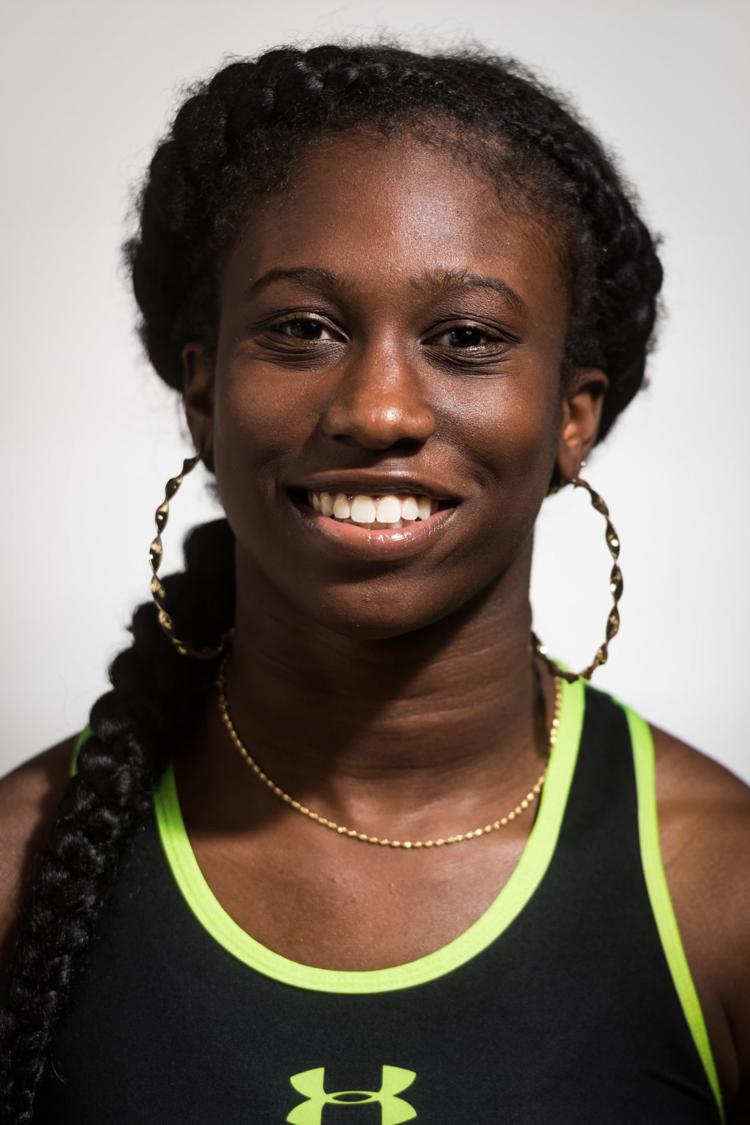 One day soon, Ajile Flynt will forget about that left ankle. It won't be in her thoughts whenever she ties on her track shoes or starts stretching on the track at West Forsyth. She won't think about trying to run fast without pain; she won't worry every time she sails into the long-jump pit, hoping that her feet don't hit just so, and the ankle will take the strain of her petite form slamming into the sand and sawdust, feet first.
"I'm probably 95% back to normal," said Flynt, a 16-year-old junior who is a sprinter on the Titans' indoor and outdoor track teams. "Mostly, I'm working on getting my technique back. I worry about it sometimes, especially when I start to do the long jump. It swells up every once in a while, but it doesn't actually hurt. I think I'll be back to normal by the beginning of outdoor season."
Flynt was jumping up and down at a friend's birthday party about a year ago. On one jump, she came down wrong, and her left ankle turned over.
"I sat for a while, then it swelled up," she said.
The diagnosis was a high ankle sprain, which kept her out of the rest of her indoor season last winter. She started physical therapy, which lasted through the spring outdoor season.
The eight or nine months she spent out of running shoes were the first time since she started running at age 5.
"My mom said that when I was little, I wouldn't walk anywhere. I would just run," Flynt said. "I had done cheer and dance, but when I tried track, I liked it more than the other things."
It wasn't long before Flynt joined the Tri-City Relays, an AAU track team. She was a sprinter from the word go; the only time she ran for any distance beyond a quarter mile was the fall of her freshman year, when she tried running cross-country. The 5K distance wasn't much fun, she admitted.
In middle school at Meadowlark, she dominated the city/county middle school track meet. She joined the Titans' track team as soon as indoor track season rolled around her freshman year. She runs the 55-meter dash during indoor track, the 100- and 200-meter dashes during outdoor track, and does the long jump and runs as part of West's relay teams during both seasons.
"I started the long jump in the eighth grade," Flynt said. "I was just doing it one day in practice, and they said, 'You can actually do it.' And I've been doing it ever since."
Focus on: Nakia Weston
The second half of last season turned out to be an ongoing struggle for Glenn point guard Nakia Weston. Now that she has weathered that experience, she's much better off and so are the Bobcats, who won 13 of their first 14 games.
Weston, a 5-4 senior, sat out for nearly a year after suffering a torn anterior-cruciate ligament as a sophomore. When she returned, playing time was scarce. But that changed in a matter of weeks when then-starting point guard Hannah Barr ended her season with a torn Achilles tendon last January.
Being sidelined for such a lengthy stretch, Weston had a lot of rust in her game.
"I didn't think that making a comeback would be that hard," she said. "When it comes to playing basketball, I was so used to relying on my instincts.
"My mind was racing at 100 miles an hour, but my body could only go 60. So, it wasn't until last summer when I went to team camp and played AAU travel ball, that I finally felt comfortable doing the things I normally do on the court."
Weston is averaging 8.8 points, 4.1 assists and 3.2 steals per game this season. She provides blink-of-an-eye quickness, game savvy and a much-improved jumper for the Bobcats, who are ranked No. 1 in the MaxPreps state rankings for Class 4-A.
Coach Melvin Heggie readily admits that his on-court demeanor is noticeably different when Weston is on the floor. "Nakia is our engine," he explained. "When the ball is in her hands, I'm at peace on the bench.
"She's probably the quickest guard in the city. But now she's also a scoring threat. When teams leave her open, she makes them pay."
So far, the Bobcats are looking like the team to beat in the Central Piedmont 4-A Conference. But that's hardly a guarantee they will own the title. Weston fully understands that her team must maintain proper perspective to play up to its potential.
During the Christmas break, Glenn suffered a 51-27 blowout loss to St. Frances Academy of Maryland in the John Wall Holiday Classic played in Raleigh. The setback served as a painful reminder that the Bobcats are not invincible.
"That loss really humbled us," she said. "We know it's not going to be easy, especially since we'll play conference teams twice, and maybe three times in the same season. But we're confident that we can make a strong playoff run and bring it (a state championship) home."
Weston's basketball career isn't likely to end at Glenn. So far, she has attracted interest from several Division II programs, including Winston-Salem State, Virginia State, Livingstone and Francis Marion (S.C.).
Focus on: Kyah Newton-Roseboro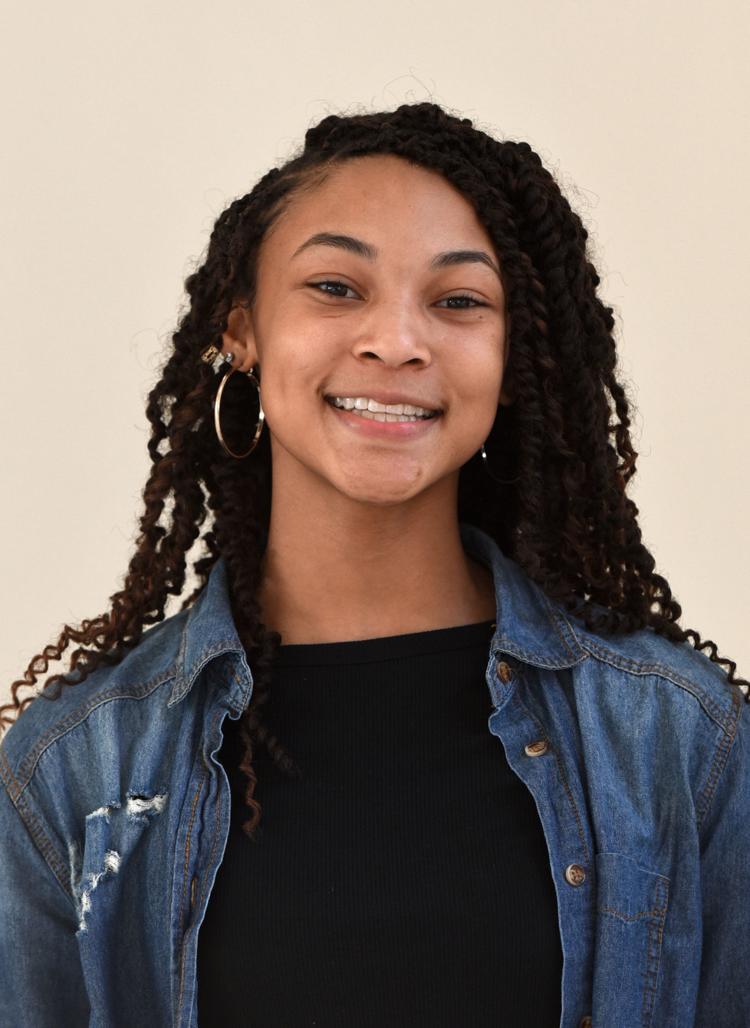 Over the past two years, Kyah Newton-Roseboro opted to split her time between cheerleading and track. But now, she has had a change of heart.
Newton-Roseboro's decision should pay nice dividends for girls' track at Walkertown in the not-too-distant future. Once basketball season ends, she'll walk away from cheerleading for good and devote all of her time to track and field for the remainder of her high school years.
"I've always enjoyed running," said Newton-Roseboro, a freshman sprinter who runs the 55- and 300-meter dash events. "But I didn't want to quit cheerleading in the middle of the school year, so I'll finish it out.
"I like the accolades you get and the college scholarships that are available in track and field. So, I'm all in."
Although she's not yet a full-time track performer, Newton-Roseboro has developed nicely in her first high school season. Her personal best of 7.66 seconds in the 55 is only .02 seconds away from qualifying for the NCHSAA 1-A/2-A state championships, which will be held at JDL Fast Track in Winston-Salem next month.
"Kyah has a lot of talent," Coach Marcus Sutton said. "I have no doubts that she'll be really good once she focuses solely on one activity. As long as she's willing to keep pushing to reach her full potential, the sky is the limit."
The immediate goal for Newton-Roseboro is to qualify for the 55 in the state meet. Doing so, she explained, will give her immense satisfaction.
"There are some who have doubts about me," said Newton-Roseboro, who was a modern dancer for 11 years. "But that just makes me more determined to show my talents and prove them wrong."
Even with more than three years left before she graduates from high school, Newton-Roseboro has her eyes set on landing a track college scholarship at LSU. In recent months, she has become a fan of the Tigers women's program and NCAA 100-meter record-holder Sha'Carri Richardson, who recently turned pro.
"I've been watching her and the LSU relay team on YouTube for several months," she said. "And I really like what I see."
Three questions for Newton-Roseboro
Q: What careers would you like to pursue?
Answer: Neurosurgeon and professional track and field
Q: What three people, living or dead, would you invite to dinner?
Answer: Simone Biles, Usain Bolt and Steph Curry
Q: What's your favorite restaurant?
Answer: Tokyo Japanese Steak House
Focus on: Corbin Jude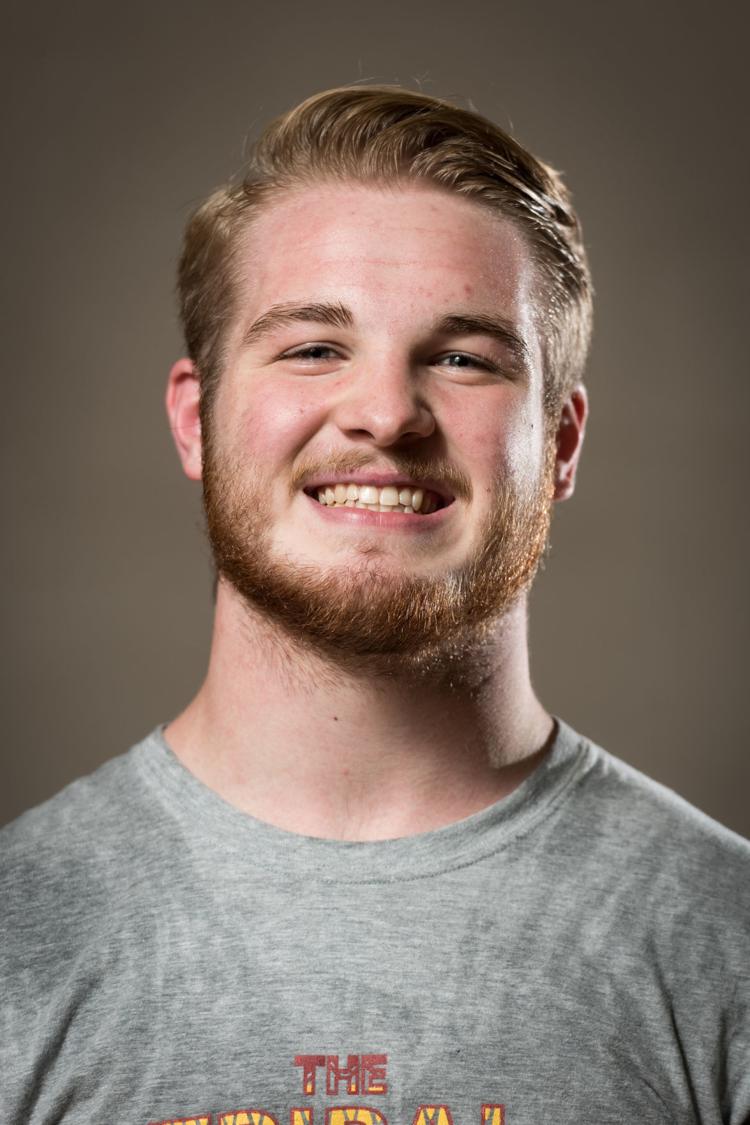 Reagan wrestler Corbin Jude remembers what it was like to have to sit and watch from the sidelines as his teammates honed their skills on the wrestling mats.
Jude, a four-year varsity performer, wrestled just once last year as a junior. In his first match, he suffered a shoulder injury that put him on the shelf for the remainder of the season. Surgery was not required, but it did take four months of extensive rehab for him to recover.
"It was like having a feeling of helplessness," he said. "I couldn't participate, couldn't do anything to help my team win."
A year later, it's a vastly different story. Jude, now a senior, has proven himself to be one of the better wrestlers in the 170-pound weight class.
With a little over a month remaining in the regular season, Jude was 23-4. The expectation is that he will qualify for the NCHSAA 4-A state championships in February.
"After being out all of last year, Corbin has come on strong and he's having an outstanding season," Coach Dwight Shelton said. "Aside from being physical, he's an in-your-face kind of wrestler who gets better with every match. I'm looking for him to earn a spot in the state tournament this year."
Jude, a team captain, exudes confidence when he talks about competing in the state championships. The daily one-on-one matchups he gets in practice, he explained, serve as good preparation for post-season competition.
In addition to Jude, the Raiders have two other wrestlers — Rece Rader (152 pounds) and Alonso Rodriguez (145 pounds) — who are viewed as viable contenders to finish among the top four at regionals and advance to the state.
"It's so helpful to have two other state hopefuls to go up against every day in practice," said Jude. "We push each other hard. We beat up on each other and that's what really helps to make all of us better at what we do.
"We all have different wrestling styles, so when we compete against one another, we know the best approach to take against a particular style. It keeps us ready for whatever style we might face in our matches."
Three questions for Jude
Q: What's your dream job?
Answer: Computer programmer
Q: What's your favorite TV show?
Answer: "The Witcher"
Q: Who's the best teacher you've had?
Answer: Mr. Cutshaw (World History)
Focus on: Jack Hooten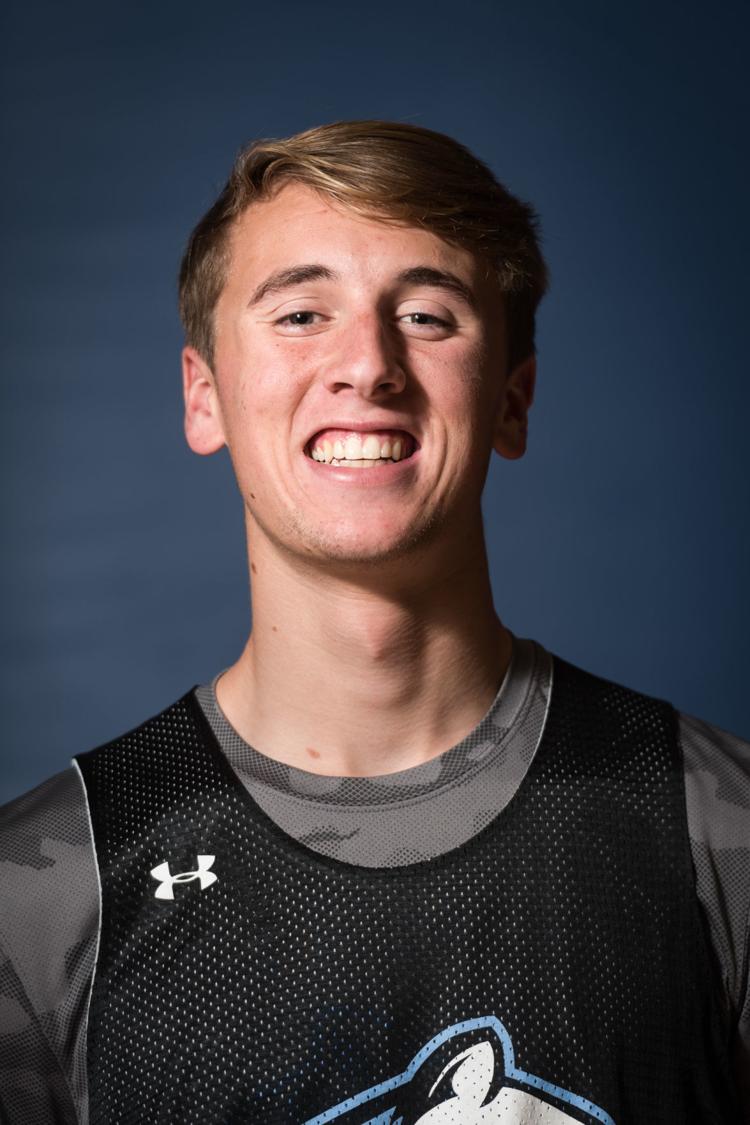 Jack Hooten comes from a football family.
He plays basketball.
When he finishes college, he wants to work for an NFL team.
Did we mention that he is a basketball player?
Hooten, 18, is a slender 6-foot-6 senior for Calvary Day School's basketball team, a kid who switches back and forth between forward and center, depending on whom his coach, Joe Rybak, needs him to defend.
"The best part of his game is his defense on other big men," Rybak said. "He's the guy I stick on guys who are a lot bigger because he can front them in the post and keep the ball away from them.
"Obviously, he's a good rebounder, and this year, he has really developed in our offense. He runs our sets well, knows when to pass the ball and where to be."
Hooten has played basketball since he was a kid, starting at the YMCA, then moving on to AAU teams that Rybak coaches, then enrolling and playing at Calvary as a sixth grader. He joined the Cougars' varsity as a sophomore.'
There was a brief dalliance with football, playing Pop Warner ball for the South Fork Panthers in elementary school. It only lasted one year.
"I love football, but I thought I fit in better in basketball; I was tall and skinny," he said.
That decision was fine in his football family. His father, Mike, played linebacker for Wake Forest in the late 1980s. His mother is a University of Alabama graduate, and he has an older sister who is at Alabama. And Hooten's favorite spectator sport is football; he'd love to work for the Carolina Panthers when he graduates from college.
"I could really go for that, or I could work for the (Charlotte) Hornets," he said. "I just want to work for a team; I want to do something I like."
Hooten loves to fish, but that's mostly just a fun hobby. He likes to fish for bass in ponds around the area, but he is really passionate about going to the family's vacation home on the Neuse River near Oriental where he can target red drum and flounder.
Three questions for Hooten
Q: Where would you go on your dream vacation?
Answer: Hawaii
Q: Who's the athlete you admire most?
Answer: Tim Duncan
Q: What's your favorite sports movie?
Answer: "Coach Carter"
Focus on: Ben LeFevre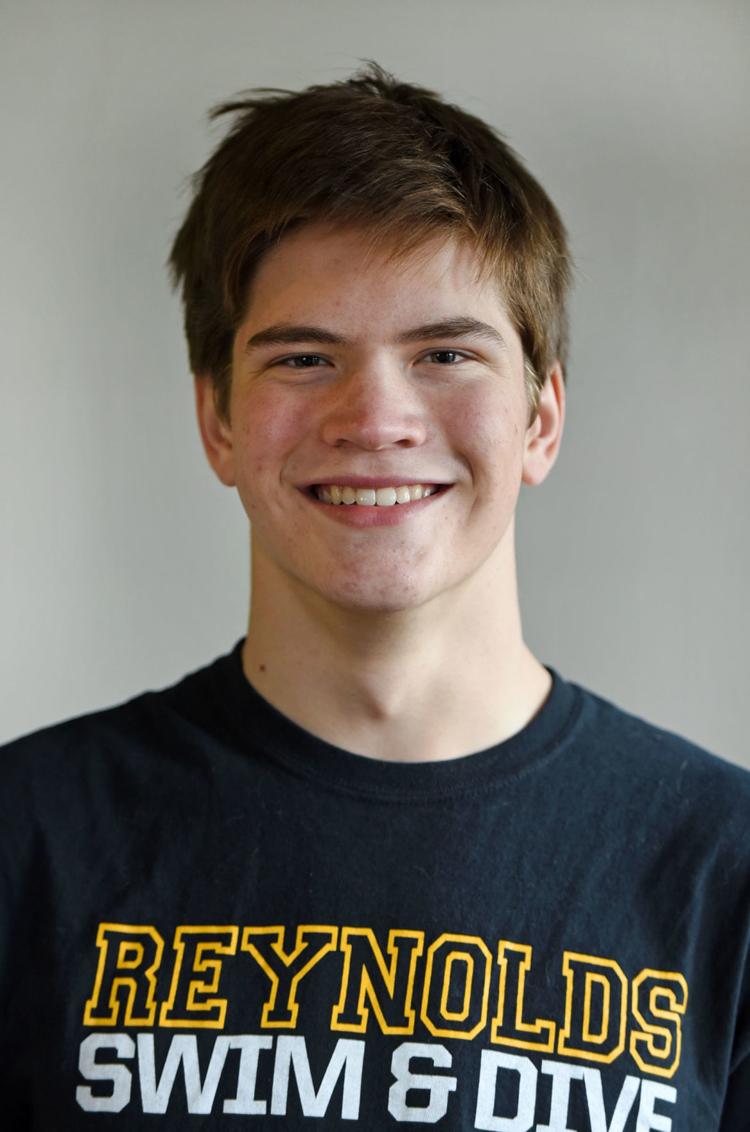 Ben LeFevre doesn't spend much time at Reynolds. All of LeFevre's classes are at the Career Center. But, LeFevre, a senior, maintains his connection to the school by competing on the swim team.
LeFevre has been swimming competitively most of his life. He started with the Sherwood Sharks summer league program after kindergarten. He has competed all four years at Reynolds and has also been swimming for the year-round TYDE club since he was in the third grade.
"I like the competitive nature of the sport and the community you build around it," LeFevre said. "I take all of my classes at the Career Center. The Reynolds swim team has given me a connection to the school and the people I've known for four years. It still feels good to be a Reynolds Demon."
Swimming year-round can take its toll. "There are days when I think this isn't what I want to do every afternoon in the short term," LeFevre said. "At the end of the day it's still something I enjoy each day. If it wasn't something I enjoyed, I would have stopped a long time ago."
Year-round swimmers are only required to attend 10 school practices. Instead of waking up for an early morning practice, LeFevre will head to the pool for a two-hour afternoon workout.
"I don't go to a lot of the morning practices," he said. "Last year I switched from TYDE to Enfinity (another year-round team) for three months. That was three months of morning practices. I missed the other community, so I went back to TYDE."
Some of his fellow Demons teammates also swim for TYDE. LeFevre said he enjoys the fellowship of those on the Reynolds team who don't swim year-round. "The Reynolds team is made up of TYDE and non-year-round swimmers," he said. "I like how we are collectively on team."
LeFevre said Reynolds practices are more laid back and meets are team-oriented. "You are more focused on individuals dropping times in year-round," he explained. "High school is more about team scores. You can rely on other teammates. It's much less intense."
He swims the 100 breast, the breaststroke on the medley relay and the grueling 500 freestyle. "I'm primarily a breast stroker," LeFevre said. "It's always been my favorite."
Swimming the 500 came about by accident. "My freshman year my coach put me in the 500," he recalled. "I've grown to like it. It's nice to be able to relax when I'm swimming it. It gives you time to adjust your stroke and see the race and exactly how you want to swim it."
Focus on: Vivian James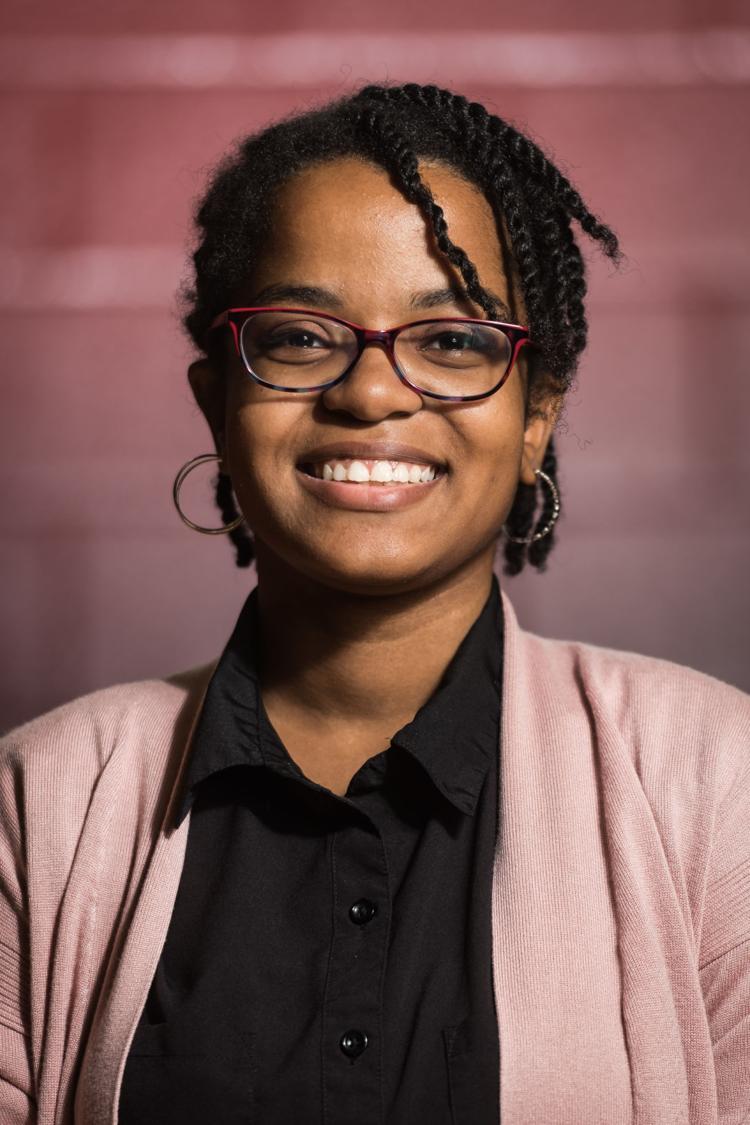 The urging of a couple of friends is what lead Vivian James to join the Atkins swim team last year. There is nothing the Camels' senior regrets about that decision.
"It has been the best experience, and meets are really, really fun," James said. "You get to make a family. I love waking up and practicing in the mornings. I feel awake for the whole day."
Getting tired towards the end of the day is never a problem. "Practice ends at 7:30 a.m. and I have to be at the Career Center at 8 a.m.," James said. "I'm not really tired. I save enough energy for throughout the day."
Last year, James only competed in the 50 free. She has added the 200 free relay and "occasionally" the 100 free this year. She'll usually swim the second or third leg on the relay.
"There's nothing like swimming the anchor, which is completely stressful," James said, laughing. "I swam the anchor once. I didn't like it."
She's reduced her 50 free time by an impressive 15 seconds since last year. "I've improved a lot since last year," said James. "There's still room to go."
James said she didn't know what to expect when she went out for the team. "I thought maybe it was like a track meet in the water," she described. "I didn't know what to expect.
"It was awesome. I never knew how much I would like swimming a couple of months each year, to get to hop into a pool and hang out with friends. It's a time to destress. It's great."
The Atkins girls team is undefeated at this point in the season for the first time in school history. "It's one of our best seasons ever," James said. "Last year wasn't the best season. This year a lot of us are seniors. We have the experience and know what kind of drills to put in."
She said flip turns are her biggest strength but diving off the starting blocks is a work in progress. "Even though it doesn't look that high from the blocks it's still kind of scary looking down," James said. "I had a lot of belly flops last year.
"At first it was difficult to understand the whole concept of flip turns but once I understood, I got the hang of it. Plus, I only have to do one or two in a meet."
James gives high praise to Coach Andrea Derflinger. "She has made a huge difference," James said. "She has been really helpful in practice and the process of getting better."
Focus on: Nashanti Riley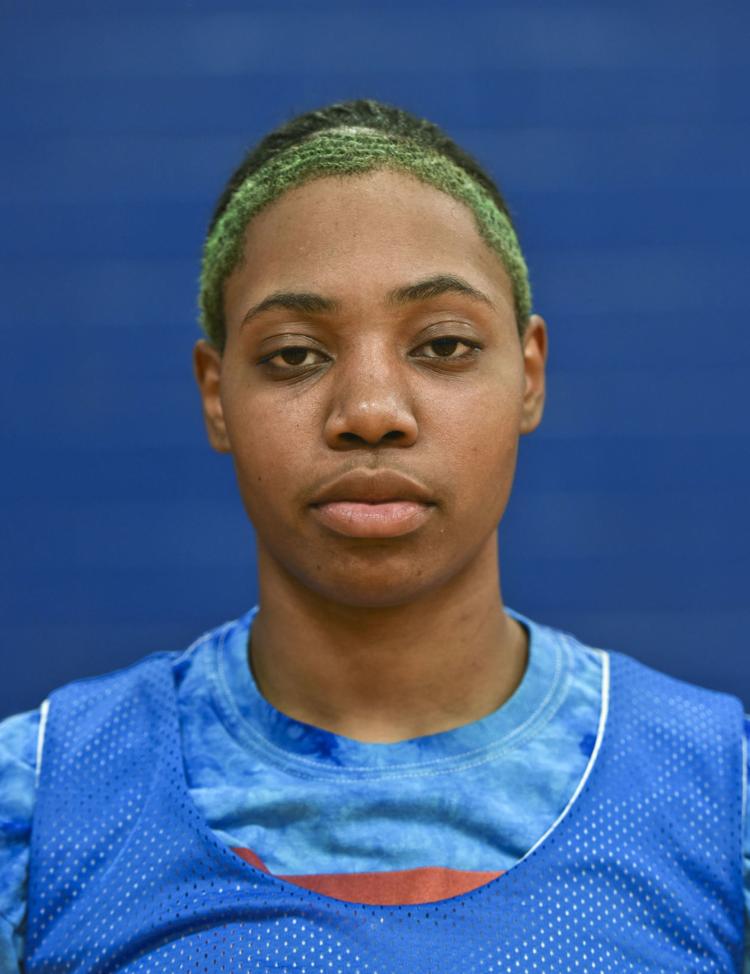 Nashanti Riley was a newcomer to Winston-Salem and Carver High School last fall. She had relocated from Long Island, New York, and was looking for a way to form new friendships.
Riley, a senior, decided basketball would present that opportunity.
"It helps you be social with other people when playing," Riley said. "I have bonded with my teammates. Basketball has helped me get to know people."
As one might imagine, Riley was nervous when she first went to practice. "I didn't know what to expect at first, so I was nervous," she said. "But after doing it a little bit more, I knew what to expect."
Preseason conditioning wasn't a problem. "I started a couple of weeks before it started," Riley said. "The running was rough. I wasn't expecting that at first."
There's nothing she dislikes about basketball. "I just like the game period," Riley said. "I like to watch the games."
Riley plays center for Carver. Facing taller players usually doesn't bother her. "Sometimes their height is intimidating but I just stay focused," she explained. "Rebounding is my biggest strength. Your team gets the ball when you rebound so I do my best at that."
She said her height gives her an advantage when playing defense. "I feel like my height gives me an advantage because sometimes I'm taller than the girls I'm playing against," Riley said. "I feel like it's easier to play defense against them."
Dribbling is something she said she needs to work more on. "I'm a lefty," Riley said. "It gives an advantage over people because the whole team always goes to the right when I'm not on the floor. Other teams know, so I'm working on dribbling with my right hand."
Riley confessed that her skills weren't sharp at first.
"I was a little rusty at first," she said. "My teammates made me feel a lot more comfortable. It didn't take that long to get back."
She said two things frustrate her the most. "Sometimes our team doesn't communicate as we should," Riley said. "Sometimes we don't work together as we should and forget the plays."
Riley said she's often hard on herself. "When I make mistakes, I'm really hard on myself," she said. "I just work harder and keep practicing."
As a senior she takes pride in joining the team's other three seniors in team leadership. "I think I'm supportive of everyone," Riley said. "I try to lead the team in the right direction because most are younger than me."
Focus on: Justen Green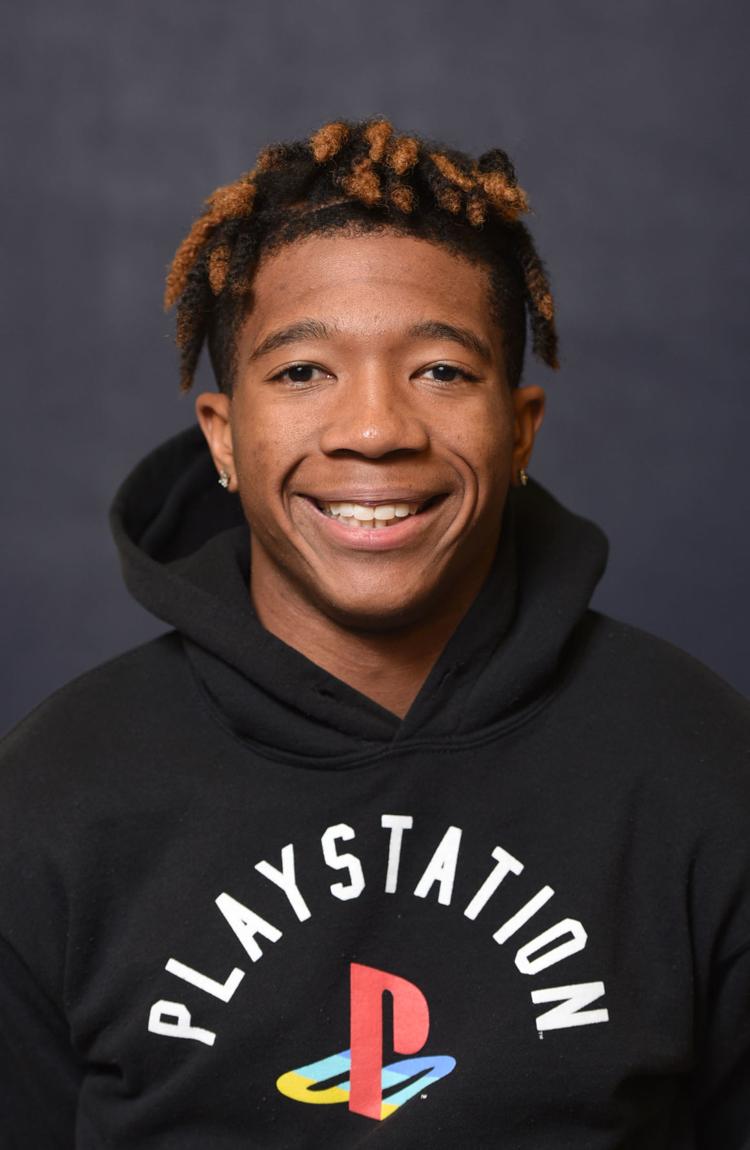 Justen Green found his inspiration for running on the East Forsyth track team when Coach Marvin Fulwood joined the Eagles staff last year. "Coach Fulwood started coming here and showed me how I could do something in track," Green said. "I even stopped playing football and started running track year-round."
Green, a junior, has run on the indoor team since his freshman year. He joined the outdoor team last spring. He also competes on the AAU Tri-Cities team.
"I'm the type of person if I lose, I don't get discouraged," Green said. "I work harder."
Green admitted that his work ethic wasn't always present during his freshman year. "I didn't like conditioning," he said. "Now I'm used to it. I practice whenever I can and try to run in any meets or invitationals that I can.
"My freshman year I would do things halfway and I didn't see any progress. Now, I like to see where I'm at and what I can work on."
You won't find Green running distance events. "I'm more like a sprinter," he said. "I run the 55, the 300 and occasionally the 500 in indoor. I'll run the 4x200 relay."
He runs the first leg on the relay, which can be tough if his team is assigned to lane No. 1 in the staggered start. "In lane one you have to catch up with everyone else," explained Green. "Lane six is on the outside so I just keep the pace.
"In the inside I keep a faster pace. I'll run 90% until I get to the last 50 and then I'll run 100%."
Green said his favorite race is the 55. "It allows me to compete with speed," he said. "It also allows me to work on my start. If I have a fast start and good stride, I'll easily finish in the top three. It's all about mechanics."
His outdoor events include the 100, 200 and 4x100 and 4x200 relays. "The 100 is my favorite basically because it's like the 55, just a longer race," he said. "The 4x100 is my favorite relay because I like to run on the curve.
"There's just something different when you run on the curve. "You come around hugging the inside lane."
Green thought about trying the long jump. "I was gonna try the long jump, but I suffered an injury to my hip flexor," he said. "When I got healthier, I decided to just keep running track."
He's excited about an upcoming meet this summer. "I'm competing in the Australia Down Under Sports meet," he said. "That will be fun."
Focus on: Nathan Fuller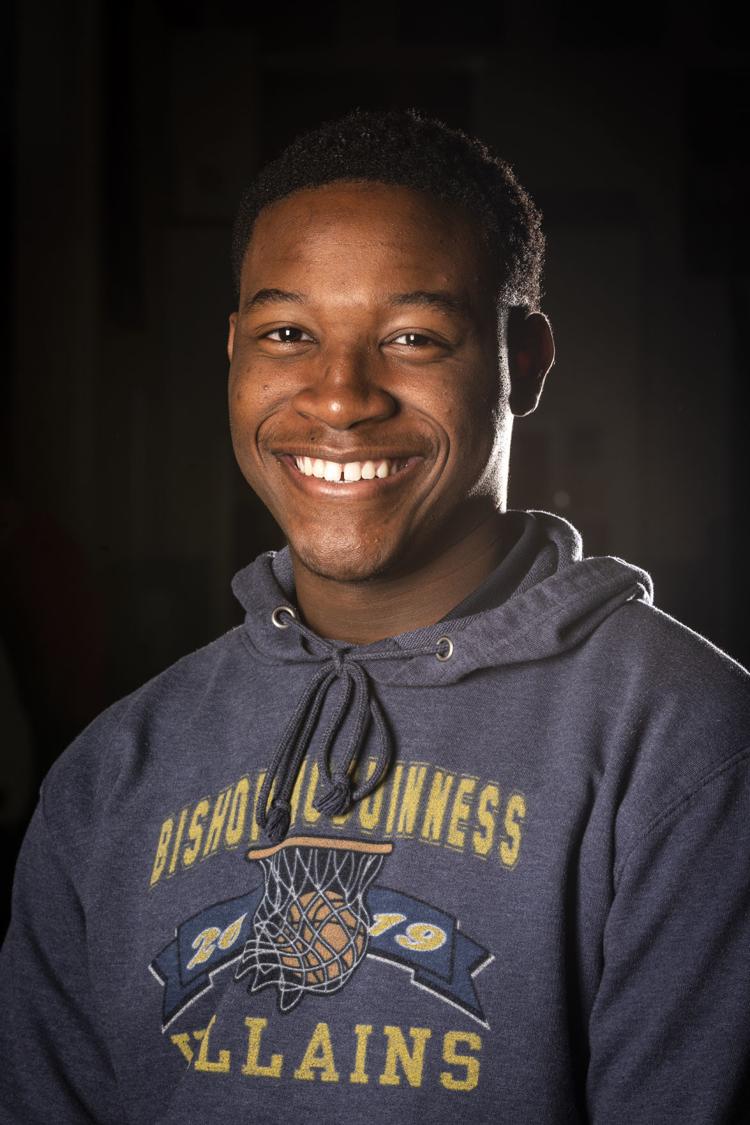 Nathan Fuller stepped right into the starting point guard role at Bishop McGuinness this season.
Fuller, a junior, transferred to McGuinness after spending his sophomore year at Glenn as a backup. As a freshman, he played at Triad Baptist.
Fuller said his new teammates took to him quickly, so the transition to a new school and a new team wasn't quite as challenging as it could have been.
He was also joining a team that won the NCHSAA 1-A state championship last season, a fact that also wasn't lost on him.
"Yeah, I knew what I was getting myself into," Fuller said. "I felt like I needed to be at a school that challenged me a little bit more. It was a little daunting at first, but once I got to know everyone, I became a lot more comfortable."
Fuller started working out with his new team last summer and became familiar with his new teammates.
As a point guard, he knew he needed to learn the new offensive and defensive system quickly so he could lead appropriately on the court.
"I was a little more reserved at first with my communication because I was still in the learning process," Fuller said. "As a point guard, it's my job to make sure everyone is involved and doing their job. It's my job to control the tempo of the game and to get everyone involved. I'm happy with the transition so far."
McGuinness has won 11 of is first 14 games and is averaging 67 points per game, which is tops among teams in the Northwest 1-A Conference.
"The competition has been about the same here as it was when I was at Glenn," Fuller said. "The adjustment is more on my role as a starter now versus coming off the bench last season."
Fuller hopes to play professionally one day. He gave up soccer when he was a freshman so he could devote all his attention to the hardwood.
"I feel like I need to keep working on my shooting," said Fuller, who is also in Fellowship of Christian Athletes. "I feel like I'm in the right place for me."
Three questions for Fuller
Q: What's the best book you've read?
Answer: "The Good Earth" by Pearl S. Buck
Q: What three people, living or dead, would you invite to dinner?
Answer: Lebron James, Kevin Hart, Kyrie Irving
Q: If you could have one superpower, what would it be?
Answer: Read minds
Focus on: Anthony Brannon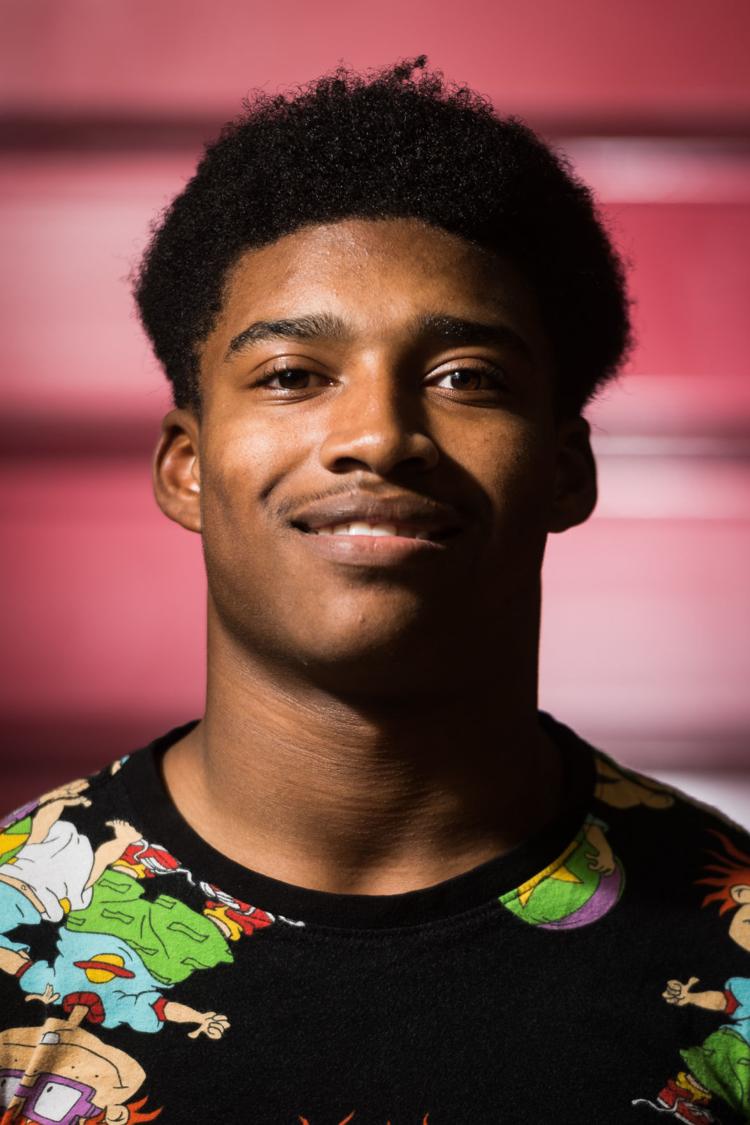 Anthony Brannon is determined to prove all the doubters wrong. "I just think about all the things that brought me down and the people who doubted me throughout life," said Brannon, a sophomore wrestler at North Forsyth. "It makes me work harder."
That hard work is taking place on the wrestling mat and football field. Brannon was a star running back on the junior varsity football team this season. His record in wrestling currently stands at 26-5.
His brothers influenced him to try wrestling. "My two brothers wrestled so I thought I would give it a try," he said. "I like it because it's a physical sport. You can actually put your hands on someone without getting into trouble."
Brannon likes the weekend tournaments, but not the early wakeup they require. "I like traveling with the team to matches," he said. "I don't like waking up and being at school at 6:30 or 7 on Saturday mornings."
Learning the moves and techniques were a challenge for Brannon last year. "At first I struggled," he said. "I didn't know any moves. I didn't like it at first, but I kept working and practicing."
Quitting crossed his mind. "I thought about it," said Brannon. "But I'm not a quitter. That's just not me."
Adding to his frustration last year was a late start in wrestling. "I started late because I had a concussion from football," Brannon recalled. "That's why I struggled at first."
He wrestled in the 120-pound weight class last year and has moved to 126 this season. "The lower weight classes are quicker," he said. "You have to know a little bit more."
Brannon said he prefers to pin his opponents early in matches. "Most of my wins are by pins," he said. "It's real tough if you get into the third period. You just want to get it over with.
"You just have to keep working and don't give up. You don't want to do anything that could jeopardize the match."
North Forsyth dropped from a 3-A to a 2-A conference this year and Brannon has welcomed that change.
"It is easier in our new conference," Brannon said. "My toughest match was against Ledford. I couldn't finish the match.
"I hurt my shoulder really bad and the trainer and coach wouldn't let me finish. I felt embarrassed."
Brannon has one goal this year. "I want to try to become a state champion," he said. "I just have to keep working and beat any person who stands in the way of that goal."
Focus on: John Avery Grubbs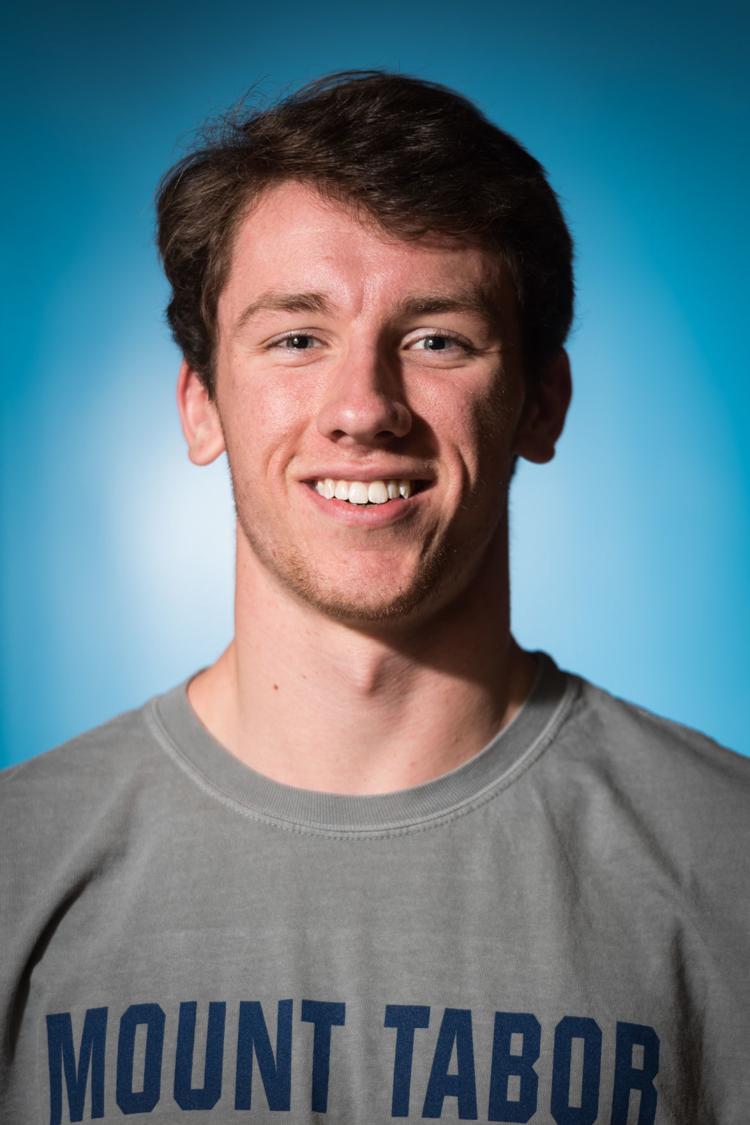 John Avery Grubbs has his parents and the 2016 Rio Olympics to thank for his fruitful swimming career at Mount Tabor.
Grubbs, a senior, has been swimming for the Spartans for four years. That's also the amount of time he has dedicated to the sport.
"I didn't really start swimming competitively until the summer before my freshman year," Grubbs said. "I was always fascinated by swimming. My parents always told me I had the perfect body type for swimming. So, I just went with that and joined the summer team at Grandview Pool before I got to Mount Tabor. Then after watching the Olympics that year and seeing Michael Phelps and Ryan Murphy, that solidified my desire to swim here. I just went with it."
Grubbs swims the 100 freestyle and the 100 back for the Spartans. He was also part of the school-record setting 400 free relay team last season.
After qualifying for the regional championship as a freshman in one of the team's relays and for both of his individual events as a sophomore, Grubbs broke out last season and qualified in both those events for the NCHSAA 3-A state championships.
"Our team came in fourth place at the state meet overall and I set a new PR (personal record) in the 100 back," Grubbs said. "And at our first meet of this season, I set a new PR in the 100 free. I'd definitely like to get back to the state meet in my events this season."
Grubbs, who is in the National Honor Society, National Spanish Honor Society, is the vice president of the Key Club and is a member of the Spanish Club, also runs track (1600) and cross country for the Spartans.
"They most certainly help me stay in shape for swimming, but swimming is definitely my favorite thing to do," Grubbs said.
Grubbs said that he would probably swim for a club team in college and has been accepted into Appalachian State and East Carolina. He is waiting to hear from Furman and UNC Wilmington.
"I'd like to study either business or physical therapy," he said. "Both of those appeal to me."
Three questions for Grubbs
Q: Who's the best teacher you've had?
Answer: Ms. Lori Barnett (English)
Q: What three people, living or dead, would you invite to dinner?
Answer: Michael Phelps, Paul McCartney, Tim Duncan
Q: What's on your bucket list?
Answer: Visit the Pacific Ocean. I've never been that far west.