SportsXtra: This week's featured high school athletes, February 14
Junior Melanie Moore assumes more of a leadership role for young Atkins team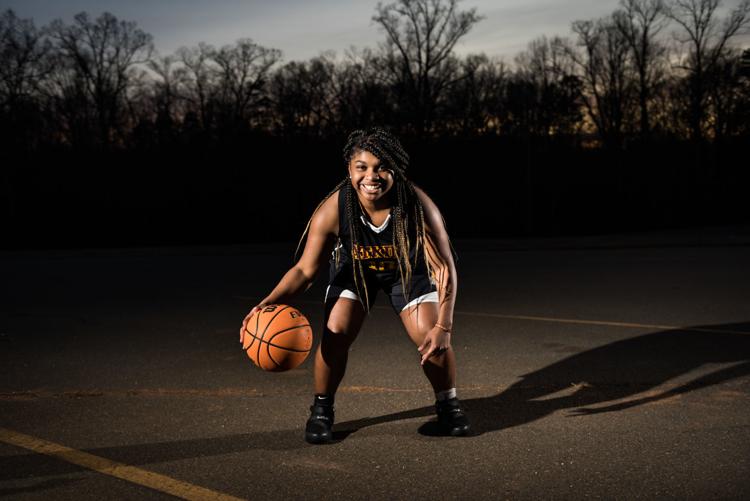 Wearing an Atkins basketball uniform is a dream come true for Melanie Moore. Moore, a junior, has played three years on the varsity team.
"I always wanted to play basketball in high school," Moore said. "I went to workouts. I could tell they were all obsessed with basketball. I made the varsity team as a freshman."
Moore is primarily a shooting guard but also plays the post on occasion.
"Honestly it depends on the situation," she said. "It all depends on the rotation in the game."
Patience is one of the things she works on. "It's just taking more time to get the ball into the paint," Moore said. "There's not a lot of pressure on me. I have to make smart passes."
Playing time was hard to come by on a senior-laden team her freshman year, but that didn't deter Moore from giving her all and impressing Coach Louis Lowery. "My freshman year I didn't get a lot of playing time," recalled Moore. "I hustled all the time. I knew it would eventually pay off."
Lowery had lectured the team on the pressure they would face. It didn't sink in until Moore experienced it first-hand. "It definitely opened my eyes to see more," she said. "It was like 'Wow, this is the pressure Coach Lowery was talking about.' "
Focusing is one of the ways Moore handles the pressure. "You have to stay focused no matter what," she said. "No matter how good or how bad your opponents are you have to stay focused."
The lack of playing time can be discouraging for any player. Even though Moore knew she wouldn't see the court very much, she still had moments where she doubted her abilities.
"I was sad," she said. "I told my mom. She told me to keep working hard. She said that hard work definitely pays off."
The turning point in her confidence came when Lowery offered praise.
"He told me how he proud of me he was," she said. "He said I was really learning how to be patient with the ball. He told me how I was looking at the whole court."
Surprisingly, as a shooting guard you'll rarely see Moore shooting a 3-pointer. In fact, she hit her first 3-pointer earlier this year.
"I don't shoot them," she said. "I made my first one against Carver.
"He (Lowery) said shoot it. The whole bench went crazy when it went in. They still talk about it."
Her favorite shot is closer to the basket. "My favorite shot is in the paint," Moore said. "That's where I like to shoot."
Moore said she's not selfish on the court. "They will never call me a ball hog," she said, laughing. "I'm not selfish with the ball. I don't like to shoot. I don't like holding that ball because my teammates like to score, too."
Seeing the whole court is something Lowery stresses. "Sometimes I get nervous and throw the ball away," Moore said. "Coach tells me to relax and don't think about it. He tells me to lay out the court and see what I've got.
"I still get mad at myself when I do something like that. That's what gets me so upset."
This year has been a rebuilding year for the Atkins team. The loss of several seniors combined with five freshmen on this year's roster has provided a new experience for Moore and her returning teammates.
"With that group of freshmen coming in, we knew we would have to work on trying to get that chemistry," she said. "Overall we're working hard. It's even been a new experience for Coach.
"We only have one senior on the team," Moore noted. "It's a different type of pressure for the freshmen playing high school basketball. Sometimes they doubt themselves.
"When I see them giving up, I tell them we have to fight to the end, until that buzzer goes off. You have to realize they're new and trying to adjust. I push them through. I have faith in my team. It's a team sport where when we win, we win together as a team. We all play for one purpose. We have to collaborate together. We have to hustle together and uplift each other."
Moore said the trials this season will only make the team stronger next year. "I think next year I'm going to go out with a bang."
Focus on: Katelynn Williams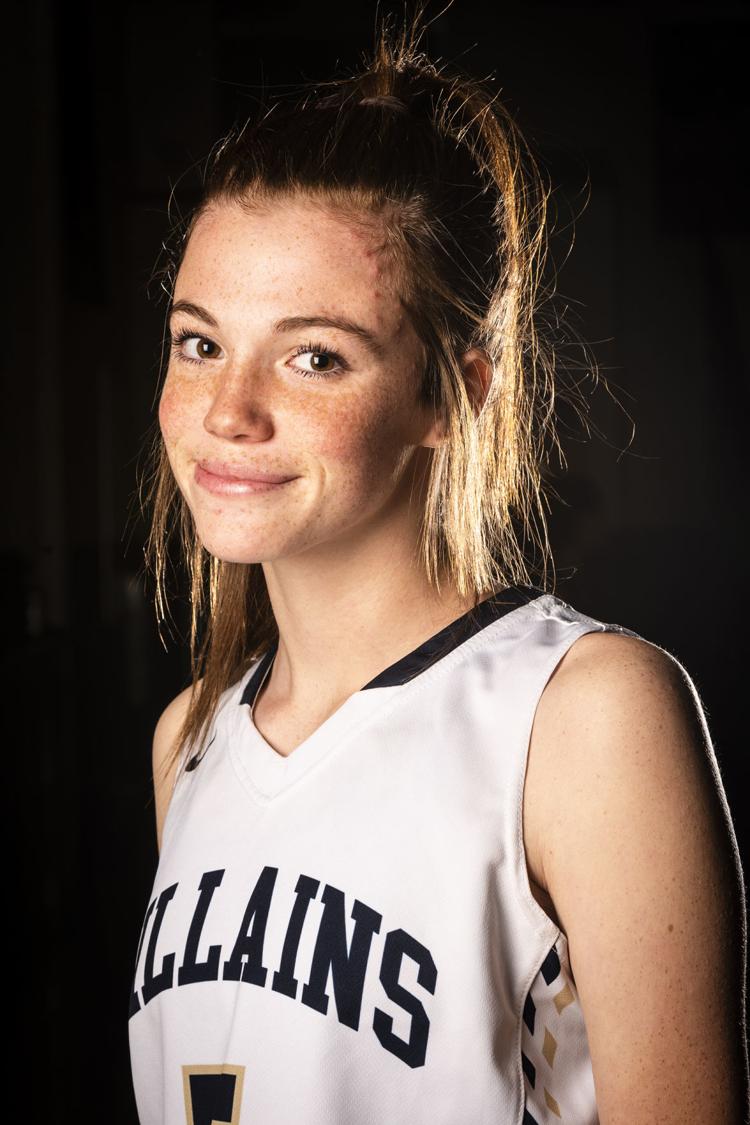 Katelynn Williams wasn't sure she would even tryout for basketball when she arrived at Bishop McGuinness as a freshman.
After spending the season playing junior varsity and getting moved up to the varsity team for the conference and state tournaments, Williams got a taste of what playing varsity basketball was all about.
"It definitely opened my eyes because it was really exciting," Williams said. "It was a lot more fast-paced than what I was used to. I made it one of my main goals to make the varsity team this year. It made me want to play at a higher level. Coach (Brian) Robinson is also a big reason for that. I love being coached by him. He has elevated my interest in the game."
Mission accomplished for Williams, now a sophomore.
"I wasn't sure if they were going to need me for varsity or for junior varsity," Williams said. "We only had six girls on the JV team last season, and I thought they might need me there again. Once I found out I made the varsity team, I was really proud of myself."
Williams comes off the bench for the Villains as a shooting guard. Last spring, she played varsity soccer as a center forward or right midfielder. She plans to do the same once basketball season wraps up.
"I've been playing soccer all my life, and I only started playing basketball in the fourth grade when my dad took me out to shoot in our driveway," Williams said. "I tried out for the team at St. Leo and didn't make it. I kept practicing and made the JV team in fifth grade, and then in sixth grade, I got moved up to the varsity team by Coach (John) Dell. I've found that soccer and basketball are really complementary to one another, especially for conditioning and for communication."
Williams said that if given the choice, she would rather play soccer in college.
"I've always played club soccer," she said. "I'm currently playing for the NC Fusion. As much as I love soccer, I'd really love to win a (state championship) ring with this basketball team. I think we have something special."
Williams is also involved with the Special Olympics Club and eventually wants to study biology when she gets to college.
"My mom worked with disabled adults and children for several years, and I always enjoyed being around them," Williams said. "It gives you great perspective. Eventually, I want to be a physician's assistant or do something in the medical field."
Focus on: Isaac Hampton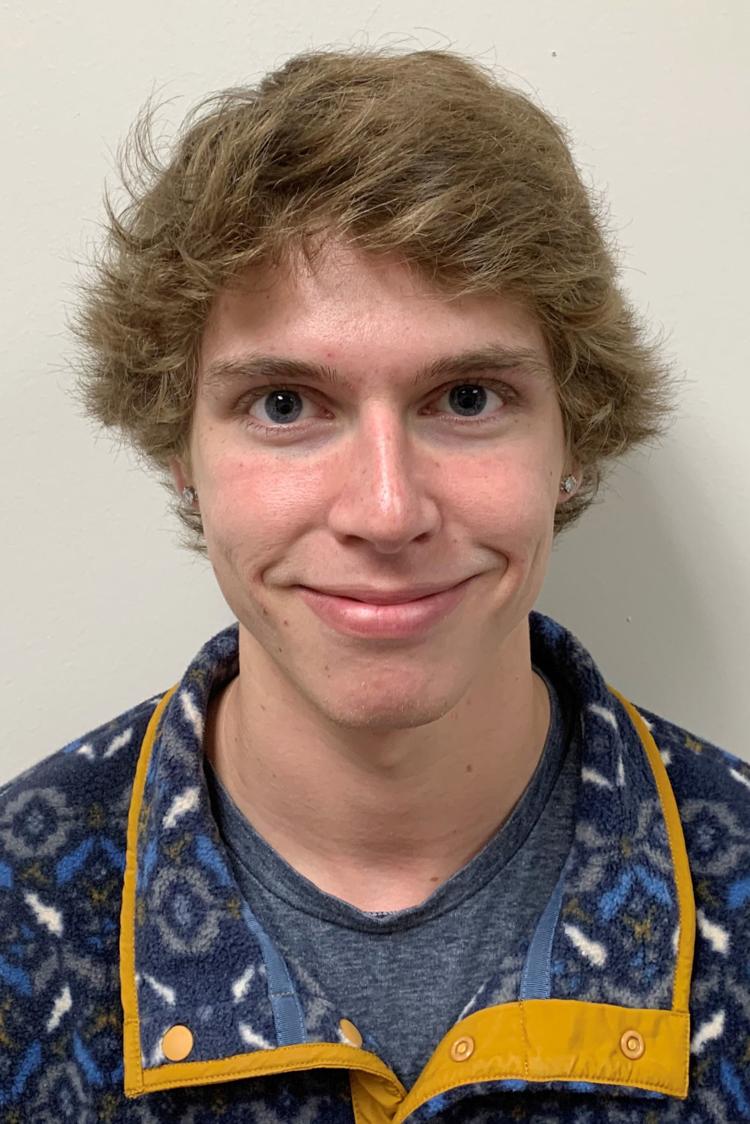 Isaac Hampton recalled playing tag in a swimming pool as the beginning of his interest in competitive swimming. "I got used to playing tag with some friends at the pool," he said. "My mom (Amber Westphal) thought I was fast."
Hampton, a senior at East Forsyth, got his first taste of swimming competitively as a freshman on the Eagles team. "I liked the energy my teammates gave off," he recalled. "I got used to it. I've improved a lot."
A couple of things he hasn't got used to are early practices and nerves. "Waking up at 5:30 in the morning and jumping into ice cold water isn't fun," he said, laughing. "They say they keep it at 80 (degrees) but it feels like 50 or something.
"I still get nervous before I do my swim meets."
Hampton was one of only five boys on the team this season. He said wearing a competitive swimsuit was probably the biggest reason more males didn't participate. "A lot has to do with the swimsuit," he said. "A lot of guys can't handle it, but you get used to it."
He prefers to wear normal swim trucks during practices. "I get that drag they give," Hampton said. "It helps me go faster in meets."
Hampton swims the 50 free, 100 free and the butterfly leg on the 200-medley relay. "I wish I did butterfly more, but I'm dedicated to making my free (style) times faster," he said. "I'm a sprinter. I just go quick and fast in those events."
He's proud of setting personal records in the 50 and 100 free this year. "I was just in that mindset that I've got to do better," he said. "My 50 free was a 32.93. My 100 was a 52.0."
Hampton's philosophy is simple. "If you fail you can always do better next time," he said.
Entry dives are his biggest strength, but his turns need work. "I react quickly to the starting buzzer," he said. "I could have turned quicker. I get left behind the other swimmers, but I catch up to them."
Hampton wears contacts, which sometimes is a problem if his goggles come off. "I wear contacts so I can open my eyes," he explained. "If my goggles fall off, I go blind. I have to make sure I stay between the lane lines.
"It's not that difficult because I kind of get used to where everything is."
Hampton's younger sister, Daisy, is also a teammate. "We joke around all the time and make the coaches so mad," he said. "We trash talk every day."
Focus on: Davis Blackwell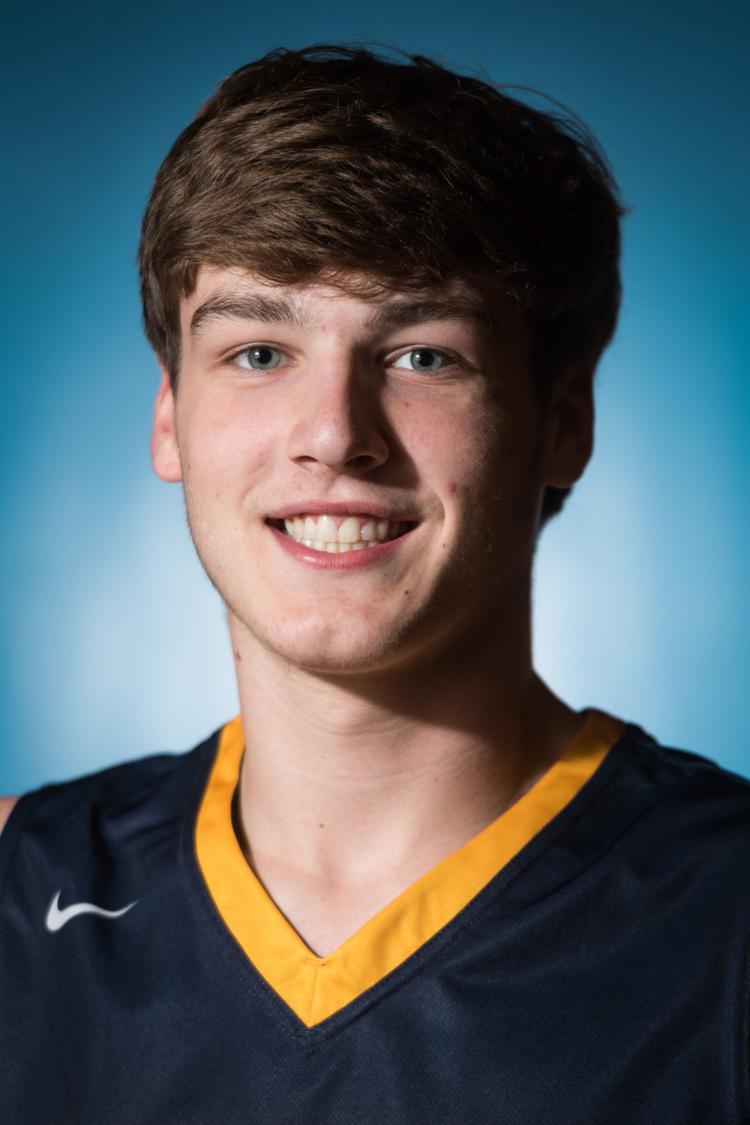 Davis Blackwell found his way back home for his senior year on the Mount Tabor basketball team.
Blackwell, who transferred to Forsyth Country Day for his junior year to reclassify, said he figured out quickly that it wasn't a good fit.
"I realized how much I missed being with my friends and my teammates," said Blackwell, a 6-6 ½ reserve forward. "I came to realize that I wanted to finish my career with my best friends. Something about my leaving just didn't feel right. I knew I needed to get back."
Blackwell returned to Mount Tabor for the start of the second semester of his junior year but wasn't eligible to participate in basketball. He did, however, play lacrosse last spring for the first time.
"It was a fun experience, but I got nailed by a ball on my calf and had to miss tryouts for my AAU team," Blackwell said with a laugh. "I missed about a month of the lacrosse season. I don't think I'll be playing this year."
All the anticipation and excitement for his senior season of basketball came crashing down when he broke his foot in a preseason scrimmage.
Blackwell was going up for a layup and came down on an opposing player's foot.
"My foot just rolled over on someone else's," Blackwell said. "I knew something was wrong immediately because I couldn't put any pressure on it. I didn't have to have surgery. I was on crutches for two weeks and in a boot for about six weeks. I missed the first nine games of the season."
Blackwell attended practices and did what he could to maintain contact with his teammates and coaches.
"I'd come in and try to do push-ups every day just to try and stay ahead of the process," he said. "It was frustrating for me not to be out on the court, enjoying the success we were having."
When Blackwell was able to come back, right around the time of the Frank Spencer Holiday Classic, the results didn't come as quickly as he wanted them.
"My first game back was the second game we played against Winston-Salem Prep," he said. "I got to play about four minutes and didn't really do much. I think not being able to come back and have an immediate impact was frustrating as well. My mind was telling me one thing, but my body was telling me another. Since the Frank Spencer, I feel like I'm back to being where I'm supposed to be and I want to do all I can to help this team finish strong."
Focus on: Joseph Terry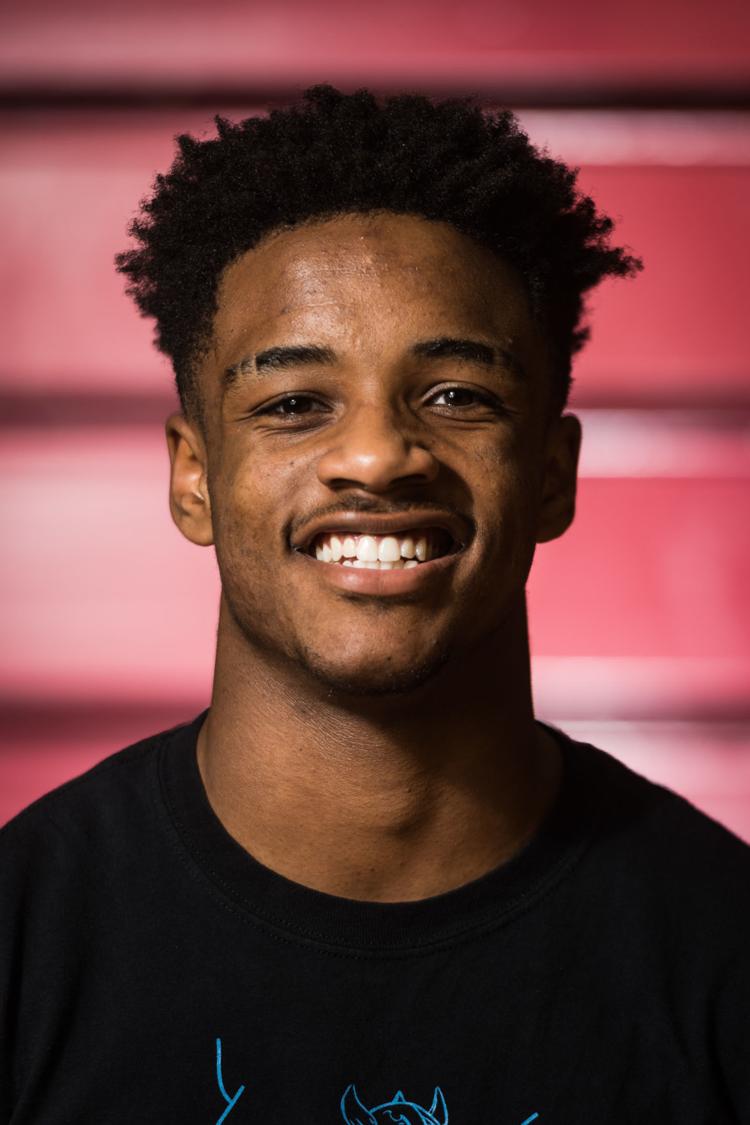 Joseph Terry's first choice after football season concluded last year wasn't wrestling. "I was going to do indoor track," said Terry, a sophomore at North Forsyth. "The coaches said since I play defense, I should wrestle."
The images of professional wrestling immediately popped into his mind. "I always thought it was like WWE," Terry said. "It wasn't. You can't cheat yourself or else it's going to be difficult. Every match. Every time."
Terry was blunt in his description of wrestling. "It really shows who the real men are," he said. "It shows who the dogs are."
He finished with a 5-10 record his freshman year. He credits a trip as a spectator to the regional meet last year as his inspiration to do better.
"I was not that good last year," he said. "Coach (Wayne Griffin) let me go to the regionals to see that environment. It was just the hype. I said I want that to happen next wrestling season."
Terry's hard work paid dividends. He has a 28-6 record. "I went to the (team) playoffs, but I lost in the first round," he said. "That was really hard."
He persevered through dislocating his shoulder twice during the regular season. "I dislocated it in the Gene Bowles Tournament at North Forsyth," recalled Terry. "I rolled on the mat and popped it back. I was mad because I was beating the guy.
"Everyone thought I was crying after the match because I'm hurt. I was crying because I lost. I had never cried over a sport except football. I worked so hard for it. It just all came out."
Terry's weight class both years has been 170 pounds, but he started this year wrestling up in the 182 division. "I did pretty decent," he said. "I used my speed and agility over their strength. Sometimes it worked, and sometimes it didn't."
He was happy when he moved to his weight class. "I felt I could control the match better," Terry explained. "They like to wrestle up top, but I feel better taking my shot with a head fake and boom."
Terry said he's looking forward to participating in the Regional. "I feel blessed to make it to Regionals," he said. "Before every match I just look up and put it in His hands."
He has nothing but praise for Griffin and the assistant coaches. "It helps to have one of the best coaches in Winston-Salem," he said. "He teaches us to be smart. He says certain people we can't go crazy on."
Focus on: Conor Ebbitt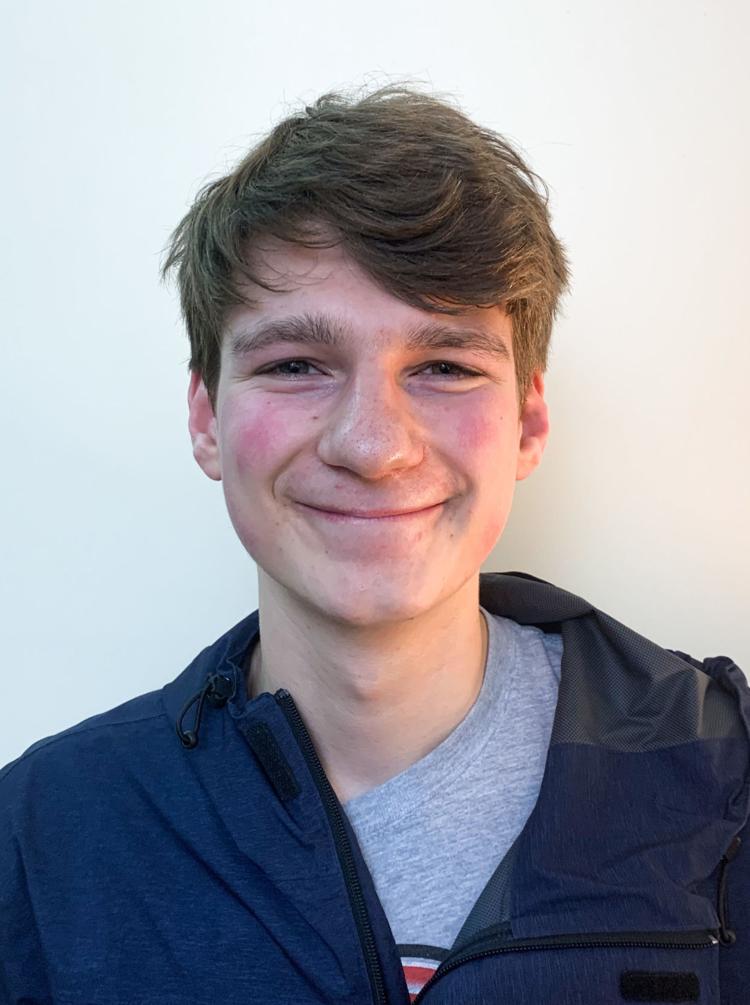 Conor Ebbitt has been a mainstay in the Reynolds running program for four years. Ebbitt, a senior, has participated in cross country as well as indoor and outdoor track the past three years. He ran cross country in the fall and qualified for the first time for the NCHSAA 4-A state championship meet.
Ebbitt had to make a decision when indoor track began. "I didn't do indoor (track) this year," he said. "I decided to focus more on schoolwork and starting to work during the winter."
The decision was made easier by Ebbitt's dislike for indoor track. "I dislike running indoor because it's a smaller track," he admitted. "It's 16 laps for the two-mile and honestly you just try to focus on pace and not what lap you're on or you'll get ahead of yourself. It gets in your head and you're focusing on laps."
Practicing outside during the winter months also took its toll. "I didn't like running in the cold and the late meets," he said.
Ebbitt's specialties are distance events. He ran the 800, 1600, and 3200 for three years in indoor track. Sometimes he ran on the 4x800 relay.
"I liked the 800 and the 4x8," Ebbitt said. "I liked the competition for that. It was pretty exciting. It was pretty fast paced and definitely not as long as the two-mile (3200) for indoor."
He started running at Wiley Middle School. "I didn't take it that seriously," Ebbitt said. "I've been more consistent in high school. You have your teammates there to push you along."
Running provides a great escape from the stress of school, according to Ebbitt. "I like the freedom of running," he said. "It's a great way to clear your head from schoolwork or a hard day.
"It's way different from any other sport. It's mostly mental. You don't have to worry about a bunch of equipment."
Ebbitt also likes the challenges running presents. "Sometimes it's hard to get through a run but even then, I enjoy the challenge of a race," he said. "It seems exhausting. I still enjoy it. It's something I'll keep doing after high school not as a sport, but on my own."
Running at the NCHSAA 4-A Cross Country State Championship this year was a fun experience for Ebbitt. He was an alternate on the team his sophomore year but didn't get to run. "It was my first time ever running in the state meet," Ebbitt said. "It was really fun. I was mostly just proud of myself for sticking with it all four years."
Focus on: Harrison Copeland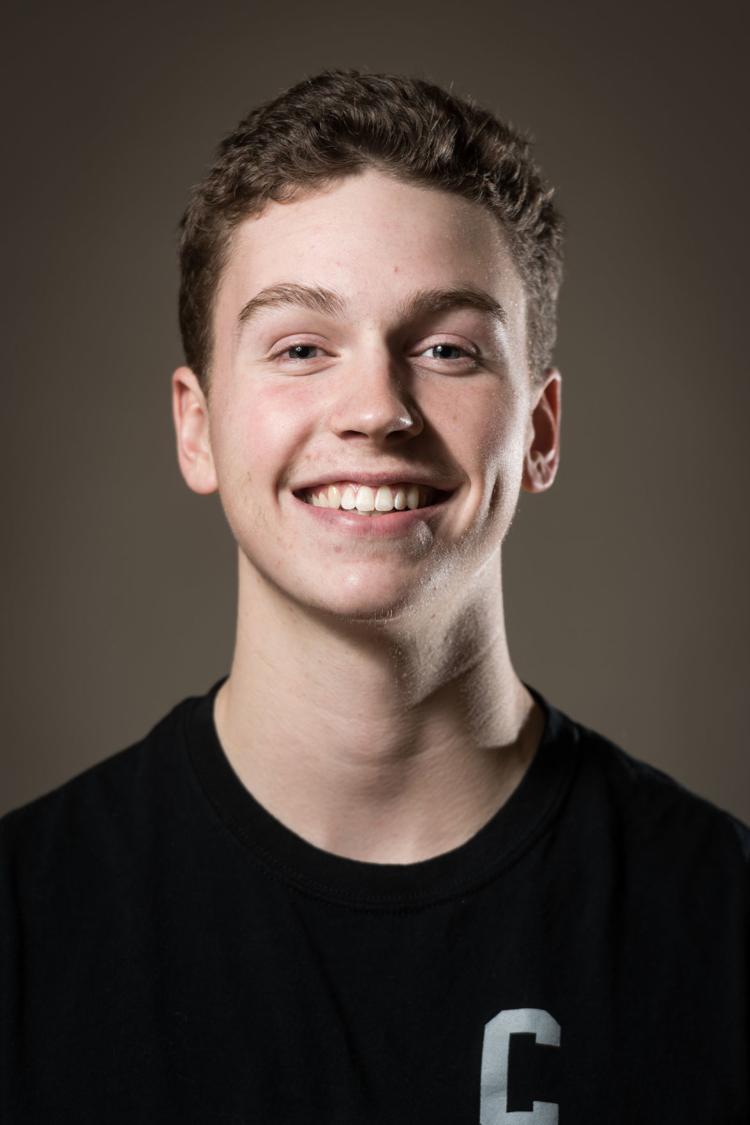 The dream became reality when Harrison Copeland mounted his starting block at the Class 4-A state swim championships last week.
For Copeland, a senior at Reagan, it was a personal milestone to qualify in the 100-yard freestyle. A week earlier, he placed eighth in the Class 4-A West Regionals to secure his spot at the state meet. Additionally, he swam the backstroke leg on the 200-yard medley relay.
"It's ultra-competitive in our region, so that makes it that much tougher to qualify," said Copeland, an All-Central Piedmont Conference pick in the 100 freestyle and the 200-medley relay during his career with the Raiders. "Plus, I don't train year-round like most of my opponents.
"I was so happy to get my time down where I could qualify as an individual. Up until this season, that's something I had never been able to do."
Coach Ryan Michel openly admits that Copeland's emergence was a pleasant surprise. It's unusual for a swimmer to be able to hold his or her own against the top performers unless they train and compete year-round.
"If you had told me four years ago that Harrison would wind up being an all-conference swimmer and state qualifier, I would've told you that you were crazy," Michel said. "Everything that he's accomplished is a tribute to his hard work. He has met and exceeded all of my expectations."
Copeland went through a positive transformation because of his devotion to weight training.
"Lifting helped Harrison to re-shape his body," said Michel. "That's what made it possible for him to become an elite swimmer."
State champion and former teammate Max Edwards, now a freshman swimmer at Virginia, convinced Copeland that weight workouts would pay off handsomely. Edwards, the state record holder in the 50-yard freestyle and 100-yard butterfly, was voted Most Outstanding Male Swimmer at last year's Class 4-A state championships.
"Max introduced me to weight training," Copeland said. "Once I did it, I really enjoyed it. I could tell the difference right away. Being stronger enabled me to swim with more power at the start and on the turns. And it's really helpful in the late stages of a race."
Looking back on his career, Copeland believes his most memorable moment came two years ago at the conference championships. He swam the third leg on the 200-freestyle relay that pulled off an upset victory over heavily favored West Forsyth.
"Nobody expected us to win it," he recalled. "And it was the first time that I ever went under 23 (seconds) for a 50-yard freestyle. That was a real feel-good moment for me."
Focus on: Kevin Navas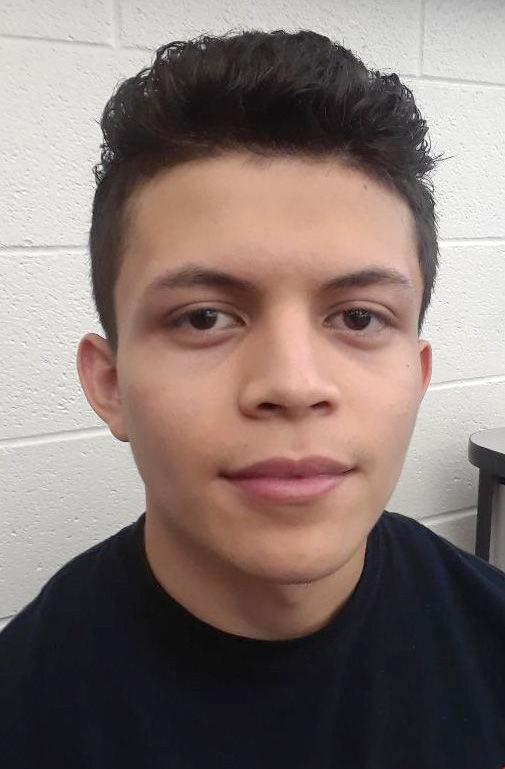 Walkertown swimmer Kevin Navas remembers his first high school workout as if it happened yesterday. It didn't take long for him to discover that swimming requires far more energy than he ever imagined.
That's because Navas is a neophyte swimmer. It was only last summer when he started taking swim lessons at the YMCA.
"What I remember most is how exhausted I was after that first practice," said Navas, a junior who competed in two freestyle events (50- and 100-yards) plus the 100-yard backstroke. "We were in the water for just one hour. I slept really good that night."
Coach Danette Handy is pleased with the newcomer's mental approach. The willingness to listen, she explained, is a prime reason why he has improved noticeably over a relatively short period of time.
"His attitude is to fix whatever needs to be fixed as soon as possible," Handy said. "He's the kind of athlete who keeps practicing until he gets it right."
What Navas likes most about his new sport is the opportunities it provides to help raise his performance level.
The second time Navas swam the 50-yard freestyle, he bettered his previous best time by 15 seconds. In the 100 freestyle the results were even more noteworthy. He improved by nearly 50 seconds over his first race.
"You can always surpass your limits," he said. "Looking at how much I improved from my first race to my second race, it shows what I'm capable of achieving.
"Doing the training it takes to improve my speed and technique goes beyond swimming. Those same principles can be applied to anything else that I want to pursue."
Navas admits that at first, he feared that he might quit in the middle of a race because of fatigue.
"It felt good just to finish a race, even if I was last," he said. "But now, I can go the full distance and go faster. It just makes me want to do more every time I get in the water."
Three questions for Navas
Q: What career would you like to pursue?
Answer: Orthopedic surgeon
Q: What's the best book you've read?
Answer: "The Kite Runner" by Khaled Hosseini
Q: If you could live anywhere in the world where would it be?
Answer: Israel
Focus on: Anthony Sellars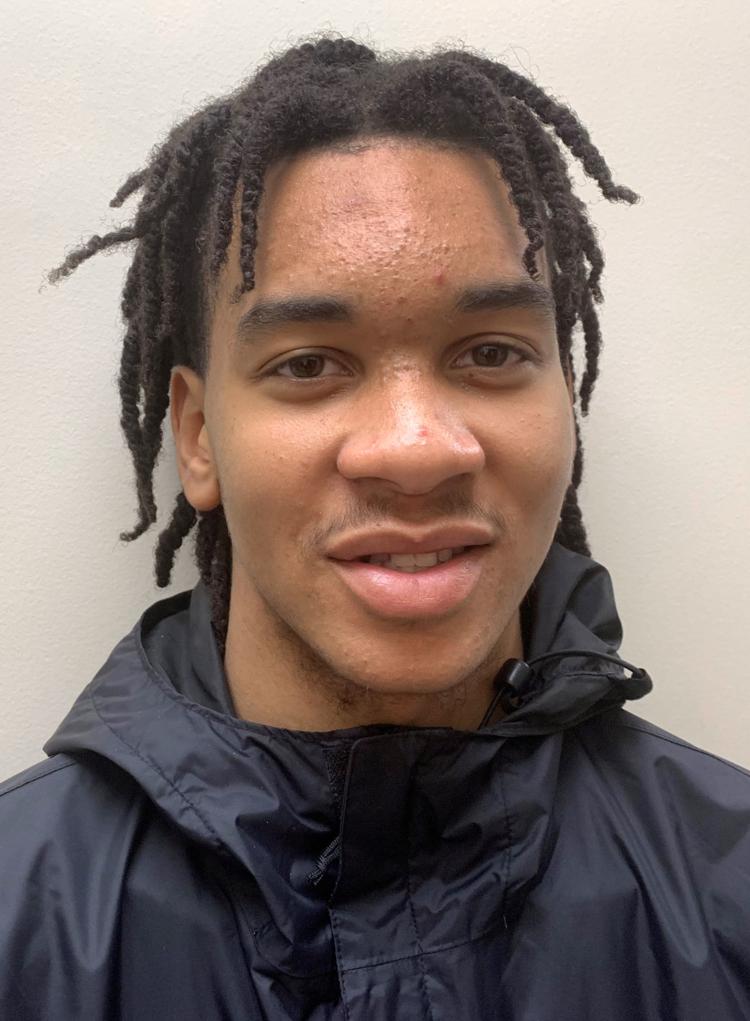 The long grind of a basketball season is one of the things Anthony Sellars likes most about the sport. "I just like the grind every day," said Sellars, a junior at Winston-Salem Prep. "I like the friendships you make, and you get to meet a lot of new people."
Playing for the Phoenix usually means that grind lasts longer than most schools' seasons. Winston-Salem Prep is almost always in the running for a state championship.
Sellars moved up to the varsity team last year. He especially enjoys the challenge of playing for a state title. "Moving up from JV means you get to play for a state championship," he said. "You play bigger competition."
It also means more is expected from the players. "There's more accountability," Sellars said. "There's more responsibility."
The Phoenix lost key players from last year's team, which increased Sellars' responsibility this year. "I was not a leader last year," he said. "I have to be a leader this year."
Building trust is one of the ways he helps. "Coach (Andre Gould) talked to us about that," Sellars noted. "We have to learn to trust. He said we can do that by talking to each other every day.
"We can text each other, go places together. We can even go to the gym. He's always talking about the little things. I'm working on that."
Sellars said playing with several teammates on his AAU team, Team Winston, also helps. "We are traveling together during the summer," he said. "We're staying at the same hotels. That's how we build trust."
Sellars stands 6-6 and plays the wing, but he considers himself to be versatile. "I play the three (wing) and four (power forward) spots," he said. "There were some big challenges over the summer where I worked out as a wing.
"The players that play inside get rough with people. I have to be more physical. I'm closer to the basketball so I can score. But I'm versatile. I can guard. I can do a little bit of everything."
Sellars said he's learning to accept criticism and how to handle frustration. "Once I learn how to take what coach says and not take it as a personal thing, I think I will be a great player one day," he explained. "I get frustrated, but I've learned this year to control what you can control."
He's determined to prove the naysayers wrong. "It's real hard when people in the stands are calling you names," Sellers said. "Those are moments you live for, to prove them wrong."
Focus on: Jacob Valade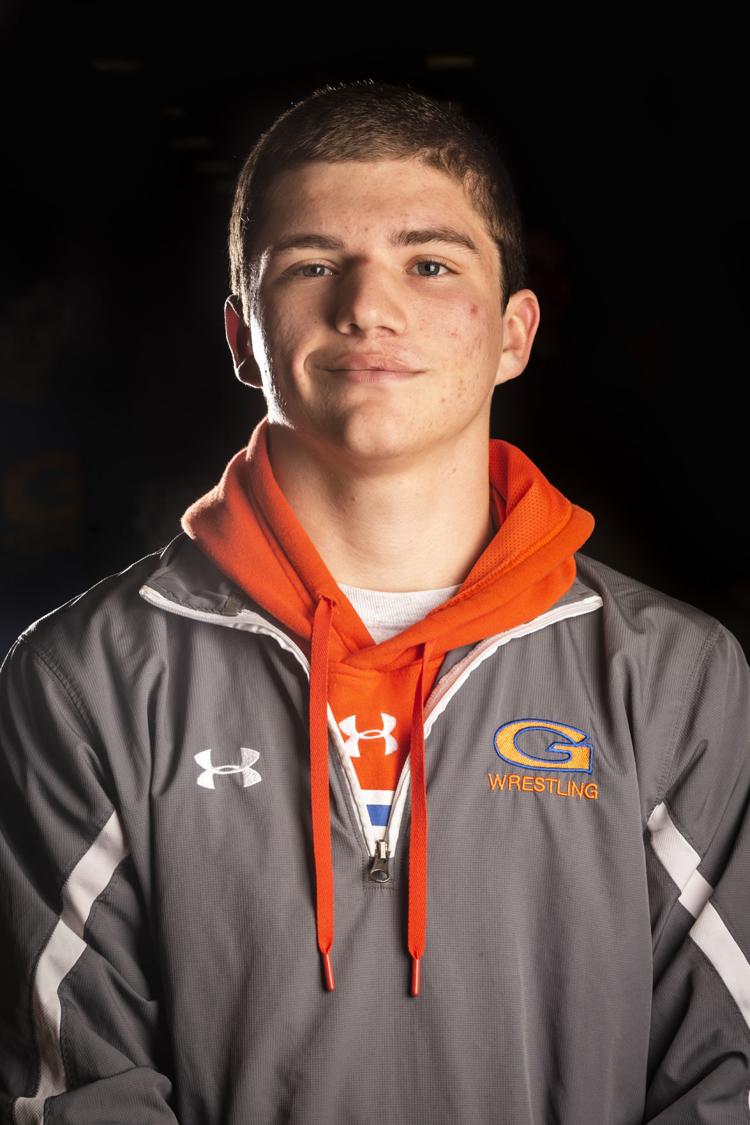 At the start of 2020, Glenn wrestler Jacob Valade had a light bulb moment. It couldn't have come at a better time.
Over the first half of the season, Valade, a junior, was admittedly so-so with a 12-10 record. But then he put together an impressive three-match win streak in the Leigh Hebbard Invitational. That's when his season started to improve dramatically.
Valade, who moved down from 145 pounds to the 138-pound weight class, pinned Devin Cannon of Western Alamance in his opening match.
In the semifinals, he pinned No. 1 seed Leo Reyes-Arroyo of Fayetteville Sanford and finished strong by pinning second-seeded Ian Powers of Catawba Bandys in the championship match. Valade has won 20 of his last 22 matches over the past six weeks.
"Everything just clicked, and for whatever reason, wrestling got easier," said Valade, who was 32-12 as of Feb. 7. "I had been looking for a turning point (to my season). Whenever it came, I just wanted to be sure that I'd be ready take full advantage."
"The same thing happened with my older brother (Will) when he wrestled in high school. Every season he would reach a point where everything started to work very well. So, when it happened for me, it was not a surprise."
Coach Brandon Parsley is confident that Jacob Valade's best is yet to come. Perfecting moves that he's recently learned has played a major role in how much he has progressed.
"I'm looking for Jake to make a good showing at the (Midwest 4-A) regionals," Parsley said. "The coaching staff knew he had it in him. It was just a matter of us bringing it out of him.
"With the new moves, Jake has adjusted well. Those moves fit his style of wrestling. On the mat, he's a meat-and-potatoes type. Nothing fancy, nothing spectacular. It doesn't look pretty, but it works."
Jacob Valade picked up a few pointers and habits from his older brother, who graduated from Glenn last year. Will Valade was a two-time All-State wrestler.
"For every match, I always wear an orange-colored Glenn wrestling hoodie. And I always wear the same underwear, too. But they are always clean. Those are some things I picked up from Will.
"Having him as a training partner for two years was huge. Will is the reason I got into wrestling. He'd beat the dog snot out of me every day in practice. But that helped to mold me into who I am today as a wrestler and as a person."
Focus on: Jake Freiberg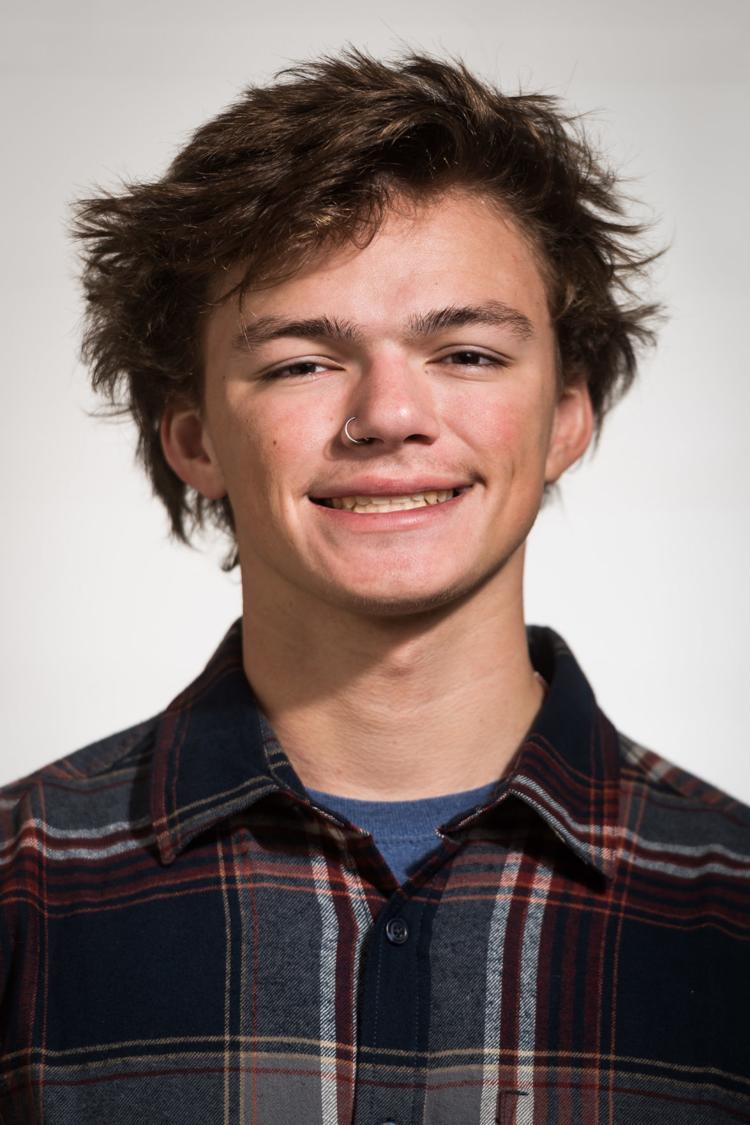 When West Forsyth's 200- and 400-yard freestyle relay teams set school records in the past two weeks, Jake Freiberg had a special place in both races.
He was the only member of either relay team who doesn't swim year-round for a local swim club — normally an unspoken prerequisite for such high cotton in the pool.
Freiberg, an 18-year-old senior, has always loved swimming, and he has been fairly successful for his summer-league pool, Waterford, and for the Titans. He just never felt the need to devote more time to swimming.
"I have thought if I had swam year-round, could I have been really, really good?" he said. "Maybe, but I don't have the desire to put all that time into swimming. I started swimming when I was about 6. My parents put me and my siblings into summer-league swimming, and as we got older, they gave us the option of staying with it or not, and I'm the only one who stayed with it from 6 all the way to 18. But I've never swum year-round."
Freiberg's specialities for Coach Sandy Thomerson were the two freestyle sprints: the 50- and 100-yard events. He qualified for the Class 4-A Western Regionals in both events and swam legs on the two freestyle relay teams, which erased long-standing school records. At the Class 4-A state meet last Friday, the Titans finished seventh in the 200 relay and 11th in the 400 relay. The latter was a school-record swim; the 200-yard relay record fell a week earlier at regionals.
"Jake didn't start swimming until he was a sophomore, when he gave up football," Thomerson said. "In my first year coaching (West), he came out after football and tried out, and he was so naturally good at swimming, he starting asking if he should give up football, and he did.
"He split a 22.7 (seconds) in the 200 relay that broke the school record, and he also split a 50-plus in the 400 that broke the school record."
Why did swimming stick for him?
"I loved the satisfaction I got from racing. It's very fun," he said. "And it's a friendly sport. Most of the people are nice, and everybody cheers for each other."
Freiberg made huge improvement between his junior and senior seasons. He dropped close to 2 seconds in his 50-yard freestyle, which is unheard of.
"Honestly, I didn't expect to go that fast this year. I don't know what happened," he said.
Swimming has also opened doors for Freiberg, who lifeguards and coaches at his summer-league pool and lifeguards at the Jerry Long Family YMCA in Clemmons.
Focus on: Ai'yana Gray-Williams
Do the work, reap the rewards. It's an old-school axiom that's tried and true.
Ai'yana Gray-Williams knows all about it.
If she continues on her current path, Gray-Williams, a freshman, will finish her career as one of Parkland's most accomplished track and field athletes.
Given her status as a rising talent, it's clear that the future holds much promise. Gray-Williams looks to start building her legacy at the Class 3-A state indoor championships today at JDL Fast Track in Winston-Salem.
"With all the work I've put in, I've always believed it would lead to great outcomes," she said. "For the state championships, I just want to do my best and keep progressing."
Gray-Williams figures to be a solid favorite to earn All-State honors by placing among the top four at the state meet. Her best shot at winning gold will come as a member of the Mustangs 4x200 relay, which is No. 1 in the Class 3-A state rankings compiled by the NC Runners website.
Entering today's competition, here's how she stacks up in the Class 3-A state rankings in her individual events.
3rd — 55-meter dash (7.20 seconds)
4th — 300-meter dash (41.27 seconds)
4th — Long jump (17-feet, 1 ¼ inches)
"Ai'yana was average when she started cross-country training last fall," Coach Antwan Hughes said. "Because of her training, she's turned in some remarkable performances in her first year. That's why she's become one of the top athletes in 3-A for the indoor season."
Tarrish Alexander, who coaches Parkland's jumpers, is confident that Gray-Williams will continue to grow by leaps and bounds. He sees no reason why she won't contend at the national level in the not-too-distant future.
"Ai'yana is always trying to perfect what she's been taught," Alexander said. "Her work ethic is through the roof. In the years to come, she will be one of the top talents in the nation."
Alexander's prediction about Gray-Williams is not a case of a coach hyping an athlete. Gray-Williams stands to benefit immensely from having Ija Mumford as a teammate and mentor.
Mumford, a sophomore, is the reigning state champion in the long jump and triple jump. Aside from that, she won the long jump in the freshman division at the New Balance Outdoor Nationals last year. Mumford and Gray-Williams compete in the same events, including the 4x200 relay.
"Having Ija around helps a lot," Gray-Williams said. "My goal is to be as good as she is or better. To do that, I have to maintain the right mindset. She pushes me to be the very best I can be."
Focus on: Nathan Hutchins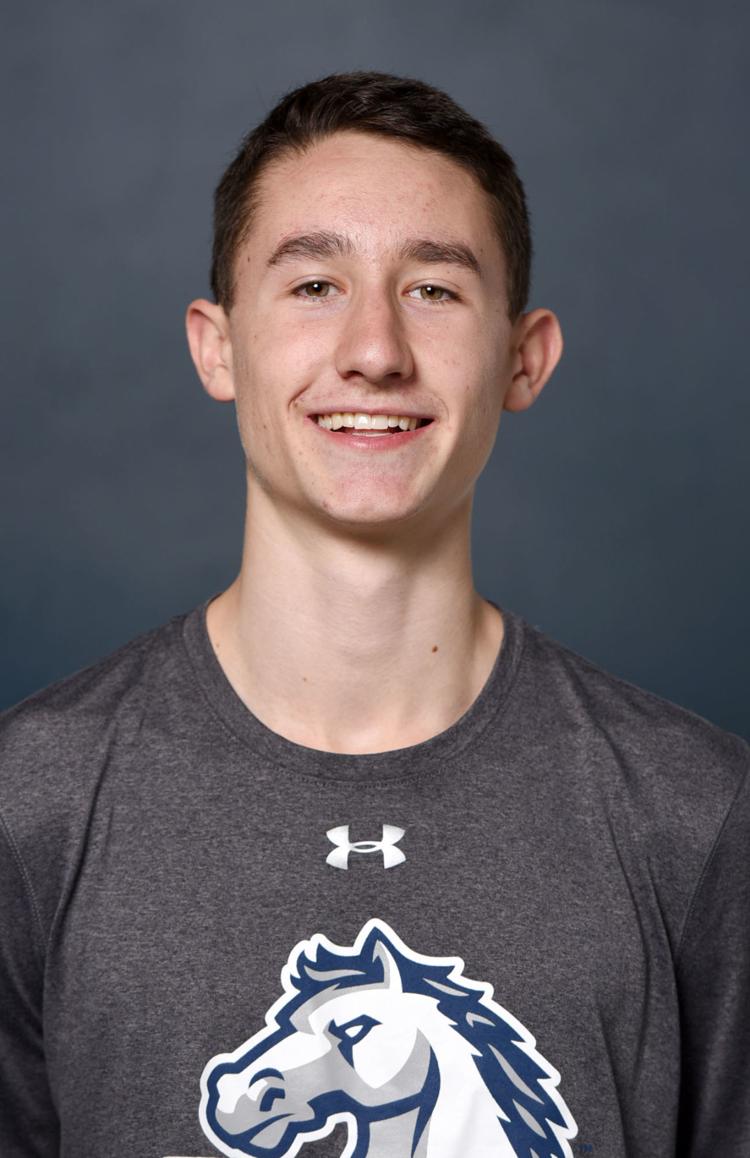 When Monty Gray, the boys basketball coach at Forsyth Country Day School, looks out on the court and sees his point guard, Nathan Hutchins, dribbling at the top of the key, setting up the Furies' offense, he sees more than a 5-foot-11 junior.
He sees a future coach.
"The best part of Nathan's game is his ability to get us into our offense; he does a good job of setting our offense up. He's a true point guard, a floor general, but he's a point guard who can shoot," Gray said. "His basketball IQ is terrific. I could definitely see him coaching after his playing career is over."
Hutchins, who has been in the FCD program since the seventh grade, played junior-varsity basketball until this year, when Gray moved him up to the varsity. There was, Hutchins admits, a period of time when he was satisfied with just keeping his head above water.
"It was a big jump to the varsity from the JV team," he said. "The athleticism was a big difference. It was physically trying, but it was good that I had a growth spurt I went from 5-foot-8 to 5-foot-11 from my sophomore to my junior year."
Then, however, there was a setback. Hutchins hurt his lower right leg about the time the Furies' season opened. He suspected a strained calf muscle, but when it didn't get better, a checkup showed a stress fracture of the fibula. Out for five weeks, he returned to the Furies in early January.
"I had to work hard to get back," he said. "About three or four games ago, I finally felt like I'd gotten back in the rotation. It was hard to be out the start of the season. I actually went through tryouts with the stress fracture. It was sore, and it never got better.
"I came back after Christmas. I wasn't worried about being out of shape, because I was able to do some work on a mechanical bike, so my cardio stayed decent."
Hutchins played baseball as a youngster in Davie County but dropped the sport entering middle school to concentrate on basketball.
"I started very young — probably when I was big enough to hold a basketball," he said. "Growing up, I did a lot of ball-handling drills, and I watched a lot of Pistol Pete Maravich videos. I would do all of his drills. I've always been a point guard, but I can play the second guard. A lot of times they're sort of interchangeable."
We've counted the votes and the 2019 winners of Reader's Choice are inside!