SportsXtra: This week's featured high school athletes, February 7, 2020
Focus on: Calvary Day's Kip Keener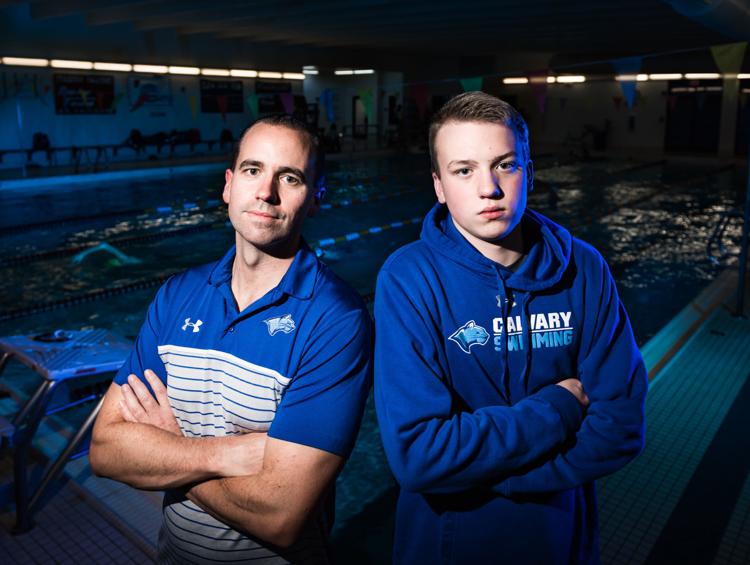 Kip Keener, the head swimming coach at Calvary Day School, figured he was done with the pool when he graduated from Dobyns-Bennett High School in Kingsport, Tenn., where he was a year-round swimmer.
When he headed for Virginia's Hampden-Sydney College, he didn't even want to see a swimming pool, much less get into one.
"I was totally burned out on swimming," he admitted.
Now, he doesn't want his 16-year-old son, Kiplan, to turn out the same way. And he's in a pretty good position to address that concern.
You see, Kip Keener coaches Kiplan Keener.
Kip Keener, who took over the reins of the Cougars' swim team 10 years ago after two years as an assistant, works with his son at least one day a week, either at a Calvary practice or a meet.
Kiplan Keener does most of his swimming for Winston-Salem's Enfinity swim club, hitting the pool for a couple of hours every morning, then lifting weights and doing dry-land workouts, maybe getting back in the pool in the afternoon. He joins the Cougars for an occasional practice and at meets; a junior, he finished second in the 100-backstroke at last year's NCISAA Class 3-A state championships.
"I think there's a healthy distance between us," Kip Keener said. "I think it's been good that he's heard a different voice and had a different coach in his life. Tim (Hillen), his coach at Enfinity, has done wonders for him.
"It was natural to get him involved in swimming," he said. "It was something I wanted and something he really wanted. He's been around the swim team since the third or fourth grade."
Kip Keener coached Kiplan Keener long before he enrolled at Calvary. Kip Keener spent several years as the head coach at Willow Run, a summer-league pool in Lewisville. Kiplan Keener started swimming around age 8.
"I was naturally good at it, I guess," he said. "I stuck with it and got better and better."
But Kiplan Keener didn't join a year-round, club team — first the WSY's TYDE team, then the Enfinity Club — until he was 14, late for an elite swimmer who wants to swim in college. And that was just fine with Kip.
"I started swimming year-round late, so I wouldn't get burned out," he said. "I have seen a lot of kids who started at 10, and they got burned out.
"When my dad coached at Willow Run, I liked it, because I was kind of able to say, 'Put me in this event,' and he would. I had a little bit of a connection with him."
Kip Keener, a graduate of Wake Forest's School of Law whose full-time job is chief compliance officer for Salem Investment Counselors, worried a little about that coach-swimmer/coach-son relationship in the early days.
"When I was his coach at Willow Run, I found out that he couldn't help but take a lot of what I said personally," he said.
Kiplan Keener agreed. "I feel like if I was at practice all the time, he would be hard on me, because he knows me better. It's easy to yell at your son."
Fortunately, Hillen gets to do most of the yelling at Kiplan Keener.
"My view is that I like there to be other coaches and influences speaking to him about swimming," Kip Keener said. "I told Kiplan I can't coach him the way he needs to be coached. Tim has been really good about coming and talking to me about Kiplan. He sees things that sometimes I take for granted. I have always welcomed him having another coach."
One thing Kip Keener really welcomed was Kiplan turning 16 and getting his driver's license. Now, when Kiplan heads out at 4:30 for a morning practice at Salem Academy, where Enfinity swims, Kip Keener is no longer driving downtown in the predawn hours; he's just waking his son up at 4:30.
"I am pretty occupied with Enfinity," Kiplan Keener said. "When I joined Enfinity, I dropped more than 10 seconds in one year, from 1:08 to 57 seconds in the 100-backstroke. And I've kept dropping."
Kiplan Keener started his week-long taper this past Monday for the NCISAA state meet on Feb. 10. He's gone as low as 52 seconds in the 100-backstroke, his specialty, but he wants to break 50 seconds in the state meet, then at his club team's sectional meet later in the spring.
"I like the 100 back, the 200 back, the 50 free, the 100 free, and I'm trying to get into the 100 fly. I want to swim in college — anywhere. Swimming is a stress-reliever for me. I feel really good after I swim."
And that's just what Kip Keener wants.
"I tell everybody, make sure you've really got swimming out of your system when you stop, or one day, you'll wind up old and coaching somewhere," he said.
Focus on: Riley Walters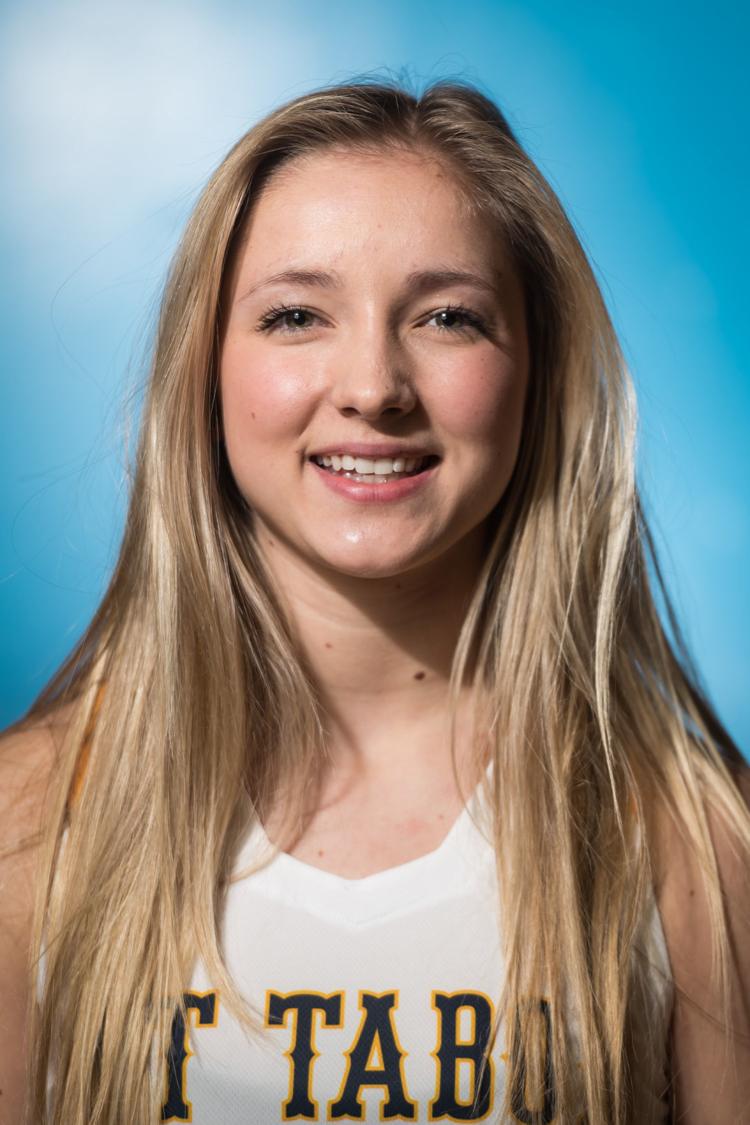 Riley Walters was born in Kansas, has lived in Spain, Pennsylvania, Michigan, New Hampshire, California and New Jersey, and has settled for at least a short amount of time at Mount Tabor in Winston-Salem, North Carolina—well, until she heads back to her home state to attend college later this year at the University of Kansas.
Such is the life of the daughter of a former professional basketball player and current college coach, Rex Walters, who starred for the Jayhawks in the early 1990s and is currently on the staff at Wake Forest.
As much as her family has been around basketball, Riley admitted that her first love is actually gymnastics.
"I started doing gymnastics in first grade all the way through high school until I tore my ACL as a freshman," Walters said. "I had surgery and missed an entire year, and when I came back, it just wasn't the same. I was overcompensating for my knee and ended up having back issues and shin splits. It just stopped being fun and I was ready to try something else. I'm too competitive to not do something."
She was also too competitive to not finish her routine when she suffered her injury.
"I was at a competition in Florida and was on my last event, the balance beam, when it happened," Walters said. "I did a back handspring step up and landed on my left knee. I stuck the landing, but I couldn't finish the routine."
Her path back to basketball has been anything but routine. After giving diving and track a whirl last year at her school in Michigan, she settled on playing basketball again once the family moved to North Carolina.
"I hadn't worn basketball shoes for quite some time until I started working out with the team," Walters said. "I went and had a conversation with Coach (Rick) Anderson when the school year started and told him I was interested. They have made things so easy for me, especially since I haven't played in any kind of game since fifth grade. It took me about a month of practice before I felt comfortable again."
Walters said that Shaylen Woodberry, who plays for the boys team and whose father, Steve, is also an assistant coach at Wake, helped her get acclimated with her new school and a few of her new teammates.
"I'm pretty used to moving around," Walters said. "This is my third different high school. I'm very thankful for what Shaylen did because I haven't had that experience before."
Walters, who wants to study business or architecture in college, also said she intends to play lacrosse in the spring.
Focus on: Bethany Manor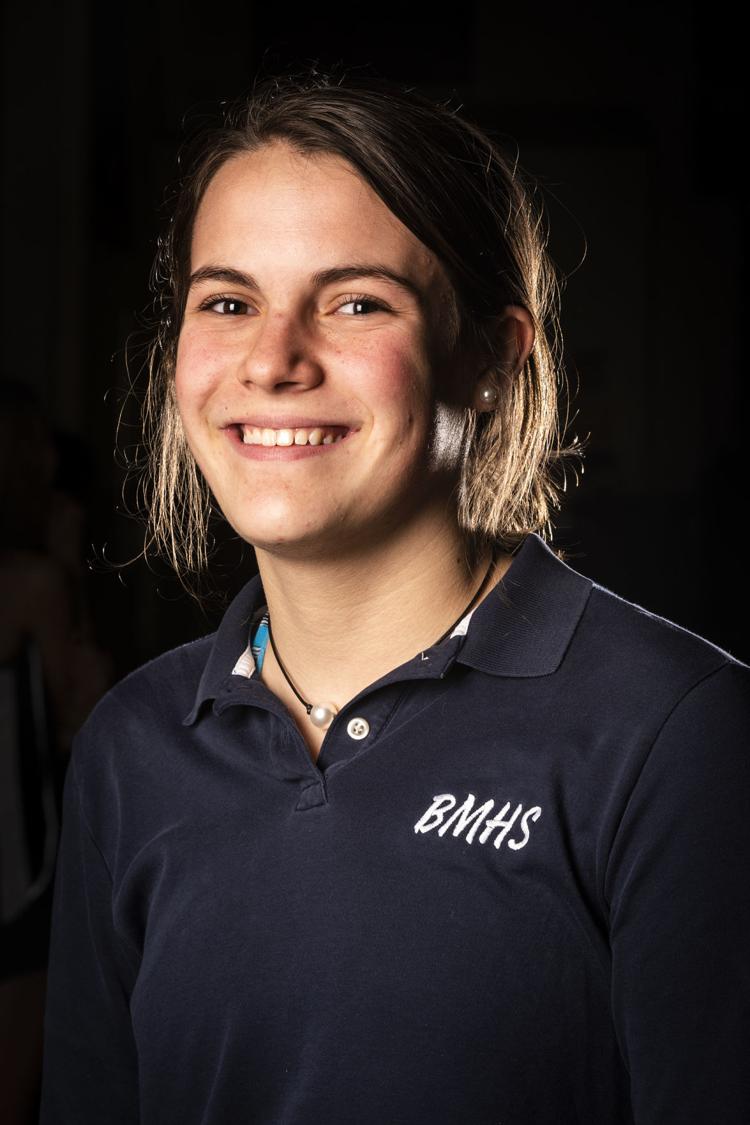 Bethany Manor said she has always been tall for her age, so naturally, the sophomore at Bishop McGuinness wanted to put her height to good use in a sport of her choosing.
For Manor, who is 5 feet, 10 inches tall, her sport of choice is swimming, where she participates in the 50 freestyle, the 100 breaststroke and the 200-freestyle relay and 200 medley relay.
"Most people think I might play basketball because I'm tall, but really, I'm not the least bit coordinated," Manor said with a laugh. "I wanted to try a sport in a general area that I could use my height to my advantage. I started swimming about five years ago and it just stuck. My parents wanted me to try something and I have enjoyed the team parts of it as well as the individual aspects. I like to challenge myself."
Manor has been participating with the High Point Swim Club in its year-round program. She qualified for the regional in the 100 breast as a freshman and also went to the NCHSAA 1-A state meet as an alternate for the Villains but did not swim.
"That was a good experience for me to go and see what it would take to make it there myself," Manor said. "Getting to go was a big deal and a cool experience. I hope I can qualify this year and actually get to swim. This year, I wanted to have another great experience on the team and push myself for better times in all my events."
Manor also played for the junior varsity soccer team as a freshman and is involved with Model U.N and Special Olympics Club. She and a friend also started a gardening club this year.
"I got interested in Model U.N. when my middle school, Immaculate Heart of Mary, came to Bishop one day when I was in eighth grade for a conference," Manor said. "You get to debate interesting topics. I've had a lot of fun doing it."
Three questions for Manor
Q: Where would you go on your dream vacation?
Answer: Ireland
Q: What's the best book you've read?
Answer: "Wonder" by R.J. Palacio
Q: If you could have one superpower, what would it be?
Answer: teleportation
Focus on: Trinity Dempsey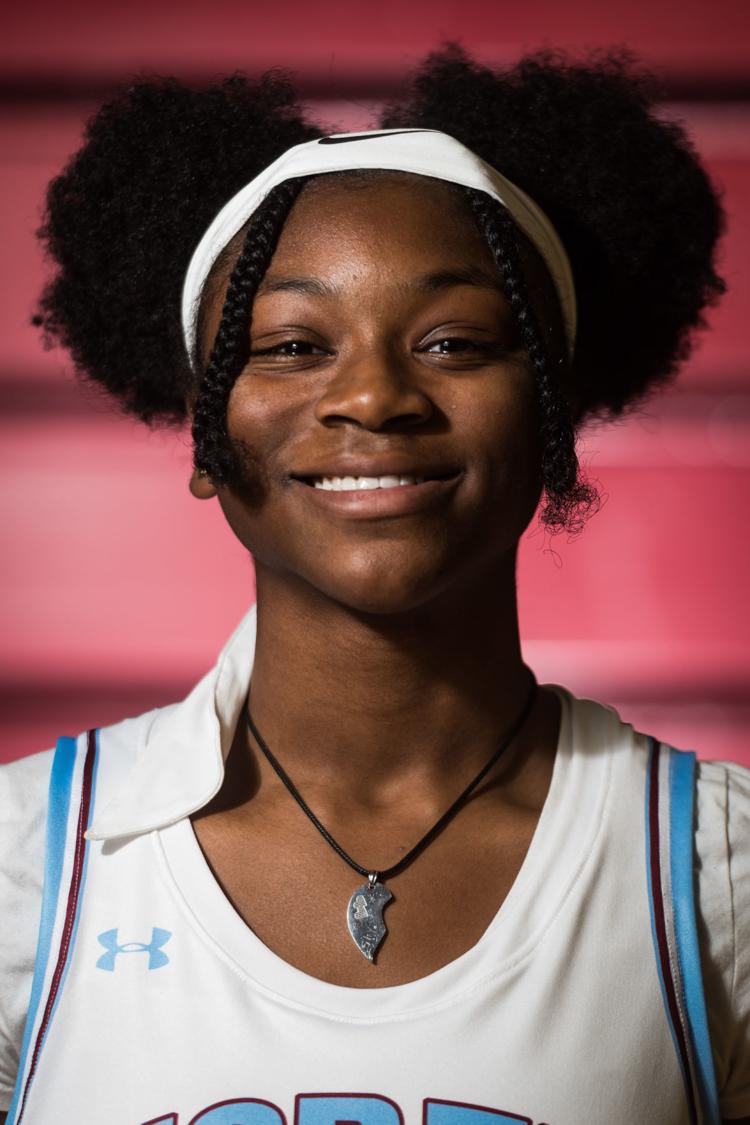 Trinity Dempsey is new to playing basketball in the South. Dempsey, a sophomore at North Forsyth, moved from Rochester, N.Y., to Winston-Salem last summer. "Basketball here is better with more opportunities," she said. "My old charter school was mostly built from players in church."
Dempsey was surprised when she made the varsity team at North. "I thought I would be on JV," she admitted. "I was questioning if I was really deserving to be on varsity."
She's accepted the challenge. "I'm growing and learning the game," Dempsey said. "I'm making new friends and building a new family."
As a sophomore, Dempsey hasn't seen much playing time this season, a fact she understands. "I'm earning my spot," she said. "I try to watch the game but I'm not always watching because Coach (LaShonda Griffin) stands in front of us."
Dempsey prefers playing defense. "Defense is my favorite because offense isn't my strong suit," she confessed. "I really can't run and dribble at the same time."
She's working hard to improve on that. "It helps me challenge myself on not being able to dribble. I'm learning new ways to help myself.
"I'm sprinting down the court with the ball and looking at the box. I try to picture in my mind where to throw it and get it right into the basket."
Dempsey said that comes from self-control.
"Sometimes the ball is passed to me and I'm running way too fast," she said. "I don't catch it."
Dempsey said she gets terrified when opponents run towards her. "I get scared because I'm not used to everyone charging at me," she said. "I just shoot the ball up."
She said running and speed are her biggest strengths. "I'm going to run on the track team," Dempsey said. "We run a lot (in basketball). When we do sprints and stuff it helps me push myself when I get to track."
Her track events will include the 100, 200, 400, relays, shot put and maybe the long jump. "I don't think I want to do long jump this year," she said. "I love relays because I like working with teams."
Dempsey said she never realized one particular basketball drill could help her form with throwing the shot put. "Coach makes us pass the ball really hard," she said. "I never really connected that could help me with the shot."
Dempsey, who also played on the North volleyball team, also manages asthma. "Coach will come up to me and say breathe in and out three times," she said. "I know I can't always depend on my medicine."
Focus on: Glenwood Allen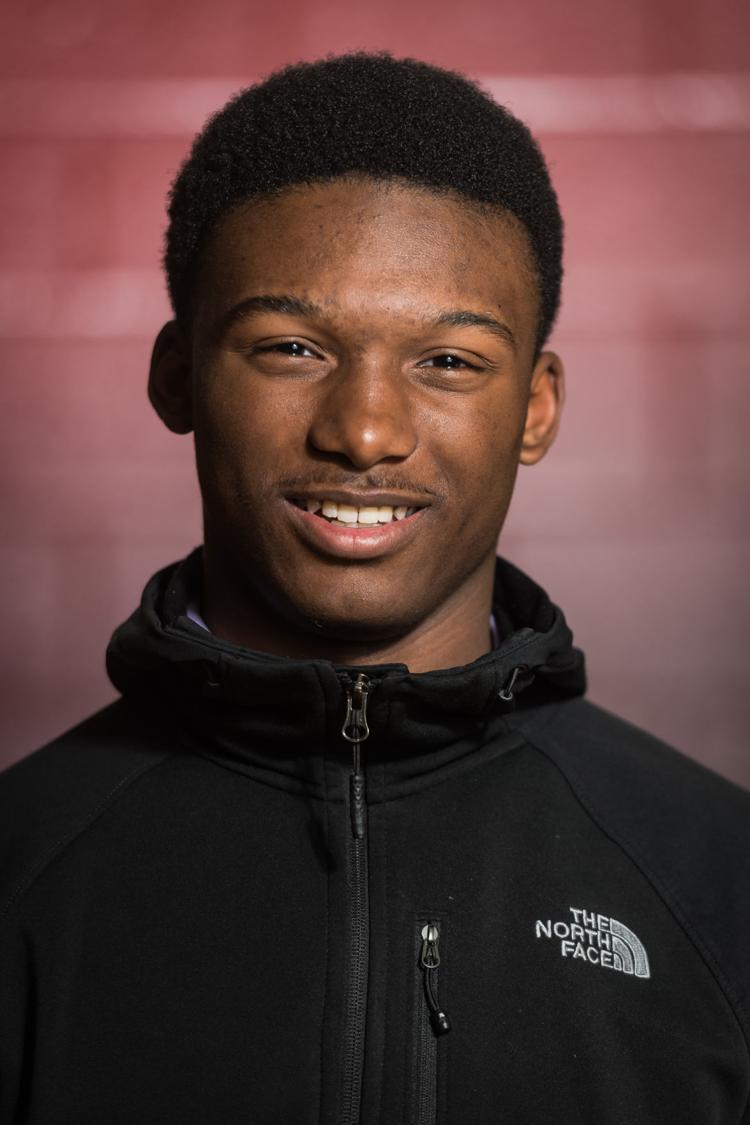 Glenwood Allen III is looking forward to returning to this year's NCHSAA 2-A Indoor Track and Field Championships at the JDL Fast Track in Winston-Salem. The Atkins senior is hoping his 4x200 and 4x400 relays will be on the medal stand.
It's not Allen's first trip to the state championship. He's been as both a spectator and participant. "Coach (Rufus Crouch) allowed me to go my freshman year," he said. "It was a good experience. It showed what you had to do."
His 4x200 relay team qualified last year. "We did well," Allen said. "Our third leg (runner) was cut off and hit the bars. He had bruised ribs, but he still finished the race."
Both relays have qualified for next week's state championship. "Our boys won first in the 4x2 at the conference meet and qualified," said Allen. "Our 4x4 qualified earlier this season."
Allen runs either the first or fourth leg. His strategy is simple. "Stay faithful and believe in your team," he said. "All the hard work you put into it will pay off one day."
Allen, who began running in the seventh grade at Wiley Middle School, has been on the indoor and outdoor teams all four years at Atkins. "I always heard stories about my dad running," he said. "I used to run around at recess in elementary school.
"I love the adrenaline rush. There's nothing more exciting than being at the line and hear 'set' and then hear the gun go off. You just go as fast as you can off the finish line."
Aching muscles and cramps are his biggest enemies. "I'll use an ice bath, a jacuzzi and get a massage every now and then," he said. "The worst time of my life was coming down the stretch in a 4x4. All my abs locked up and twisted. At the time it feels like you're gonna die."
Allen also runs the 55 and 300 in indoor track. "I PR'ed (personal record) in all my races but I didn't qualify for states in those," he said. "I feel like my hard work paid off at the end of the day. You've just got to believe in yourself."
Frustration can set in when he works hard but his times don't reflect it. "Not being able to get the times you want sometimes feels like you work hard but don't get the results you want," said Allen. "You do your best, run your race and have fun. Once you put all the work in it, it's all you can do."
Focus on: Michael Quinones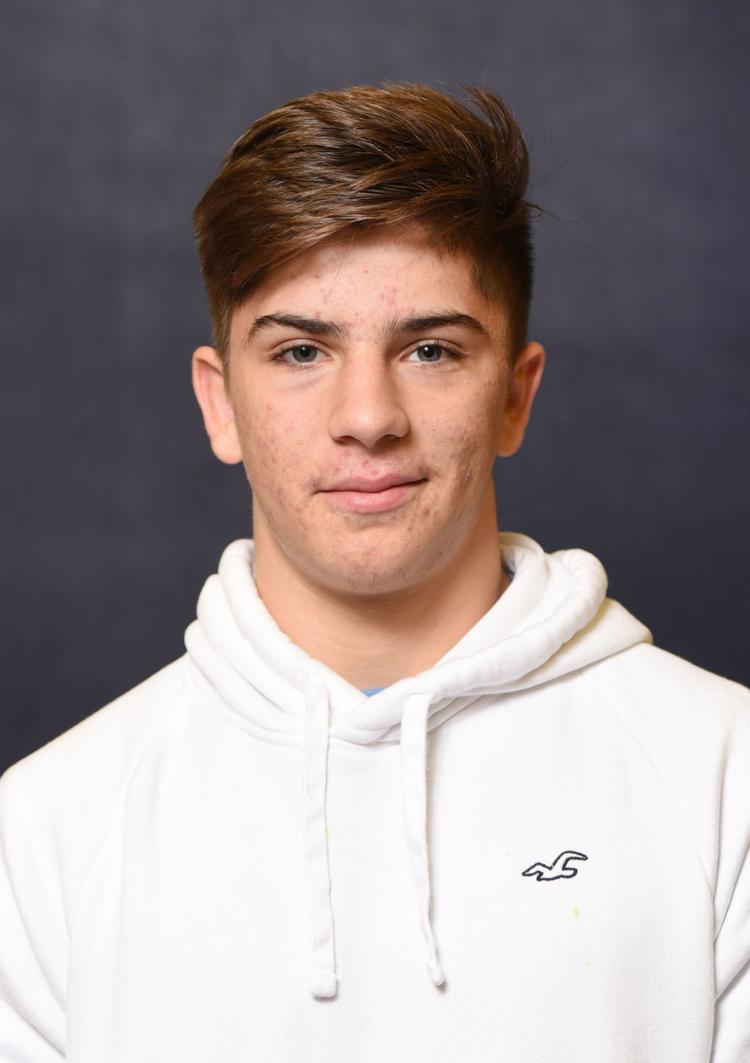 Michael Quinones was skeptical about wrestling when his parents first showed him a video. "I was pretty skeptical, but I didn't have a choice," recalled Quinones, a sophomore at East Forsyth. "They transferred me to the North Carolina Leadership Academy, and I started in the sixth grade."
He wrestled two years at the Academy, a charter school in Kernersville, and is currently one of the top wrestlers on the Eagles team with a 29-3 record.
"Wrestling teaches you a lot of lessons like how to stay dedicated and disciplined," Quinones said. "It teaches you how to be accountable, like having to eat right and balancing wrestling with schoolwork."
Quinones confessed that while that accountability requires attending practices every day, there are some days he would like to skip them. "Some days I really don't feel like going to wrestling," he admitted. "Then I realize how fortunate I am to be able to wrestle. I go out on that mat and wrestle for my school. It's pretty special."
He's wrestled in several weight classes since first starting. "I've wrestled 145, 138 and 132," Quinones said.
He's been steady at 152 both years at East. Quinones said it hasn't been difficult to maintain weight. "Not at all," he said. "I have a love for wrestling and will do pretty much anything. I wrestle all summer and those pounds fell off like they were nothing."
Quinones began the season at 160 but moved down to 152. "I'm still growing, and I don't want to deprive myself of any food," he said. "I wrestle year-round with the K-Vegas Elite Wrestling Club. I only compete with them during the summer."
He credits year-round hard work for his current record. "I have great coaches and great wrestling partners," Quinones said. "About half my wins are pins. I have a signature move which is usually a guaranteed pin."
He finished last season with a 35-5 record. "I was 33-3 going into states," recalled Quinones. "But just when you think you might be the best there's always somebody better than you. The best guy in the room trains harder, works harder and wants it more than you. Taking those losses motivated me to work harder."
He said expectations for success sometimes create pressure. "A lot of people have high standards for me," Quinones said. "Sometimes when I go against somebody, I'm not performing the way people expect me to perform. At the end of the day the only one wrestling is me. No matter what anyone thinks, I know I gave it my all."
Focus on: Ashley Saunders
Ashley Saunders is following in the footsteps of her older sister, Termeka, on the Carver indoor track and field team. The Yellowjackets sophomore decided she also wanted to be a shot putter.
"My sister does the shot put," Saunders said. "She would tell me about it, so I decided I wanted to do it."
Termeka, now a senior, provides some spirited competition between the sisters.
"She'll try to do it better than me and that irritates me," Ashley Saunders said. "I'll look at her and smile and start laughing and then she'll start laughing."
The younger Saunders said she usually wins the competition.
"I come to practice more than she does," she said. "I work out a lot more. I always lift weights, and she's not there all the time."
She first learned how to throw last year.
"I learned the fundamentals outside on the track," she said. "Coach (Donald) Carter taught me."
Carter, who coaches the Carver wrestling team, isn't available to help during the indoor season, so Saunders depends on Coach Herman Moye.
"I usually do it on my own during indoor," Saunders said. "Coach Moye helps me some."
Saunders said she doesn't follow the typical form used by most who throw the shot.
"I like to be creative and funny," she said. "I do it different from others. Instead of pivoting I just swing. I don't go all the way around.
"When I throw it, I have a little smirk. There's no grunting."
Throwing the shot indoors provides a psychological advantage for Saunders.
"I feel like I throw it farther than outdoor," she said.
She said it was easy to learn most of the fundamentals except for pivoting.
"I never did the shot put before and when I tried to pivot, I never got it," Saunders said.
"The other girls are way bigger and taller than me. I'm 5-2. I think I do pretty good for my height. My longest throw is 26 (feet) this year. I want to reach 30. I think I can if I practice more and try harder."
Saunders said she gets frustrated when her competitors throw farther.
"When the other girls throw it farther than me, I feel like I did something wrong," she said. "I will talk to my teammates and breathe in and out."
Each competitor has three throws during a meet.
"The third one is my best," Saunders said. "I do it two times and figure out what I need to do to throw farther. I collect all my thoughts and throw it harder."
Focus on: Tobias Johnson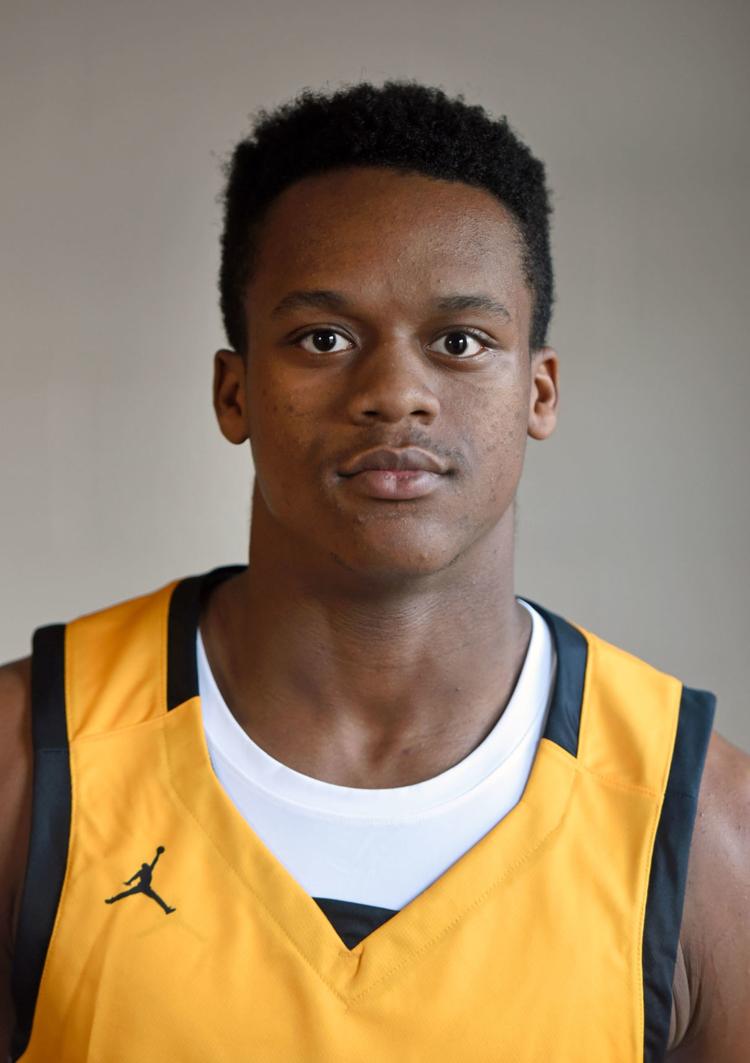 Tobias Johnson, a key player on the Reynolds basketball team, said he is just following a family tradition.
"My uncles and cousins told me about it," said Johnson, a senior for the Demons. "I wanted to experience the same thing."
He credited his parents with providing the start with basketball when he was 3.
"As a kid my mom and dad wanted me to do something," Johnson recalled.
He has played all four years at Reynolds, including three on the varsity team. He has also played travel ball for Team Winston since the fourth grade. Johnson said it never gets old.
"It's a different experience every year," he said. "Each and every night you have to prove yourself. You have to go out there and make your statement.
"I like the competition. You get to go out there and be yourself. It helps as a team where you get to build friendships. I like the tough games where it's on the line every night."
Johnson said he likes basketball "the way it is." But he admits having a 30-second shot clock might be helpful if players continue their careers in college.
"It would be interesting for players in high school who want to go to college and play," he said. "It would give you a look at what it would be like in college."
Power forward is his favorite position.
"It's a way to be an anchor on the team," he said. "I'm doing all the dirty work and being tough. I'm making the job easier for our guards."
Johnson said he is averaging 13 points a game.
"I put back shots on missed layups," he said. "I also hit mid-range jump shots."
He said he consider himself a good rebounder.
"You have to be strong and go out there and fight every night to get rebounds," Johnson said. "You've got to be in the right position."
Foul trouble is something Johnson is working hard to avoid this season.
"Some games I get into foul trouble. When that happens, I've got to be smart and not be overly aggressive," he said.
He said he is proud of the last season's team, which reached the 4-A Western Regional Championship, but he hopes this year's team can go farther.
"We want to go back to the playoffs and pick up where we left off last year," Johnson said. "Hopefully we can reach the state championship and win it.
"This year's team is not the same. We lost two guards, but we still have players stepping up and taking on roles. We use that as motivation to get back where we want to be."
Focus on: Xavier Fenner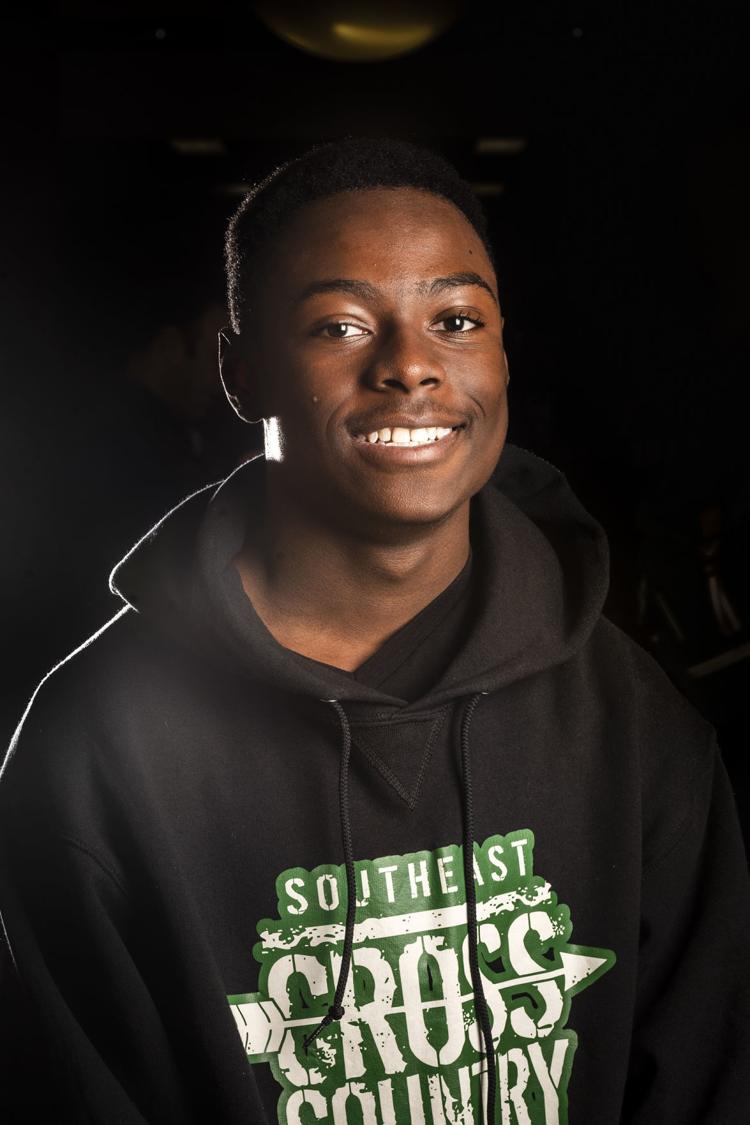 Xavier Fenner played in seven junior varsity football games last fall before being sidelined by a season-ending injury. But that didn't keep him from pursuing immediate options for his athletic career.
Fenner, a freshman running back at Glenn, suffered a concussion against rival East Forsyth. By the time he would've gone through the required recovery period for a concussion, the football season would have been over.
At that point, he didn't want to remain idle. So, he turned his attention to indoor track and now he's showing promise as a newcomer. In four indoor meets, he's established himself as one of the top freshman sprinters in Forsyth County.
"This season has been surprising," said Fenner, whose older brother Mekhi was the starting running back on Glenn's football team. "I didn't think that I'd be faster than some upperclassmen.
"I realize that I still have a long way to go. Right now, I'm just trying to work my way up. It's all about building up my speed and strength."
Fenner has no problems taking on a demanding training regimen. His willingness to do the work is the key reason why he was able to trim more than a full second off his previous best time in the 55-meter dash (from 8.3 seconds to 7.0 seconds).
"Xavier gladly accepts whatever you give him," Coach Kindra Ritzie-Worthy said. "He's had tremendous improvement since the start of the season.
"Whether it's the 55, the 800 or the mile, he gets it done with a smile and he never complains. Xavier is the type of athlete you want in your program."
Fenner understands that getting faster involves much more than having natural talent. Mastering the technical aspect of sprinting, he explained, make a huge difference.
"Getting better is not going to happen if I go out and do my own thing," he said. "The reasons I've improved so much is because I work on technique and listen to what my coaches tell me. And now, I'm learning how to compete against myself, so that I'm always pushing hard to go beyond my limits."
Fenner's talents go beyond the gridiron and the oval. He sings baritone in the school chorus, and he's a member of the theater group at school. This spring, he'll appear as a cast member in the musical "Footloose."
"It was about a year ago when I started singing," he recalled. "I sang 'Can You Stand the Rain' by Johnny Gill and realized that hey, I can do this. So, when it was time for me to go to Glenn, I joined the chorus."
Focus on: Elijah Bethune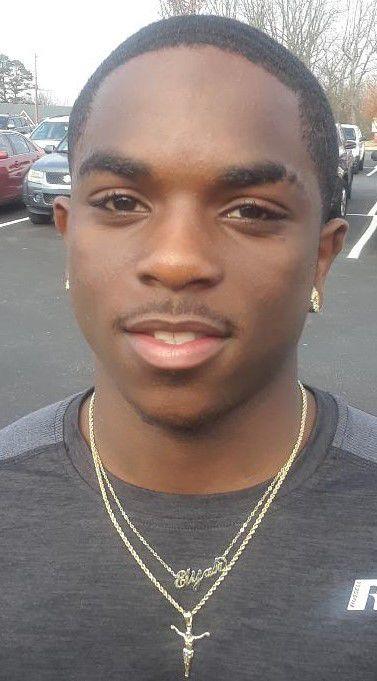 A history of hamstring issues has kept Elijah Bethune from reaching his potential on the track at Walkertown.
Bethune, a junior, excels in the short sprints and long jump. So far, his best performances have come as the anchor leg on the Wolfpack's 4x200 relay, which is ranked No. 4 for Class 1A/2A in the state rankings compiled by the NCRunners website.
There's no question in Bethune's mind that the relay team will be in the hunt to challenge for a title in the state indoor championships on Feb. 15. In the Western Piedmont 2A Conference championships, the Wolfpack finished second in the relay behind Atkins, which is No. 1 in the state rankings.
"On the relay, all of us are like brothers," Bethune said. "We're so familiar with one another and that really helps on our baton exchanges."
Bethune admits that being slowed by injuries has been frustrating. Yet, he's confident that his best is yet to come.
"Over the past two years, I've grown tremendously," he said. "In the past, whenever I've started to peak, that's when I've had those injuries.
"I feel like I can improve enough to reach the next level (college), so I can't let injuries stop me. I have to do what's needed to make sure that the hamstring gets stronger, so I won't have those problems in the future."
Coach Marcus Sutton likes what he's seeing from Bethune.
"Elijah may be small in stature (5-foot-3), but he can run," said Sutton. "There's so much talent and potential and he's a joy to work with.
"But there is uncertainty. It really hampers him in the individual events. Because of the hamstring, he's not able to get full explosion that's so important in the dash events and the long jump. Everything comes down to him getting over that injury bug."
This is the first time in his athletic career that Bethune has devoted all of his energies to track and field. Over the past two years, he wrestled and competed in indoor track. Last year, he placed third in the conference wrestling championships in the 113-pound weight class.
"It was not a difficult decision for me to choose one over the other," he explained. "I enjoy track and field a lot more. It gives me an adrenaline rush that I don't get with wrestling.
"Doing both sports required a lot of practice and a lot of focus. My dad (James Bethune) was always there to help me with getting in those extra workouts for any wrestling or track practices that I missed."
Focus on: Kamden May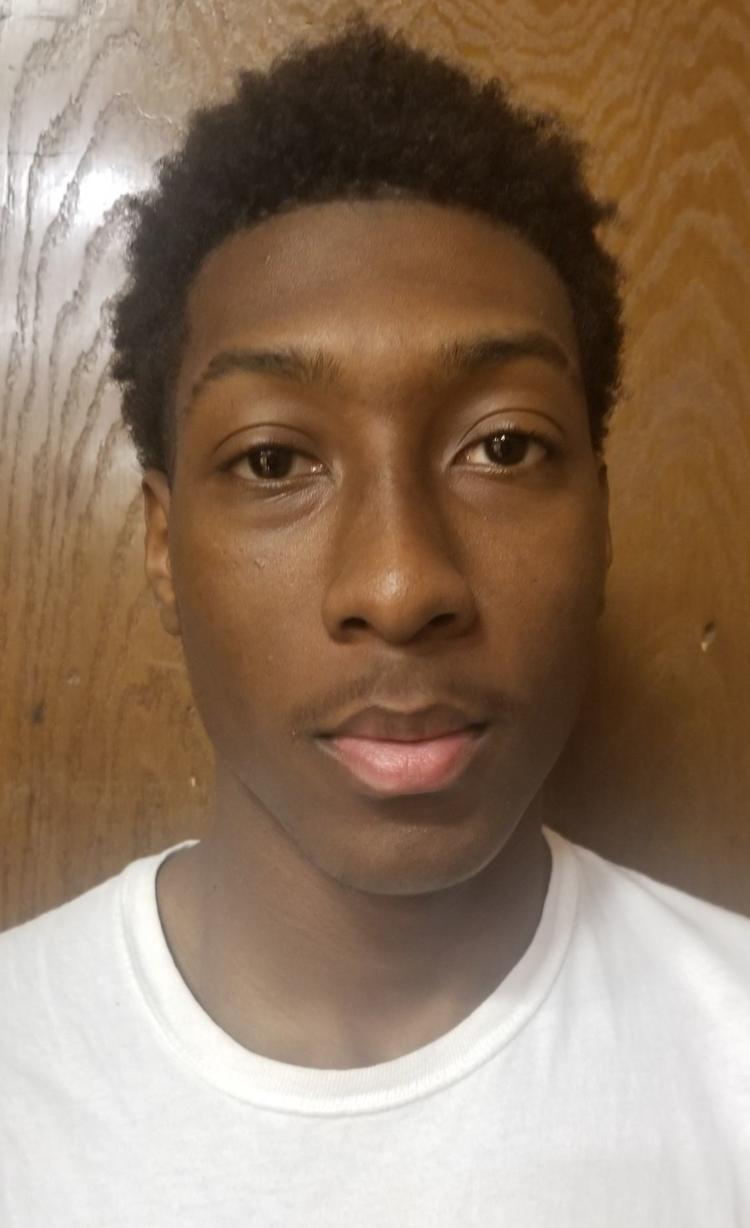 Kamden May is a football player who has also found a home on the basketball court at Parkland.
Last fall, May, a 6-3½ senior, doubled as a strong safety/outside linebacker for the Mustangs. As a basketball player, he provides tenacity in the low post as a rugged rebounder and fierce shot blocker.
This is May's first year of playing organized basketball. Although football has always been his sport of choice, he decided to give basketball a try. Travis Holcomb-Faye, Parkland's basketball coach, was instrumental in coaxing May to join the team in his final year of high school.
"After watching Kamden play in several pick-up games, I knew he could step in and help us this season," Holcomb-Faye said. "Not only does he play above the rim, but he runs the floor very well.
"What helps us so much is his activity at both ends of the floor. He gets a lot of rebounds this season that we didn't get last season. Right now, he's playing off his natural talents and instincts."
Parkland is on top of its collective game this season and May is a vital factor. May, a power forward, isn't as tall as a lot of opposing post players. Even so, his energy and hustle help the Mustangs to hold their own in the paint.
May's performance is one of the reasons why Parkland (15-3 as Feb. 3) is a contender in the Piedmont Triad 3-A Conference.
"For me, the focus is all about getting rebounds and blocking shots," he said. "Every now and then, I'll score, and that's OK.
"We're doing well this season because we're working together as a team and not as individuals."
In Parkland's recent 70-63 win over previously unbeaten Mount Tabor, May's value wasn't reflected in his stat line (2 blocks, 2 steals, 4 rebounds). His overall effectiveness, however, had a bearing on the final outcome.
"During his time on the floor, he made it tough for Mount Tabor's bigs, and that gave us a boost," Holcomb-Faye said.
Three questions for May
Q: Who's had the most influence in your life?
Answer: Charissa Fair (mother)
Q: If you could live anywhere in the world, where would it be?
Answer: California
Q: What's your favorite video game?
Answer: "GTA"
Focus on: Jacob Zaitawi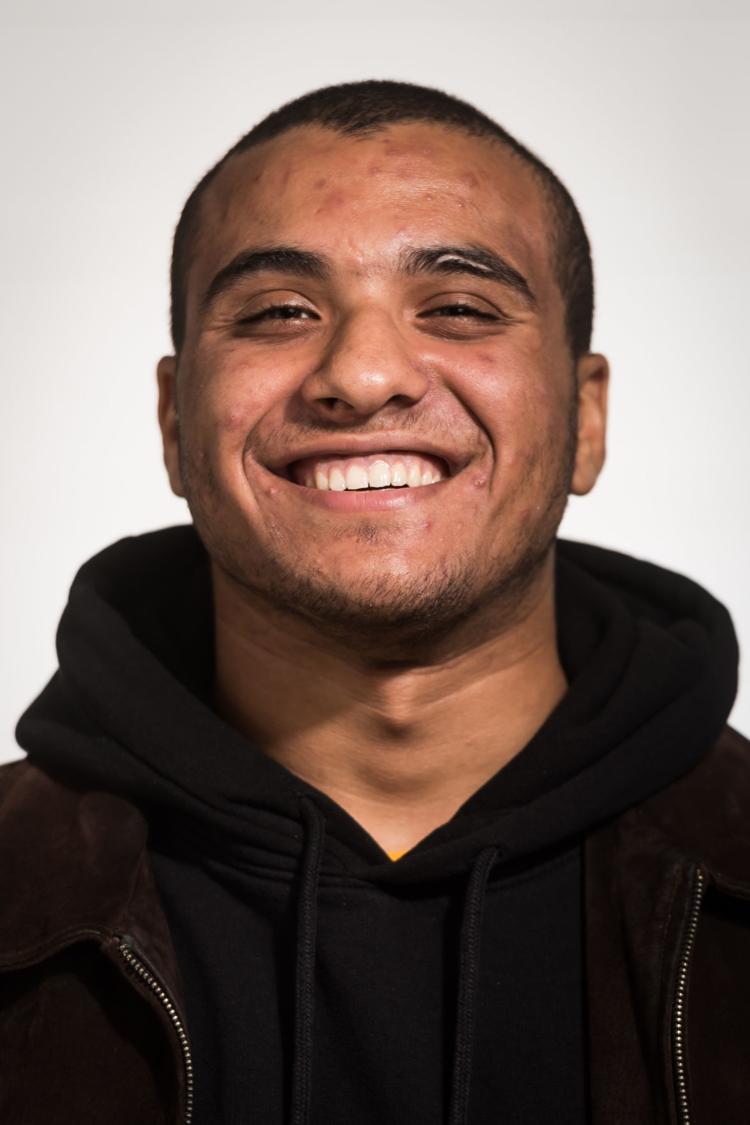 Jacob Zaitawi didn't know much about wrestling until he watched a television documentary in the seventh grade. Enamored with the one-on-one, physical competition, he started asking questions, and he found out that plenty of his relatives had been wrestlers, back even three generations to his great-grandfather, some of them quite successful.
"I thought, 'Man, I want to be like that.' I wanted to be good enough to reach that goal."
He's getting there. A 17-year-old junior at West Forsyth, he carries a 31-10 record in the 170-pound weight class into next week's regional tournament. Last year, wrestling at 182, he qualified for the Class 4-A state tournament; this year, he wants to go deeper into the tournament, maybe even placing in the top 4 or even winning.
"If you set your goals high enough — like winning the state championship — then you don't have to set a goal just to qualify," he said. "If you set your goals high enough, you achieve more."
Zaitawi's life has already been immeasurably changed by wrestling. All you have to do is look at him. He started wrestling his freshman year as a heavyweight after playing football.
"When I started football, I weighed 240," he said. "I lost 30 pounds playing football, so I started wrestling at 210. Every week during wrestling, I lost 5 or 10 pounds, so I wound up about 160. But that was all fat I lost, and I started building back up with muscle, and my sophomore year, I weighed 195 for football and wrestled 182. I probably weigh anywhere from 174 to 175 now.
"Wrestling 170 is a lot easier when it comes to shooting (for takedowns) and picking them up, but they're faster," he said. "Last year, when I was 182, I was a lot faster than my opponents."
Zaitawi's next few opponents may not recognize him. He suffered a broken nose early in the season and wrestled most of his matches wearing a protective mask, discarding it for a regular headgear only in the past two weeks.
Zaitawi would love to wrestle in college, but more than wrestling, he wants a degree that will lead him to a career as a combat engineer in the U.S. Marine Corps. His father retired as a sergeant in the U.S. Army and is deployed in the Middle East as a private contractor.
"Ever since the fourth grade, I've wanted to be in the military," he said. "I want to go to college for engineering, work really hard and join the Marines."
Focus on: Aden Starnes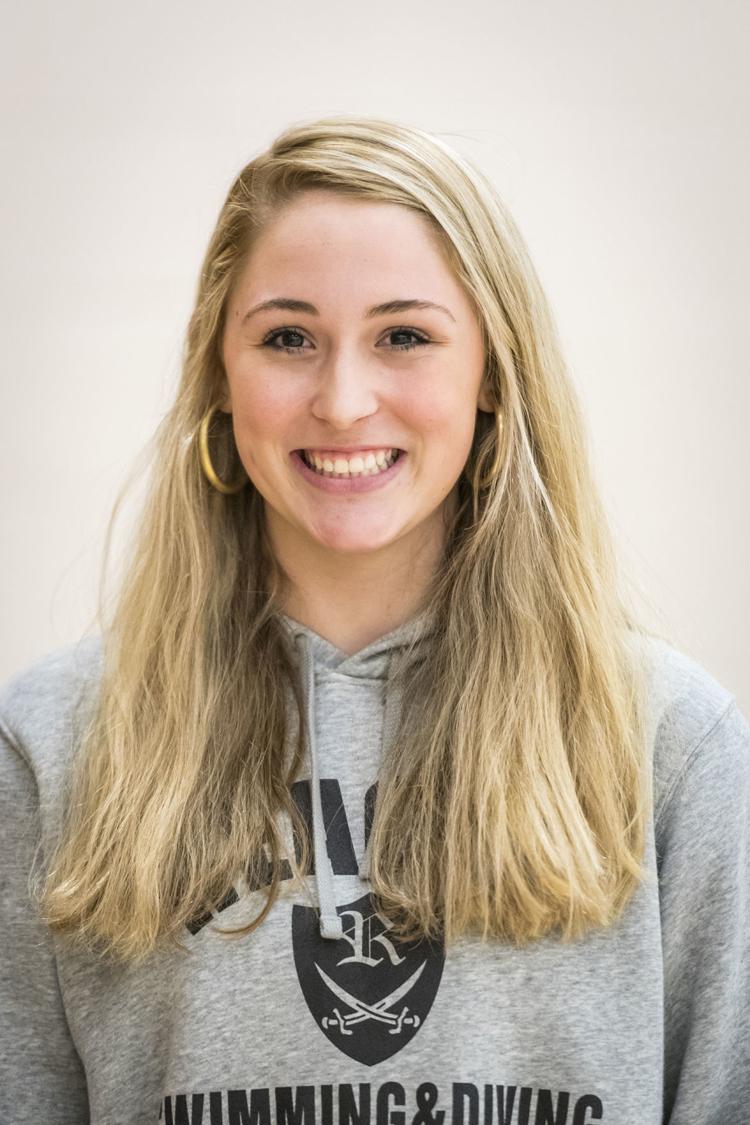 At the start of the school year, Reagan swimmer Aden Starnes had plans to compete at the next level. As an accomplished backstroke specialist, she had caught the eye of several colleges.
It was never a question of if she would swim after high school. The question was what college she would choose to continue her career. During the fall, she visited Vassar College (N.Y.), Lafayette (Pa.) and Loyola-Marymount.
Starnes, however, had an unexpected change of heart about swimming in college and decided to stay close to home. She will attend UNC as a non-athlete.
"I just want to focus on academics and enjoy the college experience," said Starnes, a senior who plans to major in Exercise Science. "I mulled over everything for about a month before making my final decision."
During her career, Starnes was a four-time regional and state qualifier. She swims the backstroke leg on the 200-yard medley relay team that holds the school record (1 minute, 48.47 seconds).
Starnes, a team captain, will close out her career today when she competes in the 200- medley relay in the NCHSAA Class 4-A state championships at the Triangle Aquatic Center in Cary.
"Aden has the complete package of technique and speed," Coach Ryan Michel said.
"And she's very dedicated to our program. Her family moved to Charlotte because of her father's job, but she decided to live with a relative for her last year of high school so she could still be with the team."
Even though Starnes, who has a 4.3 weighted GPA, is walking away from the pool as a competitor, she's likely to stay connected as an instructor.
For three summers, she was an assistant coach for the neighborhood swim team at Brookberry Farm. Last summer, she joined Michel's coaching staff at Bermuda Run Country Club.
Starnes, who started coaching when she was 15, admits that working with youngsters provides a lot of personal satisfaction.
"With young kids, you see how excited they get as they keep improving," she said. "It's very refreshing and so much fun to watch."
Three questions for Starnes
Q: Where would you go on your dream vacation?
Answer: Greece
Q: If you could have one superpower, what would it be?
Answer: Telekinesis
Q: What's your favorite TV show?
Answer: "New Girl"
We've counted the votes and the 2019 winners of Reader's Choice are inside!