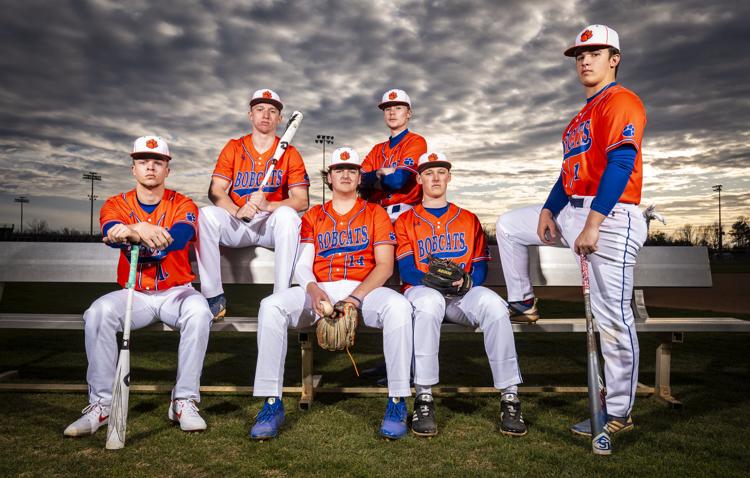 The last time Glenn's baseball team won a conference title, Barack Obama was still in his first term as president.
Fast forward nine years. The Bobcats appear to have the personnel to contend at the conference and state levels. Leading the way are six seniors who will play college baseball next year.
Still, it's up in the air whether the Bobcats will get the chance to chase titles this spring. Last week, the NCHSAA suspended all high school sports in North Carolina until at least April 6 because of the coronavirus outbreak.
"This is a special group that cares for one another. They hold each other accountable," Coach Keith Walker said. "And they do it in a way that doesn't tear the team apart. I would take these six players for four more years, hands down, no questions asked."
Here's a look at "The Senior Six."
Nolan Blake (Guilford Tech)— There's much value in Nolan Blake's versatility. He's a regular at first base, but is equally skilled at third base, on the mound, and behind the plate.
Last season, he went 4-1 as a pitcher, struck out 42 batters and posted a respectable 3.36 ERA. Blake, 6-foot 3, 225 pounds, didn't hit for average, but made it count when he connected. His nine hits resulted in 10 RBIs, which included two home runs.
"The biggest obstacle I've faced is learning how to stay out of my own head," he said. "Last year against Ragsdale, I had a bad day swinging the bat.
"But then I got the chance to pitch in relief. I channeled my frustration and threw faster than I ever had before (87 mph fast ball). By staying on top of things mentally, it led to a dramatic change in my performance ."
Eli Cardwell (Lenoir-Rhyne) — The Bobcats rock when Eli Cardwell gets on base. He's a singles/doubles hitter, who can hit with power and drive in runs (11 RBIs).
Speed is Cardwell's calling card. It's routine for him to reach base on bunt singles and steal bases (14 swipes a year ago). In centerfield, he's as good as they come at tracking down balls hit in the gaps.
Initially, Cardwell committed to Division III Nichols (Mass.) But around mid-February, he changed his mind and committed to Lenoir-Rhyne.
Cardwell has lofty aspirations. In his mind, winning a state championship is not a case of fantasizing.
"All six of us are on a mission to prove that we're one of the top teams in the state," Cardwell said. "There's no added pressure for us to win. It all comes down to our mindset and playing up to our level."
Michael Carico (Davidson) — Two-time All-Central Piedmont Conference catcher led the Bobcats in hitting (.442) and RBIs (22). A discerning eye makes him especially pesky for opposing pitchers.
Carico struck out just seven times last season. He worked opposing pitchers for a team-high 26 walks.
As a catcher, he has few peers. Runners have difficulty stealing bases consistently because of his strong and accurate throws.
Carico faced his most daunting challenge two years ago when he fractured the L5 vertebrae in his lower back during tryouts for the Team USA 16-and-under team.
After the surgery, he faced nine months of exhaustive physical therapy. It took half the season for him to fully regain his form.
"Going through that long rehab, I learned the value of patience," he explained. "I learned how to work while waiting (to recover), and to work when no one is watching. It was a very humbling experience."
Duncan Howard (Presbyterian) — Walker feels that ace pitcher Duncan Howard can be an everyday player in college. But that's probably not Howard's true calling.
Howard, a 6-foot-3 righthander, was recruited strictly as a pitcher. On the mound, he's surgical in his approach. By working both sides of plate, he keeps hitters guessing
A season ago, Howard was an all-conference pick who finished with 66 strikeouts and 24 walks. Additionally, he hit .294 and drove in 13 runs.
Howard has an uncanny ability to mask his emotions. Staying calm under pressure, he explained, is an acquired skill.
"My dad (David Howard) and my coaches always instructed me to keep my emotions inside," Howard said. "That's been ingrained in me since I started pitching at 8 years old.
"I can't afford to dwell on any mistakes I might make, so I take a deep breath and find something or someone in the stands to occupy my mind. That helps to clear my head, so I can concentrate on the task at hand."
Hayden Ridenhour (Queens) — Thanks to his relentless work ethic, Hayden Ridenhour is a college-caliber infielder. Success, however, didn't come overnight.
Initially, Ridenhour played in the outfield, so there was a transition period, which lasted a couple of years. Today, he's a savvy operator around the bag.
As a junior, he had 15 RBIs and scored 18 runs. Aside from that, he's proven himself as an accomplished pitcher (2-0 in 11 appearances with one save and a 1.64 ERA).
Ridenhour, a 5-foot-11 righthander, has an abiding appreciation for his fellow seniors.
"Not many teams have gone through the ups and downs on and off the field like we have," he explained. "When someone needs a shoulder to lean on, you can always count on the others to be there for you. Through it all, we've stuck together."
Tanner Bray (Anderson) — Equipped with quick hands and a strong arm, second-baseman Tanner Bray is a vacuum cleaner (.959 fielding percentage) on the diamond.
At the plate, he's the complete package (.351 batting average, 12 RBIs and 16 stolen bases last season). Bray believes this is the year that Glenn makes a run at a state title.
"We have every single piece it takes to win it all," he said. "There's myself and Michael. All year, we go back-and-forth as the top hitters. Nolan is our spark plug and we feed off his energy.
"Eli excels at hitting the ball to the gaps and stealing bases. Hayden is our grinder. No matter what we're facing, he keeps everybody pushing through. Duncan is even keeled all the time. And that helps the rest of us stay calm and focused."