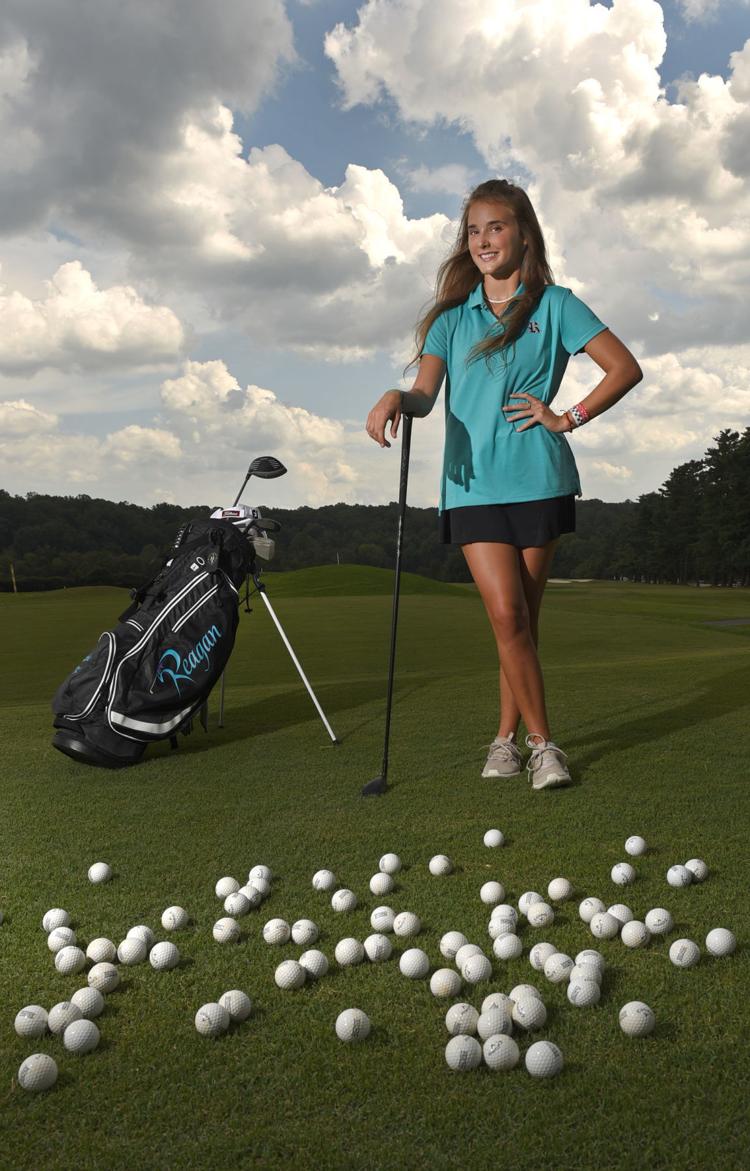 Kathryn Krull has patiently waited her turn. Now it's her time to show her mettle.
For three years, Krull methodically worked her way up the pecking order on the girls golf team at Reagan. In this, her final season, Krull has cracked the top five in the lineup and is one of the team captains.
Krull, a senior, is excited about the opportunity to help the Raiders further fortify their reputation as one of the high school golf powers in North Carolina. A year ago, Reagan won the team title at the NCHSAA Class 4-A state tournament at Pinehurst No. 3.
The past decade can be viewed as a golden era for the Reagan ladies. The Raiders were state runners-up in 2011, and before claiming last year's state crown, they posted three straight top-10 finishes at state (2015-2017). Also during that stretch, they won six NCHSAA Class 4-A regional titles and 10 straight Central Piedmont 4-A championships.
"We had great team unity last year, and that was a key part of our success," Krull said. "So, now we want to have that same kind of spirit carry over to this year. The expectation is to hold our own and win our share of matches."
Although Krull is one of the team's better performers, Coach Jay Allred of Reagan believes that her leadership skills will have even more of an impact on how the Raiders fare this season. Krull's laid back leadership style, he said, helps her teammates to maintain their focus and play well in pressure situations.
"Kathryn doesn't look at the game as if it's life and death," Allred said. "She has a care-free kind of approach that helps her stay relaxed and at the same time, it keeps everybody else loose.
"That's important in a game like golf. If players feel too much pressure, they tend to tighten up when they grip the club. When that happens, they get tense, and it keeps them from playing up to their capability."
Mary Kate Bowman Choat, an assistant coach at Reagan, frequently participates in practice rounds with the Raiders. Krull's ability to improve in all facets of the game, Choat explained, has played a major role in her steady growth. As a freshman, Krull shot in the low-60s for a nine-hole round. As a senior, she's shooting in the mid-to-high 40s.
"Kathryn has a really good short game," said Choat, who played at Appalachian State and finished as the NCHSAA Class 4-A individual state runner-up while playing for Reynolds in 2004. "She doesn't hit for distance, but she's very consistent at keeping the ball in play.
"Since her first year, she's made significant strides. But above all, she's become a great asset as a role model who has a positive influence on the team."
With this being Krull's last season, Allred is looking for her to reach a new level in her individual game. In his view, it all comes down to getting more distance on her shots.
"Once she's able to consistently add 20 yards on her drive, she'll drop her score by a few more strokes," he said. "I feel that she's capable of shooting around 41, or even the high 30s.
"What has really helped in her development is her desire to put forth the effort to get better. Kathryn typically learns something about the game every day. Plus, she's learned how to learn from her mistakes and not dwell on them."
As a leader, Krull is not a taskmaster type. Bellowing at teammates with the volume level of a bull horn is not her style. She's more like a caring mentor who constantly nurtures.
"There's always that pressure to get that lowest score in every match you play," Krull said. "Because of that, players make their share of mistakes on the course. What I concentrate on is giving words of encouragement.
"Instead of looking only at the mistakes, I place a lot of emphasis on doing what it takes to keep improving. By encouraging others, it helps them feel more comfortable, so they know that they fit in with the team. That's all a part of helping to create a close bond with every team member."
During her time at Reagan, Krull has benefitted from being around upper-echelon players. As an underclassman, she gleaned more than a few nuggets of wisdom from several veteran players, one of whom was her older sister, Sarah, who graduated last June.
Aside from Sarah, the younger Krull developed close-knit friendships with Mary Slade White and Sarah Young. Those three were part of a strong senior core on the state-title winning team from last year.
"It was very helpful for me to have those upperclassmen to lean on," Krull said. "With Mary being a captain, I learned so much about what quality leadership really looks like.
"One of my goals as a captain is to make a strong impression for our younger players on this year's team. It's going to help when their time comes to take on those leadership roles."