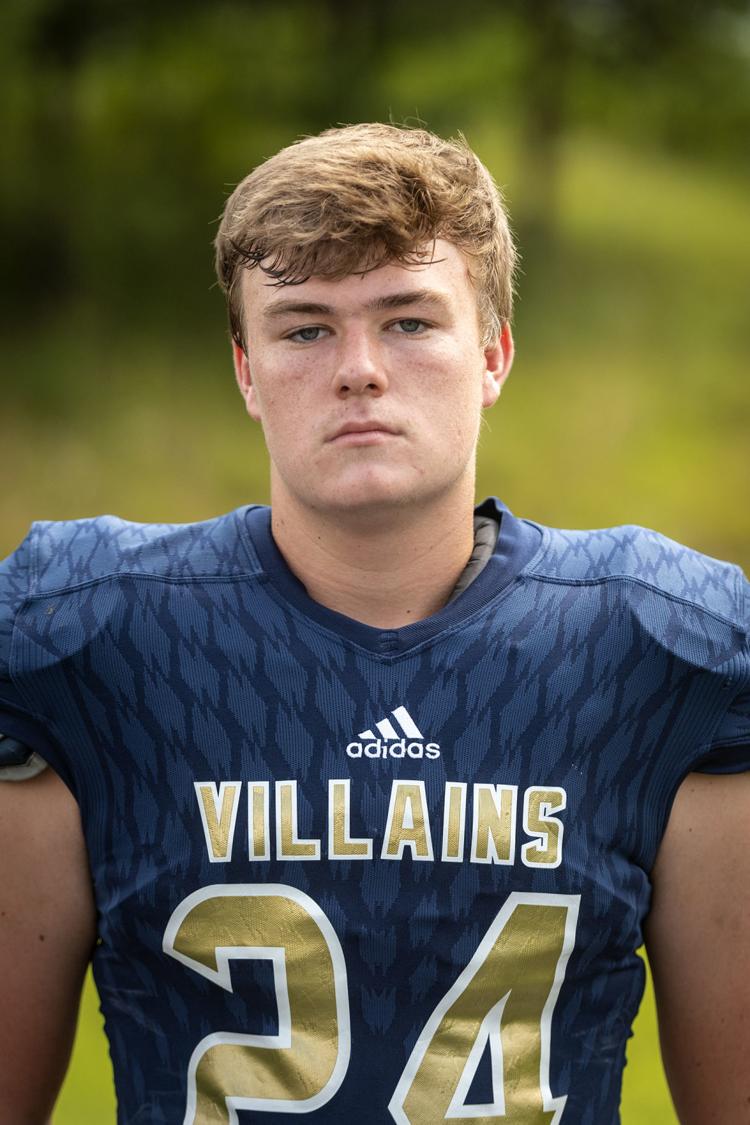 Playing football became the icebreaker for Raines Strader when he enrolled at Bishop McGuinness before the start of his junior year a season ago.
Strader, a senior linebacker and fullback for the Villains this season, said that football was the driving force for him in getting acclimated to his new school after being home-schooled for his first two years of high school.
"Playing football helped me to establish relationships with everyone at Bishop," Strader said. "There's just nothing like having that bond. And in football, it's stronger that in any other sport."
Strader played football as a freshman and sophomore for a home-school team, the Greensboro Panthers. He arrived at McGuinness and played defensive end as a junior, finishing with 34 tackles and seven sacks, two in his first game.
This season, Strader moved from defensive end to linebacker and has added the role of fullback in the McGuinness offense, which has shifted from the spread to the Wing-T with Charlie Jones back as the team's coach.
"I volunteered to play linebacker because we lost most of our defense from last year," Strader said. "The coaches needed someone to step into that role. It gives you a little different perspective on the field, and I've really enjoyed it so far."
The move has served the Villains well, also. Through the first two games, Strader was third on the team with 14 tackles.
As a fullback, Strader said that his experience playing defense has been beneficial because he can read what the other team is doing with its formations.
"You can see their tendencies and can tell which way they are going," Strader said. "It's very different for me. I have never played offense before, and so far I've enjoyed it. It doesn't take the place of playing defense, though. But I do feel like it has helped me become a better player."
Strader, who also plays lacrosse at McGuinness and operates his own landscaping business, said he is interested in attending N.C. State or Appalachian State, where he would like to major in business or psychology.
Three questions for Strader
Q: What's the best book you've read?
Answer: "The Hobbit" by J.R.R. Tolkien
Q: Who's the athlete you admire the most?
Q: What three people, living or dead, would you invite to dinner?
Answer: Russell Wilson, Dwayne "The Rock" Johnson, LeBron James