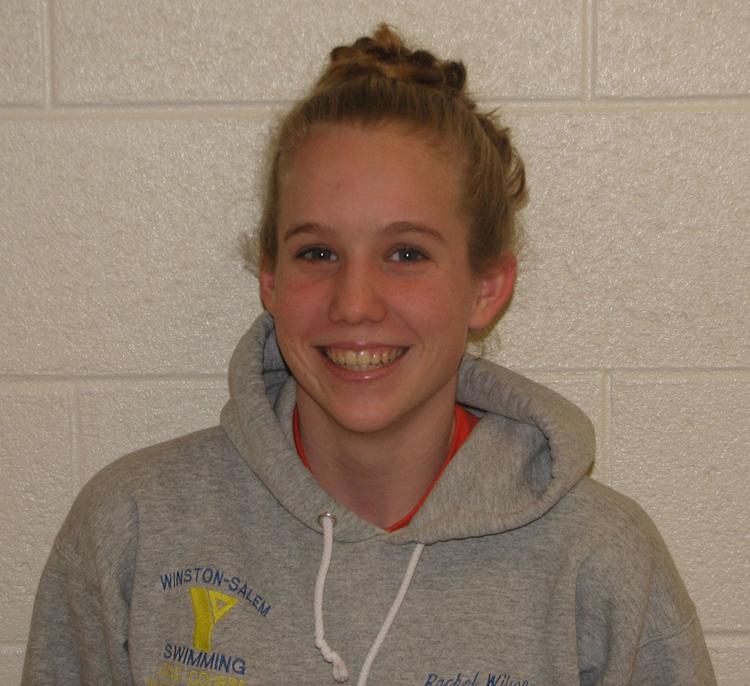 It was more than a decade ago when Rachel Lowe cemented a legacy that no athlete at Reagan may ever equal.
Back then, Rachel Lowe was Rachel Wilson, the cornerstone figure in Reagan's emergence as a swimming powerhouse. During her era (2005-2009), Reagan started a win streak of conference titles that's still going. Here's a career snapshot:
Six-time state champion (five individual and one relay--200-yard freestyle (2007, 2008, 2009), 500 freestyle (2009), 100 backstroke (2008), 200 freestyle relay);
The first all-state athlete in school history;
Inducted into Reagan's Sports Hall of Fame (inaugural class of 2015);
NCHSAA Class 3-A Swimmer of the Year (2007);
Two-time Piedmont Triad 3-A Conference Swimmer of the Year (2007 and 2009);
Signed with UNC Wilmington, voted team Rookie of the Year (2010); served as team captain (2012-2013).
Lowe was a freshman when the school opened its doors in 2005. Expectations were low, and for the most part, wins were hard to come by.
"The older I get, the more I appreciate what I was able to accomplish," said Lowe, who graduated from UNC Wilmington with a degree in marine biology. "We had some outstanding athletes. I just happened to be at Reagan at the right time."
Today, Lowe is married to college sweetheart Nicholas, who swam at UNC Wilmington and UNC. The couple lives in Huntersville and has two sons, Benson, who is 3, and Miller, who is 1.
"My life as a stay-at-home mom is wild, challenging and rewarding," she said. "There's never a dull moment. Early-morning swimming prepared me well for motherhood. Every day is a different challenge, but time flies."
Ryan Michel, the longtime swim coach at Reagan, has fond memories of the early years. Lowe's performances, he explained, set a standard of excellence that continues to inspire and motivate every swimmer that participates in the program.
"Rachel is the one swimmer who put us on the map," Michel said. "All the school records she owned have been broken. Even so, she's still Reagan's most decorated swimmer.
"She's been a big part of all the success we've had. Aside from being fast and talented, Rachel worked hard and stayed humble."
The one memorable moment that's firmly planted in Lowe's mind is the year she won her first state championship. As a sophomore, she was jittery in the minutes leading up to the finals of the 200 freestyle.
"All I could think about was how excited I was to finally win something for Coach Michel and the school," she said. "Before the race, it had been talked up that I should win. That's why I was so nervous."
Lowe's decision to swim for her high school as well as her club (Winston-Salem YMCA), proved to be beneficial for the long run.
"Reagan practices were so much fun," she said. "And there's always been a strong team atmosphere. Coach Michel makes everybody feel included and I've always liked that.
"I still swim a lot. Four days a week, I get up at 5 in the morning and swim for about an hour. About once a year, I'll sign up to swim in a Masters (age-group) meet. It's because of Coach Michel that the love of swimming is still in me."
Over the years, Lowe has made it a point of emphasis to stay in touch with her high school coach. They communicate by phone or text message near the end of pre-season when Michel makes his final cuts for the varsity team.
"Coach is one of the best ever, and I'm glad that he's still doing what he does," she said. "Making decisions about varsity cuts is stressful because he doesn't want to hurt anyone's feelings. I always enjoy finding out how the season is going and what strategies he comes up with for the conference meet."