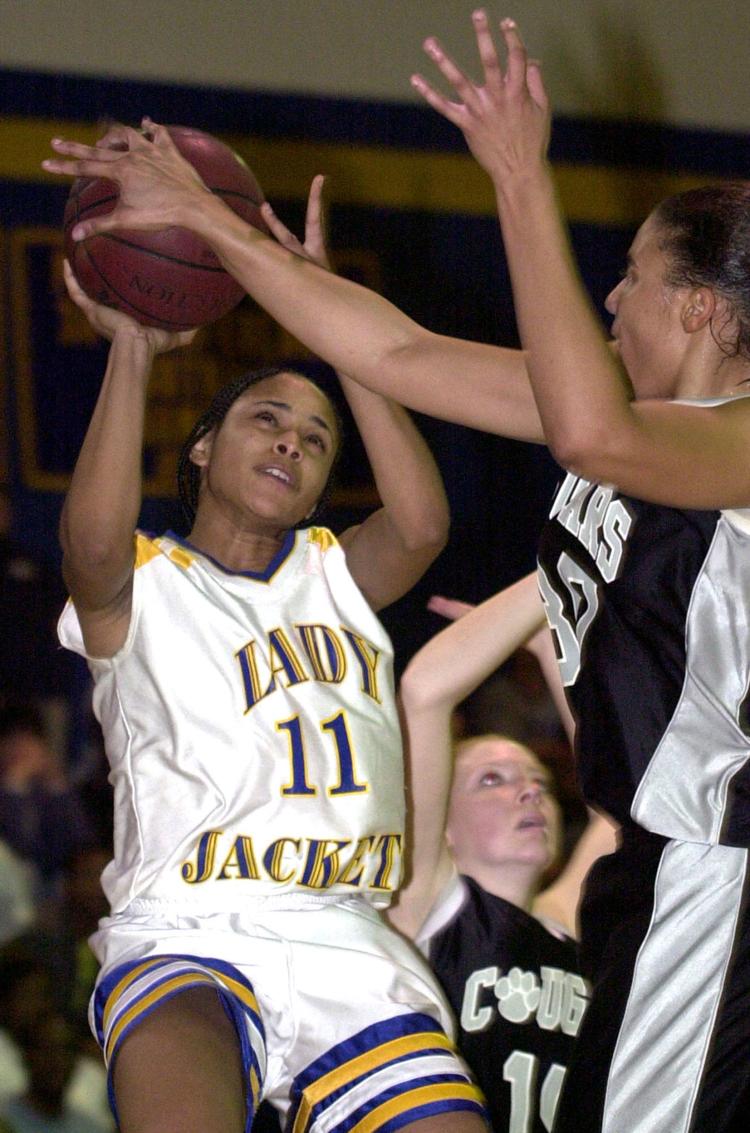 Much like she was in her playing days, Porsche Jones is always on the move.
No, she's not zipping past any defenders on a basketball court anymore, as she was during her playing days at Carver and Wake Forest but holding down a full-time job and a couple of side projects keep her constantly on her toes.
Jones works full time for Novant in Community Engagement. Every weekend from October through June, she organizes local grassroots basketball tournaments through BOND Events, and in the last three years, has even taken on a role with JMAC Hauling, an area trucking company.
She also started Team B.O.N.D. (Building on New Development) fresh out of college, guiding and coaching a team of girls for several years in AAU basketball, all of whom went on to earn college scholarships
As much of an impact as she had on the basketball court, it is her impact off it that may be even more impressive.
She won two state titles at Carver, was inducted into the Winston-Salem/Forsyth County Sports Hall of Fame in 2008, was in the inaugural Hall of Fame class at Carver in 2019, has her retired jersey displayed prominently the school gymnasium, and was recently recognized as one of the Triad's "40 under 40 Most Influential African Americans."
Jones, now 35, considers all her success a blessing.
"It's all really humbling," Jones said. "All this for the girl who grew up in Northwood Estates off Carver School Road in East Winston. All this for the girl who was 5-2 and 120 pounds and was fortunate enough to get a scholarship to play college basketball at Wake Forest. It's been such a blessing."
Her path to basketball stardom was molded by several influences—Louis Lowery at Carl Russell Recreation Center, Gerald Carter and Alfred Poe, her coaches at Carver, Charlene Curtis, who recruited her to Wake Forest, and Natasha Adair, an assistant coach during her final two years with the Deacons.
Off the court, it was the influence of her grandmother, Dr. Manderline Scales an esteemed high school educator and Vice Chancellor at Winston-Salem State, and her grandfather, Robert Scales, who gave her the foundation for success.
"My grandmother exposed me to so many different positive service groups and really showed me what I needed to be doing," Jones said. "I watched her doing all these things and I have taken on that same kind of spirit. She taught me to make sure I'm treating people right, make sure I'm being as loving as I can, and to be impactful so I can leave some kind of legacy. I am so thankful and grateful that they instilled that 'old soul' mentality in me. They exposed me to excellence and emphasized the importance of education. I wouldn't trade it for the world. My story could have ended up a lot different. God placed me in this position for a reason."
Basketball has been the avenue to which Jones credits her drive for success.
"Basketball set the foundation for me to understand how to work hard, how to compete, and have a high level of responsibility," Jones said. "It completely changed my life. I played for a lot of great coaches that held me accountable and had a lot of great teammates that taught me necessary life skills."
Jones said that growing up in a neighborhood of mostly boys also taught her how to be competitive. It also taught how to shoot a basketball and how to escape some tricky athletic situations.
"I guess that's how I got to be so fast because all I did was play against the boys," Jones said. "My neighbor's basketball goal didn't have a backboard, so that's how I learned to shoot. And back then, we would be outside until the streetlights came on playing 'throw up tackle' (football), '21' and 'roller bat.'
Her introduction to organized basketball came a little later.
"I played in my first organized league when I was 8 at 14th Street Recreation Center and at Carl Russel, Jones said. "My freshman year at Carver, we won one game. My sophomore year, we were playing for a state championship."
Injuries consumed much of her college career—a blown out knee led to a redshirt freshman season and a torn Achilles cut short her junior year.
"Every year was a different obstacle," said Jones, graduated in 2006 with a degree in Communications and still managed to score 531 career points, dish out 229 assists and have 121 steals. She still holds the Wake Forest record for steals in a single game (10) against Savannah State.
Jones was also the head coach at Carver during the 2009-10 season, when the Yellowjackets finished 22-5 and won a conference championship. She was also an assistant for a couple of seasons at Winston-Salem Prep before turning her attention to Novant and her grassroots basketball organization, which currently has four boys teams.
"In the most cliché way possible, I'm just trying to find some balance," Jones said. "I think I've got it down on how to work hard. I'm proud of the work we are doing at Novant with our communities and figuring out a better way for them to access healthcare. I'm hoping to lead that drive and change some things. But what I'm most proud of is that I'm the daughter of Cheryl Jones and the granddaughter of Dr. Manderline Scales. I got the best of both worlds."