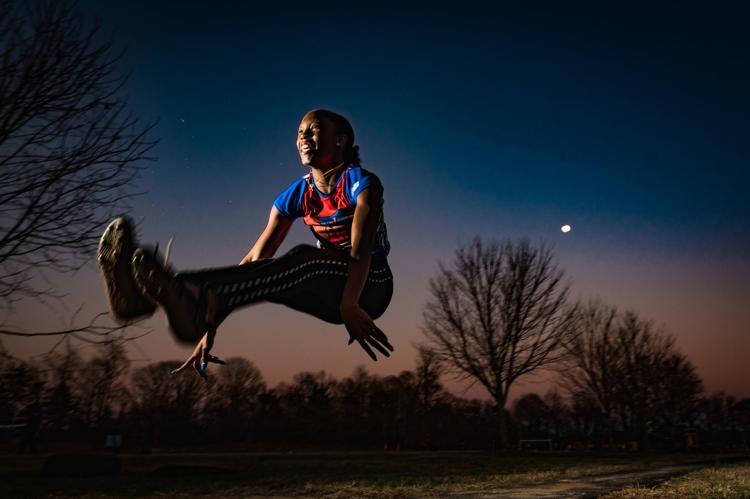 Parkland track athlete Ija Mumford was absolutely stellar as a freshman. In one year, she put together an impressive resume.
More important, Mumford's exploits speak volumes about her potential as an up-and-coming national-caliber talent. Here's a summary:
NCHSAA Class 3-A indoors: State indoor champion in the long jump; third in the triple jump; ran on the state title-winning 4x200 relay.
New Balance indoor nationals: Placed 16th in the long jump, the only freshman to place in the top 20; All-America in the 4x200 relay (third place).
NCHSAA Class 3-A outdoors: Pulled off an awesome double as champion in the long jump and triple jump; picked up two more gold medals in the 4x100 and 4x200 relay for Parkland, which also captured the girls team title.
New Balance outdoor nationals — freshman division: Champion in the long jump and triple jump; made All-America in the 4x200 relay (third place).
"Ija is a major-college prospect already," said Antwan Hughes, the head girls track coach at Parkland. "As she gets better, she's only going to create more options as to which school she chooses to attend."
As for the remainder of her still-budding high school career, it's a reasonable expectation that Mumford, now a sophomore, will be a prime factor at the state and national levels.
"When it comes to the jumps, Ija pays a lot of attention to the technical aspects," said Tarrish Alexander, who coaches the Parkland jumpers. "And she's very disciplined.
"Realistically, I see her being in that conversation as one of the elite athletes who will contend for national championships in the coming years."
Although Mumford is in her second year at Parkland, there are still questions. Because of her early success, is she prone to fall prey to complacency? Will the flaming desire to push herself to new limits be the same? How will she respond as the one opponent that every long jumper and triple jumper wants to conquer so badly in every competition?
Mumford, 15, fully recognizes that yesterday's triumphs have nothing to do with the here and now. In her mind, the main points of emphasis are mastering technique and growing as a competitor.
"I had no idea that things would play out the way they did," said Mumford, who has personal bests of 19 feet, 7 inches in the long jump and 39 feet, 3 inches in the triple jump. "But I knew what I was capable of. What really helped is that I never got caught up in thinking about whether I was good enough to beat girls who were three and four years older than me.
"But the past is the past. It's another year, another challenge. My job is to concentrate on doing what I need to do to stay on top for this season."
To help maintain her competitive edge, Mumford leans on an older sister, Ila, who graduated from Appalachian State in May 2019, after a four-year track career with the Mountaineers. Ija has broken all of her older sister's school records at Parkland in the long jump and triple jump.
Ila Mumford, who graduated from Parkland in 2015, has a unique perspective about her younger sibling. Both sisters competed in the jumps and relays.
During her time with the Mustangs, Ila was a five-time all-state performer. Additionally, she was an outdoor All-American in the long jump.
"As a youngster, I was always around Parkland's track team," Ija Mumford said. "I attended a lot of Ila's practices and our family always traveled to her meets.
"Ila inspires me. She's the one who keeps me level-headed. And she's always checking up on me. The one thing she always does is to make sure that I stay focused on the right things, such as refining my technique and being diligent in my training."
With the indoor season past its mid-point, Ija Mumford appears to be peaking at the right time for the state indoor championships next month.
In the Jan. 12 state rankings compiled by the NC Runners website, she is third for all classes in the long jump (18 feet, 1¾ inches) and eighth in the triple jump (36 feet, 5 ½ inches) for all classes. In the 3-A rankings, she is No. 1 in the long jump and second in the triple jump.
"So many things can go wrong in the jumps," Mumford said. "That's why it's important to keep a straight head. The key for me is to stay focused and be prepared to compete at all times. That's the approach I used last year, and I'll keep doing that."
Mumford's excellence in the jumps is well-documented. As a sprinter, however, she has taken even bigger strides.
Currently, her career best in the 55-meter dash is 7.24 seconds. Hughes said she is confident that she can lower her time to 7.1 and maybe go below 7 seconds by the time she graduates from high school.
"Ija is at her best when she comes out of the blocks," Hughes said. "That's the reason we put her as the lead-off leg on our 4x200 relay. With more speed, she'll be even better in the jumps.
"The faster you can run, the farther you can jump."