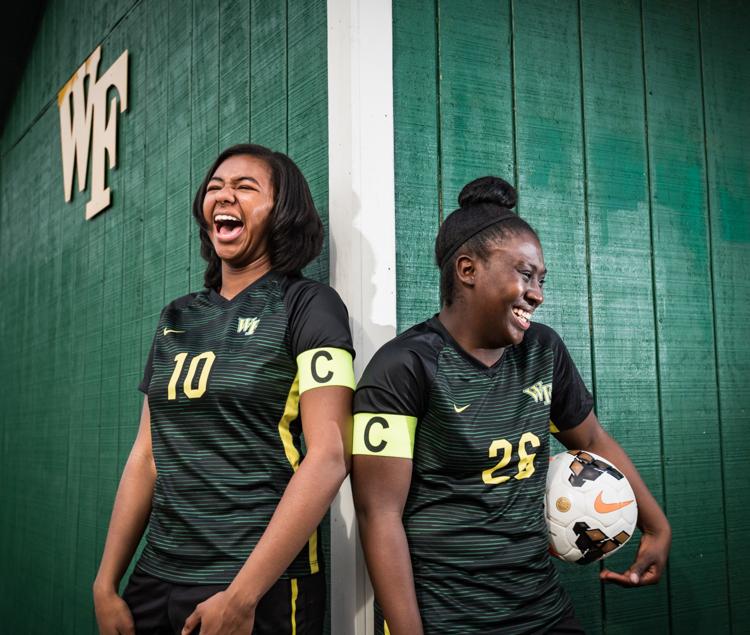 Whoopi Goldberg starred in a pair of "Sister Act" movies almost 25 years ago, outfitted in a nun's habit and looking all the world like a real Sister Mary Clarence, getting things done.
There's a different kind of sister act going on at West Forsyth, has been for a handful of years. The "sisters" have different parents and different last names, but they've lived in the same house for a while, shared fathers with the same occupation and have been on the same soccer pitch long enough to almost be sisters.
Cami Belin, 18, and Justiss Hunter, 17, are both seniors who start on the back line for the Titans soccer team, Belin at center back and Hunter at right back. They played junior-varsity together as freshmen, then moved up to the varsity late in the season for that team's run to the Class 4-A state championship.
They broke up for a year, for several reasons, then reunited last year as the Titans won 23 straight matches before losing in the state semifinals. They were 3-1-1 this spring before the new coronavirus interrupted their senior seasons.
"None of us saw it coming," Belin said. "It's been a little hard, this being my senior year. And we had such a good start."
To backtrack, the sister act stuff started the summer before the girls entered the sixth grade.
Belin's father, Warren, was an assistant football coach at Wake Forest for Jim Grobe. When Grobe left, Dave Clawson replaced him, kept Belin on his staff and brought with him from Toledo, Ohio, his running backs' coach, John Hunter, Justiss' father.
Justiss and Cami never played on the same team in club soccer; they first joined forces as freshmen at West Forsyth.
Scott Bilton, the Titans' head coach, was on his way to a state championship four seasons ago; his team was loaded enough that he could afford to keep his two most-athletic and promising freshmen — Belin and Hunter — on the junior varsity where they could play together and learn to play off each other.
"With both of their dads being football coaches, they've had a history of hanging around that kind of lifestyle, and they're awesome," Bilton said. "They're good kids, and as far as helping each other, we think about them like sisters. They get on each other's nerves, then they pick each other up.
"They are very different. Cami is a very cerebral player. Justiss is very much an instinctual player. She volleys the ball better than anybody on our team. Cami reads the game well. She can't make the unbelievable play like Justiss can, but she doesn't have to, because she makes all the little plays."
Both Belin and Hunter missed a season for West Forsyth. The summer before her sophomore year, Belin's father took a job as an assistant coach at Vanderbilt, and the family moved to Tennessee. Hunter started the season for the Titans, but eight minutes into the season-opening game against Lake Norman, she went down with a torn ACL in her knee, ending her season.
Hunter was still on the sidelines when Belin returned to West that spring — she had to be a manager; she couldn't play because she played soccer in the fall for a school in Franklin, Tenn. — and moved in with the Hunter family, taking big brother Baer's bedroom for three months while he was a freshman football player at Appalachian State.
"When we went to Tennessee, it was rough for us, because we sort of knew Winston-Salem was home," Cami Belin said. "We were able to get back."
The Belin family moved back to Clemmons just before school ended when Warren Belin took a job at James Madison University. He was caught up in a coaching change at JMU and was home last year and got to see his daughter play all 24 games for the Titans. He's now an assistant coach at Howard University in Washington, D.C.
"When Cami moved in with us, it was very different. We are very different, but our differences help us," Hunter said. "I'd had a brother, but this was nothing like having a brother. She took Baer's room. She just brought her clothes in, maybe put up a few pictures."
When Hunter got healthy, it was like old times when they laced up their soccer cleats.
"I think we do have that kind of communication, especially because we both play back," Belin said. "I don't ever have to tell her what to do, because she'll already be doing it — and vice versa. I'll see her move and know what to do. It's a lot harder for other people to create that kind of relationship."
"We have non-verbal communication," Hunter said. "There have been moments when I've almost known what she was going to do before she does it.
"I rely a lot on speed, so if I make a mistake, I can catch up, but Cami will have my back. I've gotten used to playing with her."
Depending on the outcome of the pandemic scare, the two may have played their last game as teammates — maybe not. Both will continue playing next year at the college level.
Last spring, Hunter got a scholarship offer from Mount Olive College and committed to play for the Trojans. This past fall, Belin got an offer from Lees-McCrae and committed to play for the Bobcats.
"I never thought I'd be a mountain girl — 'til I went up there," she said.