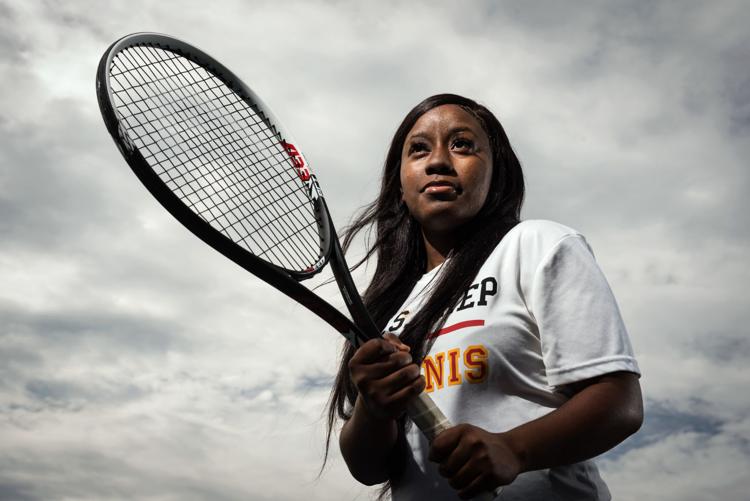 Jamia Roundtree had never played tennis before her sophomore year at Winston-Salem Prep. Three years later, the senior for the Phoenix is a leader on and off the court.
"She has improved a heck of a lot," Coach Bill Tibbs said. "She's gone from being No. 6 three years ago to No. 3 or No. 4 this year. She practices hard and takes it seriously."
One of things Roundtree sees as a positive is the team's energy. And she certainly needs a lot. She's also a varsity cheerleader.
"I like the energy on the team. It's so energetic. Everyone is into it and has a grasp for it," she said
She also enjoys the bonding with her teammates, but Tibbs' practices can sometimes be difficult.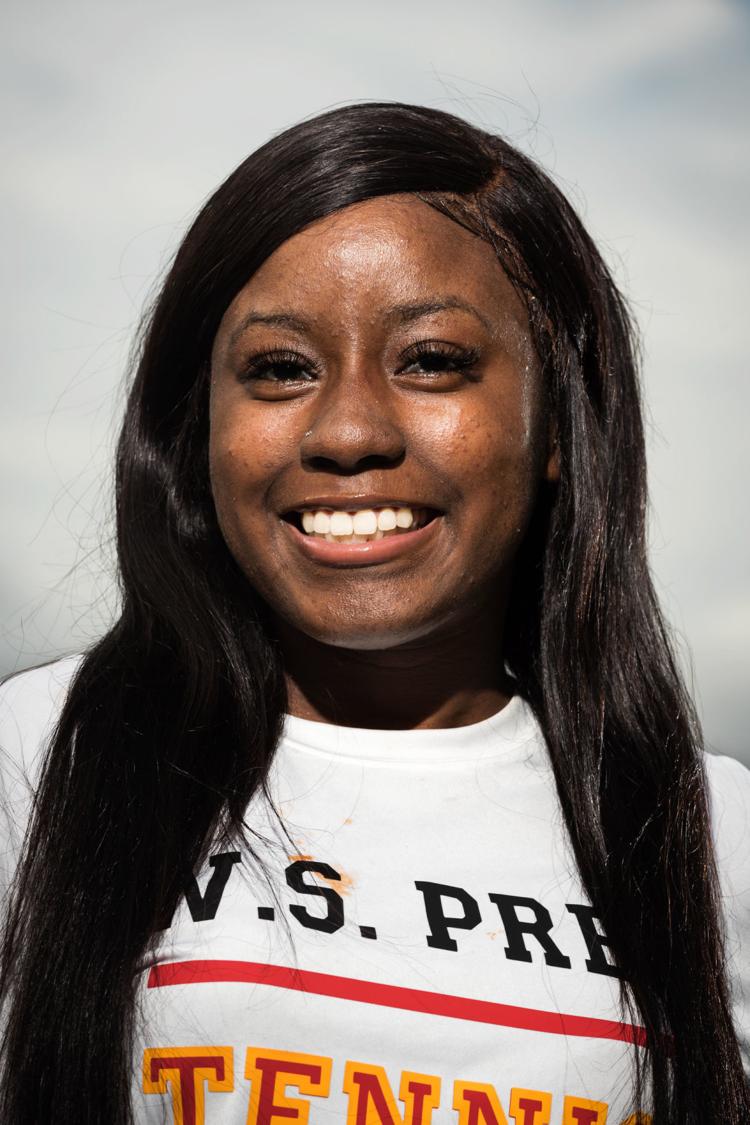 "Everyone has bonded together," Roundtree said. "I really like my team and the sport, but Coach Tibbs' practices can be tough. All that running gets me sometimes. Other than that, I really like it."
Serving was a challenge for Roundtree when she first began playing.
"It was difficult," she said. "I had to learn to position myself. I had to learn how to throw the ball up and hit it.
"I had to learn how to hit it softly or hard. It took a good month or two to get it down. Now I know how to position myself. I know how to pace myself."
Roundtree is currently playing at No. 4 in singles and doubles. She said she prefers playing singles.
"I like singles because I have both sides of the court," she said. "When you play doubles, your teammate has one side and you have the other. But doubles are easier because me and my partner switch off."
When it comes to playing, Roundtree said she relies mostly on her dominant stroke.
"I really use my forehand more," she said. "It's easier to process, and I try to push it forward.
"I use my backhand sometimes because sometimes I might be good at it. I practice both ways because I never know which way I have to go with it."
Her favorite position on the court is playing close to the net.
"I like playing toward the net when I go up against a player," Roundtree said. "I usually try to hit it back softly."
According to Roundtree, she said she's proud of the progress she continues to make.
"I'm doing pretty good," she said. "I'm better than last year. I know how to focus more, and I know more about positioning. If you don't position yourself right, you can't win the match.
"My main goal is to win more matches than last year. I also don't want to be intimidated. They will know I'm coming and I'm serious about it."
She is also working on better preparing herself mentally for matches.
"When I see they have this big, good team it definitely psyches me out," Roundtree said. "I really just have to believe so I don't get scared."
Roundtree said she also tries to avoid allowing frustration to get the best of her.
"Sometimes I do get frustrated," she said. "If I have a bad game I get frustrated, but I just have to practice more. I try to notice the technique of the person I'm playing so I can match it because other people might use it."
Cheerleading and playing tennis during the fall have made Roundtree an expert at juggling her schedule.
"I usually spend half and half practicing with each one," she said. "If we have home games, I go to cheerleading practice first and then come to tennis when it's my turn to play."
Roundtree credits cheerleading with helping her to overcome her shyness.
"It really brought me out," she said. "I used to be shy, but now I have really embraced myself. Prep is such a small school that everyone is close, but in cheerleading we're even closer."
Tibbs was quick to offer praise. "She's a joy to be around," he said. "She's quiet. She listens and does what I tell her to do. Not only is she a good athlete, but she's also an excellent student. She has a 3.4 GPA."
He's been impressed with the improvement he's seen with her volleying.
"The biggest strength in her game is volleying," Tibbs said. "Being an athlete and a cheerleader, she is really good at volleying. She's also good at returning serves.
"Her serve has improved. She has worked on it. Improving really comes with practice and repetition. If she could dedicate herself to tennis she would improve rapidly."
Roundtree's leadership skills have also impressed her coach.
"She's the kind of leader that leads by example," Tibbs said. "She's not very vocal. I like leaders like that.
"You can trust her at practice and know she's going to do what you tell her to do even if you have to leave. As a coach, I like people I can rely on. Jamia is one of the most reliable people you can have. I'm sure going to miss her when she graduates."