GREENSBORO — The COVID-19 pandemic has turned two Greensboro swimmers who thought they were headed to the U.S. Olympic trials this year into fish out of water.
Page senior Reid Mikuta and Northern Guilford senior Preston Forst were training for the trials, which had been scheduled for June 21-28 in Omaha, Neb., when sports were shut down to try to control the spread of the virus. Now the Olympic Games themselves, scheduled for July 24-Aug. 9 in Japan, are postponed.
Both understand the situation is much bigger than sports, but for two 18-year-olds who've been swimming for most of their lives, this is uncharted territory.
With pools closed in the Triad and across most of the country, competitive swimmers are relegated to dry-land training. For Mikuta, that means "pullups, squat jumps, box jumps," he said, "and I like to use a medicine ball and go on a run or two to keep the cardio up."
"I haven't swam since last weekend, a little over a week," said Forst, who competes for the Enfinity Aquatic Club. "At home I can run as much as I want, bike as much as I want, do a bunch of pushups and that kind of stuff, but it's definitely not the same."
Elite swimmers are usually in the pool every day, although Mikuta and Forst take an annual break for about three weeks in August when the sport's competition schedule allows. This is different, and both have already noticed. They've lost a little bit of their appetite for food with less exercise, but they haven't lost their hunger for competition.
"I totally miss it," Forst said. "You wake up every morning and you swim and you kind of take it for granted, you don't think about it too much. When it's gone, like this past week, every single day I feel like I need to get up and do something. It feels like I'm missing something that I should be doing."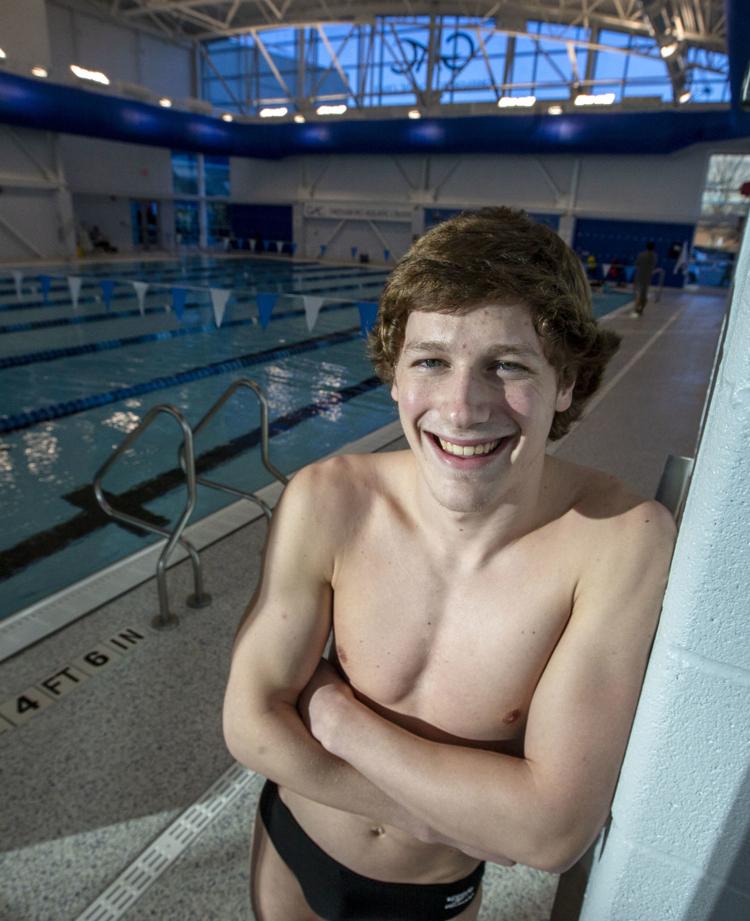 Mikuta, who competes for Swim GSA, sees little reminders around the house.
"It still feels very weird when I go past my swim stuff and think, 'Do I need to pack this? Oh, no. I'm not swimming for a long time,' " he said.
How long Mikuta and Forst won't be swimming is a question that can't be answered right now. But both know they will have other opportunities to compete for spots on the U.S. Olympic team with the Tokyo Games postponed until 2021. It's the athletes who may not get another chance that both swimmers are thinking about.
Before he knew the Olympics had been pushed back a year, Mikuta said, "I would feel really bad for anybody who's past college and this was going to be their last time and they had to put on hold another year of their life to focus on training for it."
"I feel awful for all the college people who've had their NCAAs canceled," Forst added. "Basketball, too. They just can't get that season back."
Swimming has not only kept Mikuta and Forst incredibly fit, it has earned them athletics scholarships to elite universities — Auburn for Mikuta and Stanford for Forst. For both swimmers, their first Olympic trials were going to be about gaining experience for the future.
"I definitely didn't have a shot at making the Olympics," said Forst, who had qualified in the 100 butterfly, "but being at the trials, the experience, seeing all the people there would be super-cool."
Mikuta, who qualified in the 100 breaststroke, tried to find a positive in the postponement of the trials to 2021.
"I'll have my first year in a college pool and in a college atmosphere," he said, "so I'll be more confident as well."
Until then, they just want to get back into the pool.
"I guess a little break is nice, but I'm ready," Forst said. "I'm done. Break's over."