East Forsyth and Reagan bounced back last week after losing the opening games of their respective Central Piedmont 4-A schedules two weeks ago. Only one of those teams can win Friday when they play each other in Pfafftown.
East Forsyth (7-1, 1-1) defeated Glenn 41-20 on Saturday following a loss two weeks ago against West Forsyth. And Reagan (7-1, 1-1) rebounded last week with a 56-27 win against Reynolds after losing two weeks ago against Glenn.
"In the first half, it was 21-13 at the half," Coach Josh McGee of Reagan said. "And Reynolds did some really good things on offense. (They) kept the ball away from us, hurt us on third downs.
"Offensively, for us, we fumbled the ball on the first drive, but after that, we scored the next three series. At halftime we challenged our guys to come out, play a little bit tougher, play a little bit cleaner. And then we certainly found a way to do that and came away with a big second half and a big win."
A player who shined for the Raiders last week in the win against Reynolds was junior running back Bryson Canty. Canty, who filled in for the injured D.J. Moyer, rushed for 229 yards on 15 carries and scored two touchdowns. McGee said that the Raiders are about as healthy as they've been all season as they prepare to play host to the Eagles.
"I think, halftime, we got together and talked about what we could've done better," Canty said. "And then we fixed it and came out explosive in the second half."
As for East Forsyth, the Eagles had to wait an extra 17½ hours to play Glenn. The game against the Bobcats was postponed to Saturday afternoon due to electrical issues the night before at Marty Stanley Stadium. Glenn led 14-7 at halftime, but East Forsyth slowly gained momentum in the second half and pulled away for the 21-point win.
"I think the coaches saw some things, you know, different atmosphere. I think the kids needed to adjust a little bit," Coach Todd Willert of the Eagles said. "Once we did all that I really thought we did good."
East Forsyth is playing without senior Ahmani Marshall, its top running back. Marshall suffered a shoulder injury two weeks ago against West Forsyth. Marshall's father, Malcolm, confirmed to the Journal that Ahmani broke the humerus in his right arm and had surgery last week. Both Malcolm Marshall and Willert said Ahmani Marshall will be out about six weeks.
Marshall has 667 rushing yards and seven rushing touchdowns on 92 carries so far this season. He is averaging 7.3 yards per carry.
Even though Marshall is injured, the Eagles have plenty of capable running backs.
Robbin Smith, the brother of Wake Forest's Christian Beal-Smith, scored two touchdowns against Glenn, including one on a run of 79 yards. And Joe Ritchens scored on a 7-yard run. Quarterback Ty Lyles rushed for a touchdown and threw for two more − 52 yards to Jamison Warren and 42 yards to Chris Chaplin III.
Marshall, however, isn't the only injured player for East Forsyth. Willert said receiver Da'mon Stokes, a sophomore, also will be out for six to eight weeks.  
"It's just that next man up mentality," Willert said. "And that's what we're going to have to this Friday against Reagan."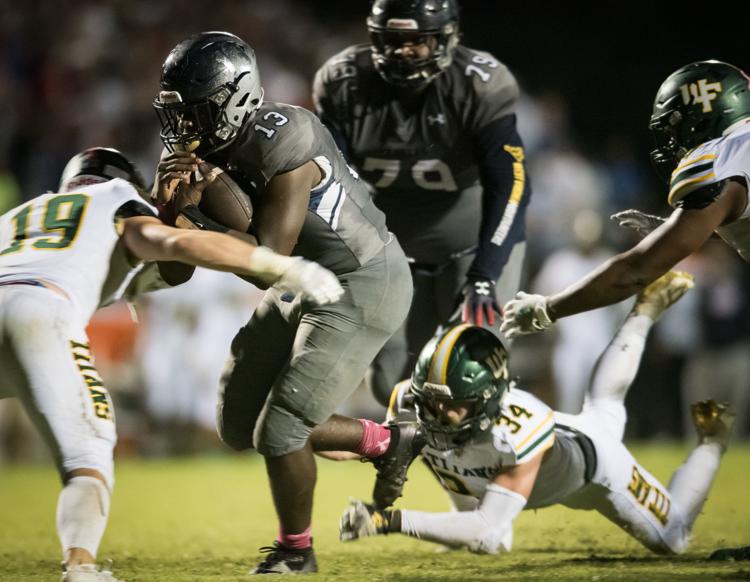 The Central Piedmont 4-A is one of the tougher conferences in the state. Davie County (5-3, 2-0) is leading the conference after defeating West Forsyth 37-34 last week, but four teams − East Forsyth, Glenn, Reagan and West Forsyth — with 1-1 conference records. Reynolds (3-5, 0-2) is the only team without a conference win.
"I've been telling everybody since the beginning and fall camp that this year's conference, on any given Friday you can lose," Willert said. "No doubt that is a true statement  right there."
The Raiders, who are winless against the Eagles since Reagan opened in 2005, arguably have the toughest remaining schedule in the conference. Reagan plays host to East Forsyth this week, has a road game at West Forsyth on Nov. 1, and ends the regular season in two weeks on the road at Davie.
"I think it's easy not to look ahead when you've got the film on and see the team you're getting ready to play," McGee said. "When you cut the tape and you see that you're getting ready to play East Forsyth, I think you have to be completely locked in. And if you do look ahead you're going to get embarrassed."