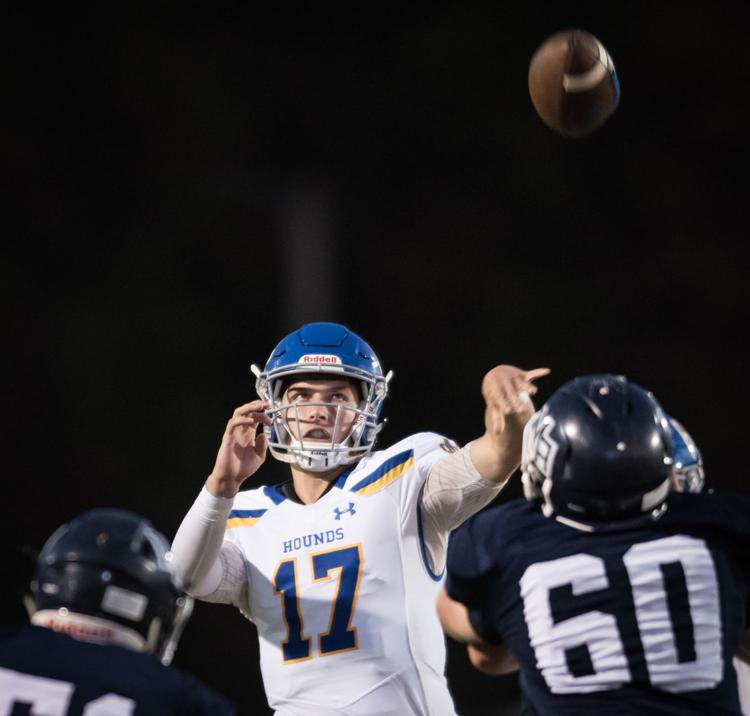 It wasn't just a conference win for Chase Swartz, though it took him a few minutes to figure out just exactly what it meant. 
The 17-year-old senior quarterback had just guided the North Surry football team to a 27-20 victory on Sept. 27 against Walkertown at Charles Atkins Stadium. Swartz, spearheading the Greyhound's well-known air raid offense, completed 16 of 22 passes for 174 yards and a touchdown.
He even had a solid night on the ground, rushing for 116 yards and scoring two touchdowns — the last on a quarterback keeper with 13 seconds left that gave North Surry the win in its Western Piedmont Athletic 2-A opener. 
But Swartz was surprised to learn what followed.
He was in the team's locker room when Tanner Hiatt, the 27-year-old quarterbacks coach, retrieved him. Swartz and Hiatt then stood on the field. They posed for a sweaty photo, taken by Coach Patrick Taylor of North Surry.
Swartz, who became the starter in 2017 during his sophomore season, set the school record for passing yards in a career that night. He ended that game with 5,065 career passing yards.
And the player he passed was none other than Hiatt — a standout with the Greyhounds who racked up 4,965 career passing yards as a four-year starter from 2007 to 2010.
"I was like, 'Well, what's going on?'" Swartz said. "And that's when he told me that I had beat his record. 
It was a special moment for the pair. For Hiatt, Swartz is the first quarterback he's coached four straight years.
"Chase is special to me," said Hiatt, who became the offensive coordinator after Taylor took over as head coach. "We have our times where there's some tough love, but we also have a ton of fun together."
But their relationship goes back further. 
Swartz was a seventh-grader with the White Plains Raiders, a youth football team in Surry County, back in 2014. According to Hiatt, he was volunteer coach briefly with the program that year while helping at North Surry.
He remembers Swartz as a fullback lining up in the I-formation. Swartz recalls Hiatt even running a few pass plays, so he could throw the ball. It wasn't even a year before Taylor installed an air raid offense at North Surry. 
"When they first put in the air raid, we always tried to mimic that like in little league in middle school so we was familiar with it when we got there," Swartz said. "So (Hiatt) would just come down, help us and just try get us in more of that type of offense."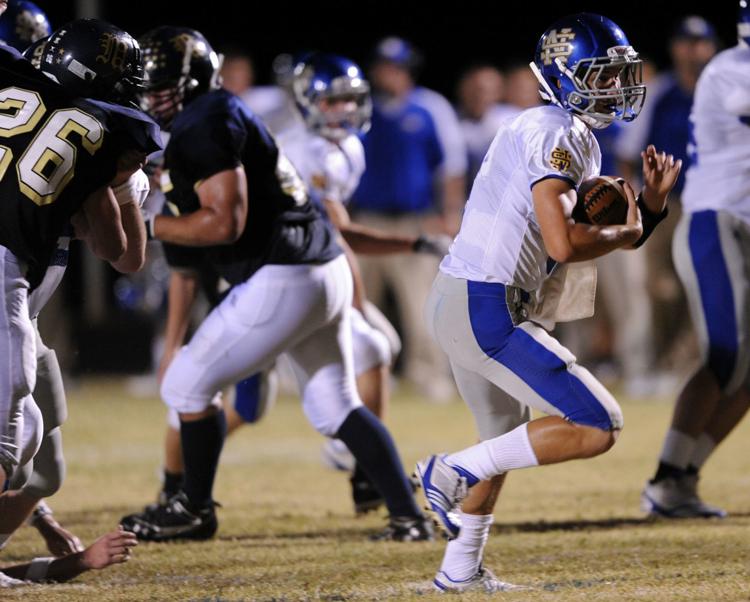 When Swartz joined the JV team at North Surry in 2016, he ran into Hiatt again. That season, Hiatt was the offensive coordinator and quarterbacks coach.
According to Taylor, Hiatt embraced his role in teaching Swartz. 
"I told him when we went to this offense and when Chase was a freshman, 'Think of all the things you would've done better and you would've done to change how your approach was at quarterback and create a relationship with him,'" said Taylor. "I think that is something that Tanner has done great from the time Chase was a freshman on up." 
Their time together only grew in 2017, with Swartz eventually named the starter ahead of the Greyhounds' 35-14 win against Elkin on Aug. 25. And it's snowballed into a record-setting senior season for Swartz — his coach's milestone far from the only record he's set.
Swartz threw for 426 yards in a season-opening win over Alleghany on Aug. 23 to set a single-game passing record. He broke his own record just three games later on Sept. 20 in a 57-38 loss against Mount Airy. 
Swartz racked up 591 yards passing, which would've placed him seventh in the NCHSAA record book. He passed Chris Leak — the former Charlotte Independence quarterback who led Florida to a BCS National Championship title in the 2006 season — with 585 yards passing in October 18, 2002. Swartz even threw six touchdowns, breaking a school-record five set by Avery Smith in 2015. 
And Swartz has Hiatt to thank for the mentorship. 
"(Coach) Hiatt's always said the right things at the right time," Swartz said. "Like when I was struggling, like my sophomore year against Mount Airy — not having a good game. It was one of the best teams Mount Airy had in a while. He had told me stories about when he was playing Mount Airy and stuff like that. 
"Keeping me calm. Keeping me cool. He's just prepared me mentally and physically the past three years."