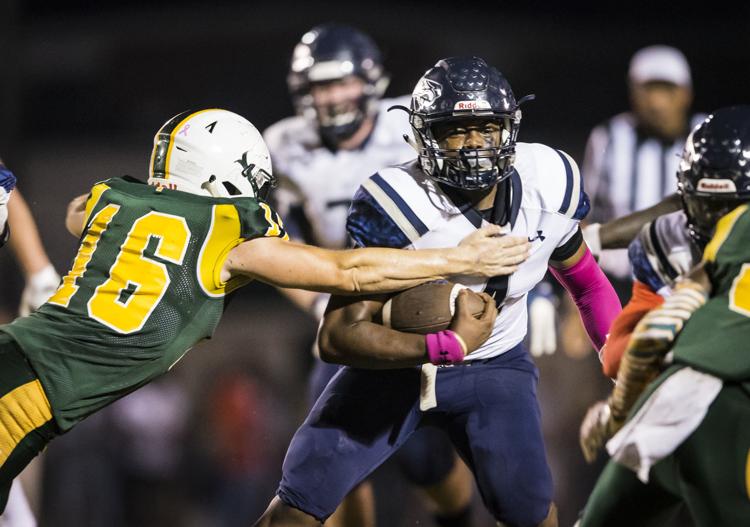 Athletics teams from West Forsyth and East Forsyth high schools have always been rivals across all sports, but that will have a different feel Friday in Kernersville.
Both football teams are undefeated and will play each other at Fred E. Lewis Stadium in the Central Piedmont 4-A opener for both teams.
"It's insanely big," senior linebacker Giovanni Ricciardi of West Forsyth said. "It's one of the biggest games I've ever played in my high school career, and it means a lot to me."
The winner of this game in the past two years has gone on to win the conference championship. West Forsyth defeated East Forsyth in Kernersville two years ago on its way to winning the Central Piedmont 4-A title, and East Forsyth won last year in Clemmons before ending the regular season undefeated.
The Eagles, of course, went on to win the NCHSAA Class 4-A state championship and are on a 21-game winning streak. 
"I think it's great for the county and now it's great for our conference, obviously, that we're both in the same conference," said Todd Willert, who's been the head coach at East Forsyth since 2003. "It makes you better as a coach. It makes your team better. It helps you when you get to that third phase in the playoffs.
"... The kids know there's a little more on the line than just another game."
West Forsyth (6-0) defeated Greensboro Page 26-7 last week, and East Forsyth (6-0) eked past Greensboro Grimsley 21-20 last week to set up this game between unbeatens. 
Coming into this week's game, both coaches attempted to downplay the hype surrounding the Friday's game.
Coach Adrian Snow of West Forsyth said, "It's a conference game. That's the way we looked at it. That's the way we talked to our kids. There's four more that have to come after it. So basically it's the next step and that's the way you kind of look at it."
And Willert said, "Once again, the importance is to get that first win in our conference. Our conference — I mean this seriously — there's five or six teams that could win. Any given Friday night you could get beat in this conference. The best conference, 4-A conference in the state, by far, top to bottom. I truly believe that."
To illustrate Willert's point, Reagan is also undefeated and will play host to Glenn on Friday night in its conference opener. The Raiders (6-0) play the Eagles and Titans in consecutive weeks. Reagan plays host to East Forsyth on Oct. 25 and will play Nov. 1 at West Forsyth.
"There's some other teams in our league that feel like they will have some say in our conference," Snow said. "But at the end of the day you've got to go play well and see what happens." 
The rivalry between East Forsyth and West Forsyth has evolved over the years.
"It's a good rivalry. It's not mean one," Willert said. "Me and Adrian used to have our rifts back in the day. Now, it's a fun rivalry. It's a good rivalry. It's a respected rivalry. And I think that makes − these are the kind of rivalry games I like to be in."
One player new to the rivalry is Jabez Gorham, a senior cornerback for the Eagles. Gorham transferred to East Forsyth from Southwest Guilford.
"A lot of my players have been saying like it was going to be a hyped game," Gorham said. "It's going to be a lot of people there. You've got to enjoy it, and you've got to calm down because there's going to be a lot of adversity."
Home field hasn't meant much in recent years for this game. Although, the Eagles are glad to be playing Friday night at home.
"I'm sure Adrian would tell you he'd rather play at The Village than at The Nest," Willert said. "Even though we won last year (at West Forsyth), I would 100% of the time would rather play here at East Forsyth."