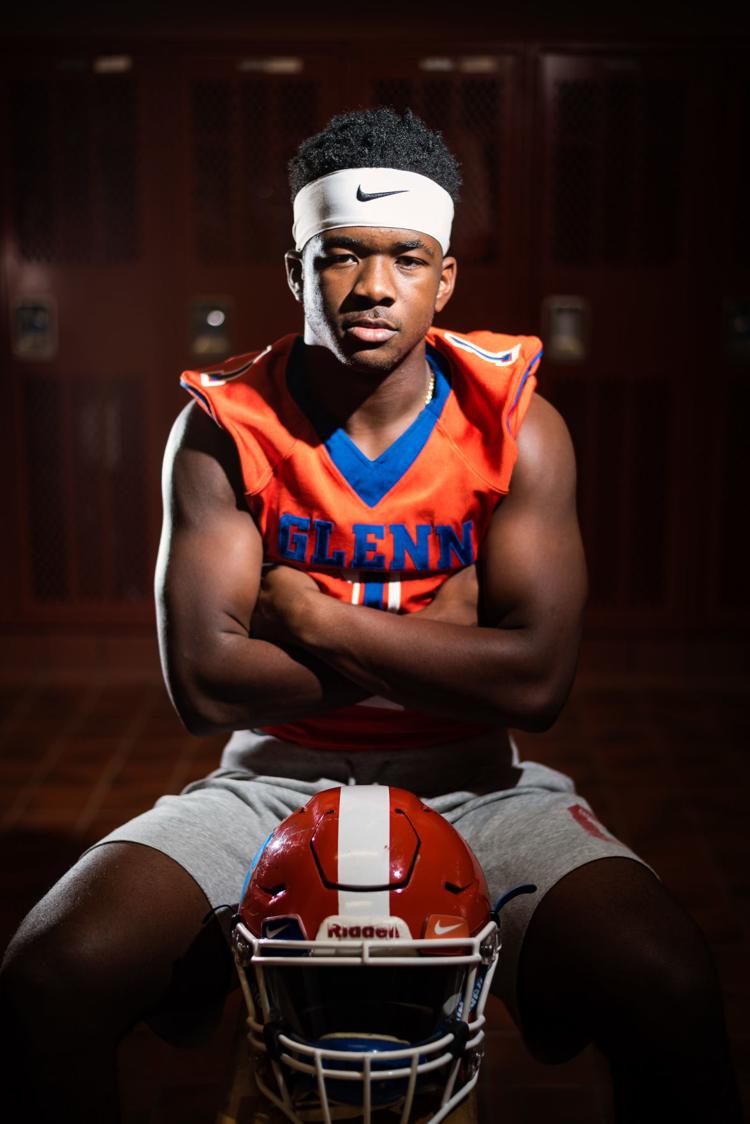 It was nearly a year ago when William Craig-Blakely stood at the crossroads of his high school football career.
As a junior, Craig-Blakely was a backup quarterback at Reagan. But with his senior year coming up, he figured he wouldn't get much playing time with Gabriel Hollingsworth returning. Hollingsworth, an all-conference-caliber quarterback, has verbally committed to play at Columbia next fall.
Given those circumstances, it wasn't surprising that Craig-Blakely, who is 5-foot-11, 185 pounds, transferred in the middle of the school year. Glenn was the logical choice because there was an opening at quarterback. Jaden Sutton, last year's starter, graduated and is now a freshman running back at Lafayette College (Pa.).
Craig-Blakely's decision was predicated on giving himself a reasonable chance to play as a senior. But that's not all. He's keenly aware that getting more playing time will give him more opportunities to attract interest from college recruiters.
"Gabe is very talented," Craig-Blakely said. "But I believe that I have too much talent to let it go to waste. Now, I get my time to shine and show college scouts what I can do. That wouldn't happen with me being a backup at Reagan."
Seven weeks into the season, it appears that the switch is working out. Craig-Blakely, who has started three games, splits time with sophomore Camden Coleman.
Craig-Blakely is eager to take over as the full-time starter. Whether that happens in the weeks to come remains to be seen. In the meantime, he has developed his own method of staying ready when he's watching the action from the sideline.
"When I'm not in the game that makes me even more motivated," he said. "I'm good at improvising. If we need a big play, I have no doubts that I can make it happen. I just want to make the plays that make a difference. By doing that, it gives coach more reasons to keep me on the field."
Coach Antwon Stevenson of Glenn is elated with the progress that Craig-Blakely has shown in getting acclimated to the Bobcats' spread offense. What Stevenson appreciates most is the dynamic that Craig-Blakely provides.
"Will is a good athlete with a strong arm," Stevenson said. "We can use him effectively in our running game, and he throws well enough to earn the respect of opposing secondaries.
"He has lived up to our expectations and made the most of his time on the field. We just need him to keep learning and keep leading. He has put his stamp on our program. Will's athletic ability alone makes him a genuine college prospect."
Craig-Blakely relied on his legs to score his first touchdown in a Glenn uniform. He scored on a quarterback keeper from 12 yards out in a 27-0 win against North Forsyth.
"We called a fake jet sweep," he said. "I kept the ball and waited for our two guards to pull. Those guys, the left tackle and wide receiver made nice blocks and left me one-on-one with the safety. I made a cut and was in the end zone."
One of the highlights from Craig-Blakely's final season was last week's road game against Reagan. Glenn saved its best for last in an 8-7 comeback win over his former team. He didn't get a lot of snaps, but he did have a few nifty fourth-down runs to give the Bobcats first downs.
"I thought about that game every day," he said. "I've got a lot of love for the players and coaches. It's always great to get a win. But it's very special to come in and win against the people you used to play with. A lot of things went against us in that game, but we kept on fighting and found a way to pull it out. We wanted it more."
Since his arrival at Glenn, Craig-Blakely has spent considerable time working on the mental aspects of playing quarterback and improving his leadership skills. As a result, he now has a better grasp of how to exploit defenses.
"I've had a lot of study sessions with a white board and videos," Craig-Blakely said. "My uncle (Ernest Blakely) would draw different sets of Xs and Os on the board, and I had to learn to recognize the defense and know the best ways to attack. We used the same approach in breaking down defenses on video.
"One of my goals is to become a better leader. Watching Gabe while I was at Reagan was really helpful with that. Gabe gets on everybody. And he does that to make sure that every player does his job."
Glenn, which improved to 5-2 overall after winning at Reagan last week in the Central Piedmont 4-A opener, has the playing style and personnel to make things interesting in the chance for the conference title.
"We have a state championship kind of defense," he said. "In the games we lost, they were on the field for too long. If we can do our part on offense, we can be successful against anybody on our schedule."