KERNERSVILLE — A pair of white, pop-up canopies stood tall on the edge of the rain-soaked sidewalk. Coach Todd Willert, sporting blue rubber gloves, mulled about underneath those two tents — each printed with the words "East Forsyth Cross Country" in a thin font.
Those canopies shielded two tables, adorned with blue cloth that included more than 60 small black boxes, from the rain pelting down this morning. It was hardly the scene of a championship ring reveal that the East Forsyth football team, which claimed its second straight NCHSAA Class 4-A title in December, envisioned a few months ago. That ceremony amid the coronavirus outbreak was overshadowed by social distancing — a drive-through receiving line, where passing cars were cycled along a roundabout at the high school.
Darin James, a 6-foot-2 lineman, leaned from the passenger window of a white van just after Willert handed over the black box containing his championship ring. The senior smiled as he slipped it on the middle finger of his right hand, next to his jewelry earned after the 2018 season and the Eagles' first Class 4-A title since 1992.
It was a drastic alteration from the Eagles' previous ceremony, which took place in the high school's auditorium last April. Players, donning gold chains to sunglasses and suits, lined the walls opening wooden ring boxes as Metallica's "Enter Sandman" blared. Arguably the lone mark of consistency were those two tables, which featured a bevy of ring boxes, two East Forsyth football helmets and wooden Class 4-A championship titles on display.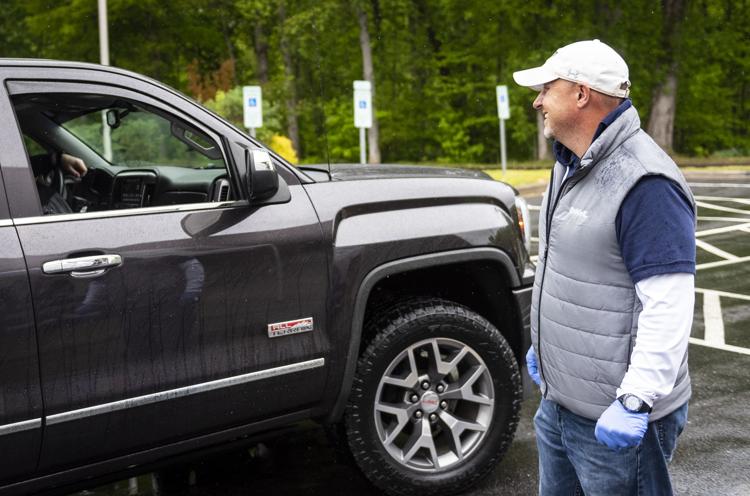 "With all the stuff going on, it was kind of the only way we could do it," Willert said. "And, I guess, to see the guys for a little bit. I haven't seen them in about two months, so it's kind of been a little hard.
"I'm happy to see everybody, happy to see the coaches. You know, it kind of put a lot of things in perspective."
Senior Torrian Jackson left the passenger seat of his car to receive his prize. He rotated it on his finger, exposing the left side of the ring inscribed with the words, "BACK TO BACK" — the phrase players chanted during the Eagles' trophy presentation in Chapel Hill. On the ring's face, blue gemstones in the shape of a football encircled moldings of both state titles.
School officials wouldn't disclose the cost of the rings, designed by Southern Recognition Inc., but said money from booster club donations and fundraisers provided for them. The company's web site shows the rings with a cost of $325 and an additional $100 for the presentation box.
Since Gov. Roy Cooper's stay-at-home order issued in March, Jackson spends the bulk of his days as "basically a full-time employee" at Lowe's Home Improvement in Kernersville to amass a college fund. His training for an NAIA career at St. Andrews has included anything from pushups to walks during his down time.  
Jackson returned to his mother, Marion, who parked in a spot near the receiving line. The pair marveled at the ring for a few minutes.
"It's very different. It's not what I really planned and hoped it to be," Jackson said of the drive-through. "But for the coaches to actually do something for us … For them to give time away from their families through this lockdown, it lets you know the coaches really love you. The coaches, the parents, the principal, they're taking time out from their families to come give us the rings.
"You've got to feel blessed to have them."
Zyun Reeves, a rising senior, smiled as he noted the "blue diamonds" affixed to the top of his ring. The fall season was his first since freshman year, when he was on the junior varsity. The defensive end, rated a three-star prospect by 247Sports with more than 10 Power Five scholarship offers, recalled a season riddled with challenges.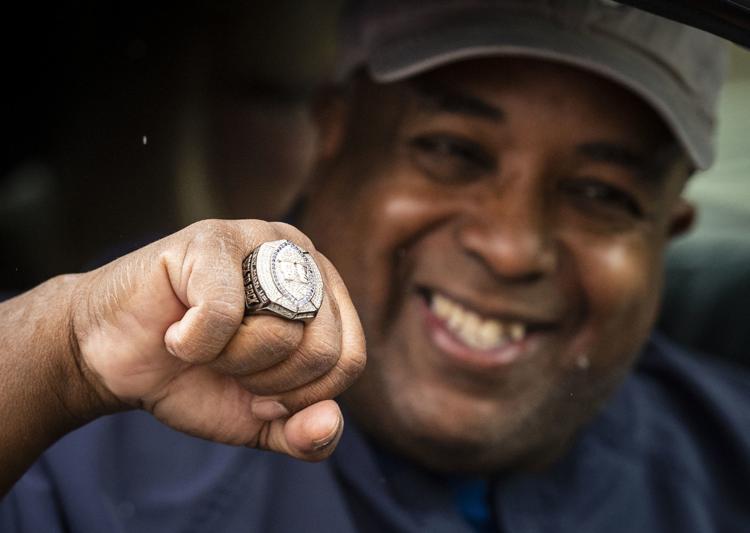 More than 12 players missed games because of injuries, en route to East Forsyth reaching the state title game against Cardinal Gibbons. An all-too-common phrase Willert attributed to the program's success was a "next man up" mentality. It's even etched on the sides of their rings.
"It's still crazy. It's life-changing, man," said Reeves, sitting in the driver's seat next to sophomore cornerback Ramone Brown. "I'm just happy, proud of my teammates because there were a lot of trials and tribulations — a lot of hard work.