Coach Antwan Hughes talks about the "big four" often.
A conference championship. A regional meet. The state championship. The New Balance Nationals.
It's a road map the Parkland girls track and field team attempts to follow every season. And now the Mustangs have reached the third leg of the four-stop journey.
Today, track and field athletes from the boys and girls teams from Parkland will compete at the NCHSAA Class 3-A championship meet at Irwin Belk Track on the campus of N.C. A&T in Greensboro. The Mustangs are one of just two area programs, the other being Mount Tabor, represented in that classification this season. The Class 2-A championship is also scheduled that day, spanning the morning and afternoon.
For the Parkland girls team, their appearance at Aggie Stadium means a little more than previous years. On that same track on May 21, 2018, the Mustangs fell one point short of tying for a title — what would have been their first outdoor championship since 2015.
As the sun set over the stadium and final results were tabulated, Durham Hillside scored 62 points, giving the Hornets their eighth title in school history. Parkland finished with 61.
That race for a championship came down to just one event — the 4x400-meter relay.
Hillside placed first with a time of 3:52.23. Parkland's relay team for the event, however, didn't qualify for the state championship after placing eighth in the Class 3-A Midwest Regional.
Hughes, the head coach Parkland's boys and girls teams, rehashed that memory — the disappointment of it all — on Monday just after the final bell marking the end of school.
"Just having that feeling of knowing what it's like to put everything you have in (to something) and still lose by one," said Hughes, whose team won the regional with a score of 111 on May 11. "We controlled that meet all day long, and it came down to the 4x400 relay. We had to stand and watch, and hope and pray that some type of way we could still win.
"I just told (the team), 'This year, guys, we have a 4x400 relay.' We're seeded 16 out of 16, but this time we don't have to stand and watch."
And this season, that relay team features Jai'laiya Pollard, Amari Simington, Sierra Franco, Jadai Stevenson-Damon and Taela Sheridan, who qualified as the last seed for the championship with a time 4:19.02. The Mustangs are competing in seven other events with a top-five seed as a senior-heavy group.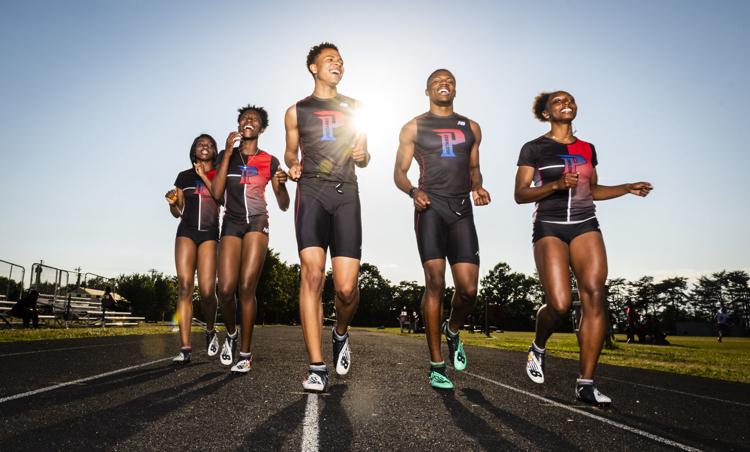 That includes Del'Nique Penn and Alexis Patterson, who transferred from Mount Tabor after her sophomore year and was named the Piedmont Triad 3-A MVP this season. Both runners — along with freshman Ija Mumford and senior Diamond Lyerly — earned All-America honors in March by placing third in the New Balance Nationals Indoor.
Patterson, an N.C. State signee who finished the championship last season as the Class 3-A MVP, is a top seed in both the 100-meter dash and 100-meter hurdles, along with second in the 200-meter dash. She's also part of the relay team for the 4x200-meter — coming into the championship as the No. 2 seed.
Penn, who signed with N.C. Central in November, is seeded fifth in both races that include Patterson, and plays a role in the 4x100-meter and 4x200-meter relays. Mumford has emerged as a vital addition and individually is seeded second in the long jump and fourth in the triple jump.
According to Penn, part of that motivation to make another appearance at the championship originated at team practices, which took place behind the high school.
"My coach, whenever we'd have a tough practice and were ready to quit, he would tell us, 'Y'all were one point short. Y'all need to get it together,'" Penn said. "That stuck in our heads, and it would make us angry. But that's what motivates us to keep pushing and to try and win this (championship) and wear those rings."
The Mustangs' boys team, led by Coach William Alley, placed second last season with a score of 47. This year, Parkland came out of the regional meet placing sixth, battling injuries all the way to the championship.
Jacquez Roseboro sustained a back injury, Savien Hayes has battled a nagging hamstring issue, Chandler Dowell dealt with a recurring foot injury — the list goes on. Alley said the help of assistant coaches Jarrell Elliott, David Lindsay and Tarrish Alexander has been crucial in getting the team this far.
The Mustangs qualified 13th or higher in five events, which include the 100-meter, 200-meter and 400-meter dashes along with the 4x200-meter and 4x400-meter relays. Alley's hope is to place among the top five teams this season.
According to Hayes, a Norfolk State signee, Parkland's run to the championship might come as a surprise to some.
"It's definitely better than we expected," Hayes said. "We've been battling it out with people being hurt, but overall, we've proven a lot of people wrong."