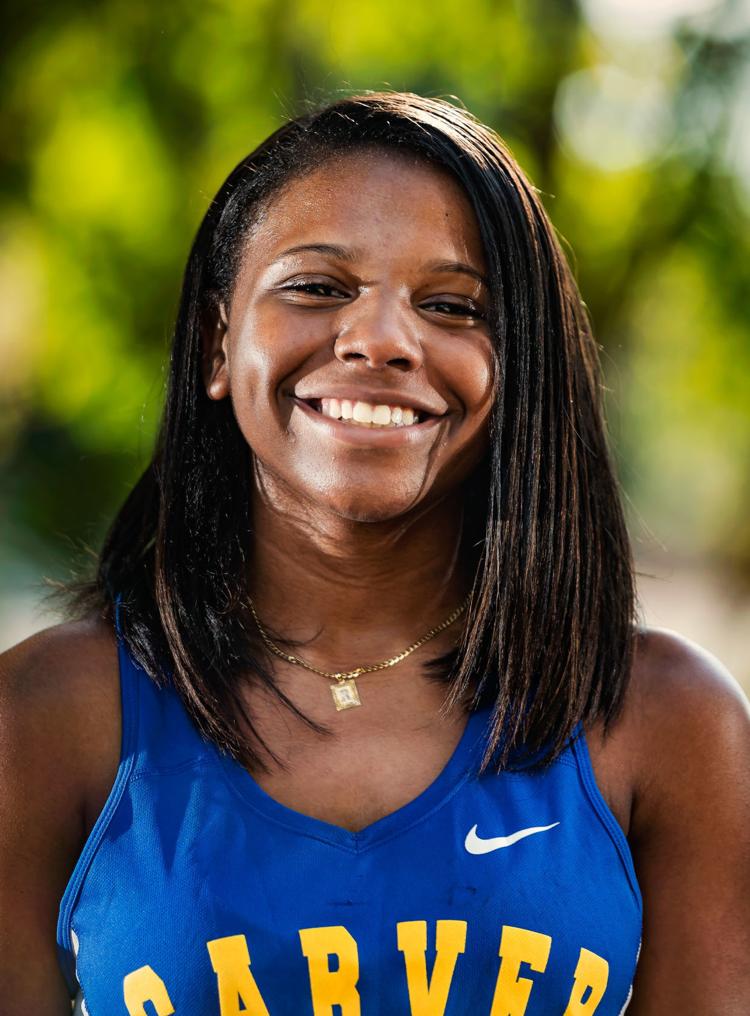 Running cross-country provides an opportunity for Chloe Fletcher of Carver to wind down from a tough day at school.
The junior has split enrollment at Carver, Forsyth Technical Community College's main campus and the satellite Woodruff campus.
"I like running cross-country because it lets me get all of my problems out," she said. "It's silent and relaxing. It gives me something to do."
Fletcher began running in the eighth grade at East Forsyth Middle School. She's been on the team for the Yellowjackets for three years.
"I felt like I could do that in middle school," she said. "It can be challenging when it's raining and cold. That's when I don't like it."
She also suffers from allergies, which can make running more difficult.
"I take allergy medications and my mouth gets very dry, especially when I'm running," Fletcher said. "When my mouth gets dry, I can't breathe so I chew gum.
"I did it one time and it worked. It gives me good luck. I didn't have it with me one time and I said that's a sign. I like any kind of peppermint."
She's often thought of quitting.
"People think it's crazy that all you're doing is running," Fletcher said. "It's hard running all those hills in high school.
"Sometimes I go to myself and want to quit, but I keep doing it. It keeps me motivated. My mama (Shanta Reddick) said I could quit if I wanted to, but I never do it. I still say to myself every year 'why are you doing it?' "
Fletcher is one of three girls on the team for Carver.
"It's hard because we have to share them with other sports," she said. "They all run track, too. It makes it harder because sometimes I feel like I'm the only one who runs all the time."
Running with the boys provides good motivation, Fletcher said.
"They make me mad when they get in front of me," she said. "It makes me want to go faster. Sometimes I like to run fast. I like to run at a good pace."
She is proud of her progress at Carver.
"My freshman year I was second to last," Fletcher said. "Last year there were six people behind me. I hope to do better this year. I want to get more than 10 people behind me so I can say I have improved."
Fletcher said she wishes more meets were held in Winston-Salem.
"A lot of the meets are held far away," she said. "People can't come and watch us."
She also said that she hates running outside.
"I don't know why I run cross-country because I don't like bugs," Fletcher said. "I hate it if a bug gets anywhere near me."
Fletcher said she doesn't wear bug spray and offered a philosophical reason for not killing them.
"I don't kill bugs because that would make me feel really bad," she said. "I could be a bug, and somebody could kill me."
Fletcher vividly remembers her worst experience on a cross-country course. "It was a 5K (conference championship) in Surry County," she said. "It was the worst one ever. It was raining and cold and you can't wear jackets.
"That's why I can't stand it sometimes. You had to sit there and wait for the awards. Sometimes I think about food when I'm running, and it makes me run faster. The coaches took forever. I was so hungry."
However, she's found a way to combat her hunger.
"I'm going to take snacks on the bus," she said.
She also recalled a relay meet where the times of all the runners on a team were combined to determine the winner.
"I didn't like that," Fletcher said. "I was so messed up, confused. Last year we had to run by ourselves because we didn't have enough people."
Fletcher said she's on her own personal public relations campaign for Carver girls cross-country.
"I'm always trying to recruit," she said, "but a lot of people think it's too much work because they run track. I still hope to get more people by the end of the season."
Aside from running, she's No. 3 academically in the junior class at Carver. Fletcher was the only student from North Carolina chosen to attend a business and innovation camp this summer at Yale.
"It was a whole lot of work," she said. "We had no free time. We had speakers and visited an incubator where people could work on their ideas. It was really cool.
"My roommate was from Texas. She was cool. I met a girl from New York who rode the subway to school. I would like to do it again."
Fletcher has also participated in acting classes at the Little Theater for three years.
"We had to do musicals, and I can't sing," she said. "My grandmother and my aunt sing really good. I think it skipped over me."
Fletcher's older siblings no longer live at home, which makes her happy.
"It's my first year of being the only one, so it really makes me happy," she said. "We can go out and eat all the time. Since we barely cook, I don't have to do dishes."
"I think I'm spoiled, but I do get lonely sometimes."
She has a new pet, a turtle named Pablo.
"I let him out and he ran away from home," Fletcher said. "We found him under the window on the porch. He has punishment. He can't have a girlfriend, no TV and no phone. I think he hates me."