The Washington Nationals on Sunday issued a statement, calling the tweets made public from Trea Turner's days as a freshman student-athlete at N.C. State "inexcusable."
N.C. State is not planning to comment on whether those tweets were appropriate or whether they reflected the values of the baseball program, athletics department or university. University officials didn't react Sunday or Monday, and they were given another opportunity to respond today.
"We don't have anything to add at current time," Fred Demarest, a senior associate athletics director, wrote via email. "Should that change we will certainly be in touch."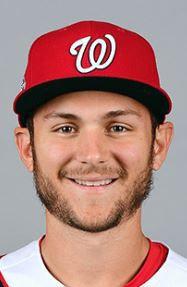 A handful of tweets considered homophobic and racially insensitive from 2011 and 2012, when Turner first enrolled at State as an 18-year-old, surfaced Sunday night. Turner, now 25, said Sunday night that there was no excuse for his language and he is "sincerely sorry for those tweets and apologizes wholeheartedly."
He addressed the issue again today, before the Nationals were scheduled to play at home against the New York Mets. He apologized for the Twitter posts to the African-American and special-needs communities in addition to the LGBT community, which he mistakenly referred to as "LBGT."
'SINCERELY SORRY': Washington Nationals 25-year-old shortstop Trea Turner became the third major leaguer this month to apologize for offensive tweets he sent as a teen, including a gay slur and a joke with racist undertones. https://t.co/Bl1aw21KsZ pic.twitter.com/jTeSo7lyeY

— World News Tonight (@ABCWorldNews) July 31, 2018
"It's wrong and inexcusable for what I said," Turner said today.
"It's not when I said the things I said, it's that I said them at all," Turner added.
Mike Rizzo, the president of baseball operations for the Nationals, said he spoke with Turner about the issue, the Associated Press reported this week.
"He understands that his comments — regardless of when they were posted — are inexcusable and is taking full responsibility for his actions," Rizzo said Sunday night in a separate statement released by the team.
"The Nationals organization does not condone discrimination in any form, and his comments in no way reflect the values of our club. Trea has been a good teammate and model citizen in our clubhouse, and these comments are not indicative of how he has conducted himself while part of our team. He has apologized to me and to the organization for his comments."