April Reid is already comfortable in her new uniform as the equipment manager at Winston-Salem State.
Reid, who is also the facilities director at WSSU, will wear a mask, gloves and a surgical gown whenever the athletes are allowed back on campus. She laughed when asked whether she is performing surgery later in the day.
"I'm ready," she said with a big smile beneath her mask in the locker room of the football team at Bowman Gray Stadium.
While the stadium has been empty with no coaches allowed in the building, Reid has been there making sure every corner is cleaned and proper safety equipment is installed. From extra hand-sanitizing machines to closing off the drinking fountains, Reid has one goal – to make it safe for players and coaches to return.
During facilities meetings, it's the WSSU graduate and five-year equipment manager who has been the go-to person when a question arises about just how a football game would be played during a pandemic. She has already suggested that tents be used outside of the cramped visitors' locker room.
Locker room protocol 
The normal game-day activity of 65 players getting dressed in the home locker room could change. Players might have to dress in full uniforms in their dorm rooms or apartments before reporting to the stadium.
"It's not a big locker room," Reid said. "That's kind of been the biggest challenge. We are actually putting in plans for how to maneuver through the locker room because we can't have all 90 players (for practice) in there at once.
"One of our plans is to not utilize the locker room at all."
Much work remains before athletes arrive in early August, but Reid has impressed WSSU athletics director Etienne Thomas.
"She has done a great job with her leadership and working with John (Lavender, the athletics trainer); they are really prepared," Thomas said. "As she took me through the locker room, I told her 'I don't think I've ever seen it like this,' it was beautiful."
Football players arrive Aug. 4
Thomas said a reporting date for its fall athletes in football, volleyball and cross country would be in early August. Gov. Roy Cooper has pushed Phase Two restrictions through July 17, but it's likely athletes would be able to report during Phase Three although full team meetings would seem unlikely. Football players are scheduled to report Aug. 4.
The Rams expect to open their season on Sept. 12 at N.C. Central, meaning they'd have six weeks of practice.
"We will work on an alternating the access to the locker rooms for football, and one luxury is we can overflow into the visitors' locker room at Bowman Gray," Thomas said of practices. "April has been working on a system how we can get in and out safely."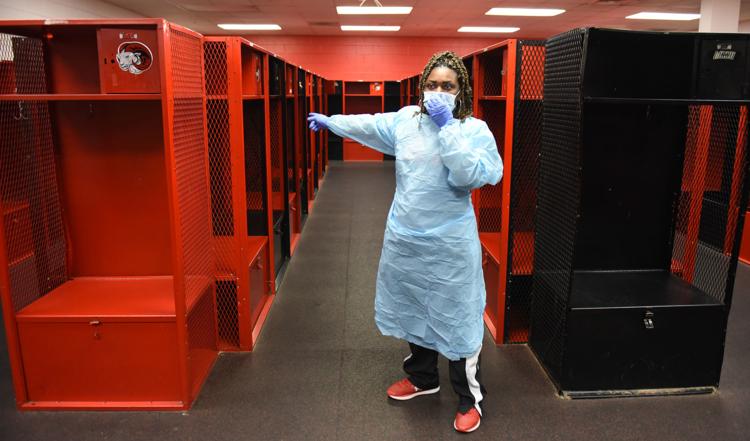 Thomas said she would be able to go back into her stadium office July 6, but she said her coaches would continue to work remotely until athletes can come back on campus.
In the meantime, Reid will continue to work with campus housekeeping to come up with plans to keep athletes safe, particularly for high-contact football.
"What we have been doing is meetings each week with every sports team," Reid said. "Because the students are at home, their parents are welcome to join the meetings if they have questions. And we've had Zoom meetings with the incoming freshmen and their parents, so those meetings have been going well."
Plenty of changes
Reid's spacious office on the second floor of Bowman Gray Stadium is one of the high-traffic areas as athletes and coaches visit her a lot. One adjustment she will make is putting in a half-door so athletes can visit but remain outside the office.
"Then they can stay in the hallway and talk to me so that way we keep a safe distance," Reid said.
Thomas added: "Her office is a hot spot for students to hang out, and I get that, but we want to keep that area safe so that half-door is a great way of doing that because she is still accessible to the athletes."
Reid will also make sure to thoroughly clean equipment as it is sent to her office before it goes to athletes. This week she had planned to clean all of the refurbished football helmets.
"With me being over equipment, it all comes to me first," Reid said. "So I can do my inventory and then distribute it. It will come here, and then I'll make sure all of it clean before I give it out."
Reid is optimistic that football will be played this fall. But before there are games, there will be practices to navigate with all of the new safety guidelines in place.
"My whole thing right now is stay ready so you don't have to get ready," Reid said. "That's our motto right now. Even if we don't have a fall season everything will be ready for whenever we will be playing sports again."