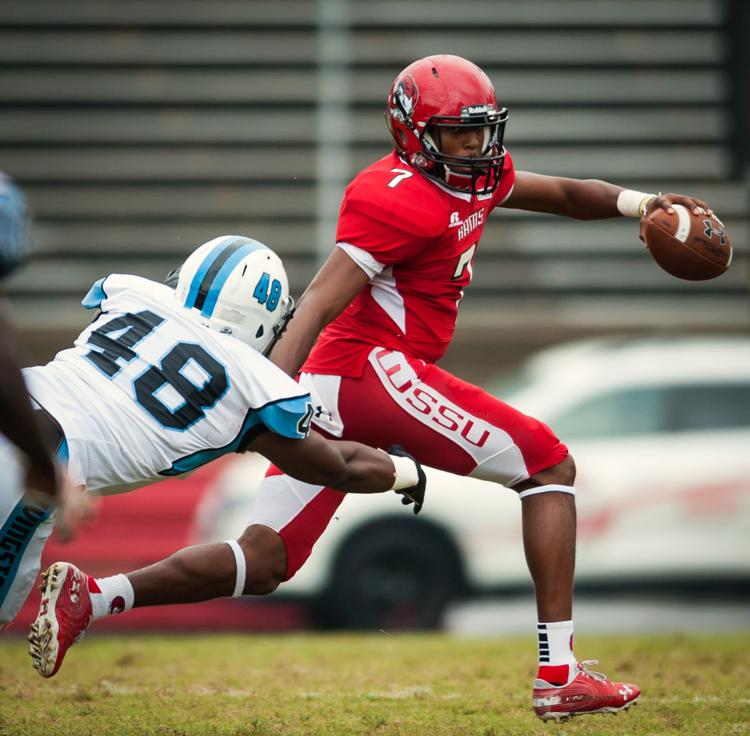 Maybe some take it easy during the summer after a successful freshman season on the football field. Dominique Graves, a quarterback at Winston-Salem State, isn't wired that way.
As he heads into his sophomore season, Graves has been hitting the weight room. The results have been impressive.
Last season, after he took over for Rod Tinsley, a fifth-year senior who sustained a concussion in the team's fourth game, Graves went 4-1 as a starter and showed plenty of flashes of consistent play.
"The thing about Dom is he wants to be great," said Ryan McManus, the quarterbacks coach at WSSU. "He's doing everything he can to take that next step as a quarterback and the thing about him is it's contagious to other guys, and it doesn't matter if it's the younger players or the older players."
Graves and his twin brother, Kendyl, who is an offensive lineman, were two of the top newcomers in the CIAA last season. They came from Eastern Guilford and quickly worked their way into the starting lineup.
Dominique says he learned plenty from Tinsley last season and also learned what it takes to play in college.
"I think just being able to manage a game," Graves said. "I tried to keep everybody calm because there's so much that goes on during a game. If something goes wrong you just want to stay levelheaded."
With help from Kerrion Moore, one of the best running backs in school history, the Rams were a run-oriented team in 2018, but Graves' arm and scrambling ability helped make the offense more balanced.
Graves, who was the CIAA offensive freshman of the year, arrived from Eastern Guilford at 6-foot-2 and 165 pounds. He now tips the scales at 195 pounds. He now bench presses 275 pounds and squats 450 pounds.
"He's gotten stronger and has taken to Coach (Marc) Heinecke's program very well," McManus said. "He looks the part now of a big-time quarterback."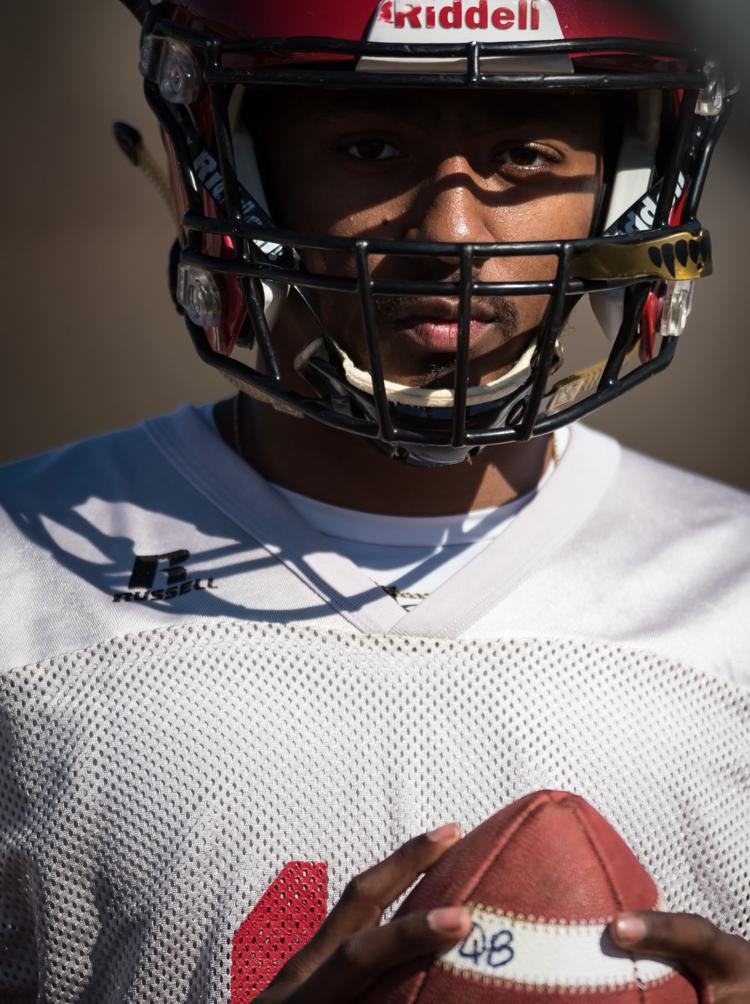 Dominique and Kendyl have been regulars at summer workouts except for one week when they went on a family cruise. They also have gone back to Gibsonville after the morning workouts to work construction jobs outside.
Robert Massey, the interim head coach, has been so impressed with Dominique's work ethic and commitment that later this week at the CIAA media day, he will be representing the Rams.
"He's really earned that," Massey said. "This year we can take just one player to Salem for the media day and Dominique is that guy."
Graves logged plenty of time on the field during the 2018 season. He threw for 815 yards and four touchdowns, with four interceptions, on 57-of-96 passing, and he had 28 carries for 150 yards with three touchdowns. Graves also was the team's starting punter.
He says the Rams have signed a punter for next season so he won't have to pull double duty to further risk injury.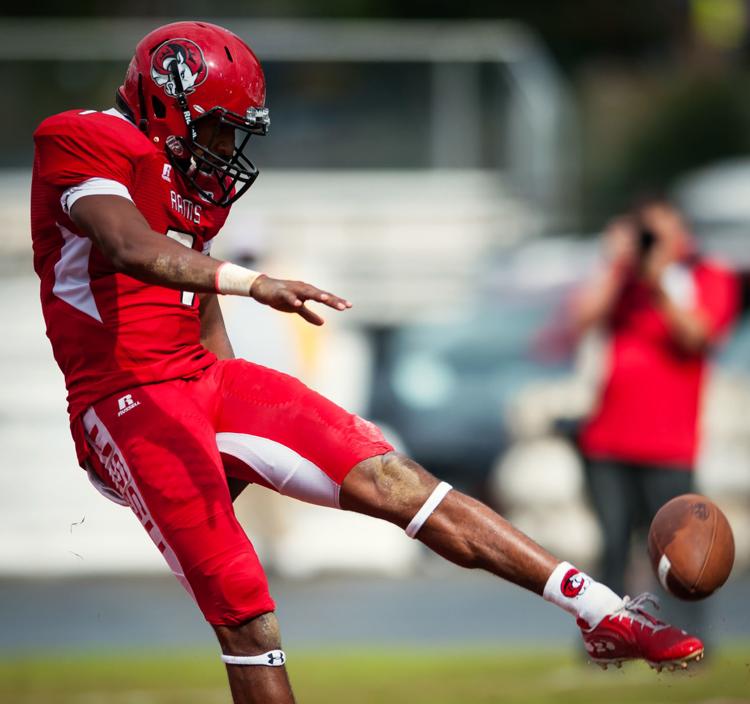 McManus said Graves' best game was the 36-6 win over St. Augustine's. That day, Graves was completed 15 of 19 passes for 311 yards and one touchdown. Graves also had two rushes for 47 yards and a rushing touchdown.
One luxury Graves has is he'll be in the same system with the same coaches. Offensive coordinator Natrone Means is back and so is McManus.
"With me just being in the system that we've had and will be in again I feel pretty good about our direction," Graves said. "We played pretty well in it last season and having a lot of main guys back, I think we can be successful. It also helps that we have the same coaches back on offense."
The loss of Moore, who finished his career with more than 3,000 career rushing yards, will be big but it could also force the Rams to be more balanced between the pass and the run.
"We definitely have some weapons on our side with a lot of younger guys who will step up," Graves said.
One of those weapons will likely be Chandler Belk, a wide receiver who only saw spot duty last season. Belk says he likes the way Graves has gone about his business this summer.
"He's really been leading the charge in workouts and you can see the difference compared to his freshman season already," said Belk, a Reagan graduate who transferred to WSSU just before last season.
One of the things Graves hopes to change is his approach to leadership. He's in a natural leadership position, but is trying to be more vocal.
"For me personally I've always been a leader," Graves said. "I try to lead by my actions and if we are doing what we are supposed to be doing we'll be OK. I am trying to be more vocal and in high school I wasn't as vocal as maybe I should be but I'm working on that."
As Graves heads to the CIAA media day later this week he realizes it's a big opportunity. The Rams, who have missed out on the last two CIAA championship games because they failed to win the Southern Division, are trying to get back to their winning ways in the conference.
"That means a lot and I don't take that likely at all that I've been selected to go to Salem and represent the team," Graves said. "I'm honored as a sophomore to be able to go to this event."
He's also been practicing for his role.
"I'm not going to lie," he said, "my girlfriend (Lizzie Holleman) was asking me questions that I might have to answer so I was practicing a little bit for it."
His confidence level is high because of the talent that's already on the team and the freshmen and transfers who will be there next month for the first day of practice on Aug. 9.
"I feel like we can win the CIAA," Graves said.