The optimism was flowing Wednesday afternoon as Winston-Salem State opened preseason football camp at Bowman Gray Stadium.
Although the heavy lifting doesn't start until Friday morning with the first scheduled practice, and Coach Robert Massey isn't shy about what he plans to do once that 6 a.m. practice begins.
"We'll be running a lot," he said. "I don't care what position they play everybody is going to be in shape because that's one thing we can control."
Massey, who is the interim head coach of the Rams this season, said that by the time all the players check in, he expects 95 players to be at practice. 
Sophomore linebacker Ta'Shaun Taylor drove from Durham on Wednesday morning, and he was ready to begin his second preseason camp with the Rams.
"It's always fun to report and see everybody again but there are a few jitters here and there," Taylor said. "But once we hit the practice field on Friday, it will be all good."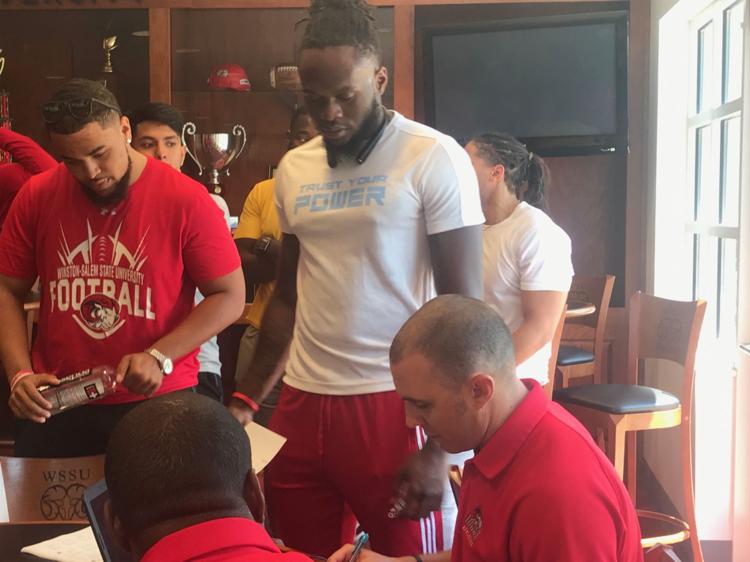 WSSU, which was picked in the coaches' preseason poll as the sixth-best team in the 12-team CIAA, lost nine starters from last season's team. The Rams finished the 2018 season 5-4 season and failed to win the Southern Division for the second straight year.
Massey, who also coaches the secondary and helps with special teams, loves the atmosphere ahead of the opening of fall camp. Now that he's serving as the head coach after WSSU parted ways with Kienus Boulware in April, he believes setting the tone early in camp is a must.
"This is a good time because we haven't seen a lot of them all summer," Massey said. "We'll check to see if they have stayed in shape and if they hit the weight room. We did have about 40 guys in and out of our summer weight training so that was good."
After checking in, the players got their photos taken with their brand new uniforms from Under Armour, which CIAA schools are required to wear because of a contract. After their photos were taken, they checked in to their dorm rooms before going back to Bowman Gray Stadium for meetings.'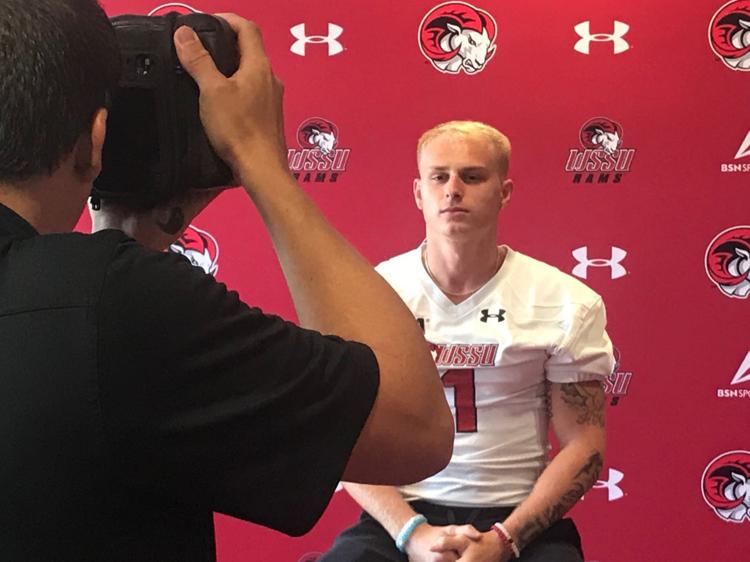 A team dinner and more meetings is planned for Wednesday evening.
On Thursday, players will be fitted for equipment, go through Title IX training and also will go through concussion testing with WSSU's athletics training staff.
Massey said Thursday will also be used to make sure each player is medically cleared as well as having the proper paperwork in regards to insurance.
After all of that, Friday morning's first practice will shift the focus to getting ready for the season-opening road game at UNC Pembroke on Sept. 5.
"As a head coach you like the challenge that is out there," Massey said. "The goals don't change, because we want to win the division, the CIAA championship game and hope to be in the NCAA Division II playoffs. You bring a group of guys together and the bottom line is we have three and half weeks to get them ready for our first game."
Karron Jeter, a redshirt junior defensive lineman, will be counted on to be in the starting lineup all season. He started three games last season, but says he's ready to take on a bigger role.
"We lost a lot on the line but Coach (Tremayne) Henry, our defensive line coach, will have us ready to go," said Jeter, a Mount Tabor graduate. "We've got guys who are ready to step in and fill the void."
Jeter said a lot of his teammates have already talked about the preseason poll, and where the Rams were picked.
"We saw the poll," Jeter said, "and we are hungry. We just have to get back to our winning ways and get back to the top."
Massey said he's got his entire coaching staff on board now with the addition of Malcolm Gaither, who is the wide receivers coach. Marvin Bohannon, a former player at WSSU, recently was hired to coach linebackers, but he also will be the co-coordinator of the special teams.
On offense, Lawrence Kershaw is the coordinator and also will coach the line. Natrone Means will coach the running backs again and he's been moved from coordinator to associate head coach. Means and Ryan McManus, the quarterbacks coach, ran the offense last year but now that will be done by Kershaw, a former head coach at Fayetteville State. Kershaw joined the Rams last year to coach the offensive line. He will continue to coach that unit as well.
"What we did was make some adjustments, and when you are in this chair you have to look around and make some changes," Massey said. "You might not please everybody. At the same time I'm trying to win and I'm just trying to put us into the best position to win this thing."
Massey said the changes made on his coaching staff were considered carefully.
"One of the things I looked at when Winston-Salem State won those seven straight division championships, there were a couple of years where they fought it out between Coach Kershaw's teams (at Fayetteville State)," Massey said. "I also coached against (Kershaw) a few times when I was at Shaw so everybody is on board with this. Everything we do is about making adjustments and that's what we are doing in this case."
Sophomore linebacker Ta'Shaun Taylor drove from Durham on Wednesday morning, and he was ready to begin his second preseason camp.
"It's always fun to report and see everybody again but there are a few jitters here and there," Taylor said. "But once we hit the practice field on Friday it will be all good."