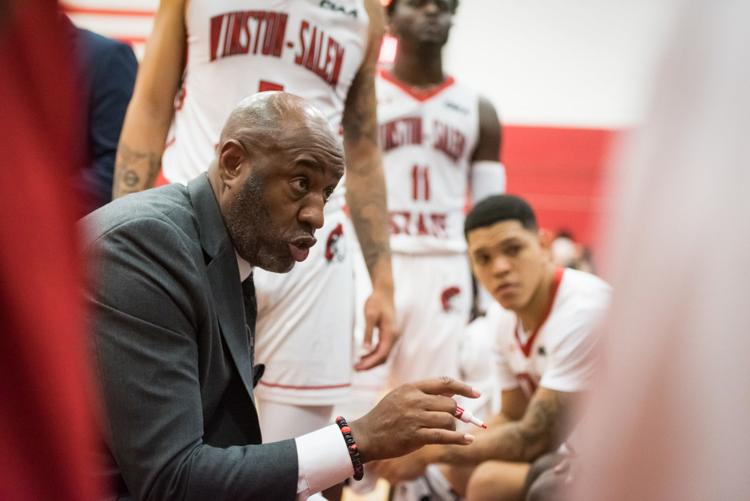 If Winston-Salem State plays like it did on Saturday afternoon at the Gaines Center against CIAA preseason favorite Bowie State, the rest of the league is in trouble.
The Rams could do no wrong in blowing out the Bulldogs 88-65 in a game where they shot 66 percent, seemingly got every loose ball and were never threatened. When Coach Cleo Hill Jr. cleared his bench with about four minutes to go, the Rams had a 35-point lead.
"I thought they had a height advantage and we had a quickness advantage and something is going to win out," Hill said about his undersized team. "I thought tonight speed won out, and we wanted to use that to our advantage and that's how we wanted to play."
Senior Robert Colon, who had yet to have a break out game this season, broke out in a big way with 21 points and 10 rebounds. It was his first double-double of his career, and he did it coming off the bench.
Jon Hicklin added 15 points, three assists and five steals and Jaylen Alston, despite battling foul trouble, had 11 points and five rebounds.
For the game, the Rams were 27 of 41 shooting and did most of their damage on the inside. They were an efficient 6 of 11 on 3-point attempts.
"I thought we did a better job with our motion offense, really against the zone or man-to-man, and we really cleaned things up during the nonconference games," said Hill, whose Rams improved to 3-2 overall and 1-0 in the CIAA.
The Rams led 51-33 at halftime and then opened the second half with a 14-0 run to put the game way out of reach. Mason Harrell's back-to-back baskets gave the Rams a 65-33 lead with 14 minutes to play.
Julius Barnes had nine points and Xavier Fennell and Harrell each added eight points for the Rams. While the shooting was impressive enough, the Rams also out-rebounded Coach Darrell Brooks' team by a whopping 38-23 margin.
Brooks, who is in his 11th season with the Bulldogs and has won two CIAA titles, has one of the most consistent programs in the CIAA but on Saturday afternoon his team never got on track defensively.
"We couldn't guard anybody," said Brooks, whose team returned four starters from last season and last won the CIAA title in 2017. "We couldn't keep guys in front of us early and they just kept driving it. And they shot a high percentage on 3's but we didn't take the right amount of 3's."
Colon, who is trying to fit in with several new teammates, had a solid first half going 4 of 8 shooting with 12 points. He pointed out that the defensive effort from the entire team was the difference.
"Our effort was really good and in the first half we were up by 22 or something and then we held them for like 10 minutes with just two points so that was big," said Colon, who for the game was 5 of 10 shooting and was 7 of 9 on free-throw attempts.
Colon had no idea that the Bulldogs (2-3, 0-1) were picked to win the CIAA in the coaches' preseason poll.
"They were picked No. 1 in the CIAA?" he asked. "I felt like we made a statement, and the whole team played together and we saw what we can be if we all play together."
The Rams were once again without starting point guard Justice Kithcart, who is nursing a knee injury that forced him to miss his second straight game. Hill said there is no ligament tear and Kithcart, a transfer from Old Dominion, is day to day.
With Kithcart out more of the point-guard duties have fallen on Barnes and Hicklin, and Saturday's game was Hicklin's best showing of the season.
"I'm starting to get more relaxed and teammates and coaches believe in me more," said Hicklin, a sophomore transfer from James Madison. "I was sick the first couple of games with flu-like symptoms, but I'm better now. We just played defense and we turned that great defense into good offense."
The Rams will play another league game on Monday at home against Lincoln (Pa.) at 7:30 p.m.
"If we play like this all the time," Colon said, "there's not a CIAA team that can beat us."
In the women's game, WSSU allowed a five-point lead to slip away in the final 1:15 to lose to Bowie State 57-53.
Talanya Hutton scored 18 points for the Bulldogs (2-0, 1-0 CIAA) and Melody Prichard led the way for the Rams (3-3, 0-1) with 17 points. Brandi Segars scored 15 points and had eight rebounds for the Rams and Jahlia Williams added 10 points.
Amaya Tucker, the Rams' leading scorer with 18.5 points per game, missed her second straight game with an ankle injury. Guard Teara Johnson also injured an ankle on the game's final play as she drove into the lane. Johnson, a junior, had to be helped off the floor by teammates.
Tucker, who was on crutches after the game, said she's likely out until January.
The Rams had 22 turnovers and were outrebounded 40-32.
The women will be back in action on Monday at home against Lincoln (Pa.) at 5:30 p.m.