Chandler Belk, a redshirt junior wide receiver at Winston-Salem State, doesn't let his guard down often.
Belk is serious on the football field, and is just as intense off it. During his time off the field, he likes to lift weights, go to class and study the game of football. But when he was reminded that one of his teammates, fellow wide receiver Cam Williams, has nicknamed him "Bulldog," it cracked him up.
"Yeah, that fits me," he said while laughing about the nickname. "I'm pretty emotional on the field, and even in practice, I have to hold back sometimes."
Belk, a Reagan graduate, had flashes of good play last season, but after a summer spent adding about 15 pounds of muscle, Belk has morphed into a big weapon for the offense. He's one of the fastest wide receivers on the team, and his knowledge of the game is extensive.
"I've always loved football and I wanted to play and would do anything to continue to play," said the 23-year-old Belk, who is 5-11 and 180 pounds. "I'm having a lot of fun."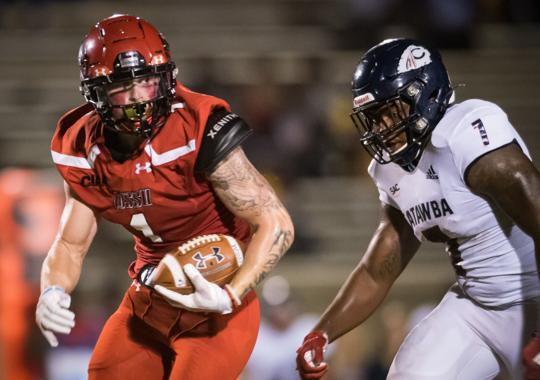 Robert Massey, the interim head coach, said Belk's high-level production (six catches for 192 yards and one touchdown) through two games isn't surprising.
"He put on some weight, and he didn't lose any of his speed," Massey said. "He's always been a good receiver. Sometimes it can be a two-year process when you transfer, and he got down on himself last year when he dropped that pass against Bowie State, but he really worked hard this summer and established himself.
"And I think guys see how hard he worked and that it translated into these first two games."
Belk started as a walk-on at N.C. State, but it didn't work out. That led him to transfer to Charleston Southern, an FCS-level program. There was a coaching change with the Buccaneers, so he decided to come home and wound up landing a scholarship before last season at WSSU.
Helping push Belk toward WSSU was his high school coach, Josh McGee, the fourth-leading passer in WSSU school history who guided the Rams to the 2001 CIAA championship game as a freshman. McGee is the longtime head coach at Reagan and says that Belk, the all-time leading receiver in Reagan history, is a "different dude."
"You look at Chandler, and he's got that chip on his shoulder, and he just uses that as motivation every single day," said McGee, who passed for 4,383 yards in his career at WSSU and was a four-year starter from 2001 through 2004. "He used to text me about getting in extra work at the field on the weekends when football season was over, and I'd leave the gate open for him. He would run routes by himself.
"I think that's what separates him from most. It's easy to work when everybody's watching, but to go out there and work as hard as he did on his own is something you don't see very often."
After being at two Division I programs, Belk says he loves being at WSSU. 
"I mean, I grew up here in Winston and this is my hometown, so going to school here has been great," Belk said. "And I've gotten a chance to play football, and I'm friends with everybody on the team so I feel like I belong."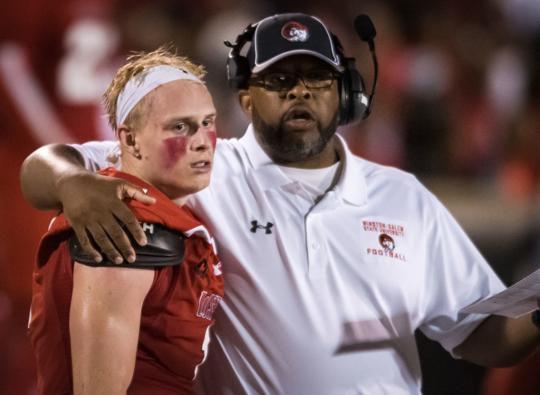 McGee believes that what Belk has realized through his maturity is that it doesn't matter what level you play in college.
"The cool thing is seeing him understand where he is in life and how much fun he's having," McGee said. "I think he's where he's at because of the choices he's made and it's worked out for him. It doesn't matter if you are playing in front of 80,000 in the ACC or in front of 5,000 at Bowman Gray, it's the love of football that he has that drives him."
Belk, however, admits it took him more time to find his niche in the Rams' offense. He was hoping to make more of an impact last season. He finished the season with 13 catches for 93 yards while appearing in seven games.
"This is the place for me and I feel more comfortable and I'm relaxed," Belk said. "I have that tunnel vision right now, and I just feel like we are ready to turn the corner and get on pace to win some games."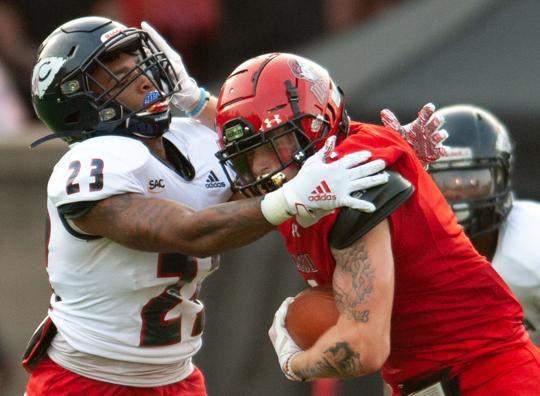 One of his many highlights came in the opener, a 27-21 loss against UNC Pembroke, when Belk hauled in a 78-yard touchdown catch from quarterback Dominique Graves.
"That was my first touchdown of my college career," Belk said.
There is a feeling there are going to be plenty more this season.