Robert Massey doesn't need reminding about adjustments constantly being made during a football game by coaches.
Those adjustments take place away from the field as well, which is the kind of change Massey is involved in after being named interim head coach for Winston-Salem State last week.
"That's what this is and I said that in our first staff meeting (Monday) morning," said Massey, who was the associate head coach who was in charge of the secondary and special teams under Boulware. "We make adjustments all the time so we are doing that right now. We are trying to get things done and get prepared as we hit next season."
Last week George Knox, the interim athletics director, turned to Massey to steer a program that is in turmoil. Kienus Boulware was fired as football coach Friday with two years remaining on his contract and is appealing the university's decision. 
Massey says he and the four assistant coaches (Natrone Means, Ryan McManus, Lawrence Kershaw and Tremayne Henry) will all stay on heading into next season.
Massey has experience as a head coach. He spent four years as the head coach at Shaw before being fired in 2015 following a 1-9 season and also spent two years as head coach at Livingstone. He has a 14-26 record in six years as a head coach in the CIAA.
He hopes to use that experience this fall.
"I think what I learned as the guy in charge of a program is you can't be so quick to make decisions," Massey said. "You have to sit down and weigh the pros and the cons because your decisions affect so many people."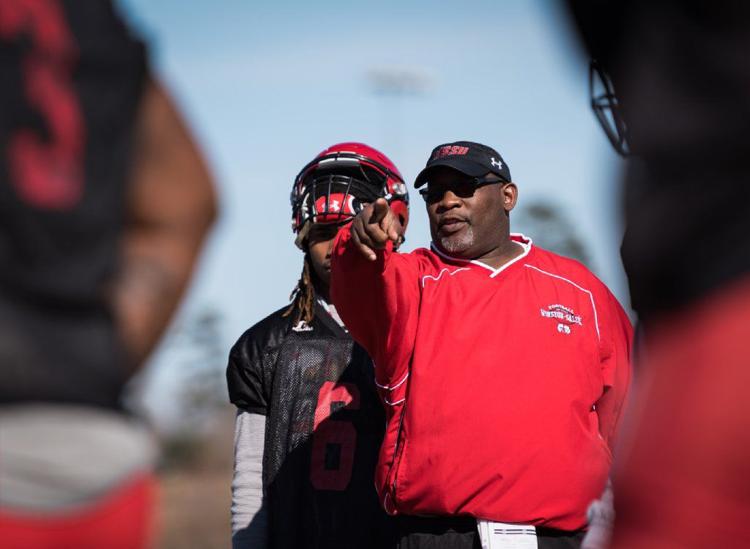 One of the first things Massey did after his transition to interim head coach was contact the incoming class of recruits. He said he wanted to make sure they knew the direction the program was headed.
"We've called all the recruits to let them know we picked you for a reason," Massey said. "We told them they are good football players and that's why we recruited them so nobody has backed out.
"It's unfortunate this situation has happened, but we have to push forward."
A team meeting was held the day it was announced that Boulware, the head coach for the last five seasons, was not coming back. In that meeting, which was attended by most of the players, the tone was about moving forward.
"Most of the guys were there, but some were in class and we told them about this unfortunate situation — I love Boulware to death, and he's like a little brother to me — but we talked about our goals with the players, and they haven't changed," Massey said.
The Rams, who last won the CIAA's Southern Division in 2016, are coming off a 5-4 season in which they went 4-2 in the CIAA. There's plenty of talent left on the roster, and the incoming recruiting class has potential.
Before Boulware was fired, he also was serving as the team's defensive coordinator after Todd McComb left right before spring practice began. Massey, who was also raised as a defensive coach, hasn't decided if he will run the defense.
"Now, I see you have to show your offensive guys some love as well," Massey said. "But I'll be a nosy head coach and try to have input in most everything, and I'll hire guys who can do a good job for me."
Massey said he's been given the OK to hire a linebackers coach, so that's his first order of business. Right now with just five coaches, WSSU has one of the smallest coaching staffs in the CIAA.
He's also adamant about making memories for the Rams this next season. One reason for that is Massey attended a funeral last weekend of a former teammate, Steven Perry Sr., who died of a heart attack at the age of 58. Perry's son, Steven Jr., was the Rams' starting center this past season after transferring from N.C. Central.
Massey said seeing most of his teammates from his days at N.C. Central in the late 1980s was eye-opening.
"It gave me a chance to reflect," Massey said. "And I came back and said to our guys let's try to make some memories this season." 
Massey isn't thinking much past the 2019 season, when he likely will be auditioning for the head coach job under a new athletics director. The school is in the process of replacing Knox, who has been the interim athletics director since last May.
"The pressure to win is what you want," Massey said. "I want to win, trust me. I want to be able to say I was a champ, and there's pressure, but that's OK. I want to make sure that we are all in and committed to the cause."
Many current WSSU players will stay in Winston-Salem this summer to take classes while working with strength coach Marc Heinecke. Massey said when the players gather in August to start preseason practice, all of them had better be in shape.
"Our deal is to get bigger, stronger and faster this summer," Massey said. "Make no mistake about it — the thought process of us coaches doesn't change in that we are going to prepare our players as best that we can so we can be conference champions again."