Rob Colon hears the clatter on social media and among students at Winston-Salem State about being in contention for the CIAA basketball player of the year.
Colon, a senior and a four-year starter, is flattered by the attention but at the ripe old age of 22 he's discovered something that's a little more important to him.
"I'm more interested in us winning games," he said last week.
The next question was rather pointed, but it did catch Colon off guard. Do you think you would have had the same answer two years ago?
"Probably not, but I've grown a little bit," Colon said. "If I don't get player of the year, it's not a big deal because it's all about getting the wins and getting that CIAA title."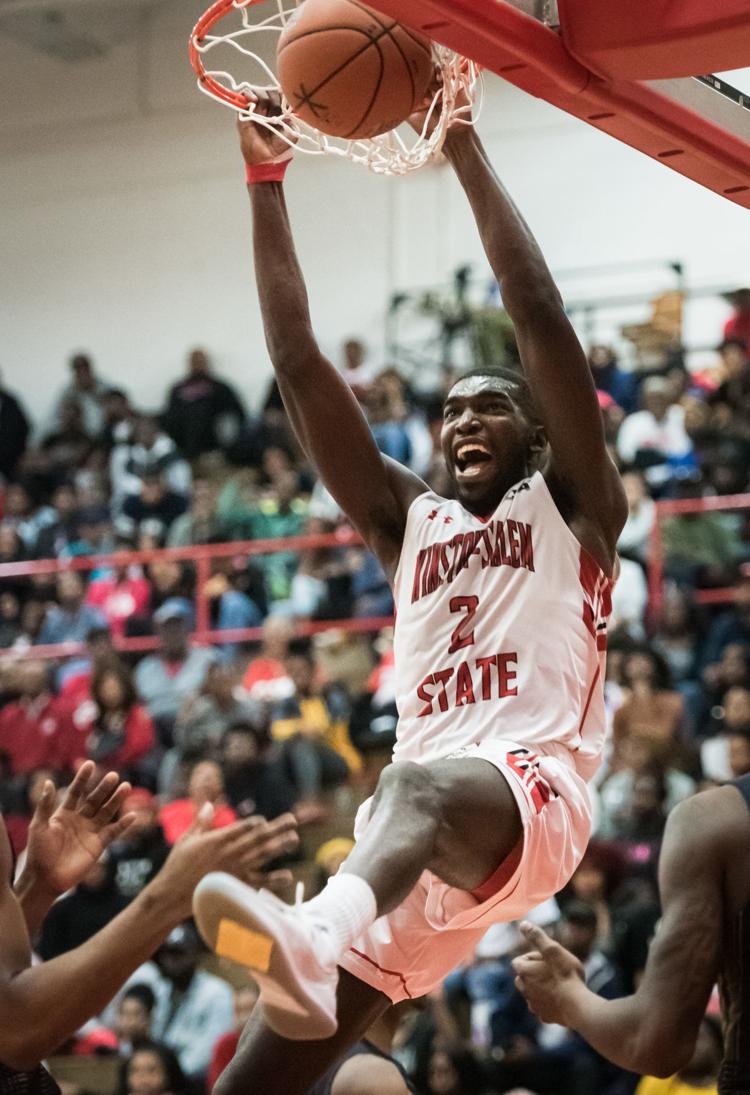 Colon and Julius Barnes will close their home careers on Saturday at the Gaines Center against Livingstone as seniors who arrived together as freshmen. Two other seniors, Dontae Caldwell and Mason Harrell, will also play their final home games. Caldwell arrived this season as a transfer from Md.-Eastern Shore, and Harrell arrived before last season as a junior college transfer.
But it's Colon, a 6-1, 190-pound hulk of a shooting guard, who has been the face of the program for the last four seasons. He hasn't shied away from challenges but hasn't always been on the same page with coaches, either.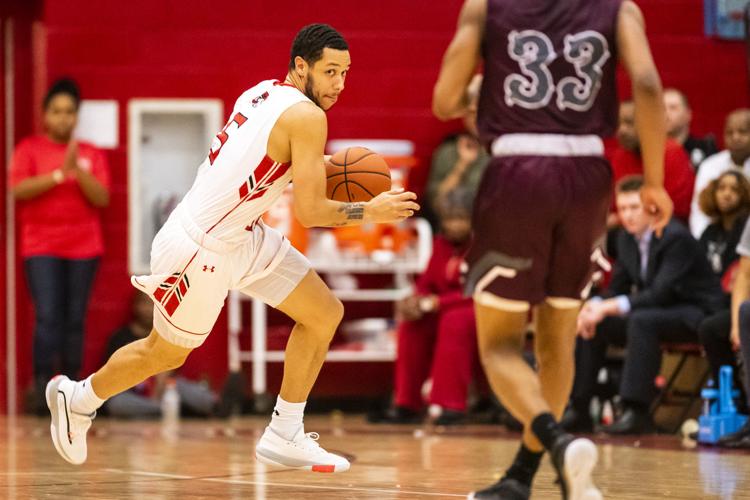 In his sophomore season, James Wilhelmi's last as coach, he was suspended for six games for conduct issues within the team. After that season Colon was tempted to transfer but elected to stay and has risen to seventh in school history in scoring with nearly 1,700 points.
Enter Coach Cleo Hill Jr., who reached out to Colon during the summer after his sophomore season.
"I was driving to Winston from home to play in a summer league game, and he called me because he was in Raleigh and we met at a Cracker Barrel," Colon said. "And we talked, and I just made a commitment to him there when we had lunch. I liked what he had to say."
Last season was more of a learning curve for Colon, who had to understand what Hill and assistants Ricky Wilson and Lance Beckwith expected. This season, Colon is shooting 42 percent, better than ever, and is taking fewer shots.
Colon's talent has never been questioned, but his shot selection can be counterproductive to the Rams' needs. If Colon has the ball late in the shot clock, his teammates will tend to stand around and wait for him to do something. If the Rams do that next week in the CIAA Tournament, their stay in Charlotte might be another short one.
Behind the scenes teammates marvel at Colon's work ethic, and it's no surprise that he's the team's biggest gym rat, whether at the Gaines Center or in Whitaker Gym.
"That's no accident," Colon said. "I come into the gym at least twice a day to get shots up, and I have a routine where I have to make 20 mid-range jumpers and then come back around and make 20 3-pointers then make a hundred free throws. I just come in here and one of my friends, LJ, rebounds for me and I just keep shooting."
Colon, who has added 20 pounds of bulk since high school, is also doing more on defense with 14 steals this season and a career-best 65 defensive rebounds. Hill says Colon has asked to guard an opponents' best player.
"He's taking on the defensive challenge as well for us," Hill said.
Colon is a contender for CIAA player of the year with Roger Ray of Livingstone; Terrell Leach of Virginia Union, a former WSSU player; Greyson Kelley of Shaw; and Cayse Minor of Johnson C. Smith. Coaches around the league voted last week, and the CIAA will make the announcement Monday.
Hill says Colon deserves the award.
"On both ends of the court, his basketball IQ is different," Hill said. "His basketball IQ is off the charts. Out of all the plays we run, he can tell you what the one, the two, the three, the four and the five do on each play. So he knows every play and what we are trying to do."
Colon, who can break into the top 10 on the school's all-time assist list with 10 more for an even 200 for his career, says he's having fun and the winning helps. The Rams are 15-10 overall and 12-4 in the CIAA, thanks to several Division I transfers who are playing in the league for the first time.
Barnes, a steady point guard who has played alongside Colon for four seasons, says that the Rams' improvement has coincided with Colon's improvement to team ball.
"The coaching staff has really brought out the best in him," Barnes said. "There's no doubt he's the player of the year in this conference."
When Wilhelmi signed Colon out of Northside High School in Jacksonville, the only Division I offer Colon had was from Alcorn State. But he chose WSSU because he knew his family could see him play. His parents, Tina and Luis, have missed about 10 games over his four seasons and they have seen the good, the bad and the sometimes ugly.
"It's maturity for him, and we see it," Luis said this week.
In his sophomore season the Rams won just five games, and while a number of the losses were close it was a tough season.
"I just want (the fans) to remember me as a competitive player who never quit," Colon said. "And somebody who never made excuses. Even when I was suspended I stayed in the gym and kept working and waited until my time came."
He'll likely get a chance to play overseas next season, but that means starting over in new surroundings.
He has loved the comfort of the Gaines Center, where he constantly makes eye contact with students after he makes a big shot or the Rams are making a run on an opponent.
"As far as basketball, I've learned a lot and my attitude has changed," he said, "but I'm going to miss the fans and this environment."